In SHOPLINE, you can add products in the Admin and bulk add products using a form.
This article includes:
1. Uploading products
Step 1. Enter the Products page
In the SHOPLINE Admin, go to [Products and Categories] > [My Products]. Click Add to upload a product.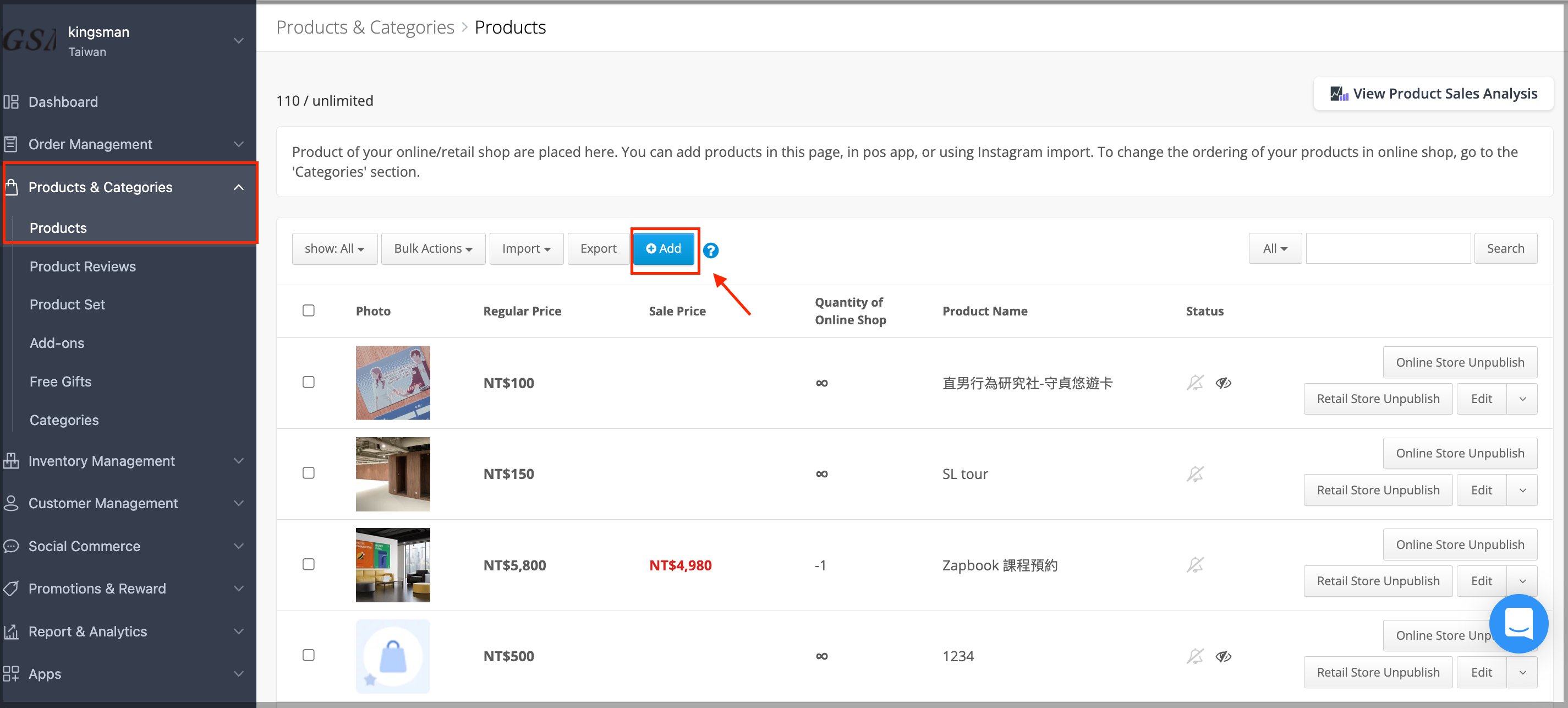 Click the top right View Product Sales Analysis button to view more details related to product sales data.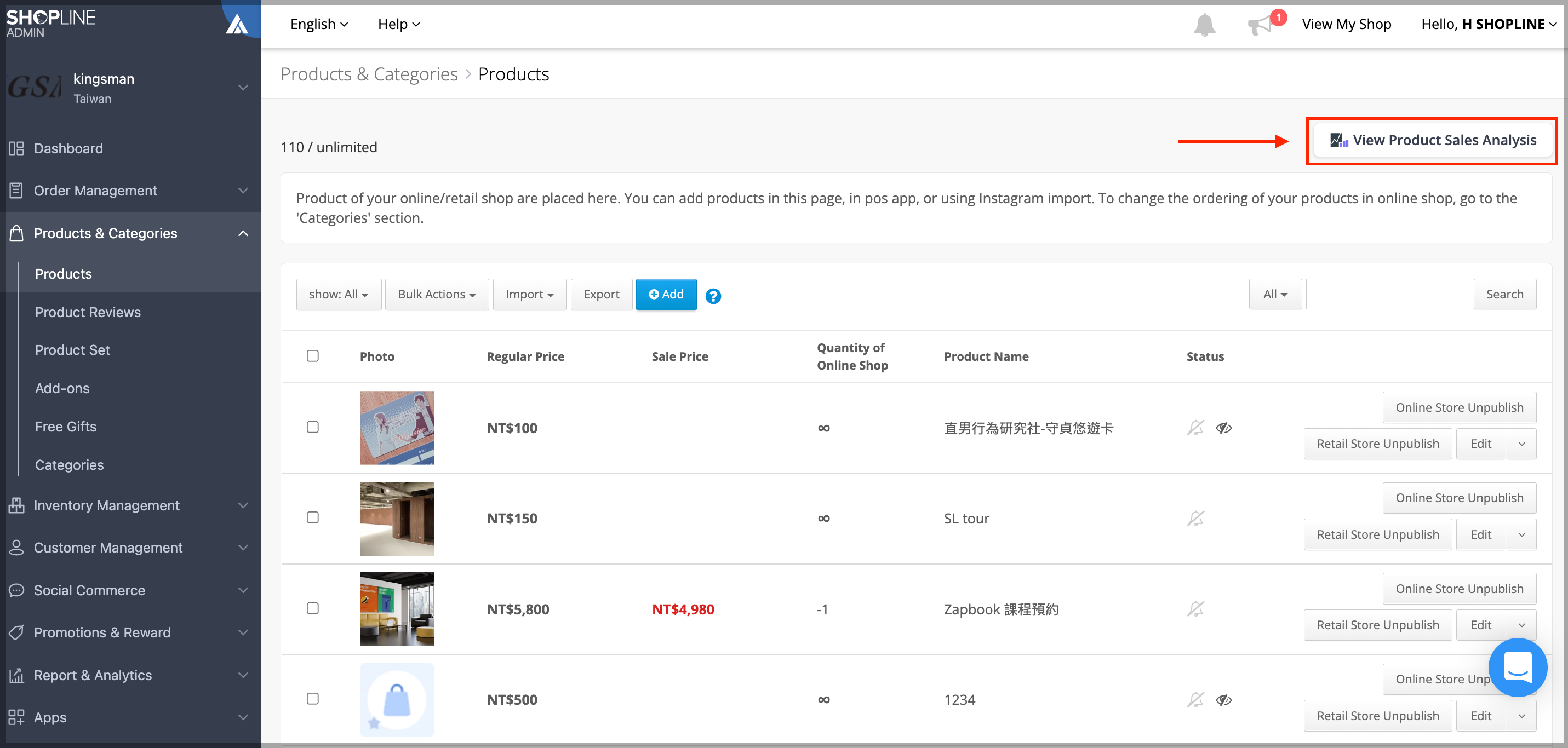 Step 2. Add product images (Main)
Enter the "Images" tab, there are three available methods to upload your image (required). You can upload up to 12 product images
Click Add photo to upload via your desktop.
Use drag and drop to drag the picture into the dotted frame.
Use the gallery to select product images. To learn more please refer to Image Gallery
If your image fails to upload, you can refer to Suggest Image Size
Note: The product requires at least one product image and product name to successfully be added.

Step 3. The order of product images (Main)
Drag the image to rearrange the order.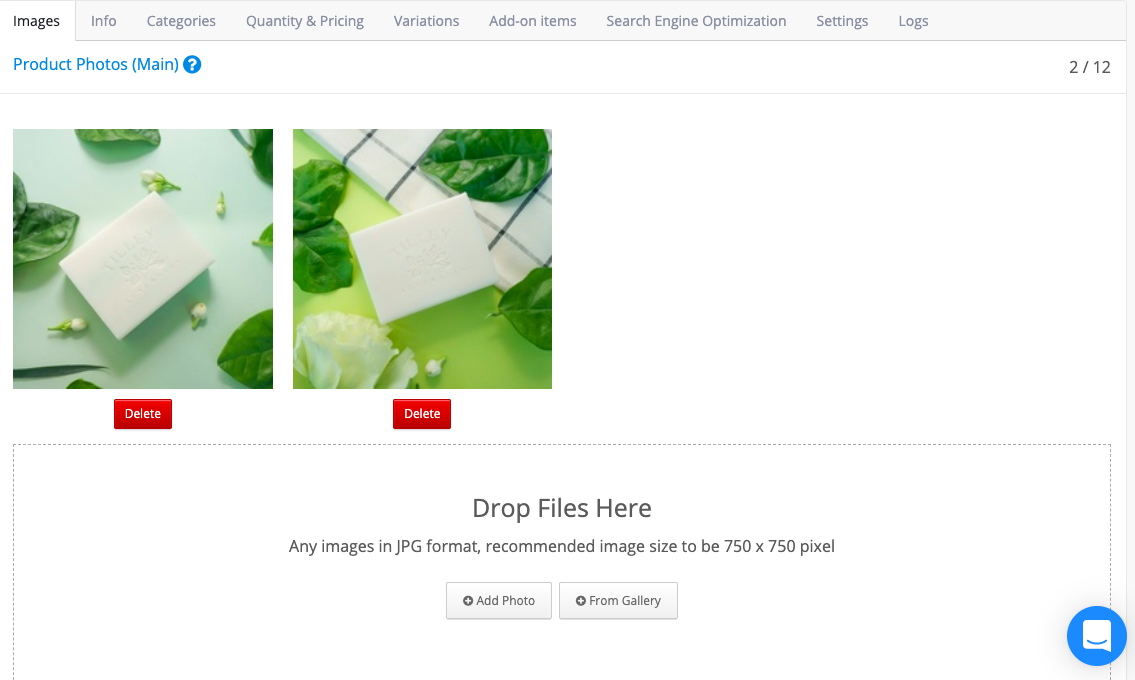 Step 4. Product information
The product name is compulsory while other information is optional.
Please refer to articles below if you're interested in knowing other product information:

*Note: Your shop will display your customer's selected language. Please fill in the product information according to the correct language. If you do not fill in the English information, the customer will only see the information in Chinese.


Step 5. Product categories
Before selecting categories for products, you must first create categories.
To create categories, please refer to Product Category
Once you have created the categories, you may return to the product "Categories" tab to select the products you wish to include in this category. One product can be saved in multiple categories.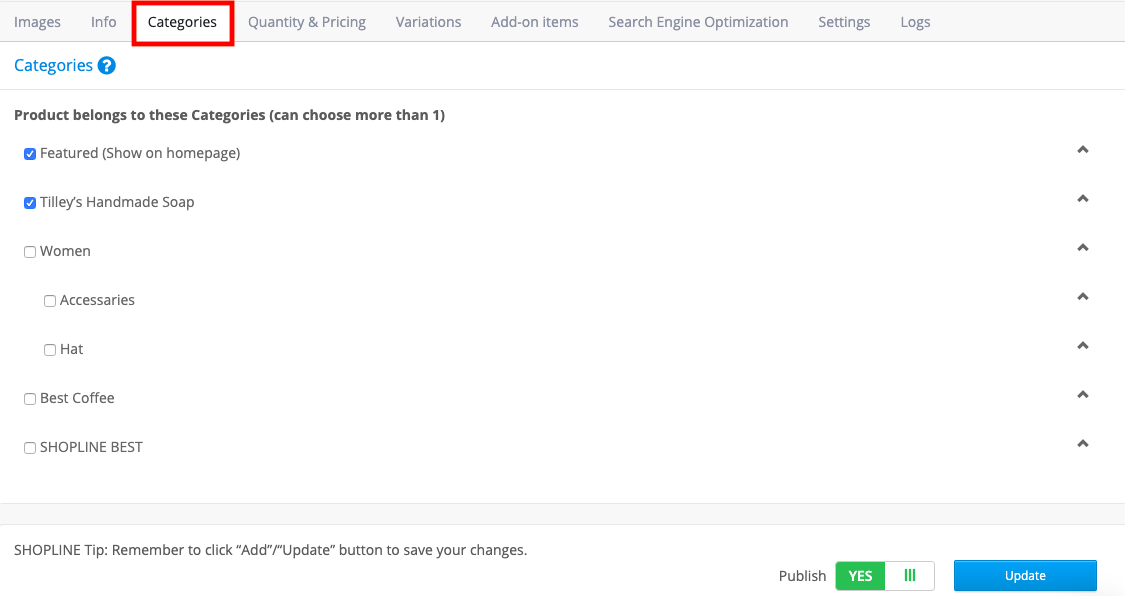 Step 6. Quantity & Pricing
Set the Regular Price, Sale Price, and Member Price (if applicable). To set the inventory quantity, you can select "Unlimited" or enter the quantity.
Remark 1: The cost will only display in the Admin, not at the storefront.
Remark 2: Member price only supports merchants using the premium plan. For more information please refer to Set Up a Member Price
To learn more about "Location ID" and "Product SKU" please refer to Product Location ID, SKUs (stock keeping units)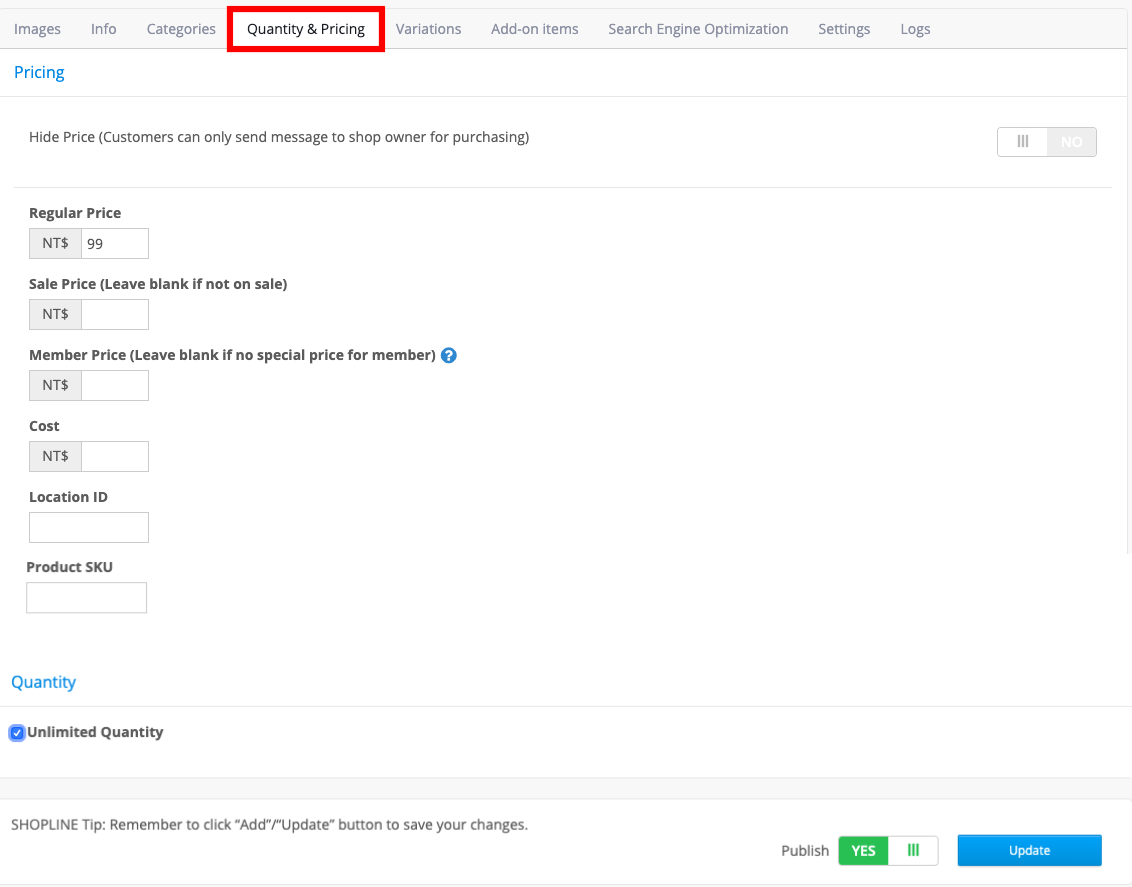 Step 7. Variations
If your product has different variations, you can go to the "Variations" tab to add variations and options, such as color, size, or custom. For details on setting product variations, please refer to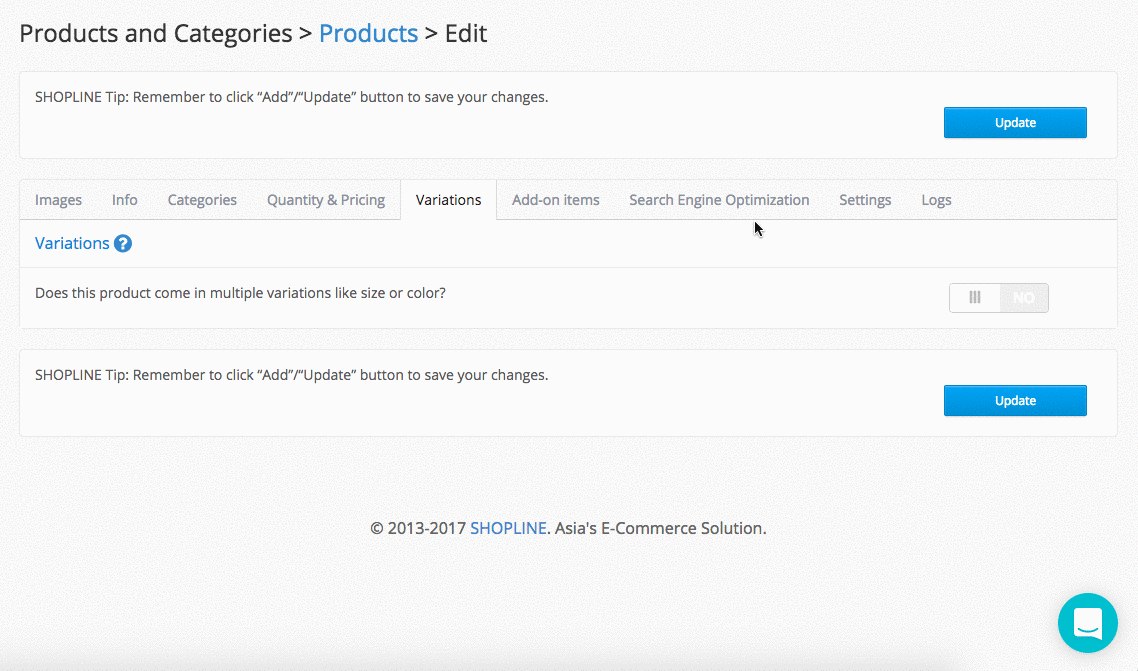 If the price and quantity are different for each variation, you can unselect "Unlimited Quantity" and "Same price as main product" to manually fill in.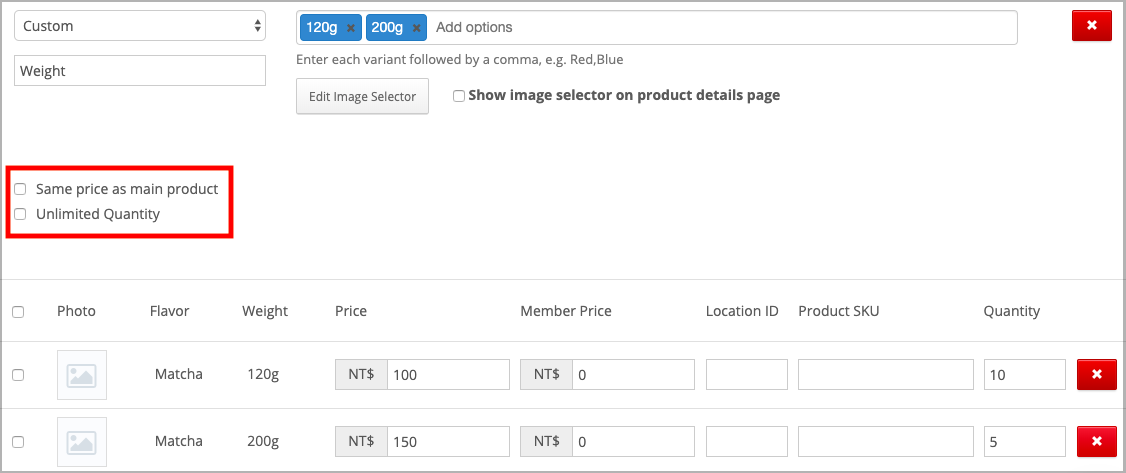 Viewing a product with variations at the storefront: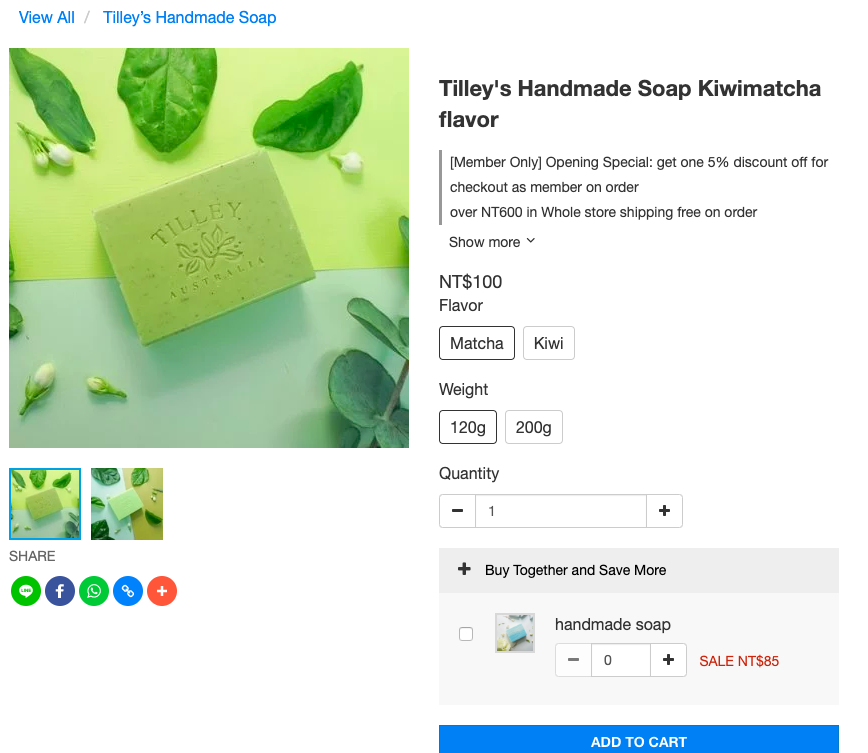 Step 8. Search Engine Optimization (SEO Setup)
The content in the "Search Engine Optimization" tab is the content that appears in search results and affects your SEO score and ranking in search results. For more information on SEO, please refer to Store SEO Guide
Note: Input "Title" and "Description" for previewing the effect.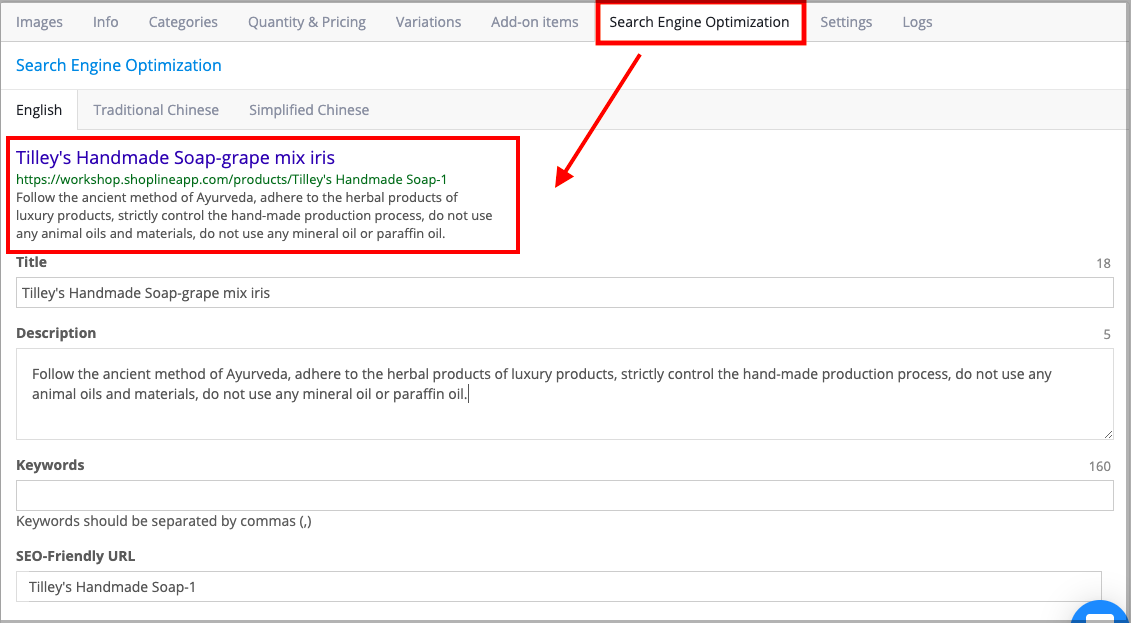 Step 9: Other product-related feature setup
In the "Settings" tab, you can set the product as a Preorder item, and its Out-Of-stock reminder, Purchase Limit, Preset Online Store Publish Date, Tag, Weight, as well as Exclude payment and delivery options. To learn more please refer to:
2. Check activity log
You can click View logs to view product activities logs, which files product updates or fulfilled by whom, date, and time.
To learn more please refer to Product Log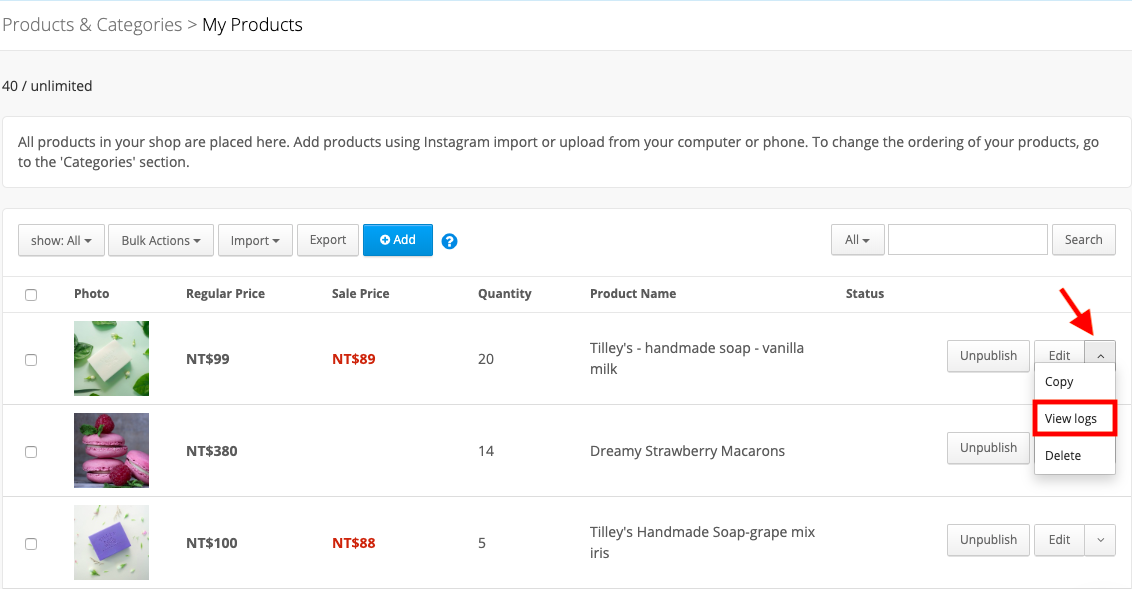 3. Add products in bulk
In addition to adding new products in the Admin, you can also add products in bulk. To learn more please refer to Bulk Upload Products.