SHOPLINE merchants may now export various order reports based on their needs. The available report types in the "Orders" Page are as follows:
Stock Picking List
Order Invoice
Order Report
Packing Slip
This article contains the following key guides:
A. How to export Order Report, Order Invoice, Stock Picking List, and Packing Slip
You can go to "Orders" in your merchant admin panel to view and export various order reports.

1. By clicking the "Export" button on the top-right corner of the Orders page, you can request to download the Stock Picking List, Order Invoice, Order Report, and Packing Slip
There are 3 settings for order reports:
Current order page view - will export all the orders on the page you're currently viewing
Specified date range (max 31 days) - will export all the orders in the specified date range
Selected orders - will export all the orders that are selected in the current page
Remarks: Please select/check the order(s) you need before requesting to export selected order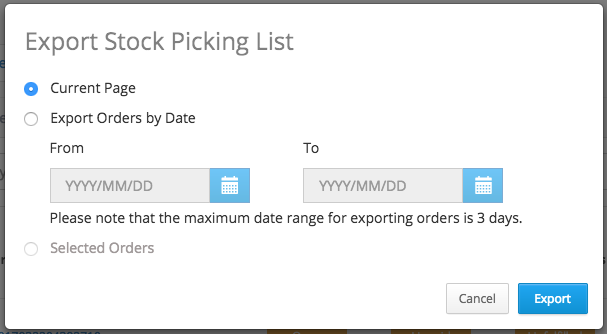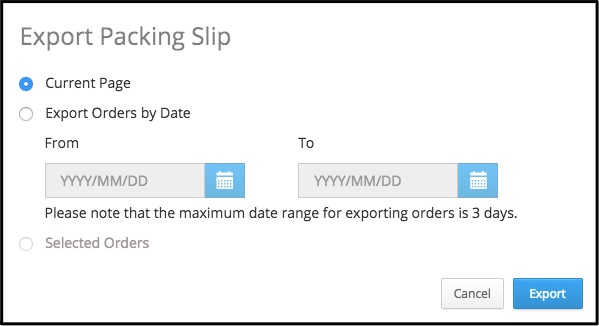 2. You can make your own order report by customizing the fields within. You can select or deselect fields you want to display and organize their sequence. System will record the settings of last export and set as default for next export. You can still customize the fields again if deemed necessary.
Setup Guide
Single selection
Check the fields you want on the left, they'll then synchronized on the right panel. To deselect the field, you can either uncheck the checkbox in left panel

or

delete the field in right panel


Batch selection
You can choose to select all fields from a category

or

select all available fields. Categories include: Order, Shipping, Invoice, Product and Customer


Field sequence
Fields are sequenced according to selection time (from old to new). Fields are arranged as how they are ordered in left panel


Required field
Order number is mandatory, you cannot deselect it in order report


Default setting
System has a default order report template. Once you've customized and exported the report settings for the first time, it'll be the default setting for your next export. You're free to edit the template if necessary


Special fields
Some fields are specifically designed for certain country/region, you'll see applicable country/region in the title following the field name. We suggest you not to select fields that are not available in your country/region to avoid useless fields appearing in your report.


e.g. Invoice-related fields is currently available only in Taiwan. Blank columns with no value will appear if Hong Kong merchants select the field





Field setting feature is applicable to both

"Order> Export> Order Report"

and

"Report> Order Report (New)", indicating that settings are synchronized. That is, if you made changes in field settings and exported order report from "Order> Export> Order Report", same export setting is displayed in "Report> Order Report (New)"




Export setting preference is recorded in terms of individual users, not the entire shop. Therefore, field settings shown in Staff 1's admin panel are not affected by settings configured by Staff 2



B. How to filter and export specific orders in the reports
1. Filter the "Paid orders" and export the Order Reports

Step 1
Filtering out "Paid" orders for different payment types:
In the "Orders" page > click "Additional Filters"
> Payment Status = Paid
> Payment Method = [payment method]

Step 2
Export orders by clicking the "Export" button > Select the "Order Report"
2. Filter the "Shippable" 7-11 B2C Orders" and export the Order Reports

In the "Orders" page > Choose "7-11 B2C Order Management" > Filter out the "Shippable" orders > "Export"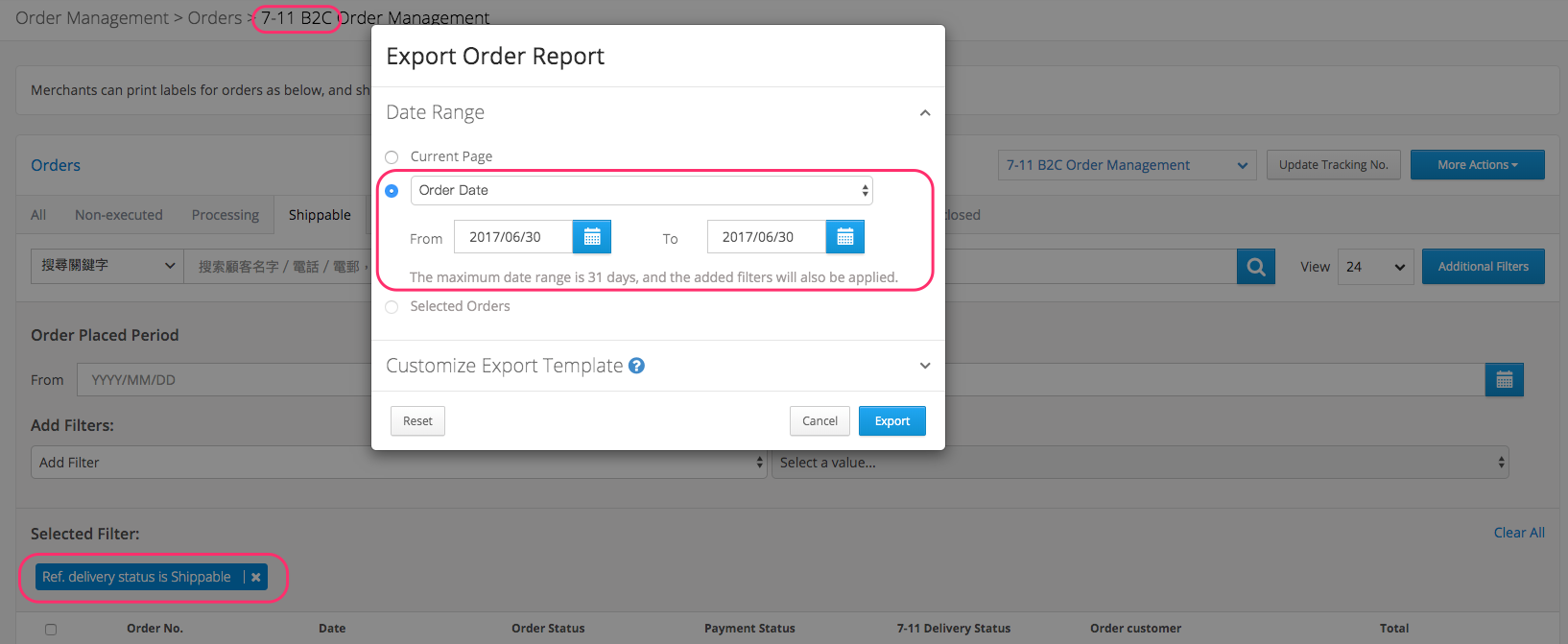 3. Filter with "Shipped Date / Arrived Date" and export the Order Reports
To filter orders that the delivery status turned into "Shipped" within the time range, you can
select "Shipped Date" then export. The "Arrived Date" is for filtering orders that the that the delivery status turned into "Arrived".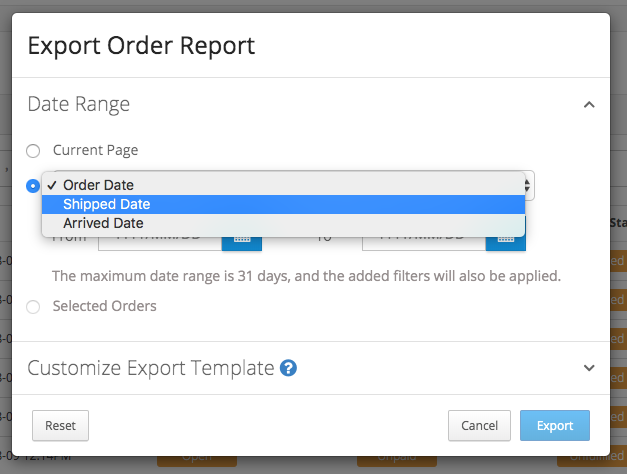 C. Order Invoice & Packing Slip Introduction
Both order invoice and packing slip record order details. They not only provide convenience for merchants to pick up their products, but also can be sent to customers for their own reference. What is the difference between these two items after all?
Packing Slip
Packing slip has simple layout. It only shows information that is compulsory to pick up and pack products, with no related customer details. It helps you save printing ink and more importantly, protect customers' data privacy.
Order Invoice
Order invoice provides more details than packing slip. Apart from those information in packing slip, it encompasses merchant logo, order status, payment status, customer information, product image, order messages and all associated discounts etc.
Hide partial information of order invoice
If you want to hide some sensitive information in the order invoice to to protect your customers' privacy, you may go to Settings> Order Settings and switch on "Hide partial information of order invoice":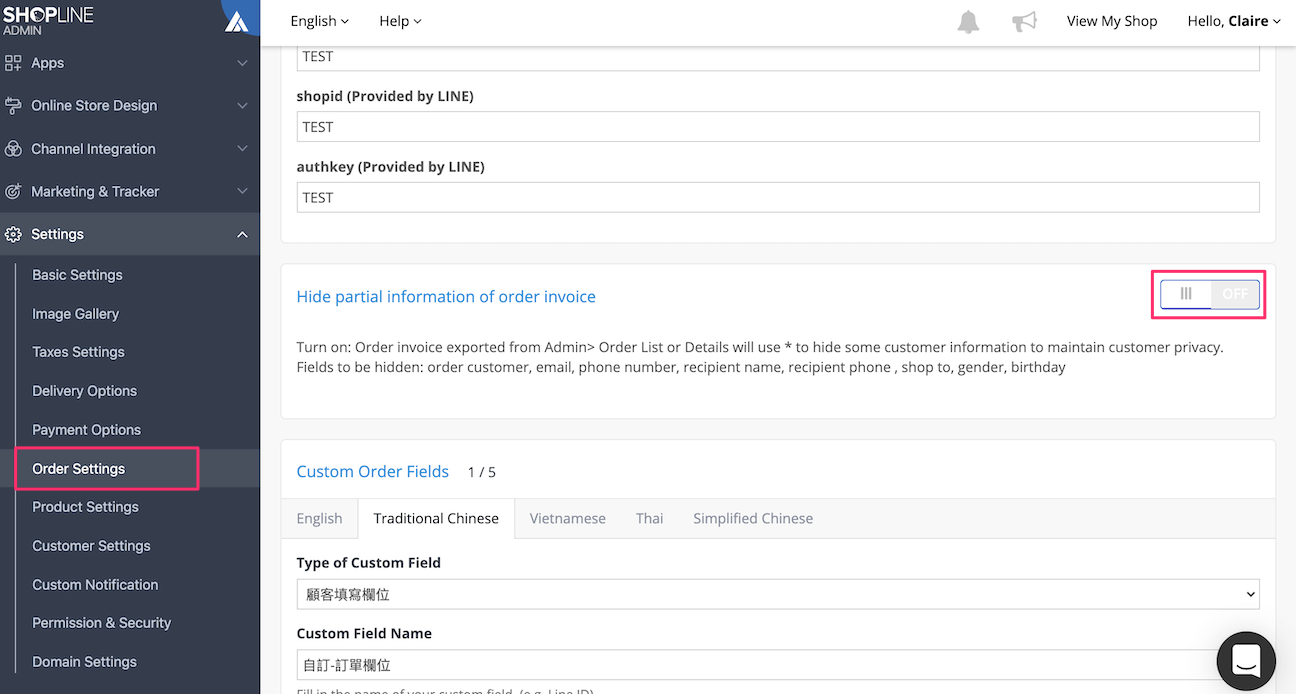 After switched it on, you can decide whether to hide the custom fields of "Order Settings" and "Customer Settings":

When "Hide partial information of order invoice" is turned on, below information will be hided from the order invoice:
[Information of order customer]
Order Customer (Name): partially hided - e.g. Chan **
Email: partially hided, e.g. a*****@gmail.com
Phone Number: partially hided - e.g. 0911***111
Gender: hided
Birthday: hided
[Information of recipient]
Address: partially hided (address field 1 partially hided; address field 2 hided)
Name: partially hided - e.g. Chan **
Phone Number: partially hided - e.g. 0911***111

If you have selected to hide the custom fields of "Order Settings" and "Customer Settings", the information filled for custom fields on checkout page will all be hided. You may refer to below screenshot: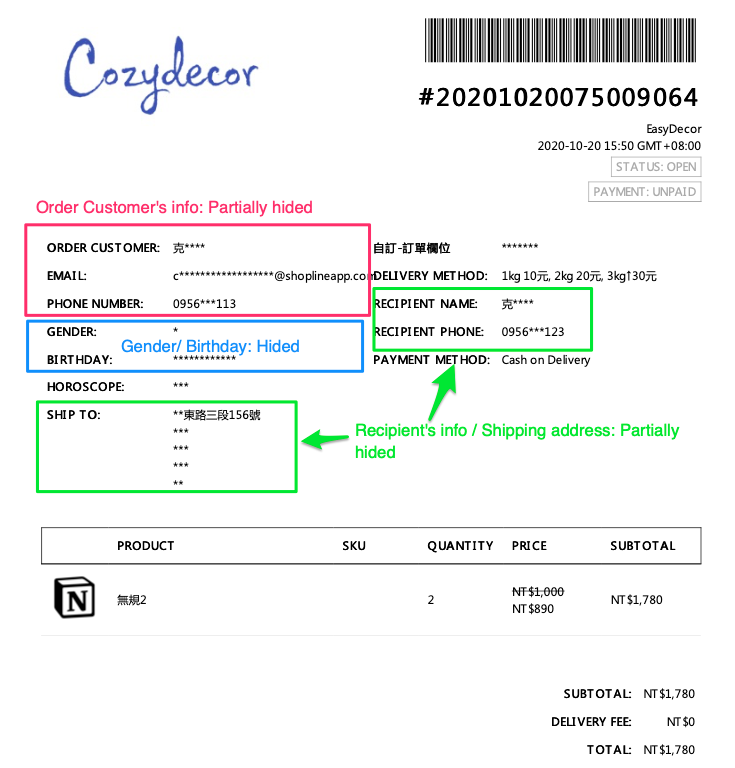 You can freely choose any of these two formats as your shipping document.
Left: Packing Slip; Right: Order Invoice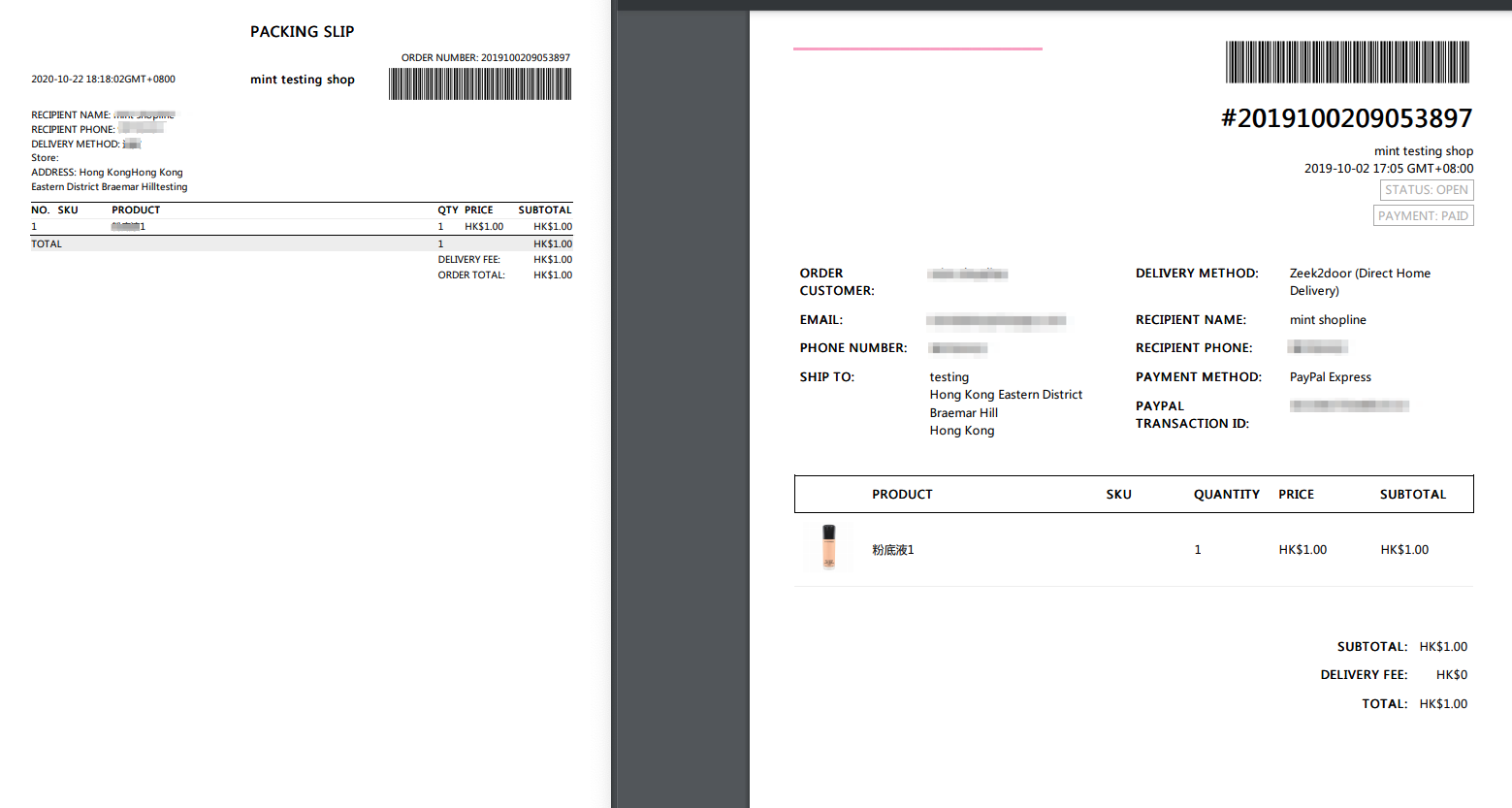 D. Other relevant settings
1. Limitations to order report details
Order Report: maximum 31 days
Stock Picking List: maximum 3 days
Order Invoice: maximum 1 page
Packing Slip : maximum 3 days
2. Order export file time range basis
Merchants can freely filter the dates view on the "Orders" page, but when time comes to export the file, the basis will be the final settings in the pop-up settings box. See the screenshot below for more information: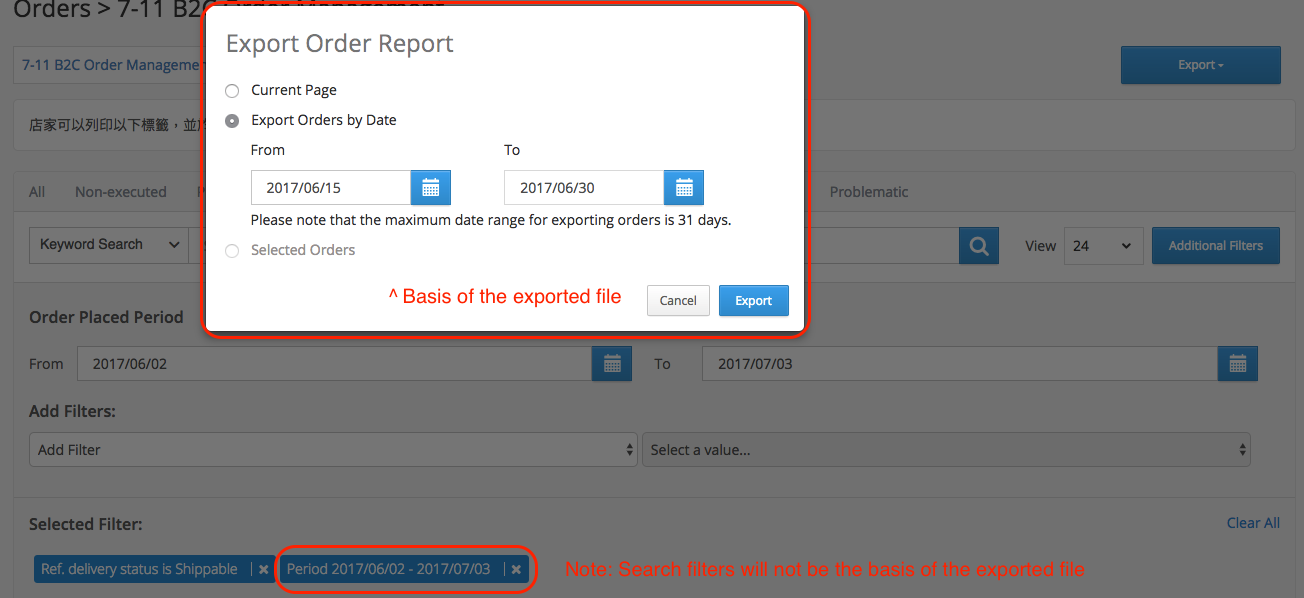 3. Export status will be limited when there's an existing export request
After you requested for an export file, you cannot request for a new one until we finish preparing the current one and send it to your email address.

4. Downloading the File
SHOPLINE's automated system will send the file to your merchant email within a few minutes after the request has been received. However, it may take longer than expected depending on the number of orders you are exporting.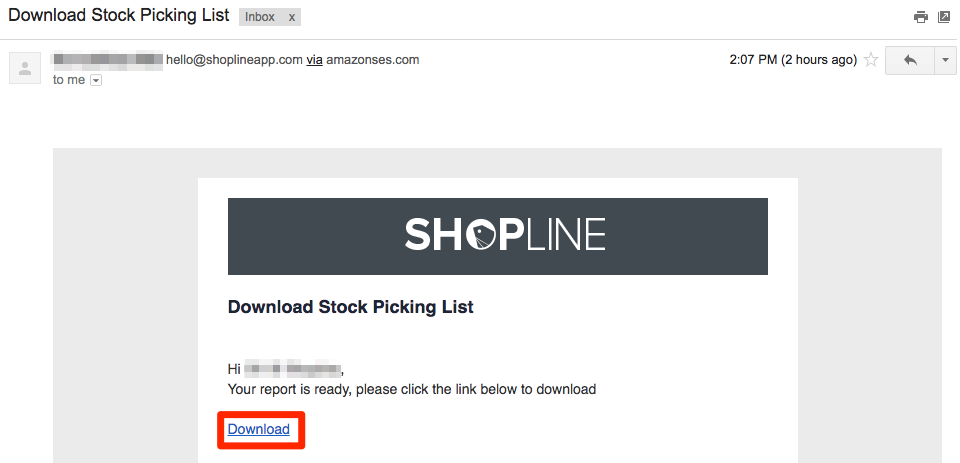 This is an example email containing the Stock Picking List file. Please click "Download" in the email to download and view the file.
If you need assistance with filtering orders, please see the reference below.
Printing Stock Picking List & Filtering Dates