Merchants can create different promotional campaigns with discount incentives to maximise their sales and profit.
And you can use "Store Credits" and allow your members to use the credits when they are shopping in your store.
A. Steps to set up "Store Credits"
Step 1:Go to "Customer Management" Tab
> Select "Store Credits" to set up the rule

Set up apply credit condition
You can set apply condition of store credits per order. For example, customer can only apply credits when total order over $1000. "No condition" is set as default setting of this feature.

After you complete setting, storefront will show reminder in Shopping Cart > Order Summary when total order haven't reach condition for members with credits. The reminder will disappear when total order over condition, and apply credit automatically.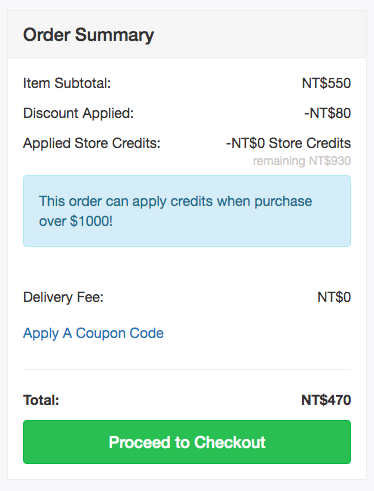 > In user credit rule type setting, you can choose either "Discount amount" or "Discount % on order" , the system will calculate the credit usage limit in the order based on the chosen rule when the member checkouts.
If you select "Unlimited", the system will apply the maximum usable user credits in order discount i.e. If you have 10 store credits, the system will apply all 10 store credits in the order.
Step 2:Add Credits for your members
> Select "Customer Management" > "Customer List", find the customer that "is a member" in your store, click "View".

> In customer info, the store credit is located at bottom right corner (bottom of the page in mobile).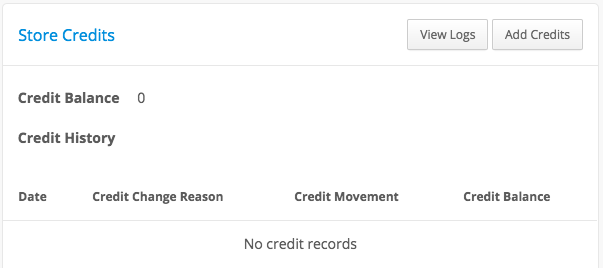 > And click "Add Credits", fill in the "amount of store credits to be added", its "validity period" (you can tick never expires if there is no expiry date for the credit) and its reason of adding.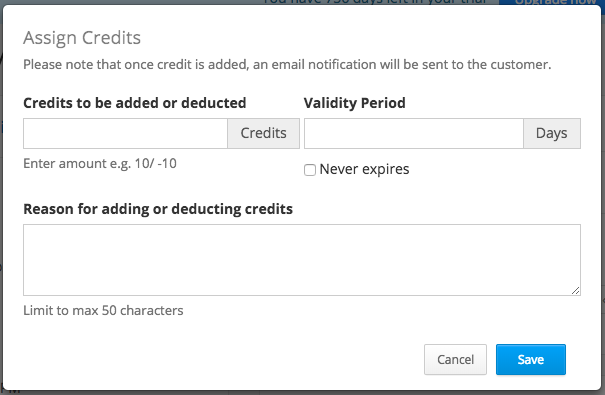 B. Storefront Checkout Page
Order Summary
Subtotal: Product Price x quantity
Discount Applied: Sum of discount applied in the order (Does not include Delivery Fee)
Applied Store Credits: According to the rules setting and how many store credits member has currently in his/her account.
Delivery Fee: The Delivery Fee depends on the chosen delivery option; Or Free Shipping when the promotion is applied
Total: Subtotal - Discount Applied + Delivery Fee = Total
Example 1: When you are using store credits, it will deduct from subtotal.
In the example below, if the maximum credit usage limit is set to be 10% of the whole order, it will deduct 160X10%= 16 store credits.

Store Credits Apply
Customers are allow to have the flexibility to determine the amount of store credits applied on cart.
They can also see the current amount of credits remaining.
By default, store credits are automatically applied at checkout according to the "maximum amount of store credits usable per order" setting.
Customers can follow the below steps to change credit usage.
1)Click "Applied Store Credit" at the "Order Summary"
2)Fill in the credit amount then click "Apply"
3)Proceed to checkout after system recalculate


In the below case, $50 credits have beeen applied by default.
And the credit remains $0, that means all store credits are automatically applied.
Click "Applied Store Credit" then fill in 20 and click "Apply", the applied store credit will change from $50 to $20, and the remaining also change from $0 to $30.
In the same way, input 0 and click "Apply", no credit will be applied on checkout.

*if you want to turn OFF "Apply Partial Credit" function, you can setup from " Customer management> Credit". (more)
Storefront User's Store Credits Page
Customer can get into "Store Credit" page in the storefront after login as member.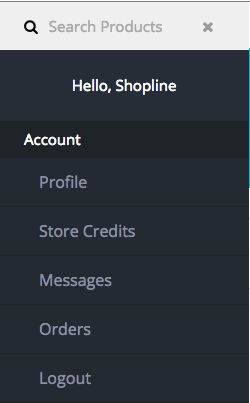 User's store credit page will record the credit change reason, include (1) merchant add for member and (2) what order the store credits have been used and applied to.