With this Member Points feature, you can give points to your members and let them redeem gifts with it! Create effective member engagement strategy to increase your member royalty now!
*You need to install "Member Points" in "Apps > Apps Store" before you start setting up.
A. How to setup a points earning rule
Step 1: Confirm your plan of store and start using it
in the upper right corner of the store backstage, go to "Hello, OOO" > "My Subscription & Billing" to view the store's plans and modules.
If you see the screen as below, there are "Paid" and "Module" in the "Plan Subscription" section. Please confirm whether your store has a "CRM - Credits" module. If so, you can go to step 2 to set it up.



If you see the screen as below, the "Plan" in the "Current Plan" is Basic, Advanced, Premium, O2O, or Enterprise. Please confirm whether your store has a

"O2O/Enterprise"

.




If so, please go to "App" > "App Store" in the left menu to install the features.





Step 2. Go to Member Points page
Go to Customer Management > Member Points, where you can setup the earning rule.
Step 3. Setup Earning Rules
a. Exchange Rate:
Base on your strategy, you can decide how many points your members could get when their orders meet the set amount.
For example, if you setup a rule "Every 10 dollars earned 1 point". Your customer will get 100 points when they spent 1000 dollars in an order.
b. Points Expiry Date:
You can setup a expiry date for member points, the points member earned will expire at the date next year.
For example, If the expiry date us 12/31. The points member earned at 2019/12/4 will expire at 2020/12/31.
c.Points Assign Day:
Points will be assigned to members, after the days you setup count from the order delivery status is changed to "Collected" (For TCAT the status is "Arrived")
For example, If the rule is to assign points 3 days after order is collected. A member create an order at 11/29,at 12/1 the order's delivery status is changed to "Collected", the member will receive the points at 12/4.
d. Points Rule:
You can draft points rules with languages that your store support. The rules will display at Member Center > Member Points in storefront. We highly recommend you to provide rules with details to your member.

After everything is set, don't forget the most important step, click the "Update" button to save your changes.
B. How to setup a gift redeem campaign
Step 1. Go to Points Campaign Page
After the rule is setup, go to Sales & Promotions > Points Campaign,this is the page where you can check all your Points Campaign. Click on the Add button to create a new campaign.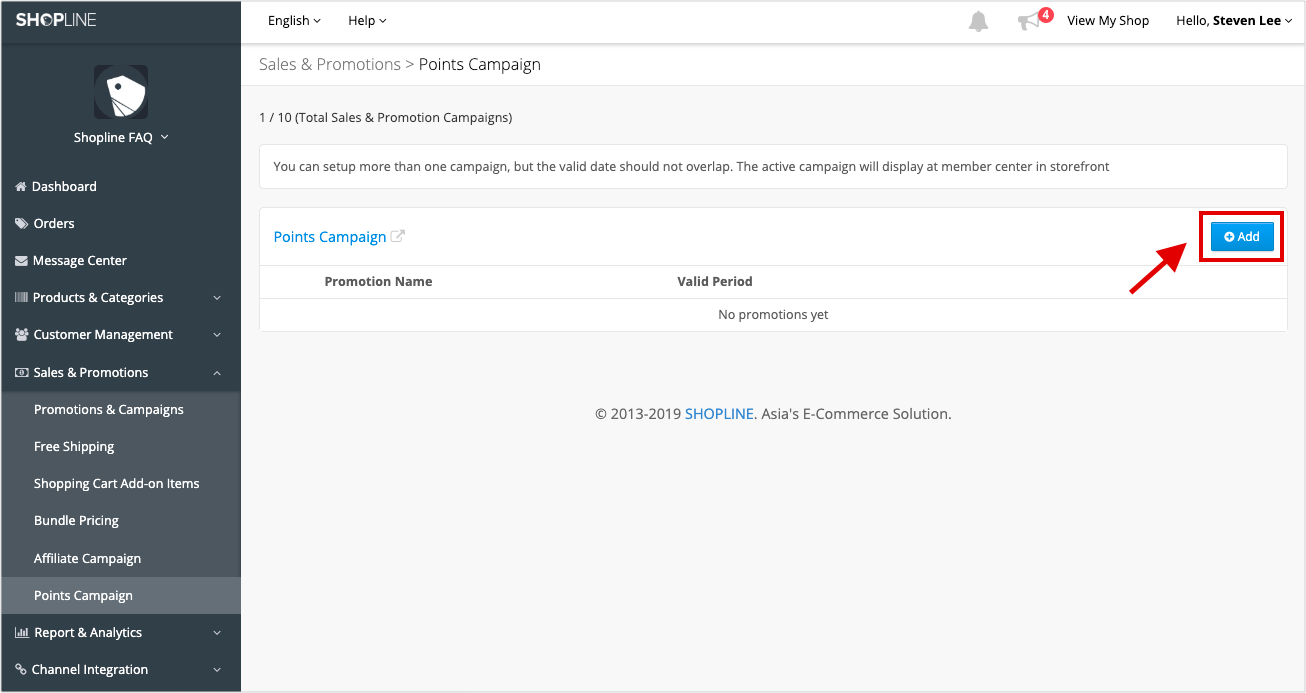 Step 1. Go to Points Campaign Page
a. Campaign Name
You can name the campaign in different languages.
b.Preset Publish / Unpublished Time
You can set the start and end date of the campaign, if you don't assign an end date the campaign will never expires.
Note: Start/End date is based on the Country/ Region in Settings > Basic Settings. For cross border merchant please aware that it might not be the same time at the country you sale your products.
c. Select Gifts
First you need to create gifts in Products & Categories > Free Gifts, then you can select gifts that members can redeem in this campaign.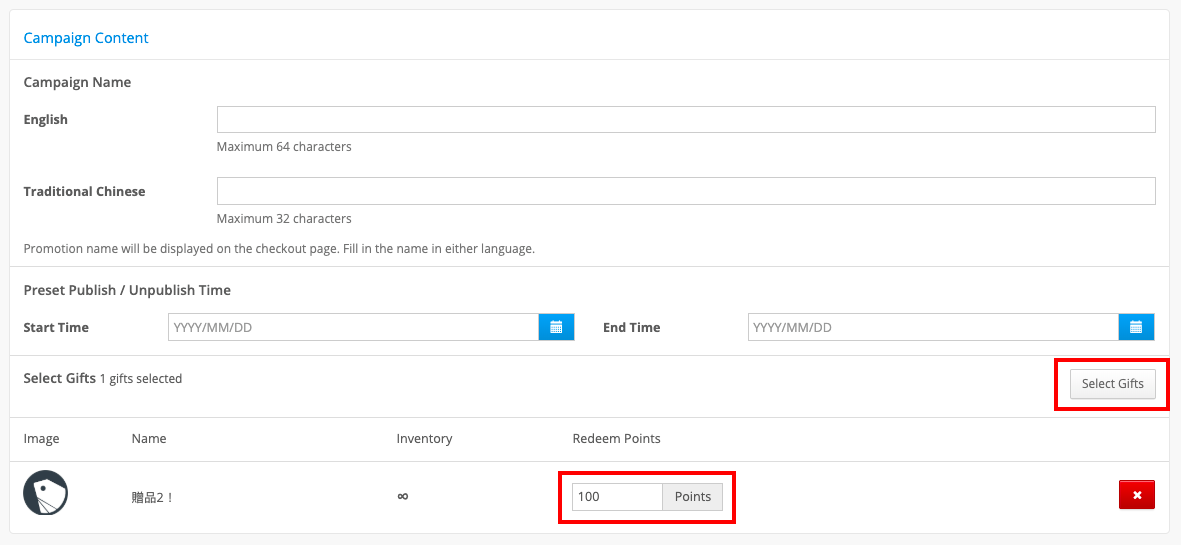 d. Promotion Terms & Conditions
You can draft campaign's terms & policies with languages that your store support. The rules will display in storefront. We highly recommend you to provide terms & policies with details to your member.
e. Promotion Banner
You can add a banner for this campaign and it will display at the top of the promotion page. Only JPG/PNG format is allowed and the size should be less than 1920 x 400 px.
Note:
1. Campaigns' valid date range cannot overlap.
2. The products order in storefront is base on gifts created date (from latest to oldest)
Step 3. Check Your Campaign Page
In the campaign page your customers will see the campaign banner at the top, followed by campaign informations, including valid date, member's points and terms and conditions.
Your customers can check how many points they used in the cart at bottom, the cart will only display gifts in this page.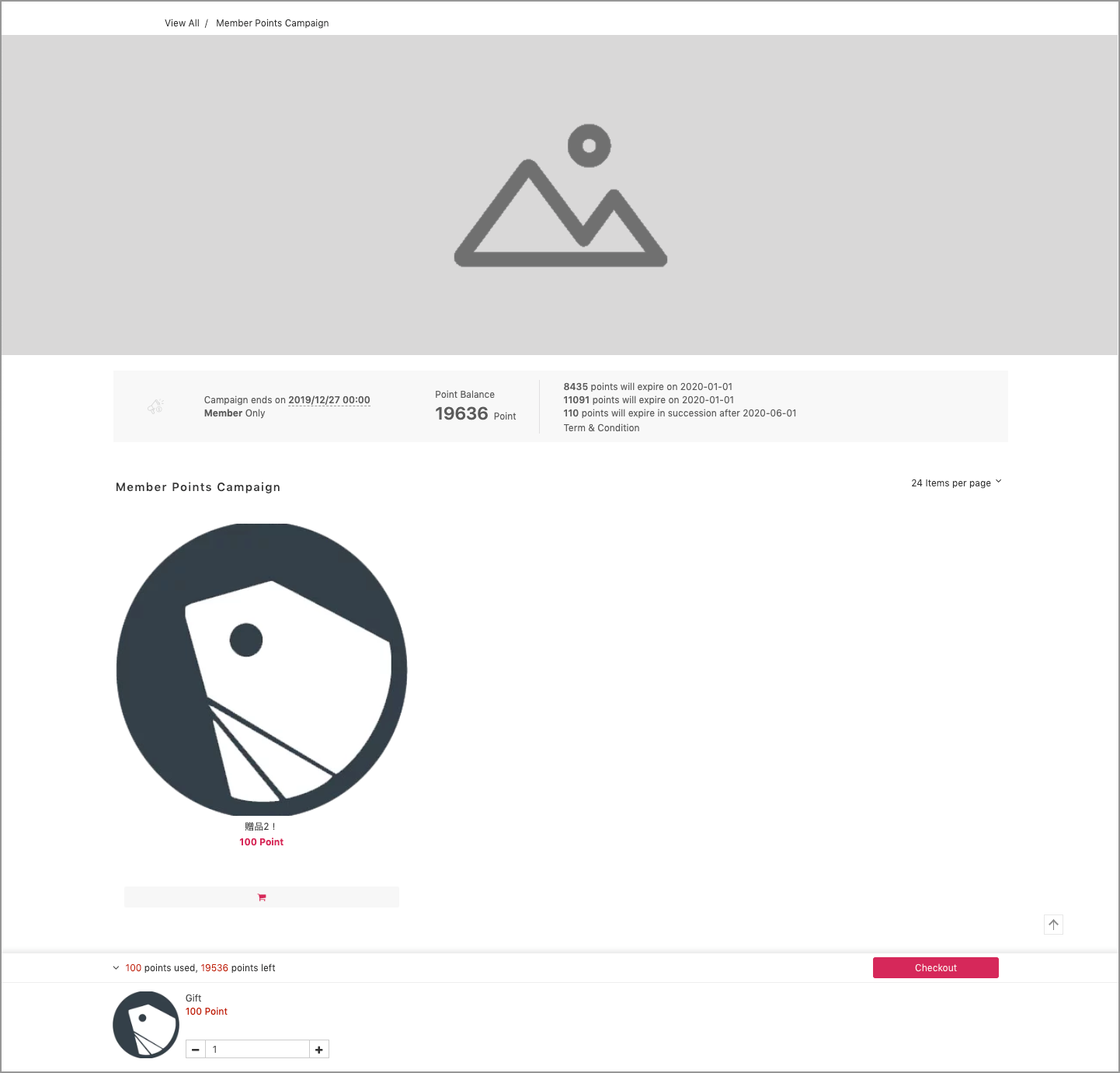 C. Add points manually to the customer account
1. Assign points
Go to "Customer Management" >> "Customers" >> Clink on "View" for customers you wish to give points to, then go to the Member Points section, click on "Assign Points"
Merchants can add or deduct(by entering a negative number) the points for customers here. The reason for adding or deducting points field is required.
*Note: The reason for the change will be shown to the customers at their member center. A notification letter will also be sent to the customer when the number of points is increased (no notification letter will be sent when the number of points is decreased), please be sure to confirm and then click on Save.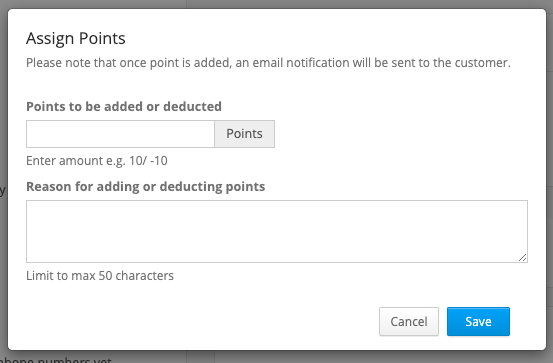 2. Assign points in bulk action (deducting points in bulk action is currently not supported)
Go to "Customer Management" >> "Customers", select customers that you want to assign points to, click on "Bulk Actions" and select "Add points"

Enter the number of points and the reason for adding points in the pop-up. (All fields are required)
*Note: Merchants cannot undo the action after the member points have been assigned, so please be sure to confirm before clicking Save.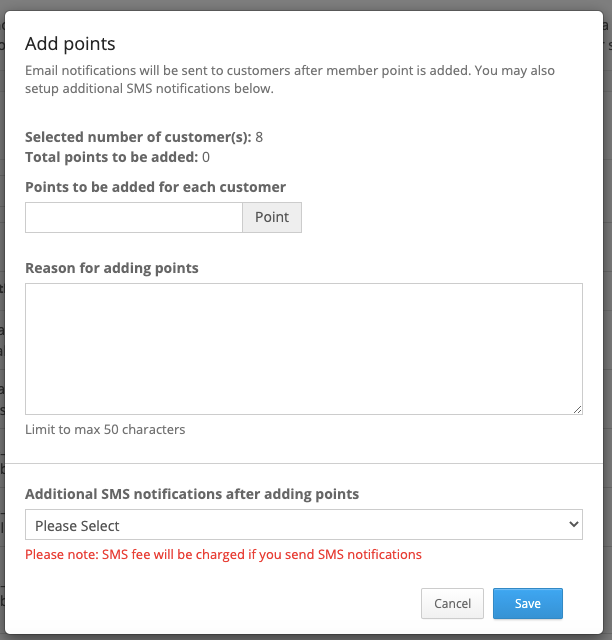 In addition, if merchants have the mobile sign up feature, please choose whether to send an additional paid text message to notify customers.

D. View member points record
1. Check members' points record
In Customer Management > Customer List, click "View" button to check member's information, scroll to the bottom you will see the member's point balance and expiry dates.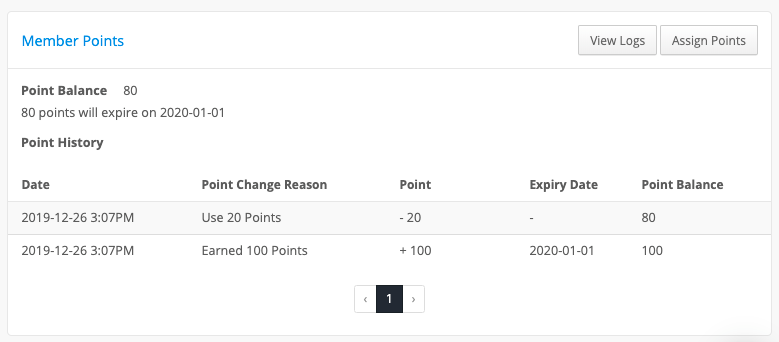 View Logs
You can see every added and deducted records in the log, you can also see who made the changes.

2. Customer can check member points record in storefront
Go to My Account > Member Points, member can check their own points balance and records.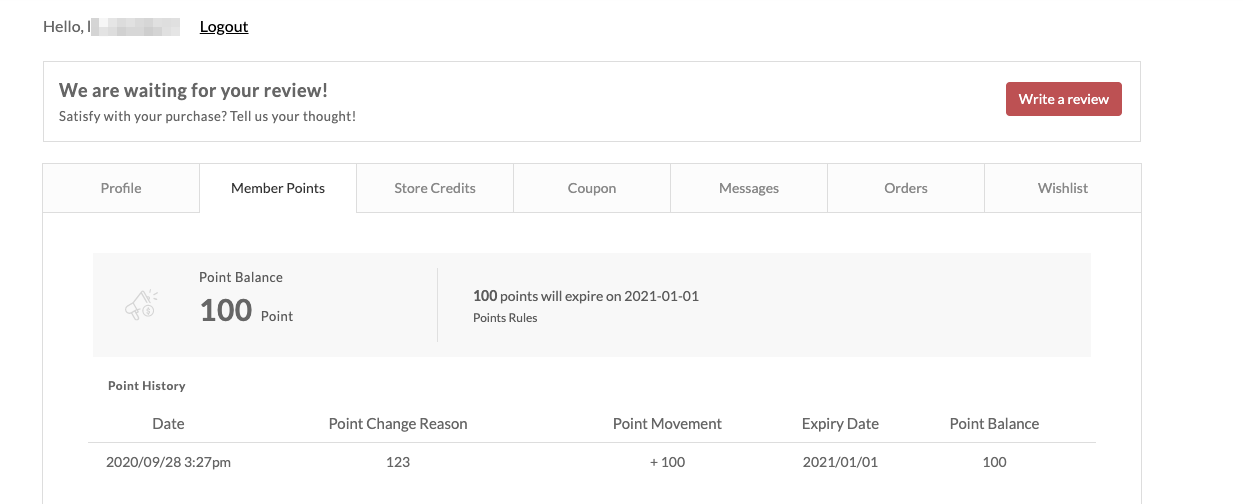 E. Extend Reading
While calculate the points earned in order, only the subtotal amount is counted. (Delivery fee, additional fee and discounts are not counted).
After the application is uninstalled, when customer pickup the order created before uninstallation they will still received points.
Staff with "customer management" authentication, can only view the points information. Only staff with "member points" authentication can assign points to customers.
Edit the amount of the order will change the points earned, but the send date and expiry date will remain the same at the time the order is created.

When customer use the points to redeem gift, the points with a closer expiry date will be used first.

Currently, customers can't earned points through orders created by POS.

When customer earned points, they will receive an email notification.
Member points only applies exclusively to members,

members must be logged in during checkout to be entitled to get points.

If the customer ticks "I want to become a member" during checkout, he/she will not be considered as logged in and thus, even if the order amount meets minimum purchase condition, the customer will not receive member points.