SHOPLINE's messaging features allow merchants to pursue a wide variety of CRM and business goals. By unifying messages from different sales channels into a single conversation, SHOPLINE's tools provide merchants with an efficient customer service delivery platform. This allows stores to reach users wherever they are, and also gives them a modern experience that works anywhere.
Here are some tutorials you may need while using this feature:
*Please note: Your SHOPLINE Admin interface may vary depending on your subscription plan.
1. Linking a Facebook Page or LINE shop to a SHOPLINE account
In SHOPLINE Admin, go to [Channel Integration] and click on [Facebook] or [LINE], then follow the steps in the following FAQ articles: Facebook Messenger/ LINE In-chat Shopping (Facebook); Connect with LINE (LINE)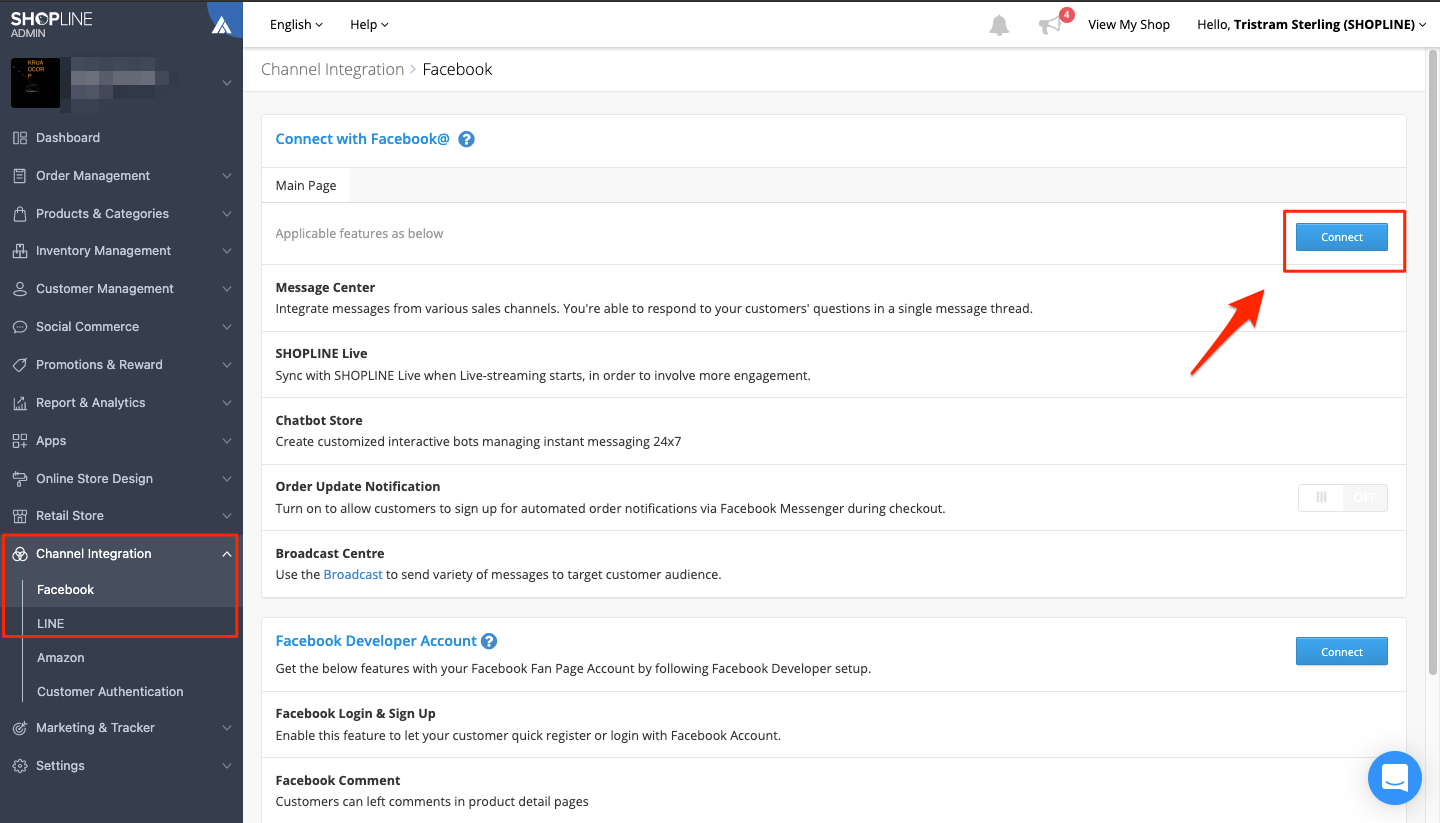 You can also connect by going to [Social Commerce] > [Message Center] > [Message and Post] and then clicking Connect now.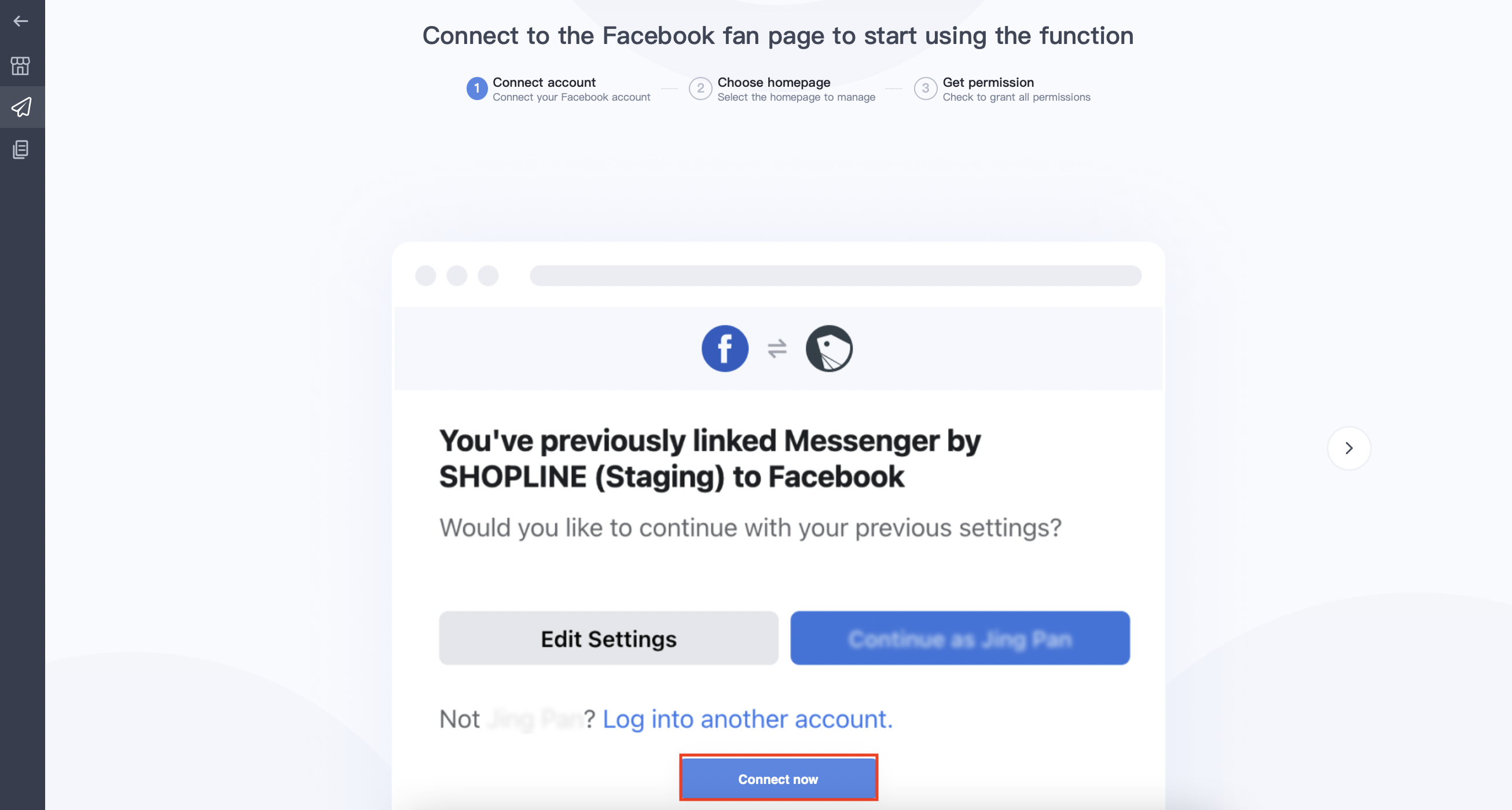 Merchants using the Social Commerce plan can integrate up to 10 Facebook Pages (one main page, plus nine secondary pages). SHOPLINE Live, and Message Center can be used with secondary pages. You must use the Facebook account used to connect your main Facebook Page to connect any secondary pages. The account must have also admin access to any secondary pages you want to connect.
*Notes:
Because integrating a LINE Official Account requires the use of "bot mode", this means that you cannot use LINE App/LINE admin panel to reply to messages. Please switch back to "chat mode" to reply to messages via the LINE admin panel or LINE App.

Merchants that do not have a Social Commerce plan can click on [Social Commerce] > [Message Center] in SHOPLINE Admin to familiarize themselves with the functions of private messaging and post management. Click

here

to find out more about SHOPLINE's Social Commerce plan.
2. Notes on integrated instant messaging apps
Facebook
Support is not currently provided for sending or viewing Facebook Messenger stickers.

If you are unable to receive messages, go to your Facebook Page's settings menu and click on [Advanced Messaging]. On the Advanced Messaging settings page, click Configure next to "Messenger receiver". In the pop-up window, select Messenger by SHOPLINE as the Primary Receiver for Handover Protocol. After you have done this, add

https://domain5.shoplineapp.com

to the Whitelisted Domains box, then click Save.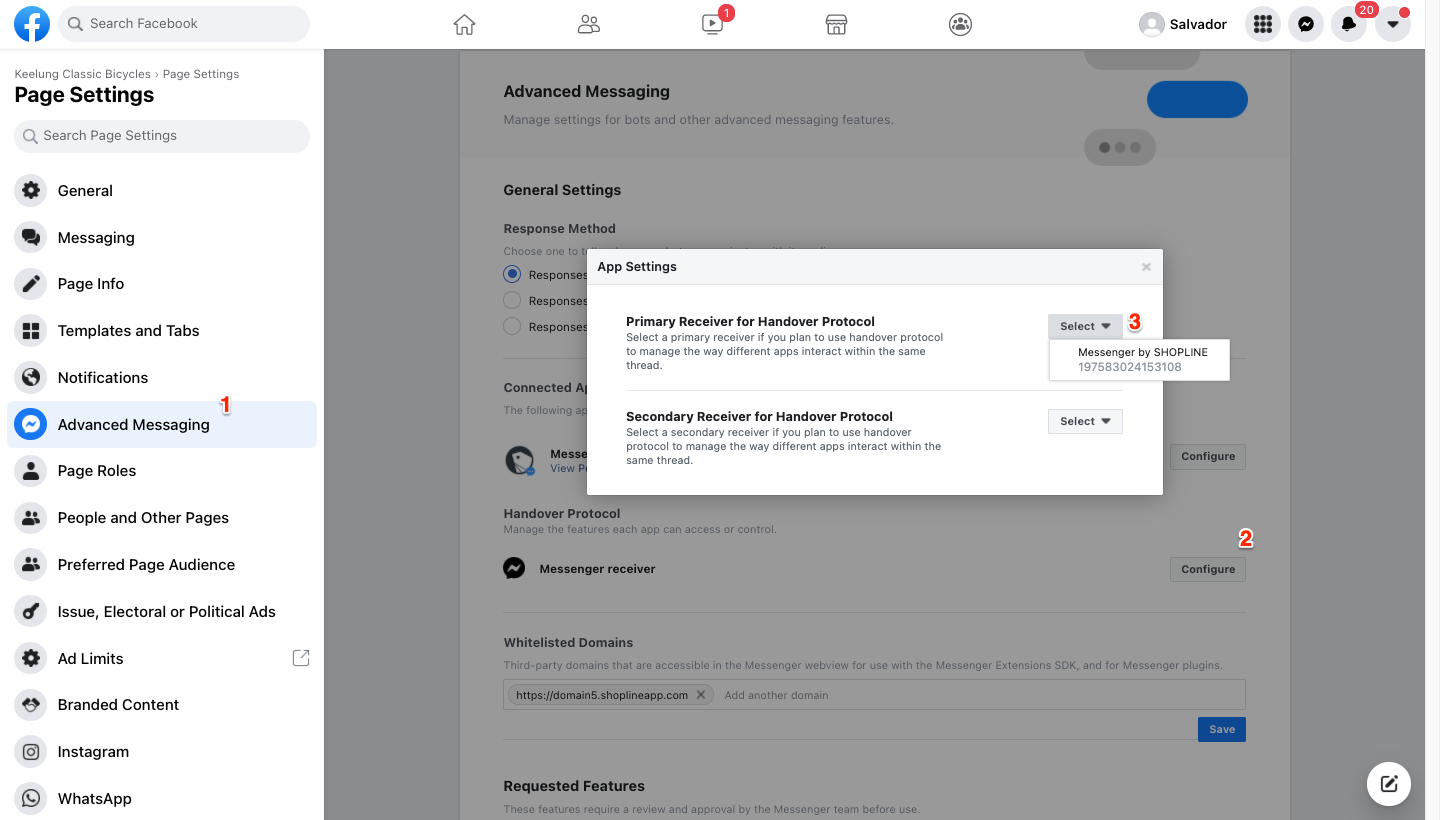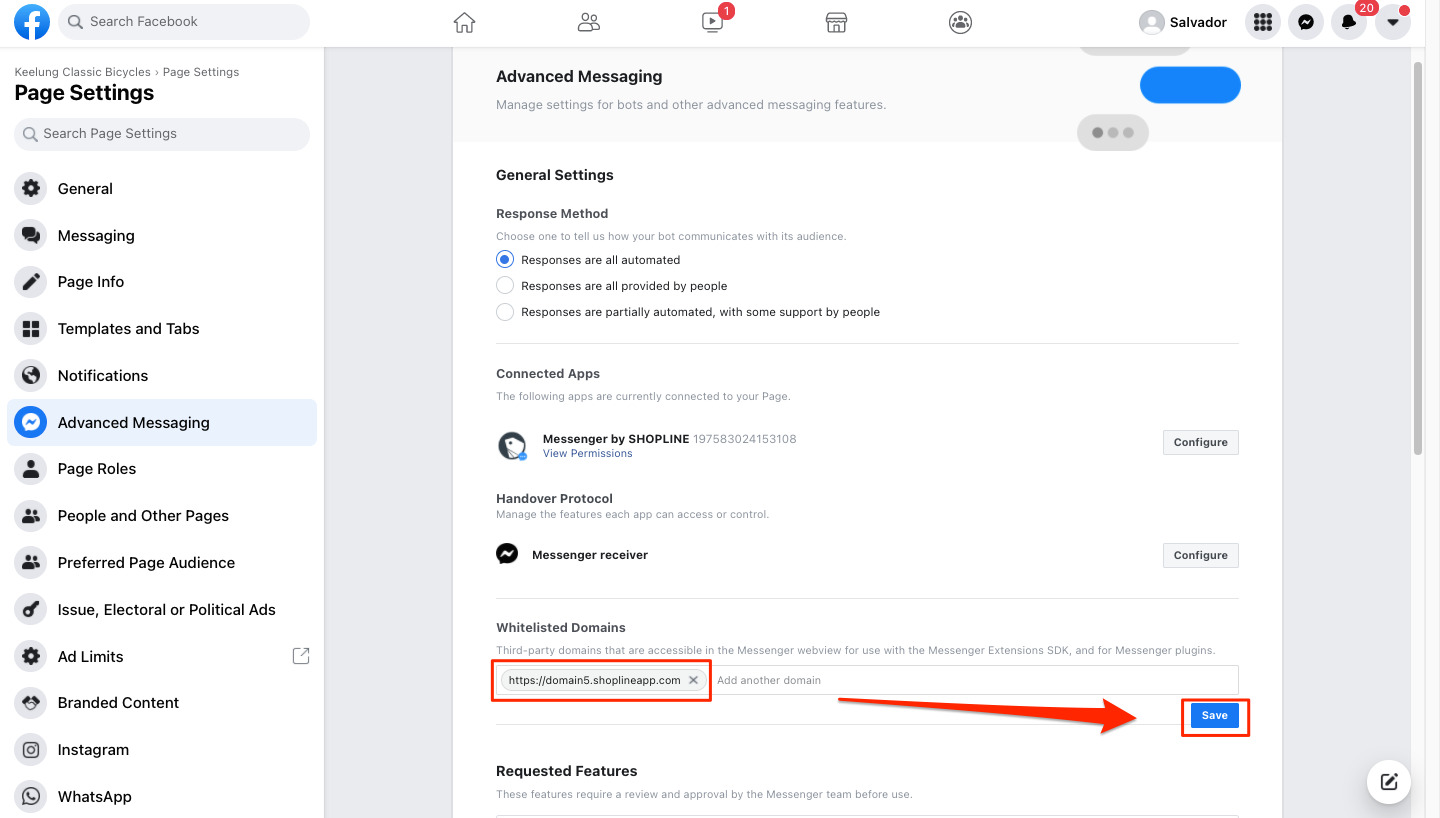 LINE
To use the LINE 1:1 messaging feature, please make sure you have connected LINE in SHOPLINE Admin. To do this, follow the steps in the

Connect with LINE FAQ.

You must also check your account settings in

Line Official Account Manager

to make sure that the Response mode is set to Bot, and "Webhooks" is enabled.
When connecting LINE to Message Center (with the Response mode set to Bot), you will not be able to use the LINE Official Account webpage admin panel, or the LINE Official Account mobile app to read, check or reply to messages.

Message Center does not currently support the display or sending of LINE stickers.

If a merchant sends an image and text in a single message from SHOPLINE Admin, this will be received as two separate messages (one text, one image) by the customer.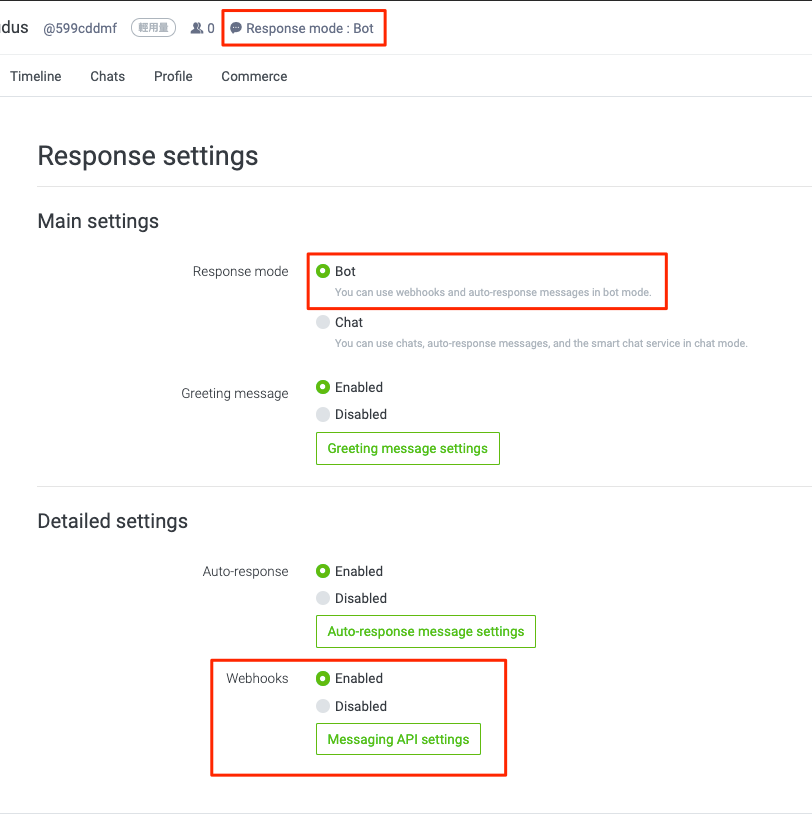 3. Message Center interface overview
1. Once you have finished connecting a Facebook Page or LINE shop, in SHOPLINE Admin, go to [Social Commerce] > [Message Center] and click on the

button to switch between tabs and view messages under the corresponding channel.
2. The interface is equally divided into three parts (see below for more details).
Left - Conversation lists

Channel tabs allow you to switch between "All Pages", "Messenger", and "LINE". The search engine can be used to help you find conversations by username and user tag. The filtering tools can be used to search by the staff members or using conversation filters to narrow down the search results.
Note:

If you have integrated multiple Facebook Pages, your main page will be listed first, followed by any secondary pages.
Default page while you enter the page, would show "All + unread" by default. You could change the filter to view the other conversation or marked ones.
Middle - Conversations: After clicking on that arrow next to "Assign to me", you can assign the post to yourself or another member of staff. Tap the Star icon at the upper left of the conversation to mark and follow up the conversation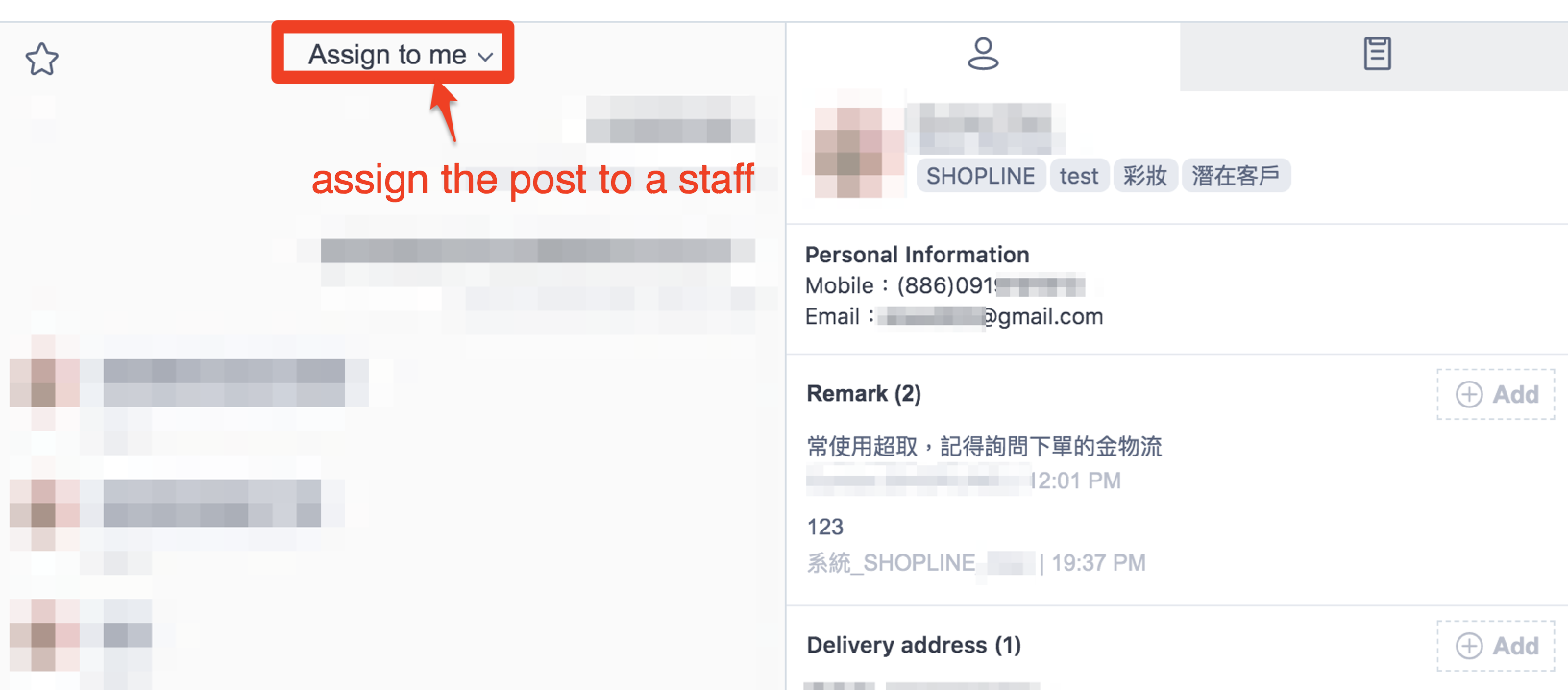 Right: Customer profile and Manual Order: The default layout allows you to view a customer's basic information, delivery address, and order history.
Create New Member
Enter the customer information (email/phone number) in the customer information field on the right side of the interface.
A. If the information you enter matches an entry from the membership record, the system will display a list of customer profiles. Click on the one that matches.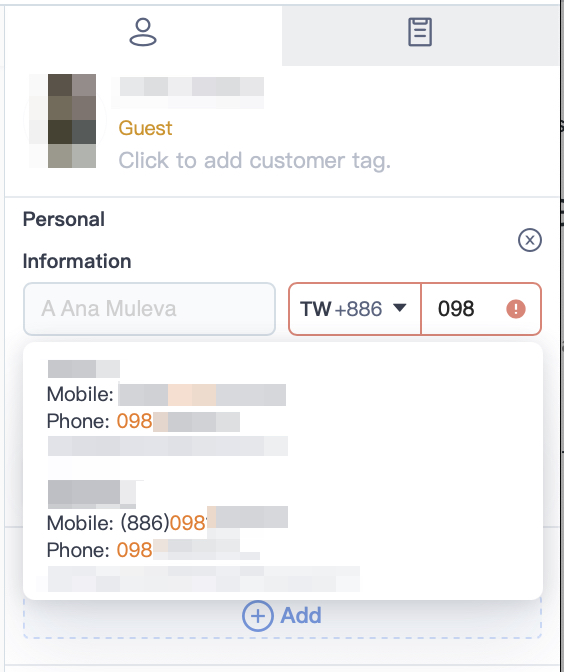 B. Please ensure the customer's mobile and email are unique, otherwise you may need to double-check whether to merge with an existing customer account.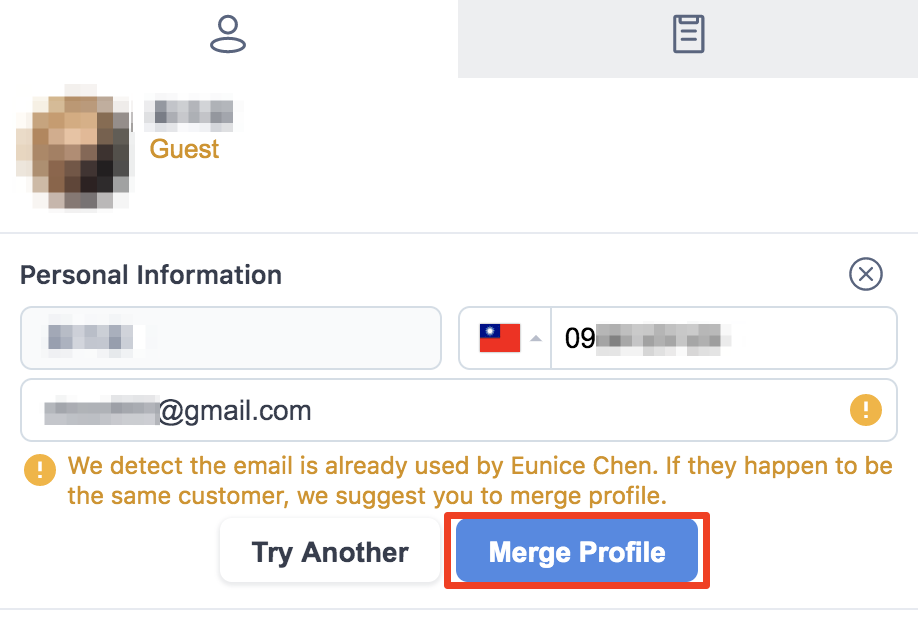 C. If the customer has created order through Facebook Live, the system will automatically display the customer information in the order. Merchants can click View Existing customer information to confirm if they are the same one and thus merge accounts. Click View customers to jump to the customer information page in the Admin.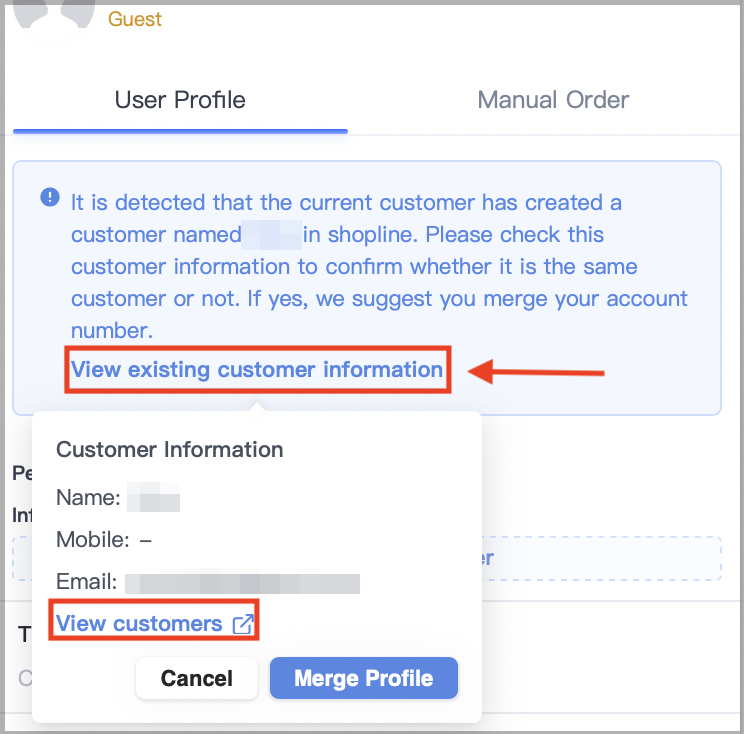 Please note:
The profile on the right will be synchronized with the customer details. The "Remark" field in Message Center is different from "Tags & Note" in Customer Management.

If you want your customers to receive Facebook and LINE push messages and order notifications, please invite them to integrate in Member Center.

Searching by customer name is not supported. The system will automatically bring in a customer's name from Facebook.

You can create a customer profile by entering either a phone number or email address.
Existing Members
If the customer is an existing member or has placed an order, you can see their detailed information on the right:
Membership Tier Level
Tags and Note of the customer: editable
Phone number and email address: as input by the member. Go to [Customer Management] > [Customer] > [View] > [Edit] to update the member's details.

Please confirm with your customer before making any amendments.

If the information entered by the merchant matches an entry of an existing member, a reminder to "re-enter" will appear.

Delivery address: Up to five addresses can be saved per customer.

Order history: This shows order records from within the past year. Click the order number to go directly to the details page for an order.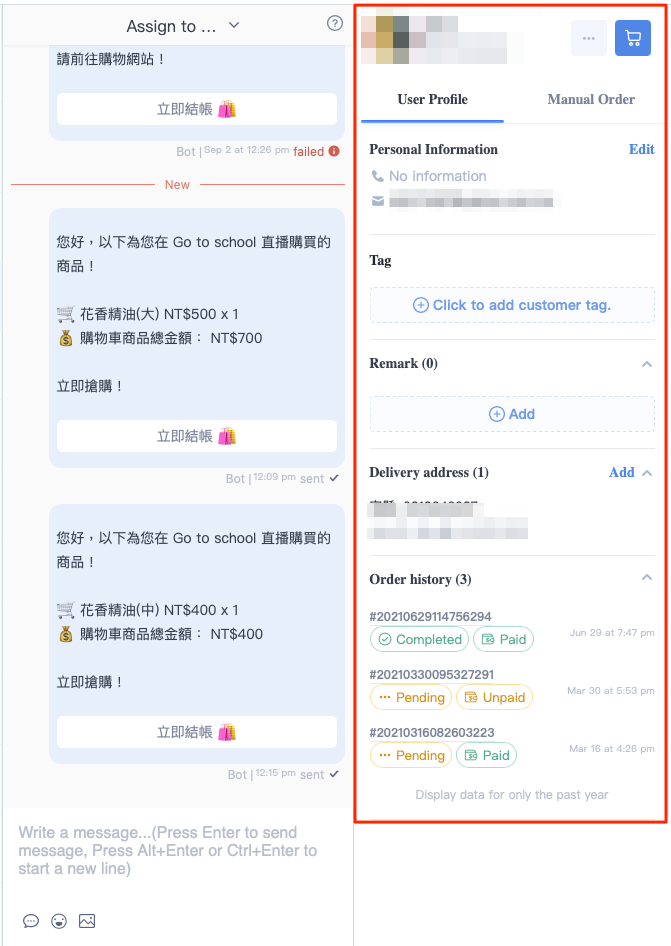 Unbound member
Click on the 3-dot button on the top right of customer information. You can find View customers and Unbind members.

Click View customers to jump to the customer information page in the Admin.
A pop-up window appears when clicking on Unbind member. Click Unbind to confirm the action.
Reminder messages when updating member information
If the email or mobile number entered by the merchant does not match with the existing member information, the update will be successful.

If the email or mobile number entered by the merchant is duplicated with the existing member information, a pop-up window appears to confirm if the merchant wants to update bind the profile.

If the email and mobile entered by the merchant are duplicated with different existing member information, the merchant is required to re-enter the information.
4. [Merchant End] Manual Order - Order Creation Flow
Manual order could help you place an order while replying to conversations at the same time. Available delivery methods include integrated 7-11 delivery, which is suitable for merchants using social media channels to process orders.
Note: If a private message is assigned to someone other than yourself, you will not be able to use "manual order" function.
Step 1
Click the icon

to switch to the Manual Order page. If the customer has been identified as a member in the previous step, the customer's information will be filled in automatically. If the customer is a Guest, you can still create an order for them as a guest.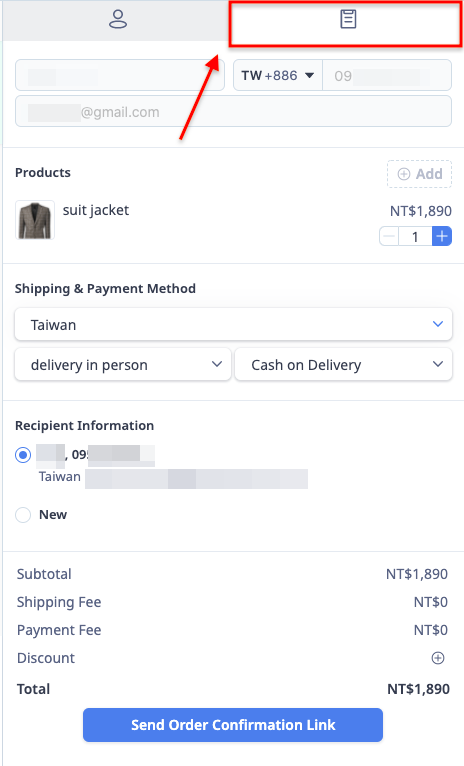 Step 2
i. Add an existing product
Choose the products that are being purchased. If it is an existing product that is being purchased, click on [Select Product] on the left-hand side of the Add Products window and search for the product by product name or SKU.
*Note
Enter a product's name into the search bar to find products quickly.

If a product has multiple variants, you can click on the dropdown menu to view and select specific variants.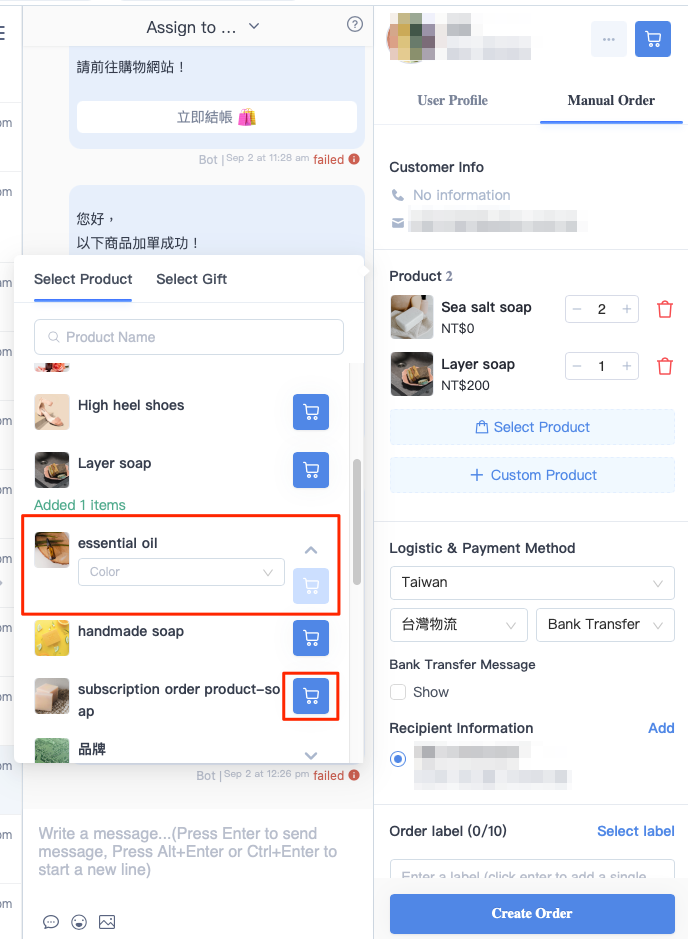 In addition to adding products, you can also add gifts to a customer's cart using the "Select Gift" tab.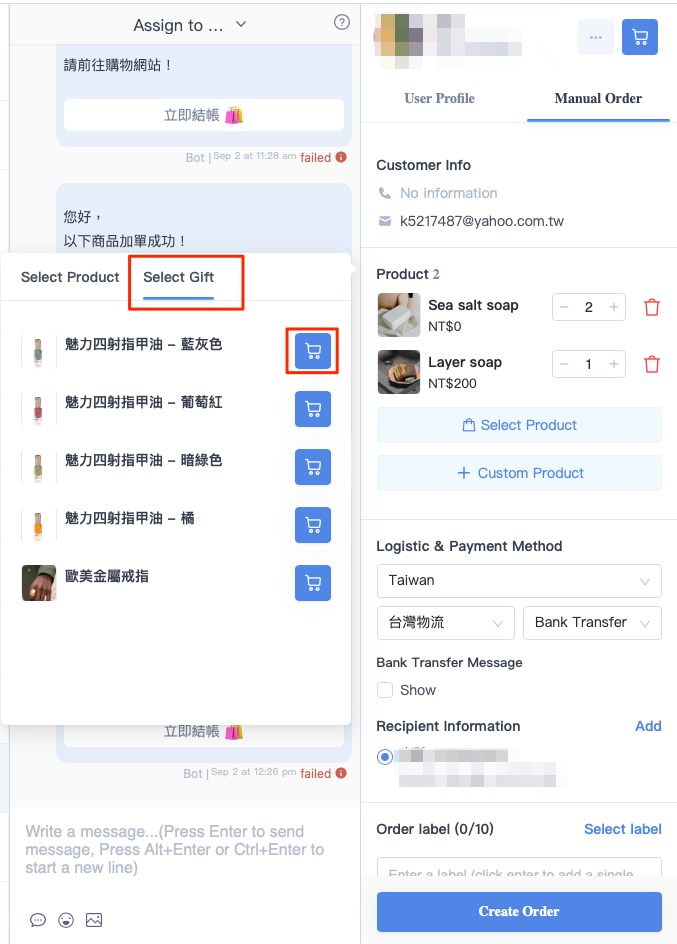 ii. Custom Item
You can also use the Custom Product function to create a custom item (including price, name, product photo, and quantity). In addition, merchants can select whether or not set the custom product as a hidden product. Hidden products will not appear on your storefront. Once you are happy with your settings, click Add to Cart.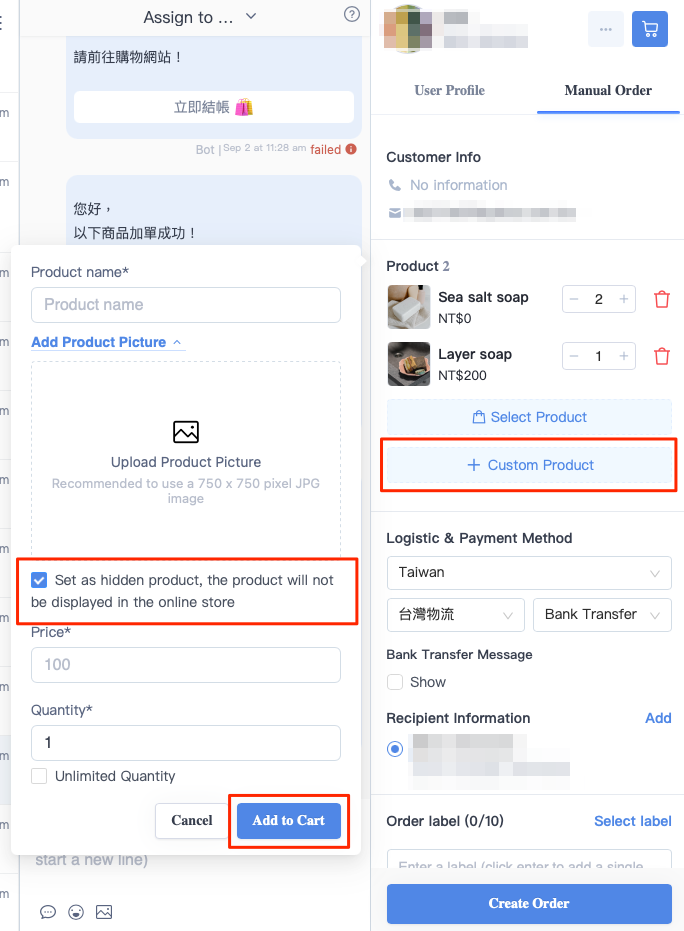 Step 3
Configure payment and delivery settings. You will be able to view and select all "non-hidden" delivery and payment options.
For social commerce, the following delivery options are available: 7-11 C2C & B2C pickup and COD / pickup only, Family Mart C2C & B2C, custom logistic services (non-integrated)
For social commerce, the following payment options are available: custom payment option (non-integrated)
For example, you can set "7-11 Pickup and pay" as the shipping option, with COD as the payment option.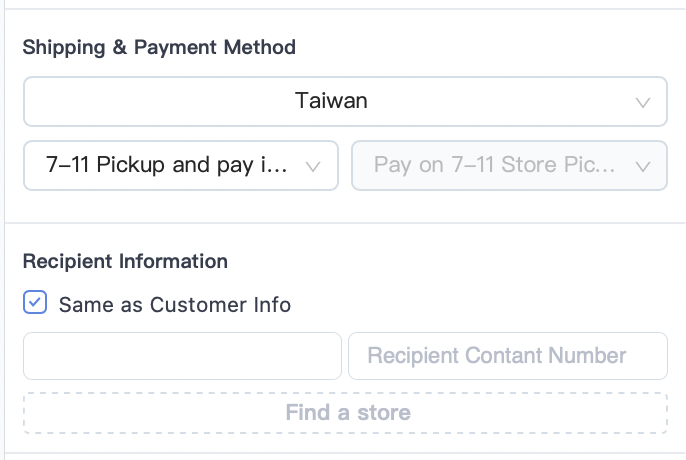 Step 4
Merchant can add Order labels (also known as Order Tags) for reference. You select labels by clicking Select label. Click Save after you finish.

You can also click on Select label to view a list of previously created order labels/tags. Once you have selected the labels you want to use, click Save.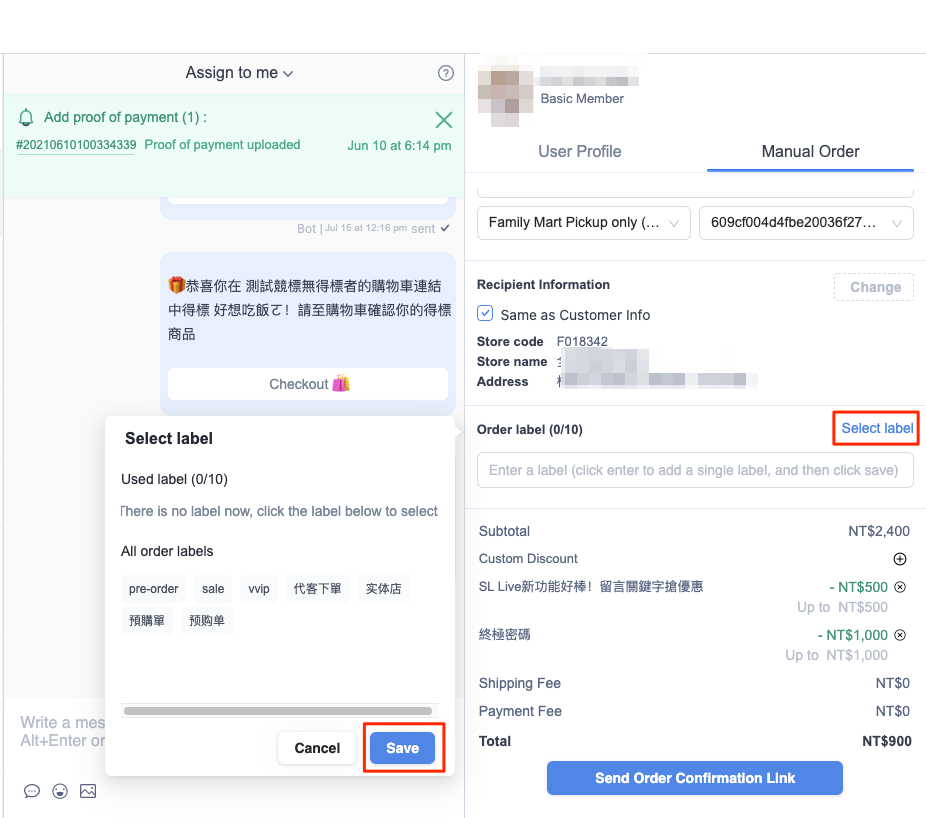 Note:
You can add up to a maximum of 10 labels.

The newly added label will also be displayed on the order details page in SHOPLINE Admin in the "Order Tags" section.
Step 5
Merchants can add remarks to the order.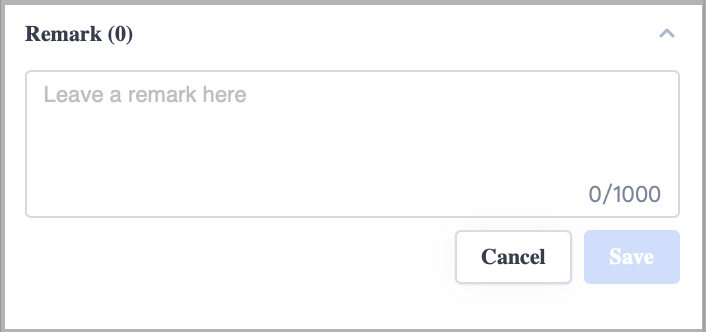 Note:
Customers can see the remarks on their order details page.

Text limit: 200 characters.
Step 6
You can choose to add a custom discount to a manual order. Click Add Discount to add the discount and rename the discount title.
Note: The custom discount here has no relation with any promotion campaigns. The discount information will only appear here in the order details.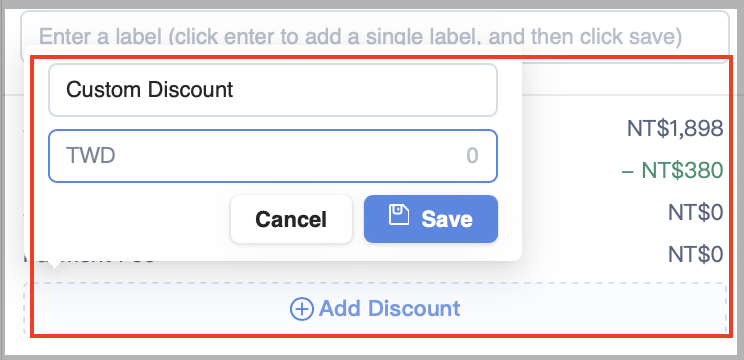 Click Add Discount again to add another set of discounts.
Currently, the system supports a maximum of 5 sets of custom discounts. When the number of discount sets reaches the max, the Add Discount will be grayed out and pause the function.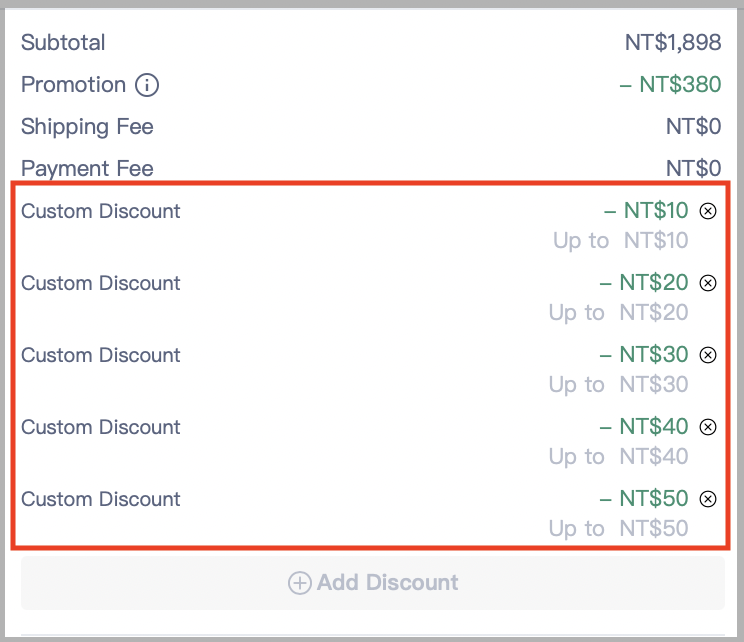 Step 7
Auto-apply online store discount
If the order meets the conditions of the online store discount, the discount amount and name of the promotion will appear in the amount details. Please read this article for details of promotions and campaigns.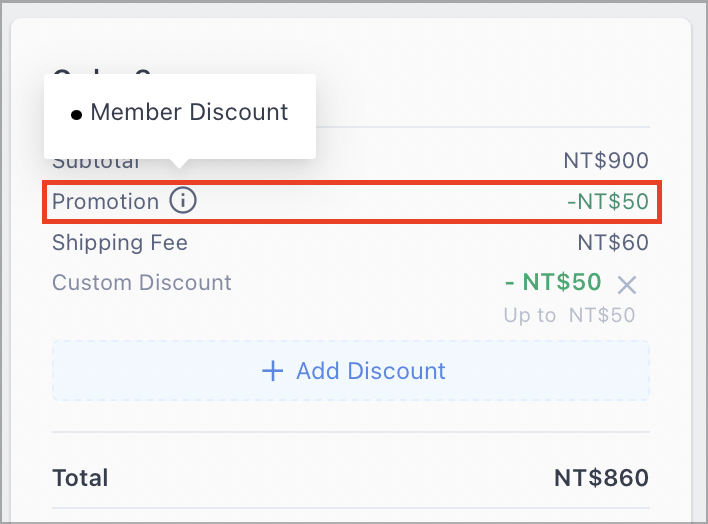 Tax details
If merchants have enabled "All Shops need Tax Collection" or some products require additional sale tax, the tax details and calculation method will be shown in the amount details.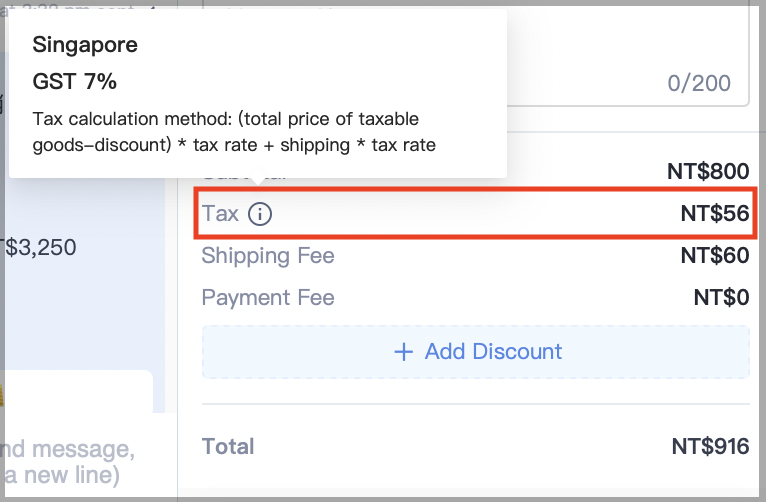 If merchants have switched on "All products include tax", the tax included in the payment amount will also be shown.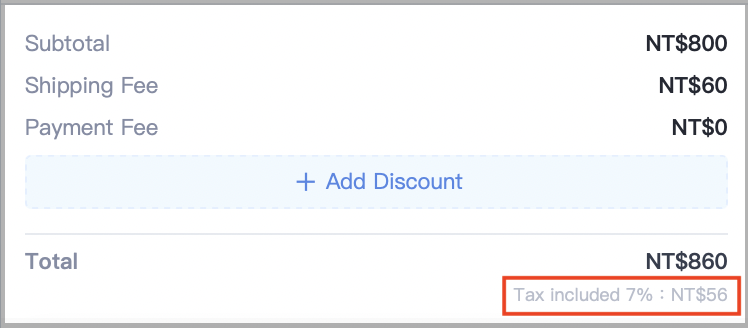 For detailed instructions on taxes setting, please refer to:
Click the Send Order Confirmation Link button to share order details with the customer via private message. An order will also be created in SHOPLINE Admin. Please wait until the customer confirms their order in the message before proceeding with shipment. This ensures that customers agree to your store's privacy policy and thus establishes a fair sales contract.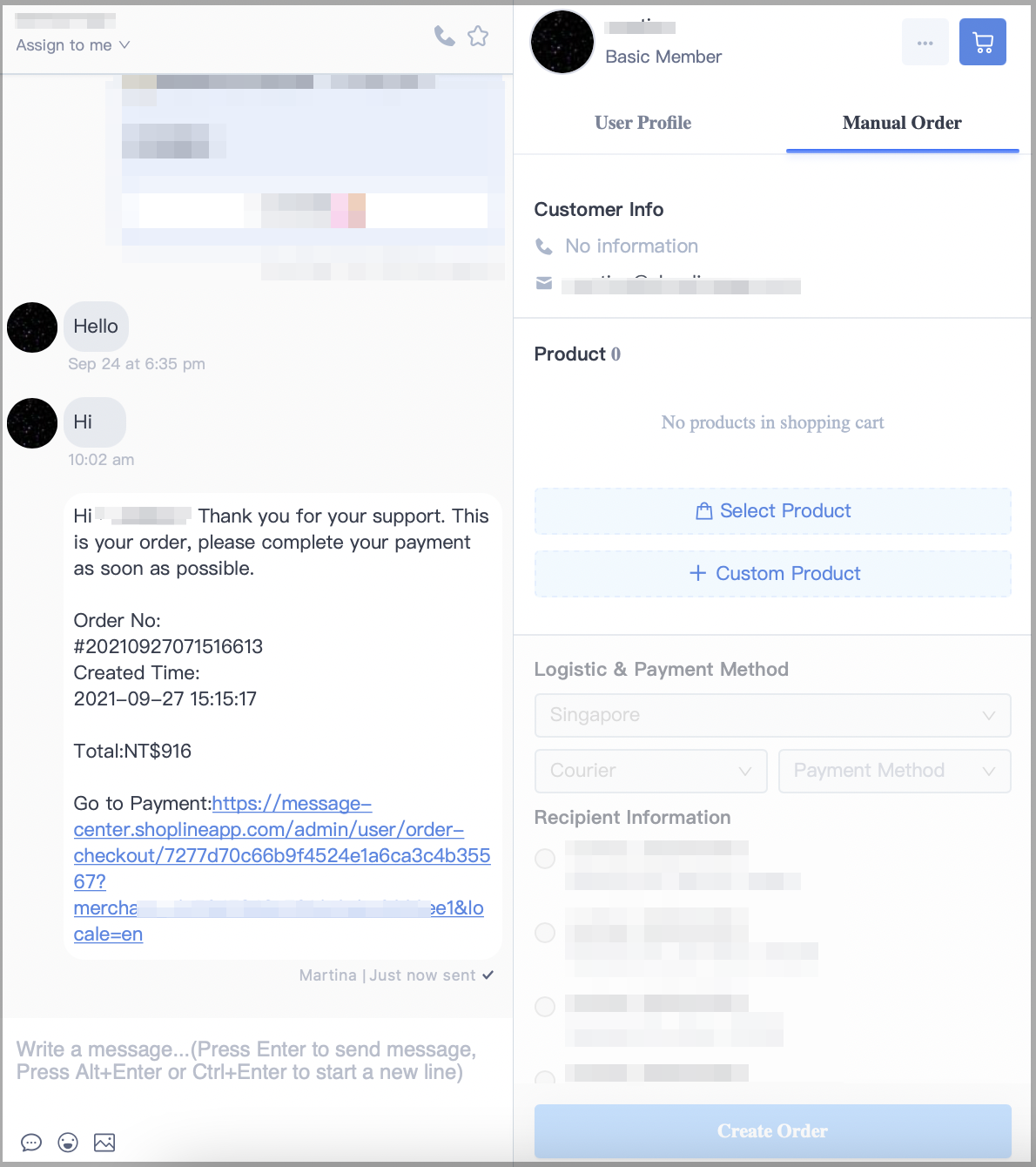 5. [Customer End] Manual Order - Order Confirmation Flow
1. After the order is created and the customer has been notified, the customer will receive a message containing their order details. When they click the View Order Details or Go to Payment button within the message, customers will be redirected to the order information page, where they can view more details of the order.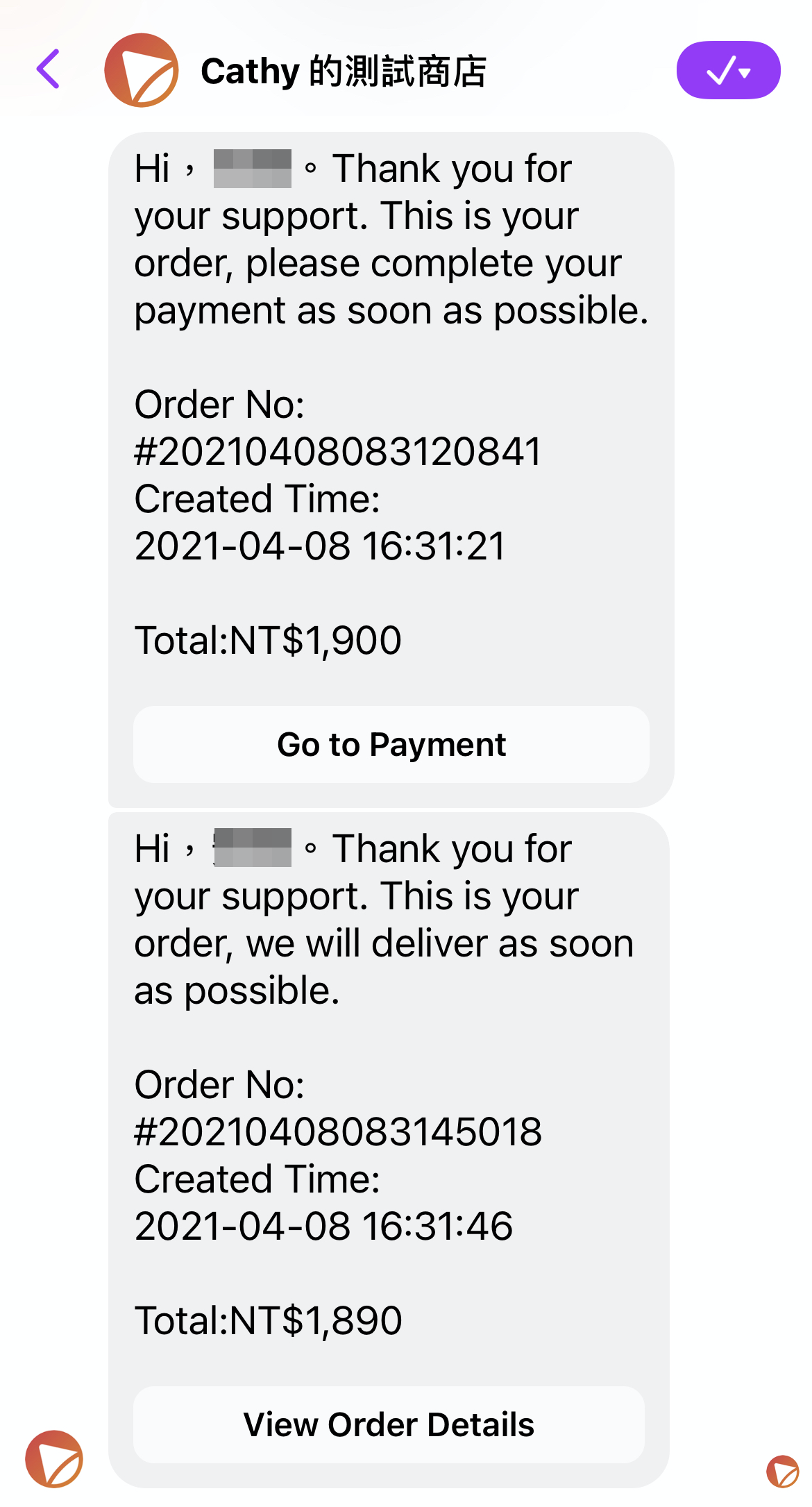 2. Customers can check recipient information, including names, phone numbers, and delivery addresses. For orders which are not COD, customers can click Go to Payment and will see the section "Upload a proof of payment". This will also be updated to the Comment section.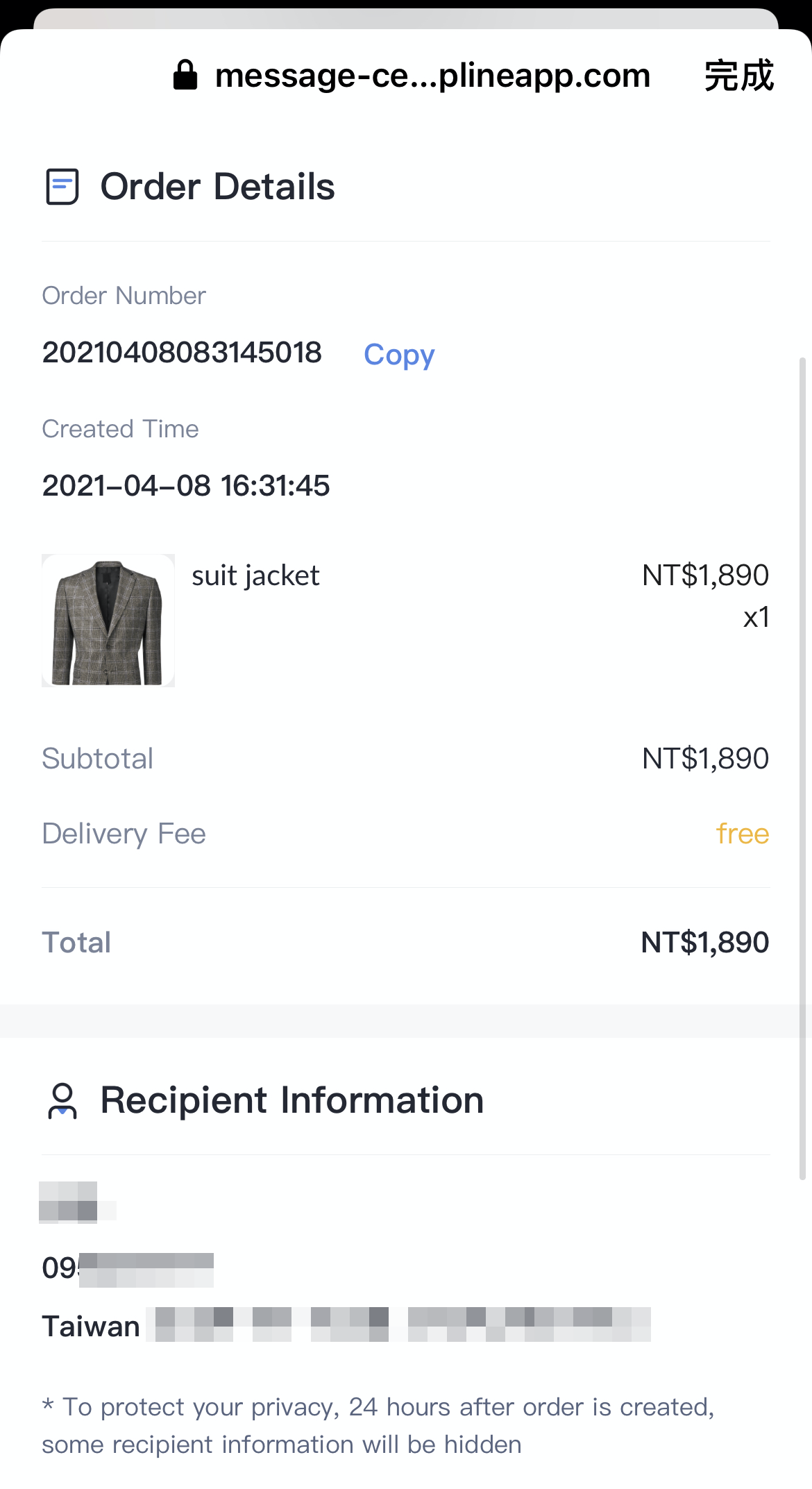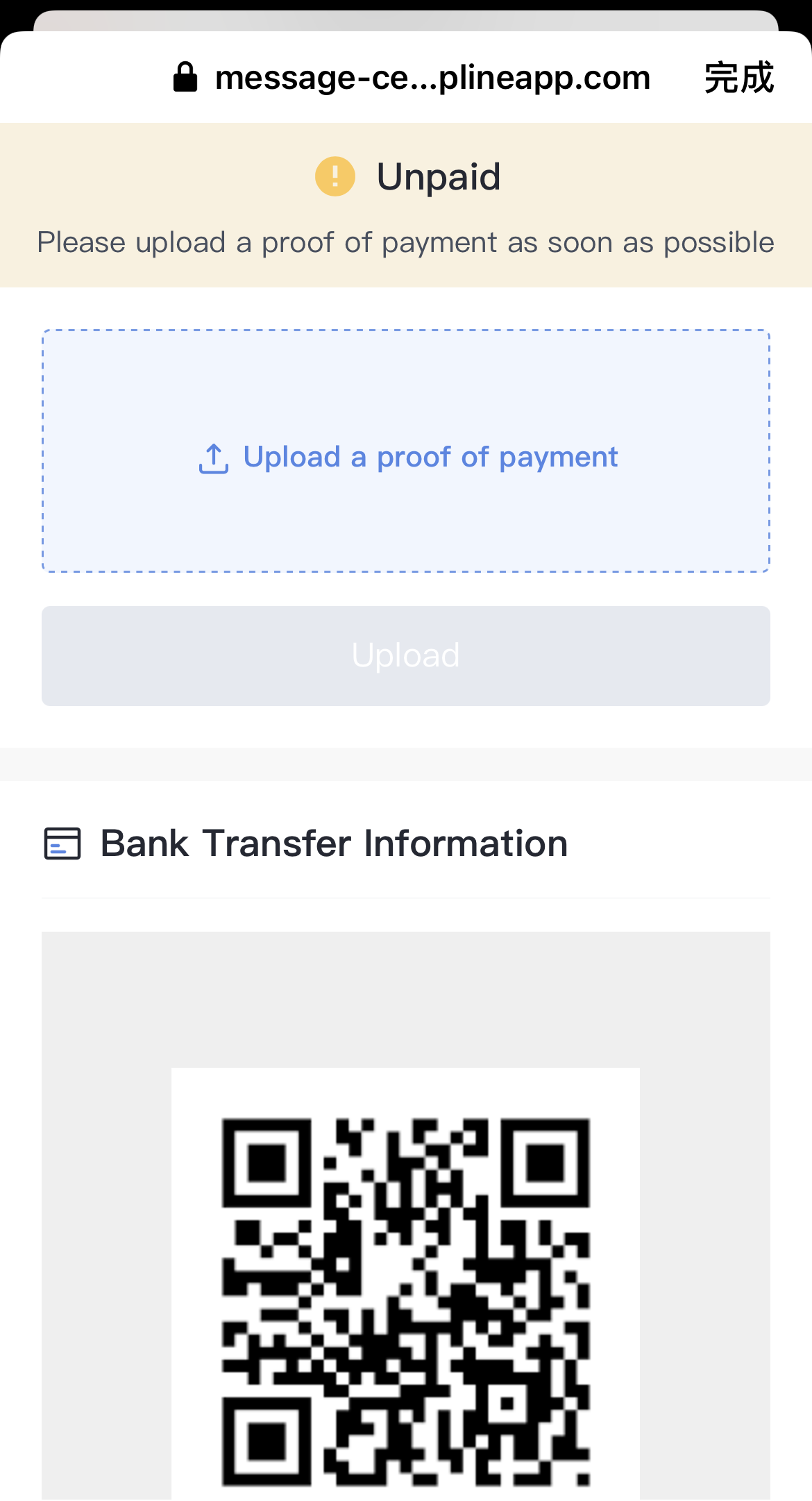 3. After a customer uploads proof of payment, they will receive a "wait for merchant to check" message. Customers can click the View Order Details button to track their order's status at any time.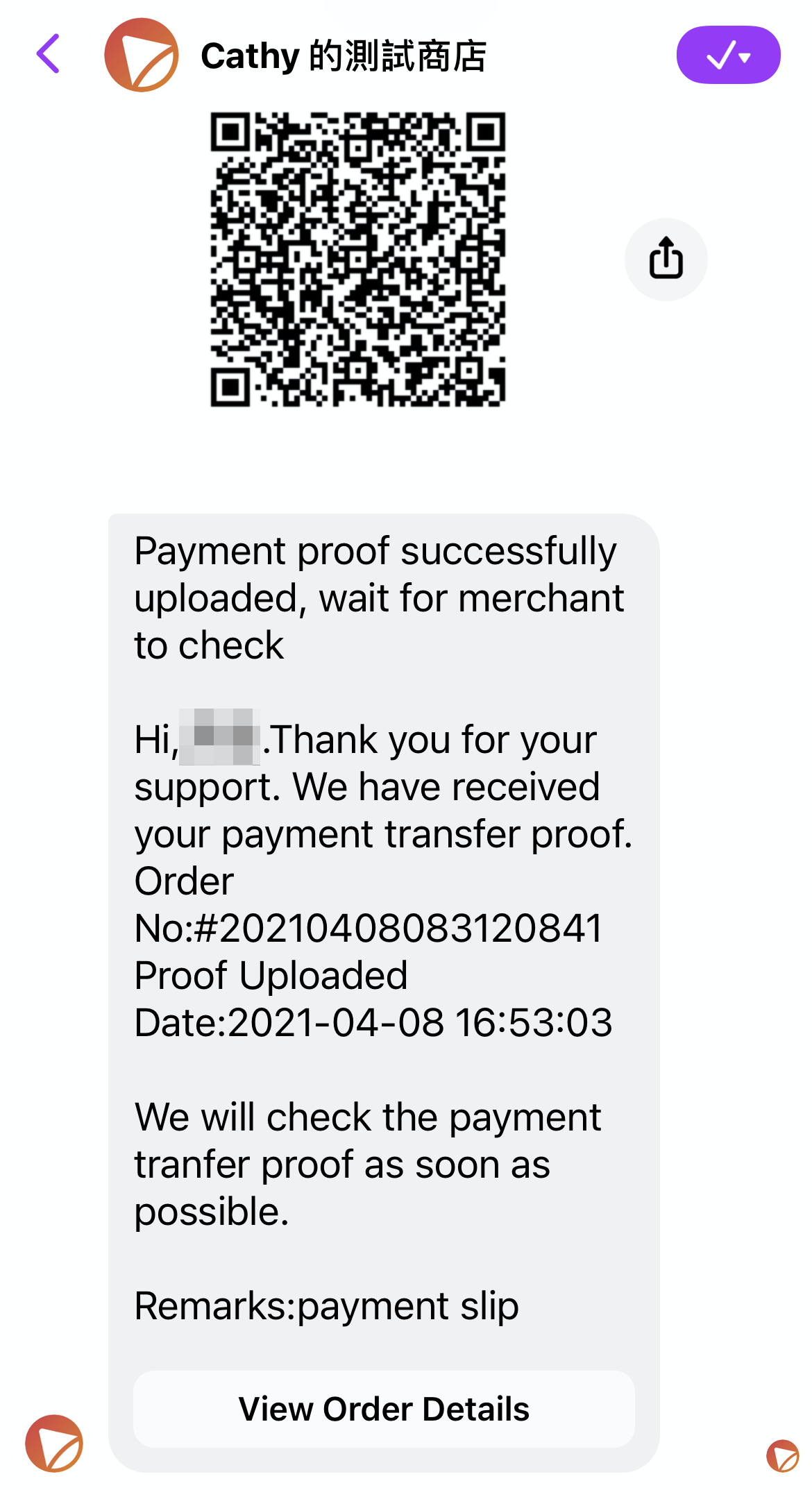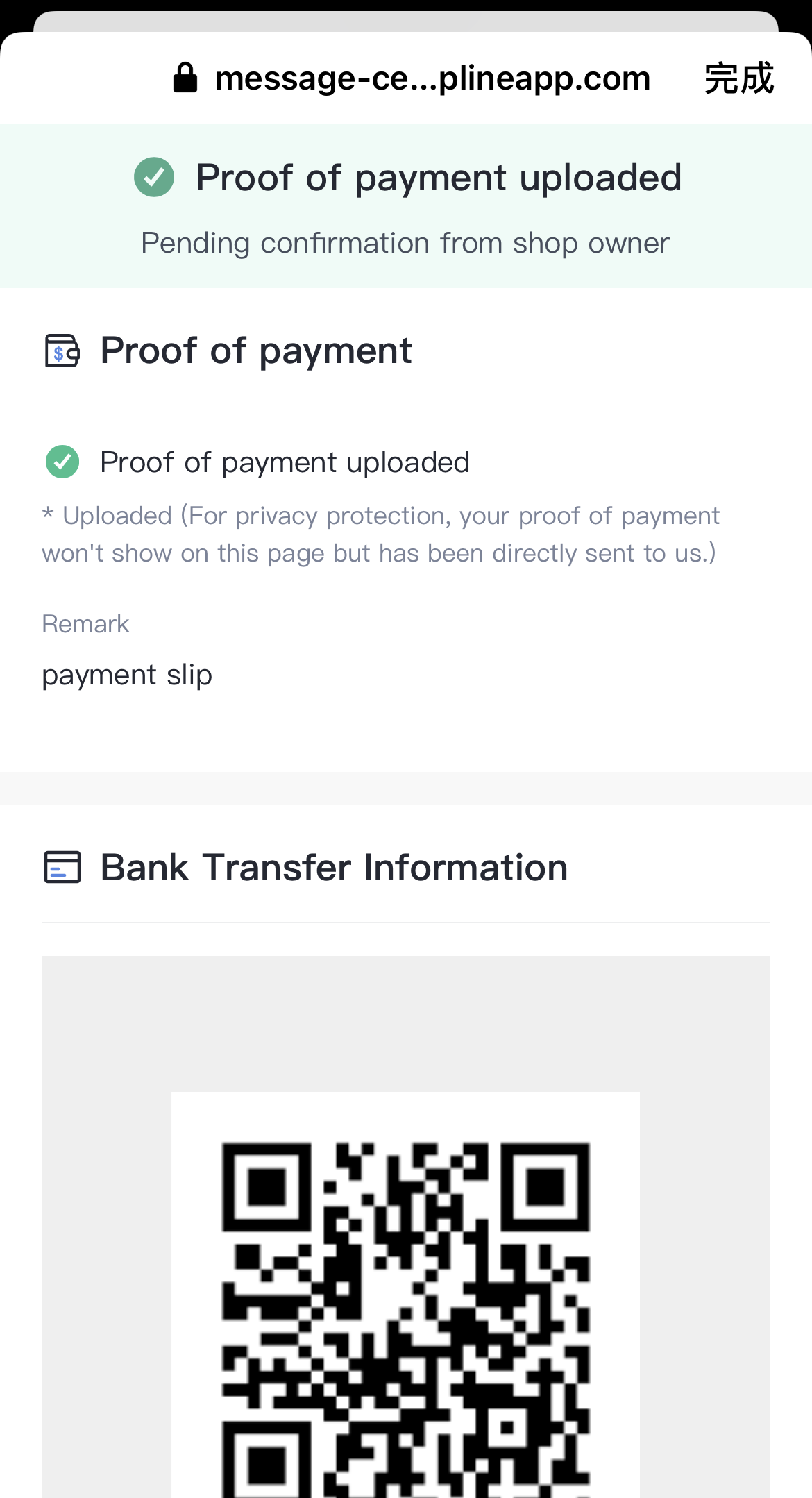 6. Notes
According to the new Facebook Messenger Policy, since 2020/3/4, if a user has not interacted with your store via Facebook Messager within the past 24 hours, you cannot send system messages to the user. One-on-one private replies will not be available if there is no interaction within 7 days.
LINE messages sent out from Message Center are included in your LINE Official Account allowance. We recommend you make use of customer tags and remarks to respond to high-value customers. You can also use SHOPLINE Broadcast Center to filter out some tags before sending out promotional messages, to help lower costs vis-a-vis LINE messages.
You cannot reply to messages using the LINE App/LINE Official Account admin page when the "Response mode" in LINE Official Account Manager is set to "bot". In order to reply to messages using these channels, you must set the "Response mode" to "chat".