As a central hub of message, we aim to support a wider variety of CRM and business goals for our merchants. The key focus of becoming an efficient customer service delivery platform is to unify messages from all sales channels into a single conversation. Merchants are able to reach users wherever they are with modern experience that works anywhere.
Here to share some tutorials you may need while using this feature,
*Kind reminder that interfaces may differ depending on subscription plan.
I. Activate Steps: Link Facebook Page / LINE Shop to SHOPLINE Account
Link Facebook fanpage / LINE shop in "Channel integration > Facebook / LINE". Follow instructions of Facebook / LINE authorization respectively during connection steps, Connect with Facebook tutorial, Connect with LINE tutorial.
Social plan supports up to 5 Fan Pages integration,1 main Fan Page and 4 secondary Fan Pages. Secondary Fan Page integration supports SHOPLINE Live, Message Center and Chatbot features. Secondary Fan Page integration only supports Admin role account which main Fan Page connected with.
* If you have already linked Facebook fanpage, please reconnect it to renew the authorization to access the full feature.
Connect with Facebook feature in "Channel integration > Facebook":

Connect with LINE feature in "Channel integration > LINE":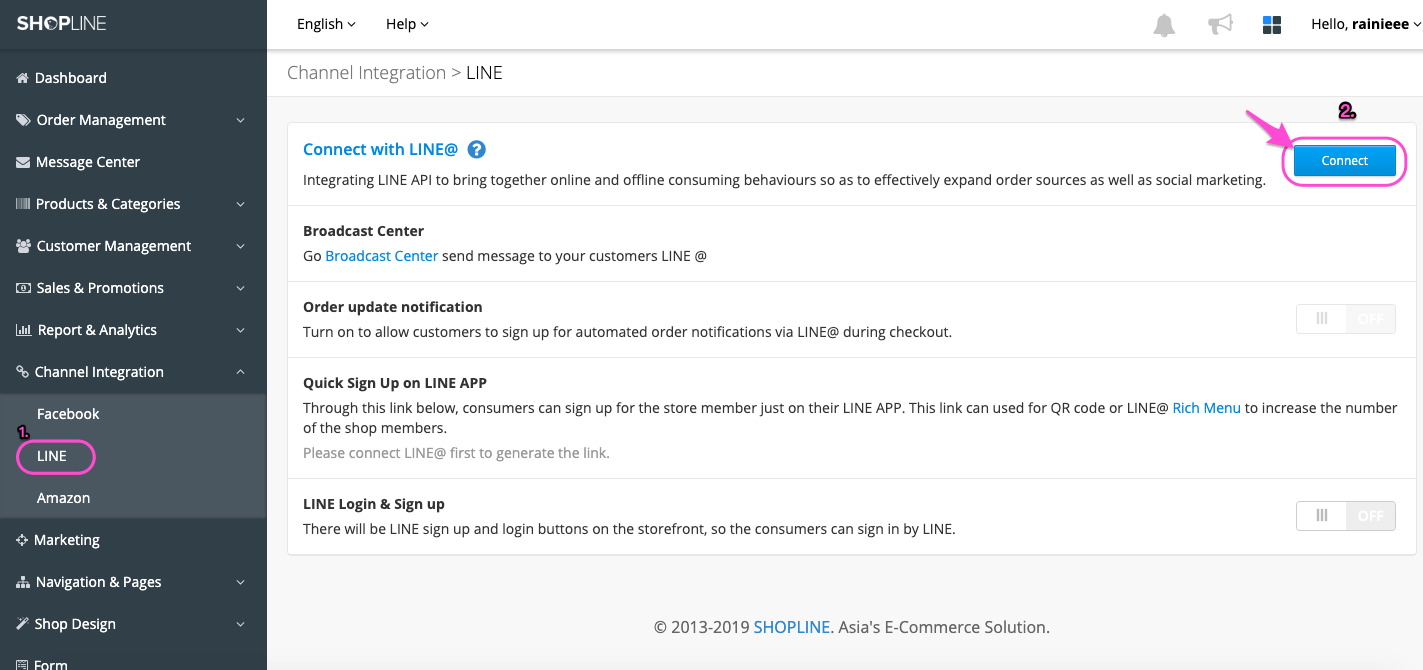 * Note: During "聊天機器人模式", It's not available to use the LINE OA App & LINE OA web to reply messages. LINE OA app & LINE web only support "聊天模式" to get and reply messages. Once switching to the "聊天機器人模式", it's not availabe to see the messages which are sent during the "聊天模式".
II. Instant Message Interface Guidelines
1. Once Facebook page / LINE shop linkage is done, go to "Message Center - Instant Message

", switch tabs to view messages under the corresponding channel.
2. The interface are equally divided into 3 parts as below,
Left part- Conversation lists

With tabs of channel "All, Messenger, LINE". The search engine that could help you find user's conversation by username and user tag. The filter tools could apply staff or conversation filter to narrow down the search results.
Notice: a) There would be no "All" tab, If there's only one channel. b) Default page while you enter the page, would shows filter in "All + unread", you could change the filter to view the other conversation or marked ones.

Middle part- Conversation

There's an "Unassigned" with a down arrow. Once clicking on that arrow, you are able to assign the post to one of your staff. Only assigned staff can reply the conversation.
Tap the Star icon on the upper left of the conversation, to follow up the conversation

Right part: User Profile & Manual order

User profile : a default layout to view customer's basic information, delivery address, order history

To engage Guest customers, you can add them to membership program. Please ensure customer's mobile and email are unique, otherwise you may to need double check whether to merge with existing customer account.
To segment customers, you can arrange them into groups by assigning them the appropriate tag.
To facilitate order creation flow, you can save up to 5 delivery address for future use.
To view order details, you can click order ID which will lead to order detail page.

Manual order

Manual order entrance is right next to user profile.

III. [Merchant End] Manual Order - Order Creation Flow
Manual order could help you place an order while replying conversations at the same time. The delivery method have included 7-11 deliver which is suitable for merchants who are using social community to get orders.
1. Click the icon

to switch to manual order page. If the customer is a Guest, you could create member account which is also the core component to repeated and frequent purchases.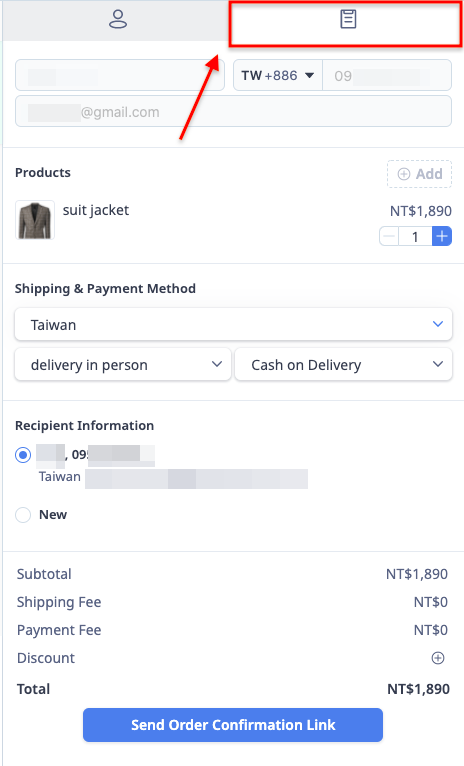 2. Add (customized) items to cart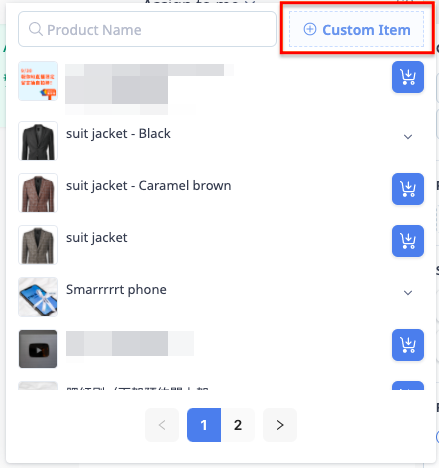 3. Configure payment and logistics methods. We have prepared various local couriers for your selection.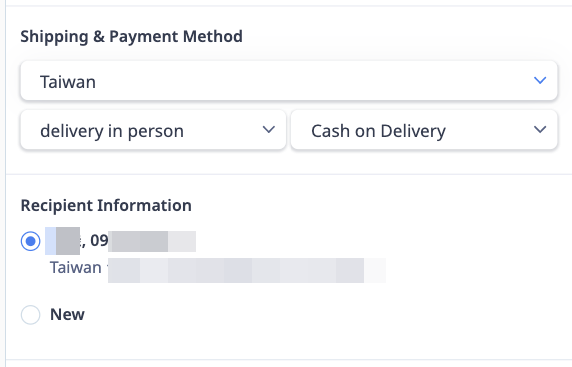 4. Give custom discount optionally and click Send Order Confirmation Link button to share order detail with customer. Inventory locked after sending out the link which expires after 24 hours.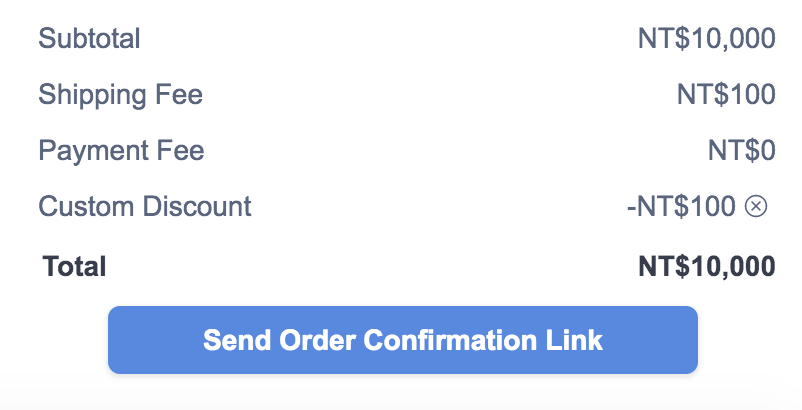 IV. [Customer End] Manual Order - Order Confirmation Flow
1. Ultimately, when done right, customers will receive an order confirmation link. When they click the "View Order Details" or "Go to Payment" button within the message, customer will redirect to order information page to check more details of the order.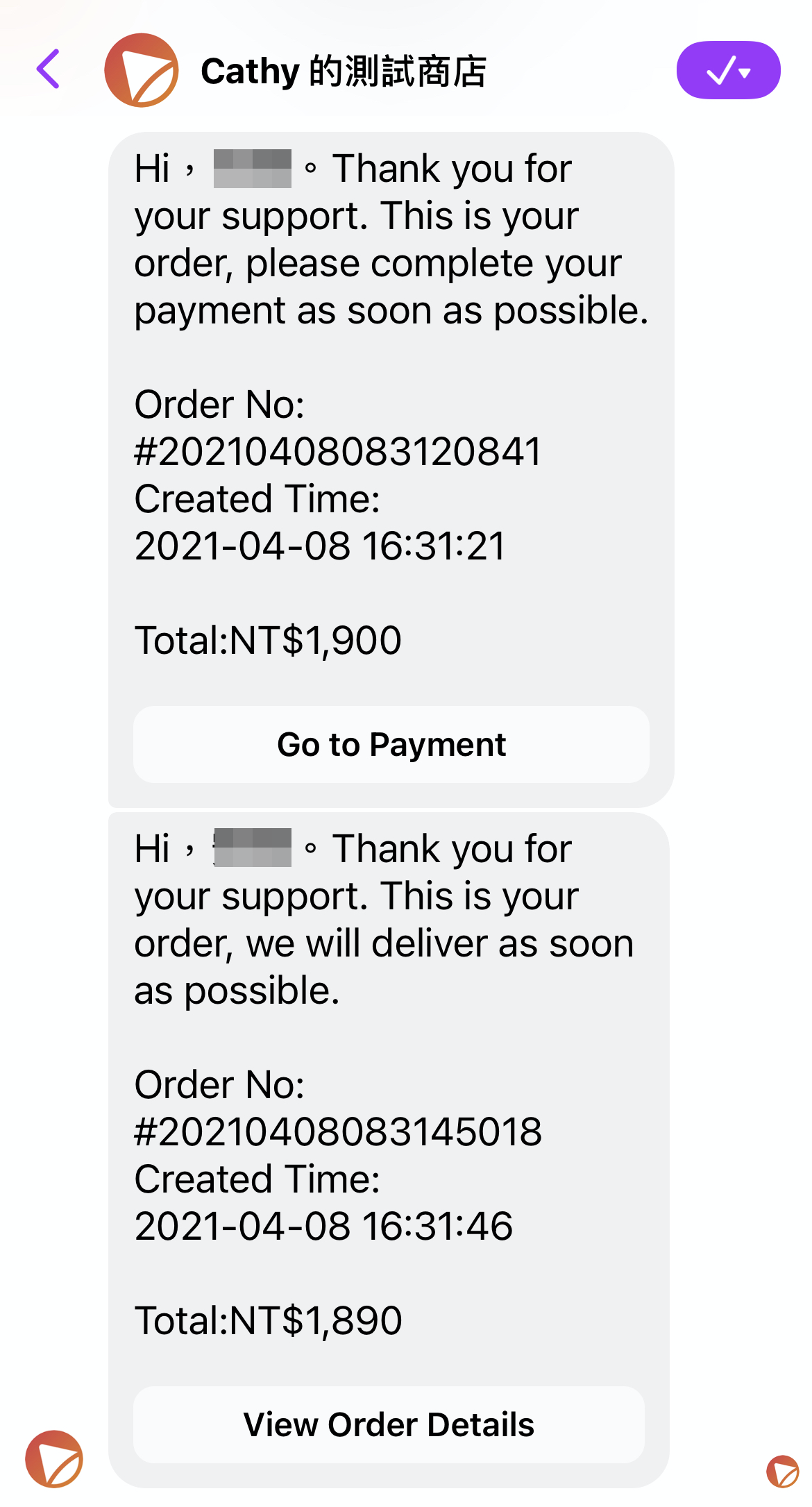 2. Customers can check recipient information including names, phone numbers and addresses.
For orders which are not COD, customers can click "Go to Payment" and will see the section "Upload a proof of payment".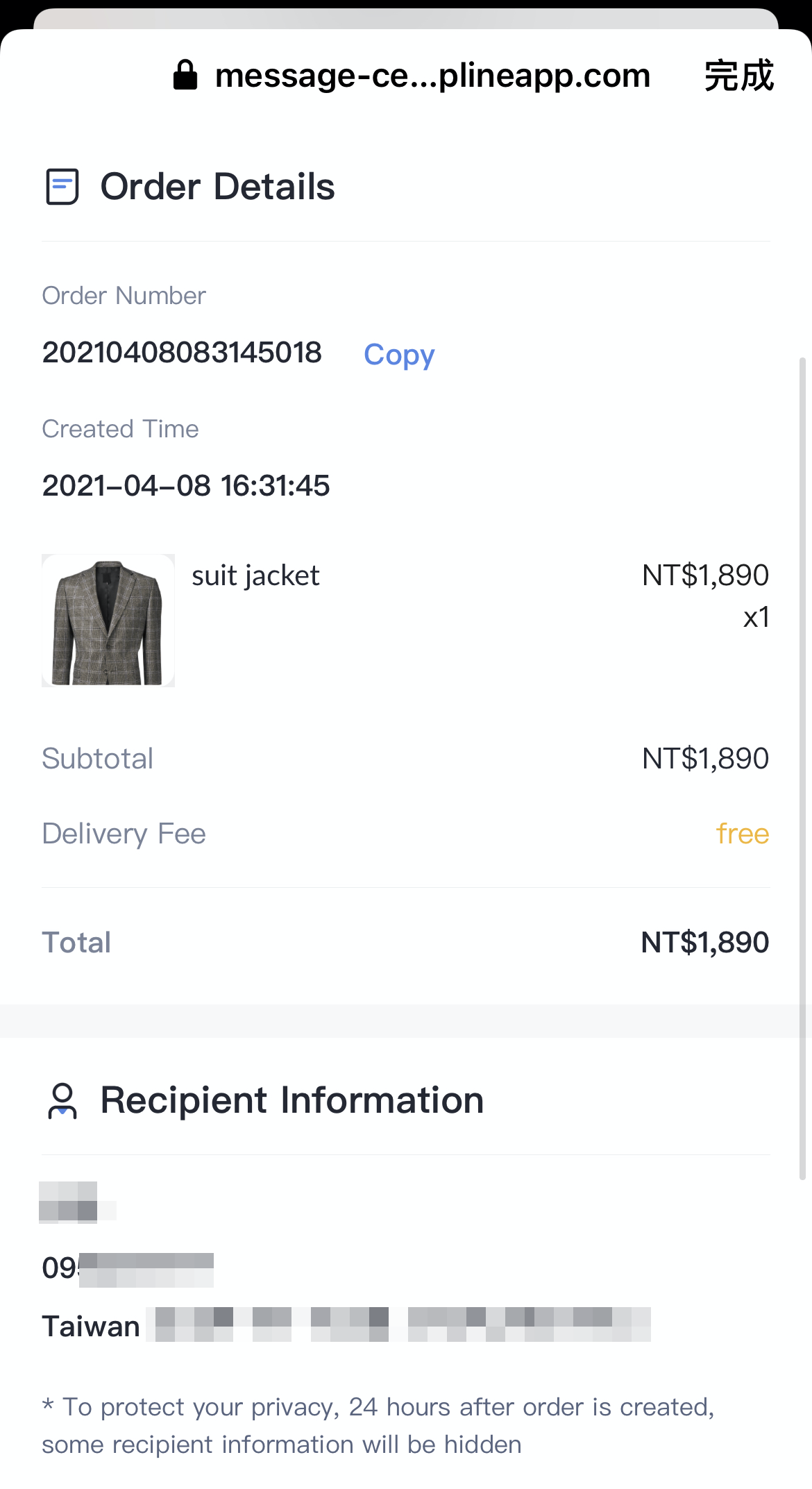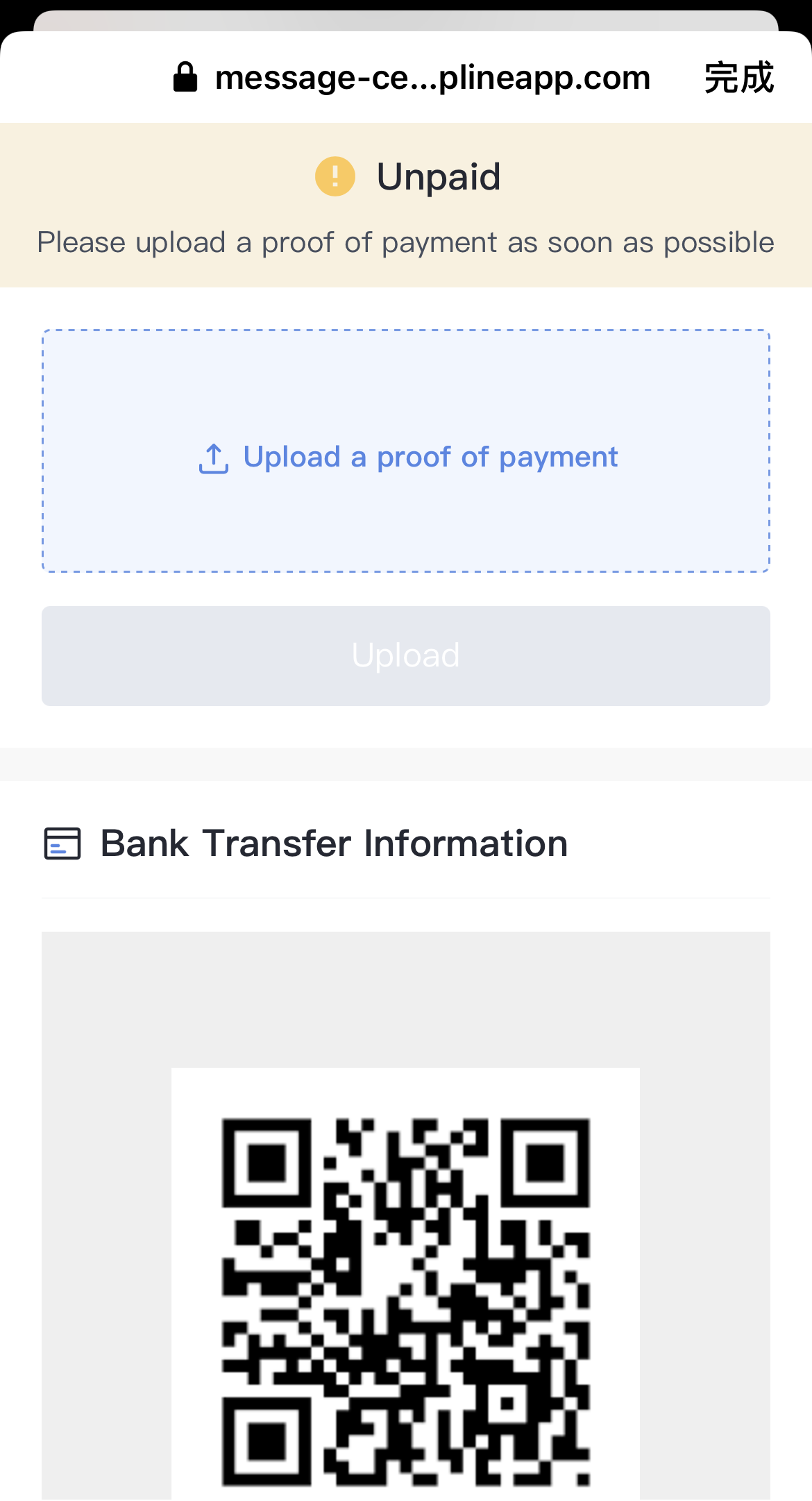 3. After customers upload the proof of payment, they'll receive a "wait for merchant to check" message. Customers can click the "View Order Details" button anytime to track the order's condition.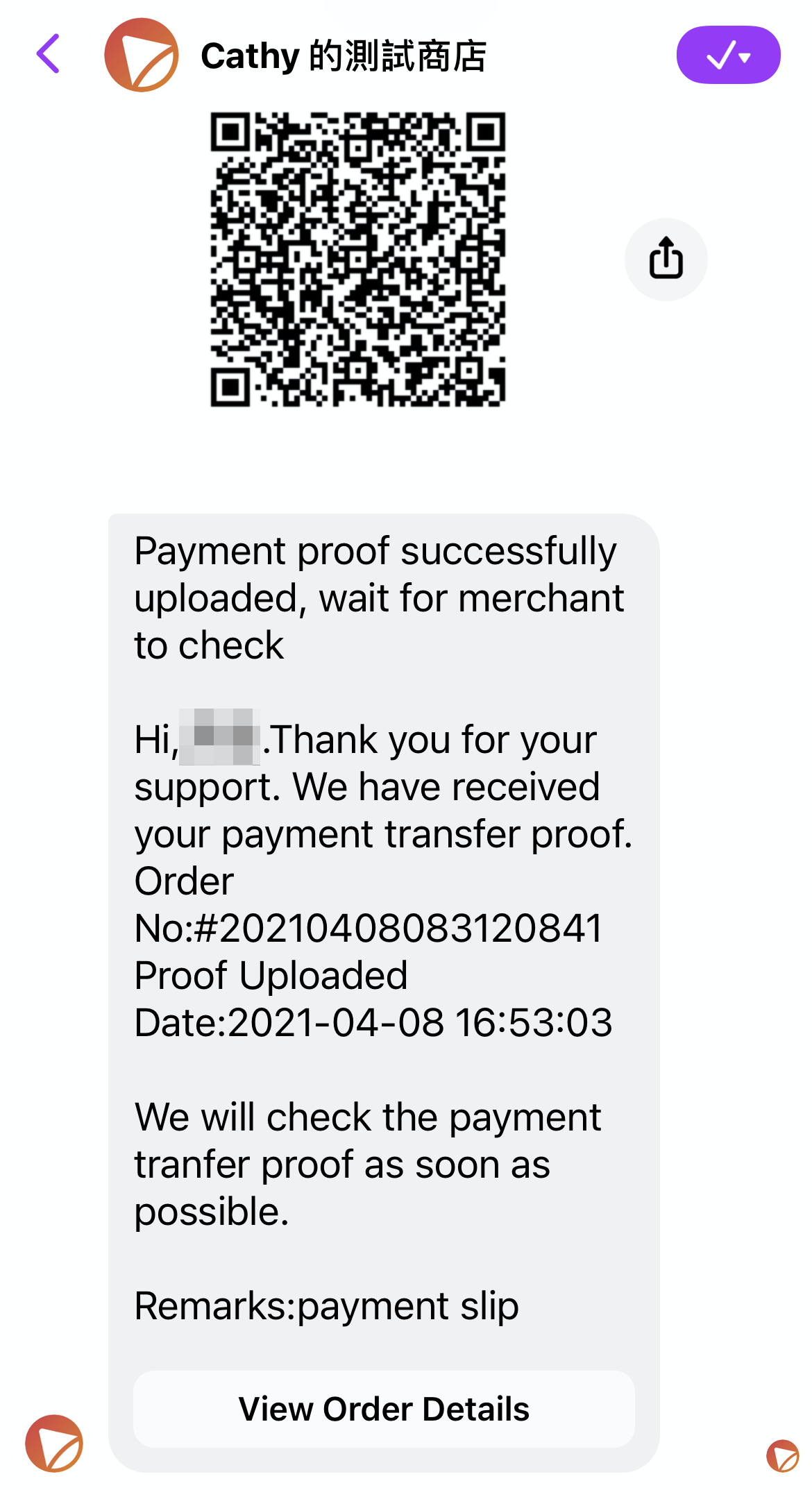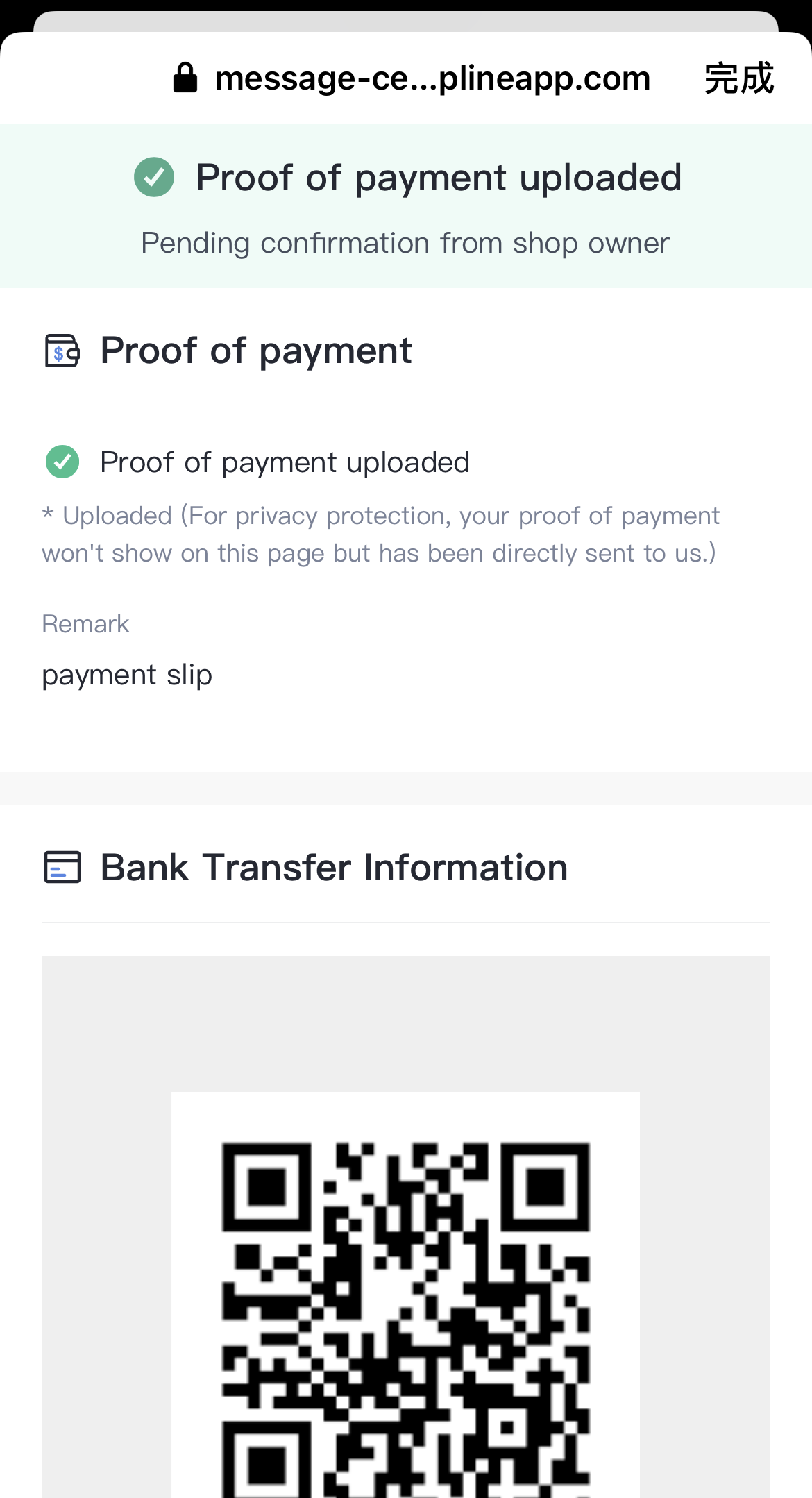 *Noice:
Orders have to be "Checkout (confirmed)" within 24 hours if it is non-COD order. Otherwise, the order will be updated to "canceled" and the stock will also be reverted.
V. Notice
Facebook Messenger has implemented the 24-hours rule. Facebook allows human agents to respond to messages including sending out manual order link within 24 hours.
The order confirmation link will expire in 24 hours. If a customer fails to checkout a non-COD order in time, order will be cancelled automatically. Also, inventory will be released.
The LINE message sending out at message center would be included in LINE OA quantity, we suggest merchant saves for high order value customers or using customer tags filter to send out the message in broadcast center to lower down the cost of LINE message fee.