Live stream + Shopping should be done this way! Through using SHOPLINE Live tool, you can create your unique personalised live stream (web link format), or connect to Facebook Live. You can greatly increase the interaction with fans and enhance product exposure. This provides a full live stream shopping experience, your fans can shop as they watch and keep the orders rolling in!
1. Prepare and create a live stream
Step 1:Create live stream
Please click「SHOPLINE LIVE」to enter live stream page in admin.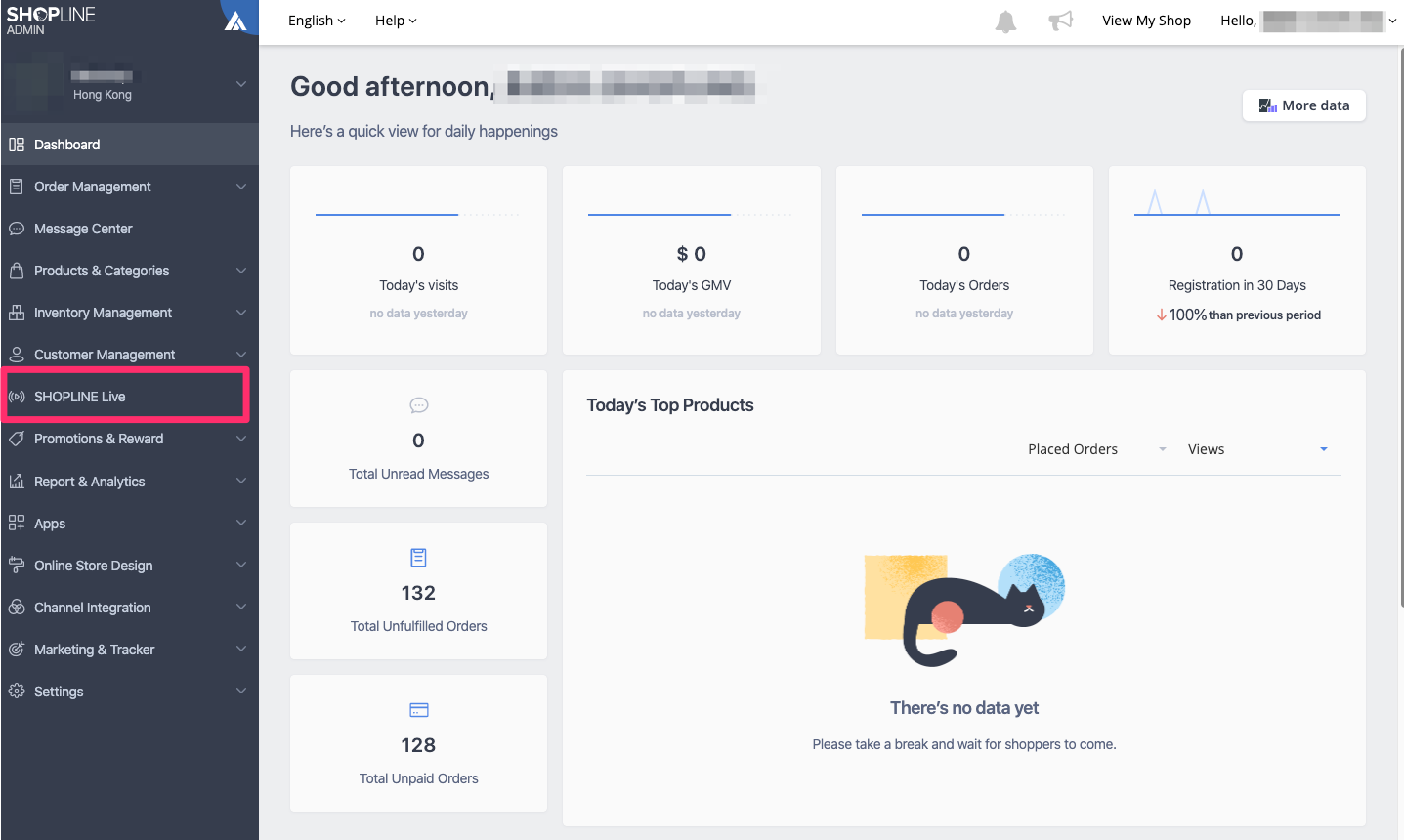 Click「Create live stream」button to create live stream page.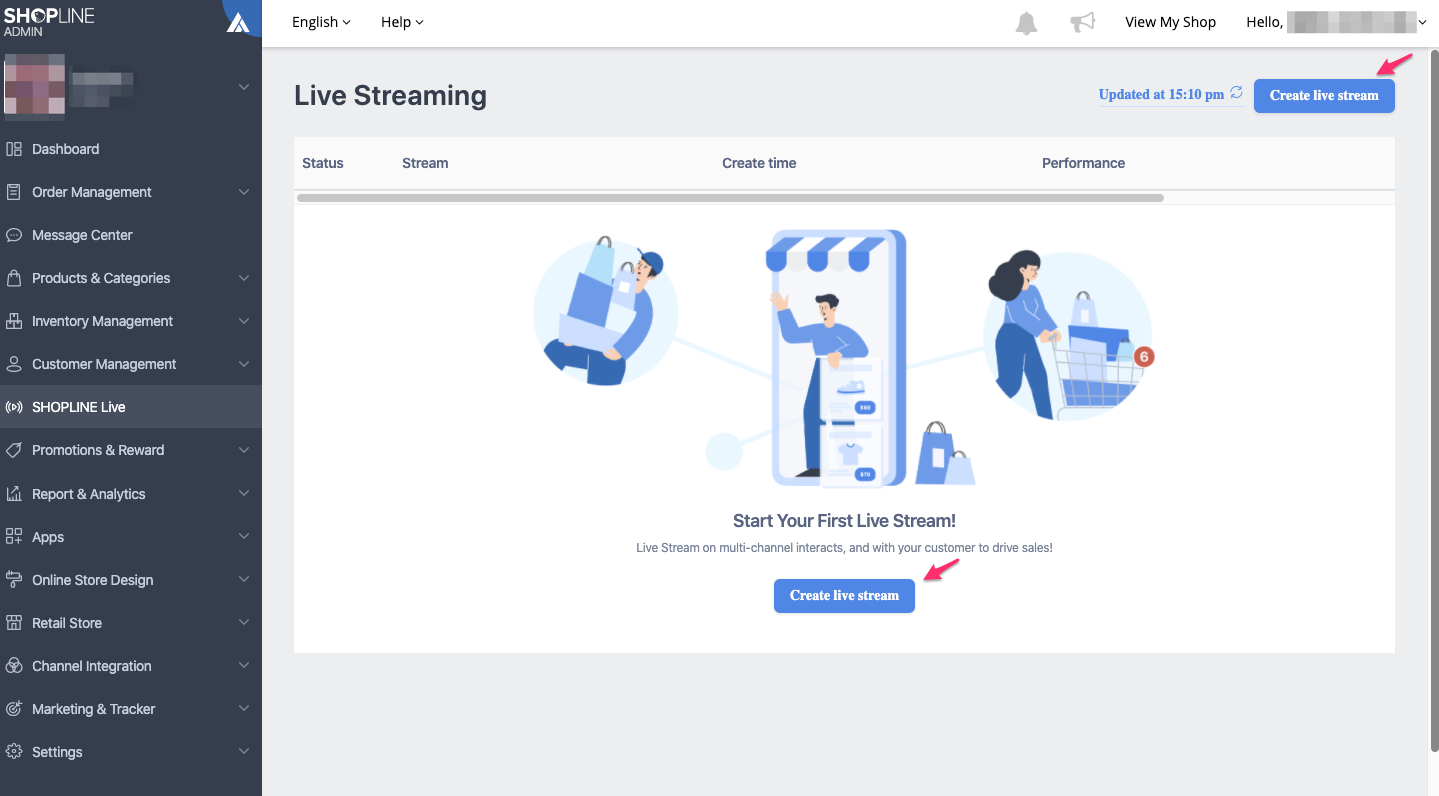 Click "Live Stream from SHOPLINE"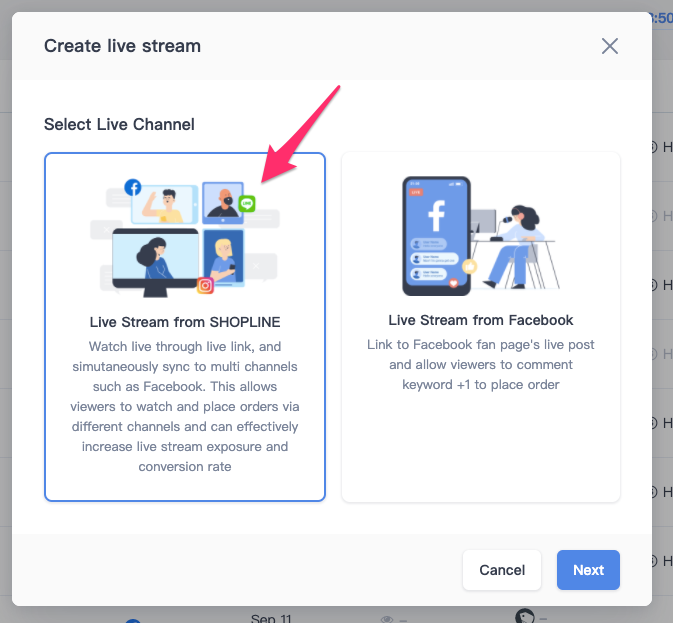 Step 2:Set up live stream
Fill live stream info:
Stream name(Required field):You can fill in this live stream event's name, this name will be shown to customers.
Streamer:This field is for recording purposes, you can decide whether to fill in or not
Description:You can describe and introduce what this live stream is about, this description will be shown to customers.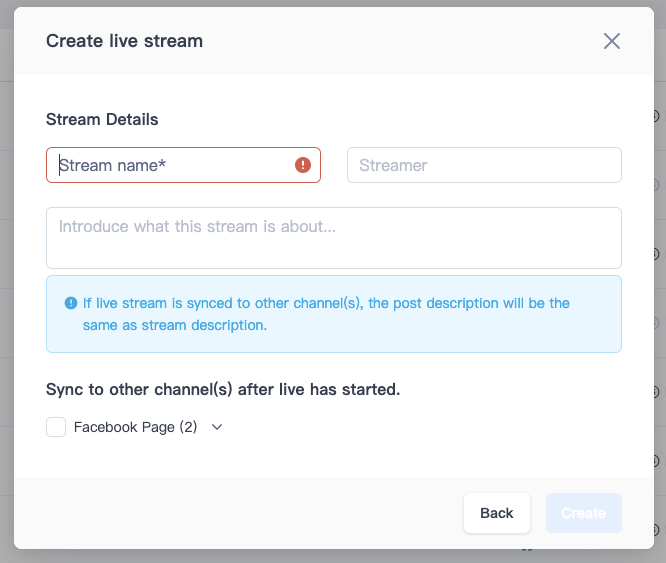 You can sync your live stream to other channels by connecting with your Facebook Fan page and the live stream will also be seen on your selected Facebook Fan Pages.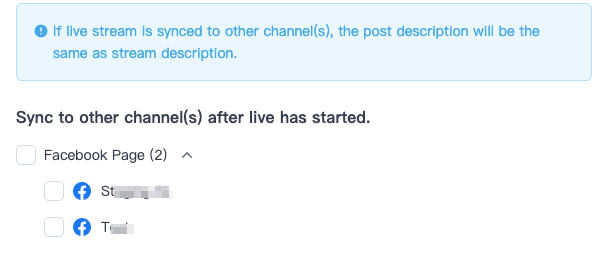 *For more information about connecting with the Facebook Page, please refer to the FAQ Facebook Live with SHOPLINE Live Stream Shopping Tool and read the second part "Connect with Facebook Live"
Once you enter the live stream settings page, you can add products that you wish to sell during live on the left section. This product list will be displayed to customers during live for them to add to cart and buy.
*Note: When customer is watching live, they cannot view products with the following statuses:
Unpublished products
Product and variant does not have any stock (Inventory = 0)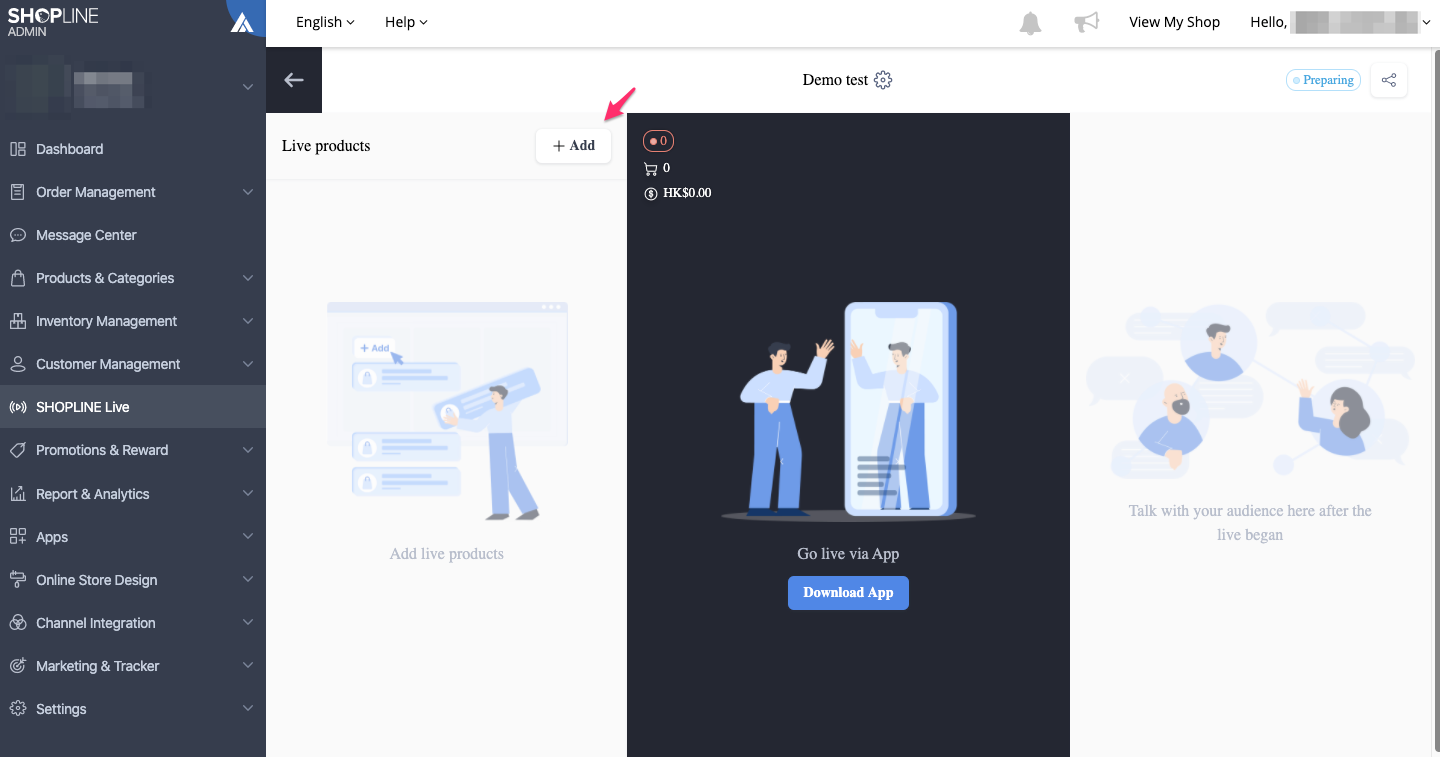 All products created in the shop admin will appear in the list in the popup for selection (including hidden and unpublished products), they can be added to the live stream by clicking "Add". You may upload up to 50 products in a live session.
Products that are added into the live stream can also be removed from the selected list.
* Note: Order of the products is displayed in the order of last added to earliest added product from top to bottom.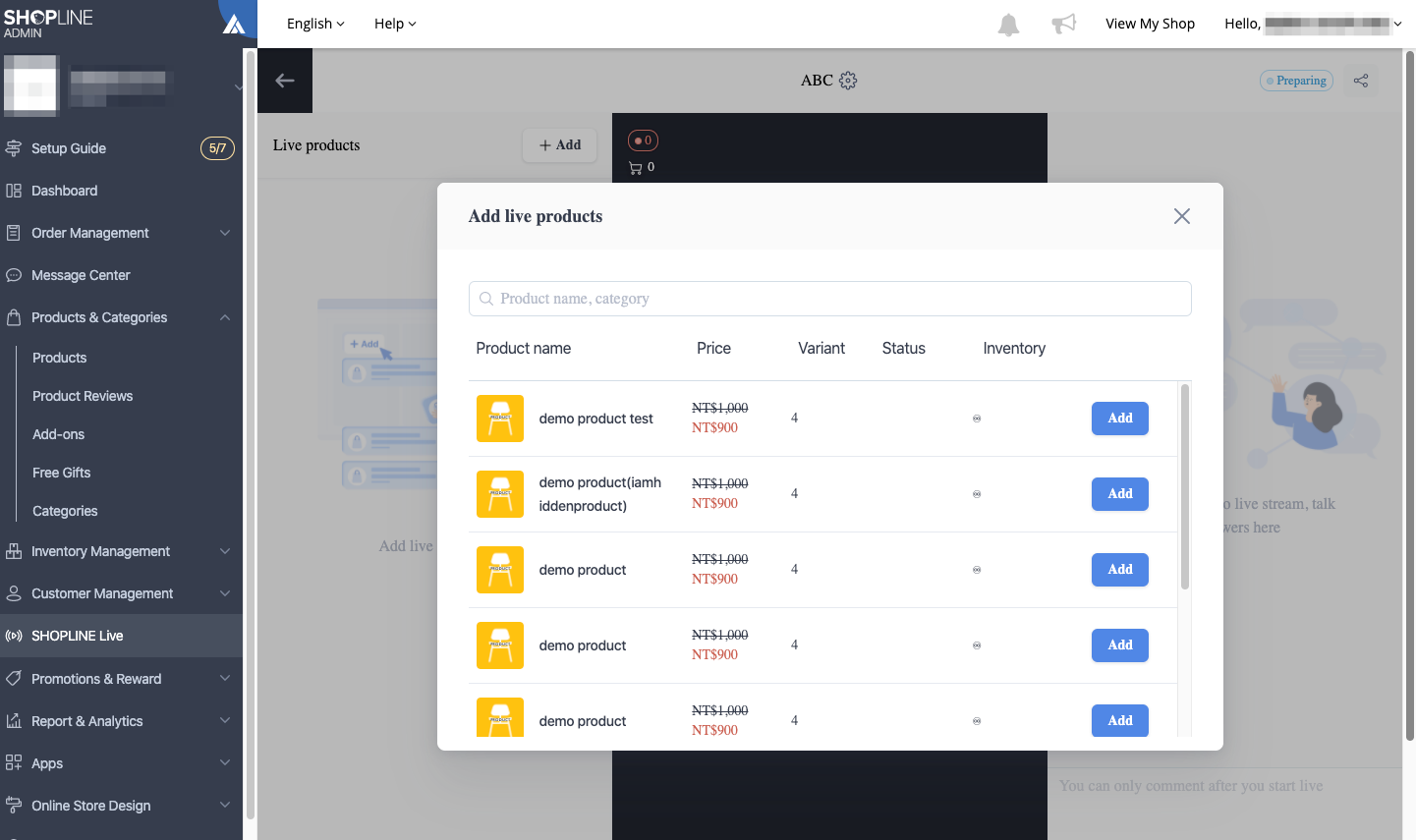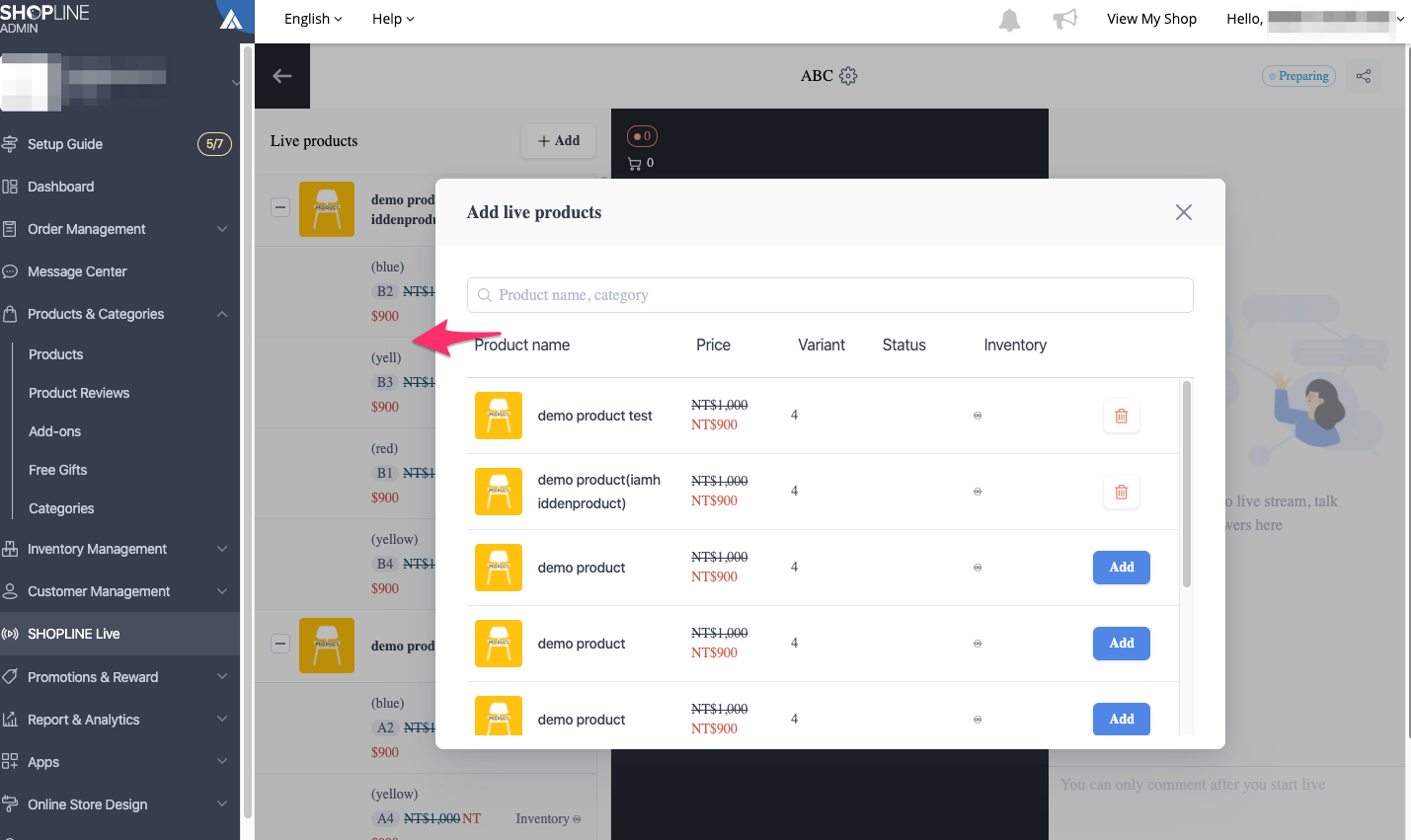 Added products section:
You can expand and view all products and variants in the list. You can also check current inventory or click the trash bin icon to remove the selected product from the live stream.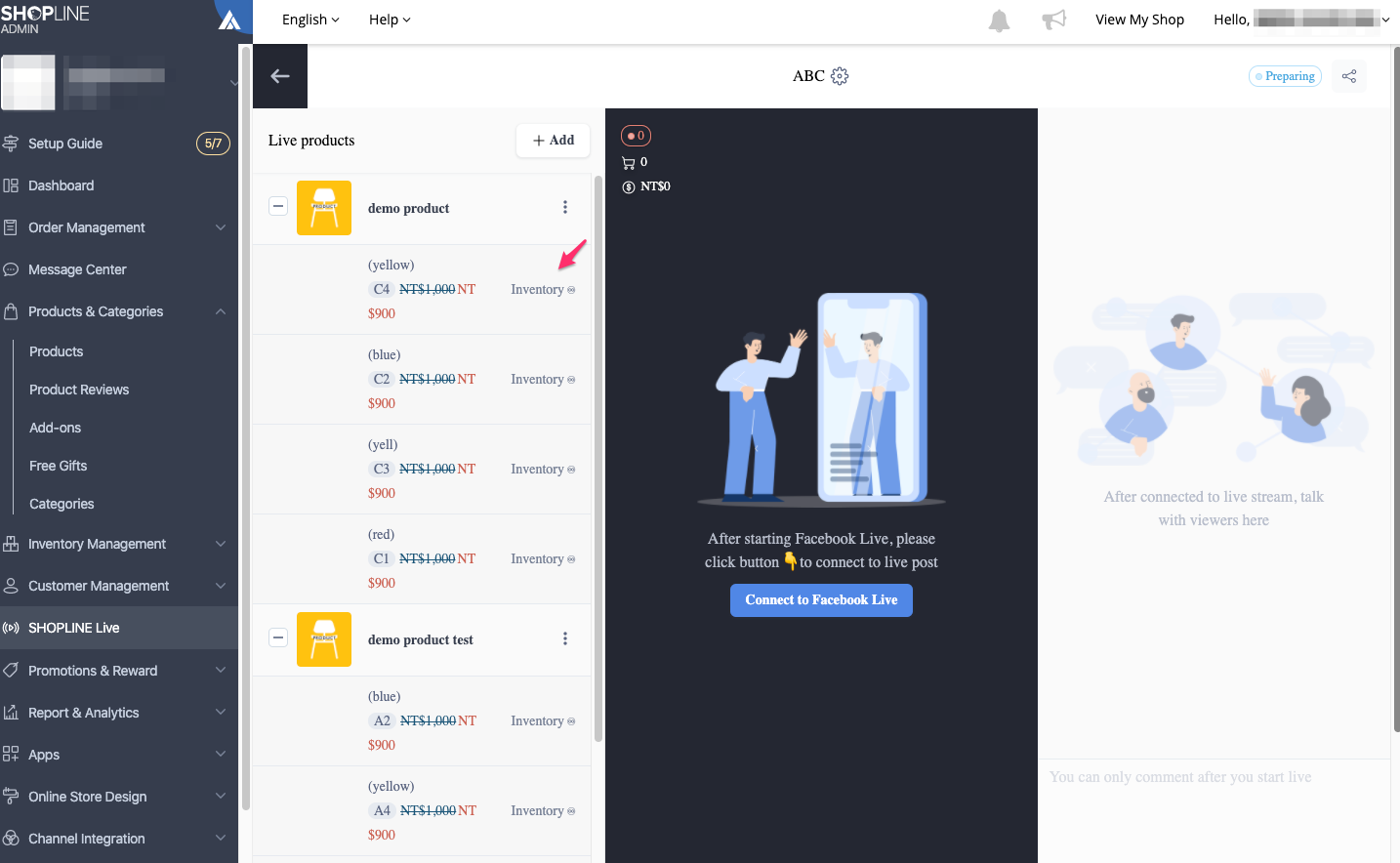 When you have finished the above steps, you have now successfully set up your live stream and the status of the livestream is " preparing".
You can click "Copy" icon on the right to copy the live stream's link and share to different channels.

If you want to edit or delete live stream related settings, click into the live stream page and click the gear icon to open the live stream info edit popup.
If you wish to update live stream info, you can directly edit the corresponding fields and click "update".
If you wish to delete this live stream, click "delete live stream".
* Note: Once live stream is deleted, it cannot be revived. The link that was shared previously cannot be used too.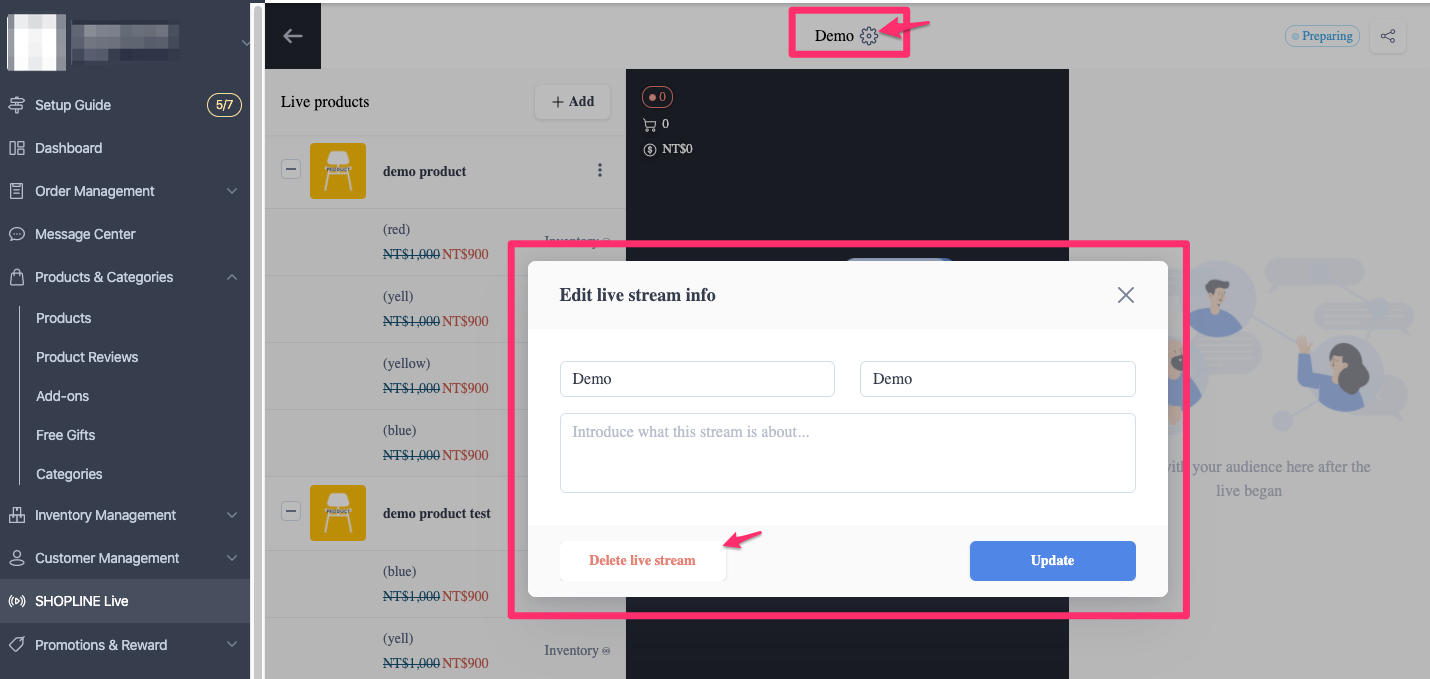 2. How to start live
Step 1:Download APP
Installation instructions:
To use SHOPLINE LIVE for live streaming, you are required to download SHOPLINE Live APP. We support both iOS and Android devices. After you create a live stream, please click "download APP". or scan the QR code to install the app.
* To assure live stream quality, we currently only provide mobile APP method for live streaming.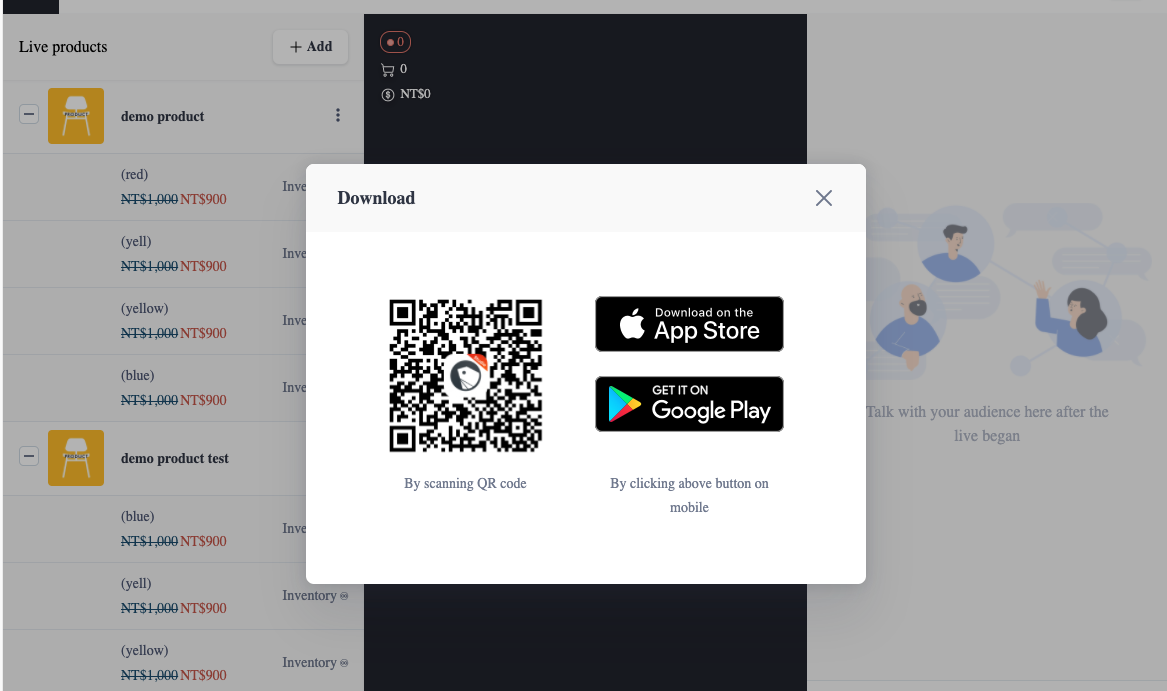 Step 2:Open APP,prepare to start live
Please type in your shop email and password to login.
* App does not support registration or forget password function. If you need to forget and reset password, please open SHOPLINE admin page to proceed this action.

* Shop email = Email you used to register shop on SHOPLINE platform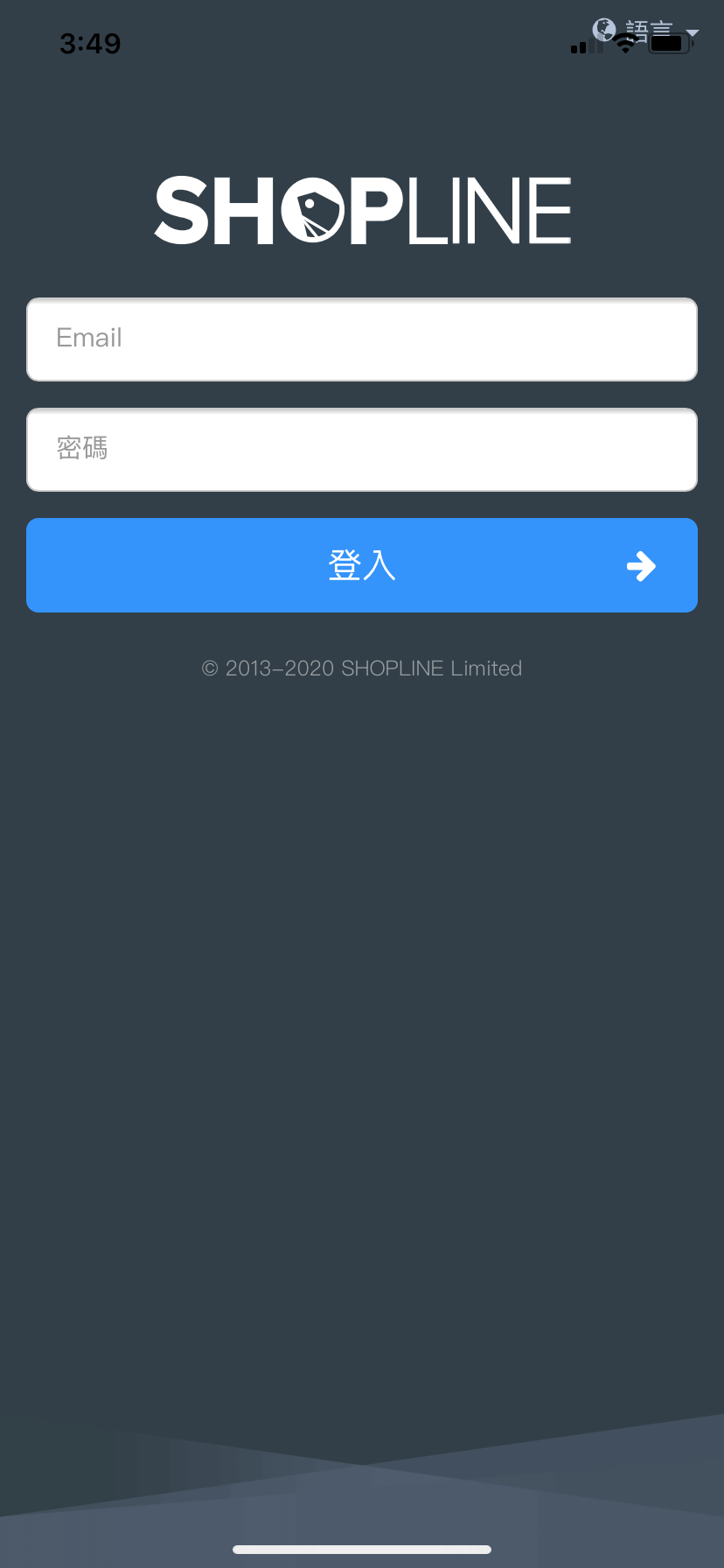 Step 3:Start live
Login to your app and you will see the list of live stream that is in "preparing" status. Choose the live stream that you wish to start live with, check and confirm the list of products to be sold in the live stream and then you can click next to proceed to "start live".
When you use live stream the first time, please agree to give permission access for APP to use mobile camera and sound.
Note: Please check that your wifi or data is properly connected and stable before you start live.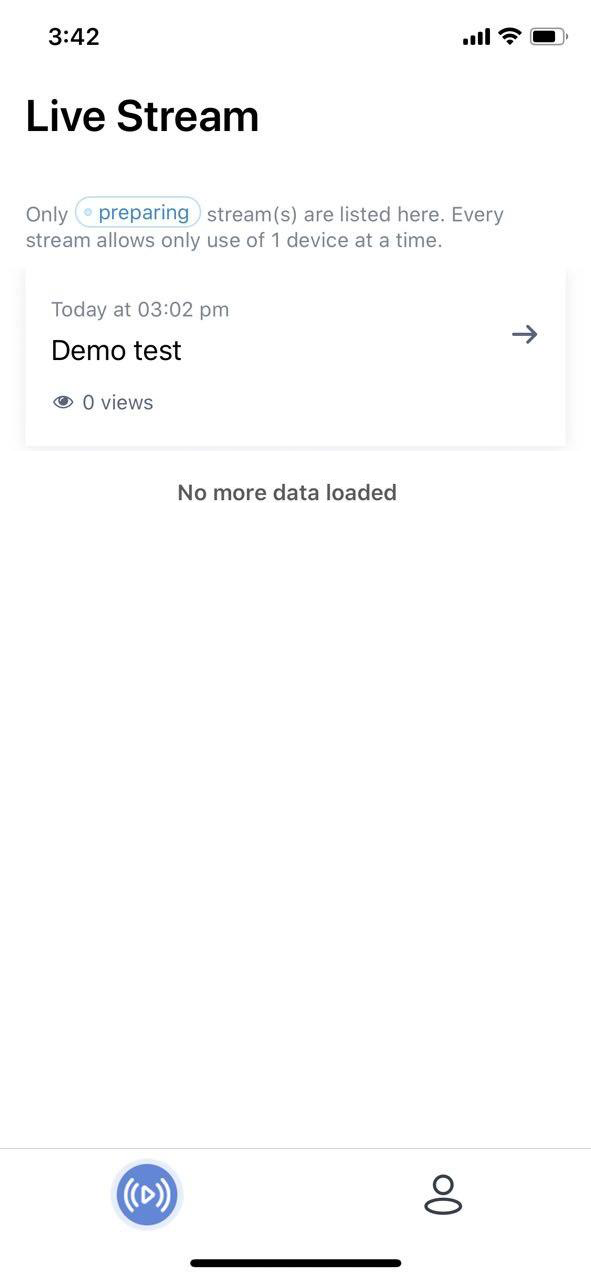 →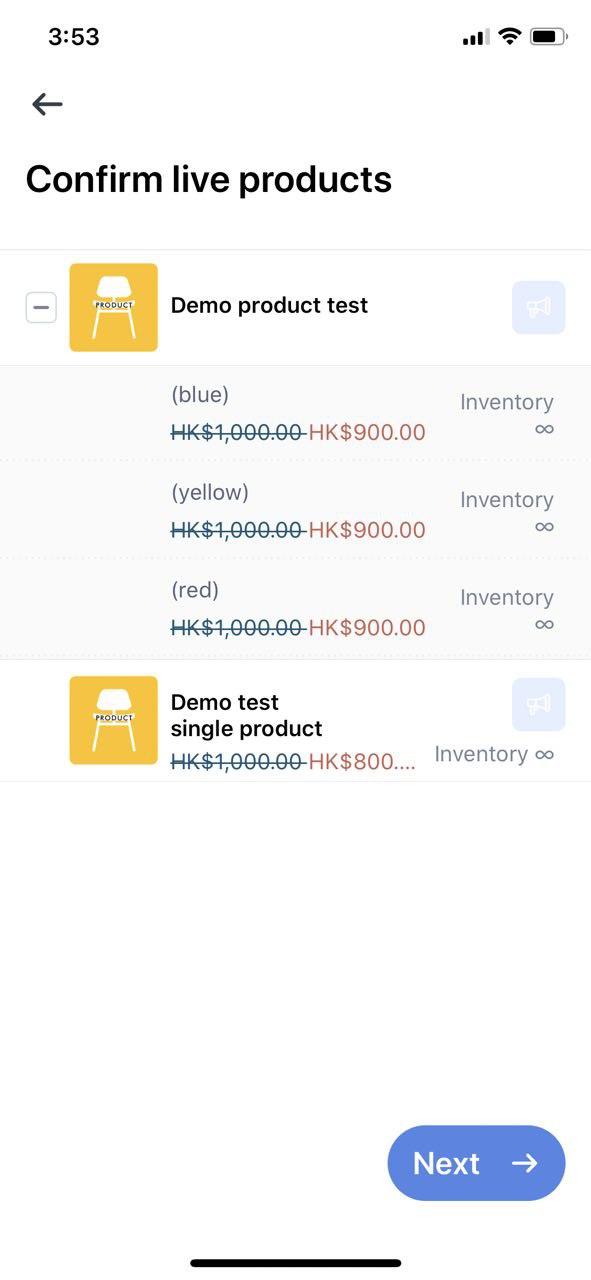 →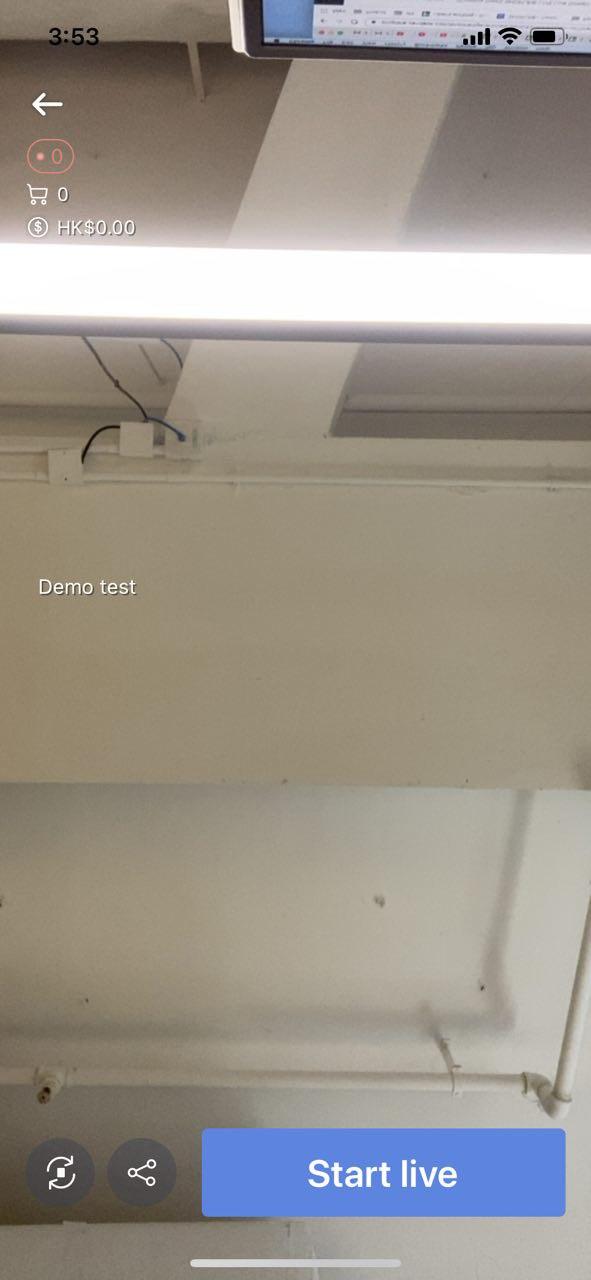 During live, streamer and helpers can do the following actions in SHOPLINE Live admin:
- Add or remove products
- Click the promoter icon
- Reply to comments in the live stream
- View current live video
- View current live stream performance

Step 4:End live
After you press "X" on the top left corner of your APP, a popup will ask you to confirm whether you want to end live. Once you confirm, you will end the live and close the live stream.
After live has ended, the system will provide you with the performance results.
Once the live has ended, the live stream status in SHOPLINE Live admin will also show as "Finished".
* Performance stats will continue to calculate after ending live so it does not represent the final result. If there are orders placed after live has ended, it will still count towards the performance stats and full performance details can been viewed in SHOPLINE admin.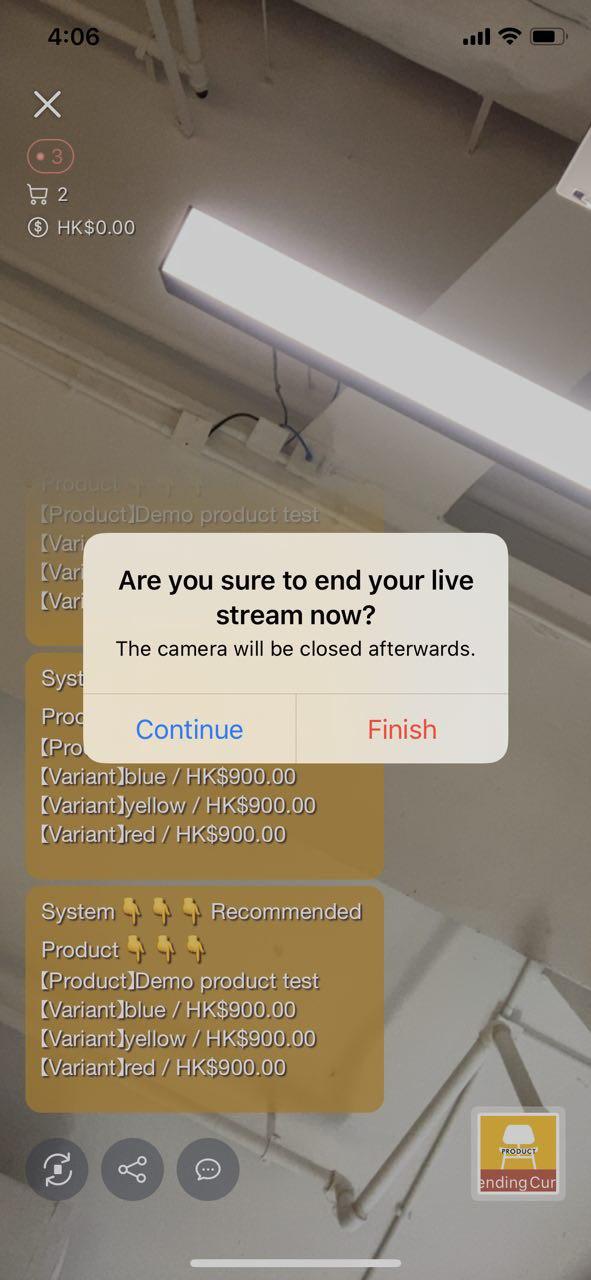 →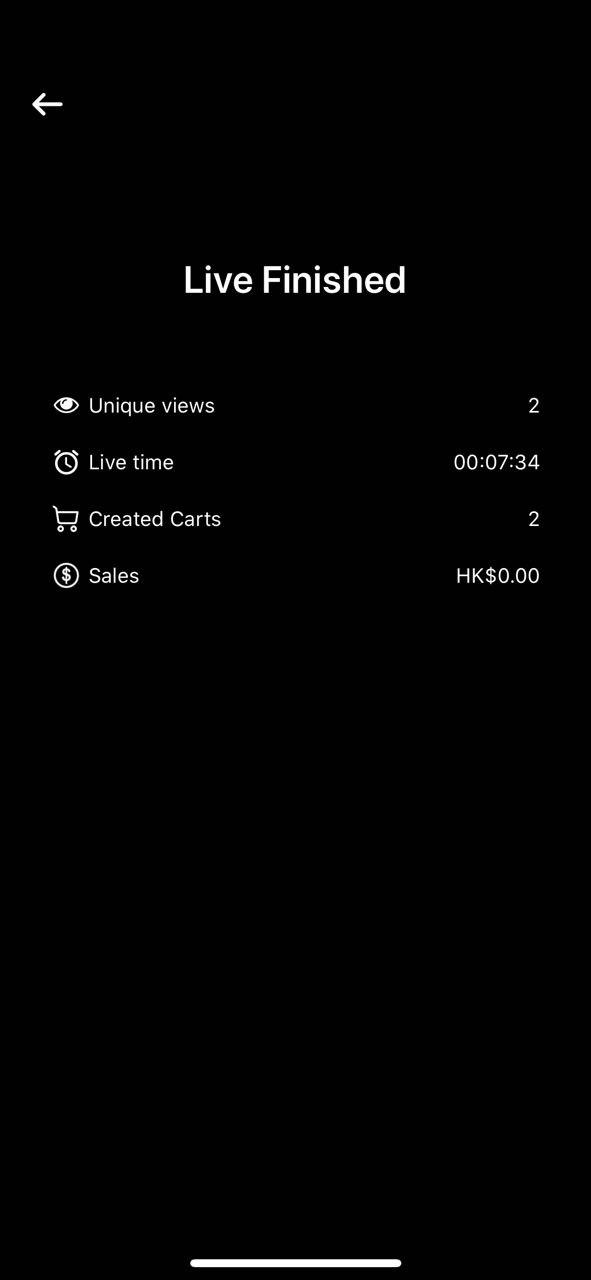 3. Live stream interface and function introduction
Performance stats in top left corner
Views:Accumulated number of viewers entering and watching the live, which includes refresh browser and re-enter counts
Created Carts:The number of times customer has added products to cart to proceed to checkout
Live Sales:The amount of sales that viewers have proceeded to checkout and placed order (Includes orders that are not yet paid)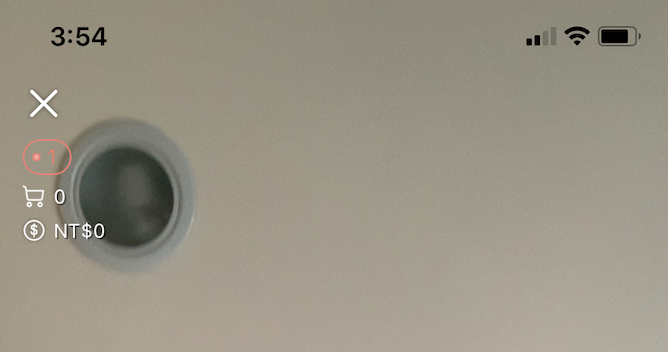 Bottom icons:
1.

Switch front or rear camera
Click to switch to use front or rear camera for live streaming.
2.

Copy live stream link
Click to copy live stream link and easily share with your fans and customers.
3.

Comments
Add comments
Click the speech bubble icon in the bottom left corner to open commenting field, you can then reply to viewers and join discussions.
When merchant comments, the shop name will appear beside the comment.
When viewer comments, the registered name in the live stream will appear beside the comment.
View comments
In viewer browser or merchant app, when you scroll the bottom left comments section, you can see all the past comment history.
If the merchant slides up in his/her app view, it will show all the comments in this live stream.店家如果在主
If you need to return to the main screen, please click the small livestream thumbnail to return.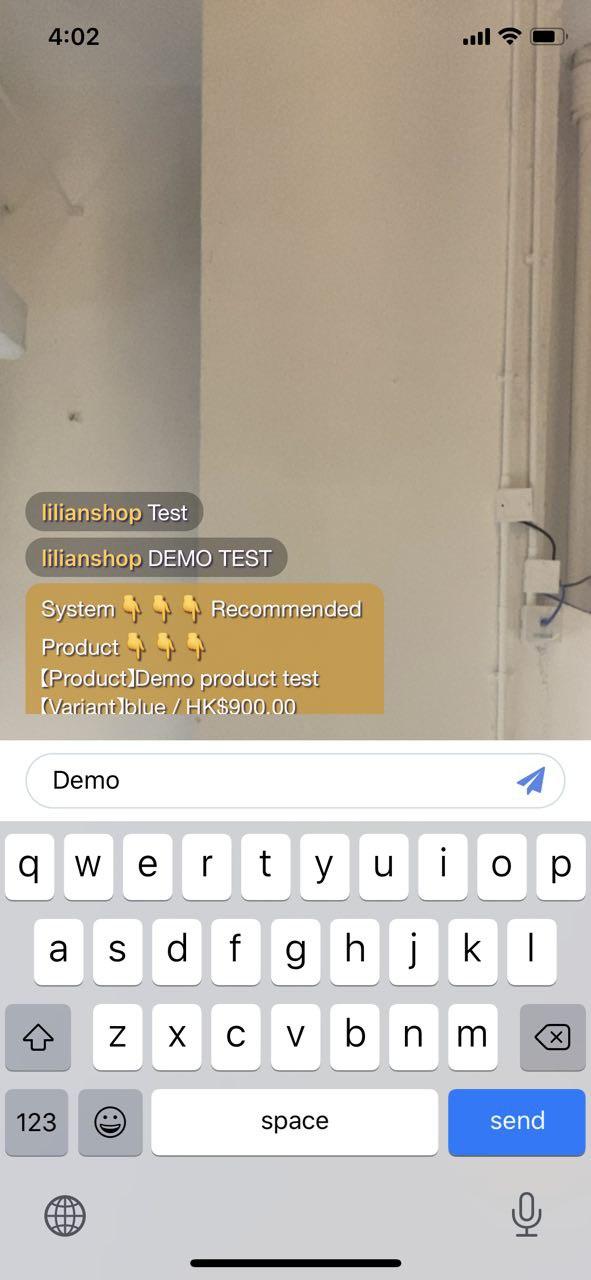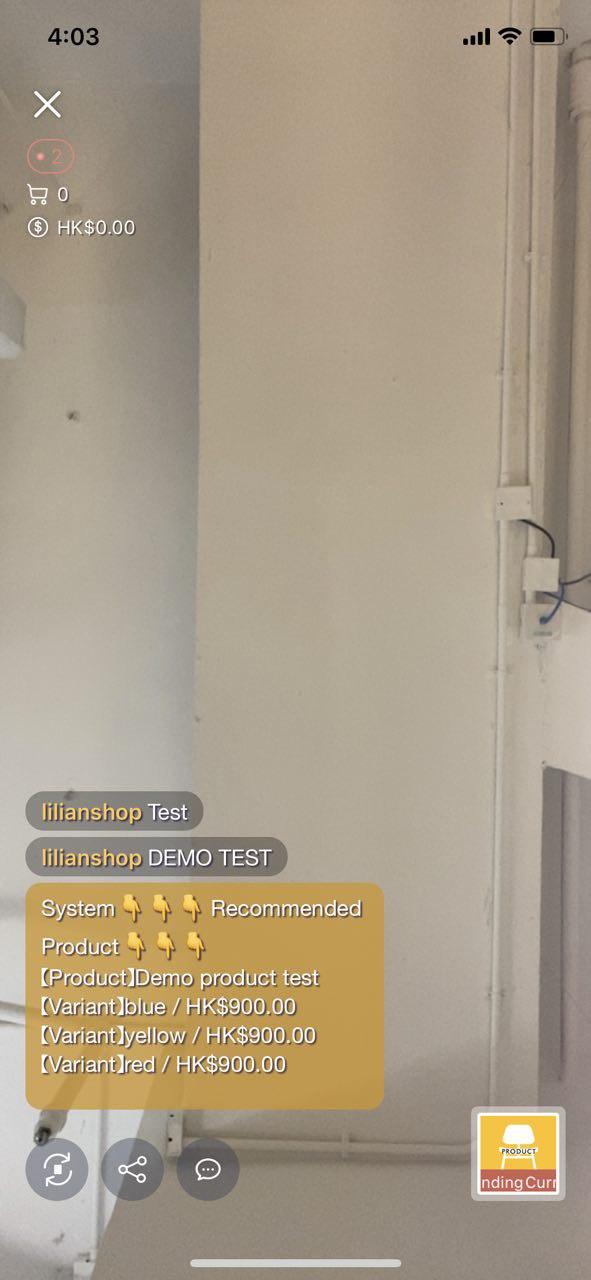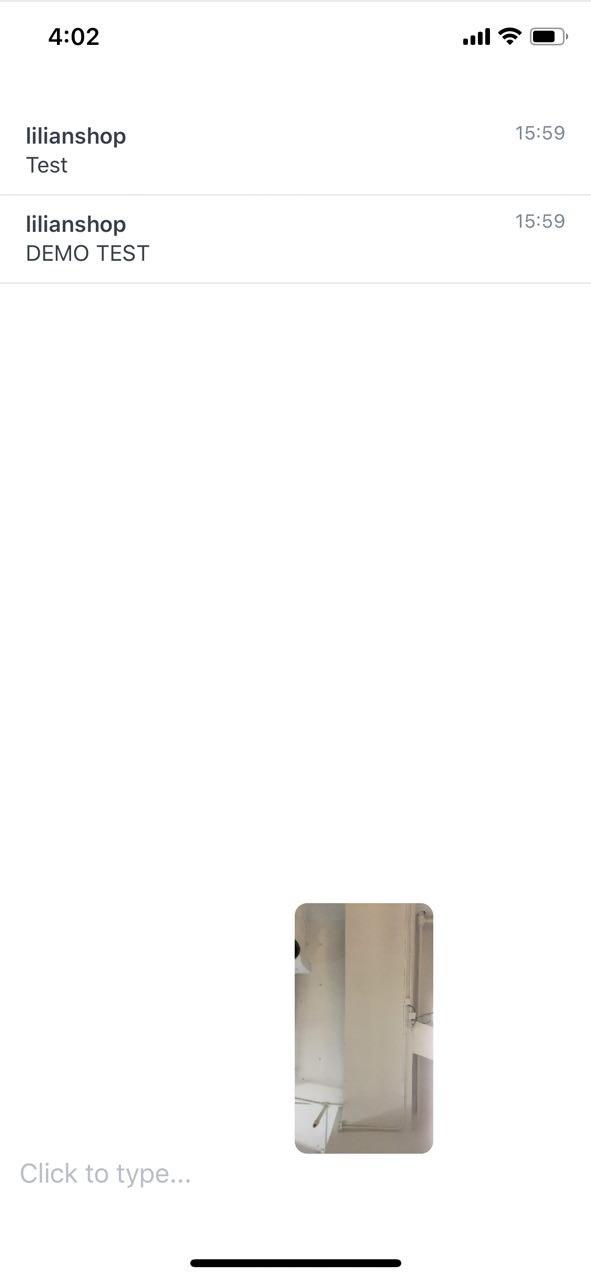 4. Product icon & Promotion speaker function
Click right bottom product icon to browse product list.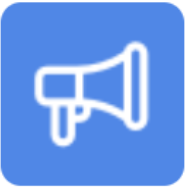 Promotion speaker function:
This is used to help highlight and promote a particular product during live.
During live, when you need to highlight a certain product, click the product icon on the right bottom corner. Then click the "speaker" icon on the right of the product. The product information will be shown in the comments section and highlighted with yellow background. The product icon in the bottom right corner will also switch to this product's image and show as "Recommended product".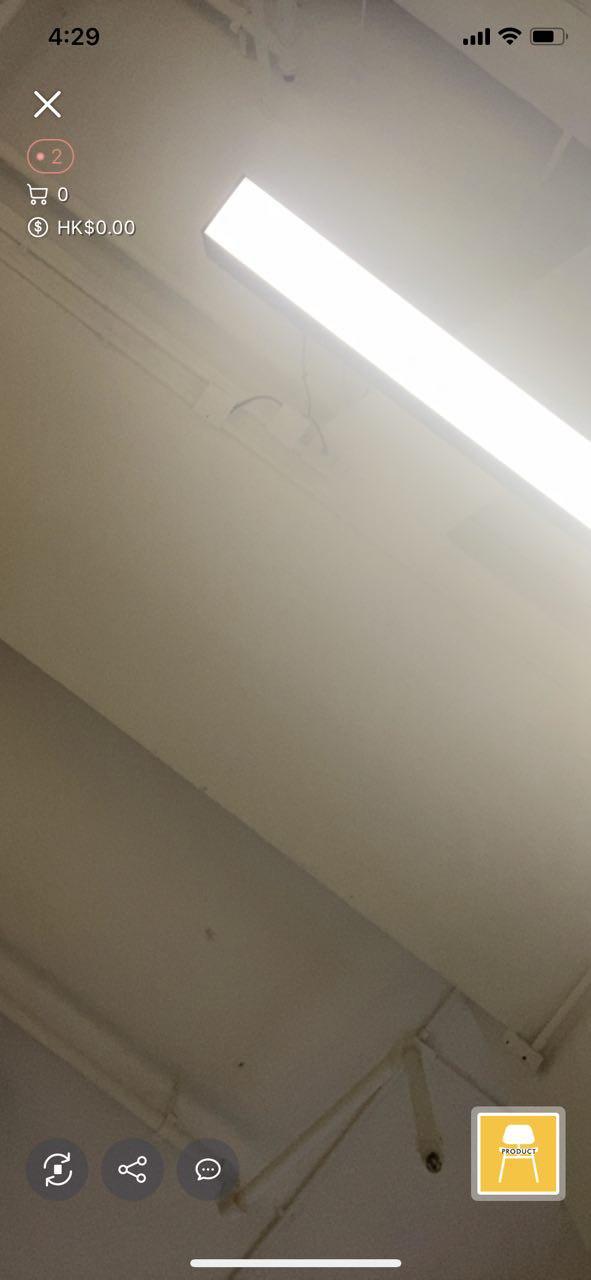 →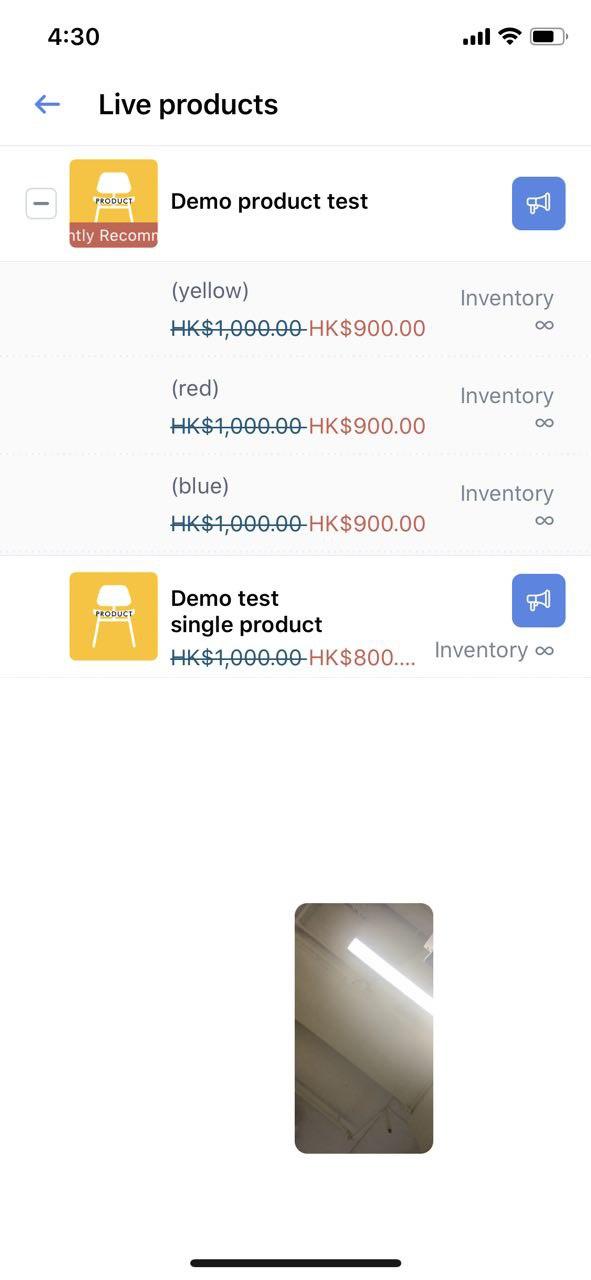 →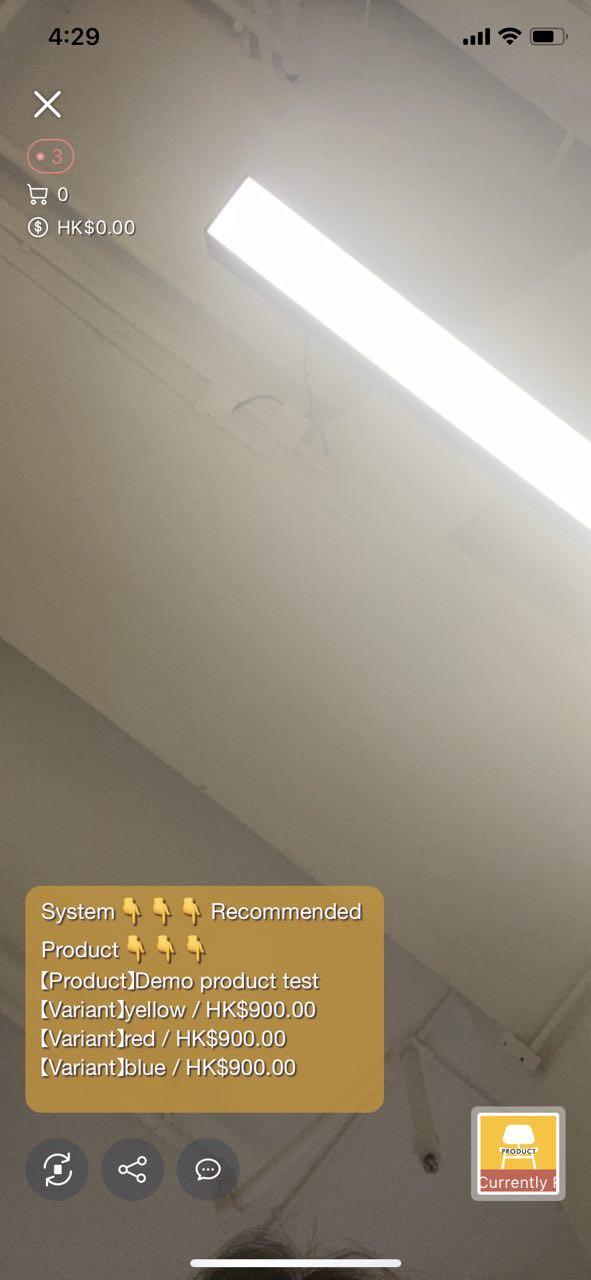 Viewer page functions overview
Merchant can send the live stream link via different social media channels. When the customer receives the link, if live has started, he/ she can click in and directly view live.
However, if the customer opens the link before the live (preparing) has even started, he/ she will see the following screen: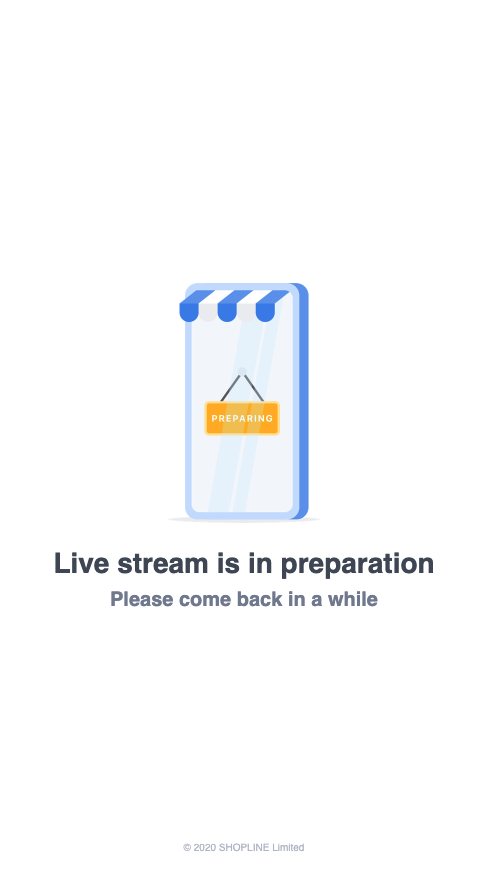 Viewer comments
If the customer wish to comment and interact with the merchant, they must complete SHOPLINE LIVE registration & login. Once they login, they can comment freely during live.
Currently SHOPLINE LIVE supports two ways of registration and login:
1. Facebook Login
2. Choose other registration/ login method ( Currently supports email registration)
*Note: SHOPLINE LIVE account is only for live stream use, this is a separate login from the shop. If customer wishes to use shop's membership promotion(s), please remind the customer to complete registration at the shop (or login directly).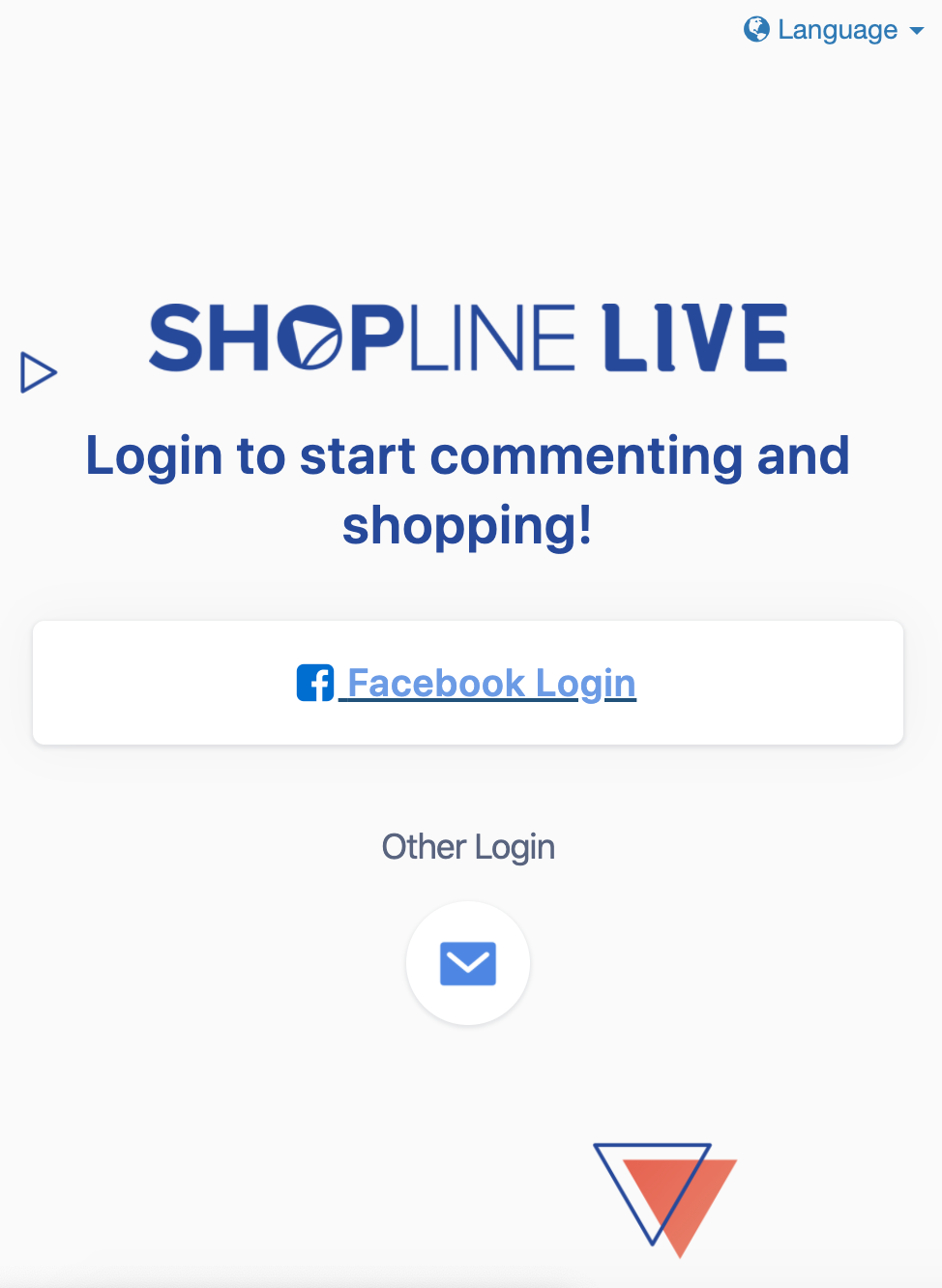 →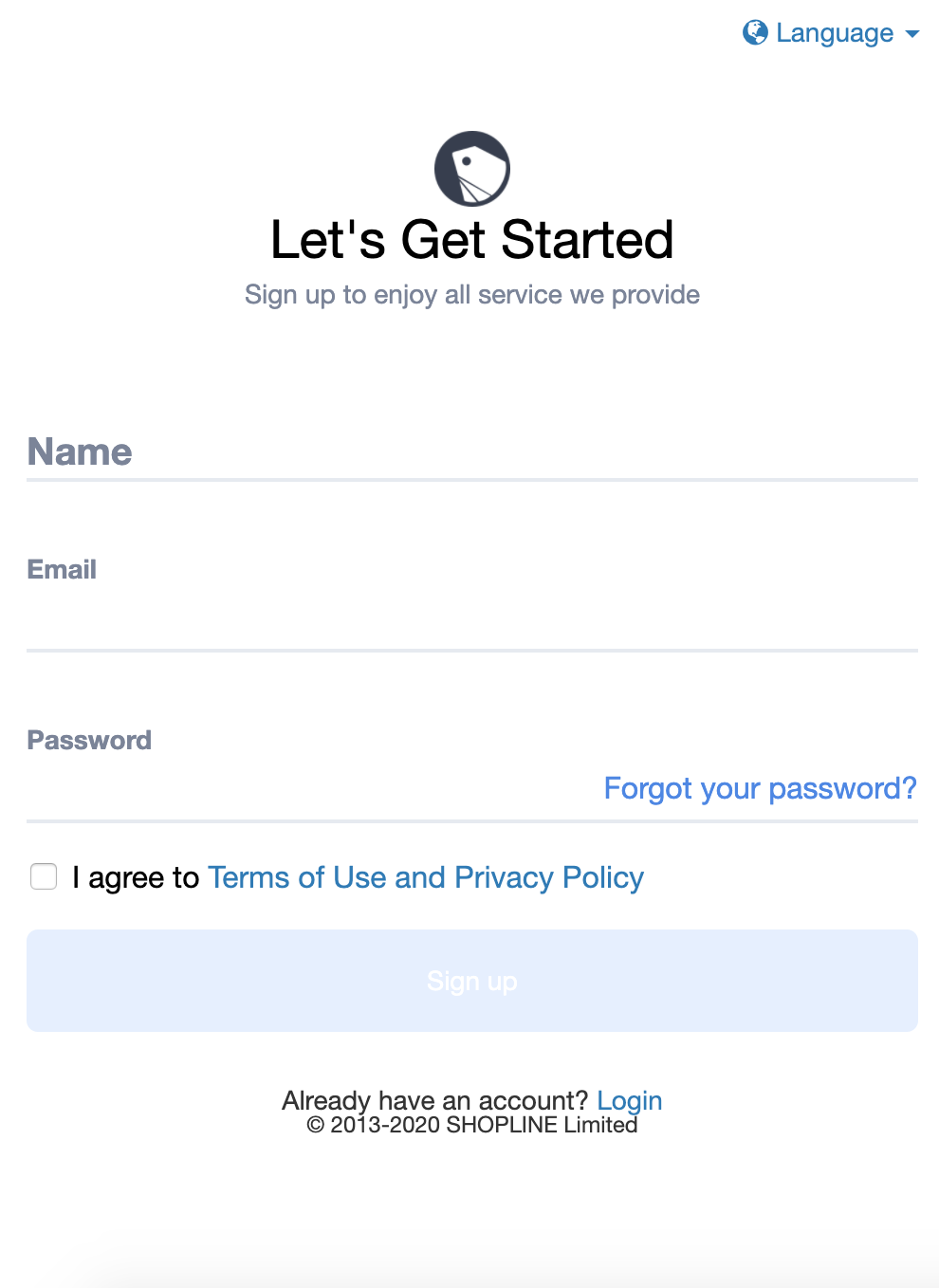 →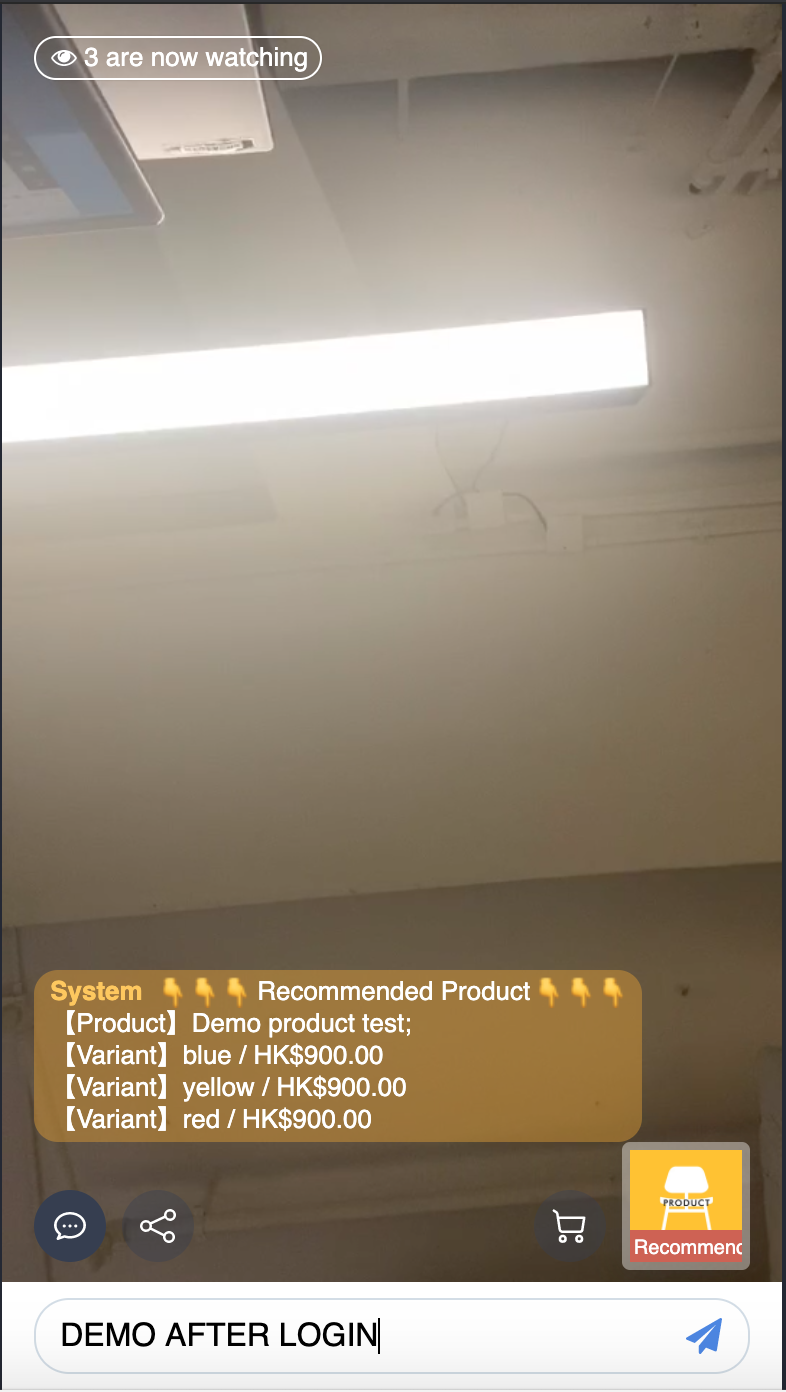 Customer shopping and checkout
During live, the customer can click the product image icon in the bottom right corner, view product list and select to shop.
If the merchant has used the "promotion speaker" function, customer can view the recommended product information at the bottom left corner, he/ she can also click the product icon at the right bottom corner to view the recommended product and add to cart.
Every time the customer clicks the add to cart button, one item will be added to the cart.
* Note: Products added to cart quantity does not equal to final order quantity. The quantity will be reflected upon checkout and once paid.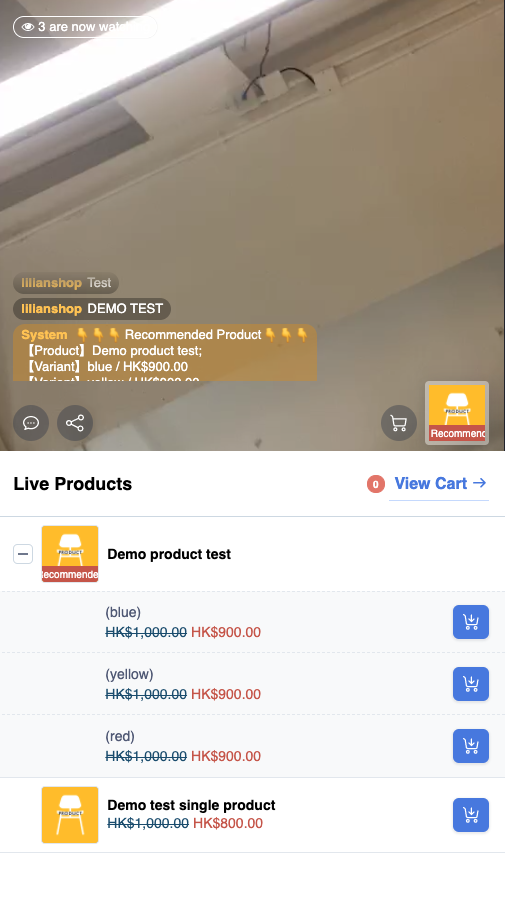 →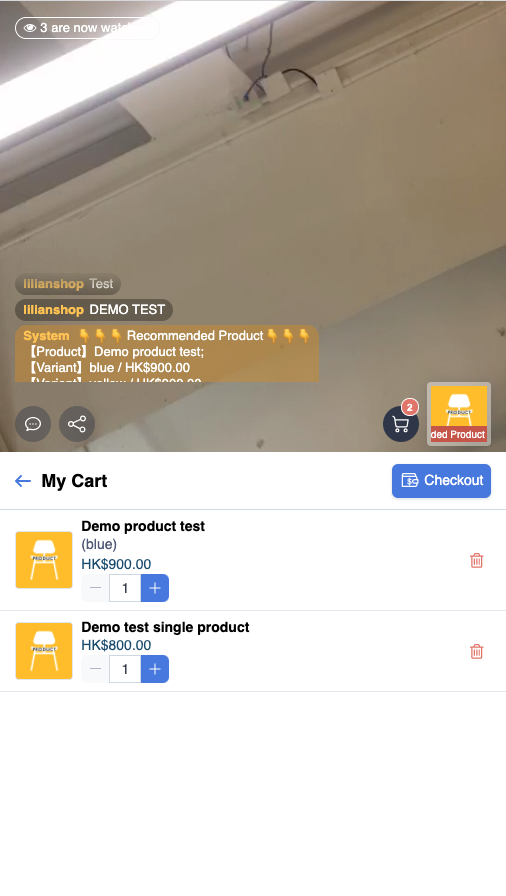 →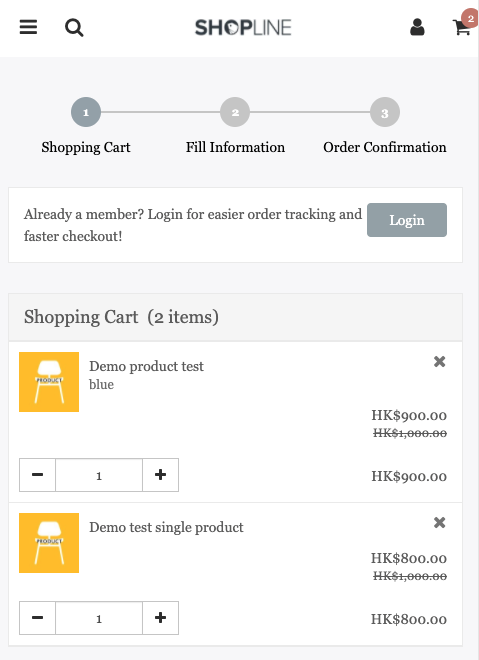 * When live has ended, customers can still place orders via the live stream link.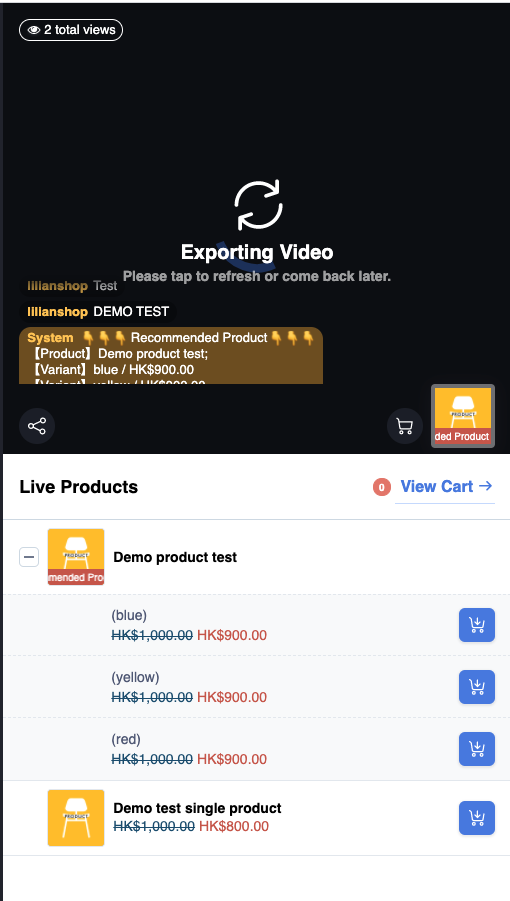 4. How to view live stream performance
You can check the performance of the live stream in SHOPLINE LIVE page during the live or after the live has ended.
* The results are updated every 5 minutes

Order report:
Once you have opened SHOPLINE LIVE, you will find a new field called in "Affiliate Platform" your your order report fields ,orders coming from live stream will be recorded as "SHOPLINE Livestream".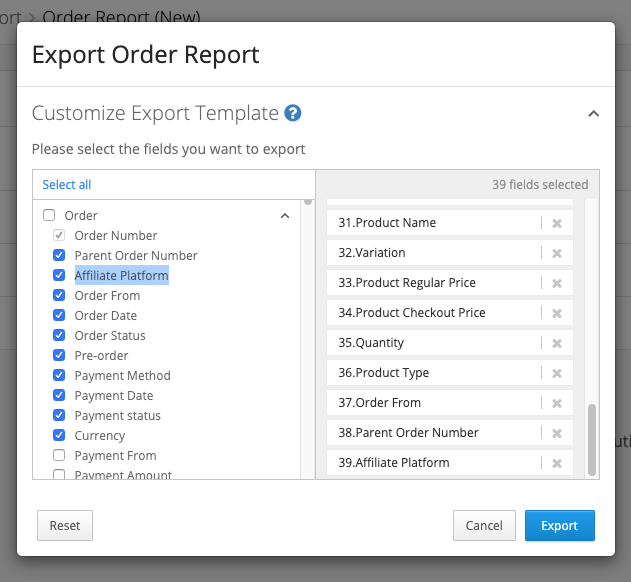 Order details:
Orders created from live stream will be marked. You can see in the order details that the order source is labelled as "Studio Livestream".