Membership allows the merchant to assign registered members into different membership tiers and creates exclusive benefits for members. This serves as an incentive for customers to engage in membership campaigns and helps to acquire new customers. It also helps to retain existing customers by providing special offers, and thus increases customer loyalty.
Now you can be able to setup up to 3~5 different membership tiers!
A. Create Membership Tiers
(Premium plan merchants can setup up to 3 membership tiers, O2O/ Enterprise plan merchants can setup up to 5 membership tiers)
Step 1: Go to membership tiers settings
Please go to Customers Management > Membership Tier Settings.
Step 2: Add membership tier(s)
Click "add" to create new membership tier.
Step 3: Fill in membership tier name
First, please type in your desired names for the membership tier, e.g. Bronze Membership.

Step 4: Set membership upgrade criterions
You can set up a condition for customers to fulfill in order to be upgraded to the membership tier.
Upgrade criterions include:
A. Single purchase with total spent a certain amount
e.g. Upgrade to bronze membership with a single purchase of $1000 or more.
B. Purchase within specific period with a certain amount
e.g. Upgrade to bronze membership with a total spend of $1000 or more within 3 months.
Step 5: Set membership valid period and extension settings
Membership valid period can be set as Never Expires or Set a valid period (Minimum 1month).
e.g. Membership has one year validity i.e. 12 months.
If membership valid period is set as never expires, it is not required to set membership extension criterions.
But if there is a valid period, you will need to set up the extension requirement.
For extension, the criterions offered are the same as membership upgrade settings: by single purchase or total spend during membership valid period.
Please note: Purchase(s) after membership upgrade will only be counted as part of calculation for extension requirement.
Step 6: Set membership offer for membership tier
You can set an exclusive storewide discount for this membership tier.
Please note: Basic members are not entitled to storewide discount settings.
Here in this example, bronze members are entitled to 10%OFF storewide.
This discount will be automatically applied at checkout after member logins into his/her account.
Please note: When an order can meet the conditions of 1.membership offer (storewide discount) + 2.membership promotion discount at the same time, system will automatically apply for the discount that can benefit the member the most. Otherwise, membership offer will always apply.
Remarks:
- Customers have to register for a basic membership account in order to level up to a different Membership Tiers.
- Registered members that don't have a tier will be considered as basic members, and there is no exclusive membership offer set up for basic members.
- The system will only check if the order status is "Not Cancelled" and the payment status is "Paid". If the member requests to cancel the order after placing the order and therefore is not eligible for the upgrade, the merchant will have to manually adjust the membership tier for the customer.

- When setting the membership tier, please make sure that the sequence of the membership tier is correct.
The system will approve the customers in the list according to the membership tier you set and then proceed to the next level. (For more details, please refer to: Edit and reassign Membership Tier)

B. Execute the activation of membership upgrade check
After you have completed adding a new membership tier, you will have to activate a membership upgrade check for all customers and choose whether or not to include the customer's current total spend in the upgrade threshold. If you choose to include it in the upgrade threshold, the system will determine the current total spend of all members and the upgrade threshold set by the store, and upgrade the eligible members directly; if not, the total spend of all members will start to accrue from the orders placed after the activation until the member qualifies for the upgrade.
How to activate: Go to Admin >> Customer Management >> Membership tier
Click the Activate button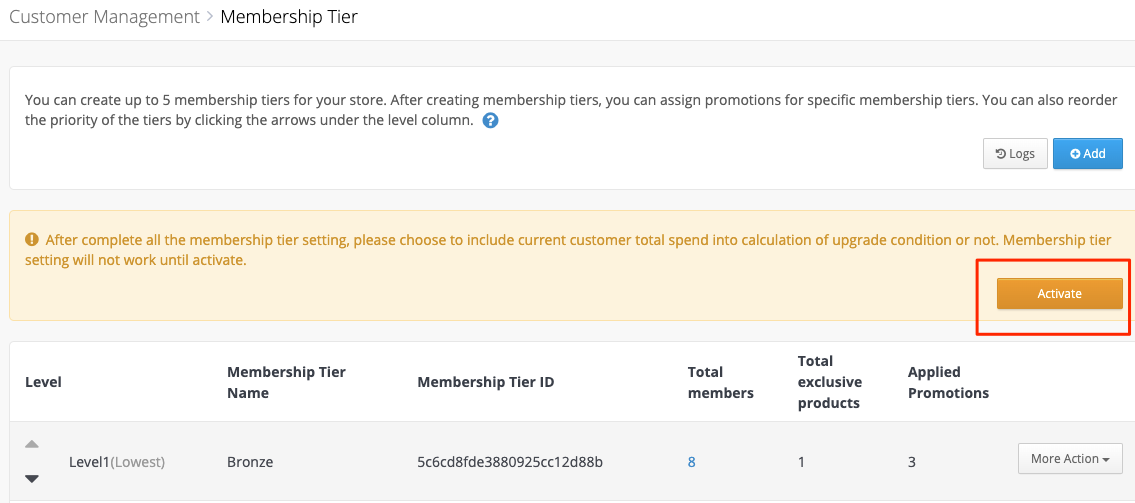 After verifying that the membership tier information is correct, click Confirm and choose whether to include current customer total spend into calculation of upgrade condition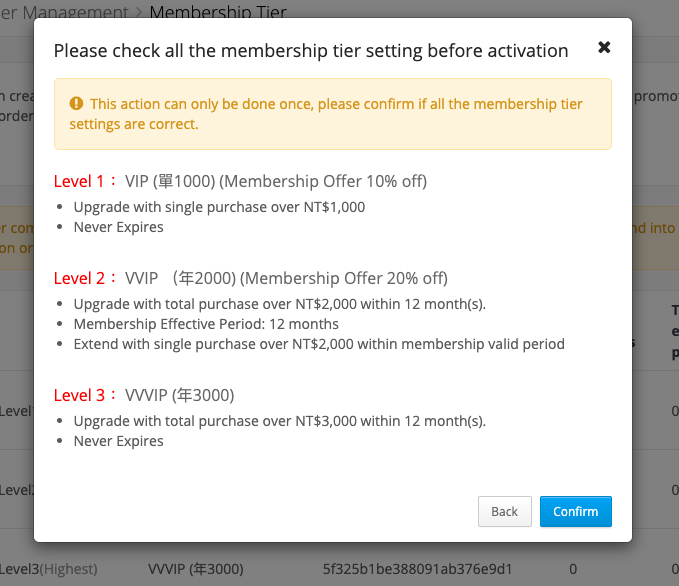 Please be noted:
After completing the activation, you can go to Report & Analytics >> Bulk action Process to check the status of the process

This feature will only be visible to merchants that have created membership tiers after 2020/8/27.

This step is necessary and can only be implemented once, please make sure the settings of the membership tier is correct, and then run the check!

After implementing the activation, the system will automatically check for members who have reached the upgrade threshold in the early hours of the day.

If you haven't set your membership tier yet, you will not be able to activate the membership upgrade reminder function (Settings >> Customer Settings), so please set your membership tier first and then go to Customer Settings to activate the function.

Execution rights are limited to administrators who are authorized to add and edit the membership tier.

If you choose to include current spending totals when calculating eligibility for a new membership tier, you will be given the option of sending customers a notification by email and/or SMS. Also can click "Preview" to check the content before sending it out.
Please note:
Sending an SMS will incur a monthly charge, max. of 160 English characters or mix of 70 English and Chinese characters are allowed per SMS.

[Send Email] This will send an email notification to qualifying customers that have supplied an email address

[Send SMS] This will send an SMS notification to qualifying customers that have supplied a phone number.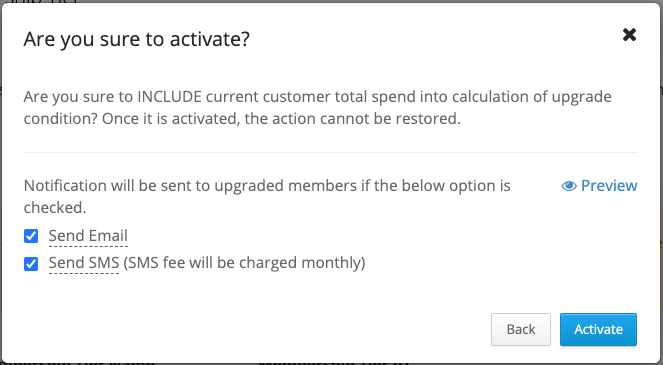 Preview Page
Preview E-mail content



Preview SMS content


C. How does auto-upgrade/downgrade/extension work?
The system will automatically update your customers list daily at midnight (GMT+8), the action of tiering depends on your membership settings.
The system will check on the following conditions:
-Check whether the member reaches the conditions for membership upgrade/extension: The system will run through all the orders which have its payment status as PAID. If the PAID amounts has reached the threshold, the member will be upgraded/extended.
-Check whether existing memberships reach expiry date: if YES, the system will run through and see if the account fulfills extension requirements or will be further downgraded.