Membership allows the merchant to assign registered members into different membership tiers and creates exclusive benefits for members. This serves as an incentive for customers to engage in membership campaigns and helps to acquire new customers. It also helps to retain existing customers by providing special offers, and thus increases customer loyalty.
Now you can be able to setup up to 3 different membership tiers!
A. Create Membership Tiers
Step 1: Go to membership tiers settings
Please go to Customers Management > Membership Tier Settings.
Step 2: Add membership tier(s)
Click "add" to create new membership tier.
Step 3: Fill in membership tier name
First, please type in your desired names for the membership tier, e.g. Bronze Membership.

Step 4: Set membership upgrade criterions
You can set up a condition for customers to fulfill in order to be upgraded to the membership tier.
Upgrade criterions include: 
A. Single purchase with total spent a certain amount 
e.g. Upgrade to bronze membership with a single purchase of $1000 or more.
B. Purchase within specific period with a certain amount
e.g. Upgrade to bronze membership with a total spend of $1000 or more within 3 months.
Step 5: Set membership valid period and extension settings
Membership valid period can be set as Never Expires or Set a valid period (Minimum 1month).
e.g. Membership has one year validity i.e. 12 months.
If membership valid period is set as never expires, it is not required to set membership extension criterions.
But if there is a valid period, you will need to set up the extension requirement.
For extension, the criterions offered are the same as membership upgrade settings: by single purchase or total spend during membership valid period.
Please note: Purchase(s) after membership upgrade will only be counted as part of calculation for extension requirement.
Step 6: Set membership offer for membership tier
You can set an exclusive storewide discount for this membership tier.
Please note: Basic members are not entitled to storewide discount settings.
Here in this example, bronze members are entitled to 10%OFF storewide.
This discount will be automatically applied at checkout after member logins into his/her account.
Please note: When an order can meet the conditions of 1.membership offer (storewide discount) + 2.membership promotion discount at the same time, system will automatically apply for the discount that can benefit the member the most. Otherwise, membership offer will always apply.
Remarks:
- After created or edited the membership tiers setting, the system will enable the feature automatically.
- Customer have to register for a basic membership account in order to level up to a different Membership Tiers. 
- Registered members that don't have a tier will be considered as basic members, and there is no exclusive membership offer set up for basic members.
-  If edit member's order's status to cancelled, the system will reduce this member's total spend, and also effect member's upgrade/downgrade/extension conditions.
B. How does auto-upgrade/downgrade/extension work?
The system will automatically update your customers list daily at midnight (GMT+8), the action of tiering  depends on your membership settings.
The system will check on the following conditions:
-Check whether the member reach the conditions for membership upgrade/extension: The system will run through all the orders which has its payment status as PAID. If the PAID amounts has reached the criterions, the member will be upgraded/extended.
-Check whether existing memberships reaches expiry date: if YES, the system will run through and see if the account fulfills extension requirements or will be further downgraded.
C. Edit membership tiers
After you have set up the rules and offer for each membership tier, you can view the information in the membership tier list:
Total Members: The total member count in the tiers
Total exclusive products: The total number of discounted products for the Tiers
Applied Promotions: The total number of promotion that has been setup for the tiers (Membership offer for each membership tier is also counted as one of the promotion)
For how to setup exclusive products and promotions for members/Membership Tiers, please refer to: (New) Sales & Promotions: Membership Tier(s) Discount
You can rearrange the tier levels, or change the tier settings by clicking the "More Action > edit" button anytime.

When you edit membership tier settings, please note the following:
- If you need to edit the membership upgrade/ extension criterions, the new criterions will only be applicable to new registered members and will not apply to existing members.
- If you need to edit promotions set for registered members/ designated membership tier(s), this will be effective for BOTH new and existing members.
- If you need to delete a membership tier, the total number of members for that membership tier must be 0. You cannot delete it if the total number is greater than 0. You can first move the members over to another tier before you delete the membership tier.
Rearrange membership tier levels
You can arrange the tier levels by clicking the up & down buttons on the left of the membership tier settings page. Please arrange the tier levels from the lowest level on the top of the page to the the highest level.
Please note: When there are members in the membership tiers, changing the level of membership tiers will affect upgrade conditions.
For example:
The highest level is Gold Membership > Silver Membership > the lowest level is Bronze Membership.
If you decide to rearrange gold membership as the lowest level,
i.e.  The highest level is Silver Membership > Bronze Membership > the lowest level is Gold Membership.
The system will run through the customer list and upgrade people according to respective membership requirements starting from the highest level.
In this situation, customers who may qualify for the Gold membership may then be assigned to silver membership as the system starts qualifying with the highest level requirements first. 
Thus, please be careful when you rearrange your tier levels.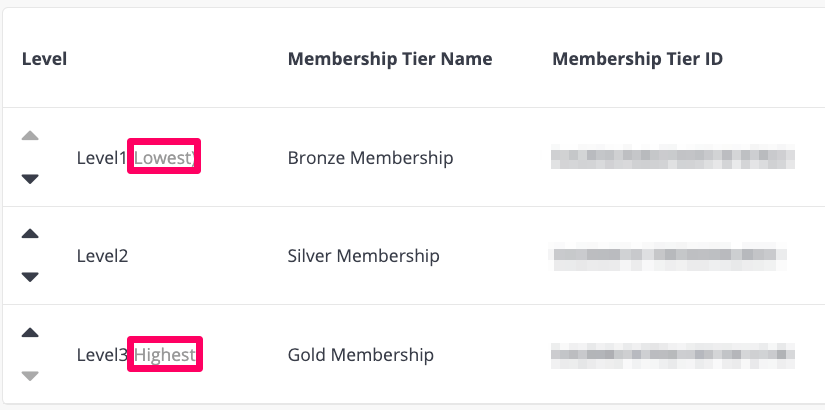 D. Assigning individual customer(s) to different membership tier(s)
You can change the membership tier of your members in the Customers section by manually assigning one by one or by bulk action.
1. Manually assigning one by one
Please click view to go into the an individual member's information page and edit "membership tier settings" under the customer details section.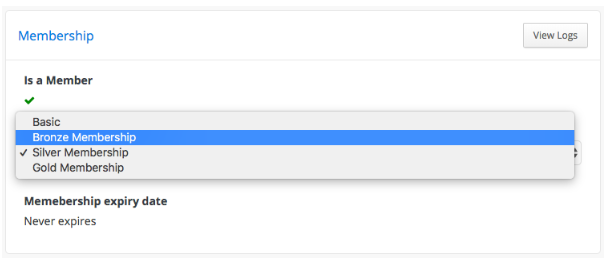 2. By bulk edit
Apart from editing the tiers one by one, we also support bulk editing of membership tiers.
Please go to 'Customers' page, here you can filter customer(s) who 'Joined recently (within the last month)' or by 'Membership Tier', then click the box on the left > Bulk actions > Change membership tier.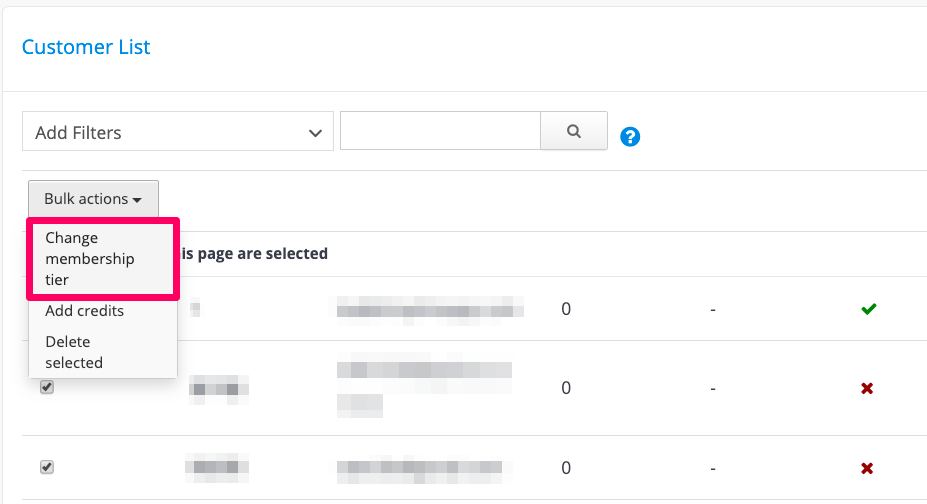 Press "ok" to confirm and apply the change(s).

Please note:
- Members that have been manually upgraded to a tier , the membership expiry date will be set according to the assigned tier's validity period settings.
For example,
Basic Member:No membership validity period, never expires.
Bronze Membership: 1 year validity
Manual upgrade date: 2016/01/01
If a basic member is manually upgraded to bronze membership, the validity period will be set as a year (aka 12 months) according to bronze membership settings. Membership will start on the day of the manual upgrade and its expiry date will be 2017/01/01.
- You cannot manually upgrade customers who have not registered to become a member or customers who have been blacklisted. An error message will appear if you add such customers.

Congratulations! You have now successfully set up your membership tier(s)!
When your customer logins into their account at your online shop, he/she can press "Menu" at the top right hand corner of the page. The left menu will appear on the left, click "Profile" and the customer will be able to view his/her own membership details including membership tier, membership valid period and member offer.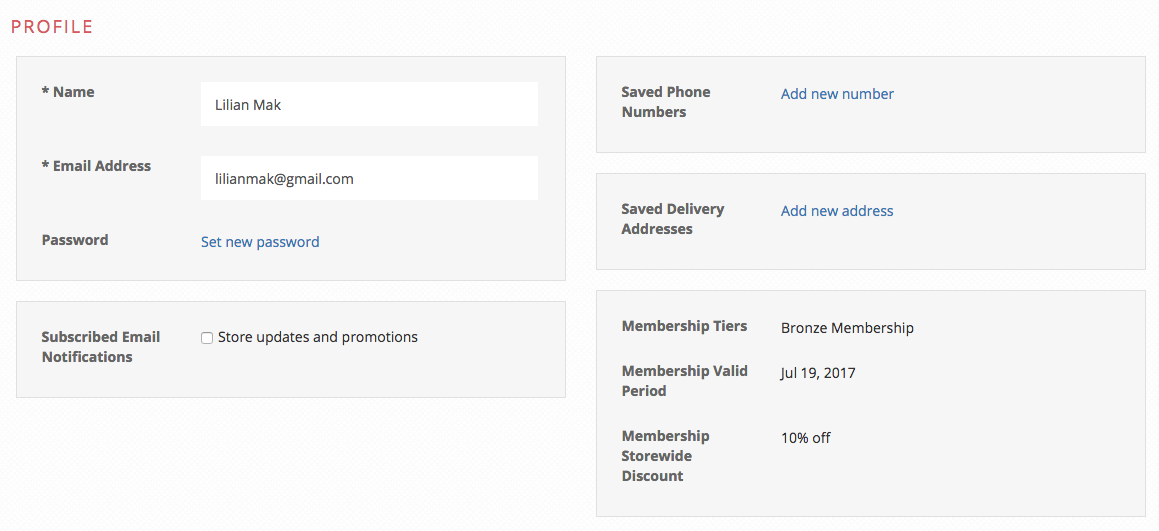 E. View membership update logs
Click view logs to see the update logs of membership.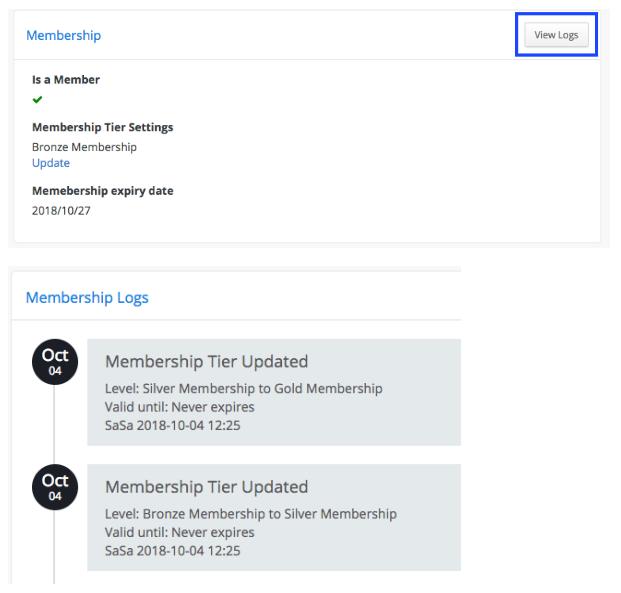 F.Related FAQ
Setup membership tier discount please refer to: (New) Sales & Promotions: Membership Tier(s) Discount