As your business grows, you may need to spend a considerable amount of time to handle increasing customers' enquiries on a daily basis. Shoppers, especially new potential ones, always have similar questions about delivery and product details before they place their first orders.

With this feature, this kind of frequently asked questions can be handled by a bot on Messenger and shoppers' enquiries can be attended to 24/7, even outside of business hours.

Besides, integrating Chatbot Store on Messenger can also be a new channel for product exposure. You can set up buttons to direct shoppers to browse more on your online shop; or even allow them to browse your products on Messenger directly, enjoying a simpler and smoother shopping experience.
Pre-requisite for this feature: Connect to Facebook fan page
If you have not connected your Facebook fan page on Admin before, you should do it first following the steps below.
If you have already connected your fan page, you can jump to here and start setting up Chatbot Stores!
Step 1: Go to "Apps Store" and install "Facebook Integration"
This feature supports only specific plans. Applicable merchants can go to "Apps" >> "Apps Store". Find the app "Facebook Integration" and click `Install`. Then click `Go to Setting` to continue Step 2.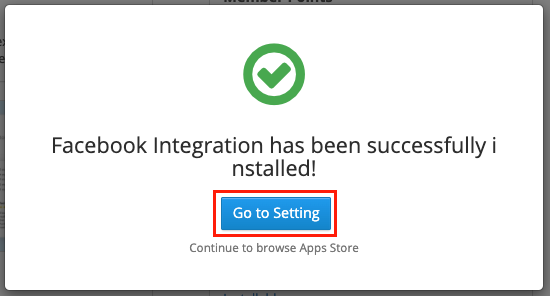 Step 2: Go to "Channel Integration" page to set up
Go to "Channel Integration" >> "Facebook" and click `Connect` to continue Step 3.

Step 3: Log into your Facebook account
Log into a Facebook account that contains the Facebook page you want to use to continue Step 4.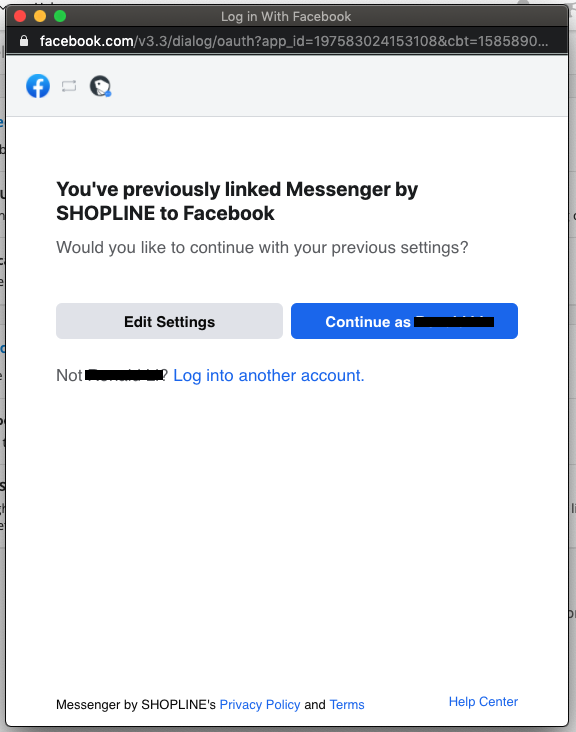 Step 4: Choose a fan page to connect
Click `Connect` on the fan pages you would like to connect with SHOPLINE and click `OK`.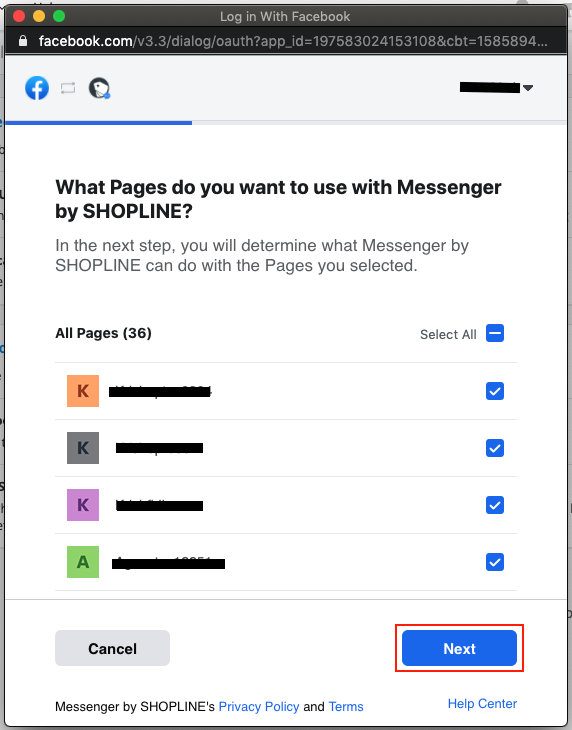 Step 5: Allow permissions
Please keep the default permission settings, "Manage your Pages" and "Manage and access Page conversations in Messenger" should be enabled as below, and click `Done`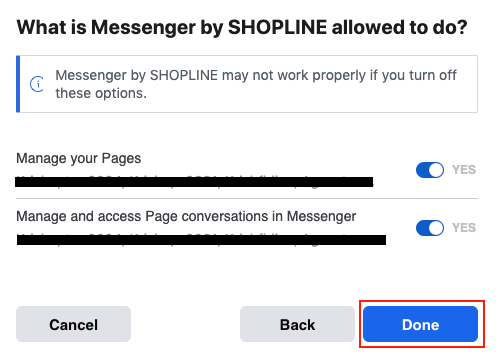 You will then see this message and click `OK`.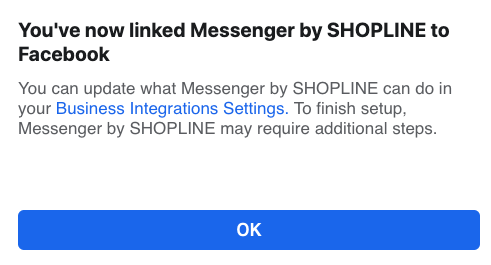 Step 6: Choose a Facebook page to connect again
Please choose a page that you want to connect for the features, "Order Update Notification", "Broadcast Center", "Persistent Menu" and "In-chat Shopping". Click `Connect` and `OK` to finish the connection.
After successfully connect to your fan page, you can now go set up Chatbots!
1. Index Page of Chatbot Store
You can go to 'Customer Management' > 'Chatbot Store' to enter the index page of Chatbot Store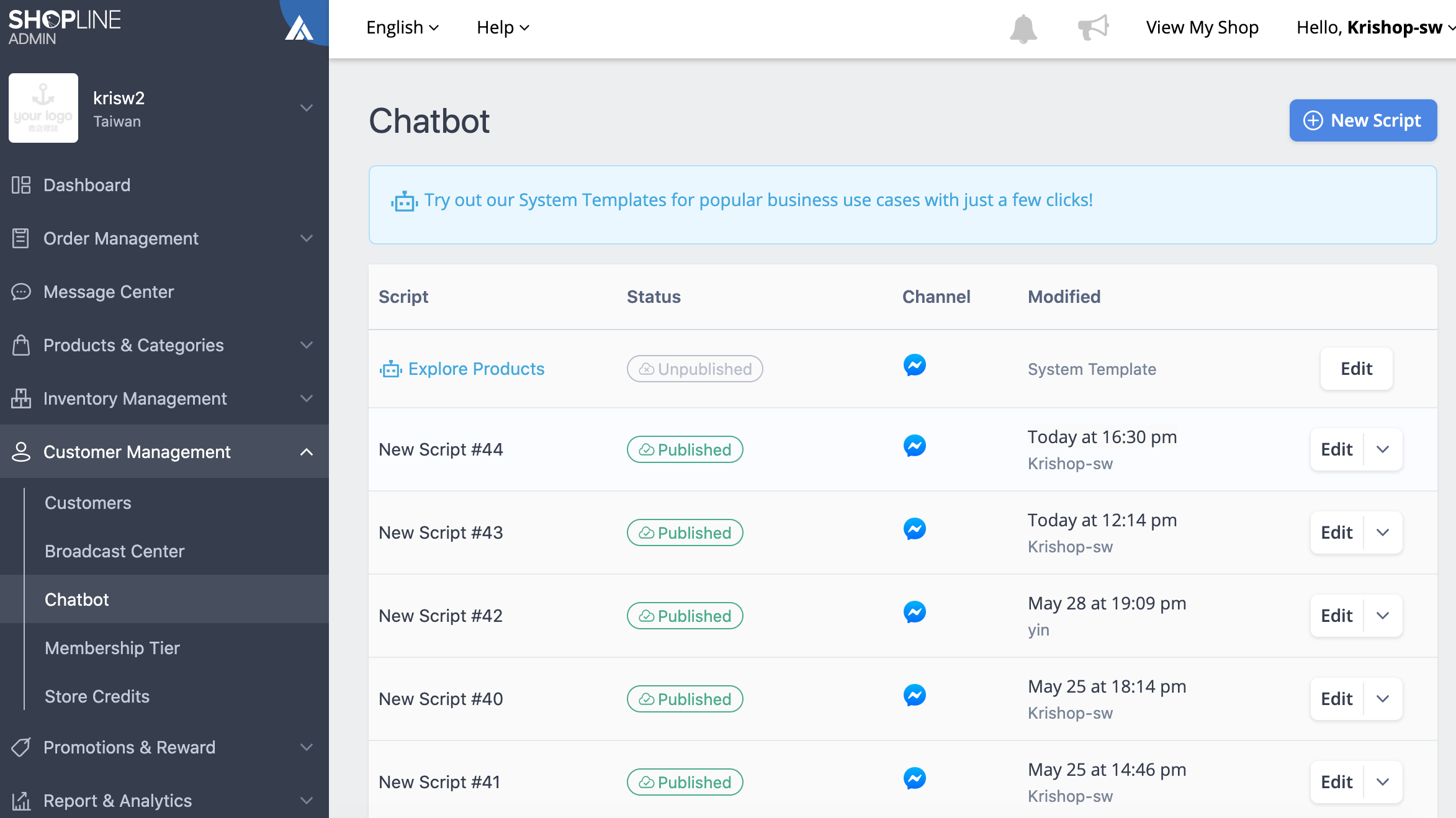 On the page, you can see the following information of the chatbots you created:
Script name
Status of script
Channel the script is published on
Last modified time and person
You can also perform the following actions on this page:
create a new script
enter the edit page of a Quick Template
enter the edit page of a created script
enter the edit page of a Default Script
delete a script
rename a script
2. Editing a Custom Script
You can click on `+ New Script` to enter the edit page of a script.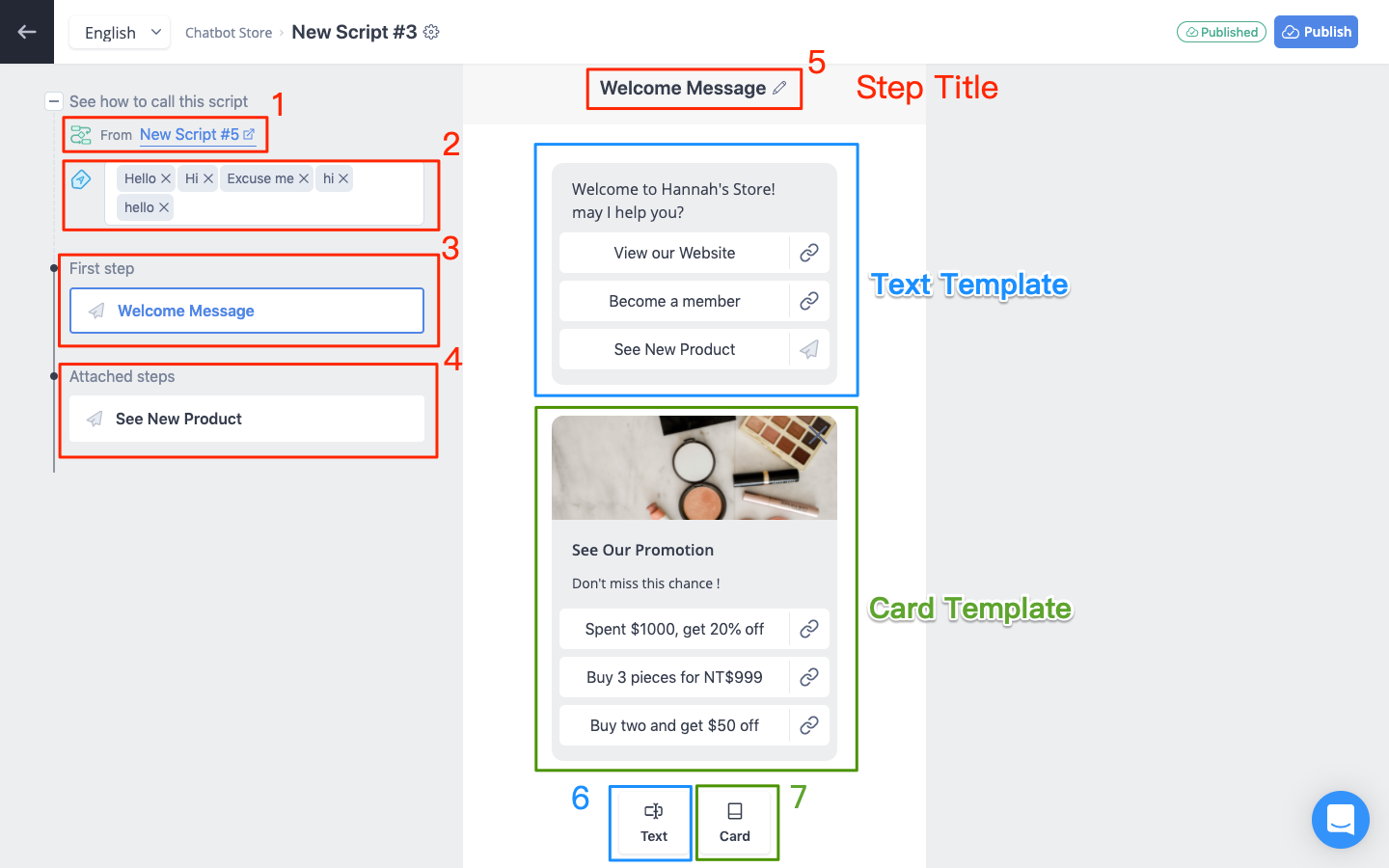 On the edit page, you will see 2 main panels:
(i) left panel, showing the overview of this script:
The "How to call the script" section lists all the trigger conditions for this script. There are two ways to trigger the script that you have edited before.
The script will be triggered and shown to the customer when the customer enters a message that (i) contains any, (ii) all keywords, or (iii) exactly matches one of them. It is recommended to use the keywords based on customers' commonly asked questions or products' SEO keywords to ensure that customers can get the exact response they are looking for.
First initiate conversation
This script can be triggered if the customer is sending a message to your page for the first time.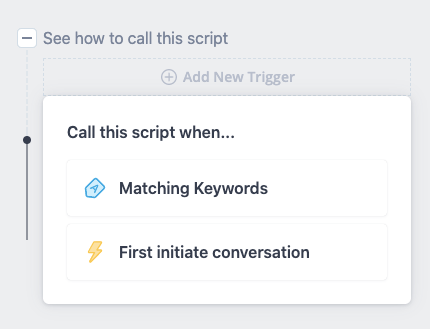 the section below is the step flow of a script, you can then have a overview look of the script, knowing this script is composed of what steps
(Block 3) First Step, as the name suggests, contains the first messages shoppers will see after they send out the keywords to trigger the script
(Block 4) Attached Steps are all the other steps that are created in this script. A corresponding step-item will be created here when you add a 'Send Message' button or a 'Start another script` button
(ii) right panel, being the edit panel of steps: you can add templates and buttons to create more interactions with customers on Facebook Messenger.
Step Title
(Block 5) you can edit the step title at the top to distinguish each step. And the edited step title will be synced simultaneously to the step title on the left.
Templates
Text Template
in a text template, you can add text message and at most 3 buttons that can perform different actions when shoppers press them.
(Block 6) clicking on the text widget will add a text template in the step
Card Template
in a card template, you can upload an image, add title, subtitle and at most 3 buttons.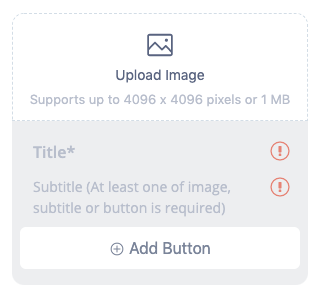 (Block 7) clicking on the card widget will add a card template in the step
Note: you can add at most 3 templates in a single step.
Button
As you can see in the image below, there are 3 types of action a button can perform.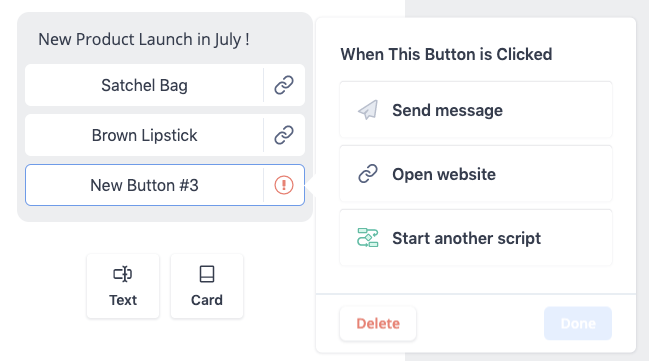 Send message

When shoppers click on a Message Button, they will trigger the messages in the linked step.
you can create a new step by clicking the `Create New Message` area and name the step here
you can also choose to link the button to an existing step from the list below (E.g. `Welcome Message` in the image above )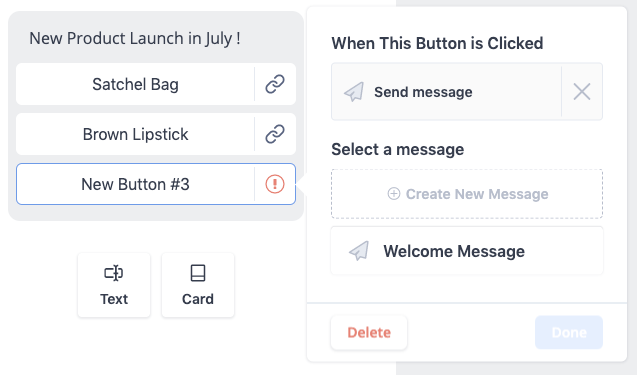 Open Website

you can put a URL in a button so that when shoppers click it, the website will be opened in the Messenger in-app browser
you can also choose a suitable webview size of the in-app browser according to the website content; there are 3 options (i) Compact 50% (ii) Medium 70%, and (iii) Tall 90%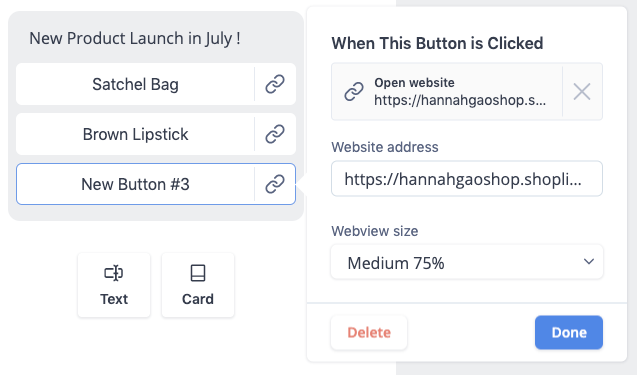 Start another script

you can also choose to link a button to an existing script so that shoppers can enter into another script for more details about certain information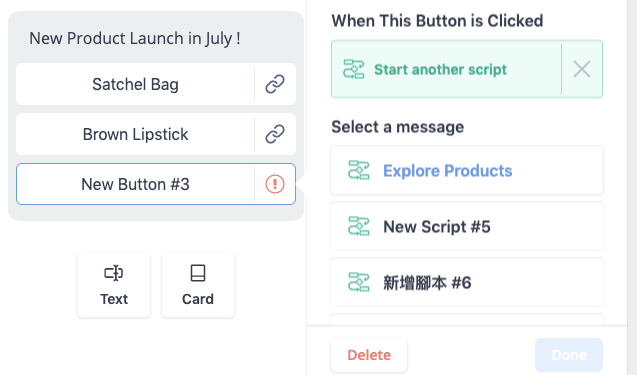 3. Publishing a Custom Script
Before you publish a script, make sure all the error icons are gone; it appears where the required fields are not filled.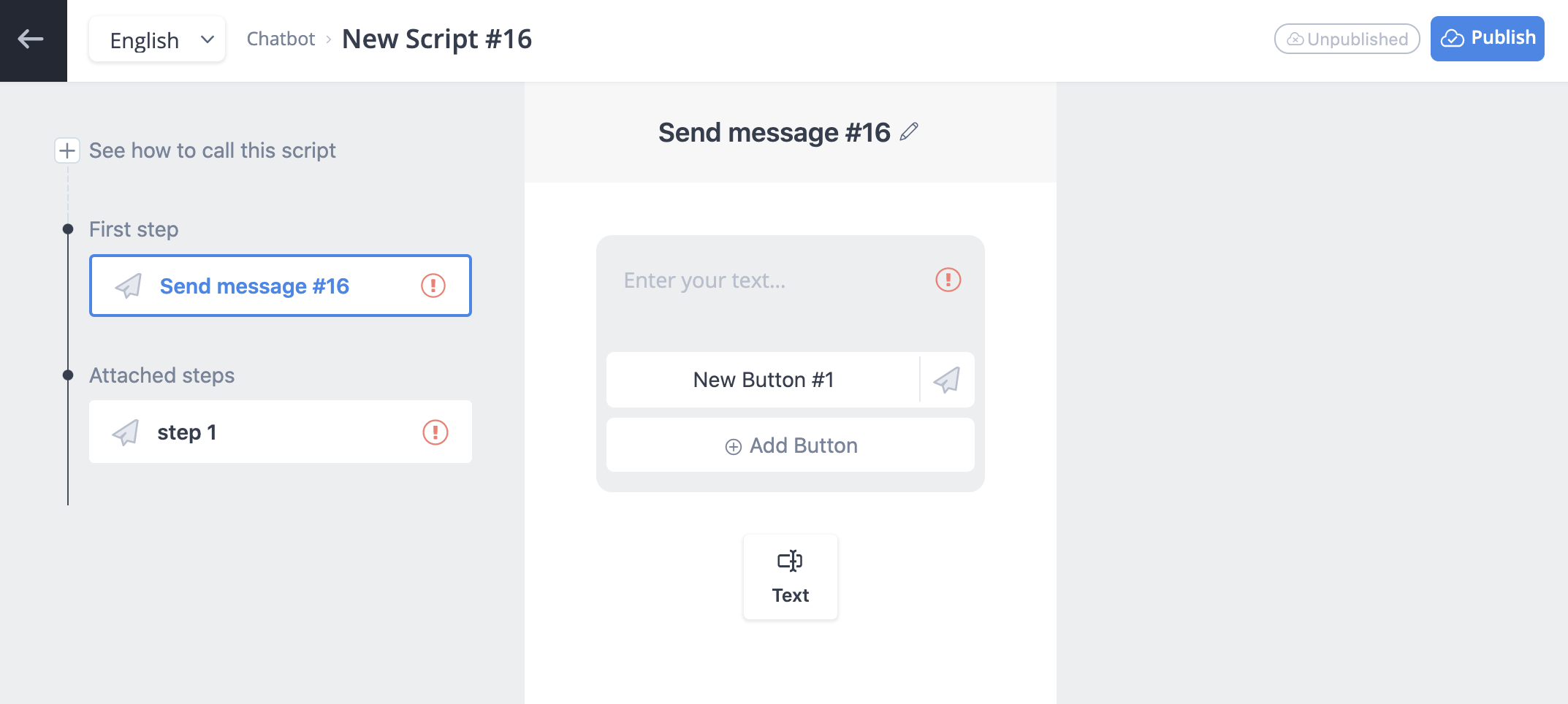 Publish The Script: Once your custom script is ready-to-go, click the `Publish` button on the right top corner. Your script will then be able to be triggered on Facebook Messenger with the correct keywords.

(Block 1) There will be a status badge 'Published' shown next to the `Publish` button when the script is published successfully.

Unpublish The Script: When your script is published, there will be a 'tool' icon next to the script title (Block 2). Clicking onto the 'tool' icon, you will see the option of 'Unpublish'; you can unpublish a script and re-publish it as you like.

4. On Facebook Messenger for Shoppers
When shoppers send the correct keywords to your fanpage, they will successfully trigger the messages in the First Step of the script.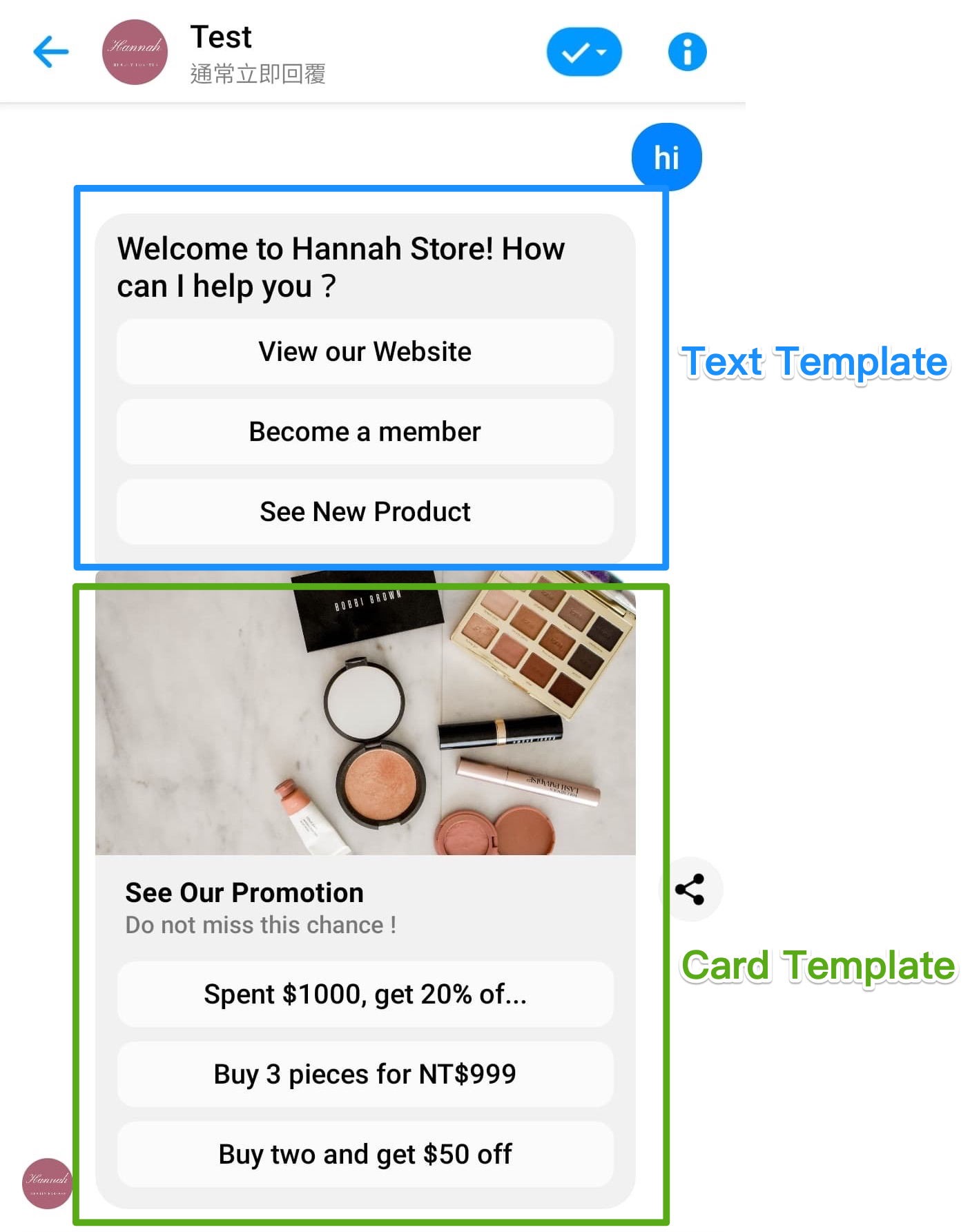 5. Default Script - Exploring Products
Other than custom script, we also prepare some Default Scripts that can help with your business use case. You can set them up with just a few clicks. You can know more about it here!