*Note: This feature is supported in the yearly plan only
After purchasing a domain, as per ICANN's policy, the domain hosting company will send verification emails to the domain owner's mailbox every once in a while. When you receive the verification email, please follow the instructions and complete the verification within the time given to prevent your website from being temporarily suspended by the domain hosting company.
This article will cover the following:
1. Domain Hosting Company: GoDaddy
In accordance with ICANN's policy, GoDaddy may notify domain owners to double-check if their contact info is correct and reachable for future needs.
When you receive the email, you may log in to your GoDaddy account to determine whether the current domain owner's email is correct. If you are unsure of the login information, please refer to Custom Domain Application, and look up your email history.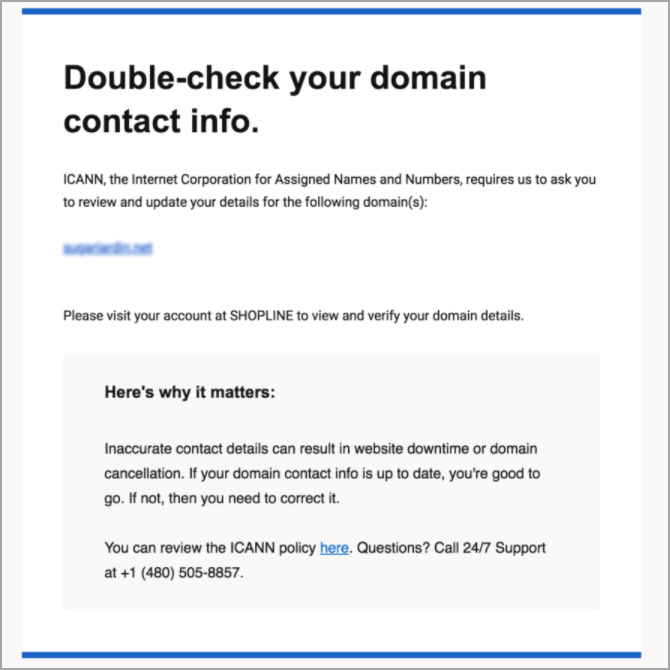 2. Domain Hosting Company: OpenSRS
In accordance with ICANN's policy, OpenSRS might send two types of notification emails notifying domain owners to complete verification. Please follow the instruction and complete the verification within 15 days.
Below are the contents of the notification email:
A.
VERIFICATION REQUIRED:
Please verify your domain name as soon as possible.
Greetings, 
Please read this important email carefully.

You have sucessfully registered, transferred or modified your domain name.
ICANN requires all acredited registrars to verify your contact information prior to activation.



You can read about ICANN's new policy at: 

http://www.icann.org/en/resources/registrars/raa/approved-with-specs-27jun13-en.htm#whois-accuracy

To activate your domain name, please click the following link and 
follow the instructions provided:
(Please refer to the verification link in the email)



Please complete verification in 15 days. If you fail to verify, you will no longer able to activate the domain name.


Your domain name: (Please refer to the email)

Please contact us if you have any questions.

Sincerely,


SHOPLINE Team
2. VERIFICATION REQUIRED: Your domain name is about to be suspended or cannot be activated.
A. Domain name will be suspended in 5 days
Greetings, 
Please read this important email carefully.

Recently you registered, transferred or modified the contact 
information of your domain name.

The following domain name will be suspended in 5 days: 
(Please refer to the email)

ICANN requires all acredited registrars to verify your contact 
information prior to activation.



You can read about ICANN's new policy at:

 http://www.icann.org/en/resources/registrars/raa/approved-with-specs-27jun13-en.htm#whois-accuracy

Please complete the verification as soon as possible. Your domain 
name will be suspended shall you failed to verify.

Sincerely,
SHOPLINE Team

B. Domain name will be suspended in 2 days
Greetings, 
Please read this important email carefully.

Recently you registered, transferred or modified the contact 
information of your domain name.

The following domain name will be suspended in 2 days: 
(Please refer to the email)

ICANN requires all acredited registrars to verify your contact 
information prior to activation.

You can read about ICANN's new policy at: http://www.icann.org/en/resources/registrars/raa/approved-with-specs-27jun13-en.htm#whois-accuracy

Please complete the verification as soon as possible. Your domain 
name will be suspended shall you failed to verify.

Sincerely,


SHOPLINE Team