*This feature is supported in yearly plan only
A Domain Name locates an organisation or other entity on the Internet, for eg.shopline.hk or shopline.tw . Setting up an online store on SHOPLINE, merchants can choose one of the following option to set their online store's domain/address.
1) Use the Basic Free Address (ending with shopineapp.com)
e.g
http://academy.shoplineapp.com
http://hongkongdomain.shoplineapp.com
2) (Basic plan is not supported) If merchants have existing domain and wish to connect it to the online store that set up with SHOPLINE, merchants can add the following two records

Link a domain hosted on GoDaddy
3) (Basic plan is not supported) Choose a custom domain
Use the Basic Free Address (ending with shoplineapp.com)
After setting up an account on SHOPLINE, you can go to "My Brand" then check for the basic free address in the bottom right of the page. Merchants can also update it to another address.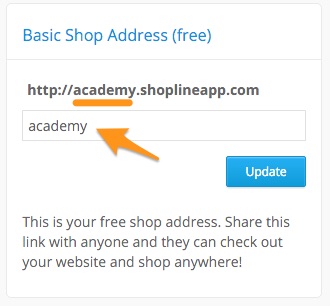 Choose a custom domain
A custom domain is included in Advanced & Premium, this custom domain belongs to the respective merchant. Domains applied to SHOPLINE are through the domain hosting platform OpenSRS and GoDaddy.
If .hk/ .com.hk are through the domain hosting platform Hosting Speed.

For more details on domain application: Custom Domain Application
Please note:
If you have input the custom domain before upgrading to any of the subscription plans (Advanced & Premium), system does not apply the domain on that actual day. The domain application would only proceed within 1-2 working days after the merchant has upgraded the subscription plan.
If the merchant has input an incorrect custom domain, please inform SHOPLINE Online Merchant Success Team immediately. In cases when the domain has been applied for, the merchant would be responsible for any service charge incurred for the change of custom domain. To change custom domain would cost at least HK$350/NT$1200.
If you wish to change the domain, please email to support@shoplineapp.com with your shop name and new custom domain choice.
Common question: Difference between custom shop domain and basic shop address
For e.g. Shop name is myloveshop
For custom shop domain,SHOPLINE offers many different choices for Advanced/ Premium plan users, such as www.myloveshop.net, while the basic shop address for users on trial is myloveshop.shoplineapp.com.
Having a custom shop domain is like having an identity for a shop, which shows the uniqueness of the shop. It can also give customers the impression that the shop has a certain scale.
In addition, if a shop has its own domain, such as www.shoplinedemoshop.net, when using search advertising tools such as Google AdWords, the ads can have a better rank in search result and attract more traffic.
Even if the shop has its own domain, it still belongs to SHOPLINE. SHOPLINE provides shop designs and settings, which ease the troubles of building a website for merchants.