Add-on items amount that you can create on the shop in:
e-Commerce / Social Commerce / Advanced Plan: 10 items
Promotions module / Premium Plan: Unlimited
This article covers:
1. Functions of add-on items
Creating a discount combo of product and add-on item
Add-on Items is one of the effective ways to boost up your sales. You can assign at most 5 add-on items to one main product.
Set customer purchase restrictions
You can decide to set up limitations for add-on items. Unlimited add-on items setting is suitable for items with a low price and a larger inventory.
Limitation ON: Customers can buy add-on items together with the main product but the number of add-on items cannot be more than the quantity of the main product.


(Note: only applicable on product-level add-on items. Add-on items to the shopping cart are not restricted)

Limitation OFF: Customer needs to purchase a least one main product for purchasing an unlimited amount of add-on items (with the upper limit from the inventory)
Excluded from any store discount
As an add-on item is already a discounted item, it cannot be further discounted.
2. Create add-on items
Step 1
In the SHOPLINE Admin, go to [Products and Categories] > [Add-ons].
You can set the quality limit for add-on items shown on the top left corner of the page.
You can also switch the toggle for the add-on item quantity limitation here.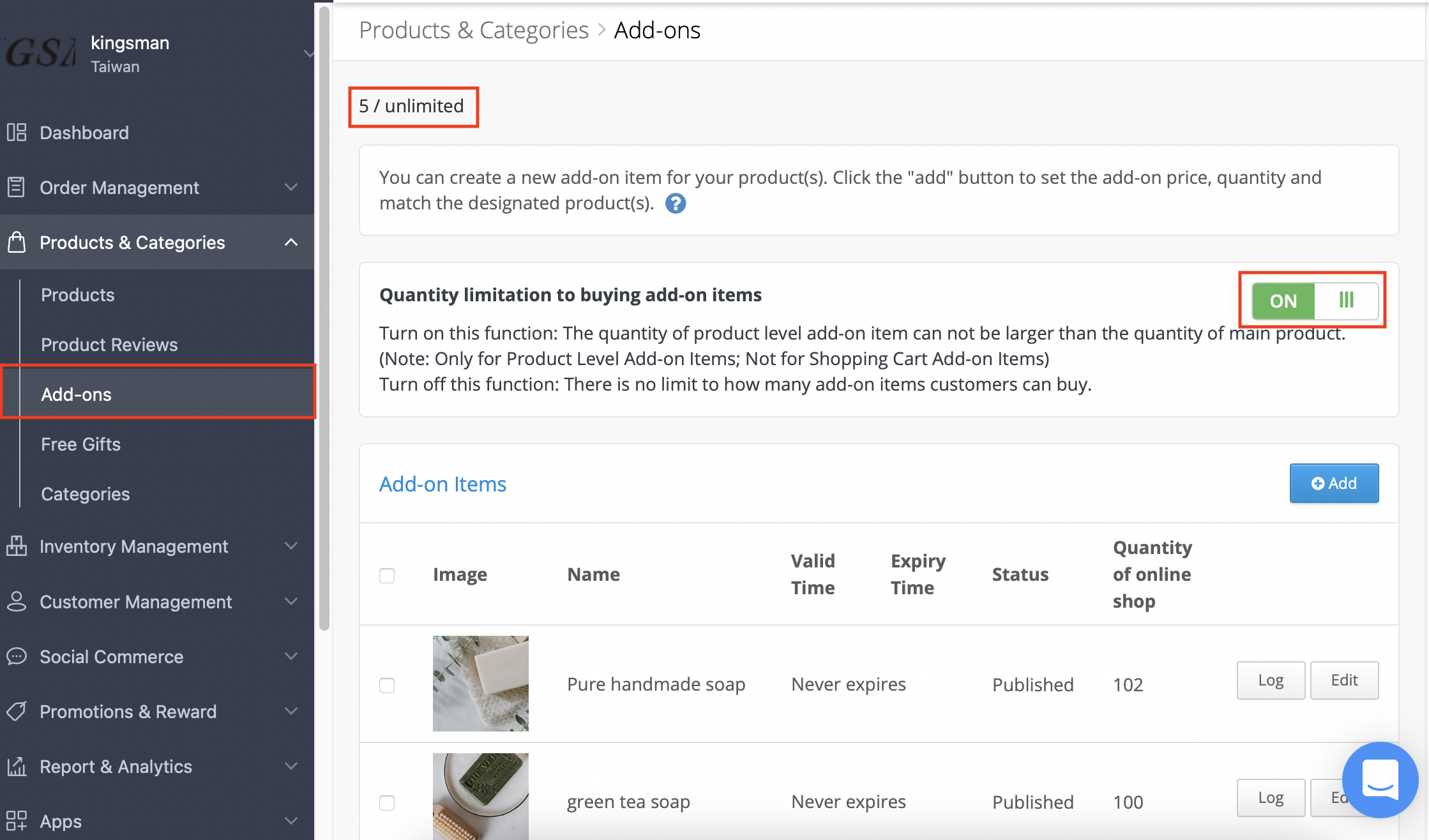 Step 2
Click Add to add an add-on item.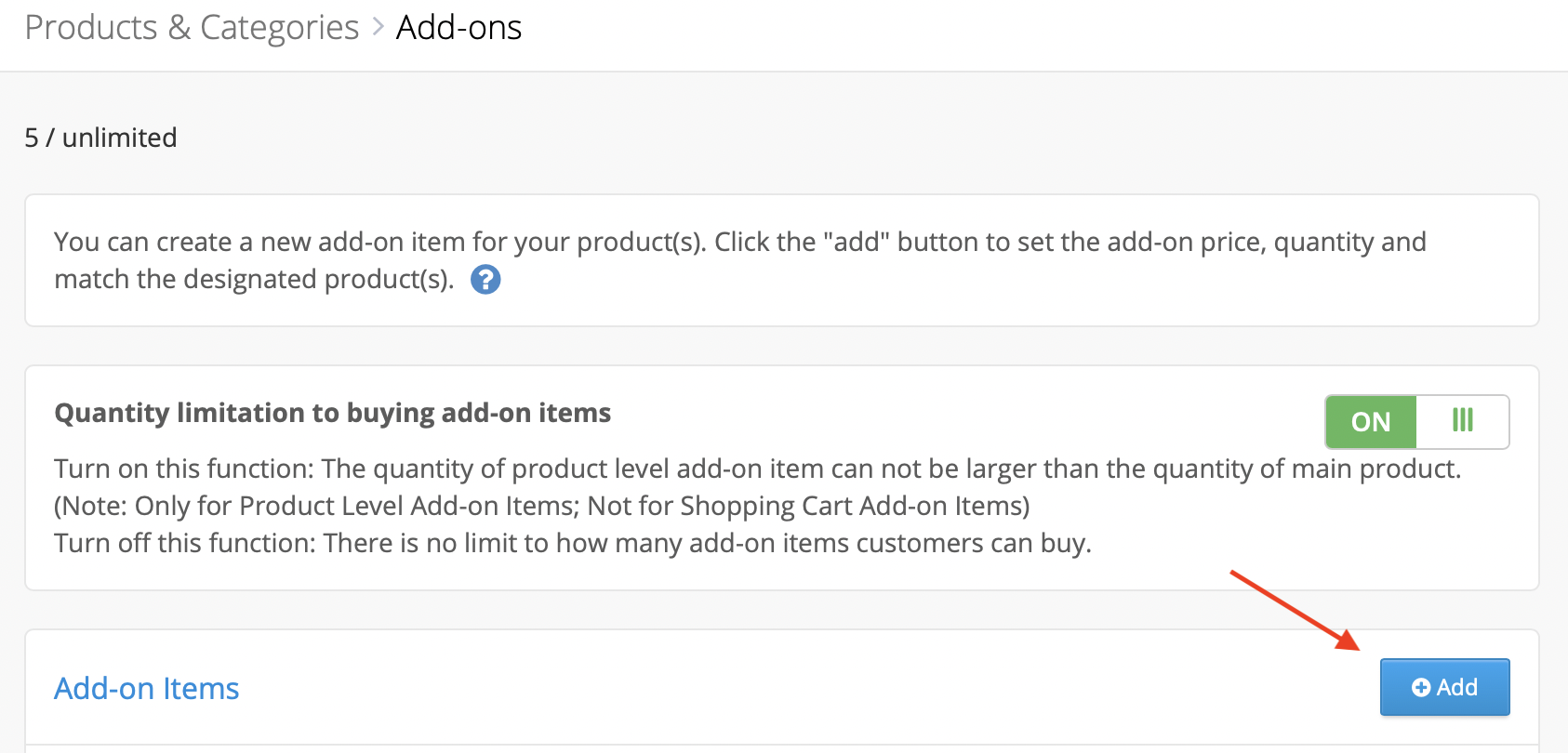 Step 3
Similar to creating a normal product, input item name and image (1 image only), and other information for your add-on item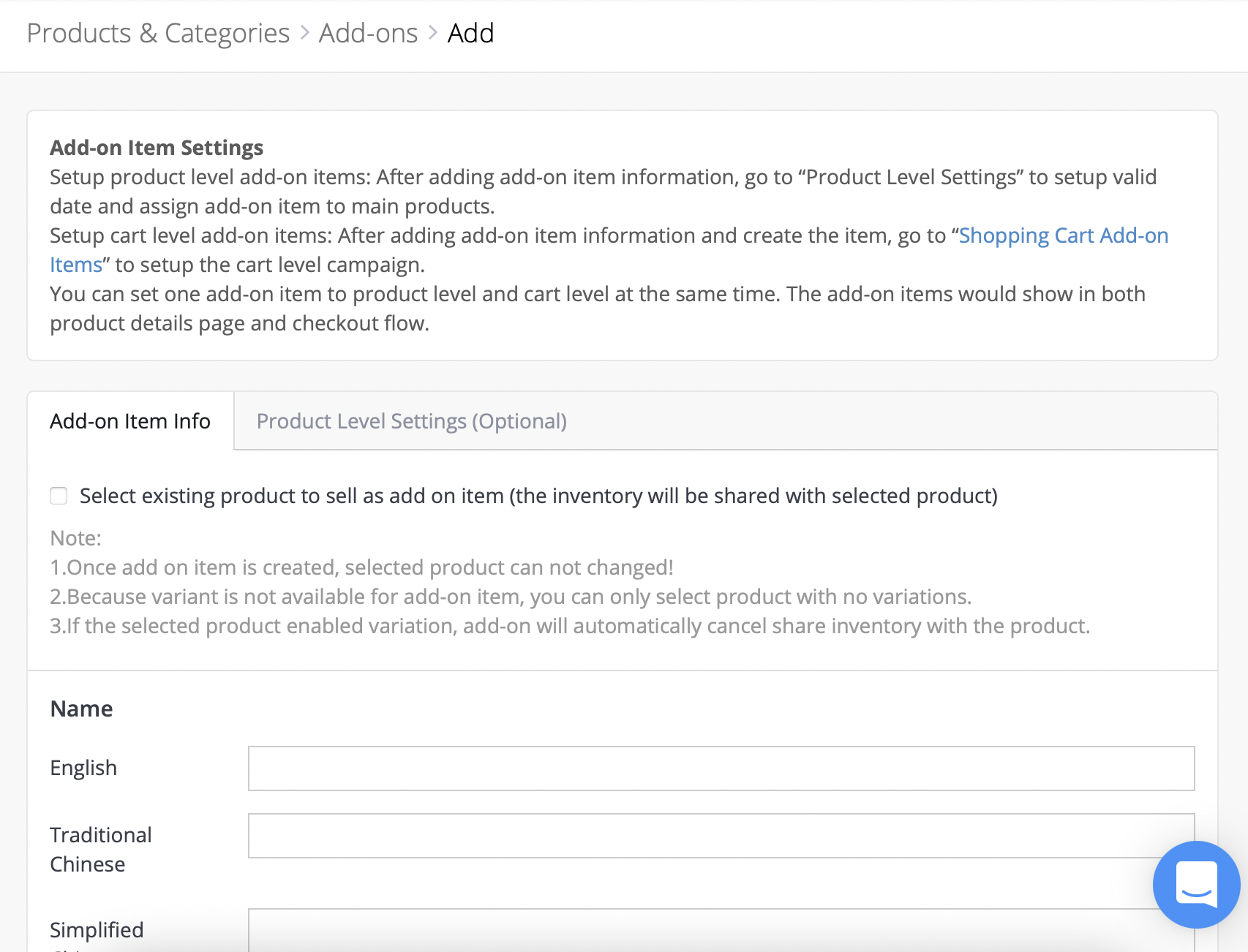 You can also input the quantity, SKU, cost of the item (optional), and weight (optional).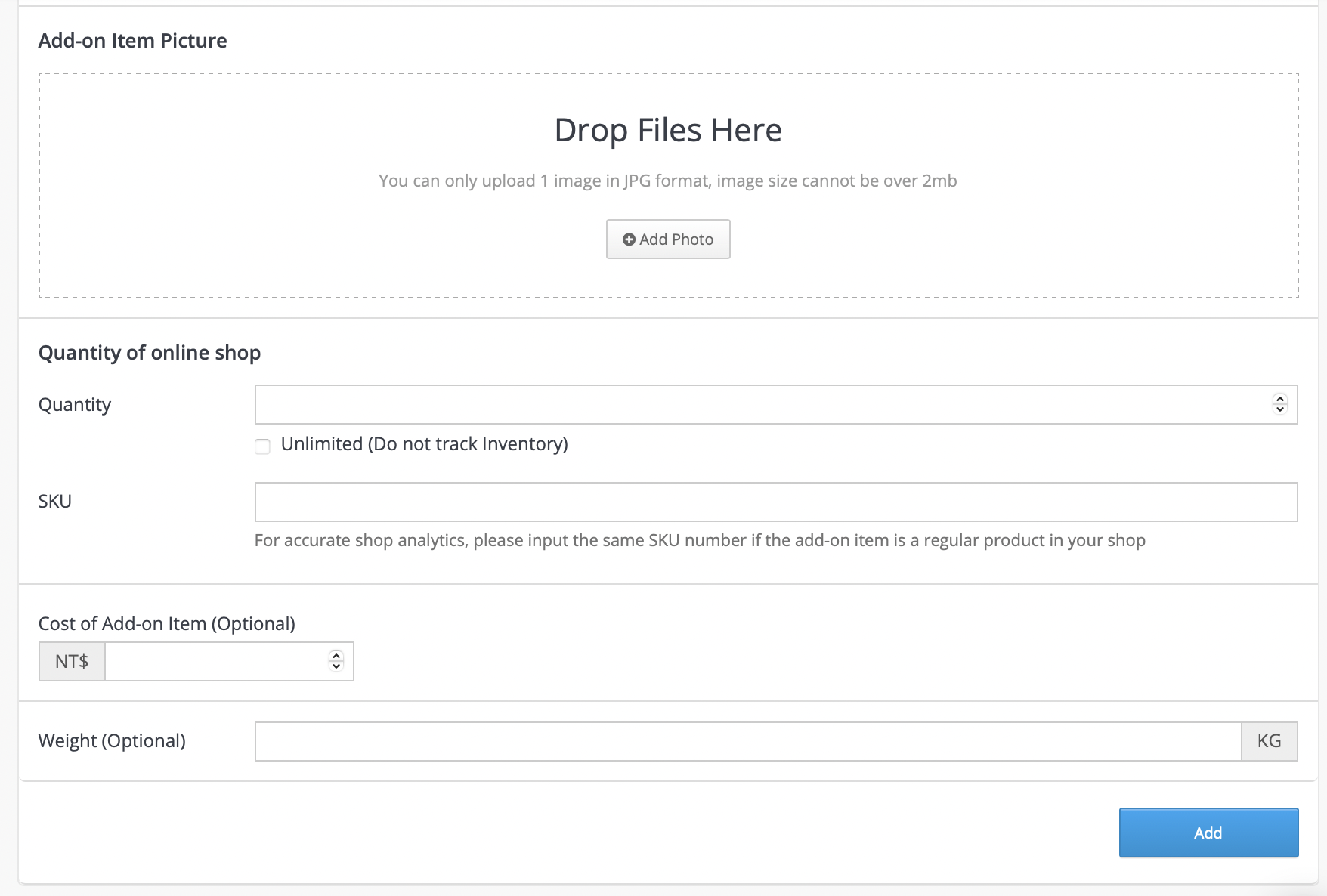 Step 4
On the Product Level Settings tab, you can set the "valid/invalid time" of the item (optional). You can assign the add-on Item to one (or more) main product(s) and each main product can have at most 5 add-on items.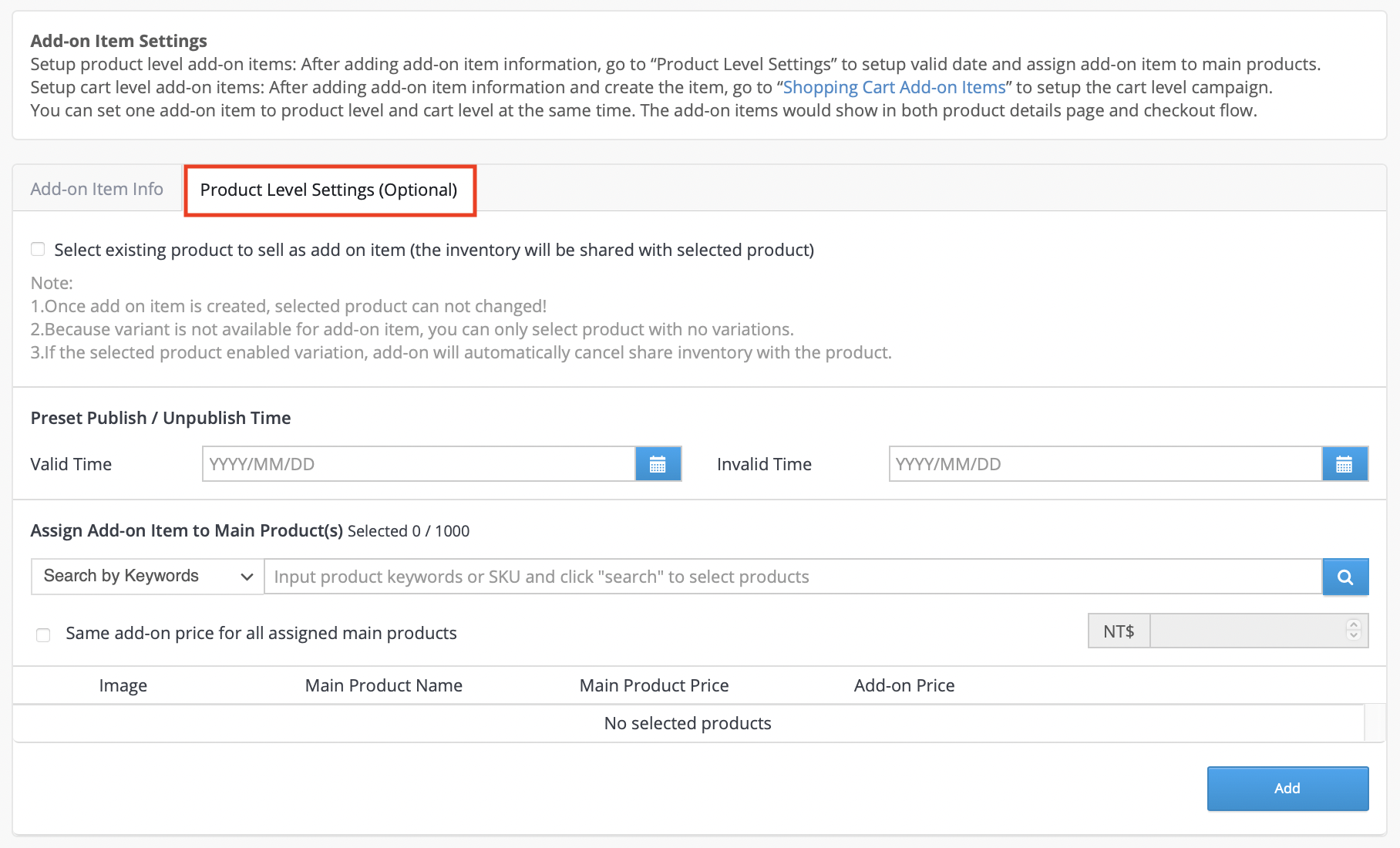 You can search main products by various methods:
Search by product keywords or SKU in search row


Click "Search by Categories" > Click the sign to search from drop down menu.

Choose your own search method and click

. A pop-up window will shows the search result. Check the box of products to attach to, then click Confirm to finish.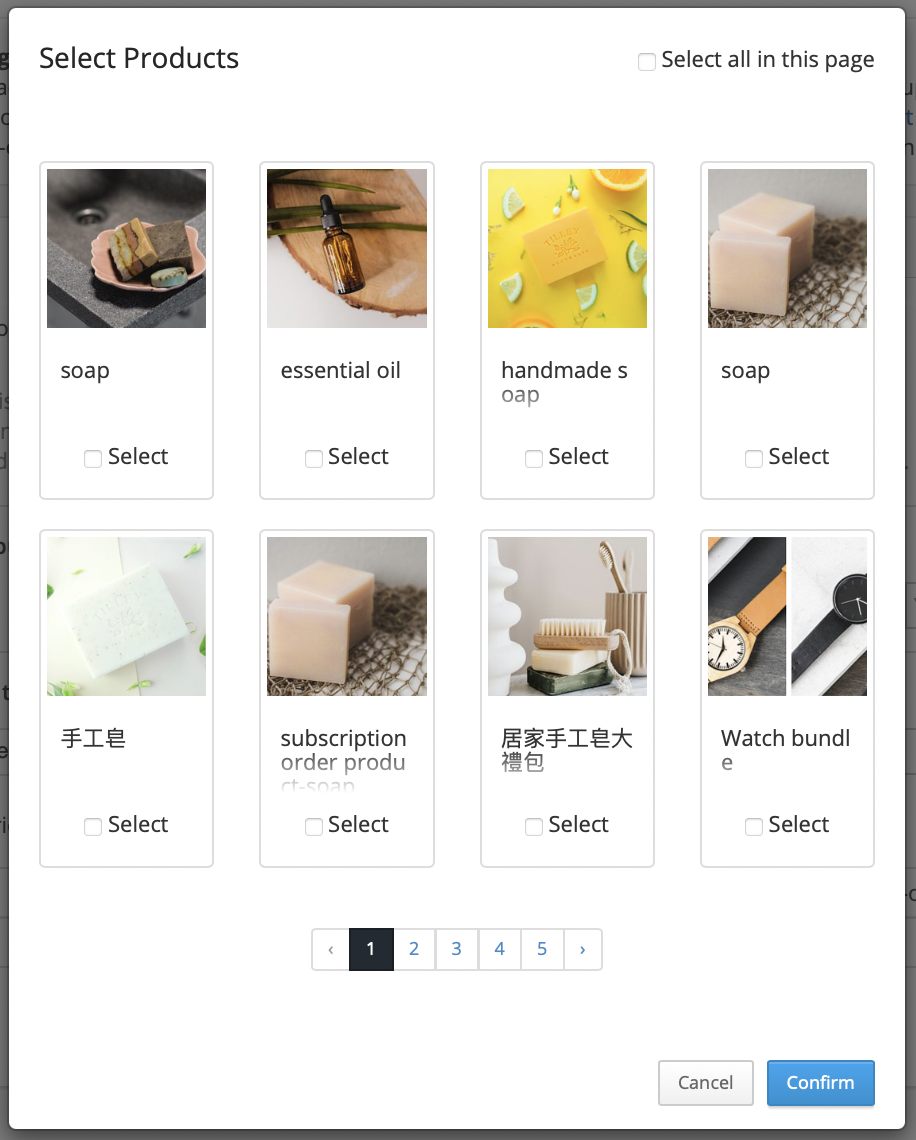 Step 5
If you want to assign the add-on item to more than one main product, there will be 2 scenarios when you are setting the price:
Same add-on price for all assigned main products
Check the box "Same add-on price for all assigned main products" to set a price.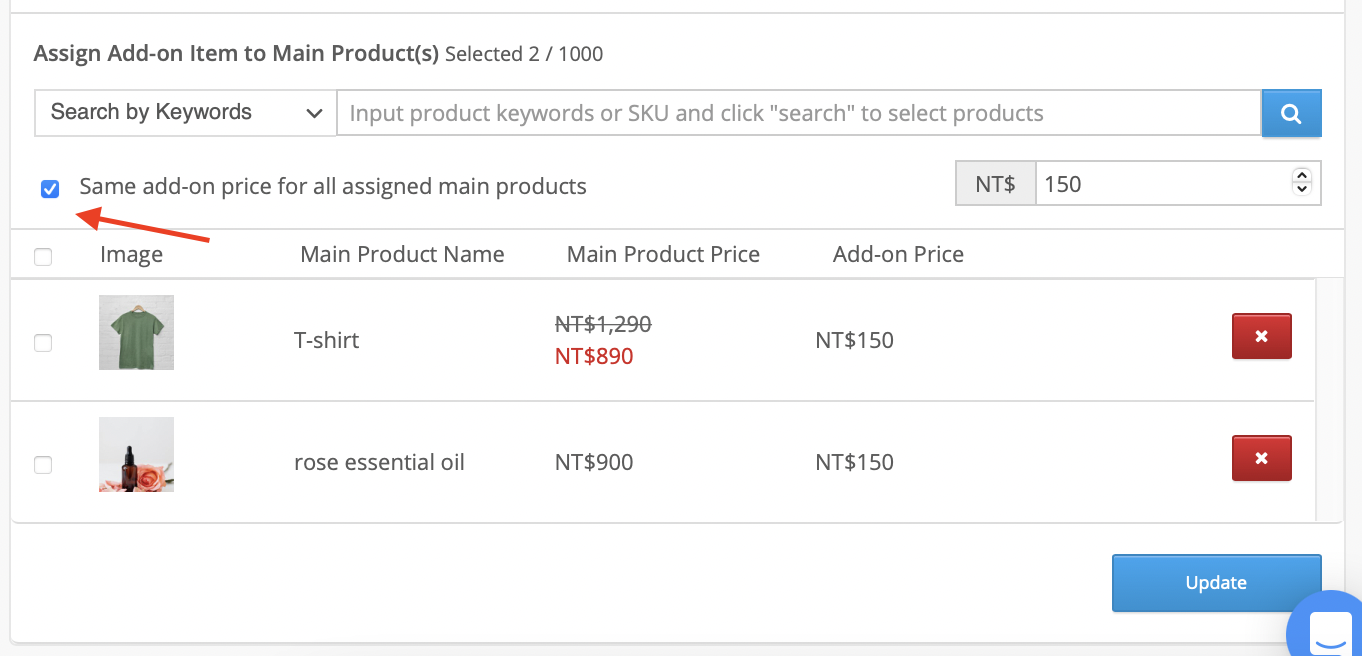 Not the same add-on price for all assigned main products
You cannot insert any numbers if you do not check the box. You have to insert the add-on price one by one for each main product.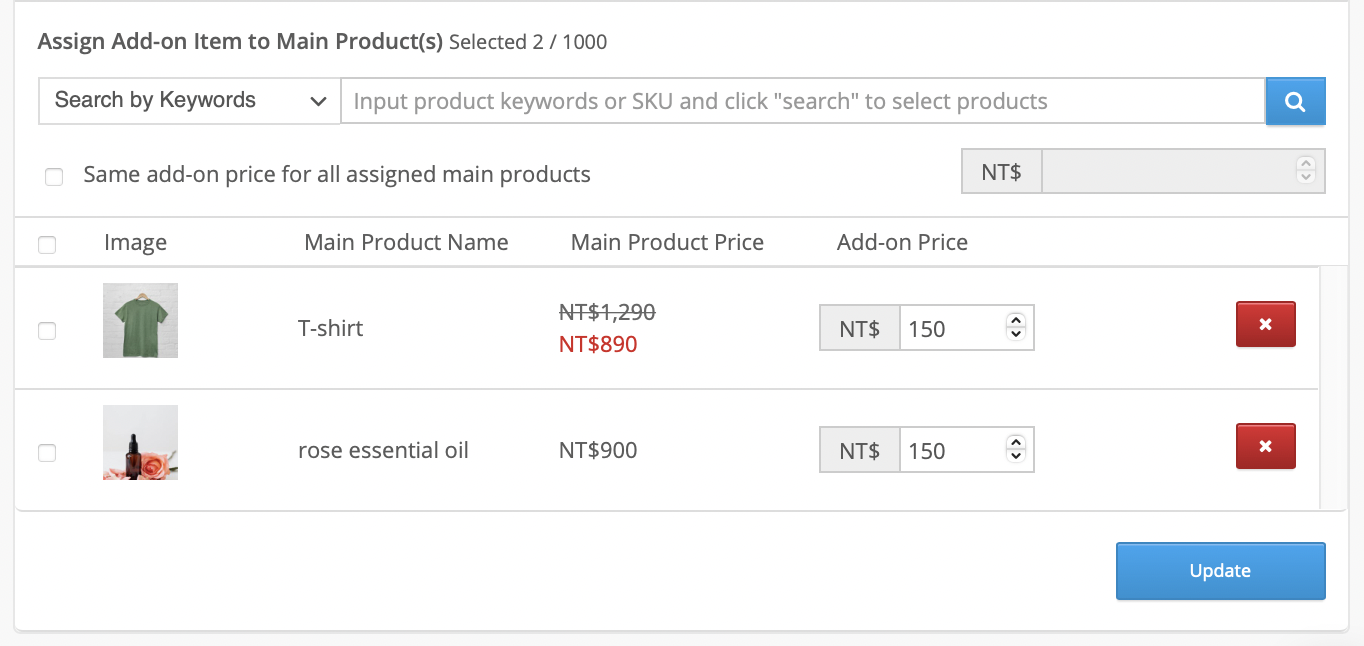 3. Add-on items management
Browse add-on items
In the SHOPLINE Admin, go to [Products and Categories] > [Products]. Click the Edit button next to the product and select the Add-on items tab. You can check the assigned add-on items of that main product on this page. It would include the unpublished, expired, no inventory add-on items in the list also.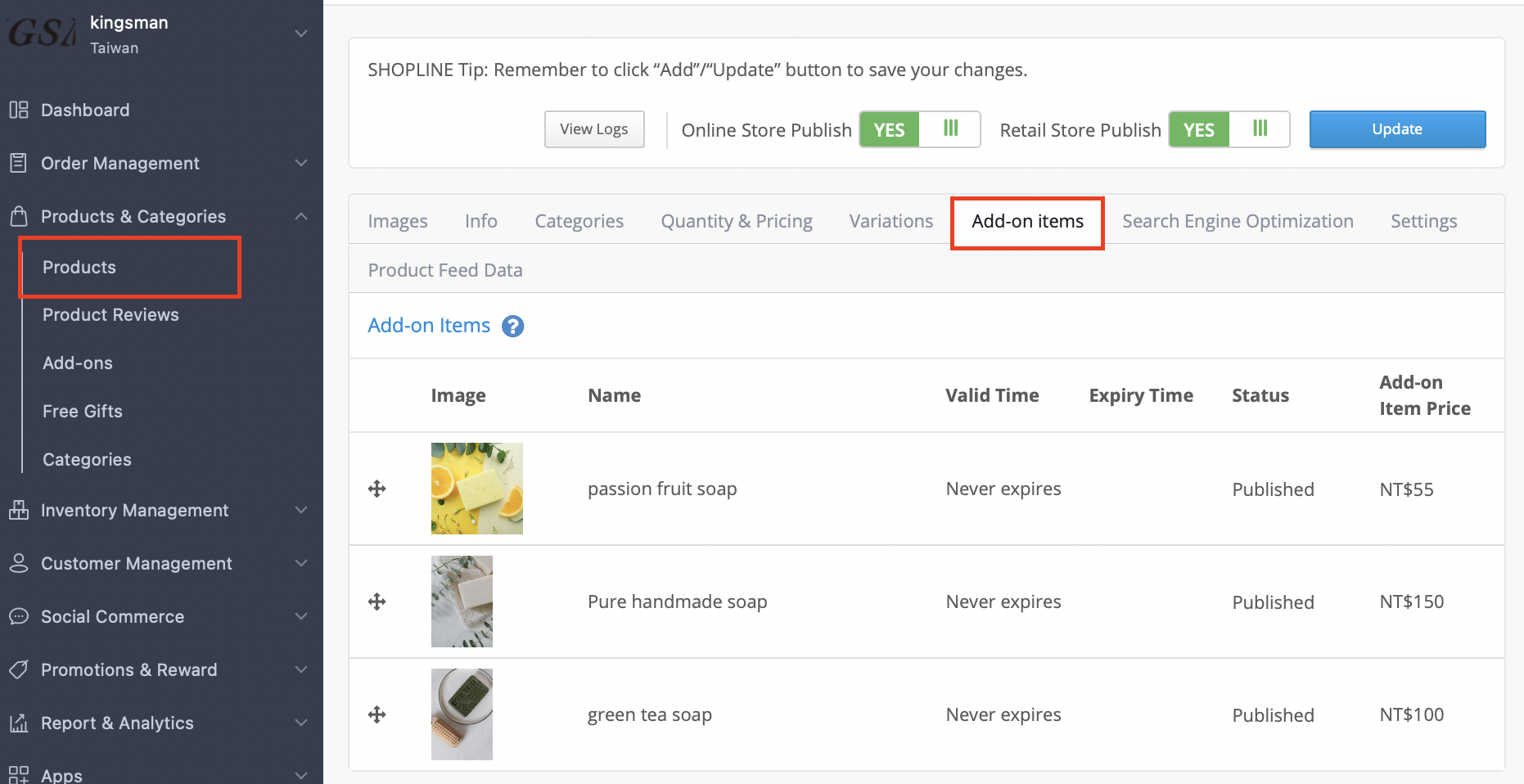 Edit add-on items
Click the add-on items' name or image to redirect to the add-on items edit page and update the info.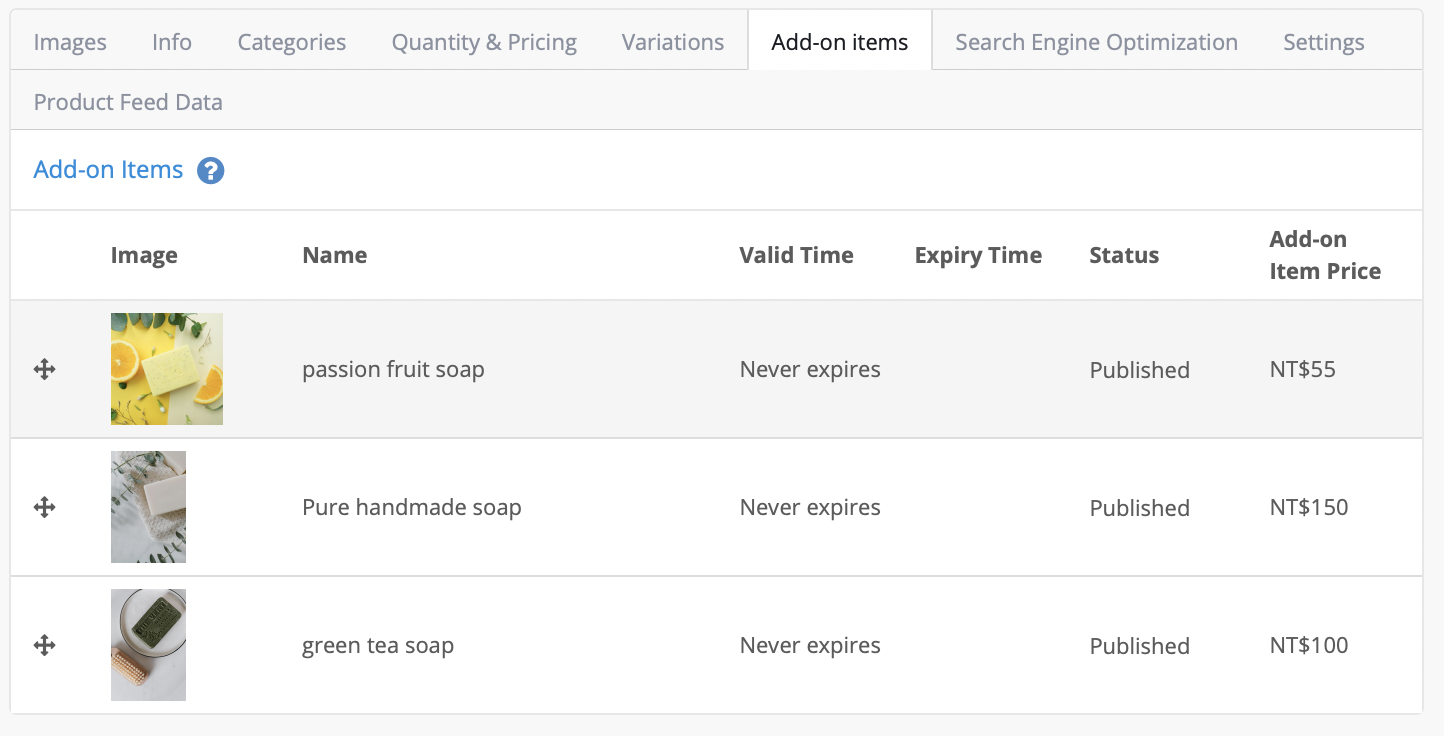 OR
you can directly go [Products and Categories] > [Add-ons] and click Edit to edit, delete, publish add-on items on this page.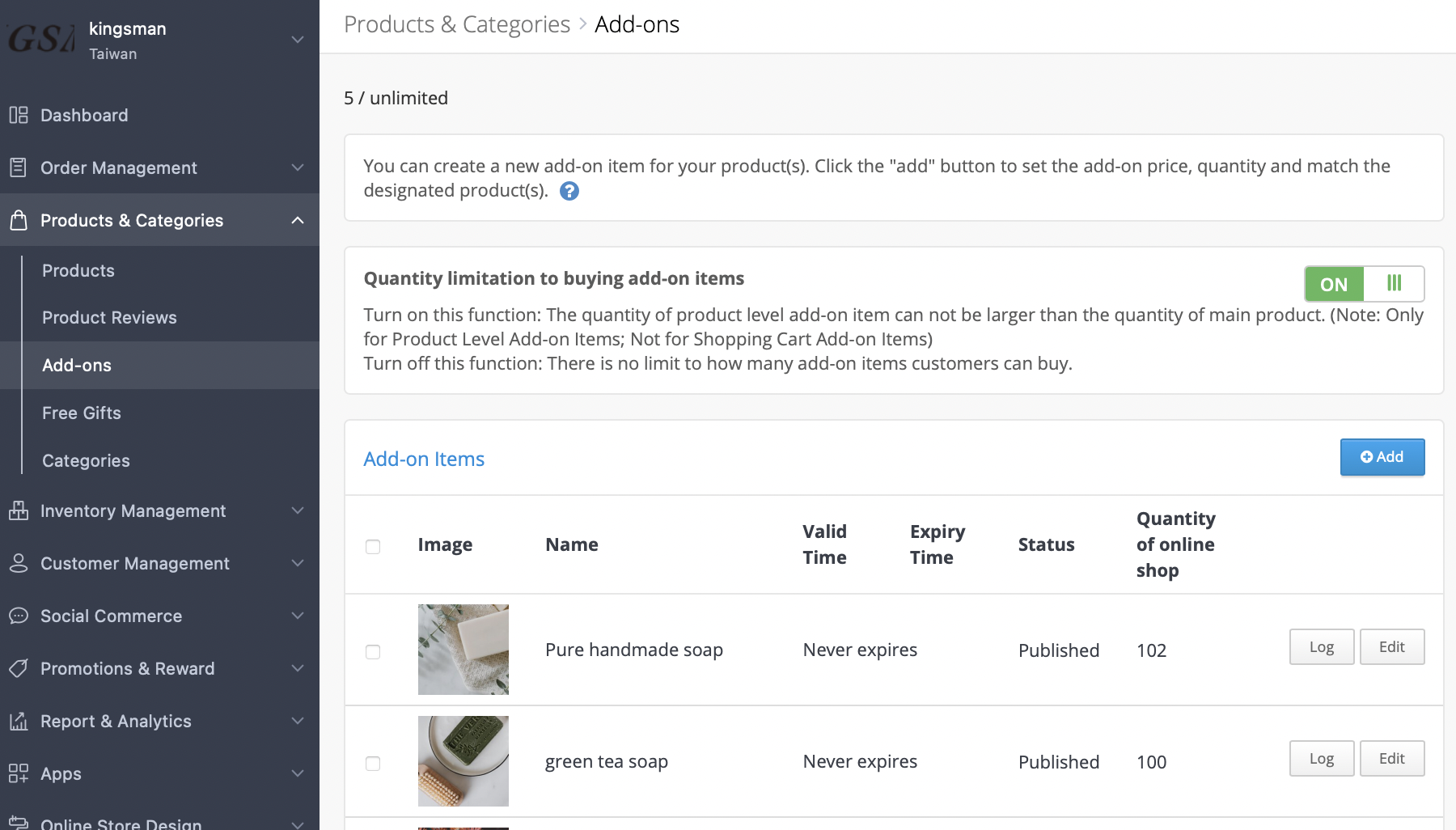 Update add-on items inventory in bulk
In the SHOPLINE Admin, go to [Inventory Management] > [Inventory] and select the Add-on Item tab to update stock.
Click here for the complete inventory management guide.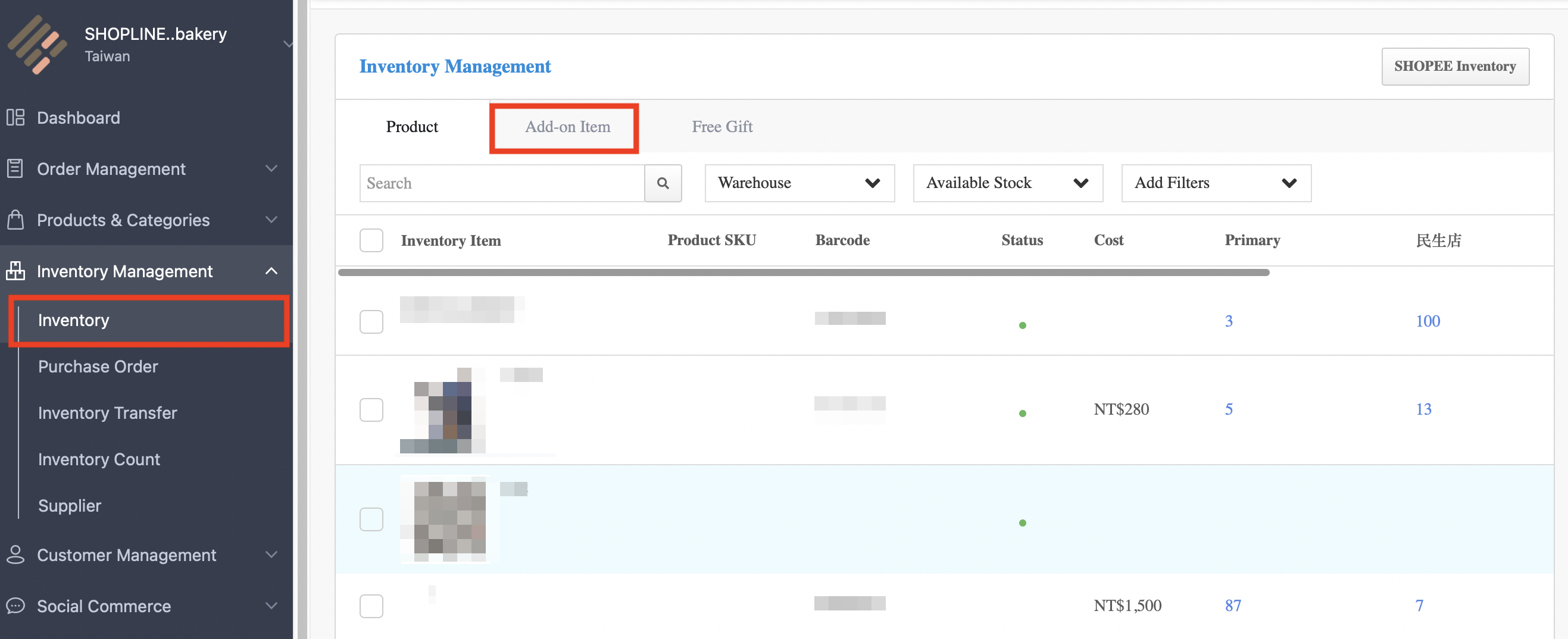 Prioritize Add-on items
Drag the cross icon to modify the chronological order of the add-on items.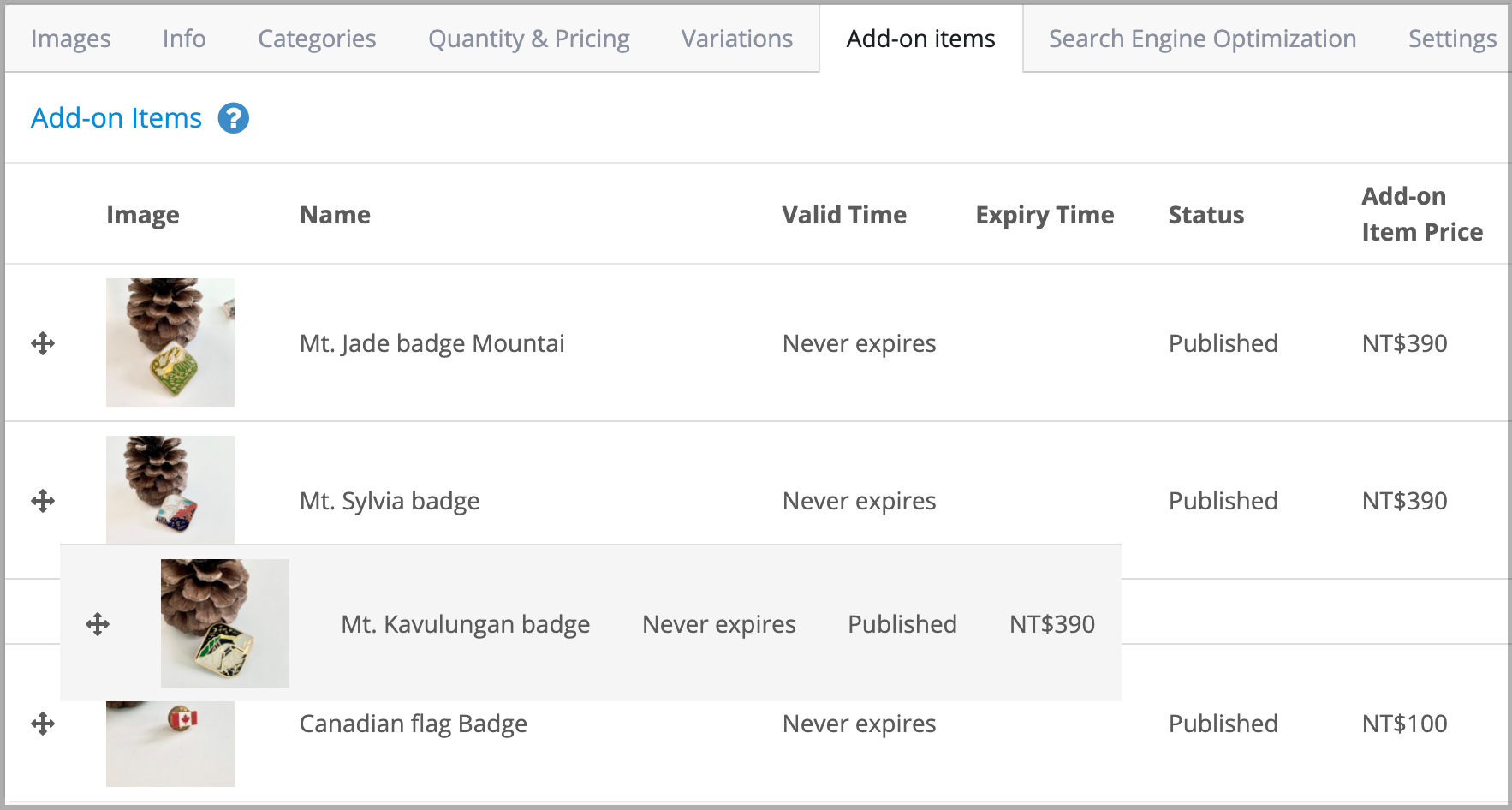 4. Presentation on reports
Product Inventory Report, Product Sales Volume Report
Add-on items will be displayed under the column of "Product Name".
Main product attached to the add-on item will be displayed in the column of "Variation".
Order Report (New)
When an order contains an add-on item, it appears "Add-on Item" under the column of "Product Type". The type of the add-on item is displayed under "Add-on Item Type", e.g.: Product Level Add-on Item or Cart Add-on Item.

5. Presentation on storefront
When a customer is purchasing a main product, he/she can choose the add-on item(s) which displays) on the page. The customer cannot buy the add-on item if he/she does not buy the main product.
Desktop version
Mobile Version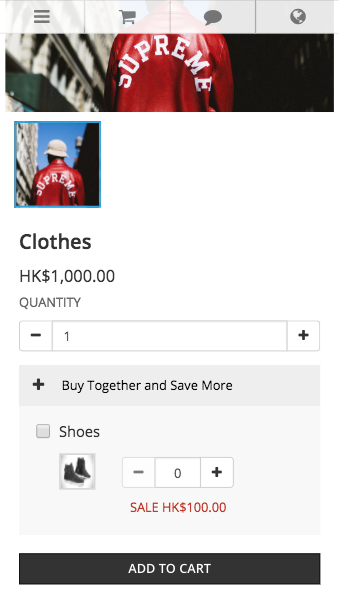 *Please note:
One main product can be paired with 5 add-on items at most. It means when you visit the product page, it shows up with 5 add-on items. The priority sorting does not follow the sequence of add-on product's uploaded/created time and date, it currently depends on time of pairing with a main product. But you can manually modify the priority order of the add-on products if you wish.

For example:
Created the add-on items A > B > C.
Main product 1 paired with C first, then paired with A, then B.
On the storefront page of product 1, it displays the ordering C > A > B from above to below.