To improve the efficiency of your monthly and annual financial settlement, you can export the Store Credits Report to view a comprehensive store credit record for accounting reconciliation.
In this article, you'll find:
1. Export Store Credits Report
Step 1
In the SHOPLINE Admin, go to [Report & Analytics] > [Report Export]. In the "Online Store" tab, select Store Credits Report.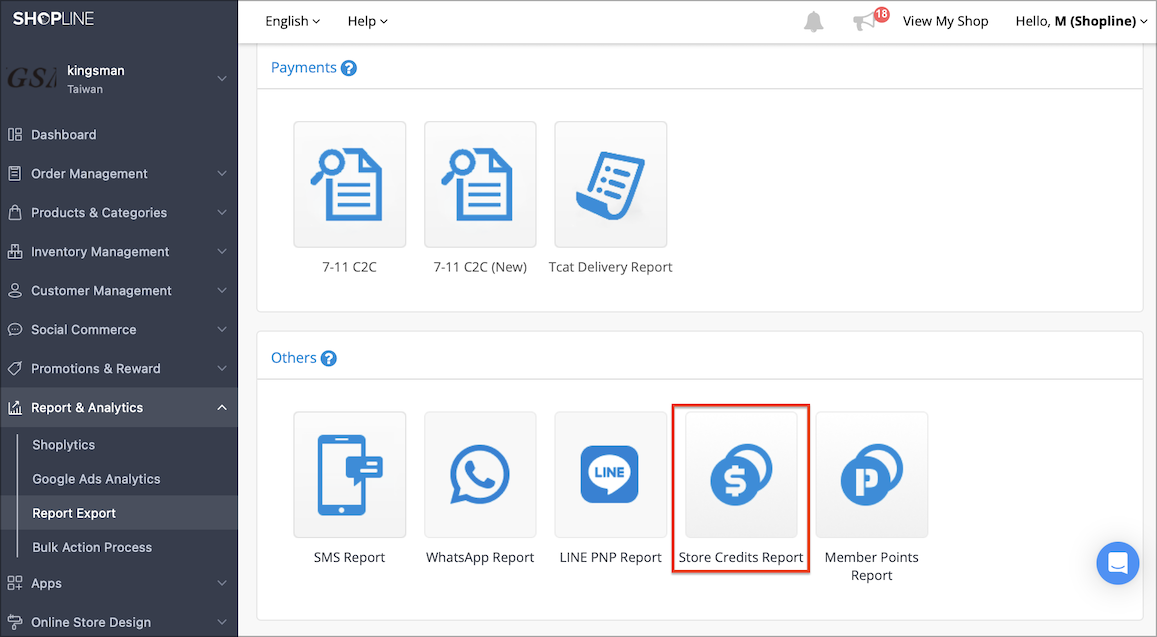 Step 2
Select the report date range you want to export, then click Export.
*Notes:
The initial data are available as far back as 1 Jan 2022.

The report date range can be selected for up to one year.

The latest data is recorded up to the day before the report export is executed.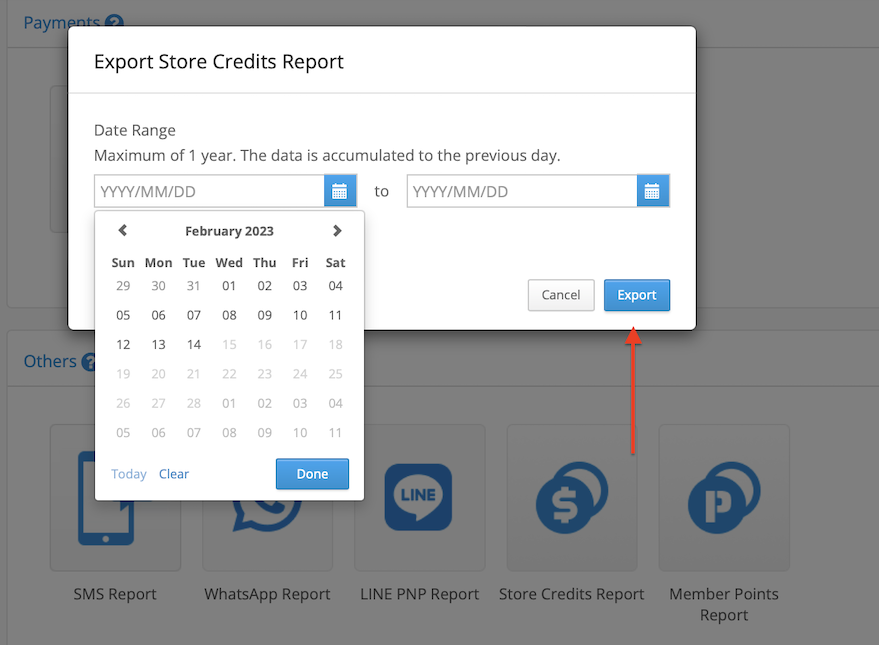 Step 3
You can click here in the pop-up reminder at the top right to check the exporting progress.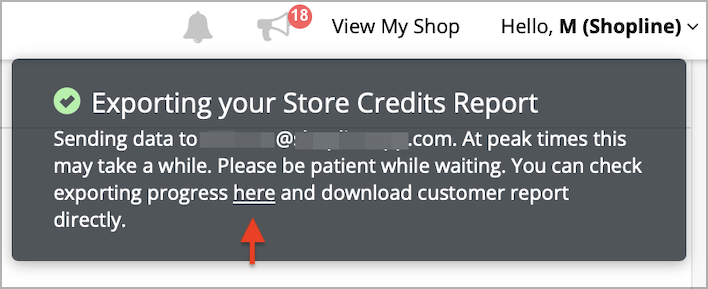 Alternatively, you can check the progress in [Report & Analytics] > [Bulk Action Process]. Click Download to get the report when it is available.
*Note: The report is available to download for 7 days from the date of export.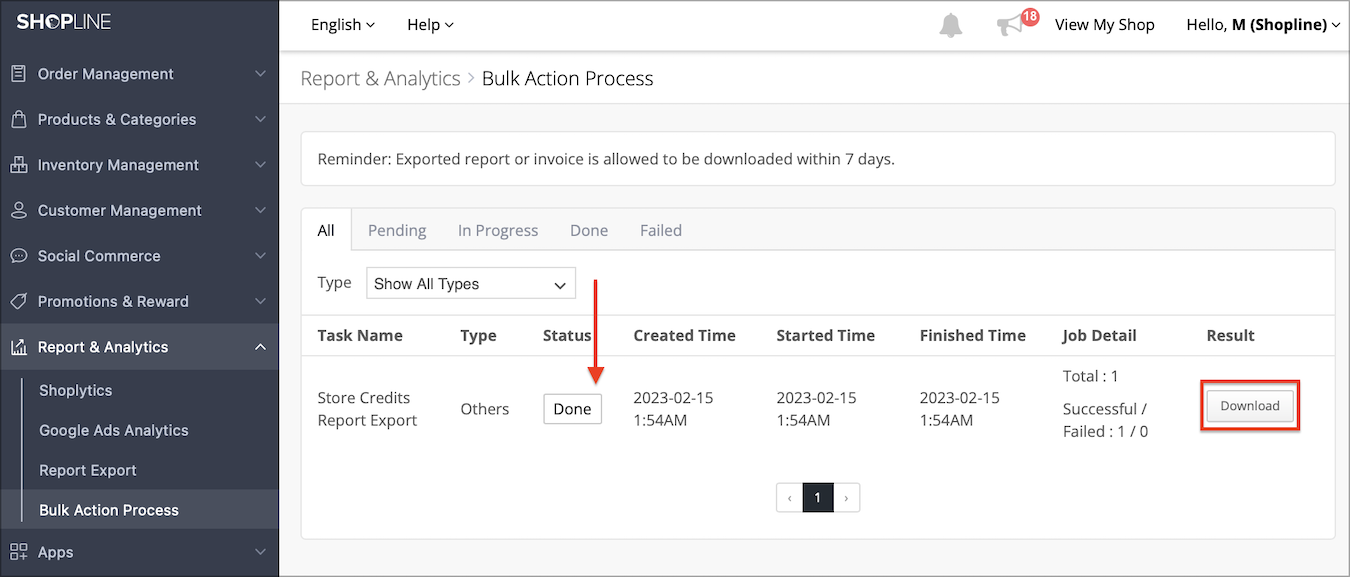 Step 4
The system will send a download link to your email for the Store Credits Report. Click Download to get the report.
*Note: The link is available for 7 days from the date of mail delivery.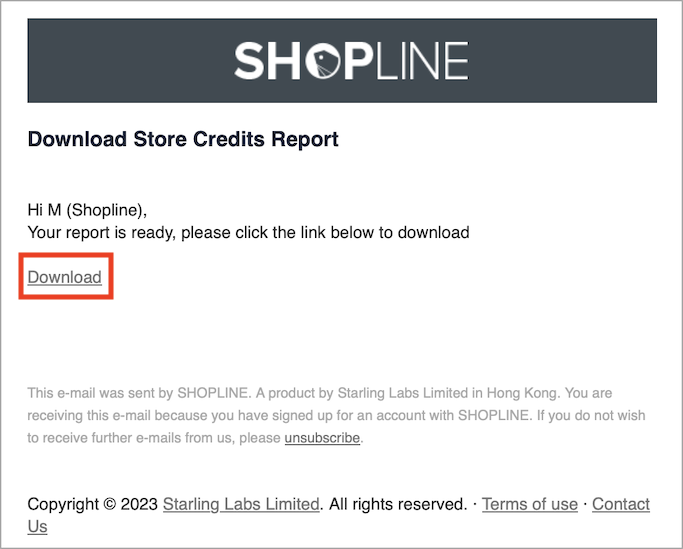 2. Report details
The Store Credit Report is shown below. You can find the data by month; click to view each month's store credit types and details.


[Coming Soon] Member Profile Completion Reward Credits

Metrics and descriptions
Manual Assign Credits
Store credits assigned through apps, and customer groups; credits assigned individually/in bulk.
Welcome Credits
Store credits for new members
Birthday Credits
Store credits for member's birthday
Member Referral Credits

2 types of reward credits - when the customer successfully signs up via the referral link and make purchases from the referral

[Coming Soon]
Member Profile Completion Reward Credits

Credits for members completing the rest of the profile information

Fill in Member Info Reward Credits
Store credits for filling in information at the retail store (Smart OMO)
Order Reward Credits
Order Reward Credits and [Coming Soon] Reward Campaign store credits
Revert Credits
Reverted credits due to order cancellation and split.
Product Review Credits
Reward credits for completing product reviews.
Manual Deducted Credits

Credits deducted manually in the SHOPLINE Admin.

Order Applied Credits
Credit used by customers when placing an order at the storefront
Expired Credits
Credits that have expired.
Total Assigned Credits
The sum of all assigned store credits
Total Deducted Credits
The sum of all negative store credits
Read more