On the "Retail Stores" report, you can see 5 main metrics in terms of Retail Store operation: "Total Sales," "Total Orders," "Average Order Value," "Total Shoppers," and "Total Products Sold," which is drilled down to individual store level altogether. Data is updated every time the Shoplytics page is refreshed.
1. Store performance list
To help merchants know which stores are performing well, the list sorts by default in descending of "Total Sales." You can also click on the headers "Total Orders," "Average Order Value," "Total Shoppers," and "Total Products Sold" to change the sorting based on the needed metrics.

Metric
Description
Total Sales

Gross Merchandise Value - Cancelled Value + Preorder (Paid Off) - Preorder (Outstanding) - Returned Value

Total Orders
Total orders created (Excluding cancelled orders)*
Average Order Value
Total Sales ÷ Total Orders
Total Shoppers
The number of

unique shoppers

who had placed at least 1 order in the selected period.

* Every retail store anonymous shopper is counted as one shopper. If there are 2, the Total Shopper would be 2.
Total Products Sold

The number of products sold.
(Excluding add-on items, free gifts, products from canceled orders, and returned products)*
*If there is any change of orders (e.g., cancelled orders, order split, or order edit action), the order amount difference will be counted on the change date.
*Note: The store performance will capture transactions made on Smart OMO, but not the "Total Products Sold" data. Please refer to this article to learn more about Smart OMO.
2. Line chart visualization
A. Select Store
In terms of Stores, the line chart shows "Total Stores" by default. Merchants can always change it to other stores from the filter. It supports up to 3 stores.
B. Switch Metrics
In terms of metrics, the line chart defaults "Total Sales" over time. You can always switch it to another metric from the dropdown filter menu.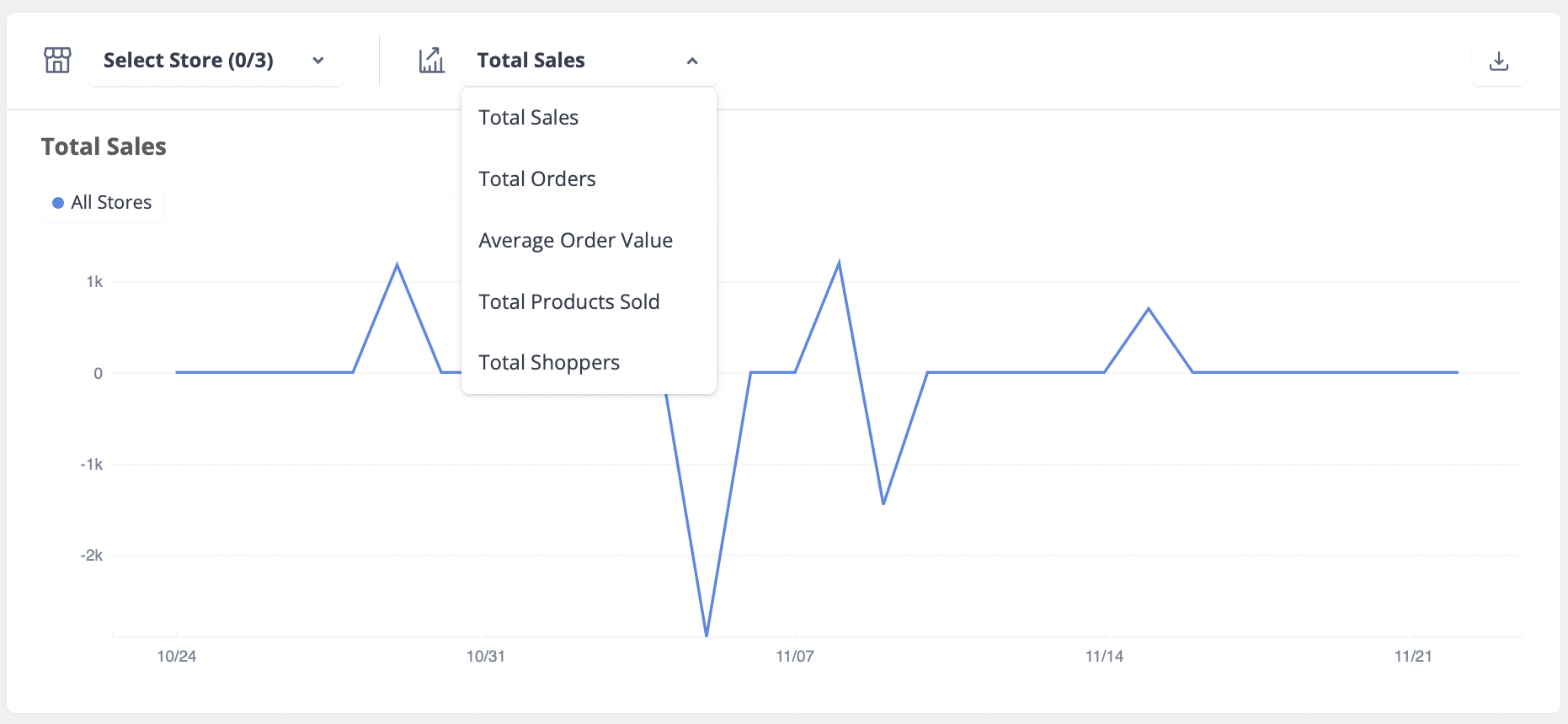 Export report
Click the download button on the right side of the line chart to export the report based on the selected store and metrics.