*Notes:
This feature currently does not support merchants that only use the Retail POS plan.
SHOPLINE Admin App currently is not available on iPad and other tablet devices.
SHOPLINE's Admin mobile app allows you to view various store data at any time through your device, and manage your store with ease and flexibility! You can download the app to your mobile phone to keep track of store sales, online store views, new members, etc., and respond to customer messages in real time. You can also manage products and orders easily with clear inventory data.
In this article, you'll learn the 6 main features of the app:
1. Homepage data overview
Download the SHOPLINE Admin App and log in. As you log in to the store Admin, you will see the app homepage.


The homepage includes:
1. Order data quick view
Total unfulfilled orders and Total unpaid orders


2. Date range
Data range from today, yesterday, last 7 days, and last 30 days.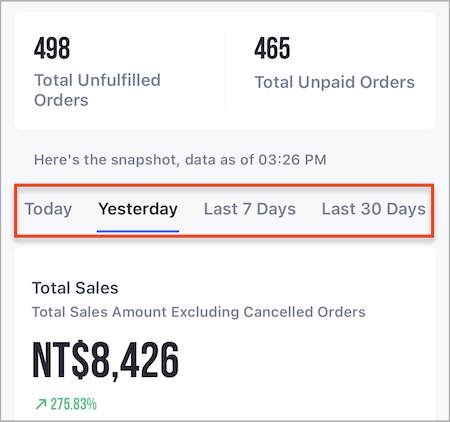 3. Sales indicators
GMV, Total sales, Gross Orders, Total orders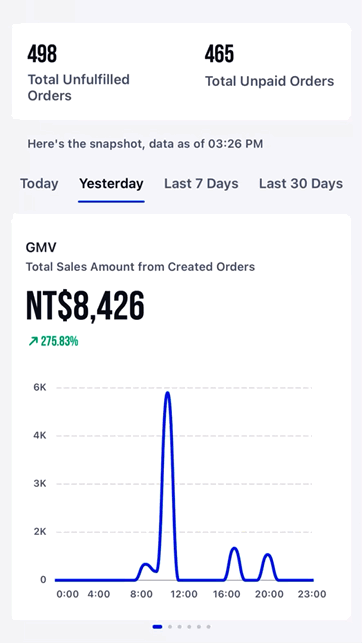 4. Customer indicators
Page views, Newly added members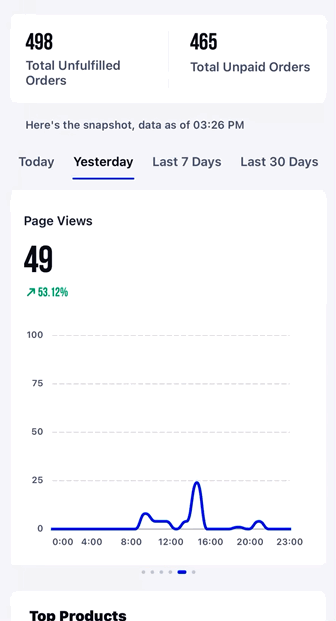 5. Top Products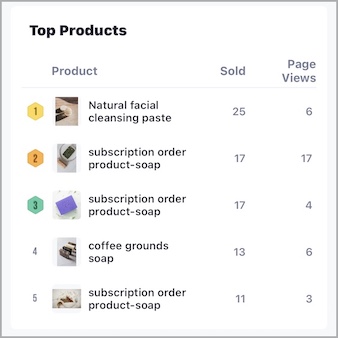 *Notes: This homepage currently does not support
Directing to Shoplytics to view more data
Showing the number of "unread messages"
2. Order management
1. Switch between orders from the online store and POS
Tap the Order tab at the bottom of the app to view orders. You can switch to view online store or POS orders at the top of the tab.
A. Online shop order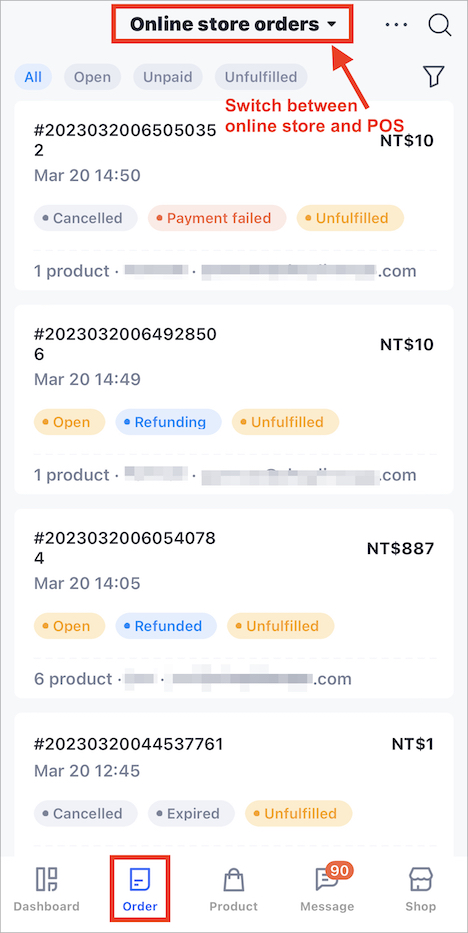 B. POS order
Tap the arrow to switch to view POS orders or transactions.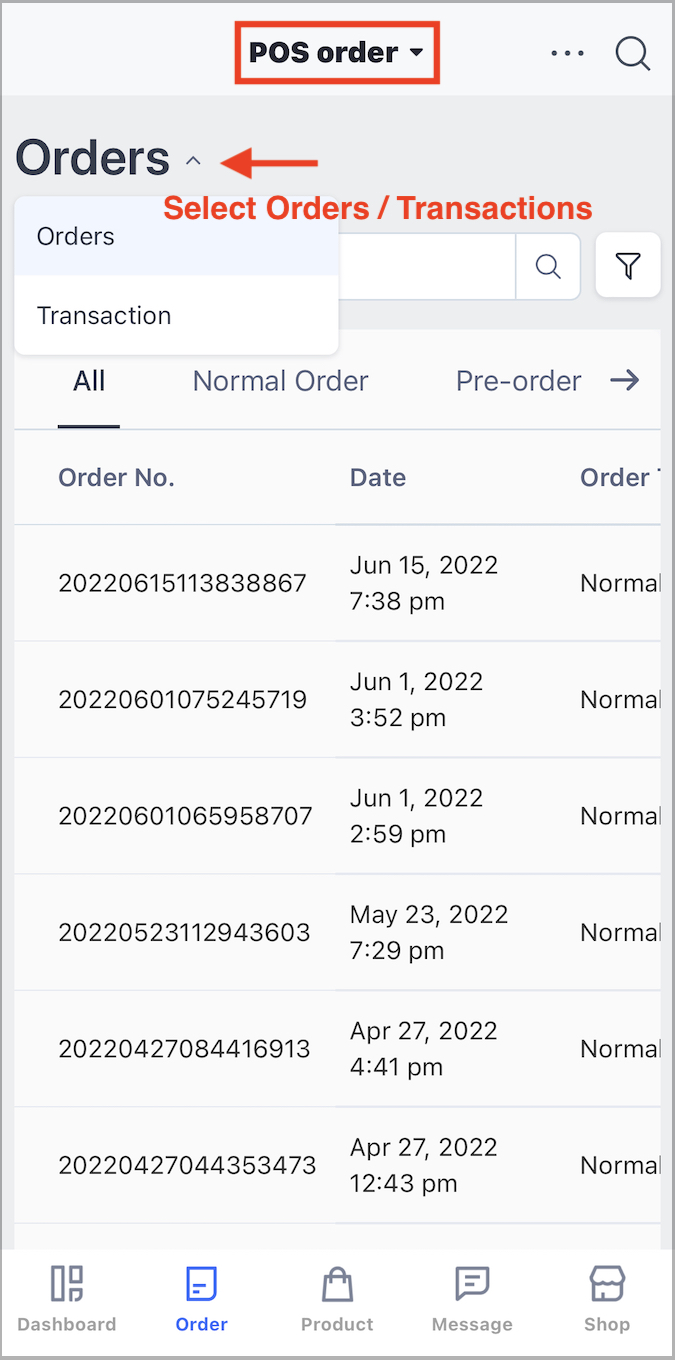 2. Search order
Tap the 🔍 icon at the top right to search orders.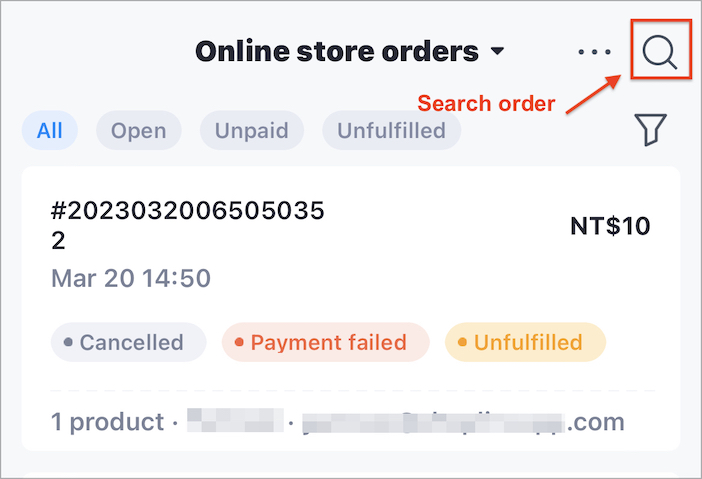 You can search orders by entering the customer name, phone number, order number, etc.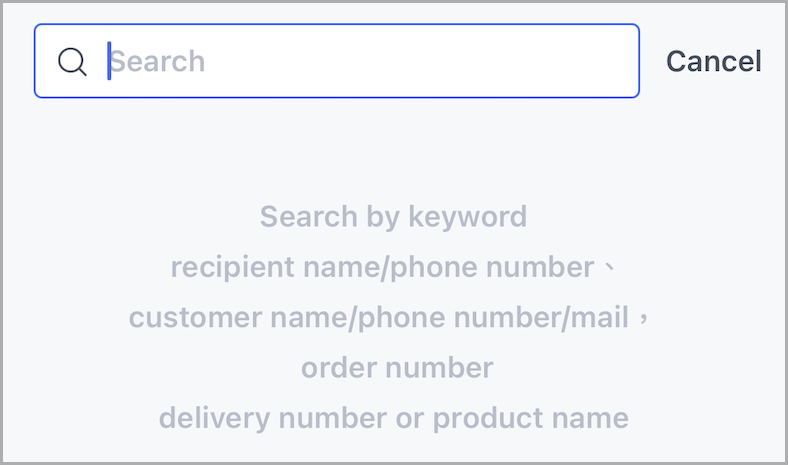 3. Filter order
Tap the funnel icon to filter orders.
There are 4 common filter conditions for quick selection: All, Open, Unpaid, and Unfulfilled.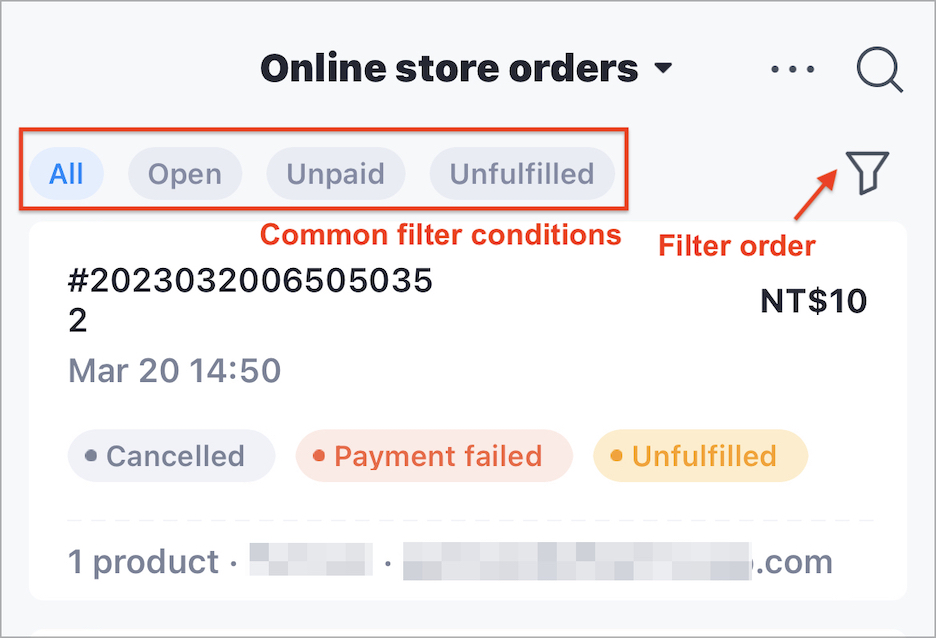 Orders can be filtered and viewed by Order Date/ Status, Payment Status/ Method, and Delivery Status/ Method.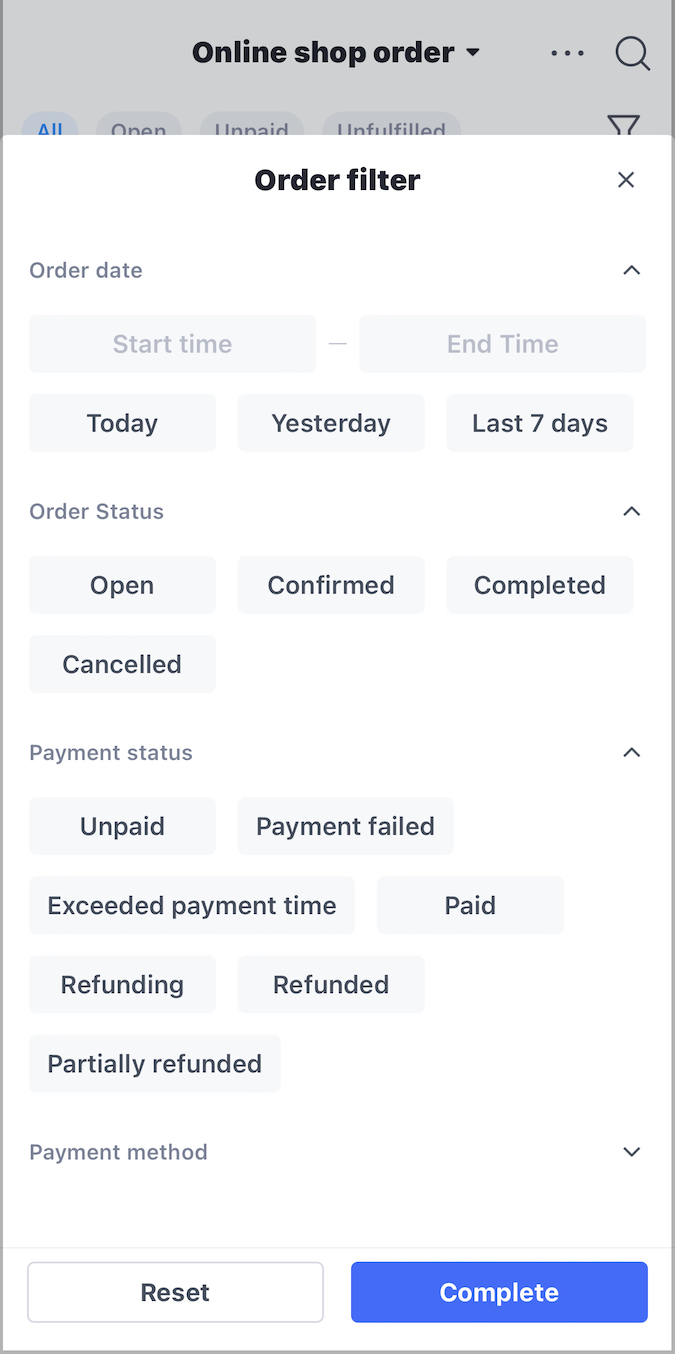 4. Bulk actions
Tap the three-dot icon at the top right to process orders in bulk.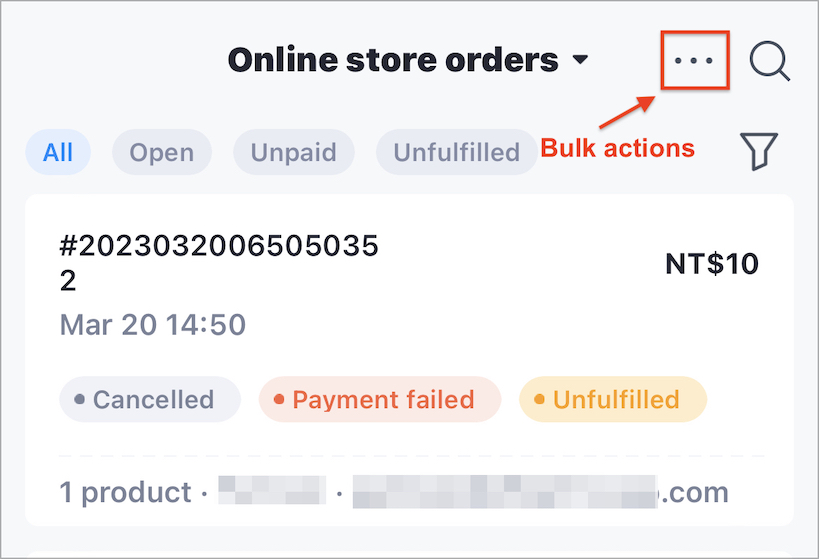 The Order Status, Payment Status, and Delivery Status can be edited in bulk.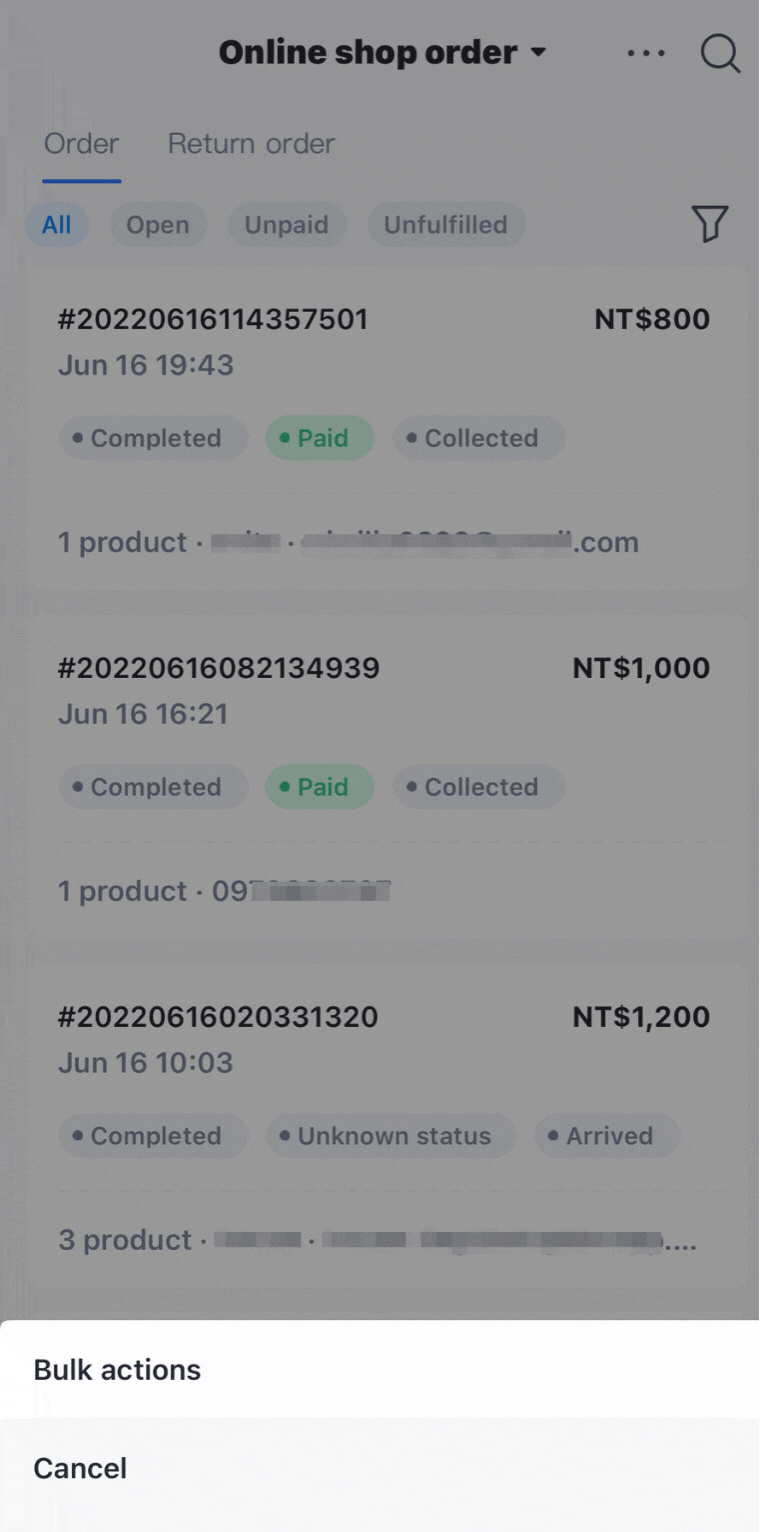 5. Order details
Tap on any order to view the order details, change the status of the order, and payment/ shipping/ delivery statuses.
Switch the tabs to view orderer information, product details, activity logs, and support filling in shipping notes.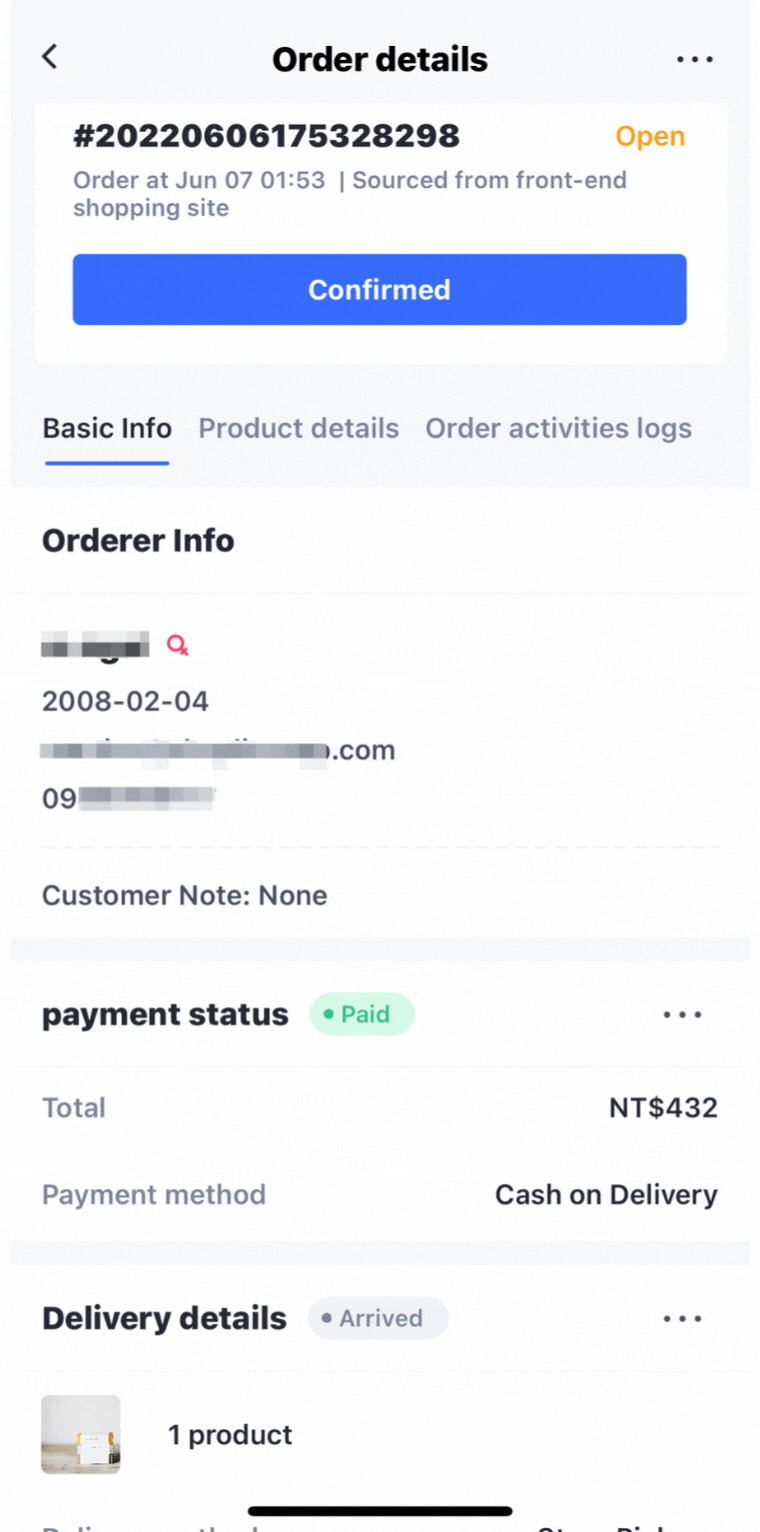 *Notes: The section currently does not support
Viewing Smart OMO orders, return orders, order details, and shipping orders.
Updating tracking number, manually creating an order, and adding an order label
Splitting orders, returns, and exporting various reports.
Resending notification messages
3. Product management
Tap the Product tab at the bottom of the app. You can add, edit, filter, and search products using the button at the top right.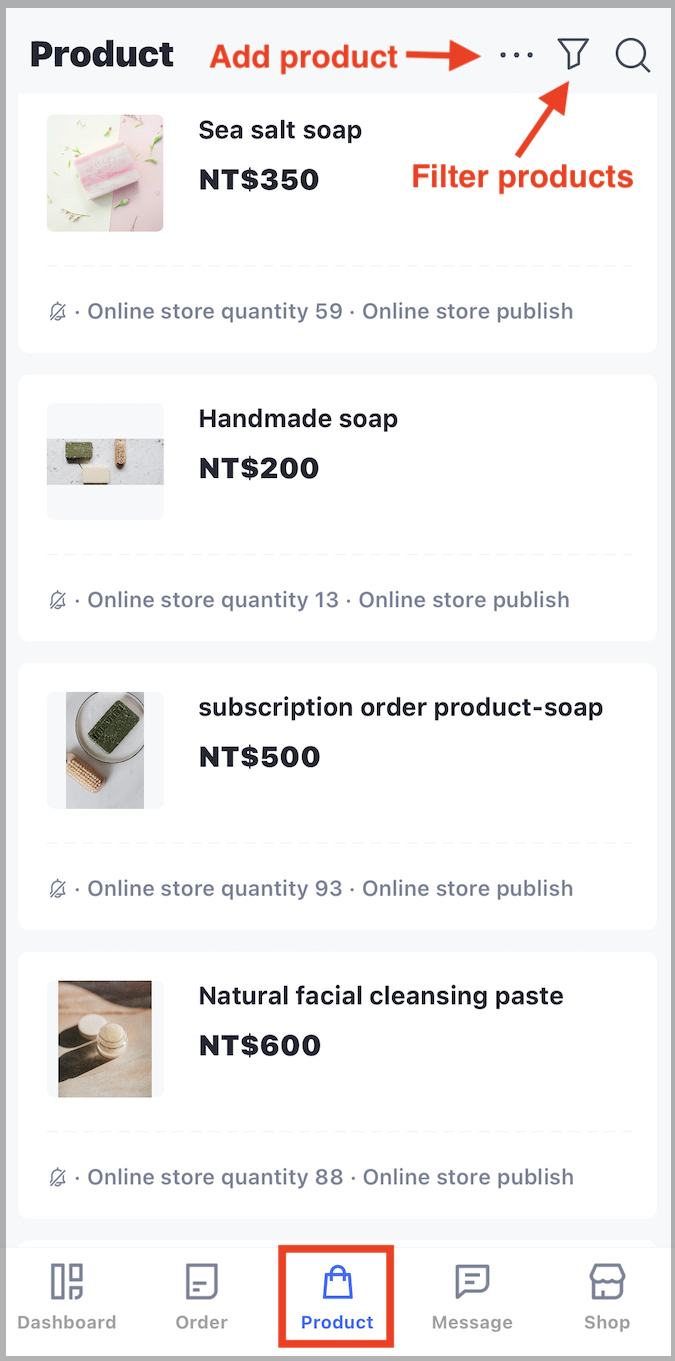 When adding a product, enter the necessary information about the product like the main image, name, price, and inventory.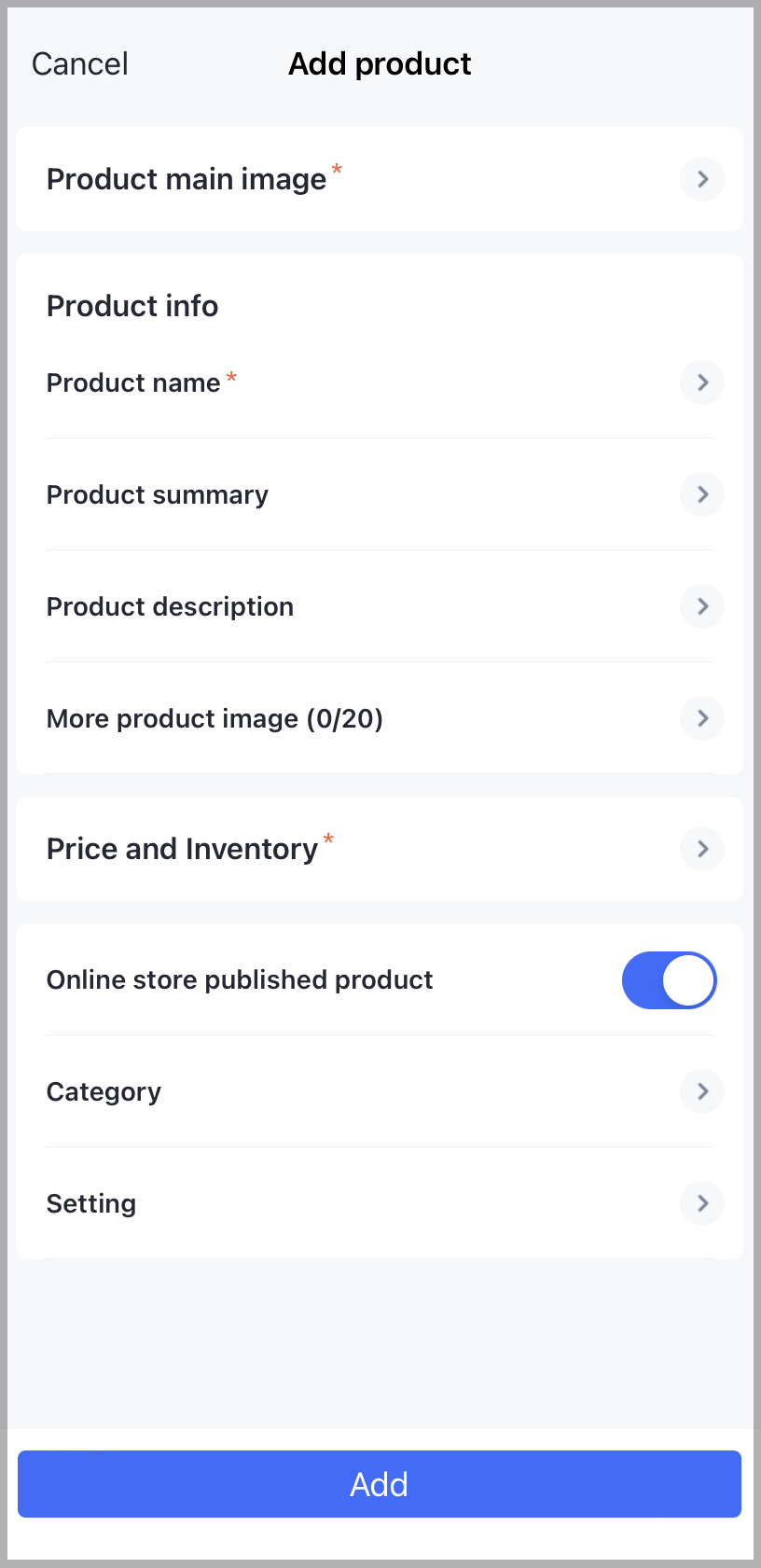 In the Price and Inventory, tap Add variation to add product variations and variant images. You can also turn on the "Show image selector on product details page" toggle to let customers view variant images on the storefront.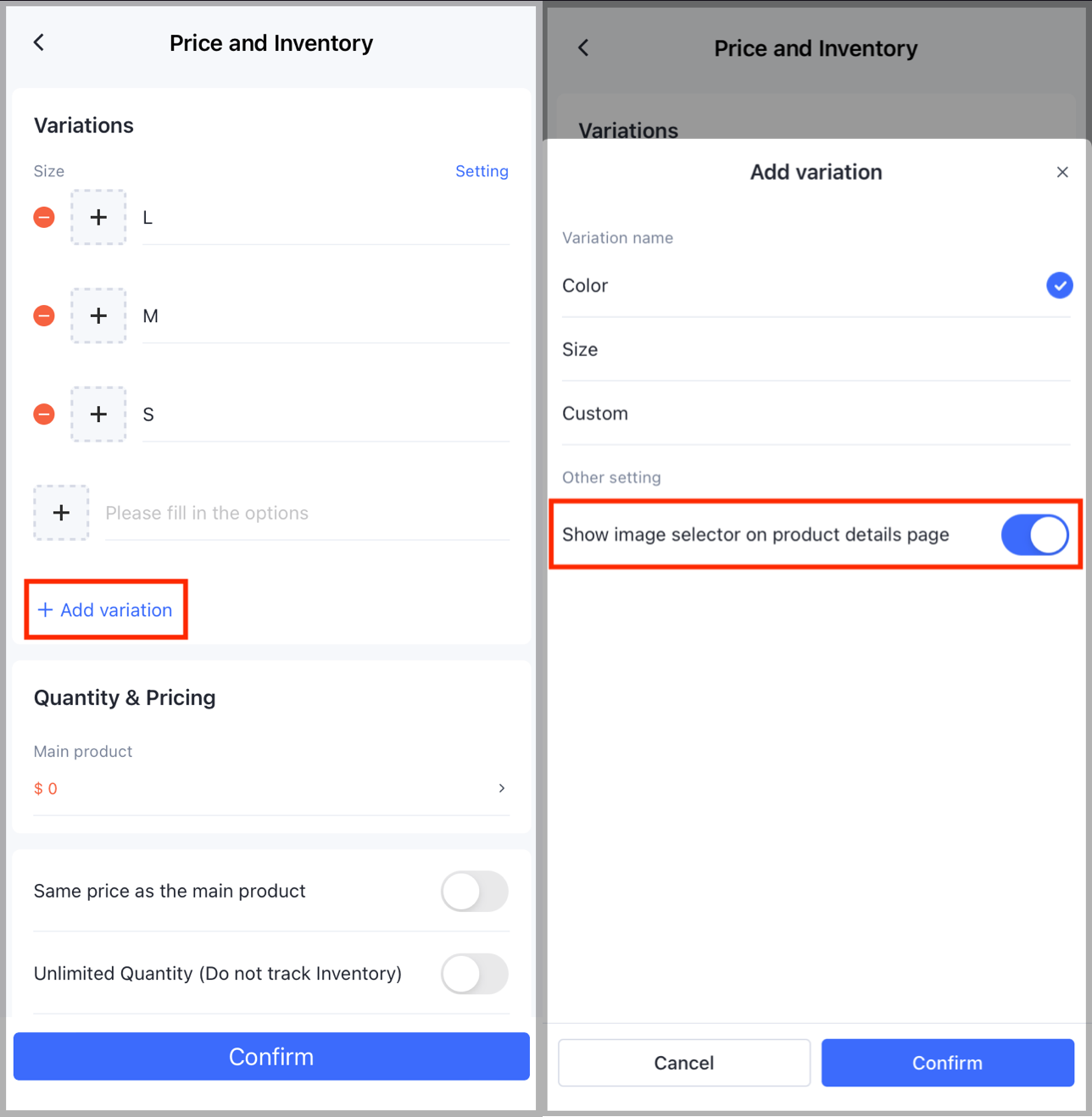 Switch on the "Available when out of stock" toggle if you'd like to accept orders for products that are out of stock.
*Note: You must first turn on the "Available when out of stock" setting in SHOPLINE Admin for this function to show on the app. For more information, please refer to [Coming Soon] Accept Orders When Out of Stock.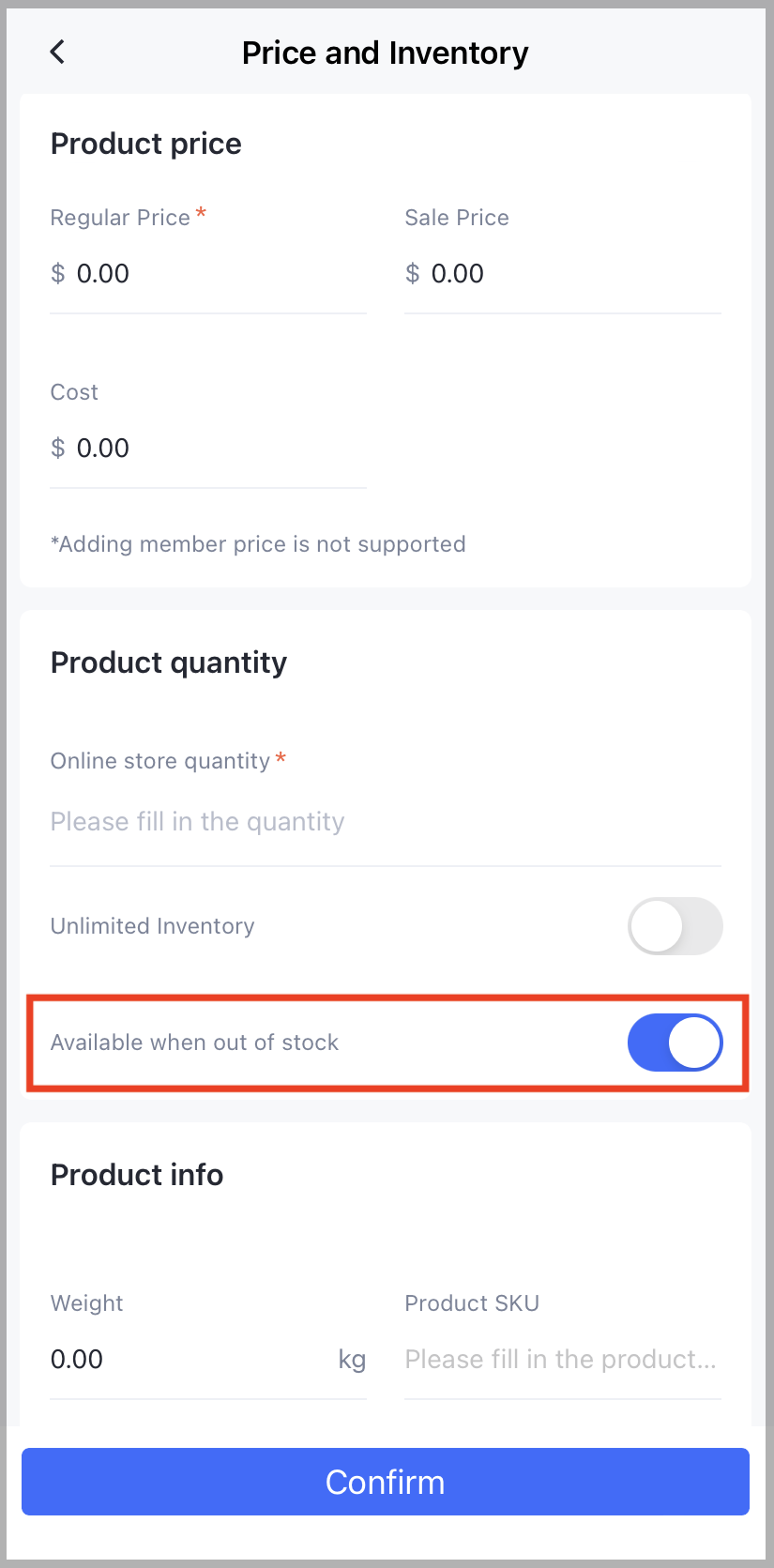 Once you are done, tap the Add button to complete.
*Notes: This section currently does not support
Product sets, add-ons, free gifts, product categories, and product reviews.
Editing the product settings and adding variation descriptions.
4. Message management
Tap the Message tab at the bottom of the app. You can manage your shop message and order messages in this section. If your store has connected to Facebook Messenger, Instagram, LINE, and WhatsApp, you can also reply to customer messages in real time here.
You can also assign conversations to employees, and filter messages that have been read, unread, and conversations to be followed up.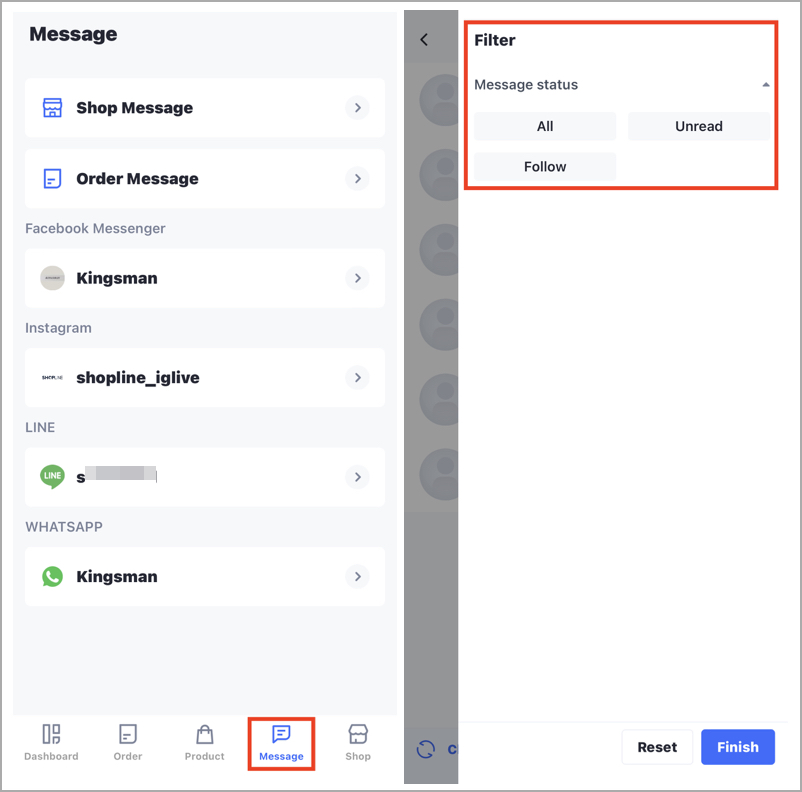 Please refer to the FAQ articles below for connecting to third-party social media platforms:
*Notes: This section currently does not support
AI auto-identifications, address management and Message Center function settings
Push notifications for shop and order messages
5. Store settings
Tap the Shop tab at the bottom of the app. In this section, you can set your SHOPLINE Admin App language, visit your online store, and create a livestream. For more information on how to create a livestream from the app, please refer to [Coming Soon] Livestream Setup | SHOPLINE Admin App.
You can switch to other stores that you managed by tapping on the store name at top of the page.
*Note:
Once you switched stores, the access permission of the login account will be updated according to the selected store settings.
Once you switched stores, you will only receive push notifications from the new store and will no longer receive notifications from the prior.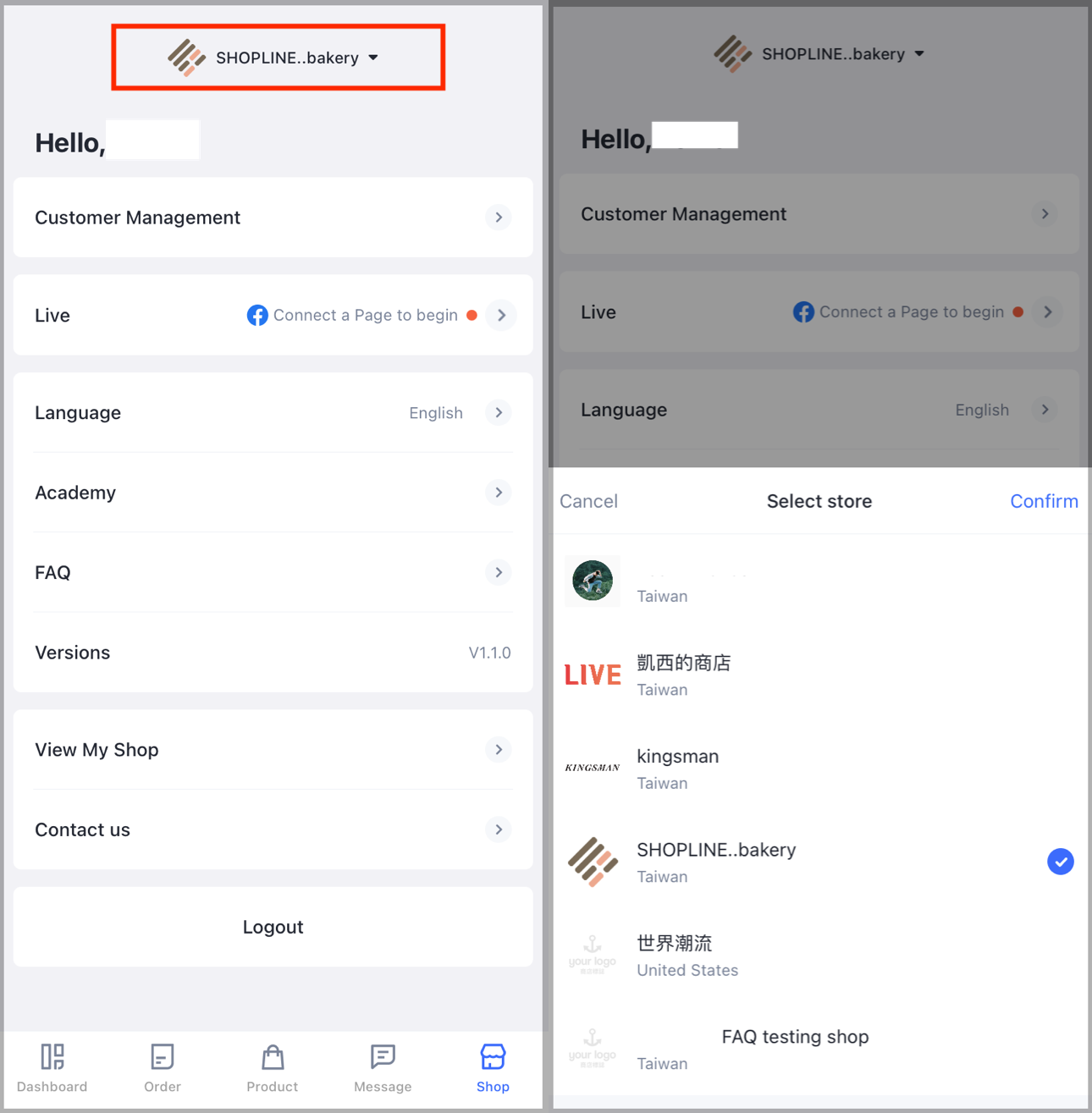 You can visit the articles on the Academy website and FAQ Help Center for more feature introductions.
If you need to reach the SHOPLINE Online Success Team, please tap Contact us and enter the question in the pop-up window.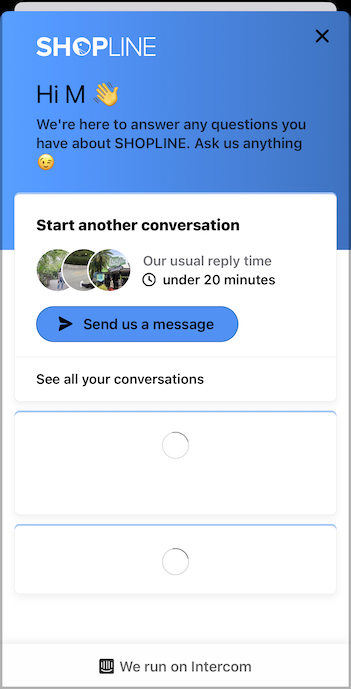 *Notes: This section currently
Does not support m

odifying login passwords

Does not support s

ubscribing plans on SHOPLINE Admin App

Does not support reading mode for w

elcome messages & Chatbot
The SC features (e.g. Facebook and Instagram integration) are only available for users who use the Social Commerce Plan.
6. Customer Management
1. Customer list
Tap on Shop > Customer Management to open the customer list. You can view the customer's name, email, total spend, credit balance, orders, and last login time.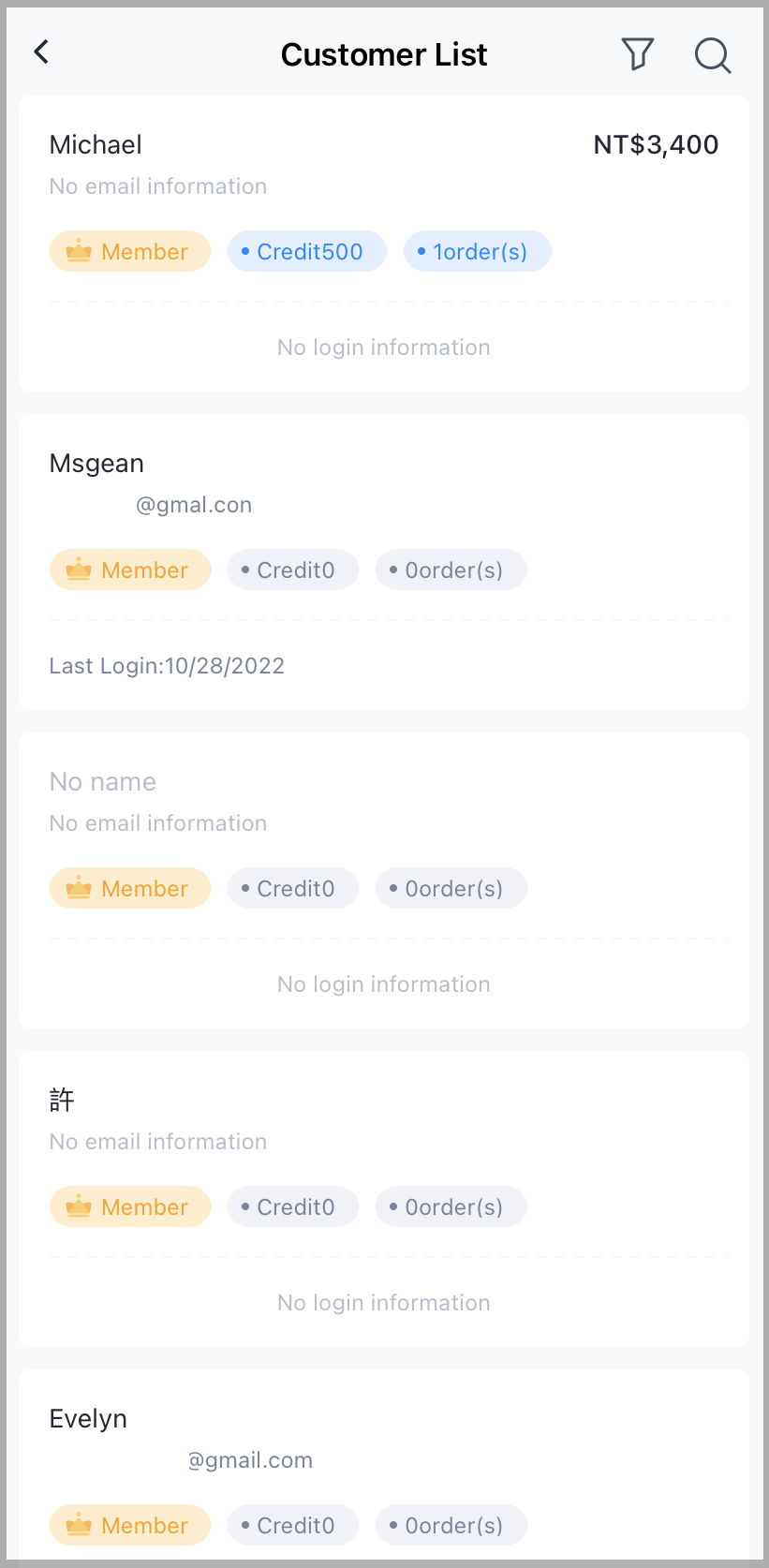 2. Customer filters
Tap the funnel icon to filter customers by birthday, date added, register date, membership, blacklist status, gender, and credit balance.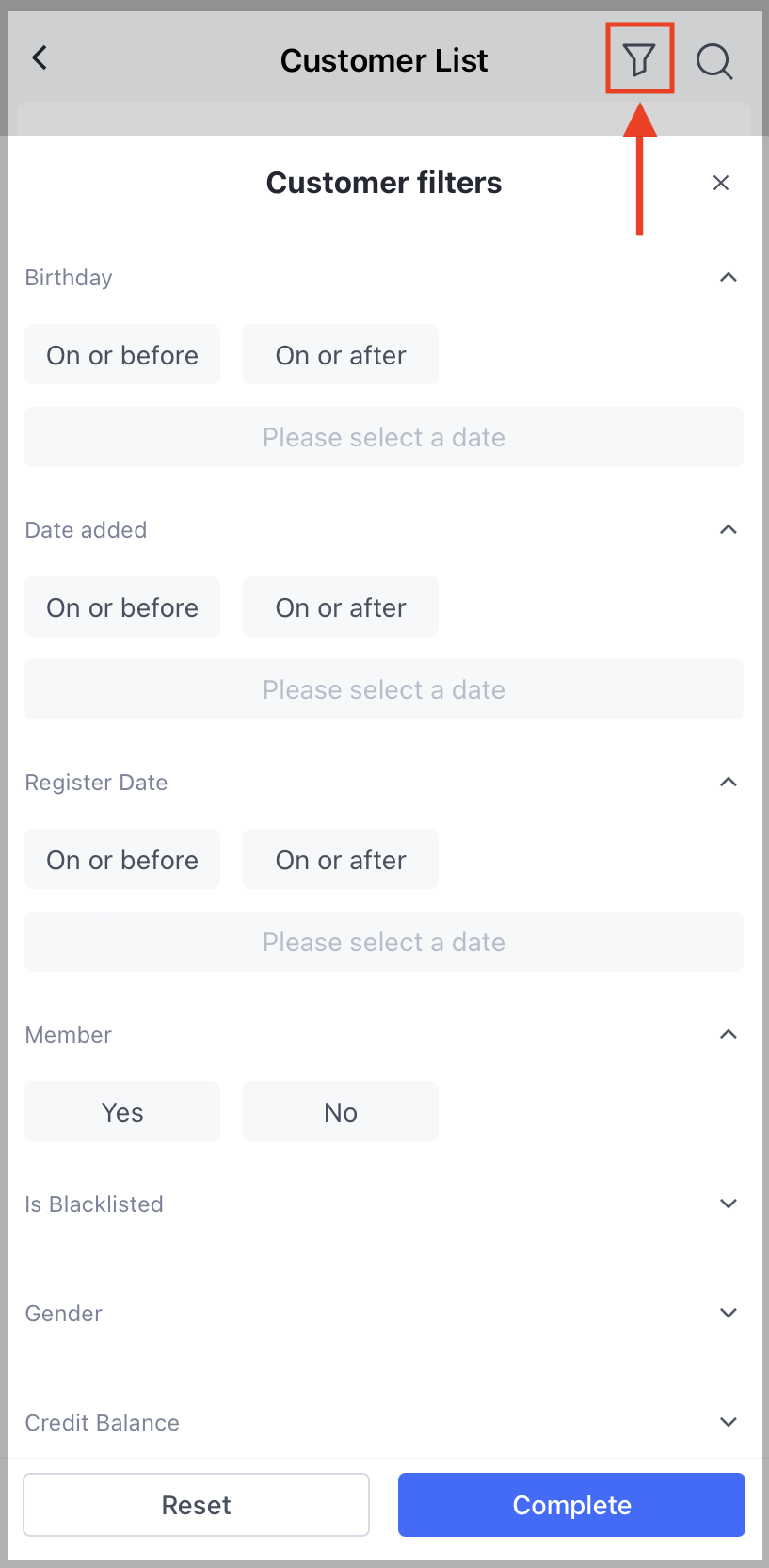 3. Customer details
Tap on any customer to view customer details, such as Orderer Info, Order, Membership Tier, Tags & Note, Store credits, and Member points.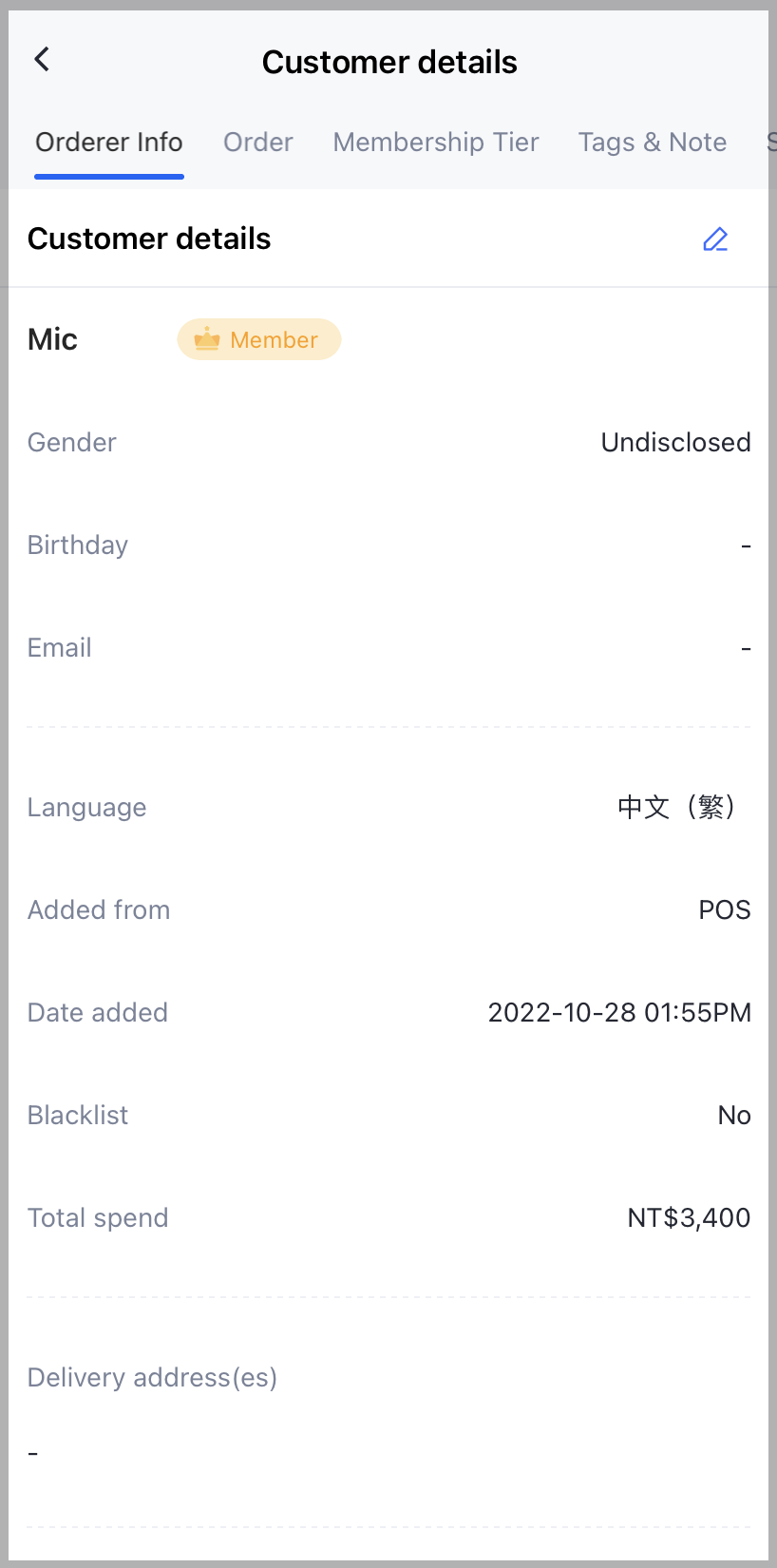 4. Edit Customer details
Tap the edit button on the top right to edit the orderer information.
Switch the tabs on top or scroll down the page to edit the customer's tags, notes, store credits, and member points.
*Note: Currently does not support editing delivery address.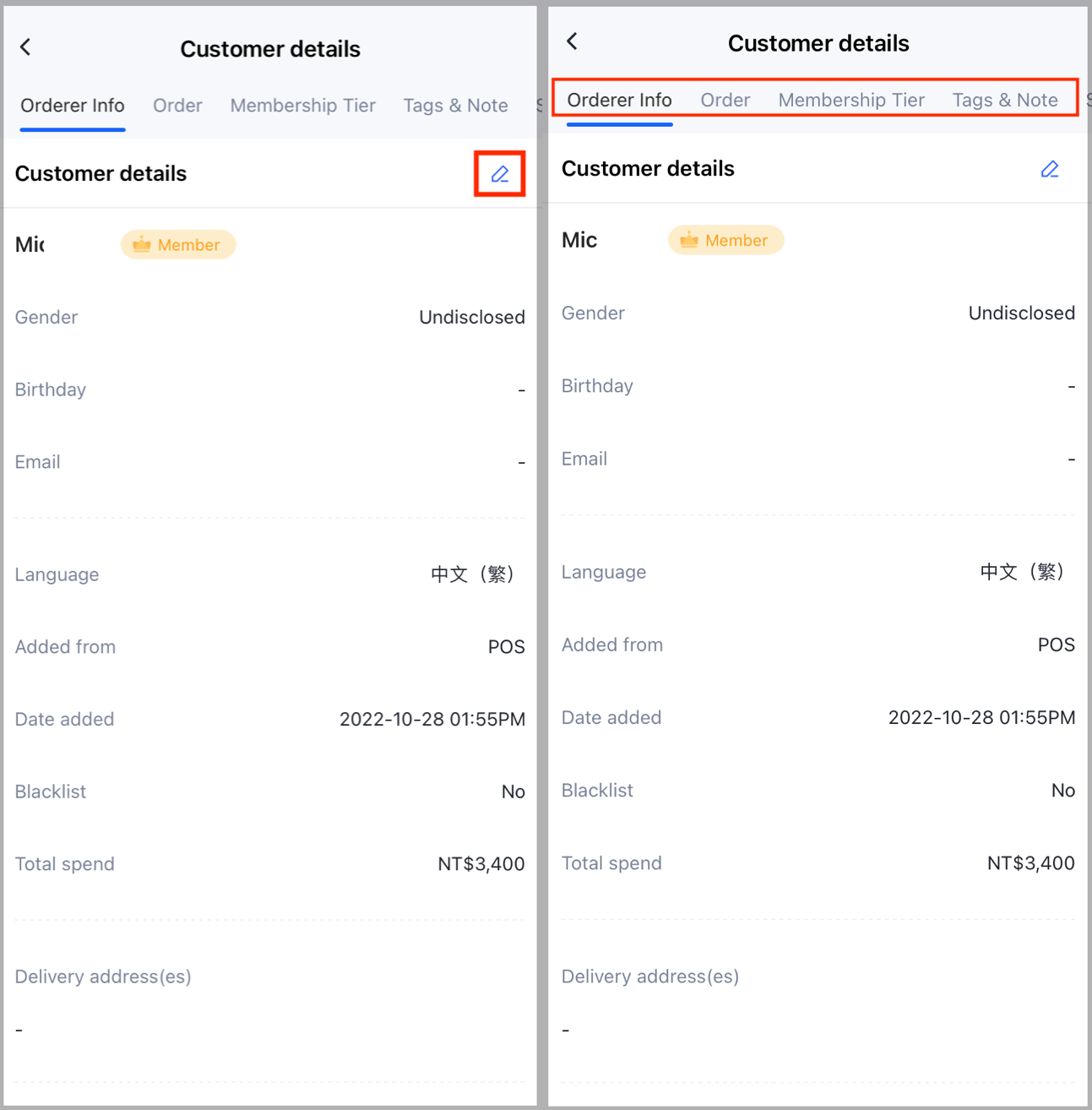 Read more