Structured data is a standardized format for providing information about a page and classifying the page content. Structured data for products helps search engines like Google to understand the contents of your product pages. With structured data, detailed product information, e.g. inventory, price, product description will be shown in the search results of product pages.
Contents of structured data
Step 1: Confirm your plan of store and start using it
in the upper right corner of the store backstage, go to "Hello, OOO" > "My Subscription & Billing" to view the store's plans and modules.
If you see the screen as below, there are "Paid" and "Module" in the "Plan Subscription" section. Please confirm whether your store has a "e-Commerce" plan. If so, you can go to step 2 to set it up.



If you see the screen as below, the "Plan" in the "Current Plan" is Basic, Advanced, Premium, O2O, or Enterprise. Please confirm whether your store has a

"Premium/O2O/Enterprise"

.


If so, please go to "App" > "App Store" in the left menu to install the features.


Google, Microsoft, and Yahoo have the same standardized format for structured data. With structured data for products, search engines will be able to crawl the product information you entered in the product settings and show them in the search results.
Once structured data has been applied to the products in your shop, search engines can crawl the product name, product description, price, and stock availability status, as shown below: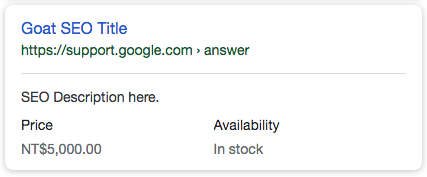 Important Notes
In structured data, the "name" and "description" are the product name and product description that you have entered in the product setting. However, the title and description you set in the "Search Engine Optimisation" setting will still be the title and introduction in search results.
When you have made changes of the product names, descriptions and SEO settings, you are suggested to submit a sitemap to Google to get your website indexed. For the steps of submitting a sitemap to Google, you may refer to below FAQ: Verify Google Search Console and Submit Sitemap.
Please note: structured data allows search engines to read pages' information. However, Google cannot guarantee that the structured data will appear in search results. Google shows dynamic search results to provide users with the best search experience. However, the search results can be affected by many factors, including users' search history, location, and device type.
For more details, please refer to Google's guidelines.