To provide a better customer experience, merchants can now set up Google Pay via Stripe as a payment option.
⚠️ Before you start, please be reminded: To use Google Pay as a payment option, you need to apply for and activate a Stripe account. Please contact SHOPLINE Online Merchant Success Team and wait for approval.
This article will cover:
Setting up Google Pay
Remarks: You will need a Stripe account to activate the Google Pay payment option. Stripe is now currently only available to merchants located in Hong Kong and supported currencies are HKD and USD.
Transaction fee: 3.4% + HK$2.35 per successful card charge
The price is the same for all major cards. There's no additional fee for international cards, failed charges, or refunds. For more details, please visit: https://stripe.com/hk/pricing
Step 1. Payment Options
Go to your SHOPLINE Admin Panel > [Settings] > [Payment Options]. Click the Add button to create a payment option.

Step 2. Setting up your account
Select your "Payment Type" as Google Pay via Stripe. Click Activate to start setting up your account


Step 3. Sign in
You will be directed to a page as shown below.
If you already have a Stripe account, click "Sign in" at the top right corner to login into your account;
For new users, please enter your information below, then click Authorize access to this account.

Step 4. Options
You will be redirected back to the SHOPLINE Admin panel after authorization.
Here you will see the system has updated the payment method with Stripe's secret key & Publishable key. You can now set up your payment processing fee, edit the name of your payment method for Google Pay and check if you need to exclude any delivery options.
After you've done the setup, click Update to add Google Pay.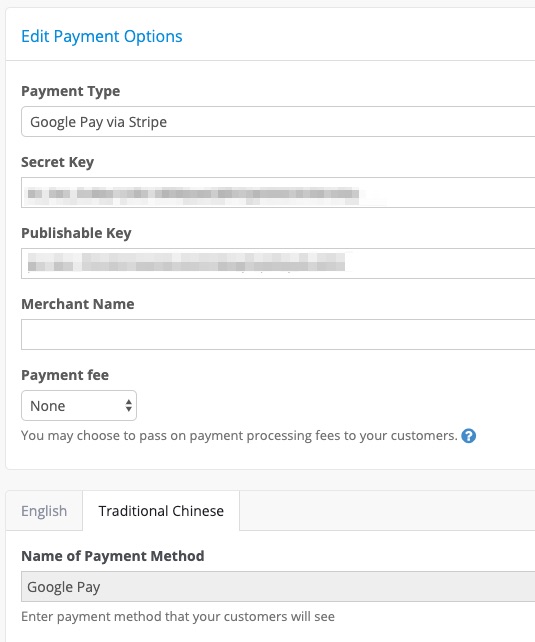 Step 5. Publish
Although Google Pay has been added, it is currently not visible in your store.
Go back to SHOPLINE Admin panel > [Settings] > [Payment Options] > Click Publish to make this payment method available for your store.

Customer checkout flow using Google Pay
Google Pay only works for
Chrome on Android; Chrome for Desktop (Windows/Mac OS/Linux)
(not capable of Chrome on iOS device)
Before checking out, please check the following steps:
Please LOG IN to the browser with your Google Account

Please ADD the payment method to your Google Pay Account

Please UPGRADE the device and the browser to the latest version
How to Add Payment Method to Google Account
Step 1. Add payment method
Log into Google Pay > Payment Methods > Add payment method.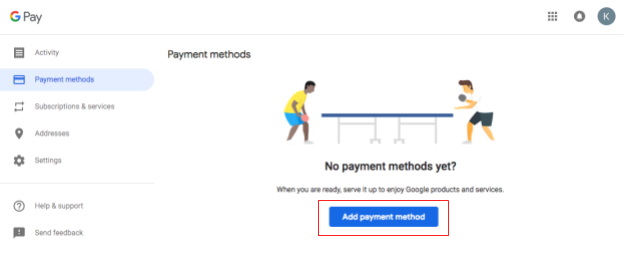 Step 2. Fill in information
Fill in the required information.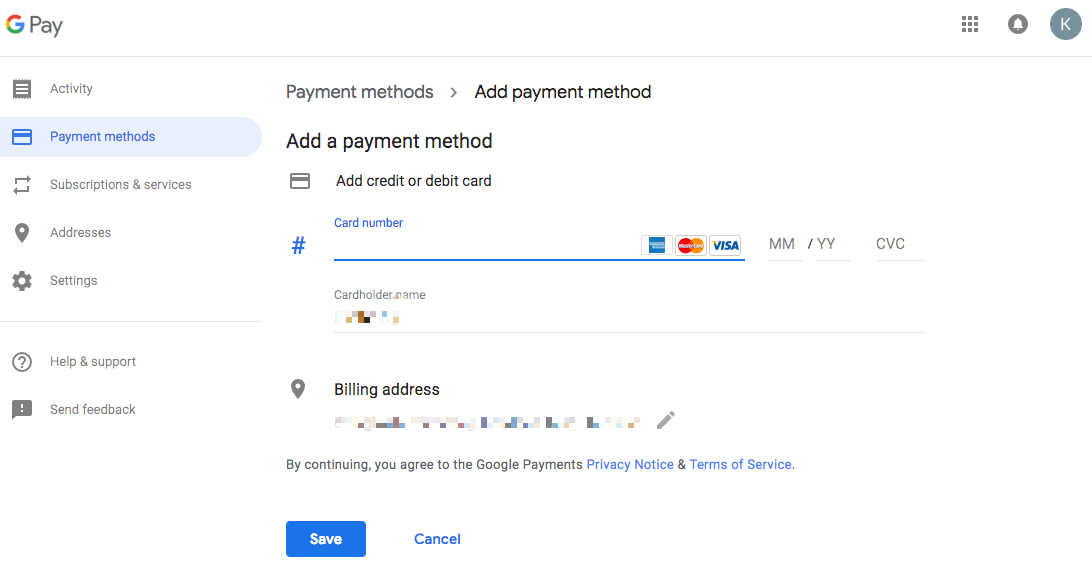 Step 3. Verify your payment method
You may be asked to verify your payment method, choose an option from the list. Find and enter the verification code.
You may find detailed instructions here.
Mobile Web Checkout
Step 1. Confirm purchase
After customers confirm purchase and proceed to checkout, they will see the "Pay Now" button.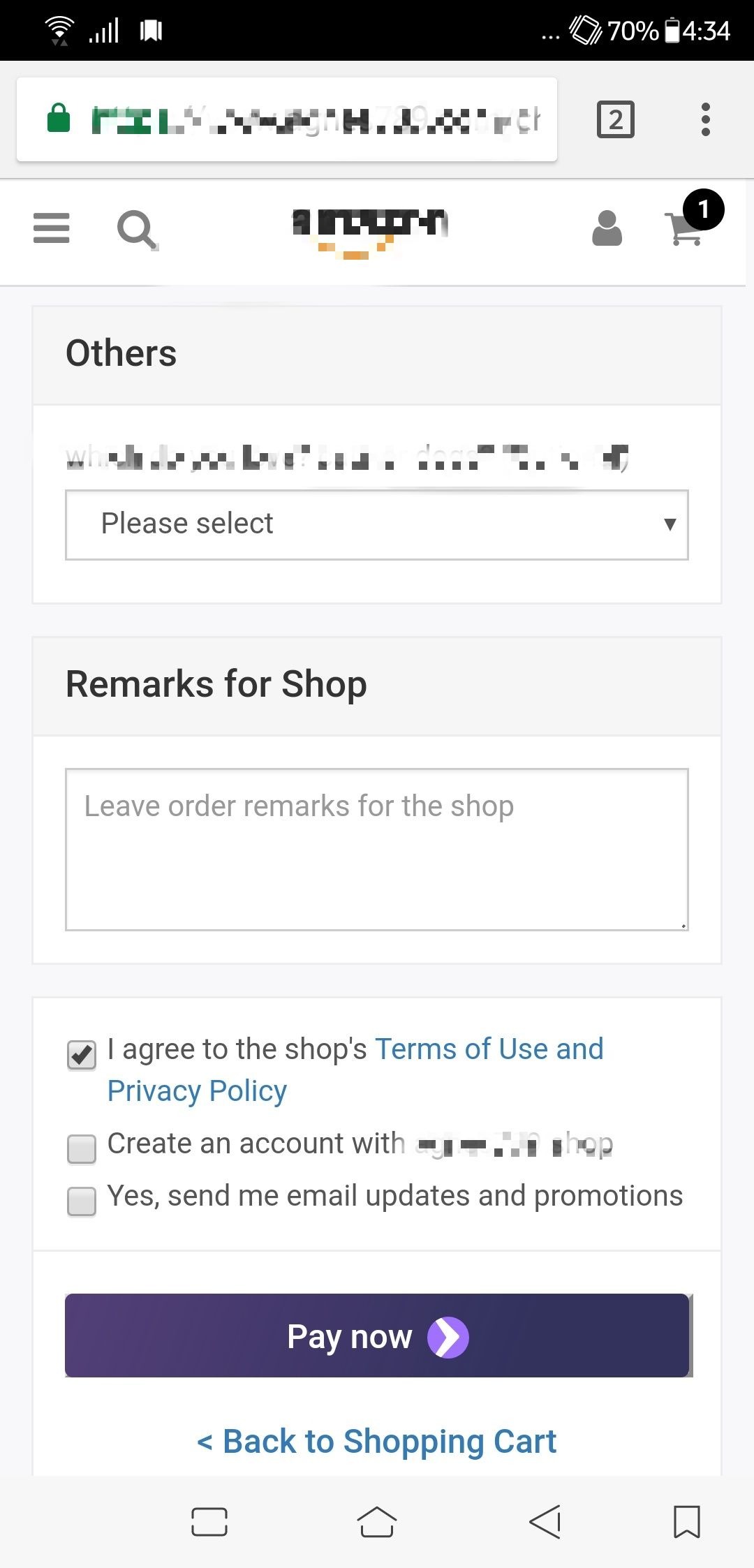 Step 2. Enter the CVC
Payment details will then pop up. After customers confirm the details and enter the CVC of their credit card, the check-out process is completed.
Customers can also choose different payment cards by clicking the "Edit" button.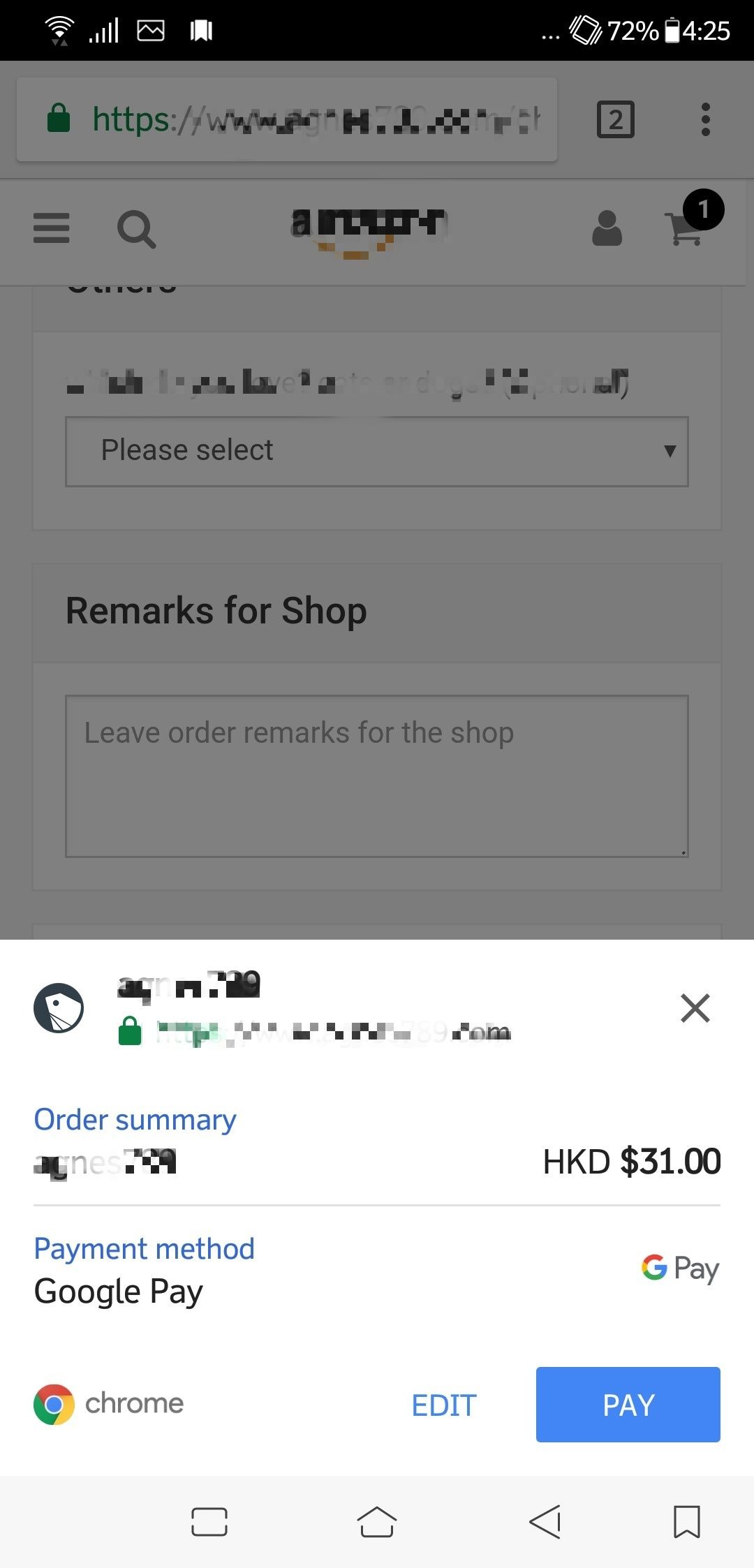 Desktop Web Checkout
Please be reminded to:
Log in to your Google Account in the browser
Add the payment method to your Google Pay Account (you may refer to the above section)
Upgrade the device and the browser to the latest version
If your customers fail to fulfill the above prerequisites, they will see the following error message on the checkout page.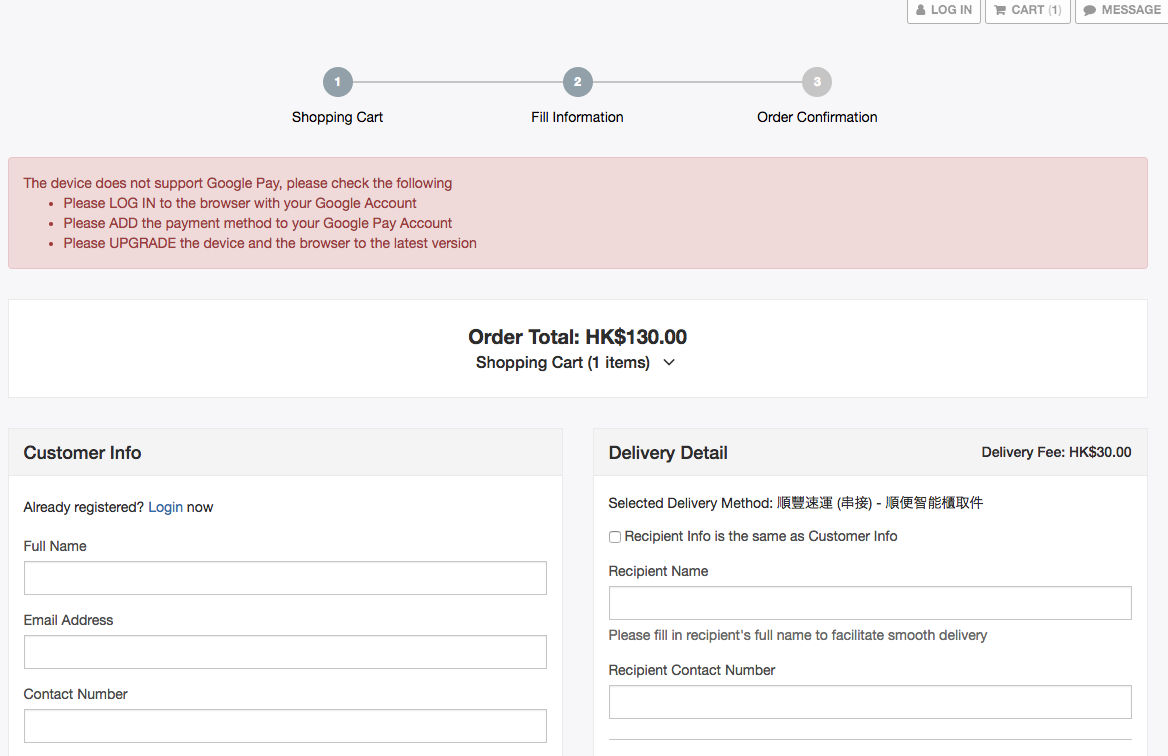 Step 1. Choosing Google Pay as the payment method
After choosing Google Pay as the payment method, the check out page will be shown as below:
Step 2. Pay now
After clicking "Pay now", a window with customers' credit cards details and an order summary will pop up.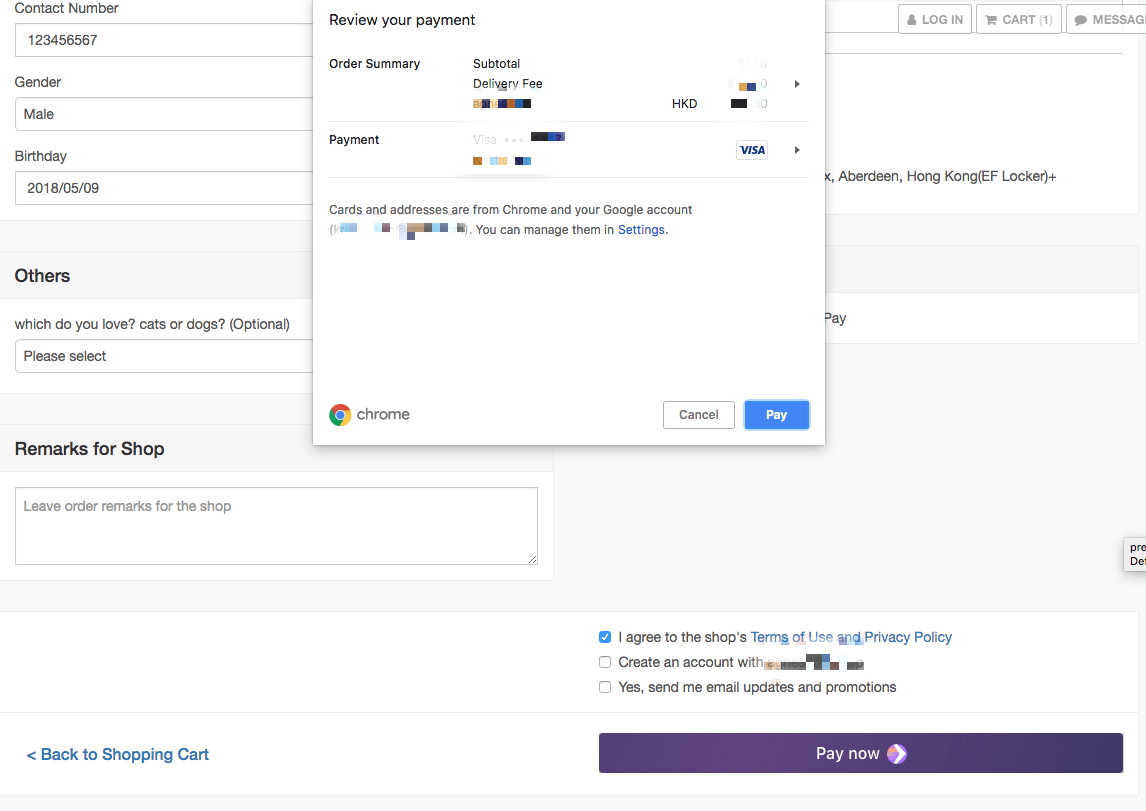 After customers click "Pay", they will need to enter the CVC of their credit card.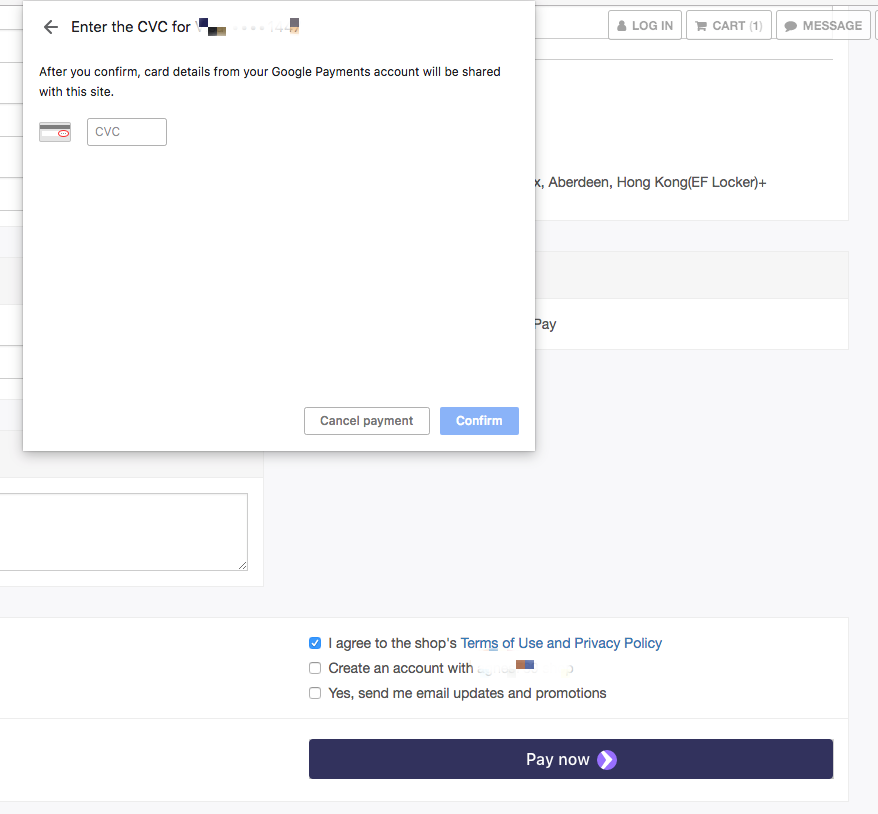 After customers click "Confirm", they will be directed to the order confirmation page. The check-out process is then completed.