With SHOPLINE's WhatsApp Contact, you can view the list of WhatsApp contacts on the Customer Management page and look up customers' information (name, phone number, subscription status, bound to online/retail store customers, etc.).
This article will cover the following:
1. View WhatsApp Contacts from the Admin
In the SHOPLINE Admin, go to [Customer Management] > [Customers] and click on the WhatsApp Contact tab. In this tab, you can look up customers who have previously contacted you through WhatsApp.
WhatsApp Contact overview
Name: Customer's name in WhatsApp.
Mobile number
Subscription Status: Whether customers opt-in to WhatsApp notifications or not (Subscribed, Unsubscribed, Not yet subscribed).
Last interaction
Tag
Bound to Online / Retail Store Customer: If the contact has been bound to the existing customer in the Admin or Message Center, it will display the customer/member name. Click on the name to be directed to the Customer Details page.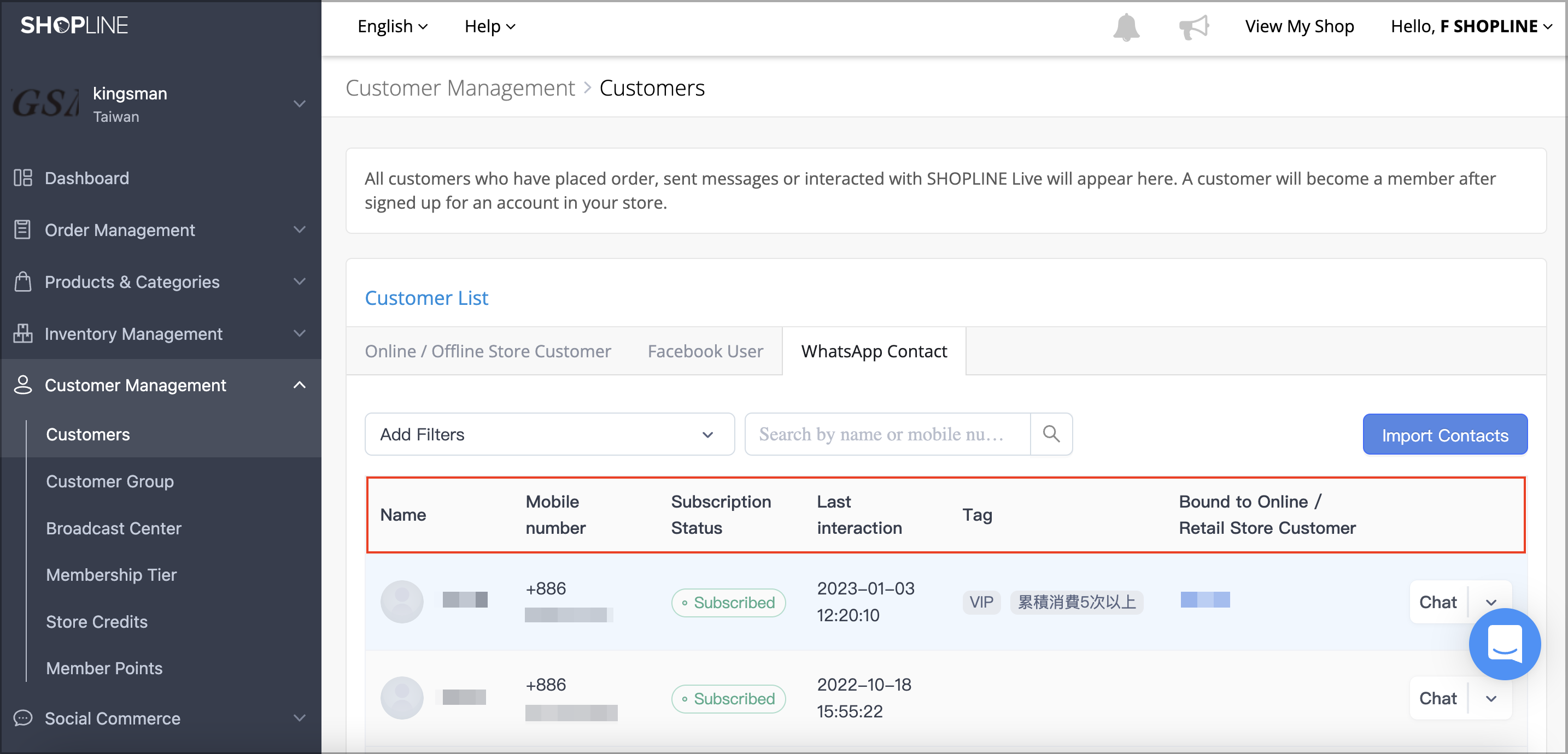 In WhatsApp Contact, you can do the following:
1. Add filters
You can add a filter to quickly search for contacts.
Subscription Status: Subscribed, Unsubscribed, Not yet subscribed
Last interaction: Within 24 hours, Last week, Last month, Last Year, On or after, On or before
Tag: List of tags used on the existing customers
Bound to Online / Retail Store Customer: Yes, No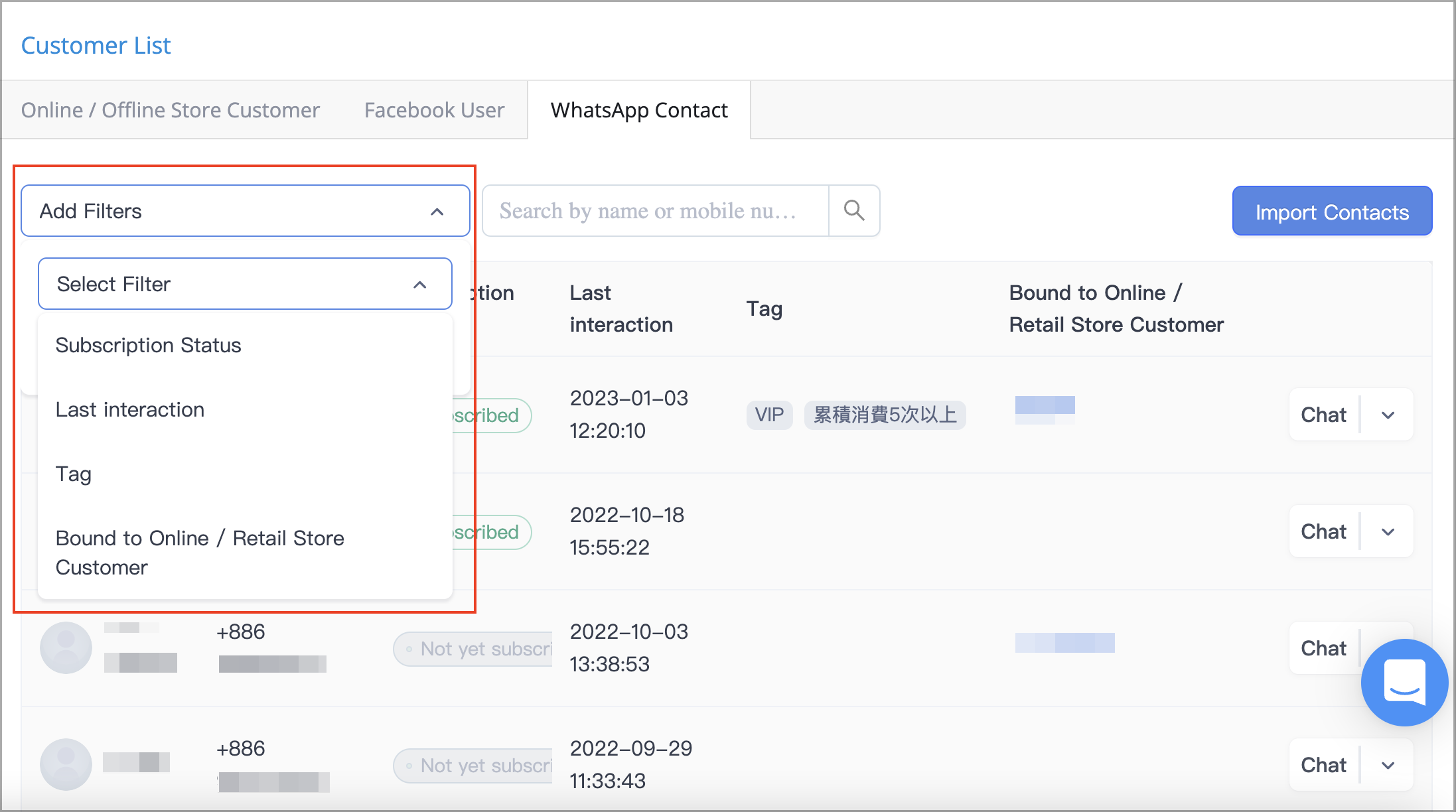 2. Search by name or mobile number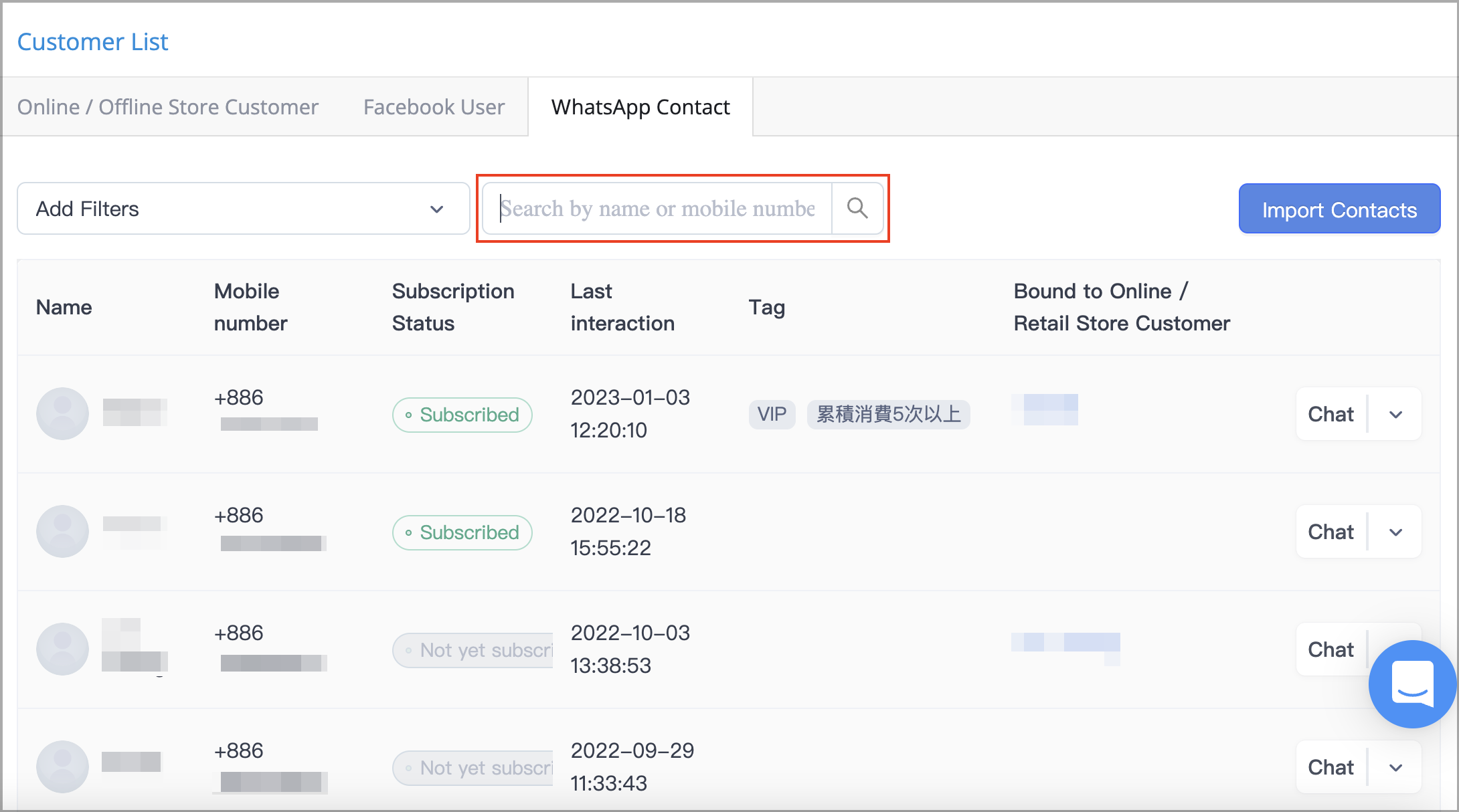 3. Chat
Click the Chat button on the right of the contact to open the conversation window in the Message Center.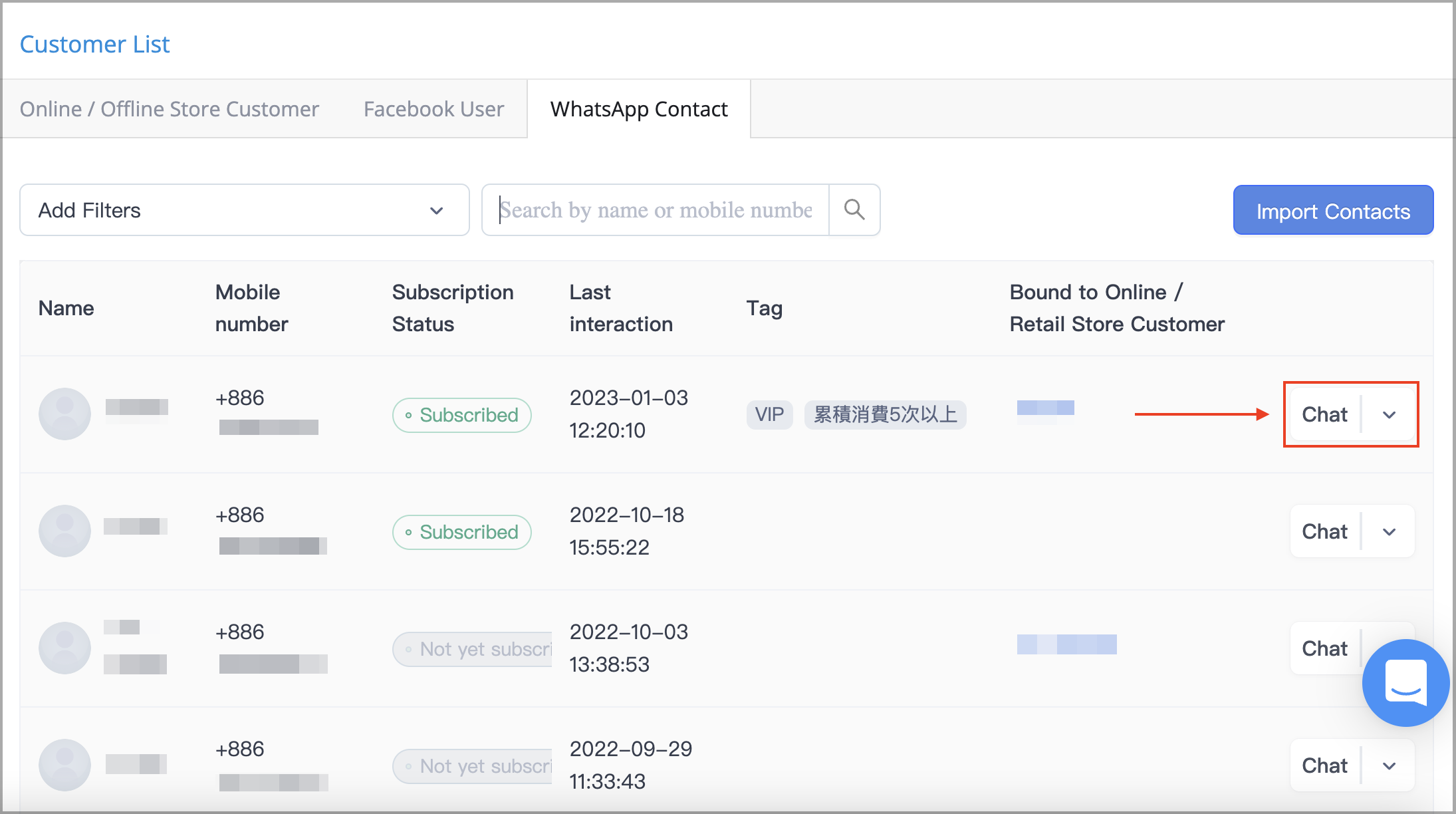 4. Delete contact
Click the drop-down arrow next to the "Chat" button to delete the contact.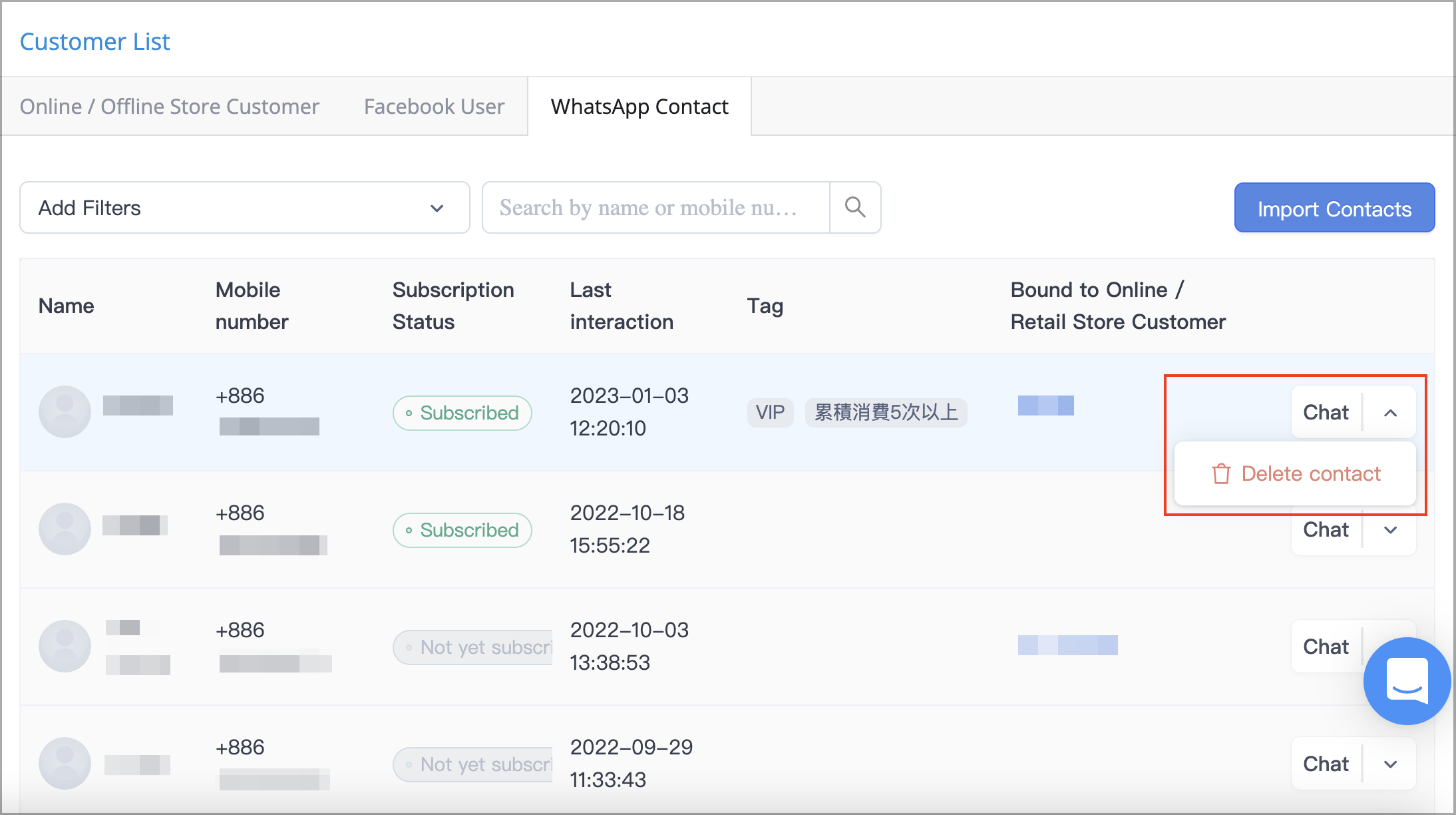 2. Import contacts
Step 1
Click the top right Import Contacts button in the "WhatsApp Contact" tab.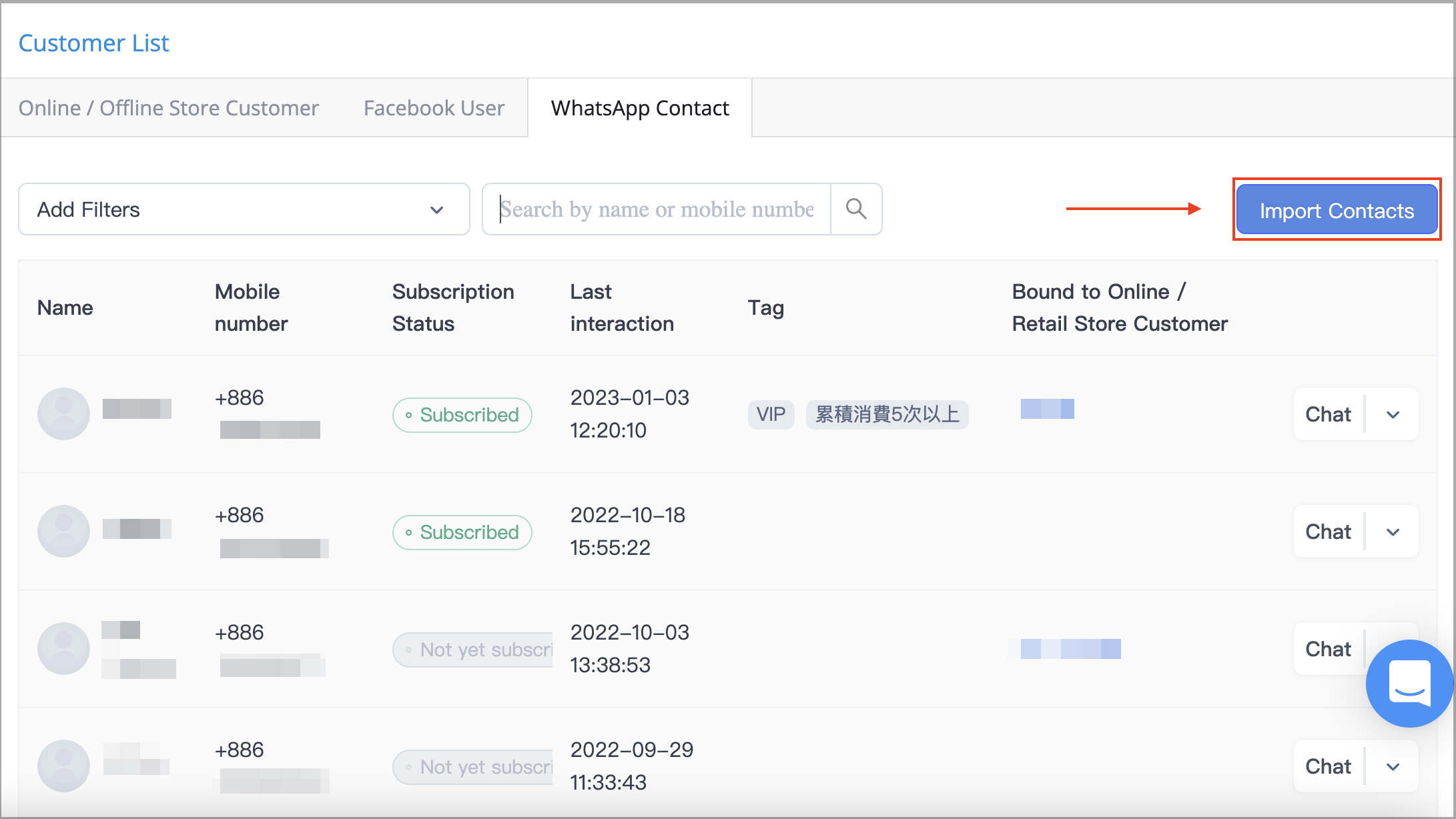 Step 2
Download the template file.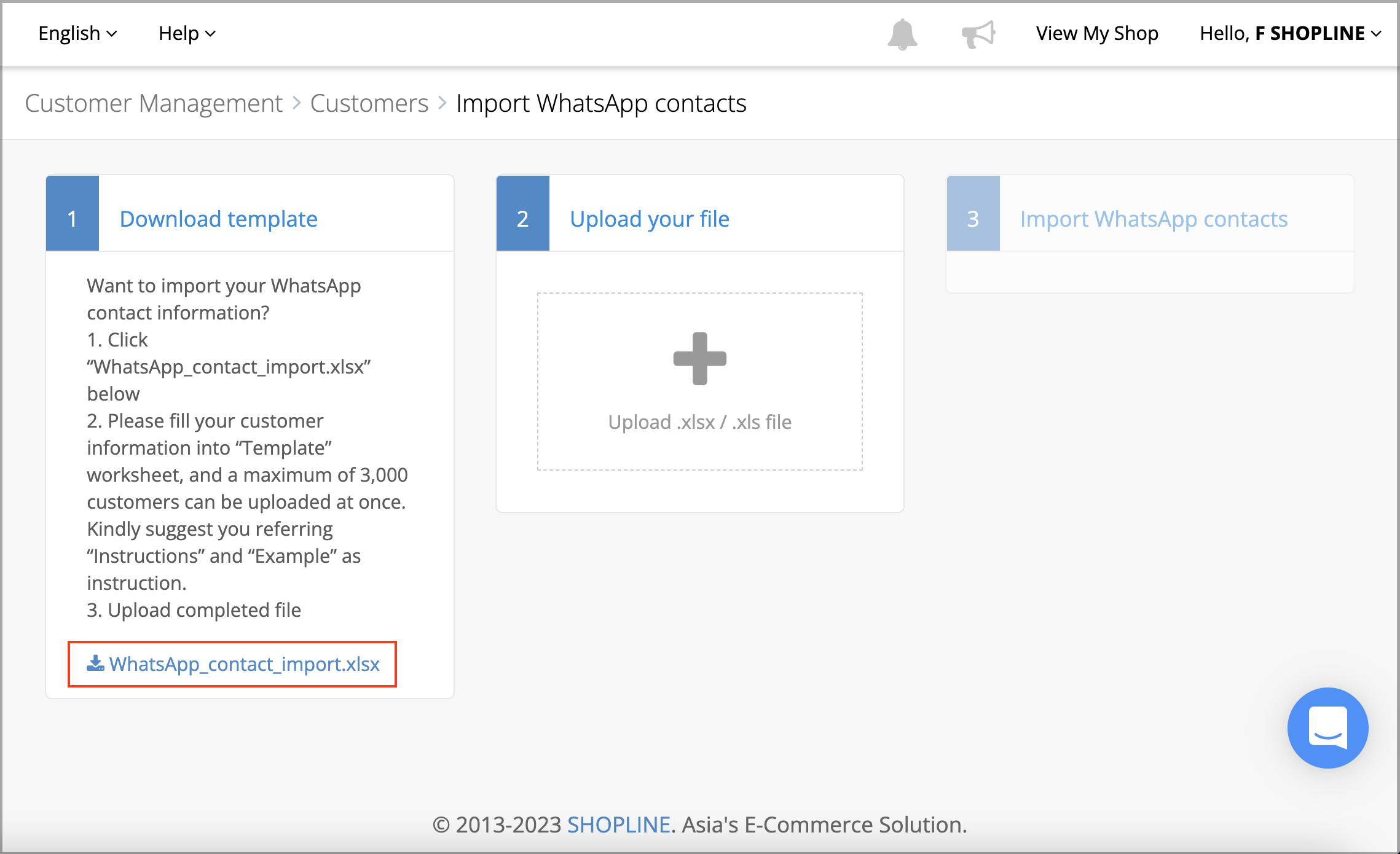 Step 3
Enter the information into the file.
*Note:
You should fill in the Country Calling Code, Mobile Number, and Full Name.

You can find the instruction and examples on the "Instructions" and "Example" sheets.

Please fill in the information on the "Template" sheet.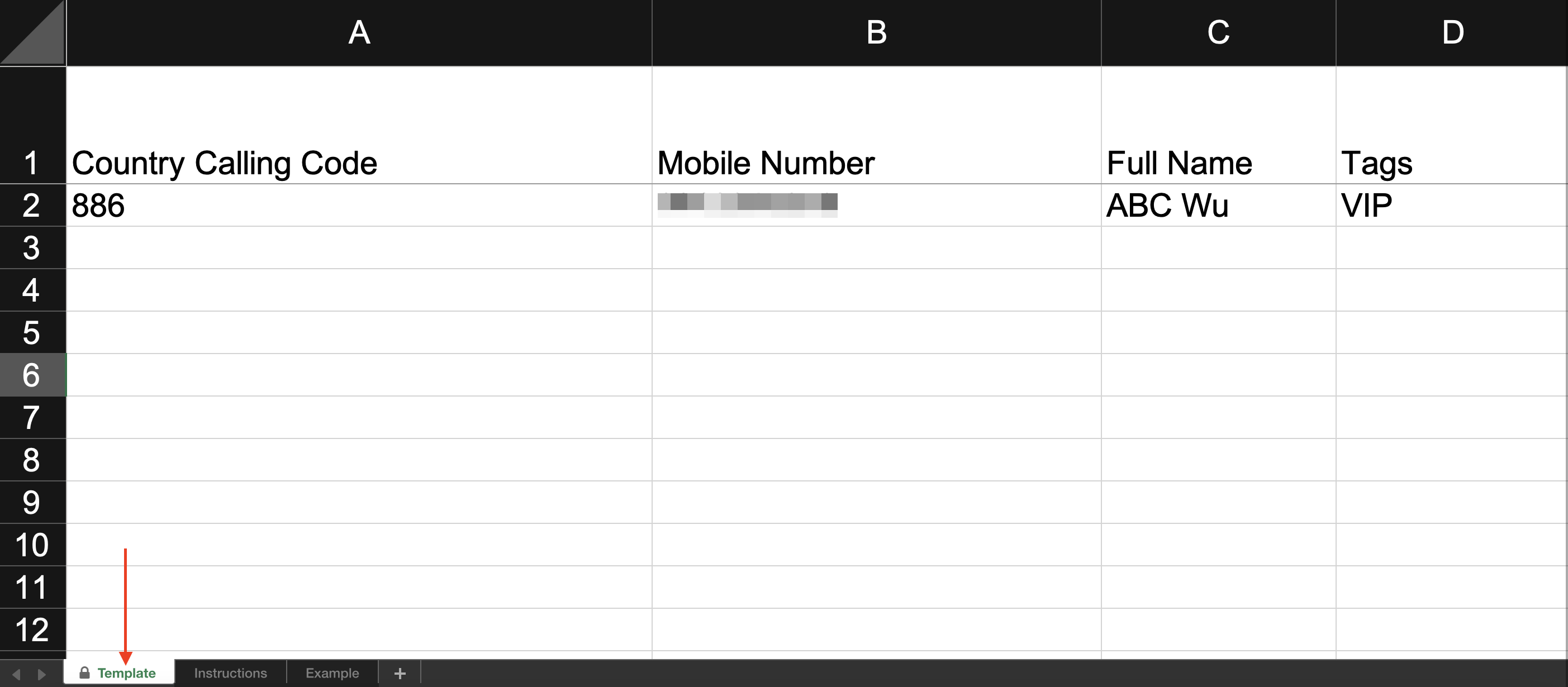 Step 4
Once you are done, upload the file.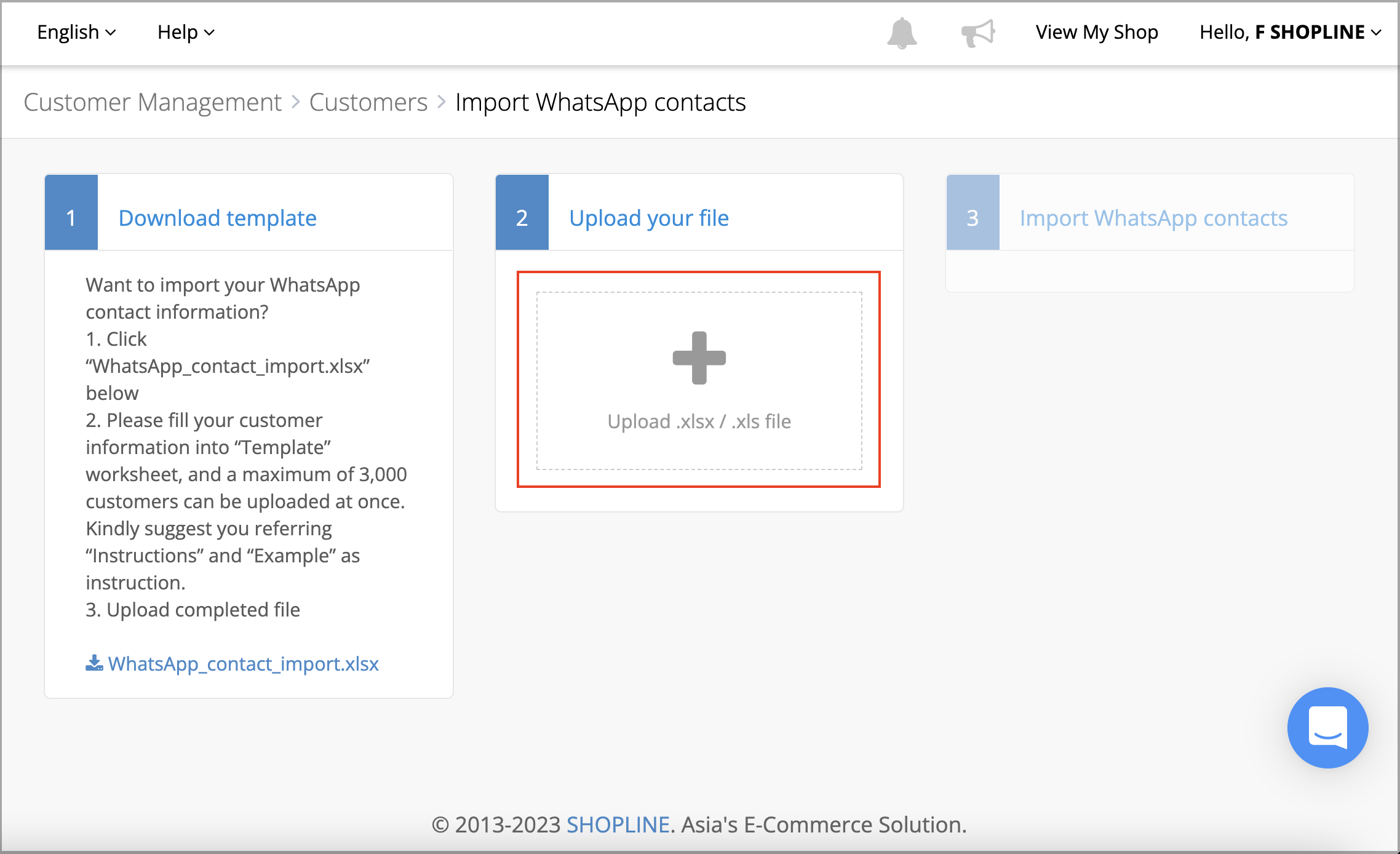 Step 5
Click Import customers.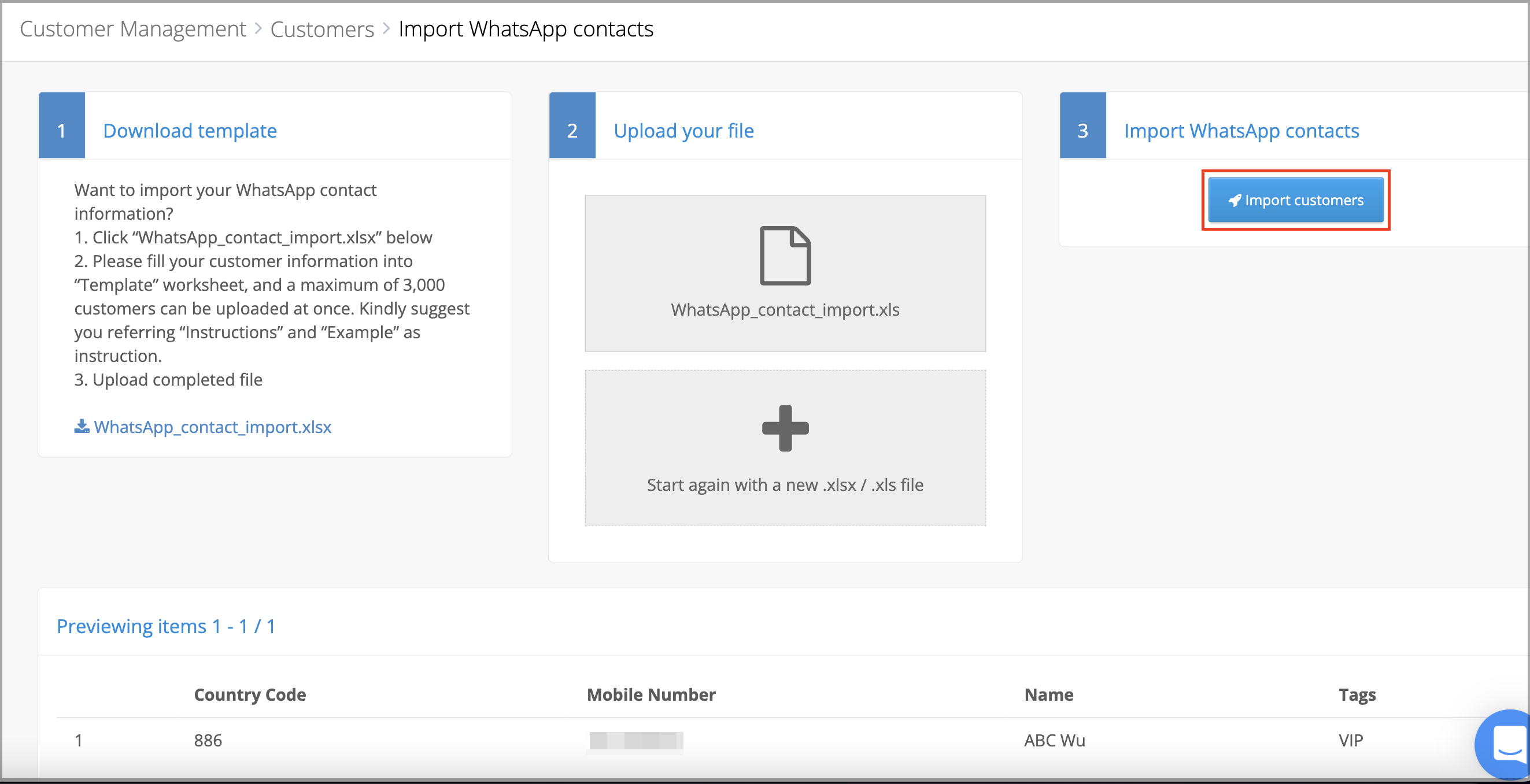 You can go to [Report & Analytics] > [Bulk Action Process] to view the result.
*Note: If the import failed, you can download the result file to view the reason.
Once the contact is imported successfully, it will appear on the WhatsApp Contact list.
*Note: You can only send custom template messages to customers who have not been contacted yet. For more details on WhatsApp Message Template, please refer to the following FAQ.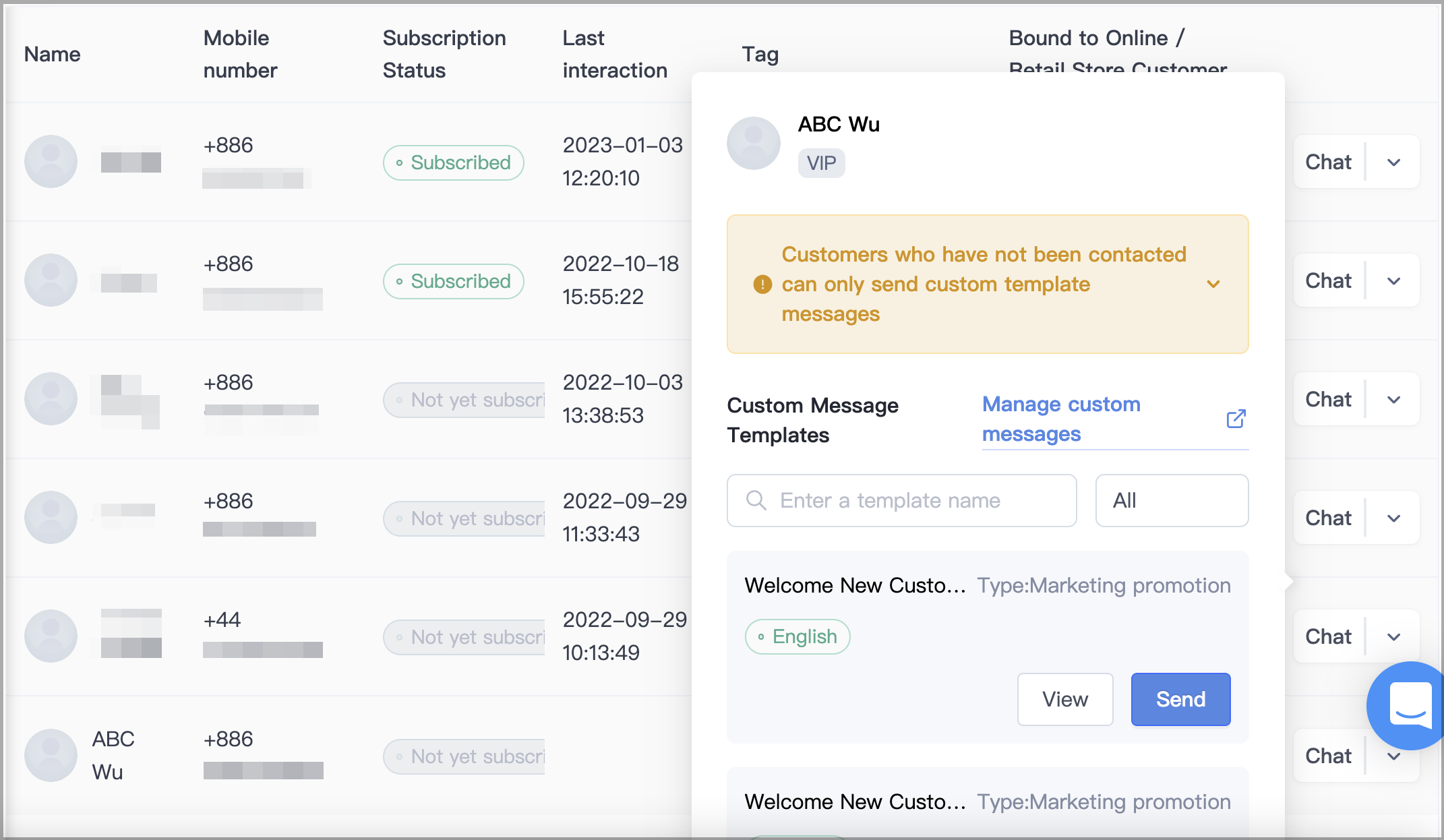 Read more