The feature is available to merchants who have subscribed to BOTH e-Commerce and Social Commerce Plans and the Advance Store Management module.
To reduce the burden of processing large amounts of orders, SHOPLINE has introduced Order Tags to improve Order Management. These allow merchants to define and apply specific tags that can then be used to filter orders for further processing. The following provides an introduction on how to use Order Labels.
1. Steps to set up
Step 1. Check your plan
In the top right-hand corner of SHOPLINE Admin, go to [Hello, OOO] > [My Subscription & Billing] to view the store's plans and modules.
There are Plans and Modules under the "Paid Subscription". Please check if your store has the Re-engagement module. If you have subscribed to e-Commerce and Social Commerce Plans, and the Advance Shop Management module, the feature will be directly enabled.





If you are using the Basic, Advanced, Premium, O2O, Enterprise, or Cross Border plan (as shown below). Please confirm whether your store is using Cross Border/O2O/Enterprise plan. If you have one of these plans, in SHOPLINE Admin go to [Apps] > [Apps Store] and install the feature.




2. How to add/remove order tags on individual orders
Step 1
From the Admin Panel, go to [Order Management] > [Orders]. Select an order and go to the "Order Tag" section.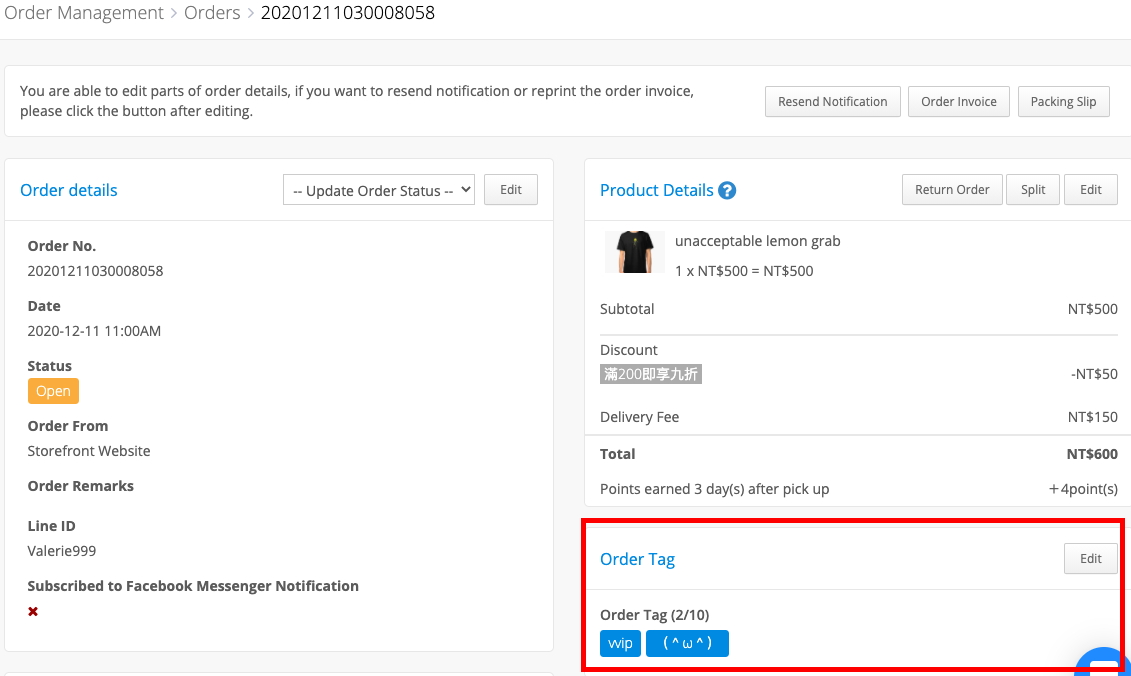 Step 2
i. Click Edit to add an order tag. To remove an order tag, click on X next to the tag.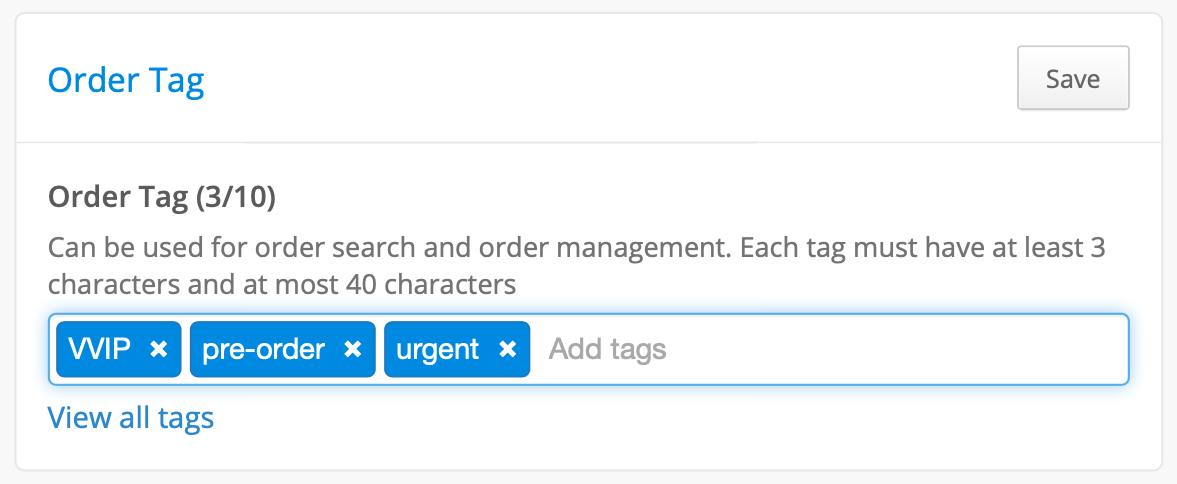 ii. Click View all tags to see a full list of available order tags.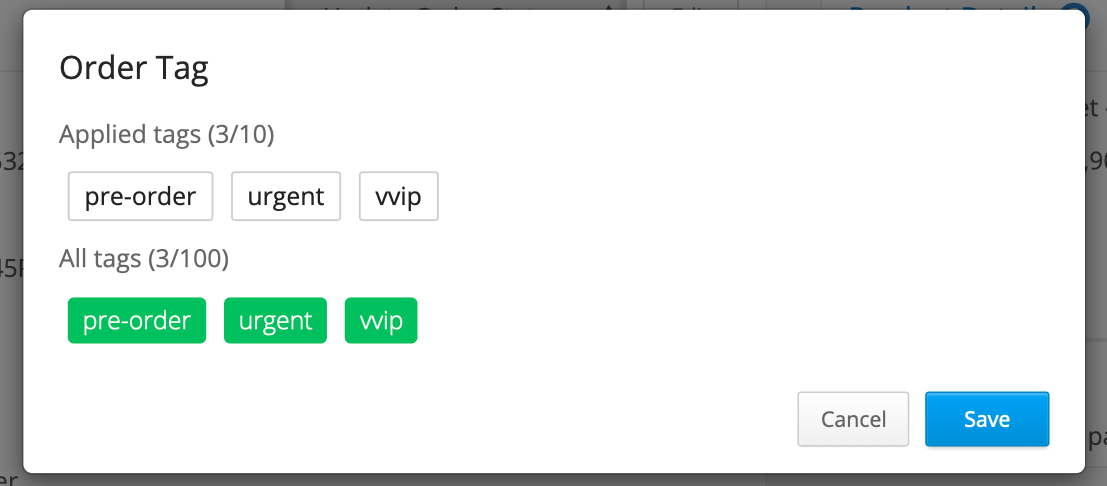 Notes:
Order tags must be between 3 and 40 characters.

There is a limit of 10 order tags per individual order, with a maximum of 100 order tags per store.
3. How to bulk add/remove order tags
It is also possible to add or remove Order Tags for multiple products at once using a bulk action.
Step 1
Select the orders you wish to edit. Under "Bulk Actions", select either Add tags or Remove tags.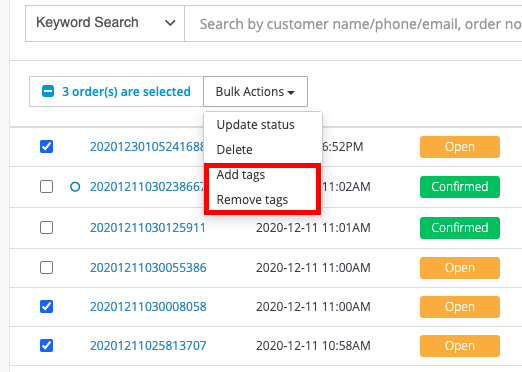 Step 2
Select the Order Tag you wish to add/remove. It is only possible to add or remove a tag at a time.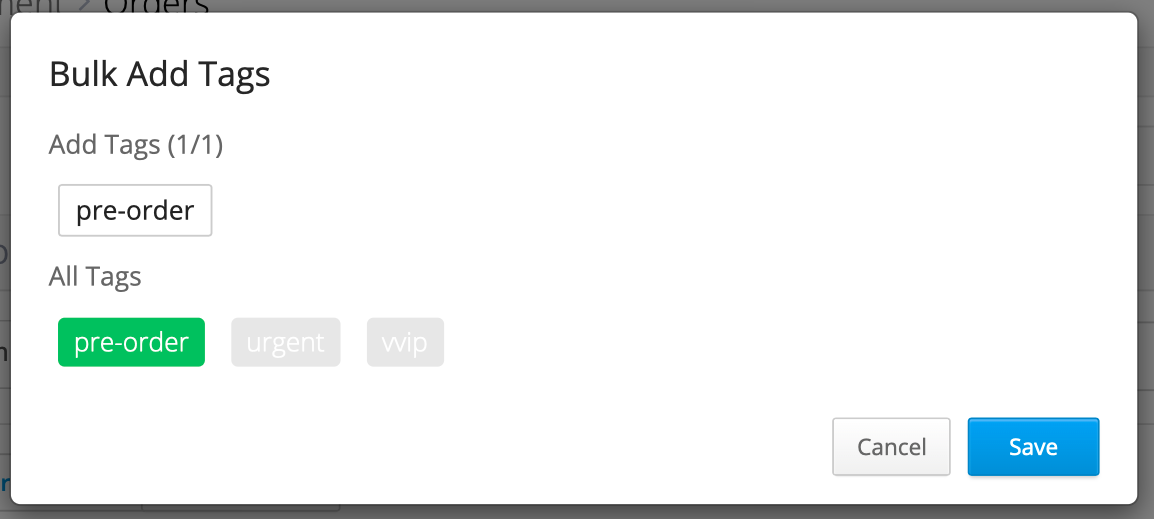 To see if a bulk action has been successful, go to [Report & Analytics] > [Bulk Action Process].

Note:
Please do not remove an Order Tag while it is in the progress of a bulk action. For e

xample, if a bulk action for adding Order Tag "A" to orders 0–10 is shown to be "In Progress", do not delete Order Tag "A" from your store's list of tags.
If attempting a new bulk Order Tag action while a previous bulk action is still marked "In Progress," make sure there is no overlap in the ranges covered by each action. For example, i

f a bulk action to add Order Tag "A" to products 0–10 is still "In Progress", you must wait until this is complete before attempting to remove Order Tag "A" from products 2–10.
4. How to filter by order tag
It is possible to search through a list of orders by order tag. This allows you to sort orders using the following filters: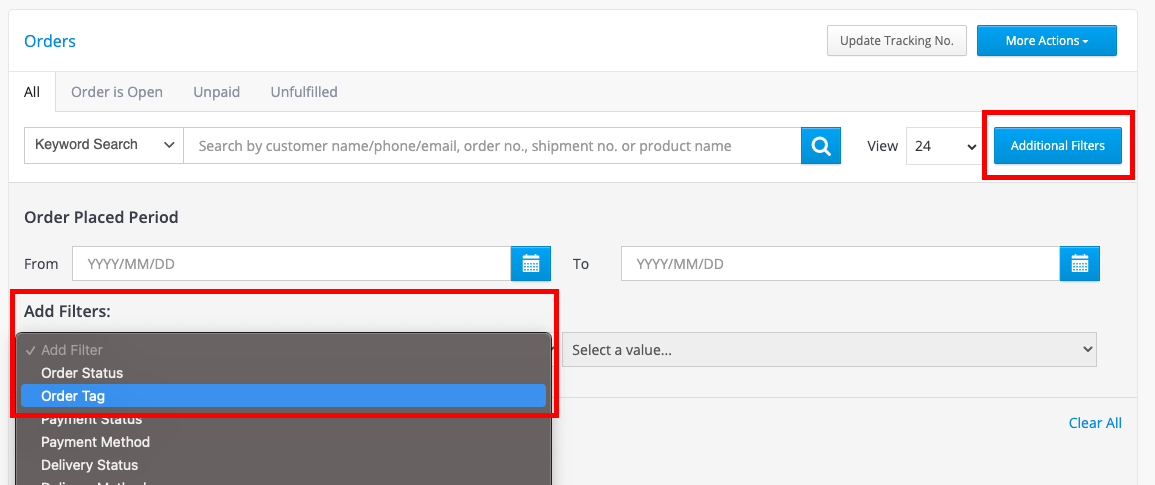 *The search filters for each inquiry can contain a maximum of five order tags. Keywords should be separated by a half-width comma.
You can also narrow down the value:
Those with one or more of the selected tags (has any of)

Those with all of the selected tags (is exactly)

All of the selected tags; none of the selected tags (has none of)

For a store using the Order Tags "A, B, C, D" the filters would work as follows:
Has any of: search for orders containing "A" OR "B"

Is exactly: search for orders containing "A" AND "B"

Has none of: search for orders that DO NOT contain "A" or "B" (the search will return orders containing "C" and "D").
5. How to export order tag information as part of an order report
You can also include Order Tags as part of an Order Report by checking the "Order tags" box before exporting.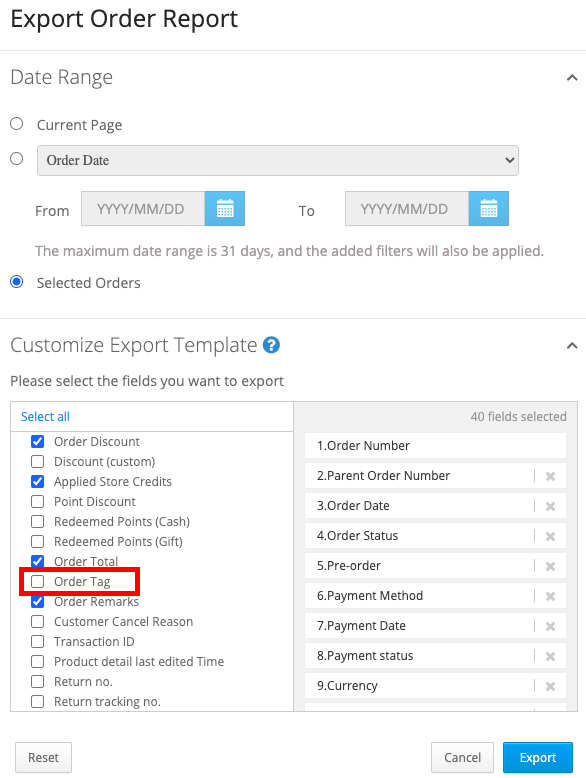 6. Remarks
Order tags are not currently available for POS or Open API.
If an order tag is written in English, the system will automatically save it as lowercase. When filtering by order tag, the system will not make a distinction between upper and lowercase inputs.

For example, the system will automatically save the Order Tag "Vip" as "vip". Keyword searches for any case form of this tag (e.g. VIP, VIp, etc.) will still include all orders containing this tag.

The system will render any spaces in an order tag as "-".

For example, the Order Tag "20% off" would be saved as "20%-off".

Search terms must be an exact match for a given order tag. For example, if your Order Tag is "Sale time-2021/2", search terms that are a partial match (such as "Sale time" or "2021") will not find orders containing the order tag "Sale time-2021/2".
Only order tags currently in use count toward a store's total. For example, if Order 1 contains the tags "A, B, C,"; Order 2 contains the tag "B"; and Order 3 contains the tags "D". Deleting Order 3 in this scenario would bring the store's total number of tags down to three (A, B, C).
Read More