Ninja Van's integrated tools let merchants quickly manage orders using a separate tab in SHOPLINE admin. This article introduces the order management interface and provides an explanation of the different order statuses for Ninja Van deliveries.
Management interface introduction
Ninja Van orders can be managed from the separate Ninja Van - Order Management tab.
There are eight tabs at the top of the window that allow you to filter orders by delivery status.

Delivery status overview
A. Non-executed
All orders placed by customers, and shipment that have not yet been executed can be found under this tab.

B. Processing
Orders will be moved to this status/tab after the shipment has been executed.
"Processing" means the system has sent details of an order to Ninja Van but that these details have not yet been confirmed. As a result, the waybills for these orders are not ready to print. Only print the label/waybill after the order status changes to "Awaiting Shipment".
To find out more about executing shipments, please see: Ninja Van Execute Shipment

C. Awaiting Shipment
"Awaiting Shipment" orders are those that Ninja Van has confirmed the order details for and that are ready to pick up. Once the order status has changed to "Awaiting Shipment", print off the label/waybill from the Order Details page and affix it to the parcel as you await pickup.

D. Cancelled
Orders that have been cancelled.

E. Shipped
This is for parcels that have been picked up by Ninja Van but not yet delivered. You can check shipment details and track the delivery status of these parcels from the order details page.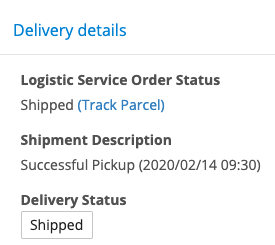 F. Arrived
These parcels have been successfully delivered to a customer's address by Ninja Van.

G. Returning
These orders are in the process of being returned to a merchant. Reasons for parcels being returned include:
No one at the delivery location
Ninja Van driver unable to find delivery address
Parcel rejected by customer at the delivery location
Rescheduled delivery date is too far in the future (e.g. 1 month from the original delivery date)

Delivery still unsuccessful after being rescheduled three times

Parcel cannot be delivered due to extenuating circumstance, e.g. severe damage, breakage etc.
For more details and special cases please check shipment details and Ninja Van's parcel tracking system, or contact Ninja Van Customer Service.


Ninja Van customer service contact info:
Customer service web page: https://www.ninjavan.co/en-my/contact-us
Customer service phone number: +60 111 722 5600
Customer service email: support_my@ninjavan.co

H. Returned
Parcel has been returned to merchant by Ninja Van.


MYR logistics pricing & payment details
Please note:
Prices are subject to a 6% SST

SHOPLINE reserves the right to amend this price list at any time without prior notice