In order to allow merchants to reach more consumers and increase the conversion rate of orders and registrations, SHOPLINE provides "Facebook Messenger Quick Sign Up Link" feature. Merchants can guide consumers to register as members directly on the Facebook Messenger app.
In this article, you'll find:
1. Steps to set up
Install the "Facebook Integration" feature
This step is applicable to merchants with specific plans. Go to [Apps] > [Apps Store] and look for "Facebook Integration". Click Install Now, then click Go to Settings to go to the steps below.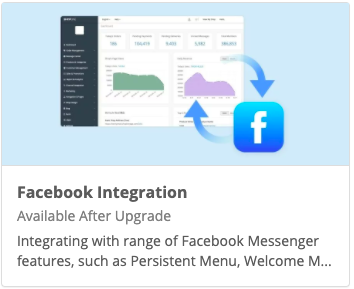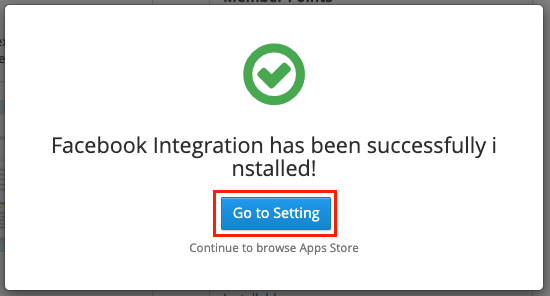 Step 1. Go to [Channel Integration] > [Facebook] and connect your Facebook Developer Account.
If the "Connect" button has changed to "View", this means that your store has enabled the "Store SIgn Up with Facebook" feature. Please skip to Step 2 to use the quick sign up link.
[Coming Soon] New Facebook integration page
On the new page by going to [Channel Integration] > [Facebook]. In the "Sell products through Facebook & Instagram Shop" section, click Start setting.
Step 2. Connect to the Facebook Developer account
If you haven't created a Facebook login application, please refer to Steps 1 to 9 of this article, and paste the App ID and App Secret into the fields of the pop-up window.

A quick sign up link will appear at the bottom of the section. You can start using the link.
2. Use the quick sign-up link
After connecting the Facebook account, a "quick sign up link" will be generated. You can use the link for member registration on the Facebook Messenger App more conveniently and smoothly.
There are 3 scenarios to use the link:
Scenario 1
Put a quick sign-up link into the persistent menu. Customers can open the menu and become shop members anytime.
Step 1. Connect your Facebook Page.

Step 2. Go to "Persistent Menu" and click + New Menu Item.

You can set the item name as "Become Member" and paste the quick sign up link. After that, click Save.
Step 3. Consumers can open the menu and click "Become Member" at any time.
Consumers will become your shop members directly.
Scenario 2
The quick sign up link can be used for Facebook Messenger Broadcast.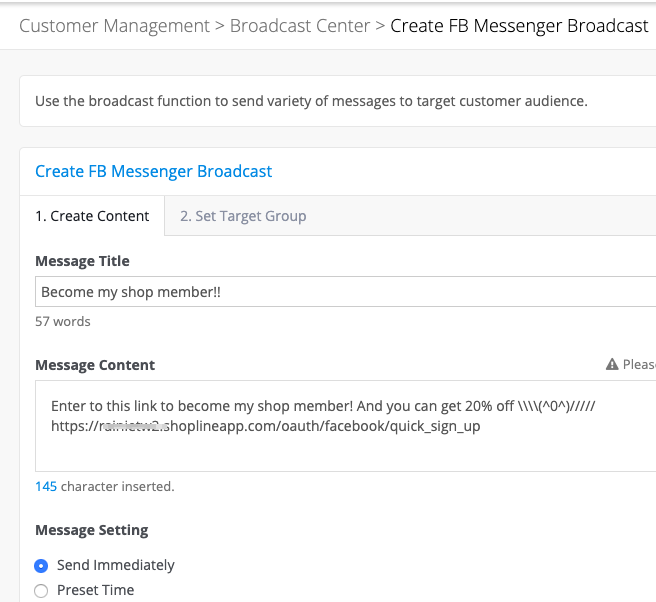 Scenario 3
The quick sign up link can be converted to a QR Code.
*Note: Besides using the quick sign up link with the Facebook Messenger App, the link is available for the Chrome browser only. Safari is currently not supported.
3. Related features setup guides