After setup Sales & Promotions , Promotion Page will be automatically created and you can edit SEO & Banner of promotion page and go to Menu Navigation to add page as menu item.
Introduction
A. Edit SEO & Banner of Promotion Page
Promotion Page only support Bundle Pricing / Product-Level / Category-level Promotion. When you get in Sales & Promotions promotion list, you can see icon
beside each campaign. Click it and will direct to promotion page in storefront. If you want to edit more setting of promotion page, click Edit and pick Page & SEO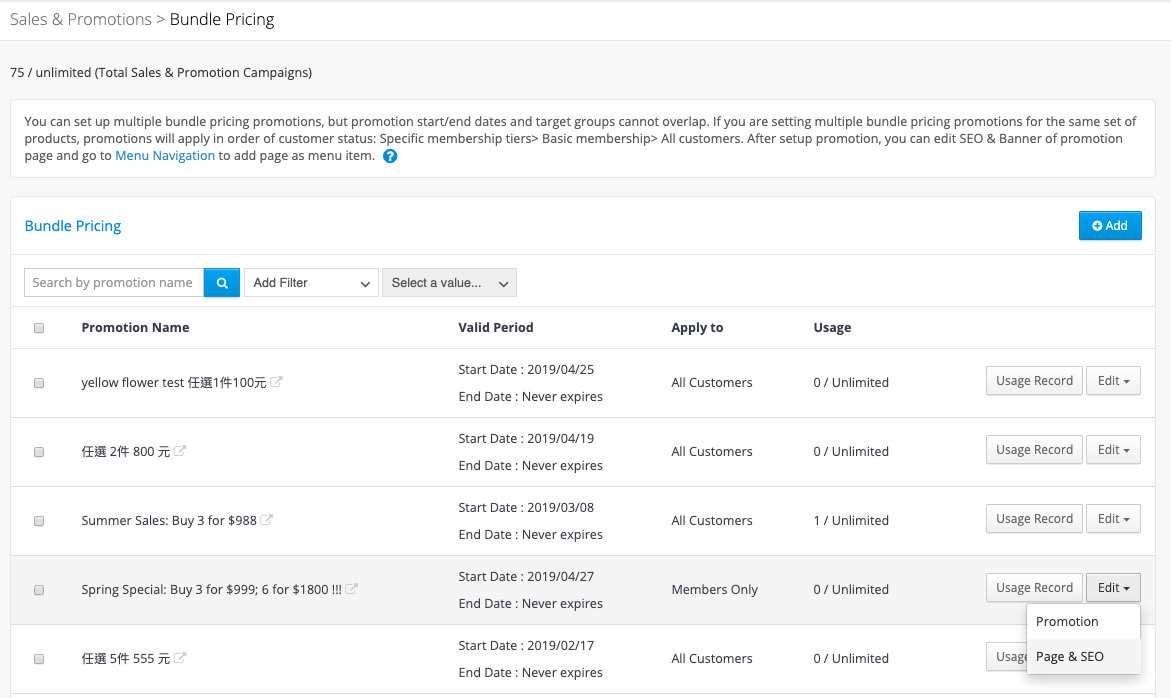 Step 1. Setup Search Engine Optimization
SEO Preview is only available when title and description are put in.
Step 2. Edit Promotion Term & Condition
We only allow 500 words in Tern & Condition
You can edit English & Chinese version. Both are optional fields.
Default wording as following but you can clear or edit it by yourself.
*Promotion applied is subject to order summary shown in shopping cart.
*Promotion valid period is based on time zone in merchant's country/region.
*Customer should checkout with valid payment & delivery method to enjoy promotion.
*Customer should login to checkout for member-only promotion.
Step 3. Upload Promotion Banner
please upload any image in JPG or PNG format, recommended image size to be 1920 x 400 pixel
We only allow ONE banner to be show on storefront for each promotion, and will show the same banner for both English & Chinese version shop
After you upload the banner image and save, the banner will show on storefront immediately
Step 4. Make sure click "Save" Button after completed the above steps.
B. Add Promotion Page to Storefront Menu
You can go to Navigation & Pages > Menu Navigation to add Promotion Page as menu item.
Step 1.
Menu item type: select "Promotion Pages"

Step 2.
Select Promotions: Dropdown list will show published promotions which are not expired.
Step 3.
Make sure to click "Add" to complete the step

You can drag or move menu item as parent/child menu.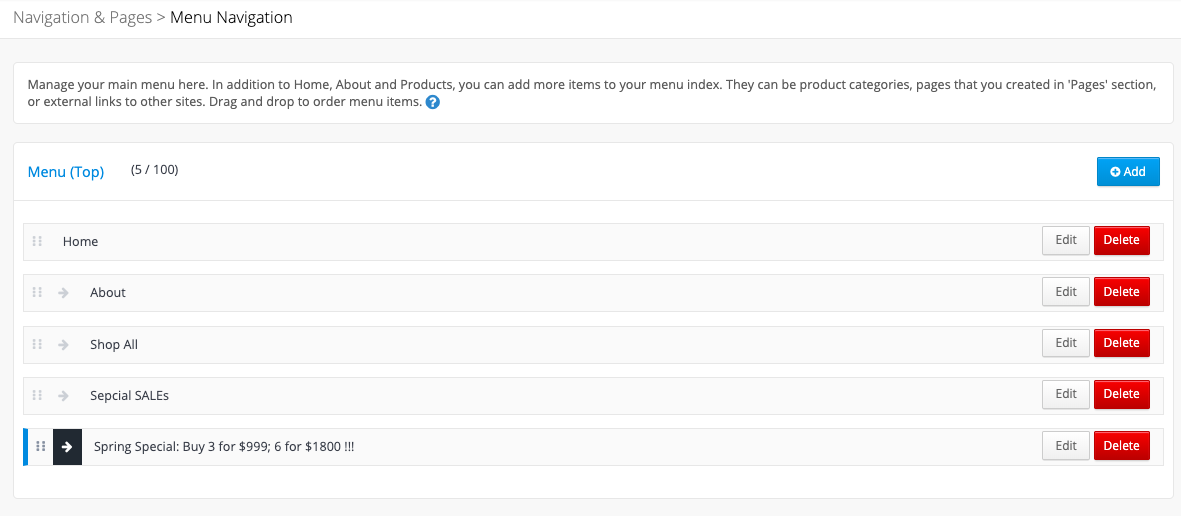 After setup, you can see promotion page in your storefront menu.

Note: If promotion is Unpublished/Removed/Expired, the promotion page will NOT be automatically removed from storefront menu since you added to it. You should removed the page from menu item manually.
C. Promotion Page Layout in Storefront
When Promotion is on going
Area 1. Promotion Banner
Area 2. End Date & Target Group

if the promotion never expire, End Date will not display on the page

Area 3. Promotion Purchase Condition

Click

Term & Condition

and the info will shown in popup

Area 4. Promotion Name
Area 5. Selected Products of Promotion
Area 6. Promotion Cart

show the selected products added to the cart

When Promotion haven't start yet
Customer can still view the page with promotion products and will see the start date with "Promotion Coming Soon" wording.
Promotion is expired
Customer will see "Promotion Ends" in the middle of page and will be redirected to homepage in 5 seconds
Promotion is unpublished
No matter promotion valid period, customer will see "Unpublished promotion" wording and will be redirected to homepage in 5 seconds