Google Ads is an online advertising platform developed by Google, where advertisers pay to promote products/ service offerings to customers through Google Search and catch their eyes with Google Ads impressions.
Setting a "conversion tracking" tool to track what happens after customers interact with your ads while advertising online ads. For example, "purchasing" is a conversion action to understand your return on investment of your ad spend. SHOPLINE has already integrated the Google Ads conversion tracker into your shop's Admin to integrate with simple steps.
In this article, you'll find:
1. Steps to setup
Step 1. Complete the initial Google Ads account setup
If you have already set up your Google Ads account, you can go directly to Step 2.
If this is your first time using Google Ads, please go to Google Ads and click Start now to sign in with Gmail to complete the initial account setup. The initial settings include the account name, payment method, and the first advertising content. After completing the initial settings, you can pause the advertising content that you just set to stop running.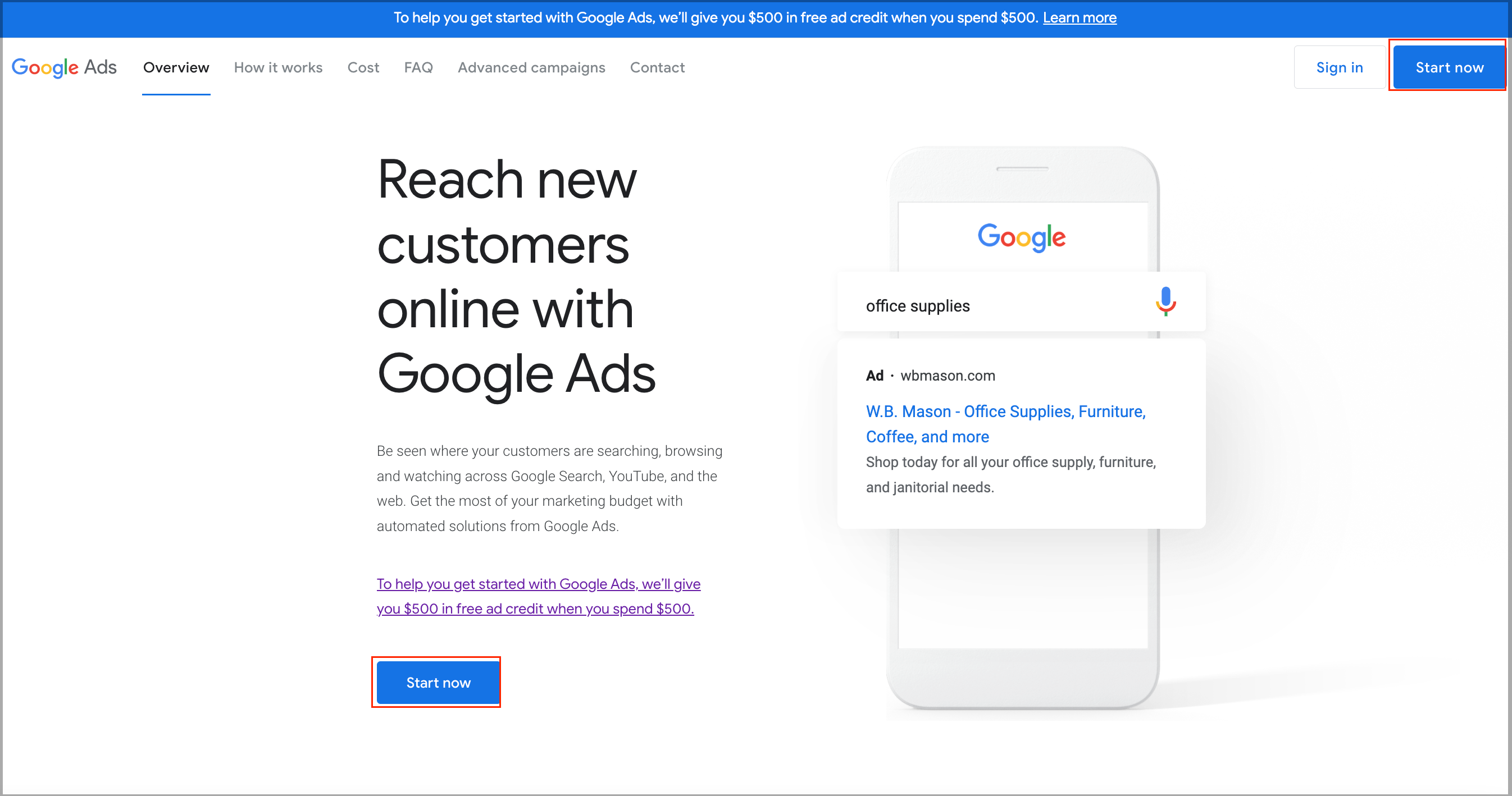 Step 2. Switch to Expert Mode
After completing the initial setup of your ad campaign and store information, please go to [SETTINGS] > [Switch to Expert Mode] at the top right to get conversion tracking codes and the full functions of Google Ads.

If you are already in expert mode, you can go directly to Step 3.

Step 3. Create a conversion action
Click [TOOLS AND SETTINGS] > [Measurement] > [Conversions] at the top right to enter the conversion action page and click + New conversion action to start adding conversion action.




Google Ads' new interface
If you are using the new Google Ads interface, please go to [Goals] > [Conversions] > [Summary] on the left menu, and click + New conversion action.
Step 4. Select the kind of conversions you want to track
There are four options, please select Website for the following settings.
Please enter the URL of your online store, and click Scan.

Scroll down to "Add conversion actions manually using code," and click the + Add a Conversion action manually button manually for subsequent settings. Step 5. Set up a conversion action
Please complete the settings corresponding to each field in order. Once setup is complete, please click Create and continue.
Goal category: Purchase
Conversion name: something you can easily identify, such as "Complete purchase."


Value: Please select Use different values for each conversion, select the currency of your store's currency

, and adjust the value to 0 (the default value is 1).




Count: Every

Conversion window

,

View-through conversion window

, and Include in "Conversions": You can adjust them according to your needs.


Attribution model: It is recommended to select "Last click."
Click Done at the bottom left, click Save, and continue to apply the tag.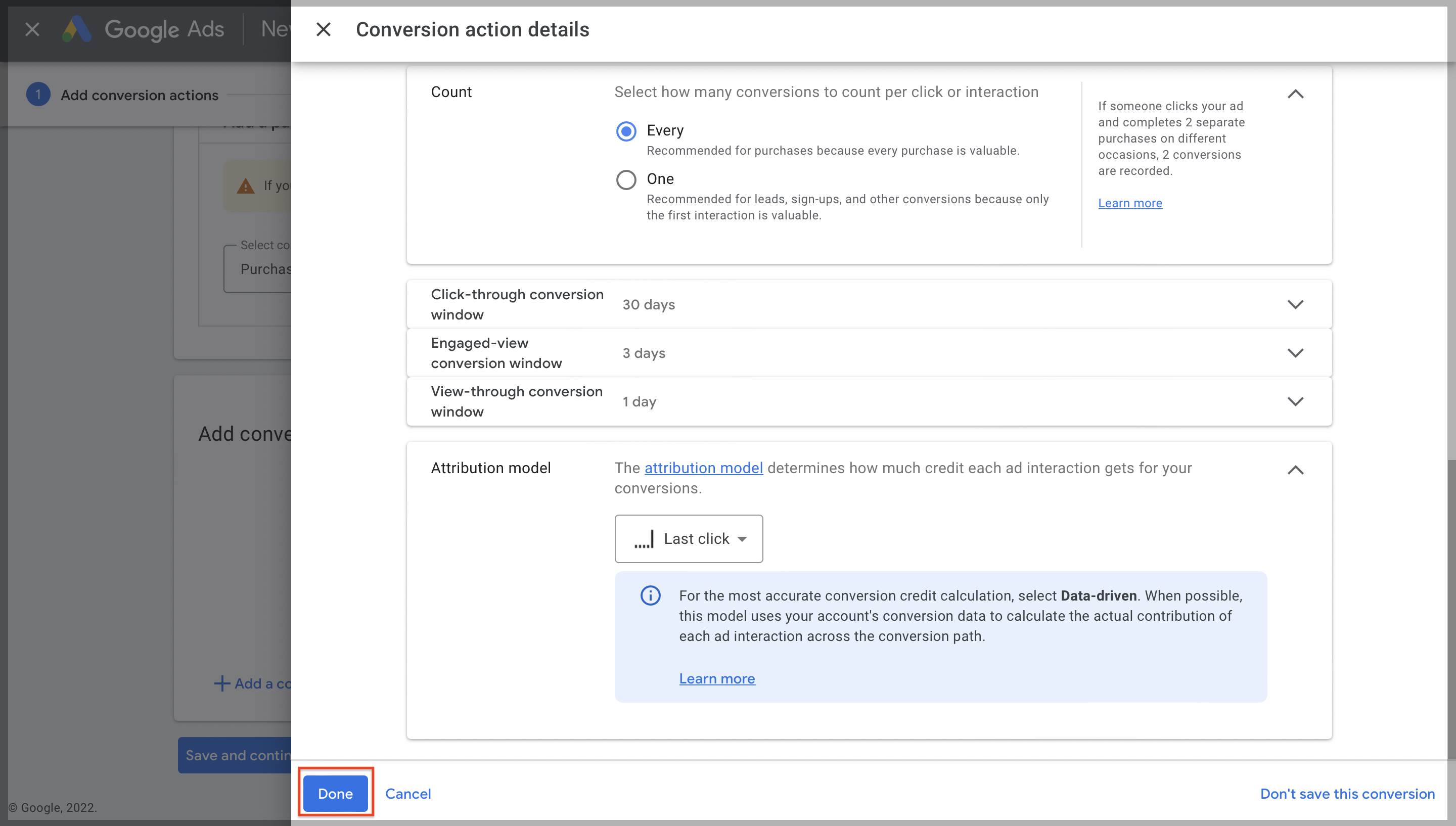 Step 6. Set up the tag
There will be 3 options. Please select Use Google Tag Manager to copy the "Conversion ID" and "Conversion label." Return to SHOPLINE Admin, go to [Marketing & Tracker] > [Tracker Settings], and click Google Ads.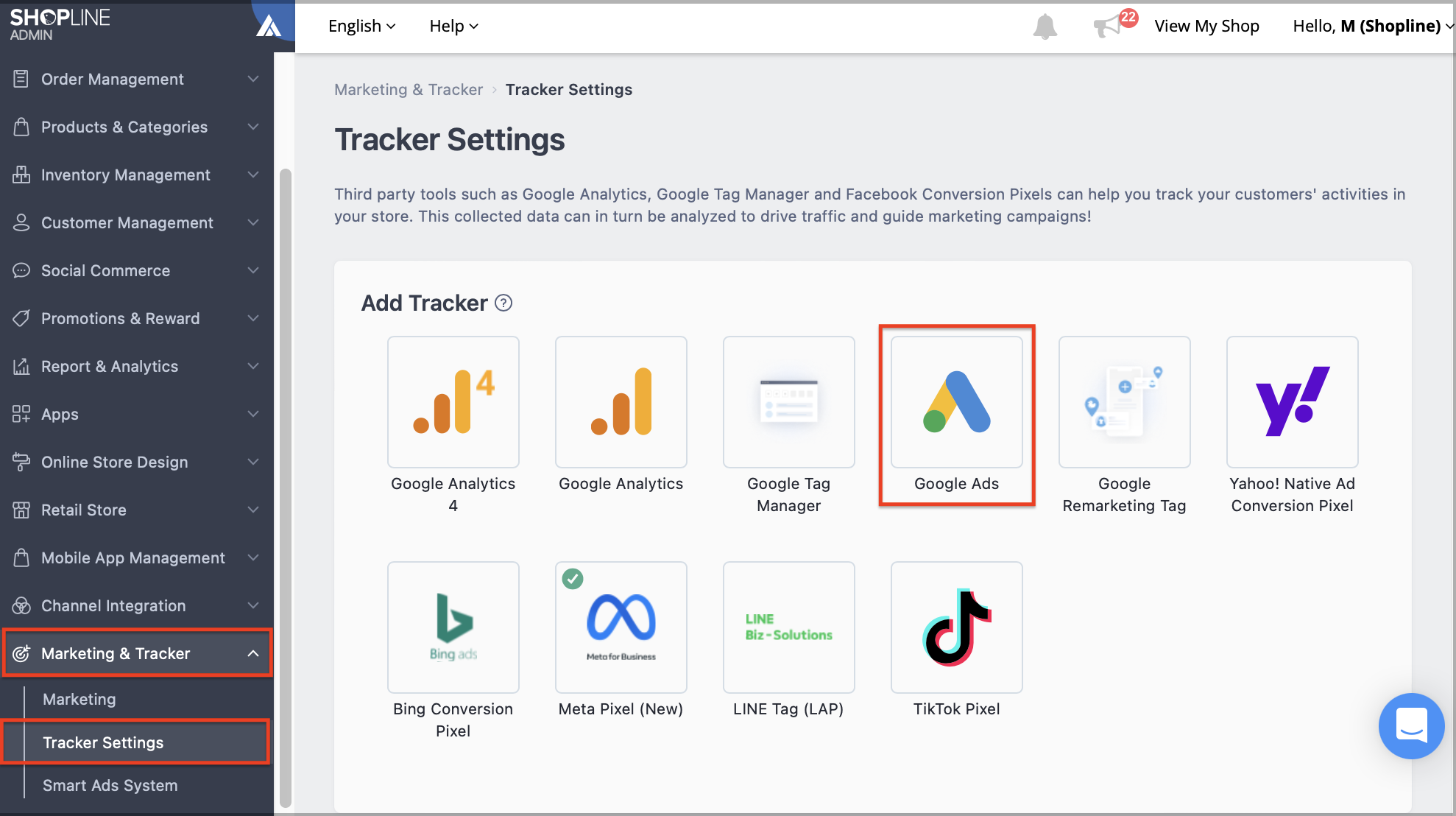 Enter the "Conversion ID" and the "Conversion label" in the fields. Click Add, and your Google Ads integration is complete.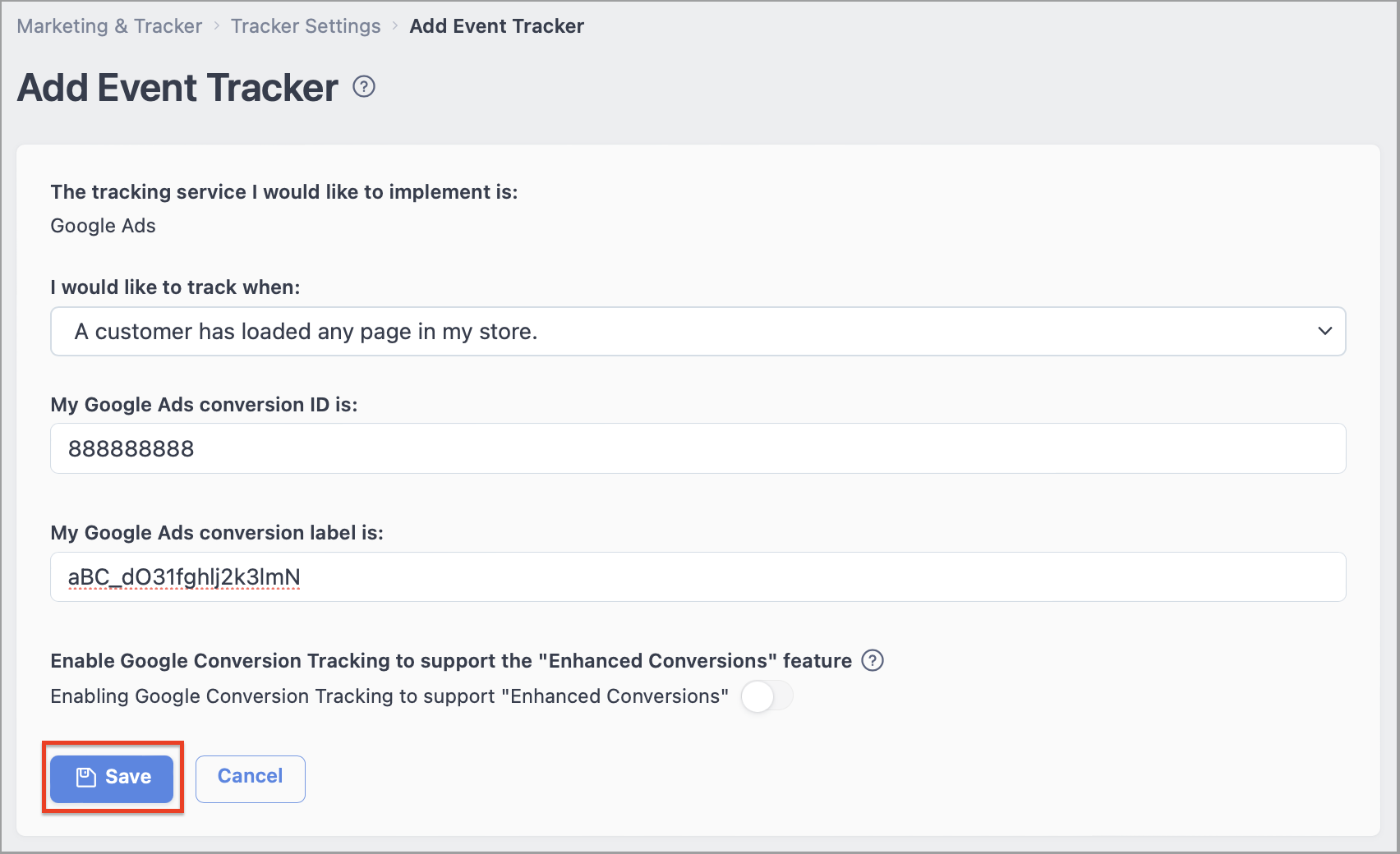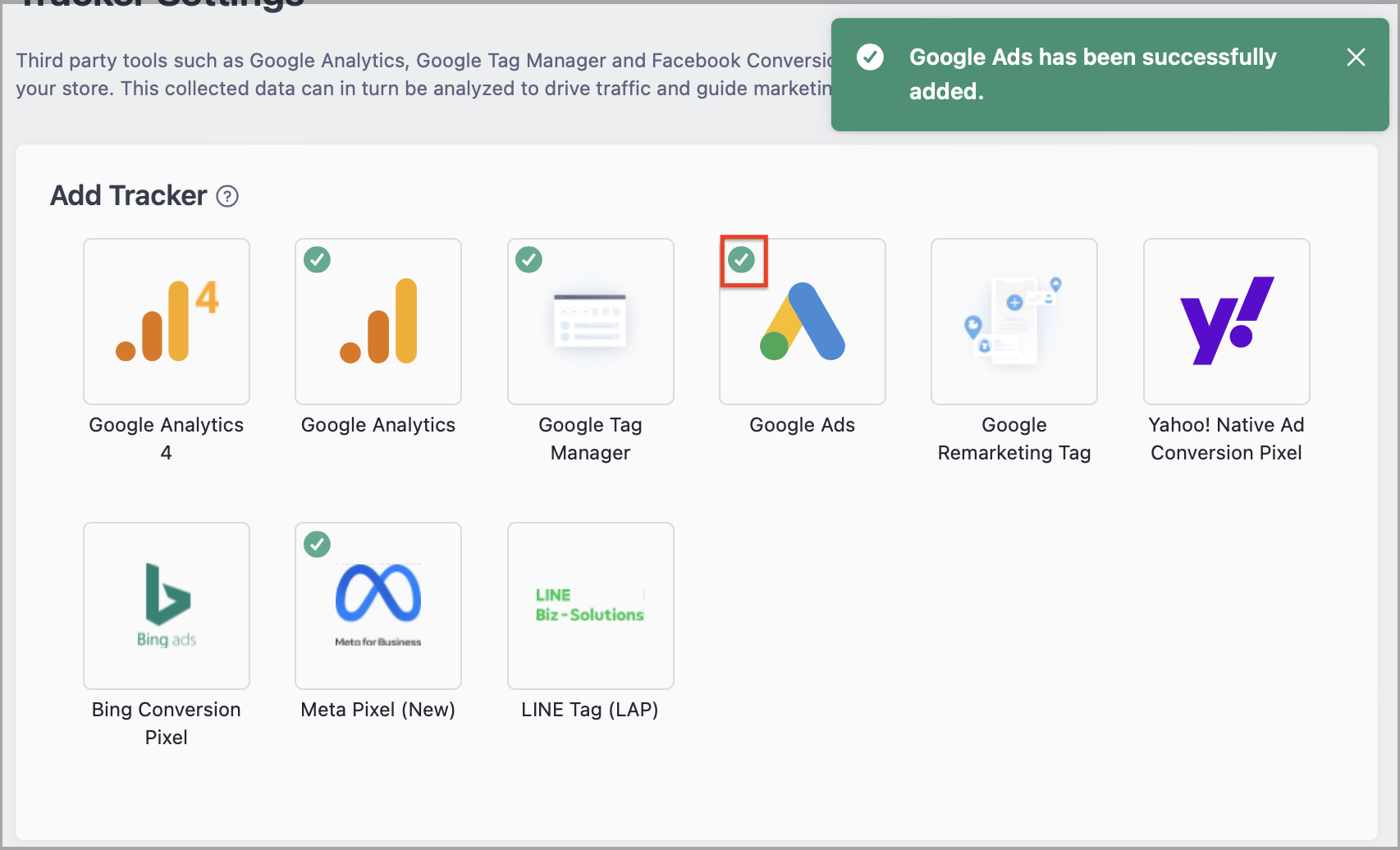 *Notes:
SHOPLINE store only provides Google Ads tracking codes integration feature and does not offer advanced advertising operation services and tutorials.

If you have issues with Google Ads, please contact Google Ads customer service or your ads agency directly.

You should also make tests to check the codes running as the ads require. If you want to add more extra codes or triggers, you could install them by GTM.



2. Enable Google conversion tracking to support enhanced conversions
Limited by the iOS 14 policy, Google Ads cannot obtain more browsing and shopping behaviors on the app side, causing difficulty in improving advertising effectiveness. You can integrate enhanced conversions to enhance ad conversions and benefit all merchants running Google Ads. To learn more about the feature, please refer to the instruction on Google.
⚠️ Note: The Basic, Advanced, Premium, O2O, Enterprise plans do not support enabling the Google enhanced conversion feature.
i. Enable enhanced conversion on Google Ads
In Google Ads, click [Tools and settings] > [Measurement] > [Conversions]. Select the conversion action you want to enable.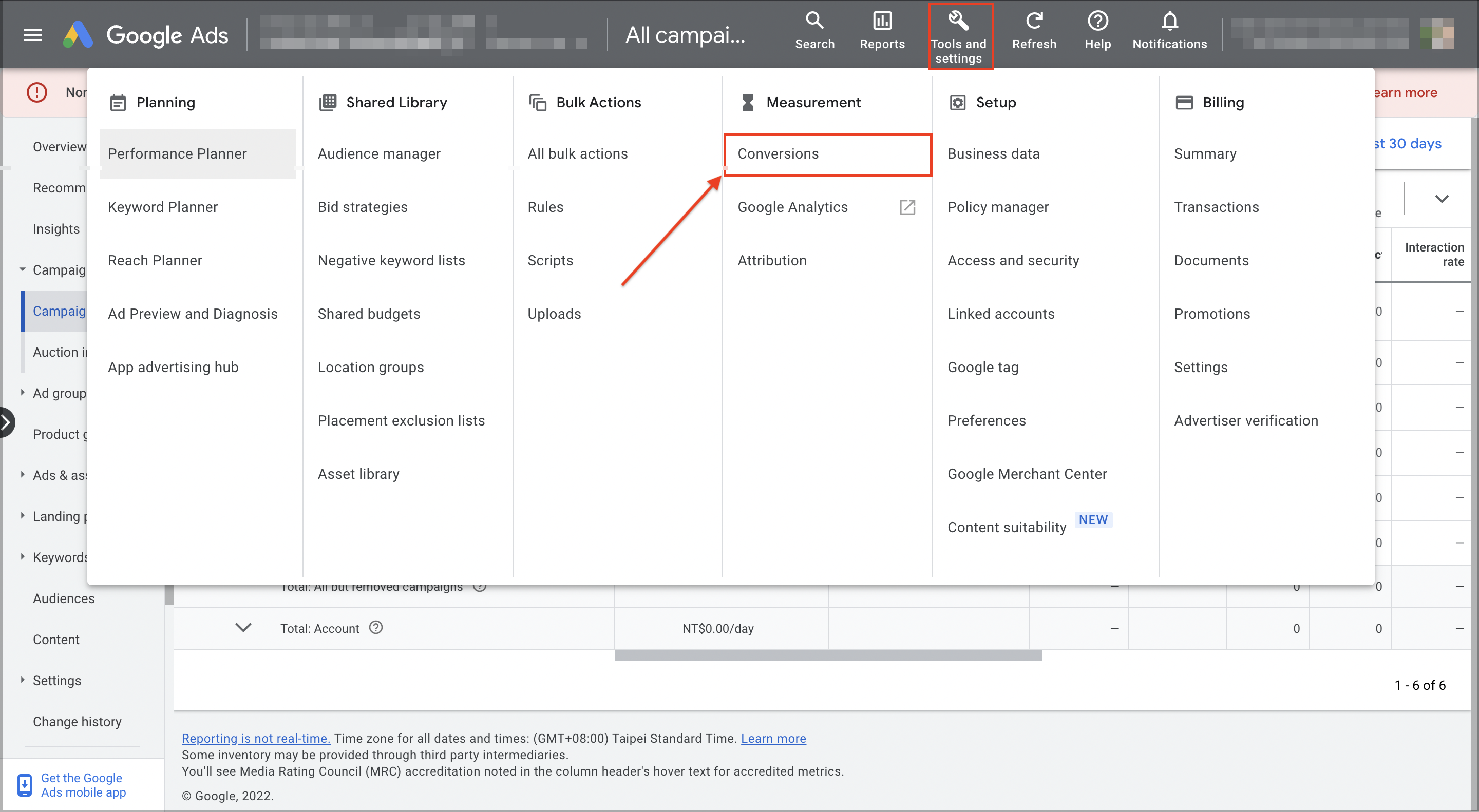 Google Ads' new interface
If you are using the new Google Ads interface, please go to [Goals] > [Conversions] > [Summary] on the left menu, and select the conversion action you want to enable.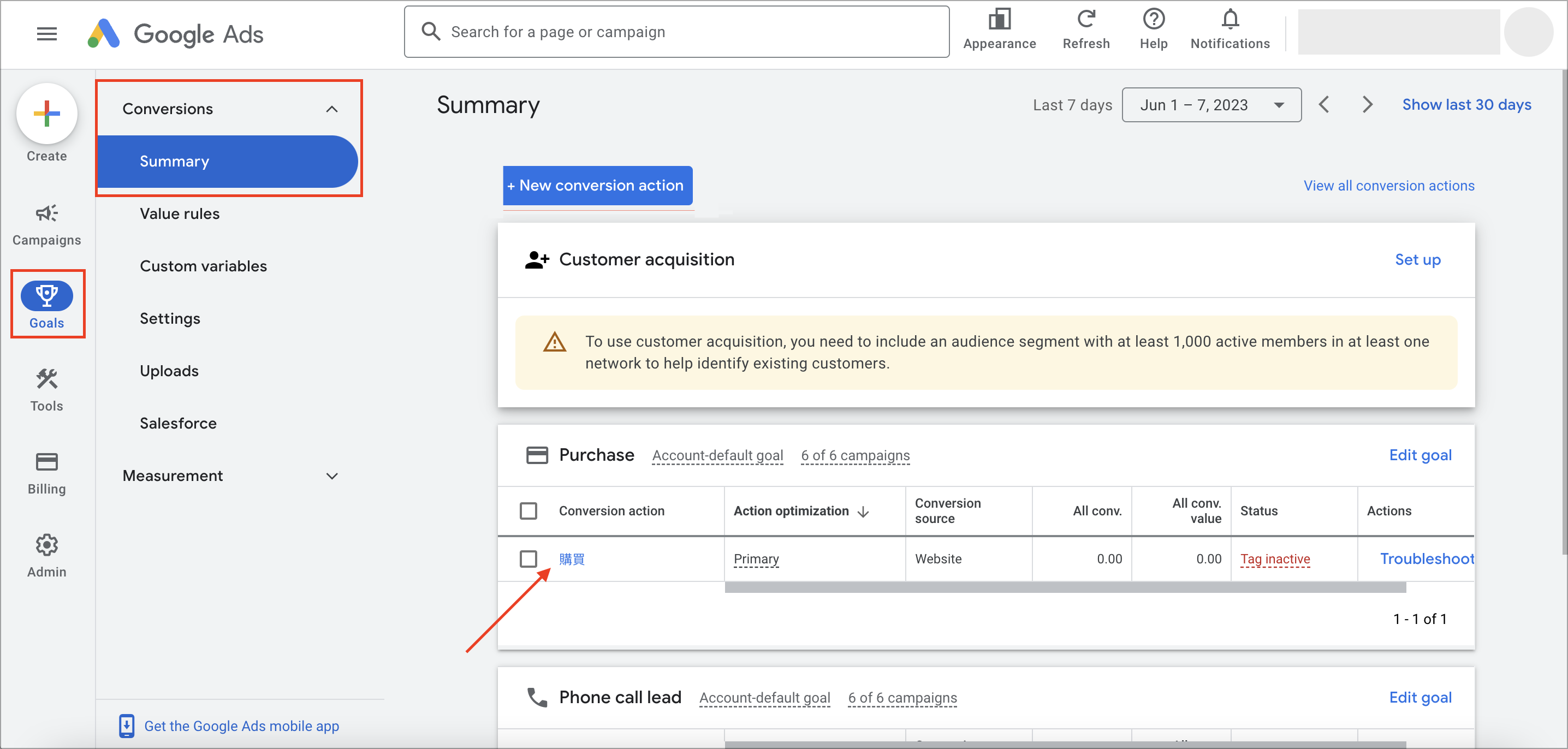 Scroll down the page to "Enhanced conversions."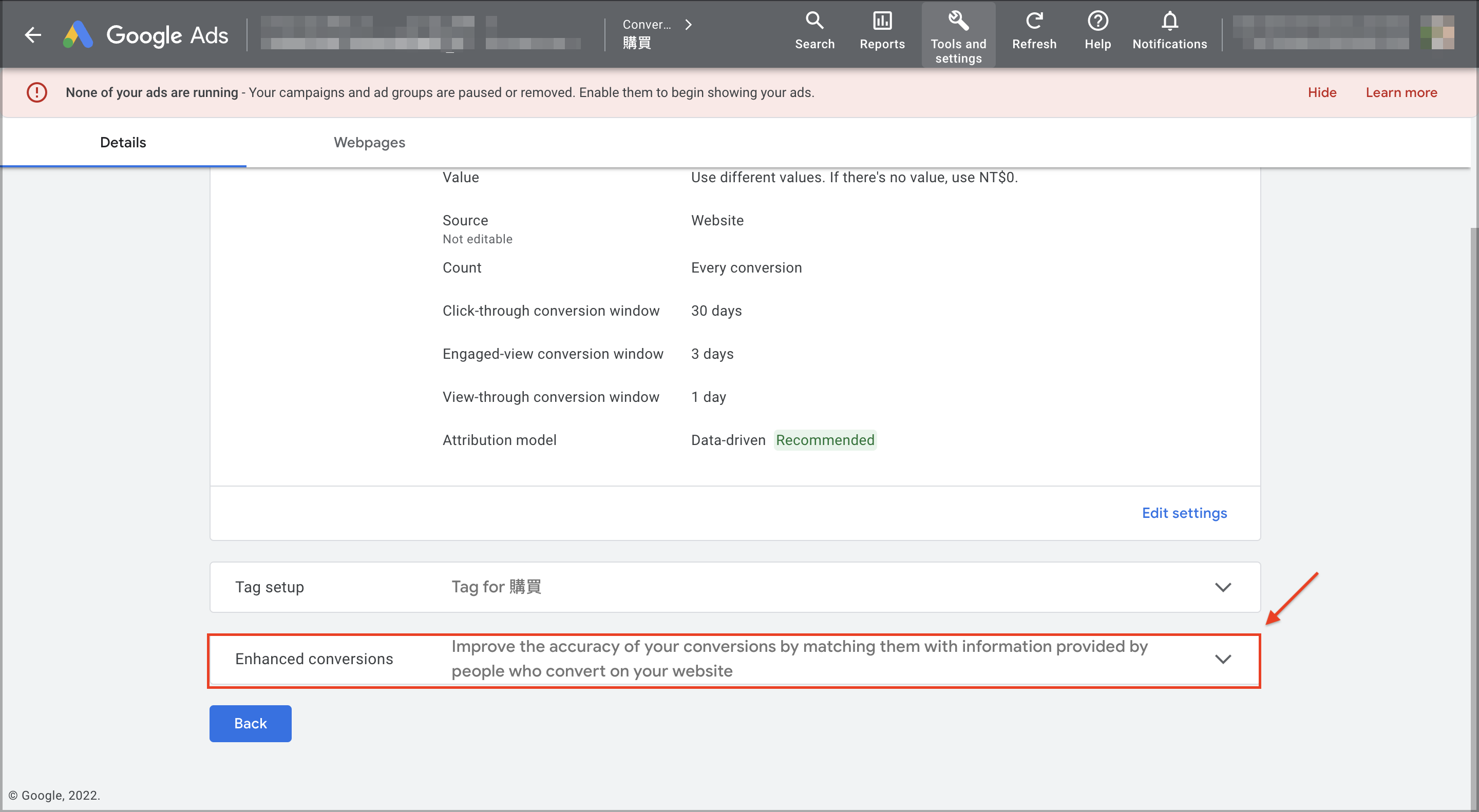 Check the box for "Turn on enhanced conversions" and select Google tag or Google Tag Manager, then click Next.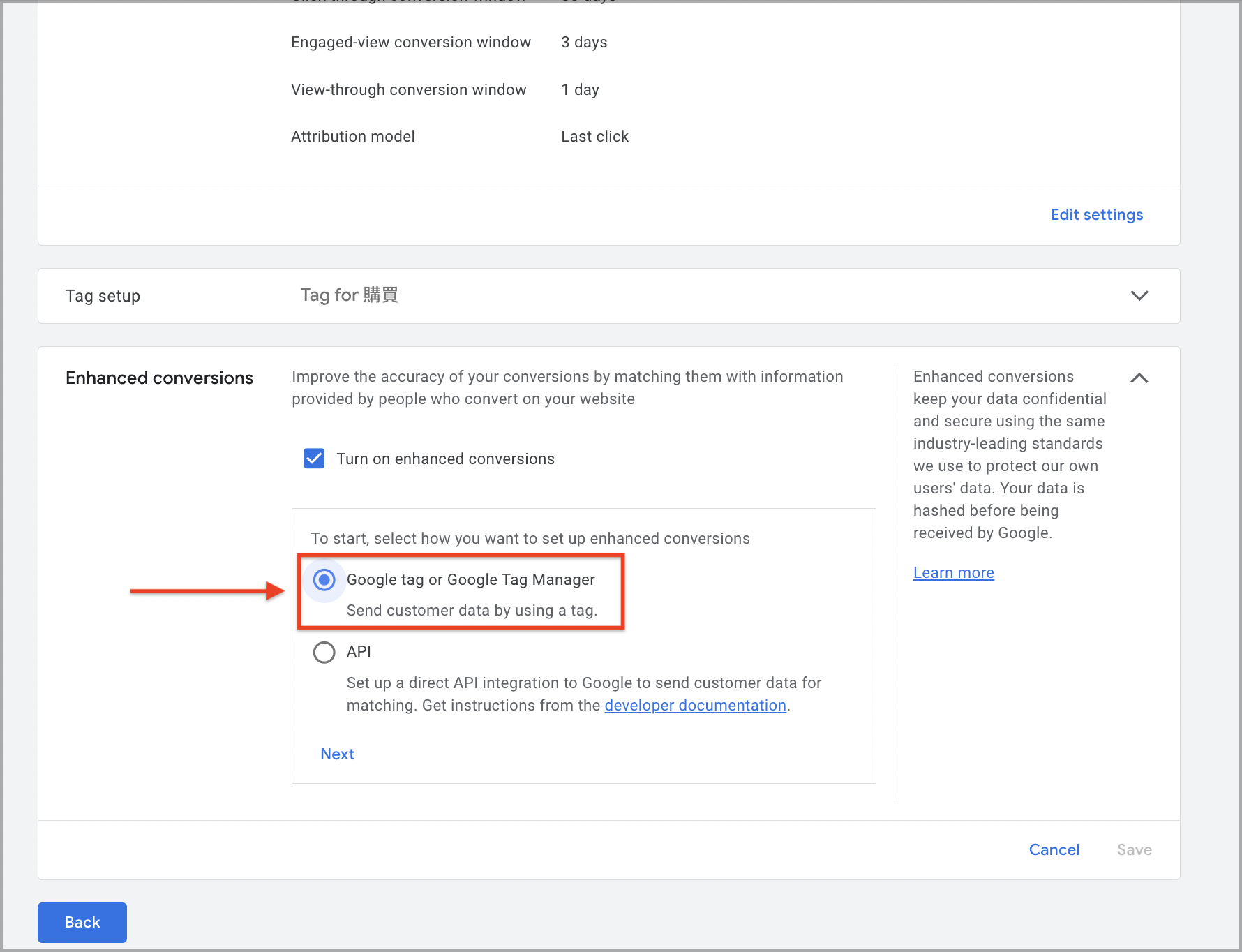 Enter the store website to the blank field, then click Check URL.

When you see "No tag detected," please click select one manually to continue.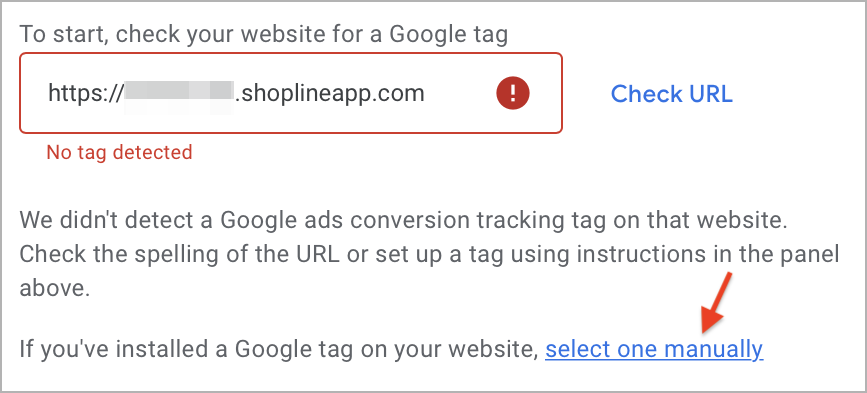 Select Google tag in the box, then click Next.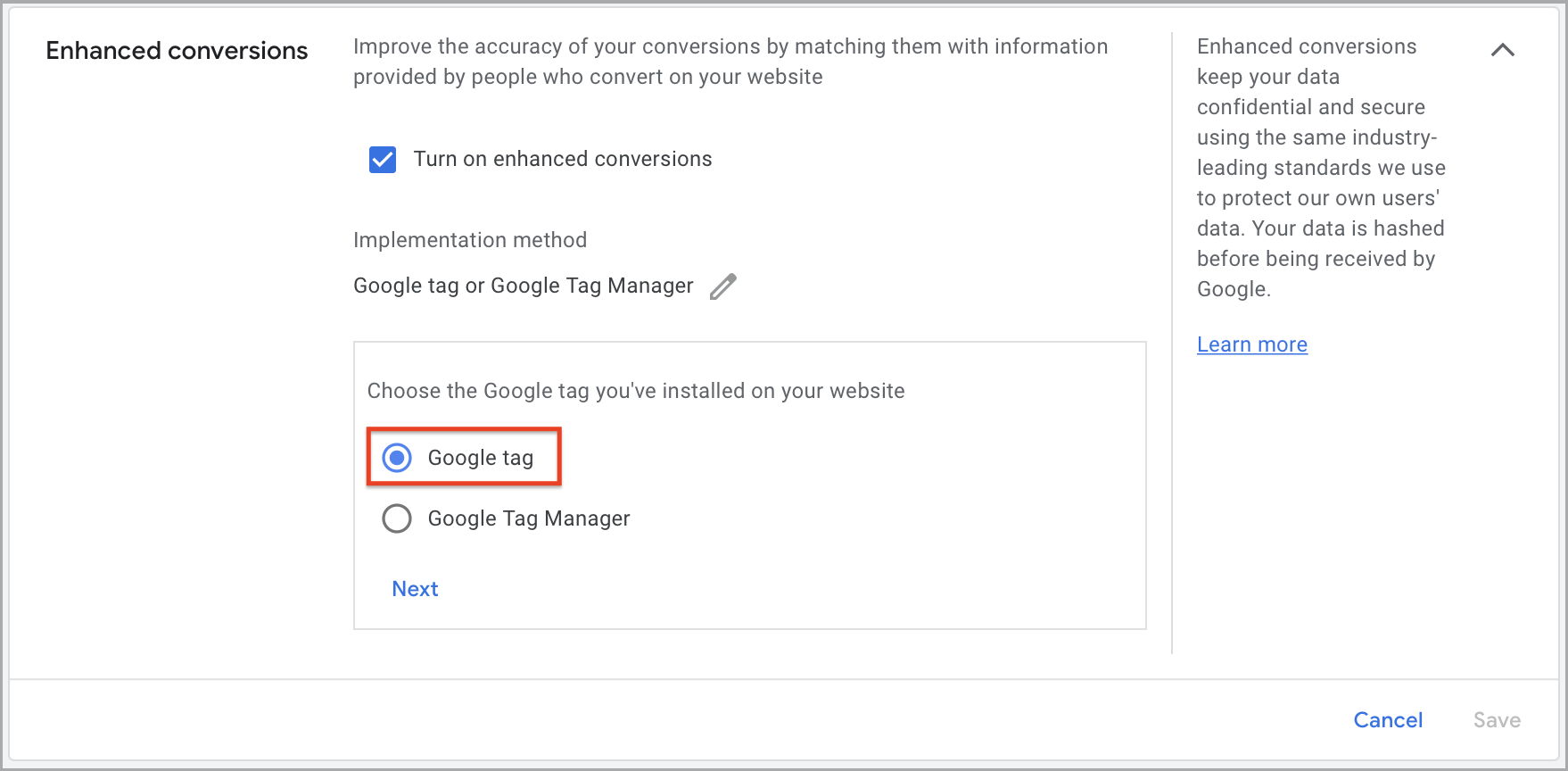 Select Edit code for the option to set up enhanced conversions, then click Save to enable the feature.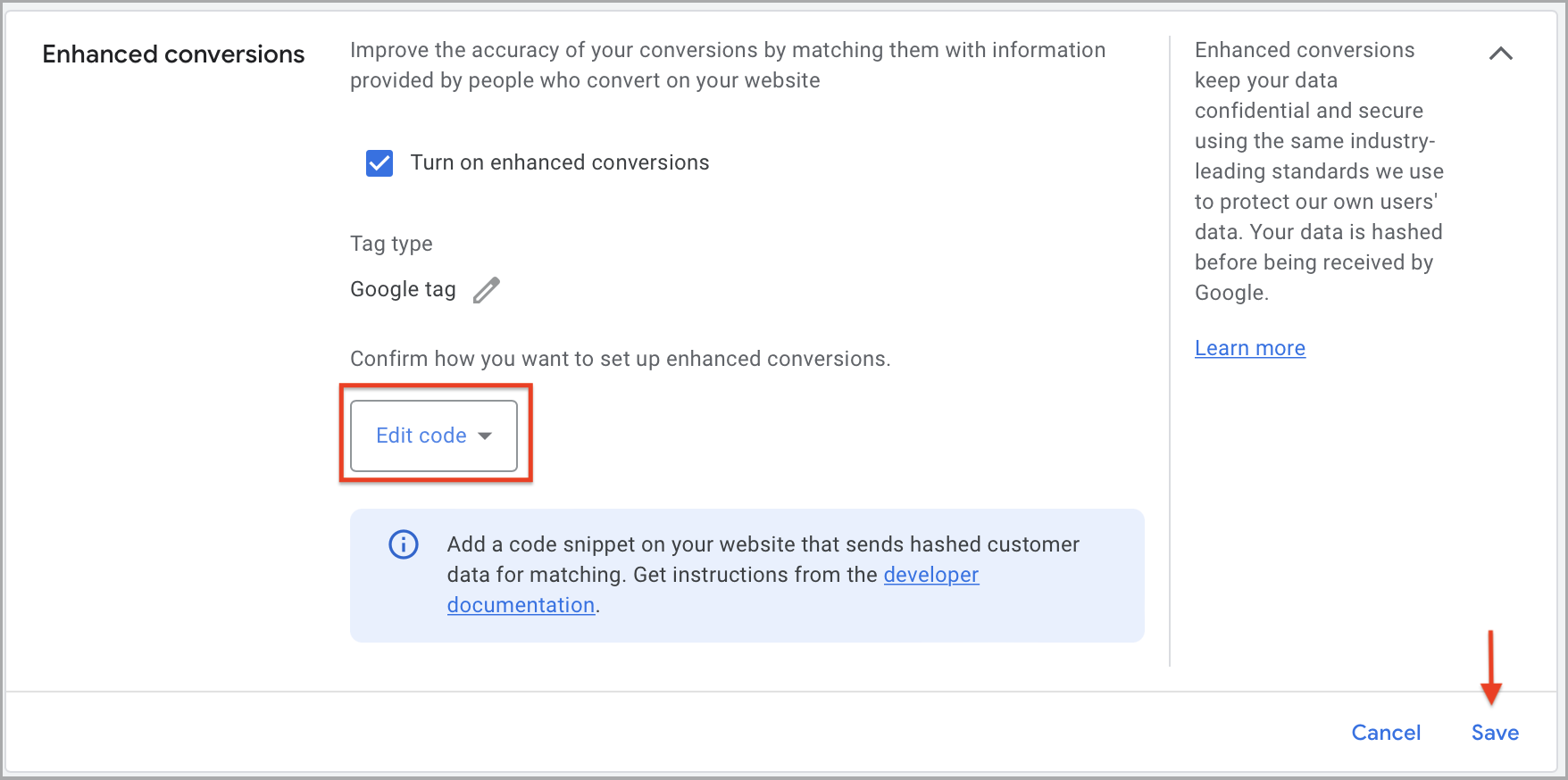 You will find the status "Managed through Google tag. Enhanced conversions is turned on."

You can go to the "Diagnostics" tab to view the conversion status. It could take up to 48 hours to process after receiving data.

ii. Switch on the toggle in the SHOPLINE Admin
Step 1
In SHOPLINE Admin, proceed to [Marketing & Tracker] > [Tracker Settings]. If you have not integrated the conversion tracker, please click Google Ads to complete the integration according to the instruction above.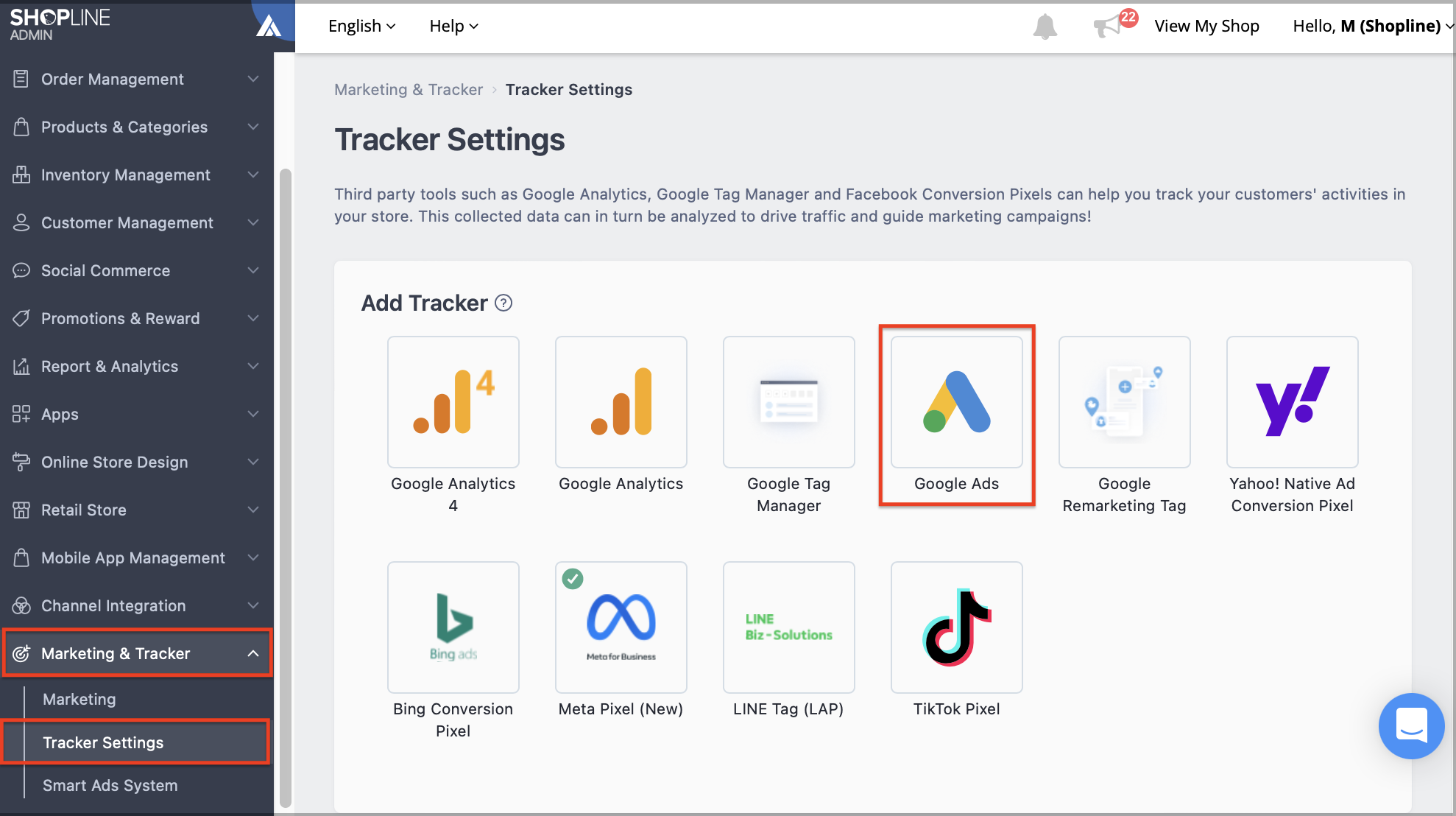 Step 2
If you have completed the conversion tracker integration, please scroll down the page and click Edit next to the "Google Ads" section.


Step 3
Switch on the "Enable Google Conversion Tracking to support "Enhanced Conversions" toggle, and click Save.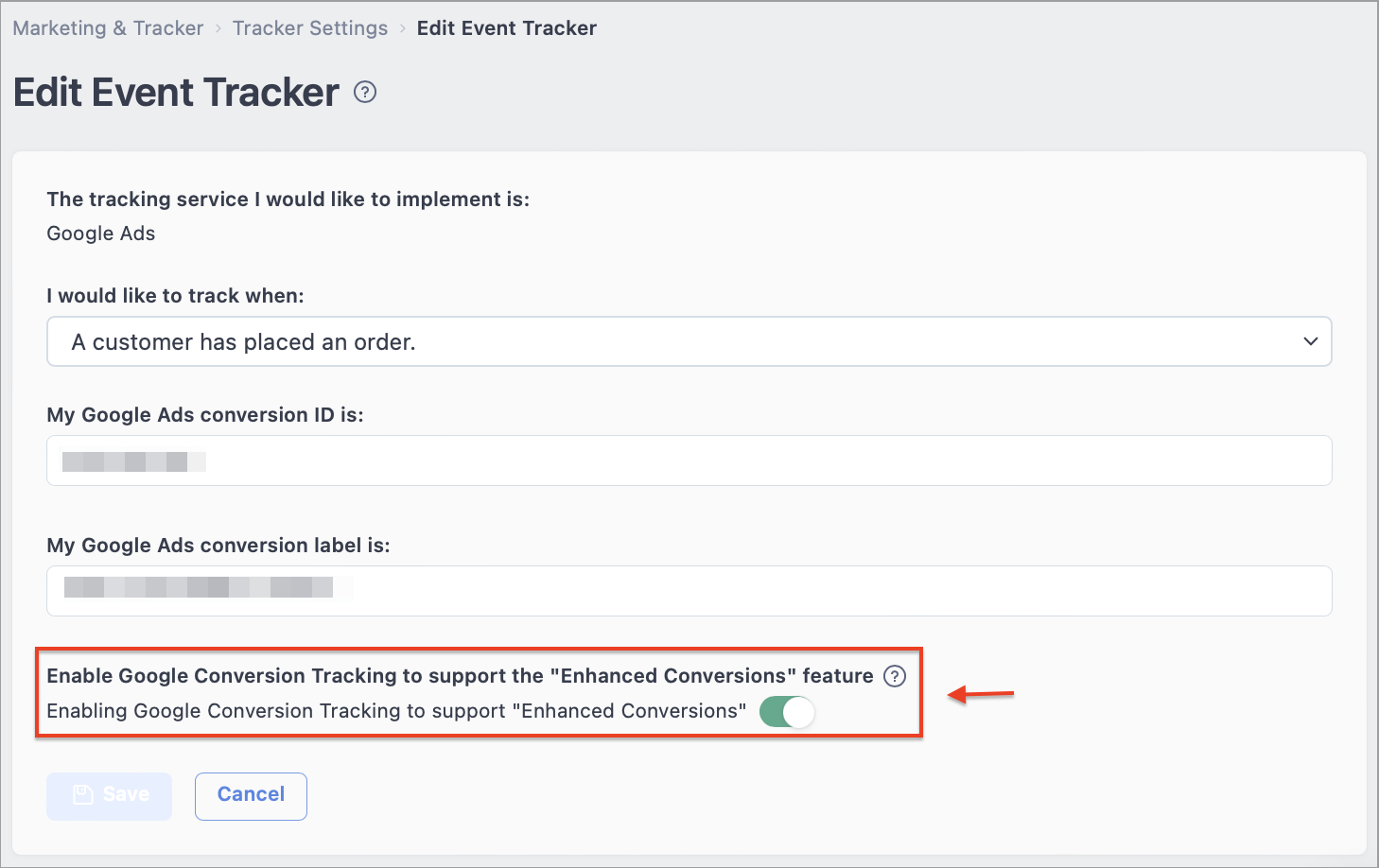 3. Notes
The system will send the data of the following 6 events to Google: A customer has loaded any page in my store; A customer has loaded my store homepage; A customer has added product to cart; A customer has loaded the checkout page; A customer has placed an order, and A customer has signed up as a member.
In case of an event where the customer's email address, name and home address (street address, city, state/province, and postal code), or phone number (must be provided in conjunction with any of the aforementioned information) is not collected, the system will not send the data to Google.
The "A customer has placed an order" event is a bit more special than other events. It is because the checkout information is contributed by the payer and the recipient. If the payer and recipient information differs, two information entries will be sent to Google (max. of 3 sets of phone numbers/ emails and max. of 2 sets of addresses). If more than one information entry is sent, the probability of successful comparison can be increased; hence, the advertising accuracy may be improved.

Please note if you have enabled the cookie consent banner: If the customer does not give consent to be tracked by cookies, the browser will not enable Google Ads, and all events related to Google Ads will not be recorded. Please refer to this article to learn more about the cookies consent banner.