In this article, you'll find the features of Hongkong Post Speedpost:
1. Service features
Speedpost is a smart courier choice for worldwide shipments, which is reliable and convenient and also value for money.
Speedpost has a worldwide delivery network with outstanding shipping efficiency and economical prices to meet different shipping needs. Narrowing your boundaries with customers, family, and friends, making it your ideal choice for express shipments.
Covers more than 210 destinations around the world. Express shipments can be delivered to major cities in the world as soon as the night of the delivery or by the next working day.

More than 1.6 million postal staff worldwide.

No fuel surcharge or extra fee for remote areas.

Charges are based on actual weight.

Documents and parcels are charged for a flat price.

24-hour online or hotline tracking service



2. Application Process
To use Hongkong Post Speedpost, you must first open a SHOPLINE LOGISTICS-OneShip monthly account.
If you have applied for a SHOPLINE Logistics-OneShip monthly account, please contact our Online Merchant Success Team to assist with the application process.
Currently, the logistics services supported by OneShip include SF Express (Hong Kong), Zeek2Door, HAVI Frozen Delivery, Kerry Express (local shipping), Hongkong Post Speedpost, Jumppoint and DHL International Delivery.
SHOPLINE has integrated with the logistics management system OneShip. Merchants can import orders from SHOPLINE stores into the OneShip system to process the shipment.
Application for OneShip postpaid account
Proceed to the link: https://marketing.oneship.io/hk/sign-up and submit your application.
Merchants using a OneShip postpaid account will be charged by SHOPLINE for monthly shipping charges and monthly value-added service fees (if any). You can choose one of the following two payment methods:
Authorized bank account automatic transfer fee (Recommended).
Pay a deposit of $10,000, and the monthly bill can be paid by bank transfer/credit card (3% credit card surcharge).
Authorized bank account automatic transfer fee
If you select "Authorized bank account automatic transfer fee," please download and fill in the attached "Direct Debit Authorization Form" and mail it along with the following documents to SHOPLINE's office address: 21/F., Nam Wo Hong Building, 148 Wing Lok Street, Sheung Wan, Hong Kong (Attn.: MS Team).
Apply as a company: Copy of Business Registration Certificate
Apply as an individual: Copy of the applicant's identity card + copy of bank statement in the applicant's name within the past three months
*Note: The bank account information in the Direct Debit Authorization Form must match the company or individual merchant name selected in the application form.
If the Direct Debit Authorization Form information is incorrect or incomplete, please redo it and mail the form again. You can send the form to SHOPLINE for confirmation before sending the documents. If you have applied for other logistics services and submitted relevant documents before, please contact SHOPLINE for confirmation.
Pay a deposit of $10,000
If you choose to pay the monthly deposit of $10,000 with a bank transfer/ by credit card, please obtain the company's bank account information from SHOPLINE to pay the deposit.
Once we receive your documents, we will assist you with the subsequent application steps as soon as possible.
3. Admin Settings
To activate the Hongkong Post Speedpost, you have to add a new delivery option in Admin.
Proceed to SHOPLINE Admin > [Settings] > [Delivery Options], and click on the Add button.
Select "Custom" for the Delivery Type, and enter the name and description of the delivery option.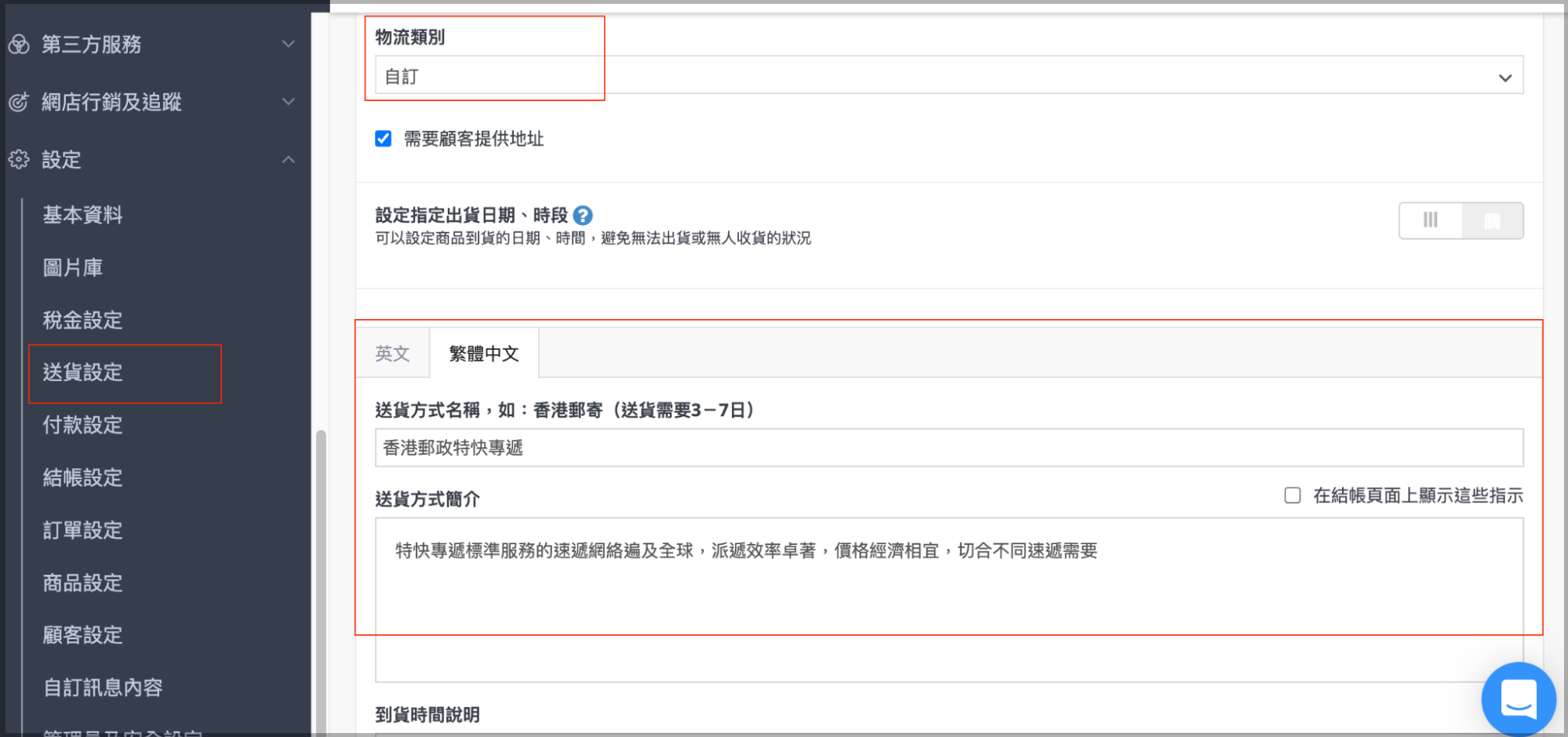 Set up the "Shipping Zone and Delivery Fee" according to your preference.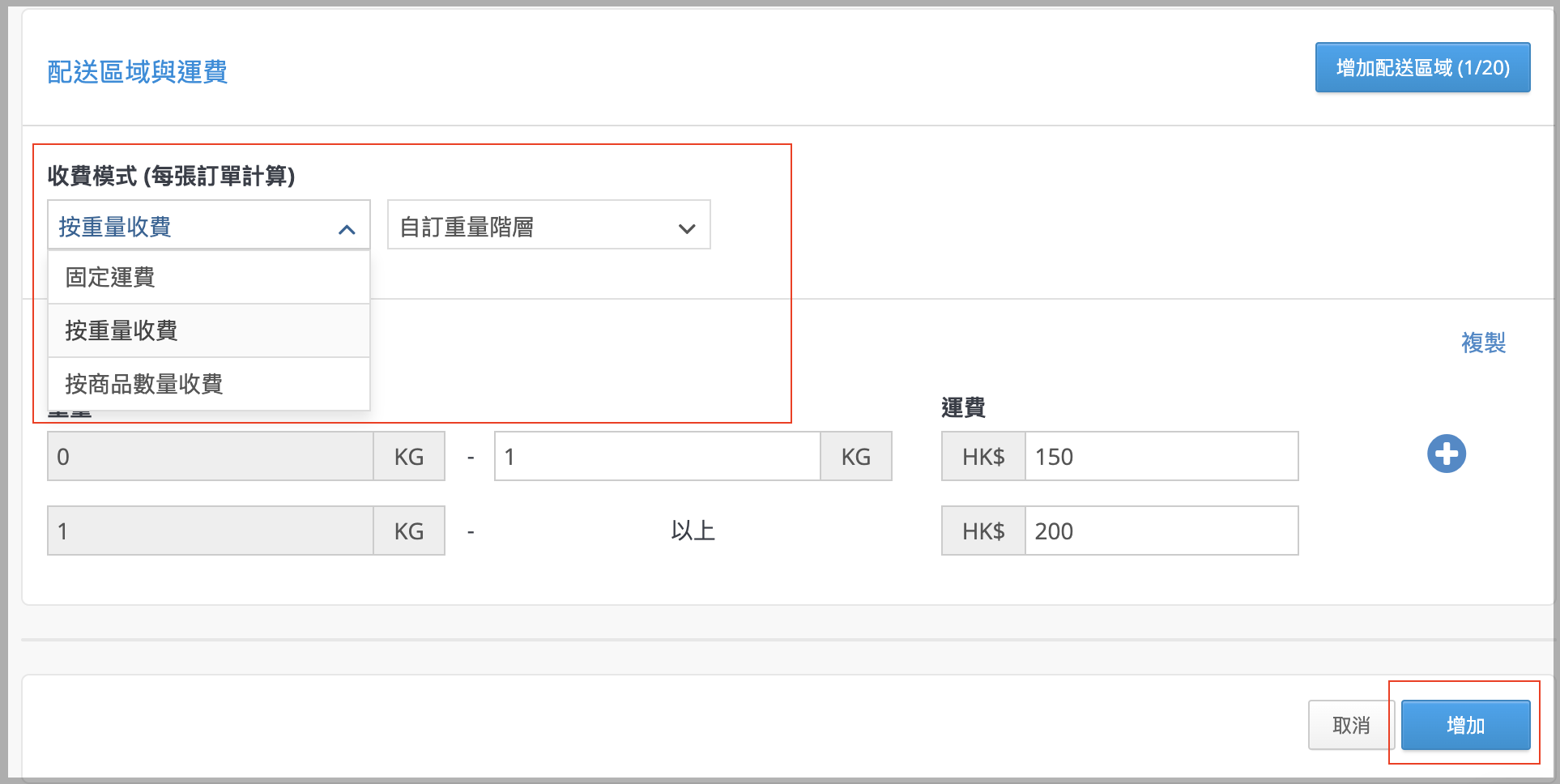 Click Add and the "Apply to all promotion" window will appear. Select whether or not to apply to all promotions, and click OK to complete.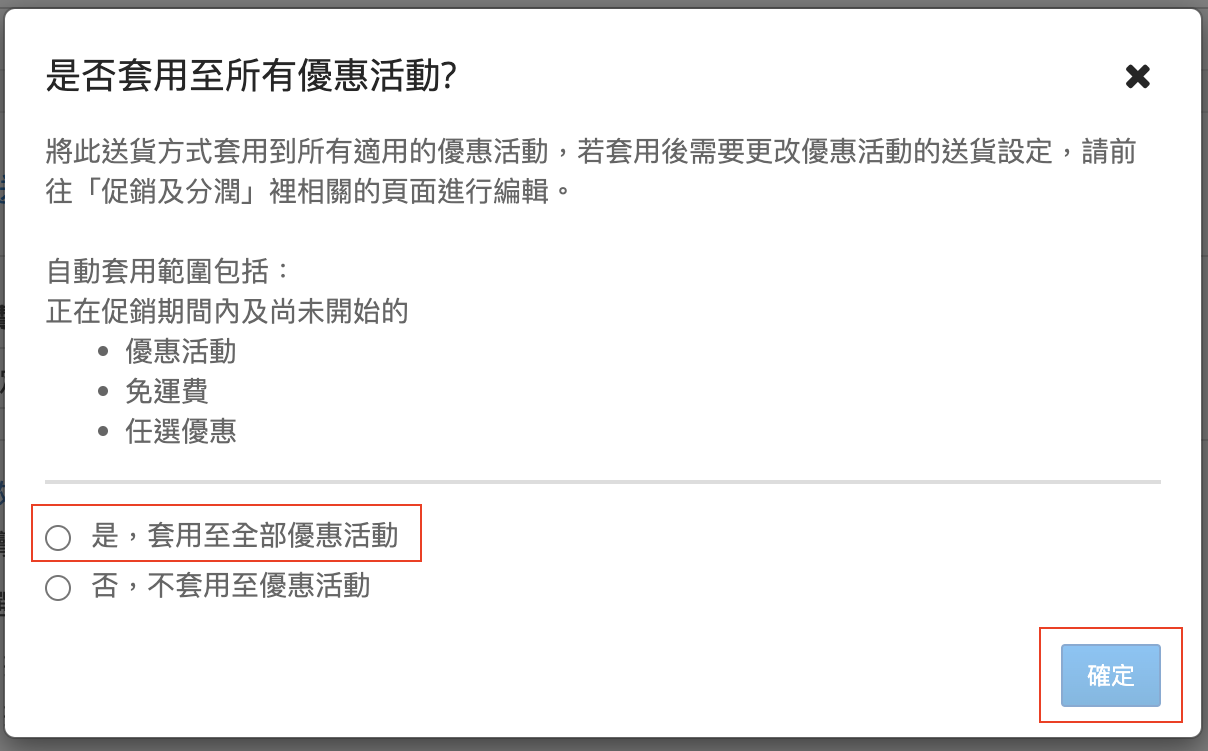 Once completed, customers will be able to select the respective delivery option and shipping destination during checkout.

4. Shipping Process
Step 1. Execute the shipment
Click Create Order, or Bulk Create on the OneShip Dashboard. You can also click the + Create Order button on the top right of the [Shipments] > [Order Management] and select Create Order or Bulk Create.
For more information, please refer to the following:
For SHOPLINE merchants, the order will directly integrate into OneShip's "Order Management" page. Merchants can execute the shipment from here without the need to create a new order.
*Note: Please fill in "SHOPLINE Solution Limited" on the sender name for account identification by the Hongkong Post.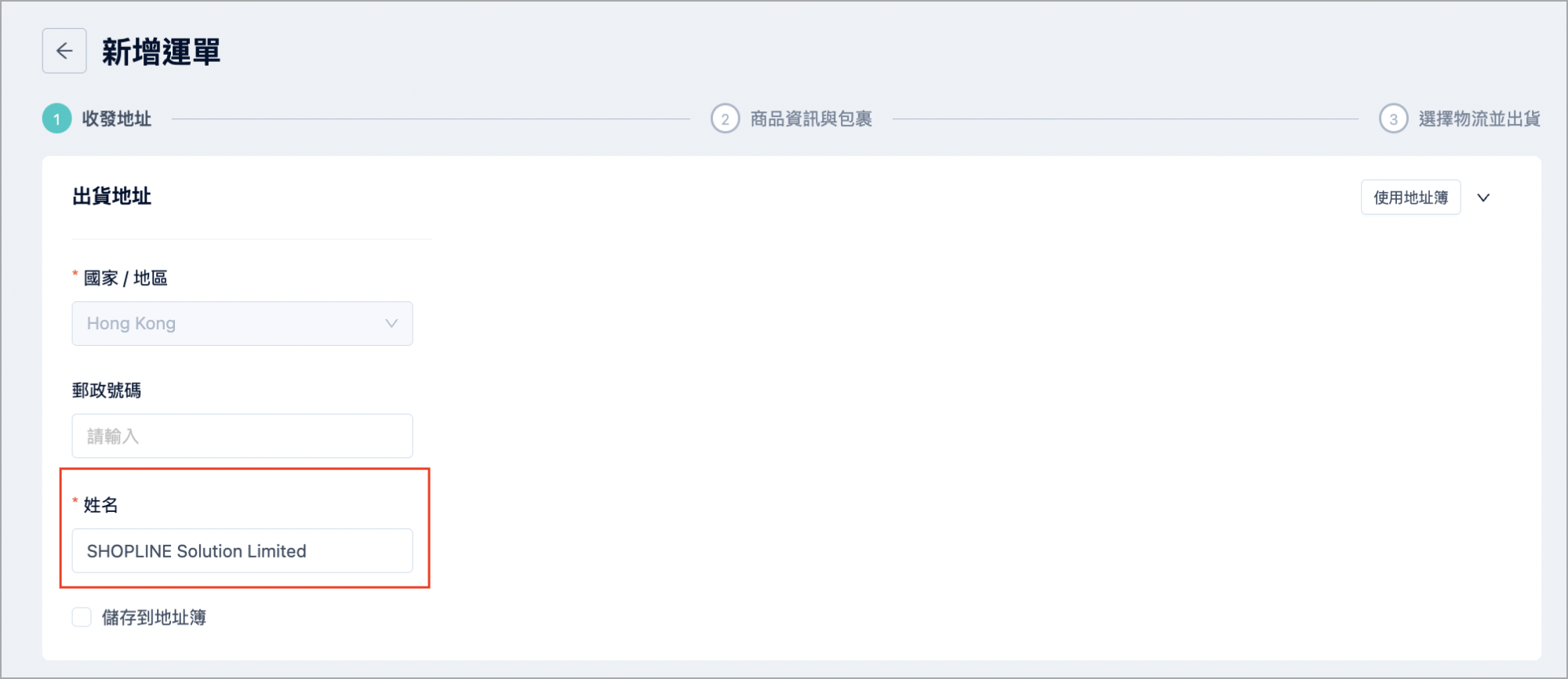 The product name in English, product weight and unit price must be entered for international express packages. You can modify the product name or weight in Step 2.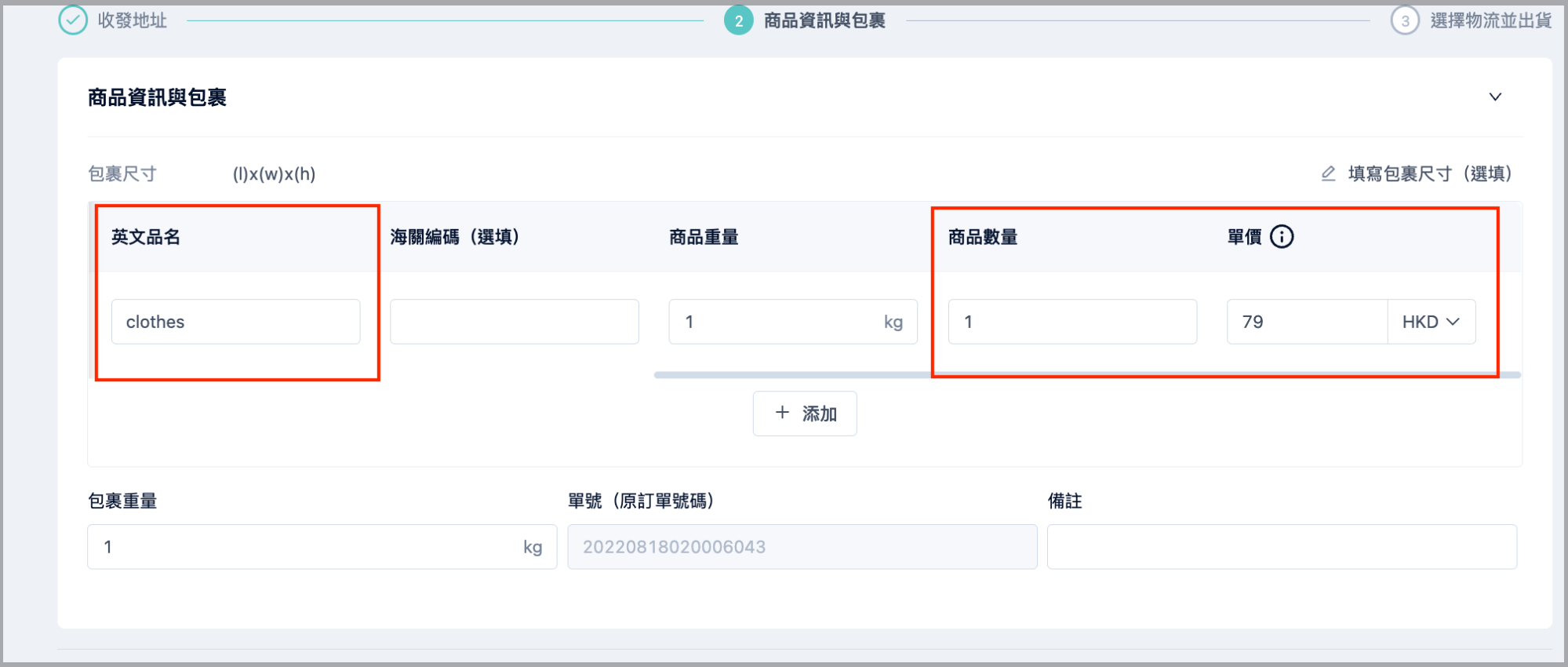 Next, select HKP-SpeedPost for the logistics service provider.

Fill in the additional information (optional), which will be helpful for the customs clearance process.

What is the IOSS number?
Starting from July 1, 2021, all commercial goods imported into the EU will be subject to VAT regardless of the value. If the parcel value is equal to or less than €150, merchants can use Import One-Stop-Shop (IOSS) to collect VAT during checkout.
If merchants do not fill in the IOSS number, the local postal service might inquire further about customs clearance.
There are 27 countries in the EU: Austria, Belgium, Bulgaria, Croatia, Republic of Cyprus, Czech Republic, Denmark, Estonia, Finland, French, Germany, Greece, Hungary, Ireland, Italy, Latvia, Lithuania, Luxembourg, Malta, Netherlands, Poland, Portugal, Romania, Slovakia, Slovenia, Spain, and Sweden.
Step 2. Print shipment label
On the "Order Management" page, check the shipments you want to bulk print, and then click Print labels in bulk.
For more information, please refer to the following:
The default samples of the shipment label are as follows:
For international shipping, in addition to the certificate of posting, the system will generate a customs declaration form, a post office copy, a recipient's copy, and a delivery receipt. Please be sure to print all the forms to avoid problems with customs clearance.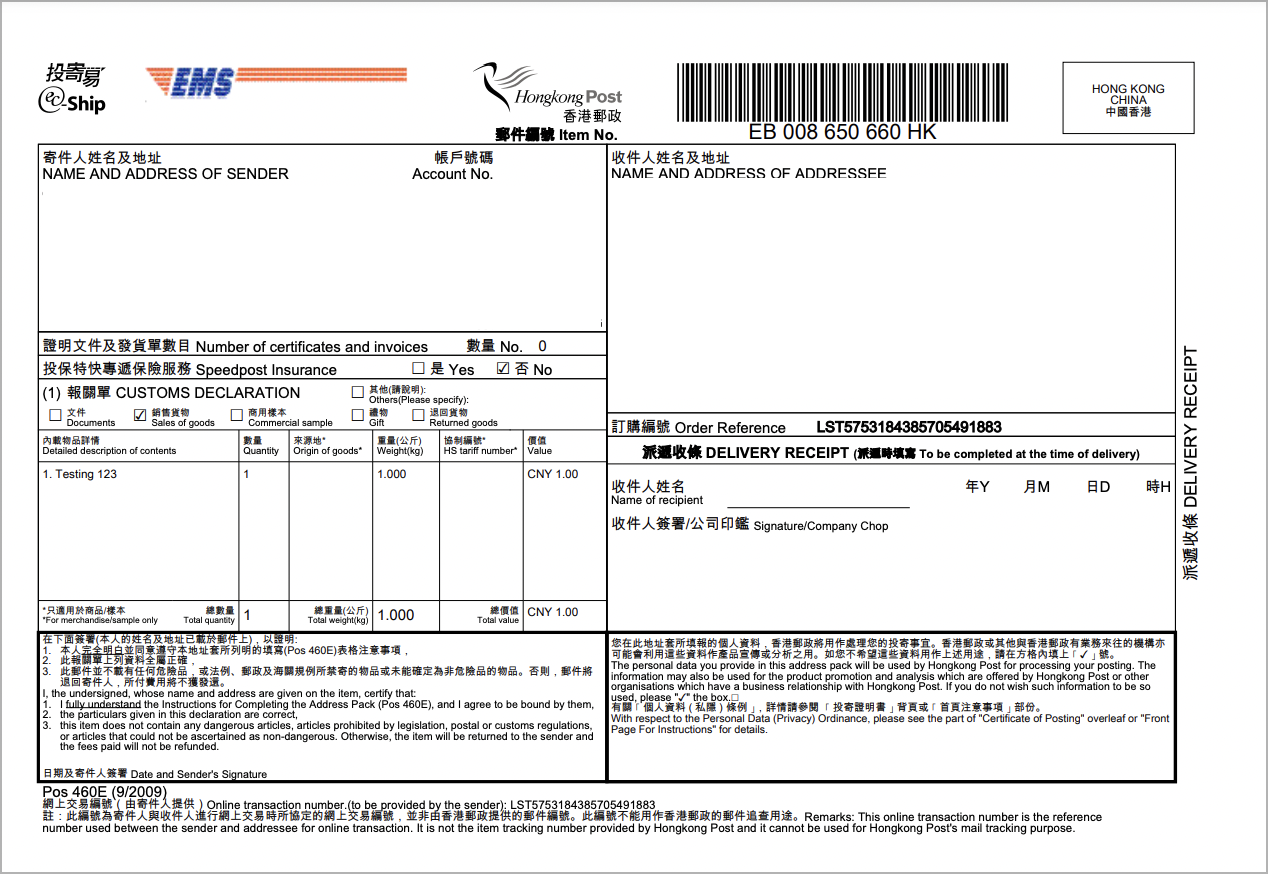 Step 3. Book a shipment
Self-delivery: After creating a shipment through the OneShip system, please print the shipment label and attach it to the well-packaged parcels, and drop them off at various drop-off locations.
For the drop-off address, please refer to the Speedpost drop-off location.
*Note: After the delivery, Hongkong Post will print out a receipt that will include the shipment numbers and quantity. Please keep the receipt for future use if any problem occurs.
5. Monthly Freight
OneShip will charge the monthly shipping fee based on the actual shipping amount. The shipping fee will be subject to Hongkong Post.
6. Notes
Affected Postal Service Area
Hongkong Post may suspend service or impose weight restrictions for the delivery to some countries due to shipping shortages and different factors in each country. You are recommended to check the latest postal news regularly.
For more information, please refer to Types of services currently available to overseas destinations.
Price and Delivery Standard
For Speedpost's price list, please refer to this link.
*These rates are for reference only. The final rate will be subject to the official website of Hongkong Post.
Speedpost offers a wide range of services. To calculate the postage rate and check for delivery standard, you can fill in the required information at Postage Calculator and Delivery Standard, and click Submit.
Please note that the postage rate is calculated based on the weight of each parcel.
Shipment Tracking
Hongkong Post Speedpost provides a shipment tracking function. You can check up to 30 item numbers at a time here.
Or contact Hongkong Post Customer Service Hotline: 2921 2211 or 2921 2560 for delivery details.
Please note: You have to monitor the shipment status of your international parcels. In case there is any customs clearance problem, please contact Hongkong Post to handle it.
Shipping Information
According to the usual practice of postal administrations in each country, the delivery staff will not contact the recipient before delivering the mail and will only provide delivery to the recipient's address once.
If there is no one at the recipient's address, the delivery staff will leave a notification letter notifying recipients to retrieve the parcel at the designated post office.
Prohibited Products and Customs Regulations
Hongkong Speedpost covers over 210 destinations. Since prohibited products and customs regulations vary by country, please ensure that the weight and volume of your shipment do not exceed the maximum limit set by the destination and do not contain any prohibited or restricted items to ensure successful delivery.
List of commonly prohibited products by Hongkong Speedpost: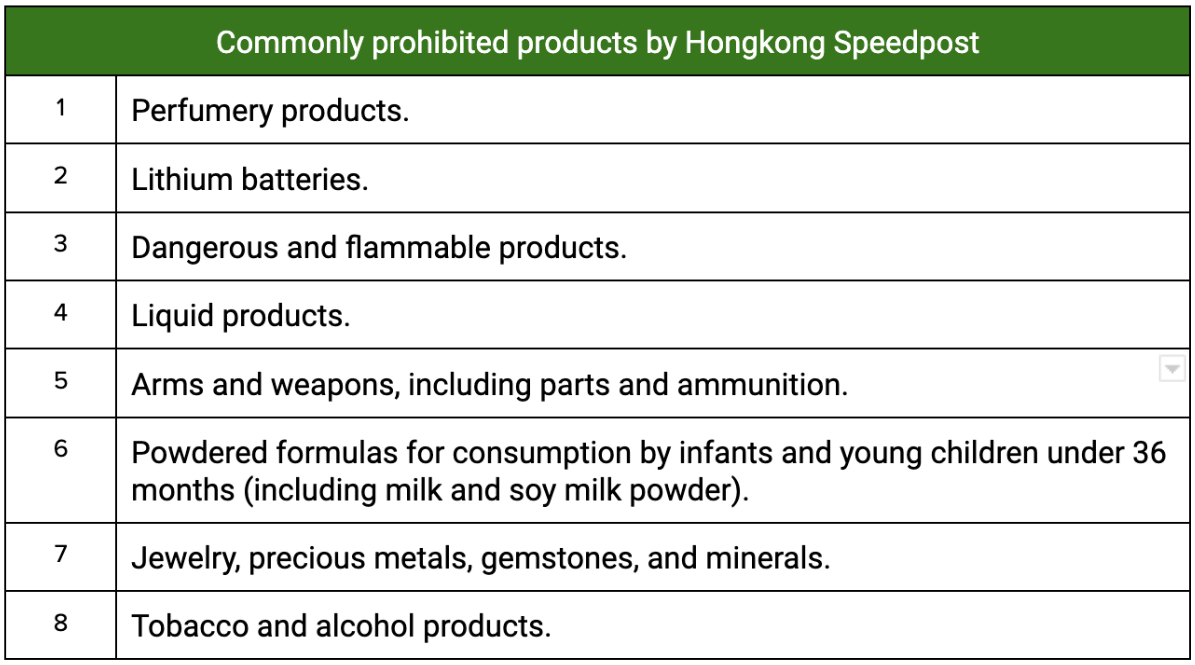 *Hongkong Post will notify you to retrieve the package at the initial shipping store if the parcel contains undeliverable or prohibited products that cannot pass airport security. Please present the delivery receipt and identification card for retrieval.
Customs regulations and required documents by countries: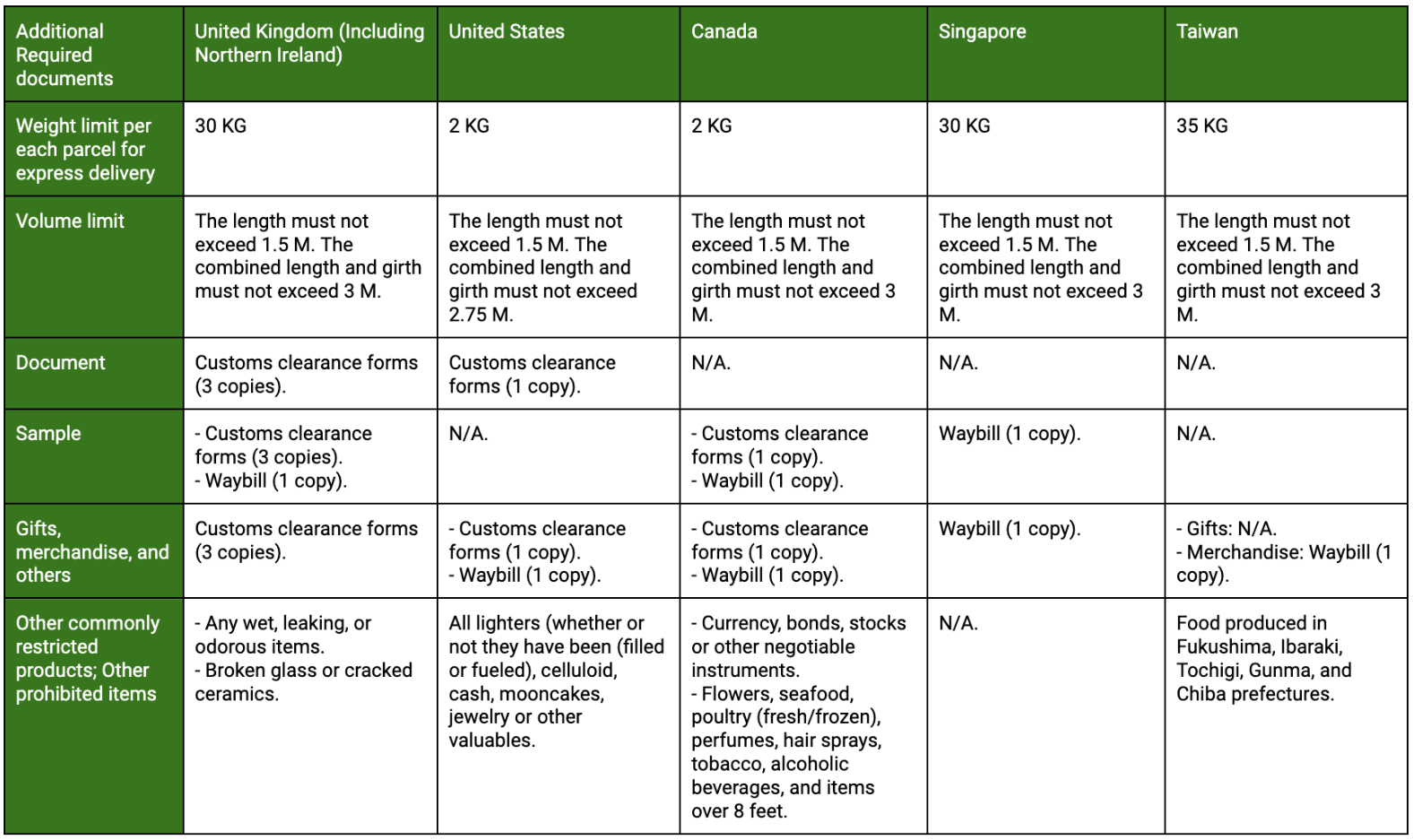 Waybill Requirements:
The delivery form should be printed in English with company letterhead (except for personal items) and should include the following information:
*Handwritten waybill will be considered invalid.
Express delivery number. For example, EE123 456 789HK (corresponds to the barcode on the EMS form).

The delivery date of the express delivery.

Full name, address, and phone number of the sender/company.

Full name, address, and phone number of the recipient/company.

Name of the city and country of destination.

Accurate description of the true value and quantity of each item. For example, "1 electric toy car (2 AA batteries separated), 3 men's cotton shirts," etc.

Sender's signature and company seal in blue ink (not applicable to personal items).

Shipping terms (e.g. CFR, FOB) (if applicable).
Sample of customs declaration form:
The system has pre-printed customs declaration forms at the time of shipment, you just need to print the appropriate quantity.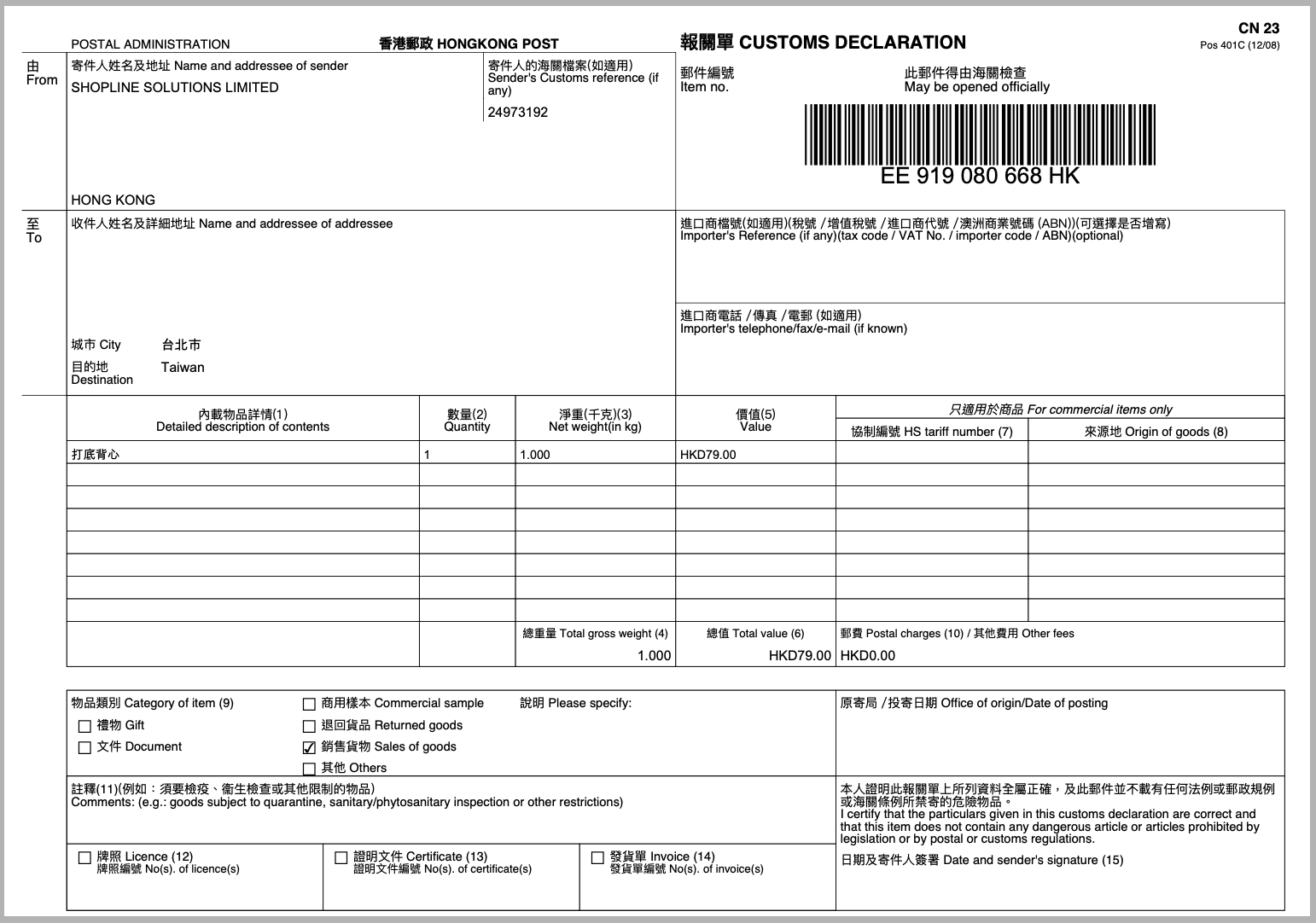 For the prohibited items and customs requirements in different countries, please refer to the following links:
Claim Channel
Speedpost will provide special compensation for loss, damage, or delay in delivery under some circumstances as follows:
If you can prove to Hongkong Post that you have suffered a direct loss due to the loss, damage, or delay in delivery for seven working days or more (based on the working day of destination), you will be entitled to compensation of up to $1,500.
The maximum amount of compensation will not exceed the declared value of the item or the value shown on the relevant purchase invoice/ bill and/or transaction record (do not exceed the replacement cost for documents) and will be compensated based on the lowest value.
Indirect losses or loss of profits will not be considered for compensation. If no currency is specified in the waybill, the value reported will be in Hong Kong dollars. Please refer to Section 5.6 of the Postal Guidelines for compensation requirements.
Hongkong Post Customer Service Hotline: 2921 2211 or 2921 2560.
*Inquiries for Speedpost shipments should be submitted within three months of delivery.
The inquiry response time and the necessary documentation will be subject to the destination postal authority.
Circumstances under which no compensation will be paid
There will be no compensation or refund for the following conditions:
Delayed, returned, or forfeited shipments due to customs clearance (customs clearance time is measured in full days). The local customs office will only contact the recipient about the progress of customs clearance.

Delayed or damaged packages due to improper packaging.

Shipments to any of the following destinations:

Armenia, Belarus, Crimea, Cuba, Iran, Kyrgyzstan, Libya, Macedonia, Moldova, Mongolia, Myanmar, North Korea, Russia, Syria, Turkmenistan, Ukraine, Uzbekistan, Venezuela, and countries under U.S. or U.N. sanctions.

Delayed or undeliverable delivery due to incorrect or incomplete address.

The sender fills in incorrect information (e.g., only fill in the sample or merchandise without detailed information), or the sender makes a false/ inaccurate declaration, which causes the delivery agent to fail to declare the package, and the package is confiscated or seized by customs.

Parcels are returned or confiscated by customs due to the sender's failure to provide the required documents by the import/export regulations of the destination country at the time of delivery.

Delay in delivery due to epidemic; loss or delay in delivery due to disaster, political risk, civil commotion, nuclear explosion, or war.

Parcels containing prohibited items as specified in section 2 and section 4 of the Speedpost Delivery Guidelines.

Delay in delivery or failure to complete additional service for delivery that requires additional service after delivery, such as from the change of recipient's name or address, or undelivered return.
7. Useful Links