Merchants that receive customer requests from offline and third-party channels, by phone or Zalo for example, can now create an order manually using the Manual Order feature in SHOPLINE's Social Commerce sidebar.
With this feature, you can send out order confirmation links for payment and check out via WhatsApp or email. Alternatively, merchants can copy and paste the order confirmation link to send it using the channel of their choice.

The Social Commerce sidebar is also home to all of SHOPLINE's other tools for livestream selling, including Message Center, SHOPLINE LIVE and ChatBot Store. For more information on how Social Commerce can help your store, click here.
This article will cover the following:
Before you begin
You will not be able to create a manual order if:
1. The customer's address is not served by the selected delivery option.
For more information on what delivery options are available for which countries/regions, please refer to this chart.
2. The selected product is sold out.
3. The required content is not filled in completely.
4. The discount amount for the selected product(s) exceeds the total price of the product.
5. You are using an iOS device and you are not WhatsApp friends with your customer.
If you want to send an order confirmation link via a WhatsApp message and you are using an iOS device, you must first add the customer as a WhatsApp contact in order to successfully create a manual order.
How to create a manual order
In SHOPLINE Admin, go to [Social Commerce] > [Manual Order].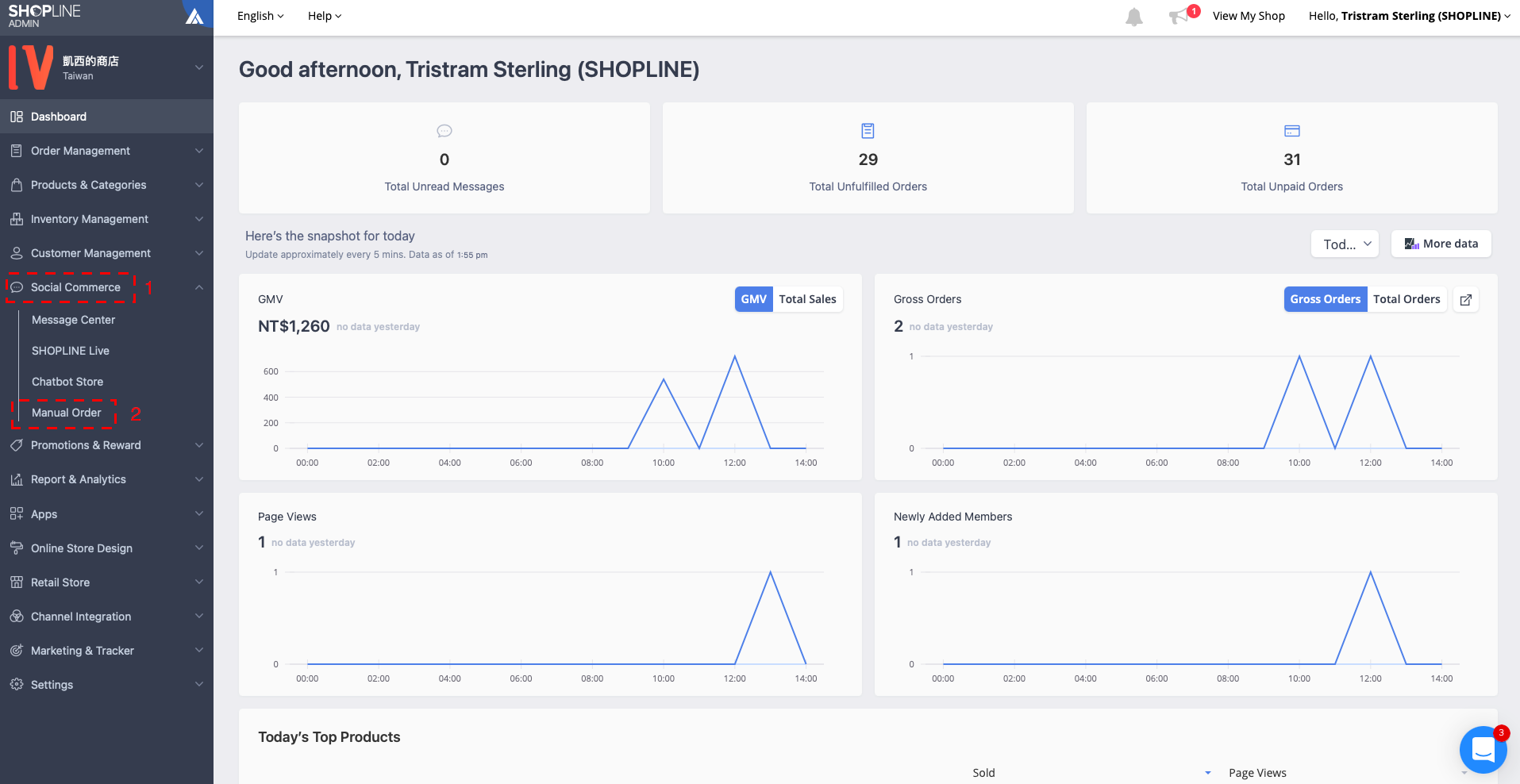 1. Enter the customer's information
For new customers, enter the customer's phone number, name and email address. For existing customers, you can search for them by phone number and find them in the dropdown menu.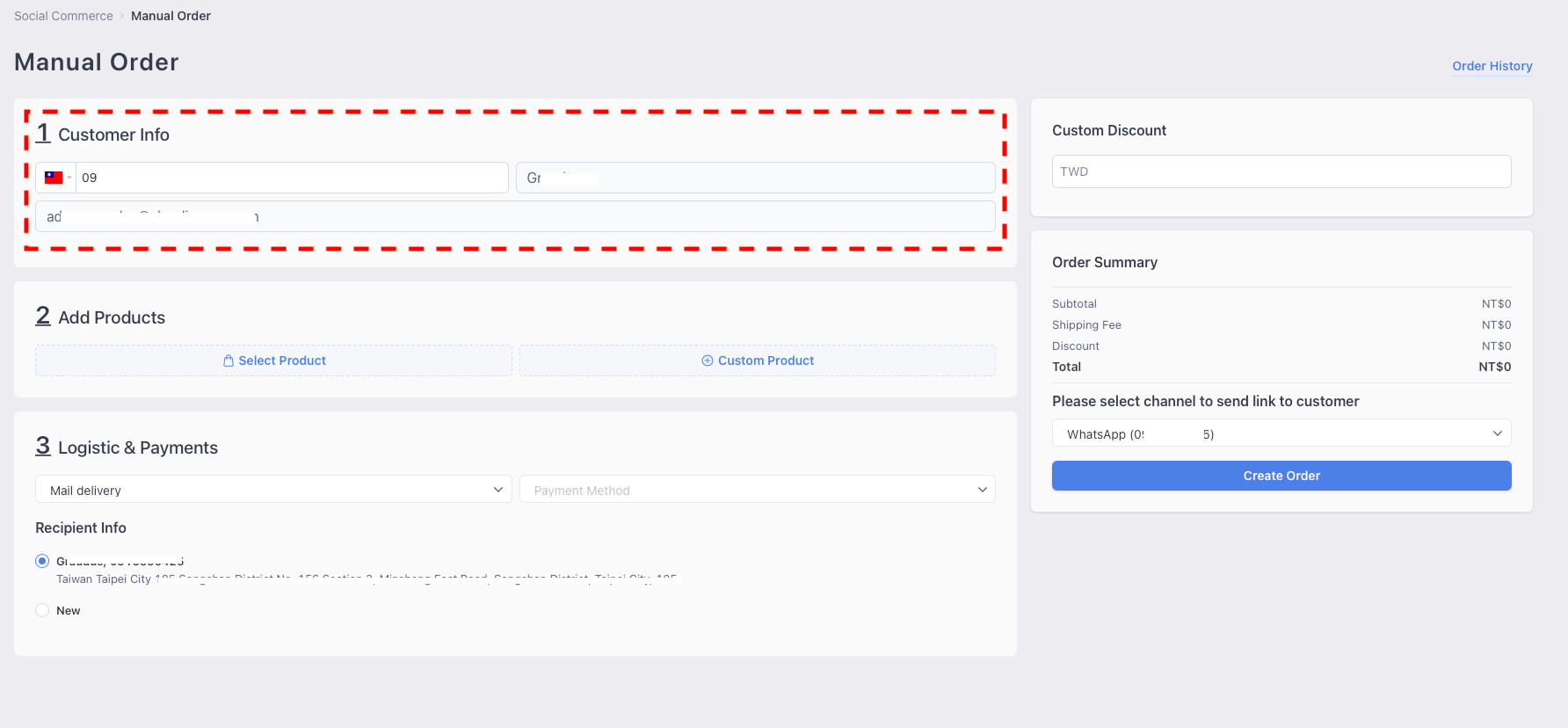 2. Add products to cart
Choose the products that are being purchased. If it is an existing product that is being purchased, click on [Select Product] on the left-hand side of the Add Products window and search for the product by product name or SKU.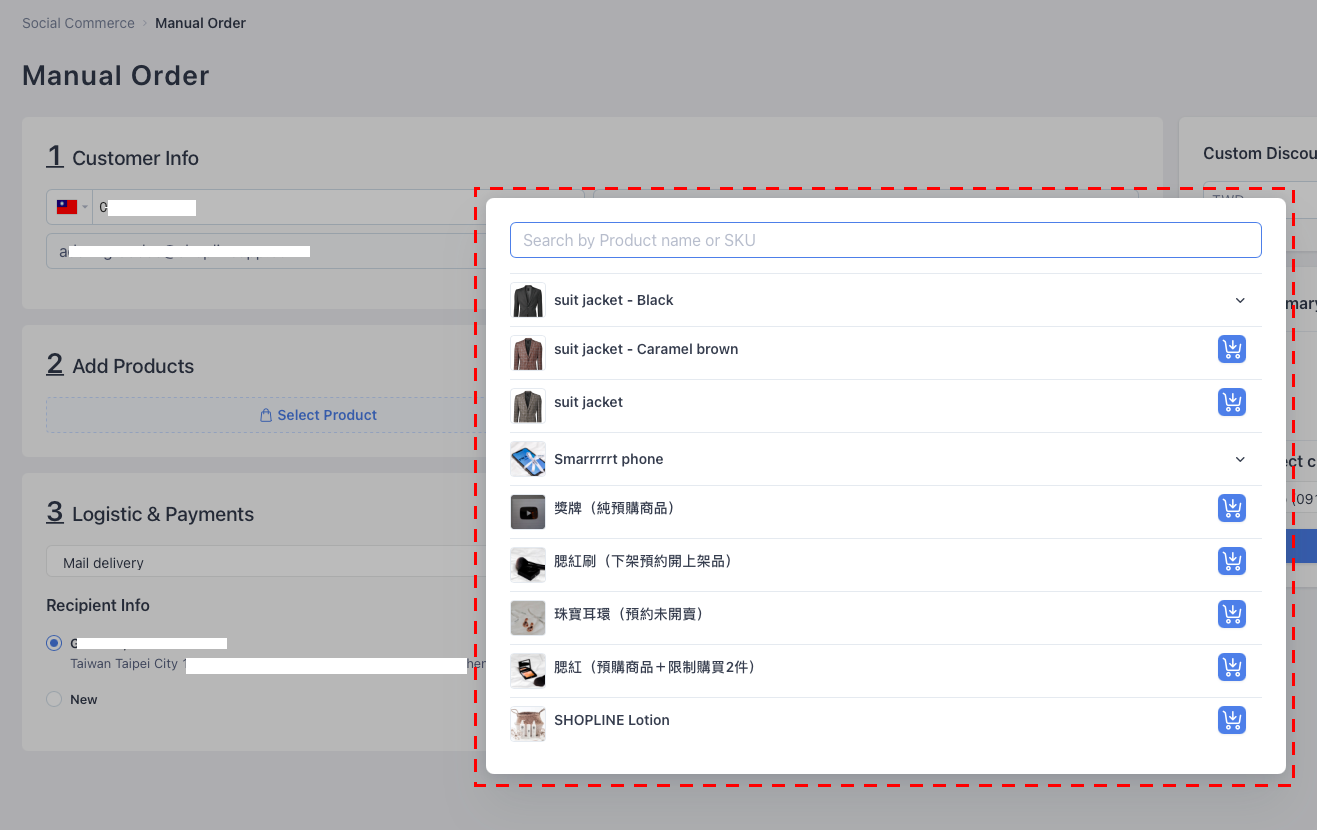 It is also possible to create a custom product. To do this, first click [Custom Product]. Enter the custom product's name (mandatory), unit price and number of units (optional) then press [Add to cart].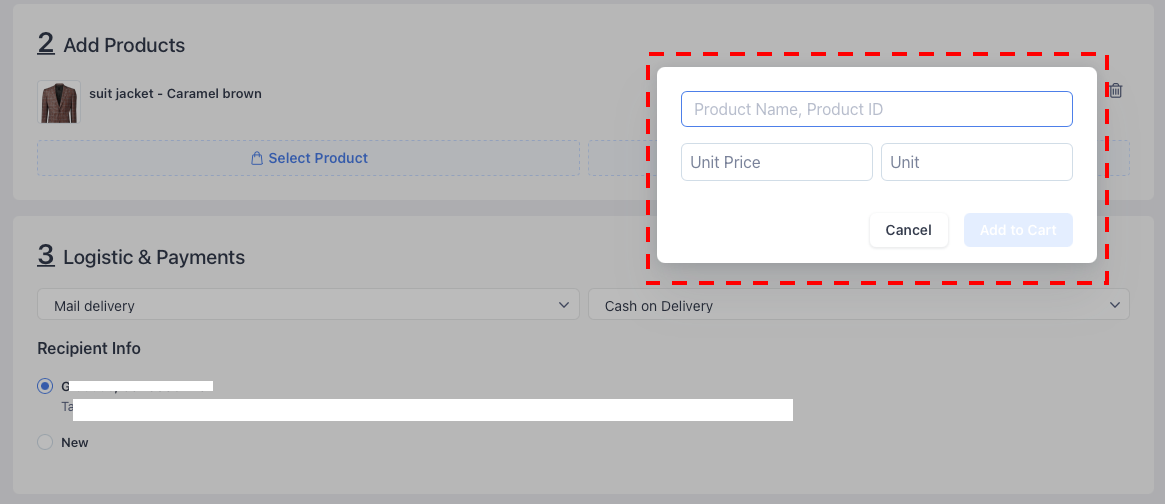 3. Enter delivery and payment details
Select a payment option from the dropdown menu. In the [Recipient Info] field, either choose an address which a customer has previously registered with or select [New] to enter a new delivery address.

4. Logistics options by country/region
Please see the chart below for the payment and delivery options available for your region:
If you are using [Bank Transfer] as the payment option, select [Show] underneath [Bank Transfer Information] and enter the information needed to complete the transfer (e.g. bank name, recipient name, account number etc.).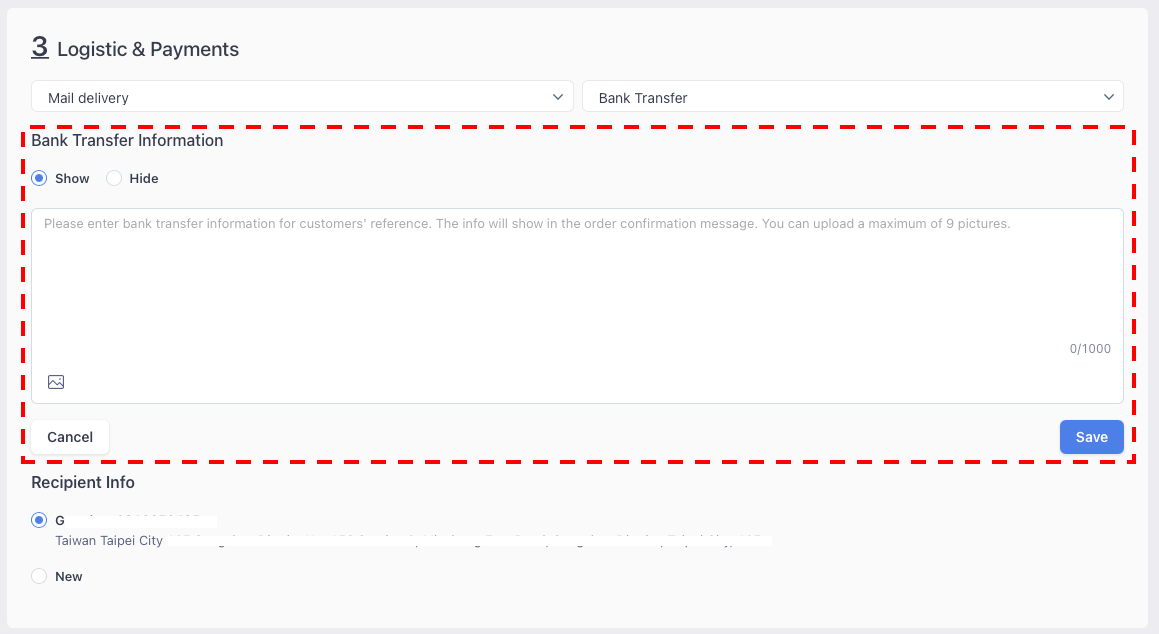 After checking that the order details are correct, input any custom discount amount, also support to rename the custom discount.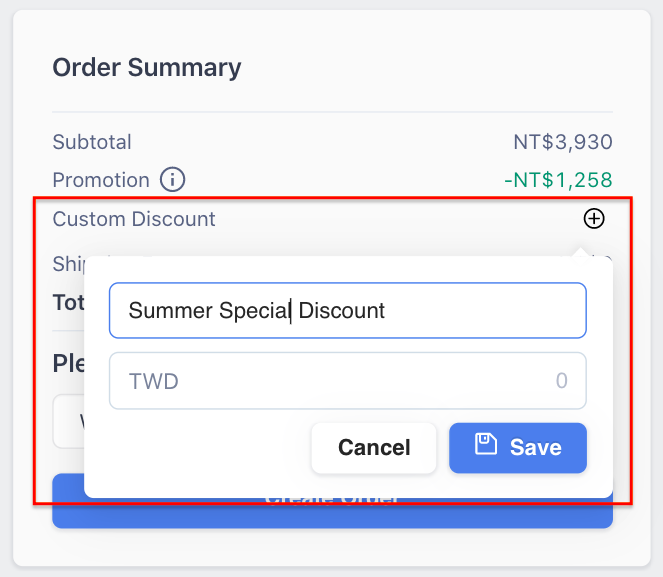 5. Select channel to send link to
Select a channel from the [Please select channel to send link to the customer] dropdown menu.
If you want to send a confirmation link, you can choose to send one via WhatsApp or email. Alternatively, if you want to send the order confirmation link by a different channel by copying the link, select [None].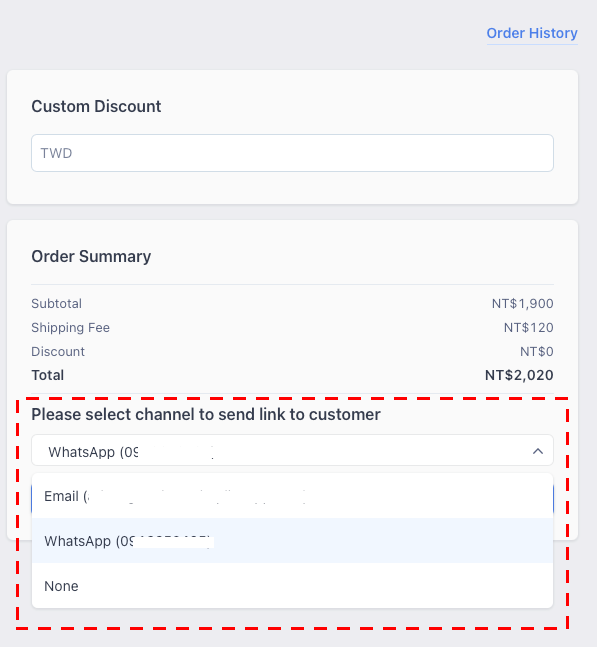 After checking all the details are correct, click [Create Order].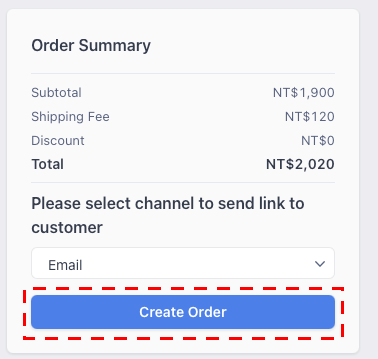 If you have chosen to send a confirmation link using WhatApp, a window will open in a new tab with the message sent to your customer, along with a link to open a chat window in WhatsApp.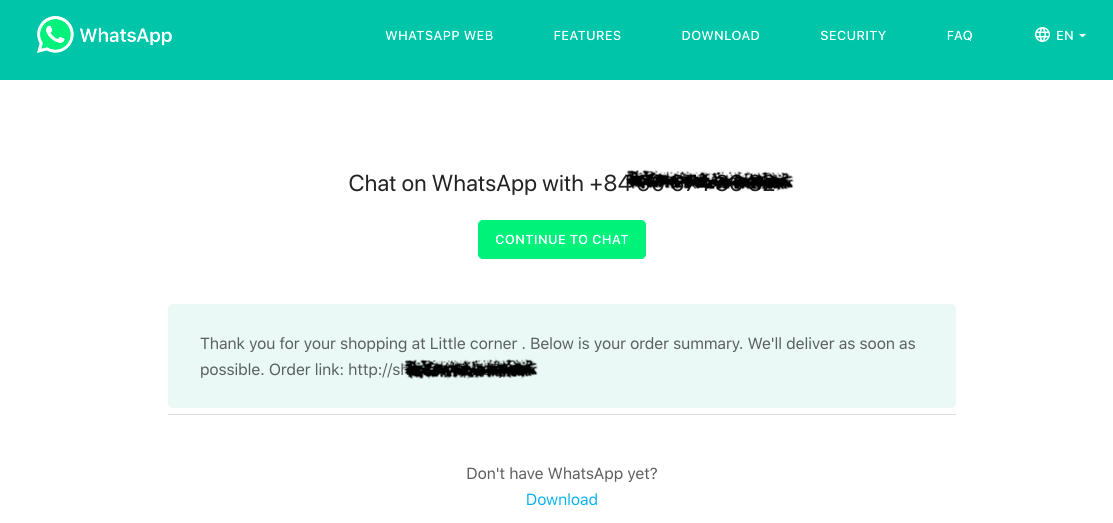 Once you have successfully created an order a confirmation window will appear as below. From here you can copy a link to the order confirmation. This can be used if you need to send a notification to your customer using another channel.
To view details of previously created manual orders as well as access a link to the order confirmation, in SHOPLINE Admin go to [Social Commerce] > [Manual Order] and then click on [Order History] in the top right-hand side.

In Order History you can search for an order by date. If you need to copy an order confirmation link in order to resend it to a customer, click on [Copy order link] next to the order.

Order tracking
If you have sent the order confirmation via email and have chosen [Cash on delivery] as the payment option] the customer will receive a message as below.
1. Viewing order details
Customers can view details of their order, including tracking an order's status, by clicking on the [View Order Details] button contained within the email.

2. Viewing order status
Clicking on [View Order Details] will bring the customer to the order confirmation page. In addition to order details and recipient and payment information, customers can also see the current status of their order at the top of the page.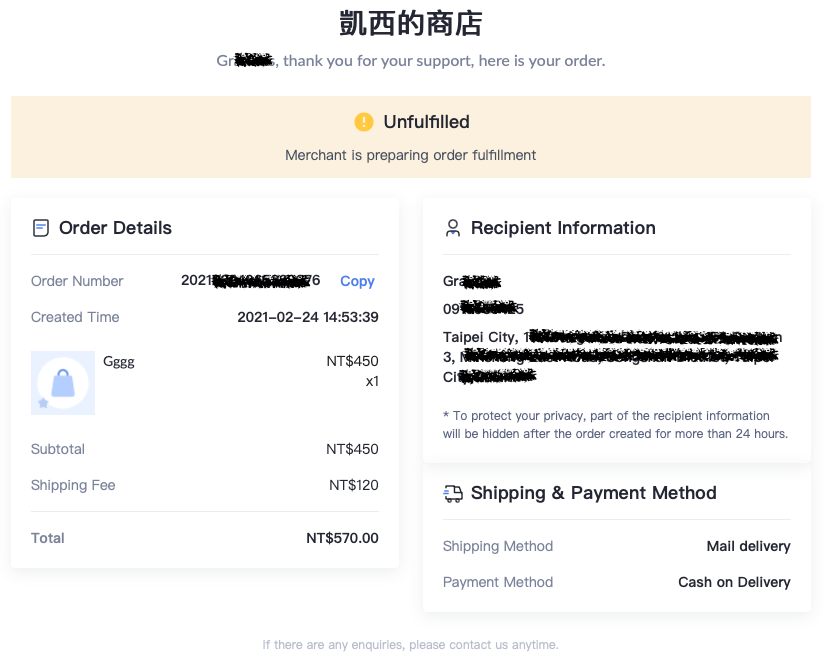 How to upload proof of payment for bank transfers
Customers paying by bank transfer will need to upload proof of payment in order to complete their purchase. Customers using COD as their payment option do not need to so.
1. Open the checkout page using the order link provided, then click on [Upload Payment Proof] and upload a file showing that the bank transfer has been completed.
2. The check out page will now show [Pending confirmation from shop owner].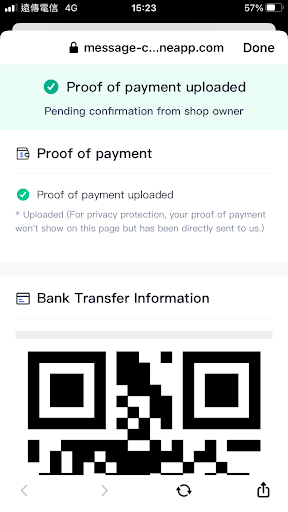 3. Once the proof of payment has been confirmed by the merchant, the status bar at the top of the window will change to the current status of the order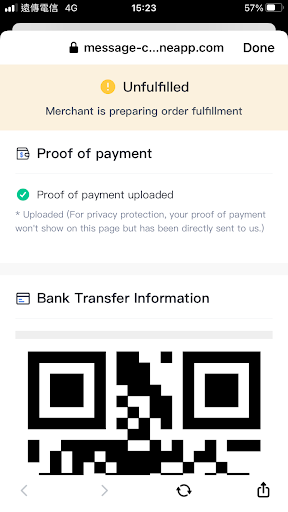 Read More