To allow merchants to set up a diverse range of shipping options that offer greater flexibility, SHOPLINE provides the ability to set dynamic shipping rates. With this merchants can quickly and easily set different rates for different countries and regions.
*Please note:
1. As different countries and regions use different plans, the features available in a given plan depend on the country or region a merchant is based in.
2. The Dynamic Shipping Rate is currently only available to merchants with an e-Commerce plan. It is not currently available for Social Commerce plan merchants.
This article will show you how to add delivery options and set up shipping rates:
1. How to add a new shipping/delivery option
Step 1 : [Settings] > [Delivery Options] > [Add]
To find out more about applying for integrated logistics options, please contact our Online Merchant Success Team.

Step 2 : Select shipping/delivery type
Pickup:

For HK merchants, orders can be picked up via S.F. Express or HOP! service
For TW merchants, orders can be picked up via 7-11 and Ezship

Custom: Delivery address field is optional
Step 3:

Edit shipping/delivery name and description

Fill in the name and description of the shipping/delivery method. It is recommended that merchants specify the area and shipping cost per delivery method, and check the box [Display these instructions on the checkout page] for clarity.

Note: Each shipping/delivery method should have a set of detailed instructions specific to that method.
2. Add delivery/shipping rates
SHOPLINE now offers the ability to set different weight-based or flat-rate shipping fees for customers in different countries/regions.
Flat Price
a. Choose [Flat Price] from the [Delivery Fee Type (per order)] dropdown menu, then select the countries/regions you want the shipping/delivery fee rate to apply to.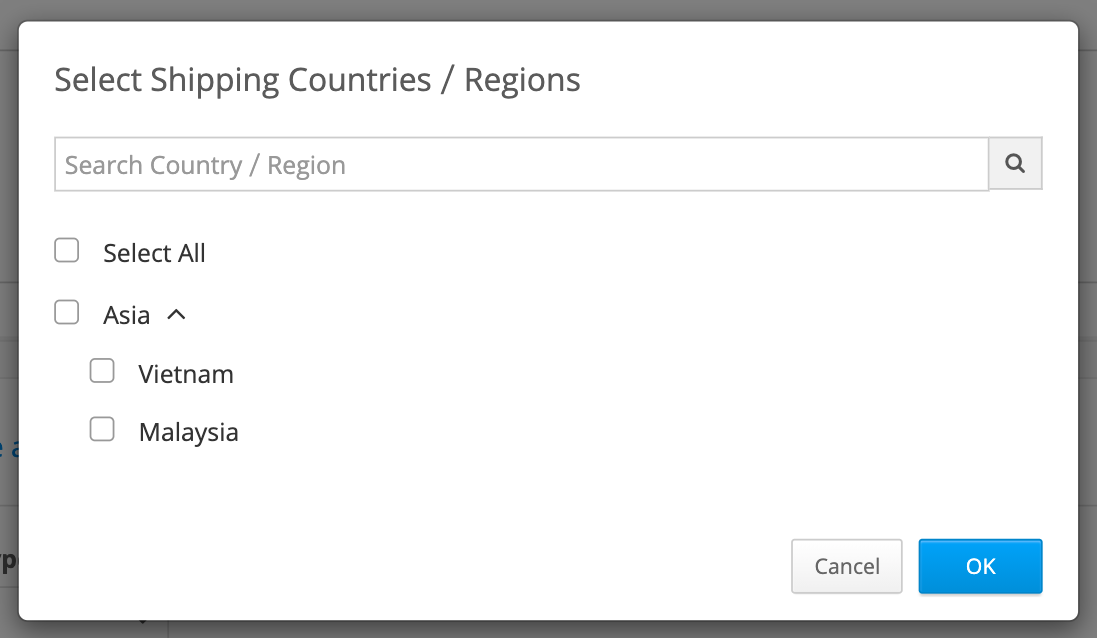 b. Click [Edit Serviceable Area] to select the areas the sub-areas you want the shipping/delivery rate to apply to.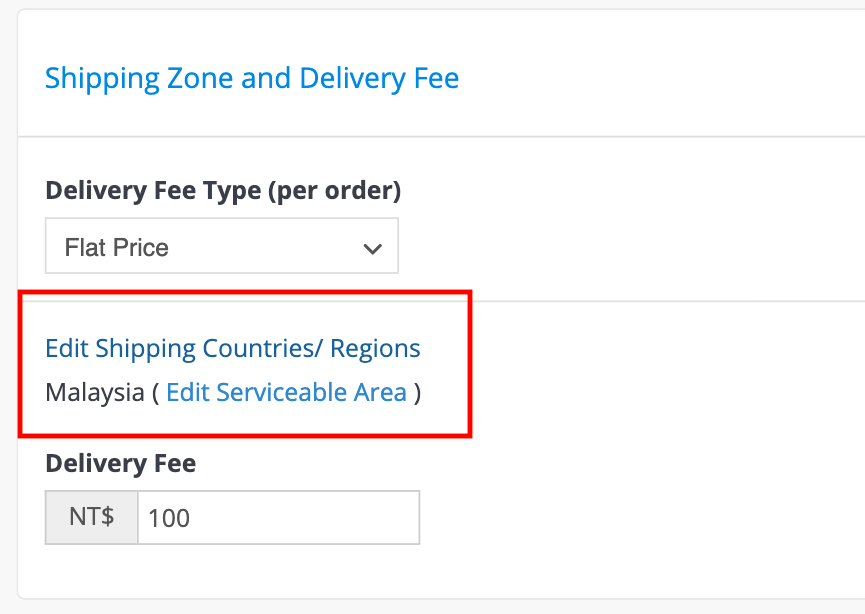 c. Select serviceable sub-areas of the countries/regions you have chosen.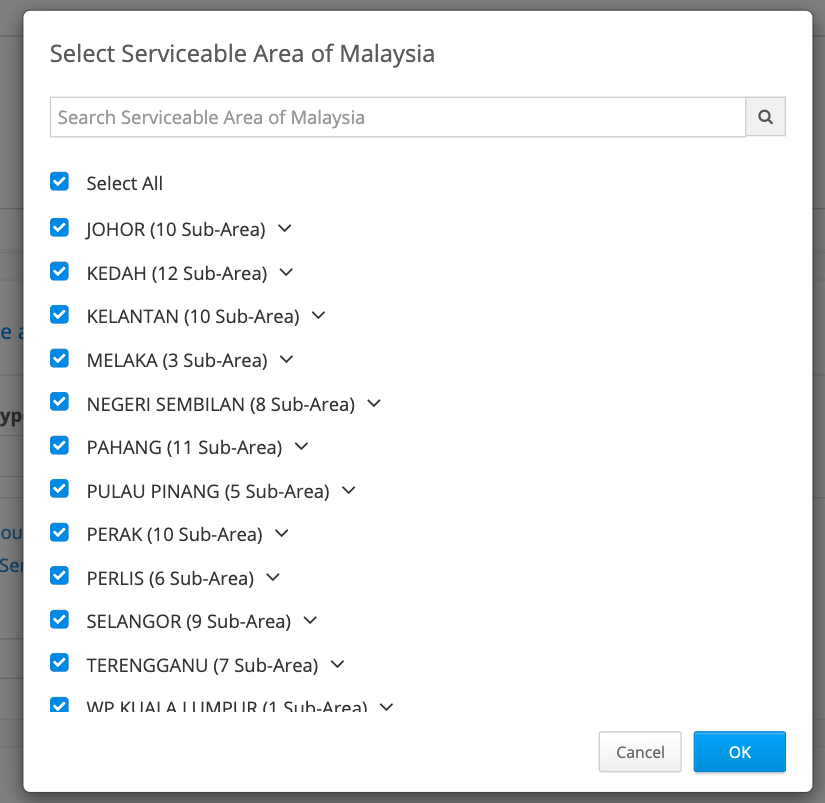 d. After selecting, check and confirm the areas you have selected.
Note: If you add more sub-areas at a later time, the areas you have already selected will be grayed out.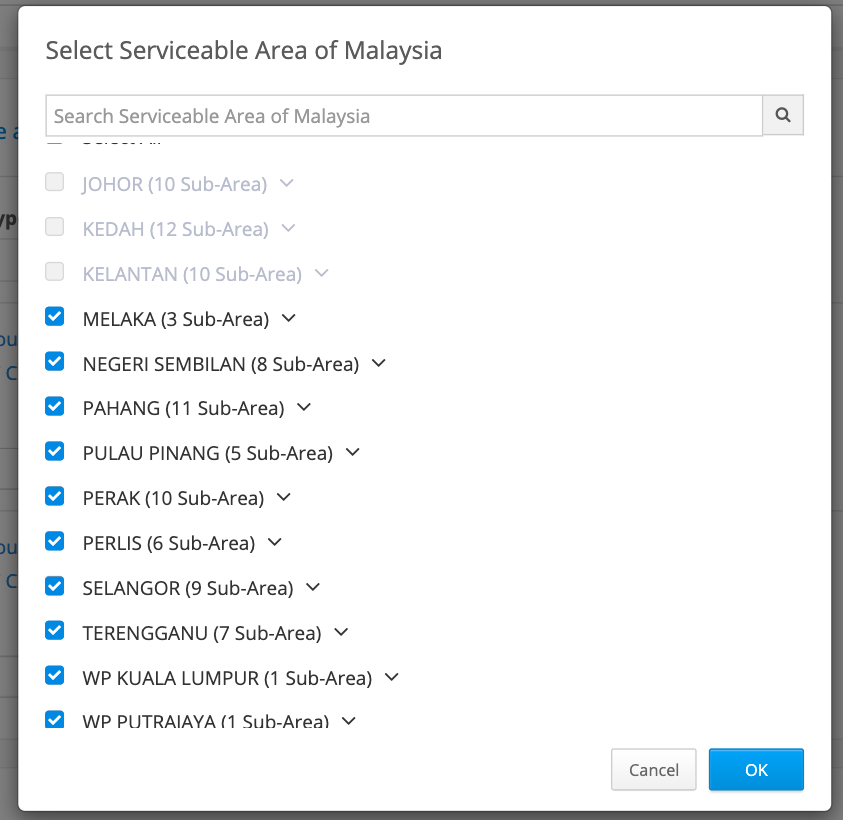 Weight-based (Order Weight) delivery/shipping rates
a. Choose [Order Weight] from the [Delivery Fee Type (per order)] dropdown menu, then choose either [Custom Weight Level] or [Fixed Weight Level].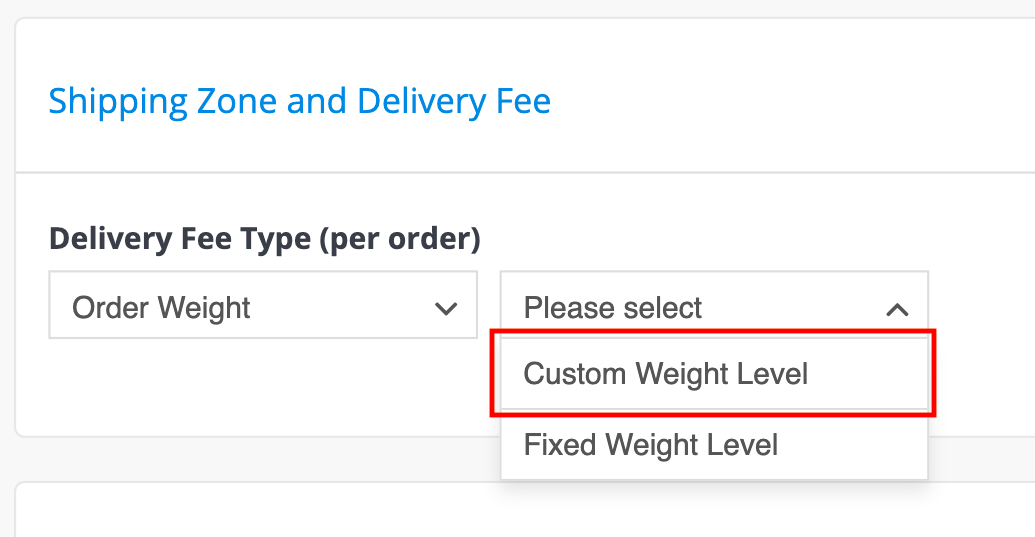 b. Check the areas you want this delivery/shipping rate to after selecting shipping countries/regions and enter the delivery fee by weight criteria.
*You can enter a weight of up to two decimal places (e.g. 1.01 KG)
In the example below, customers will be charged $200 for orders with a total weight below 2 kilograms and $300 for orders above 2 kilograms:

New weight-based (Order Weight) shipping/delivery fee type: Fixed Weight Level
Previously, merchants had to individual rates for deliveries over/under a certain weight. The Fixed Weight Level option allows merchants to set a rule for subsequent incremental increase in weight. For example, if a merchants enters "0.55" in the [When exceed 2 kg, for every subsequent _ KG] field, and "100" into the [Delivery Fee] field, then a customer will be charged an extra $100 for every subsequent 0.55 kilograms added to the weight of the delivery.

Other related settings
You can use the filter function to find the delivery option by countries/region quickly.

You can use the [+] and [x] buttons to quickly edit the range of order weight and their corresponding rates.
*Note: Merchants can add a maximum of 20 delivery/shipping rates.
You can click on [Duplicate] to quickly add another set of shipping rates for a different countries/region.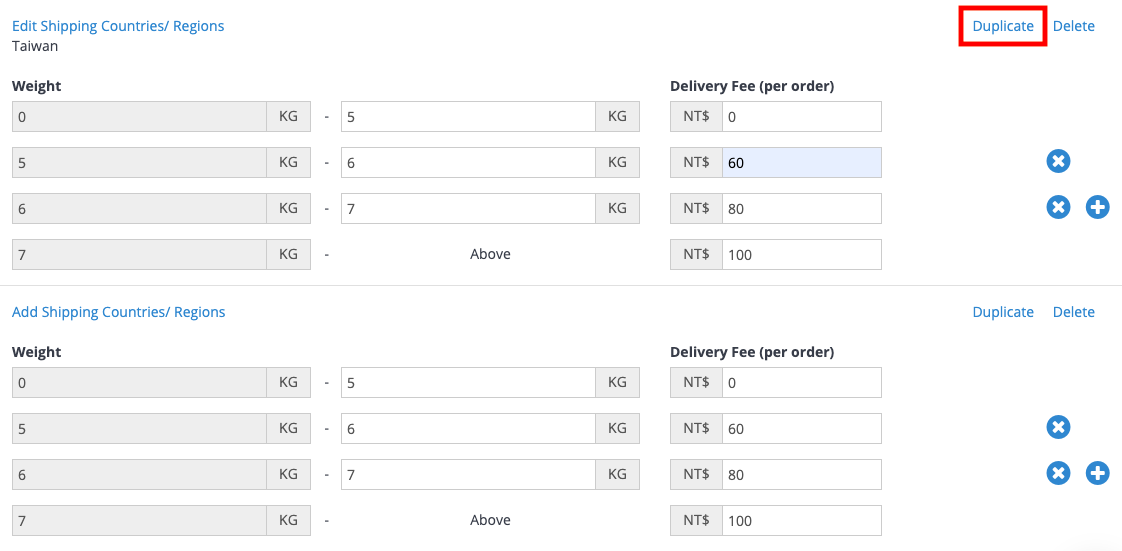 3. Storefront checkout page and delivery fee calculation
Cart checkout page:
Customers that have selected delivery/shipping method for which there are area-based dynamic rates will not be able to view the shipping rate on the cart checkout page. This is because the system is unable to calculate the rate until the customer has entered their delivery address. A message will appear informing customers of this situation above the [Proceed to Checkout] button.



Delivery details on the checkout page:


Customers that want to use a shipping/delivery option for which there are area-based dynamic rates will only be able to do so if their address is a "Serviceable Area", according to your store's settings. The delivery fee will be calculated after the customer fills in their address.


Example: For West & East Malaysia, the delivery fee is RM100 for the west, and RM500 for the East.




There will be a note of renewal if the delivery fee changes.






4. Notes and FAQ
Once you finish setting up, you cannot change the delivery method, delivery providers, COD, and delivery fee type.

Since dynamic shipping rates are more complicated, it is suggested that merchants include a statement about shipping rates and criteria in the delivery description section.

The feature does not support manual orders on Facebook Messenger and orders created SHOPLINE Admin.
Customers in Malaysia, Vietnam, and Thailand won't have their addresses applied on the checkout page after this feature is released. Such customers will have to save or renew their addresses in your store's member center.
New delivery methods won't be automatically applied to the existing promotions. Please go to [Promotions] in SHOPLINE Admin and change the settings.
Bulk imported customer addresses are not currently supported for the new dynamic shipping rate. When checking out, customers will not be able to select default addresses bulk imported by a merchant.
Some providers offer COD service to specific regions, e.g. Malaysia provider: Ninja Van. To apply for these services, please contact our Online Merchant Success Team.
*Please note:

In special case or where merchants have to use the local currency (For example: Singapore) the system will display a COD option that can be selected.

Once a merchant sets up a COD shipping/delivery option, the system will automatically create a COD payment option.