To allow merchants to set up diverse delivery options with greater flexibility, SHOPLINE offers a new dynamic shipping rate setting, merchants can set delivery fees by different countries and regions with ease. This article will show how to add delivery options and set up shipping rates.

*Note:
Different plans are applied to different countries. Please refer to the plans your regions applied.




Dynamic shipping rate is only available for e-Commerce currently, soon will be applied to Social Commerce.
The steps of adding delivery options will be:
A. Add delivery options
Step 1 : Go to Settings > Delivery Options > Click "Add" to add a delivery method.

*If you need integrated logistic services, please contact online support for the application.
Step 2 : Select delivery type
Pickup:

For HK merchants, orders can be picked up via S.F. Express or HOP! service
For TW merchants, orders can be picked up via 7-11 and Ezship

Custom: Delivery address field is optional
Step 3:

Edit delivery name and description

Fill in the name and description of the delivery method, it is recommended to specify the area and shipping cost for the delivery method, and check the box "Display these instructions on the checkout page" to make the information clearer to the customer.

Note: Fill in diverse instructions when adding different delivery providers.
B. Add delivery shipping rates
SHOPLINE now offers new regional shipping rate settings for merchants. Merchants can set their shipping rates according to the weight of the products to different regions more easily. The following steps will introduce flat price delivery fee and by order weight.
1. Flat Price
a. Choose "Flat Price" for delivery fee type, and select the countries/regions you want.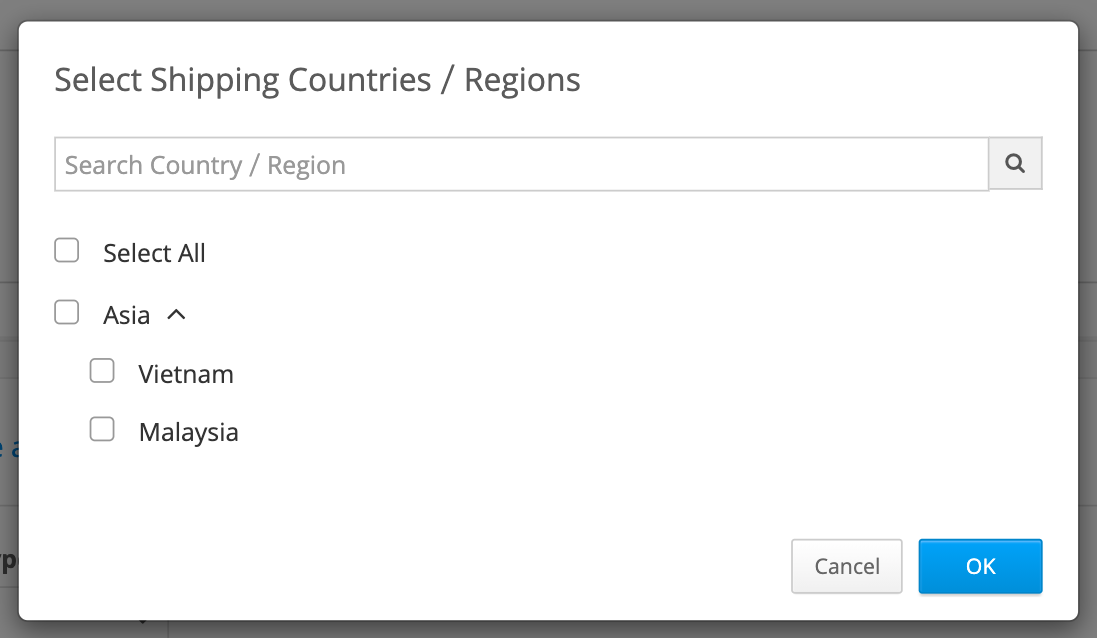 b. Click "Edit Serviceable Area" to select the areas.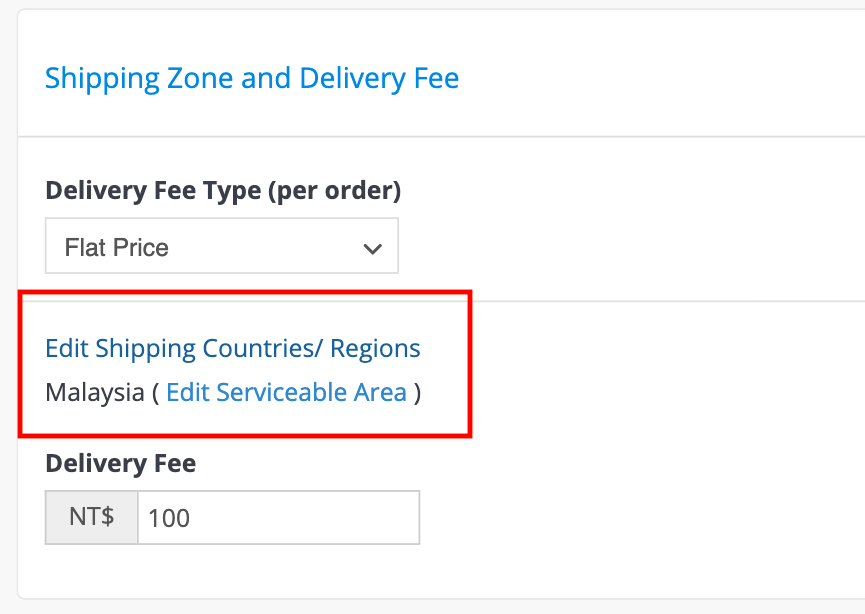 c. Select serviceable areas of the countries/regions you've chosen.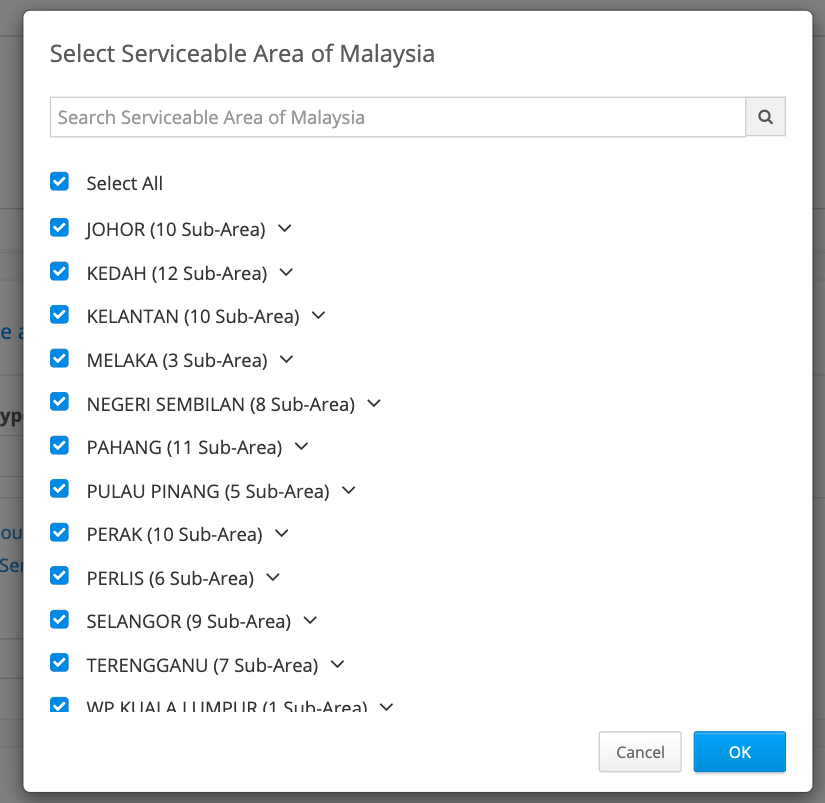 d. After selecting, you can check the areas you've selected.
Note: The selected areas will be grayed out if you continue to select another delivery fee.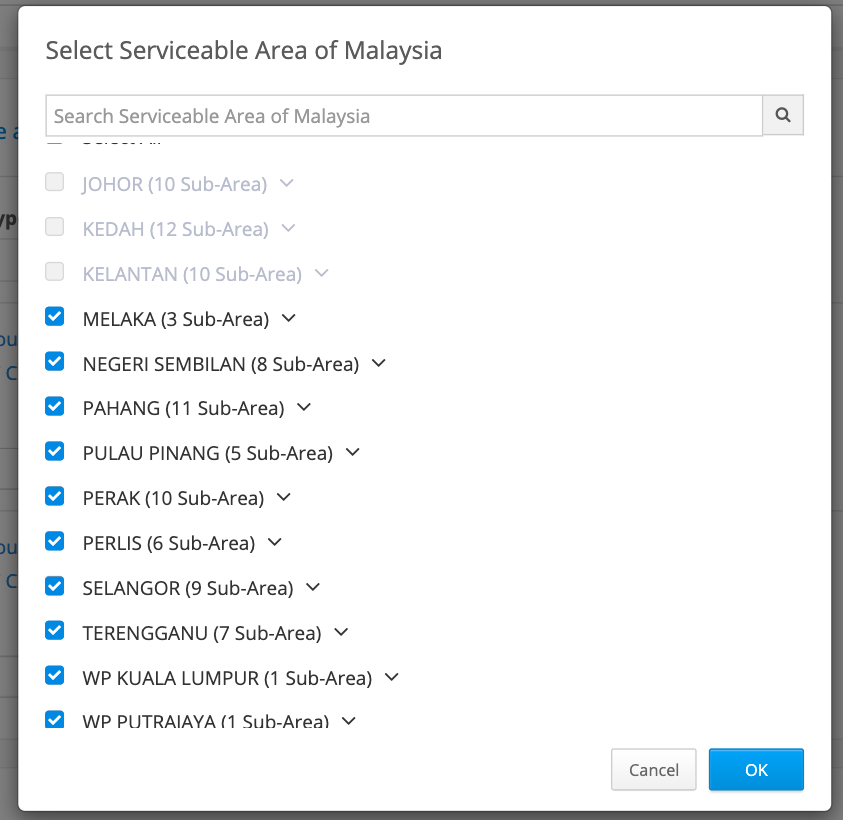 2. Order Weight
a. Choose "Order Weight", and select "Custom Weight Level" or "Fixed Weight Level".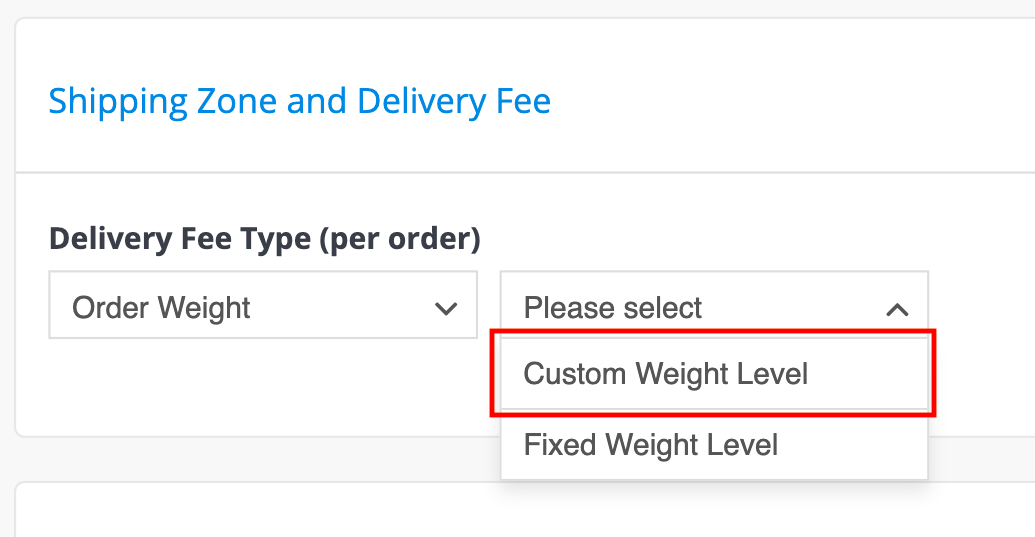 b. Check the areas you want after selecting shipping countries/regions and enter the delivery fee by weight criteria.
*you can set up two-digit after the decimal point, eg. 1.01
For the example below, customers will be charged $200 for orders with a total weight below 2kg and $300 for orders above 2kg:

New Order Weight delivery fee type: "Fixed Weight Level"
Select Fixed Weight Level, set up delivery fee with filling in the price of First weight and subsequent.

Other related settings
You can use the filter function to find the delivery option by Countries/Regions quickly.

You can use the "+" and "x" to quickly edit the range of order weight and their corresponding rates.
You can click on "Duplicate" to quickly add another set for a different Countries/Regions.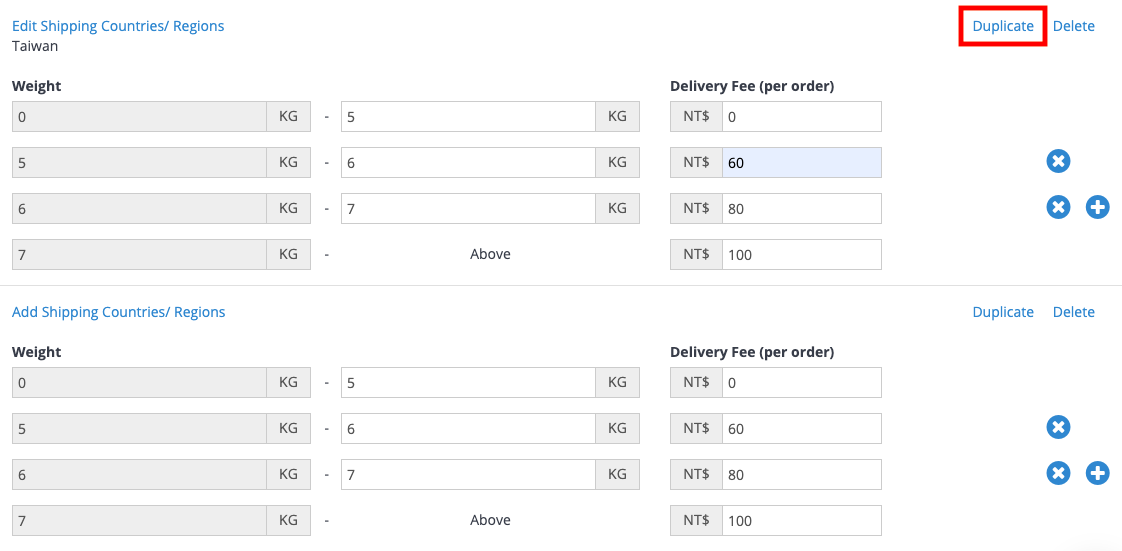 Note: Shipping Country/Region will not be carried over
C. Storefront checkout page and delivery fee calculation
Checkout page of cart:
If customers choose a dynamic shipping delivery method, which means "specific delivery area" or "different delivery fees for diverse areas". In this case, the order summary section won't show the shipping rate since the customers haven't fill in address, but there will be a note show on the right-hand corner as below.



Delivery details on the checkout page:


If the customers choose the delivery method of different delivery fees for diverse areas, they can only choose the available areas while filling in the address, and the delivery fee will be calculated after filling in the address.
For example West & East Malaysia, the delivery fee is RM100 for the west, and RM500 for the East.


There will be a note of renewal if the delivery fee changes.







D. Notes and FAQ
Once you finish setting up, you can't change the delivery method, delivery providers, COD, and delivery fee type.

Since the dynamic shipping rate is more complicated, it is suggested to have a statement about the shipping rate and criteria with the delivery description section.

The feature is not supported with manual orders on Facebook Messenger and create order in admin.
Customers in "Malaysia, Vietnam, Thai" won't have their address applied on the checkout page after the feature release, they have to renew their address and check "save the address" or renew it in the member center.
New delivery methods won't be automatically applied to the existing promotions, please go to "Promotion" to apply.
Some providers offer COD service to specific regions, e.g. Malaysia provider: Ninja Van, please contact the online support team if you need it.