When you receive an order which is catched on AliExpress via SL Catcher, your order information will be automatically updated to SL Catcher - "Manage Purchasing" dashboard. In "Manage Purchasing" Dashboard, you can search and track / view your orders by order number or customer name, by date, or by order / purchase / finance / shipping / tag status.
Go to "Reports & Analytics" > "Smart Product Selector" > "DropShipping" > "Manage Purchasing".
Search
Orders by Order Number / Customer Name
Step 1. Enter order number or customer name at the upper left of the dashboard
Step 2. Click "Search"
Filter Orders by Time
Step 1. Click "Filter by Time"
Use "Filter by Time" at the upper right corner of the dashboard, select the time range you want to track, then click "OK" to manage and view your orders at a certain time range.
Filter Orders by Multiple Status
You can also filter your orders by selecting multiple status you want at the drop down menu of every filter box.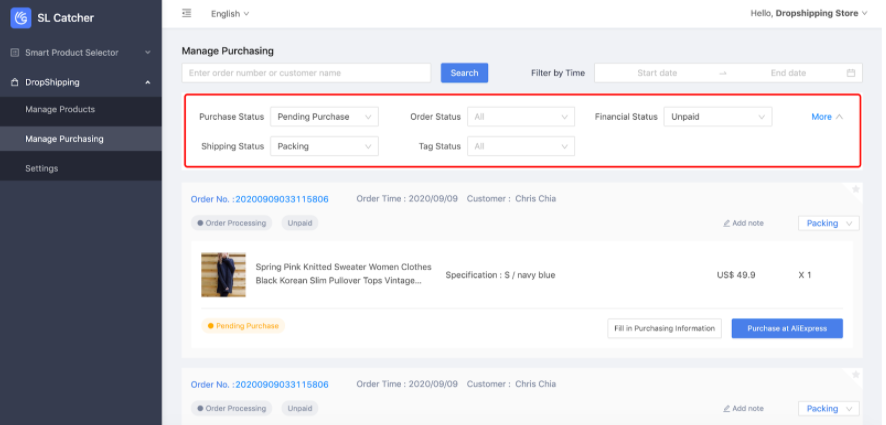 If you want to cancel the filtered status, simply click the " x " at the right side of the filter box.
NOTE:
A. Temporary Order: a short status before the order is established after the customer clicks to pay
B. Order Cancelled: The overall order status of the order in the SHOPLINE order is displayed as "cancelled", or the goods collected by SL Catcher in the SHOPLINE order are deleted.
C. Order Removed: The order has been deleted in the SHOPLINE order.
View Order Information
Click the "Order No." at the upper left of the order column to view the specific order information.