SL Catcher offers a one-click purchasing tool for dropshippers to purchase dropshipping orders on AliExpress without hassle.
Before using one-click purchasing tool, make sure you have already:
Install Chrome plugin

"SL Catcher"

Set your

"Purchasing Settings"

on Catcher

Logged in to your AliExpress account.

Ensure the order product is catched through SL Catcher.
Go to "Reports & Analytics" > "Smart Product Selector" > "DropShipping" > "Manage Purchasing".
Auto "Purchase at AliExpress"
Step 1. Confirm your order
Once you receive your order, the order will be synced to your "Manage Purchasing" dashboard, you can confirm the order you decide to purchase here.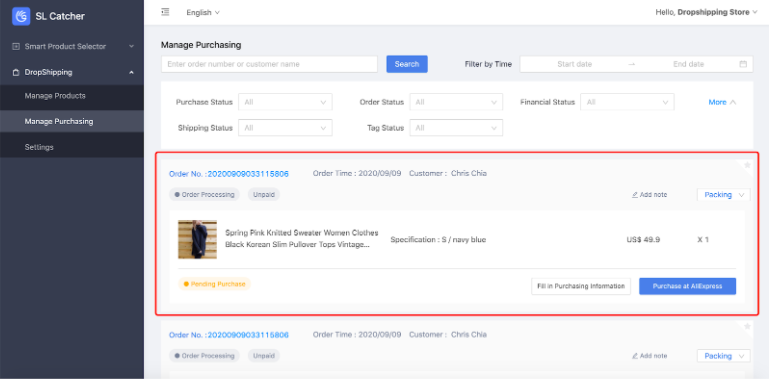 Step 2. Click to Purchase
If you are ready to purchase the order, you can click the "Purchase at AliExpress" button at the lower right order column to start your purchase process automatically.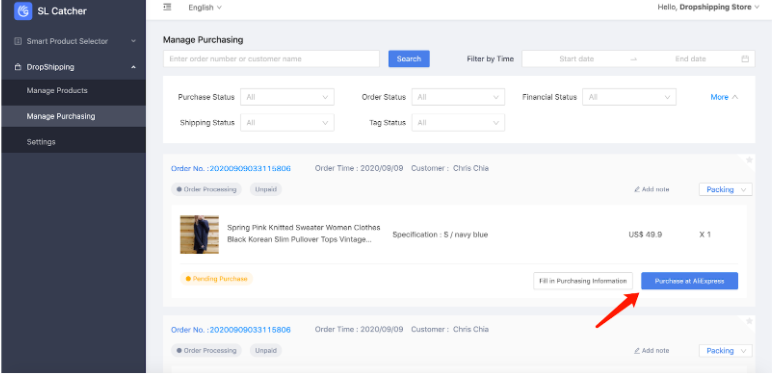 Step 3. Make your purchase
You will be auto directed to AliExpress payment page to place your order. Now you can double check your shipping information, shipping method and product before you make your purchase.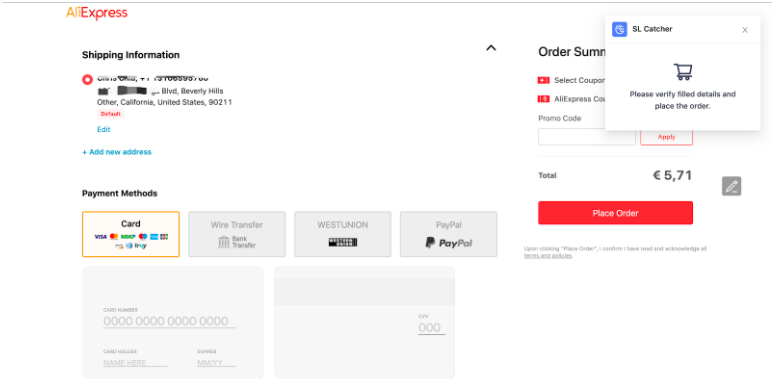 Step 4. Order Number Sync
After you place your order on AliExpress, the order number will automatically sync to "SL Catcher".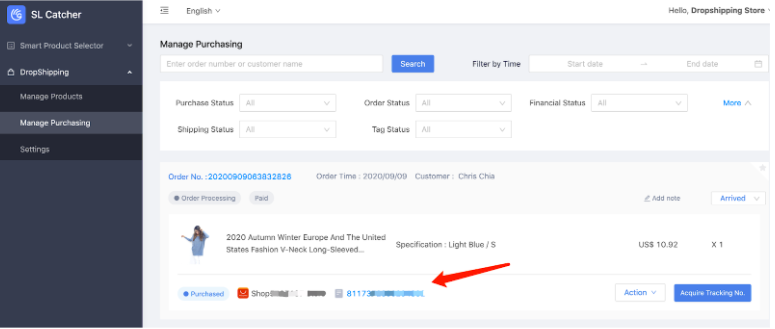 Step 5. Acquire your Order Tracking Number
Once your order has been shipped, usually your supplier will generate an order tracking number for the order. Now you can click your tracking number to acquire the order tracking number directly from AliExpress.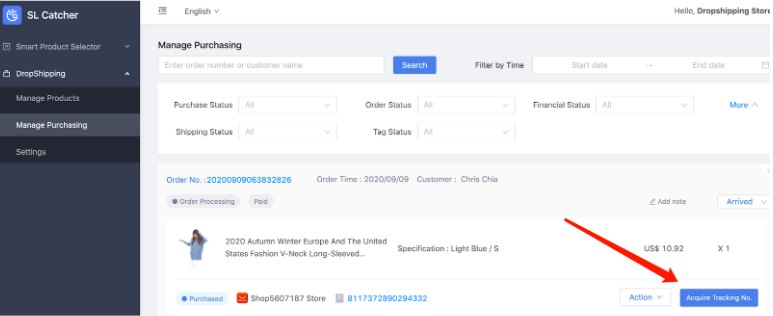 Order tracking number will appear at the bottom left of your order list.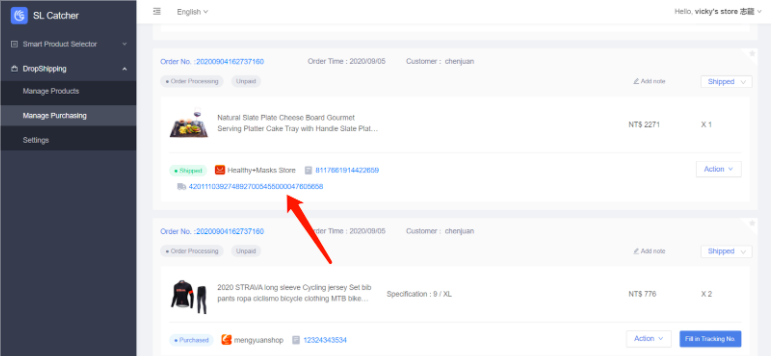 Add Order Number Manually
Sometimes you might purchase your dropshipping orders from other channels, you may also update the purchasing information manually.
Step 1. Open "Fill in Purchasing Information"
Click "Fill in Purchasing Information" at the bottom right of your order list.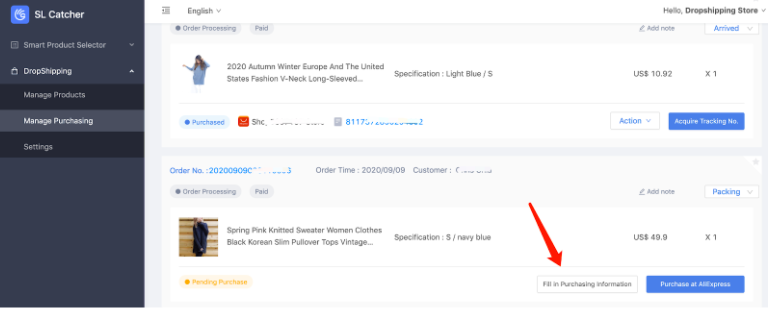 Step 2. Fill in your information
Fill in your purchase information, you need to select your Platform Sources, input the store name you purchased from (no need to be accurate as this only helps you to remember where you source from), input your purchasing/order number which you get from your supplier.

Step 3. Submit
Click Submit and your purchasing information will appear at the order list.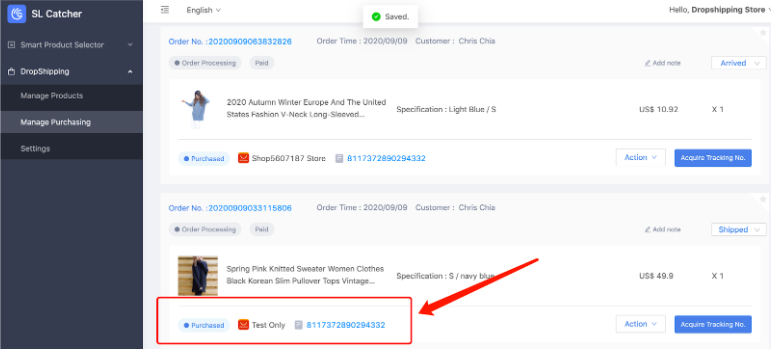 Update/Delete Order Number
Sometimes you might need to update or your order number, here's how you can do.
Step 1. Update Order Number
Click the bottom right of the order list "Action" button and click "Update"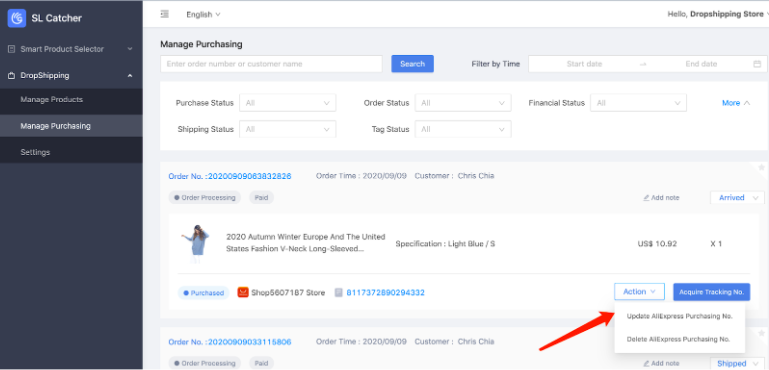 Step 2. Overwrite new order number
Overwrite new order number into the column and click "Submit"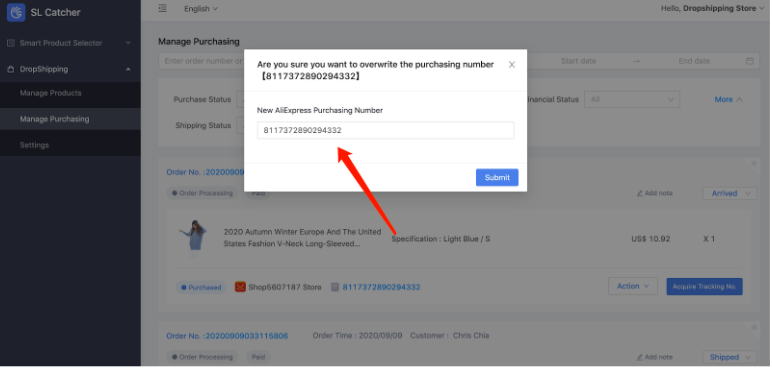 If you want to delete the order number, you can click "Delete AliExpress Purchasing No." at the "Action" drop-down list.