Do customers often leave Facebook comments asking about the price or their order? Or ... do they often leave messages hoping you could directly message them on how to remedy their inquiries? If so, don't miss out on SHOPLINE's Manage Post Comments under Facebook Pages feature, you don't need to open Facebook, and copy and paste an endless number of comments!
Do you often miss out on the comments on your Facebook post? You will need the "Post Comments Management" feature! It allows merchants to check on the incoming comments of a Facebook post and also reply to comments or messages via Facebook Messenger on our Message Center without switching from tab to tab.
In this article, we are going to introduce:
*Please note that the interface might be different based on your subscription plan.


1. How to link a Facebook Page to your SHOPLINE Account
In order to begin managing posts, you will need to first connect your Facebook Page in SHOPLINE Admin. You can do this by going to [Channel Integration] > [Facebook] and clicking Connect. After you have done this, follow the steps outlined in the following article to complete the connect: Facebook Messenger/LINE in-chat shopping
*For merchants who have already connected to a Facebook Page, please reconnect to the Page again to retrieve a new authorization.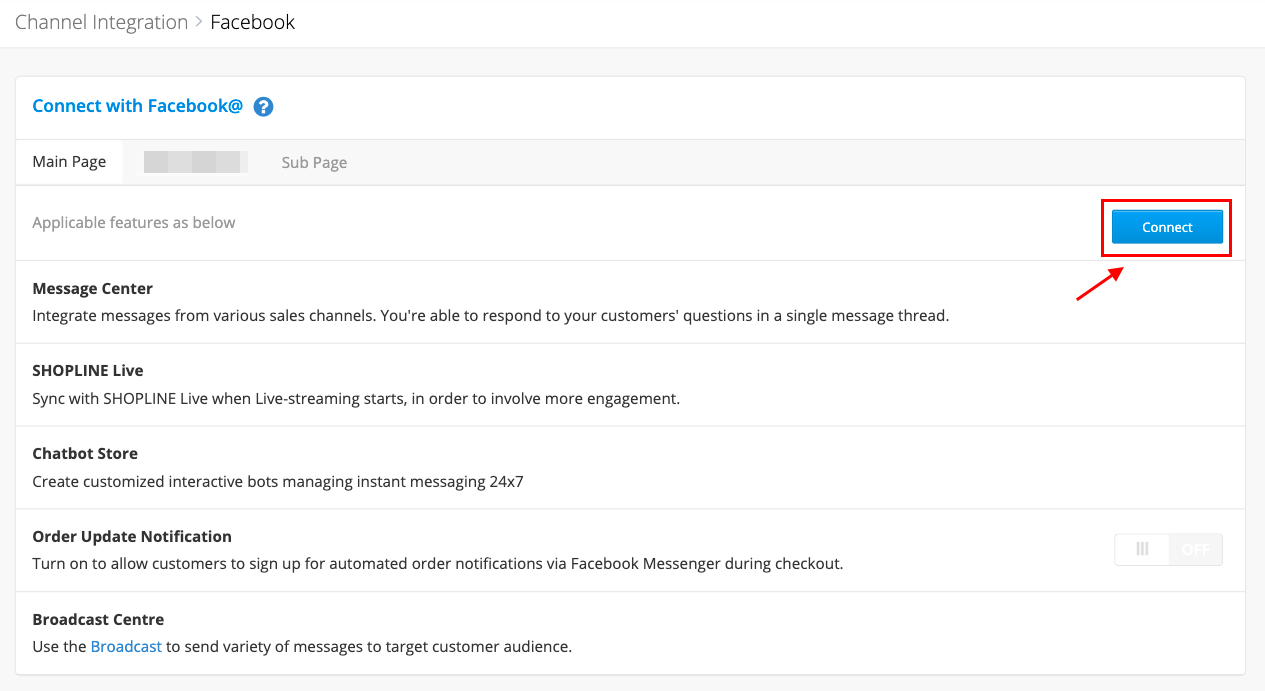 2. Facebook post management interface
1. Once you are connected to the Facebook Page, you may go back to your SHOPLINE Admin Panel > [Channel Integration] > [Facebook]. Click on the Sub Page tab and enter the Message Center.
Click on the third menu on the left side of the menu bar (

) to check on Facebook posts and comments.
2. The interface of the post comment:
List of live streams (left panel): All live streams that have been posted will be shown here, except for those that have been deleted.
List of comments (center panel): All comments left on a live stream post will be shown here, including hidden comments but excluding deleted comments.
Comment content (right panel): Clicking on a comment in the center panel will open it in the panel on the right-hand side. You can view the content of the comment, as well as confirm any additional information.

3. For a single customer message, merchants perform actions like Message, Like, Reply. Click on the three dots (Edit) button on the right to hide or delete messages.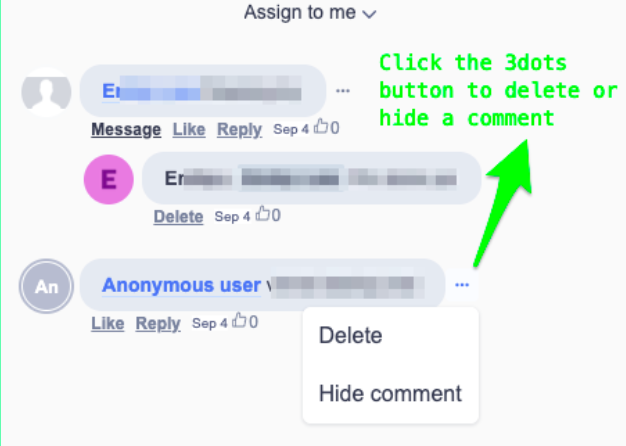 Note: Hidden messages will appear in gray for quick identification.
Unhide:

In addition, click on the customer's Facebook name (appear in blue) to know more about the customer's information in your store, including membership level and customer tags. You can also click on the customer tag field to quickly add tags for customer profiling.

4. In the middle comment section, you can directly reply to the entire post on behalf of the Page, and add saved messages, emoji, and pictures to the reply.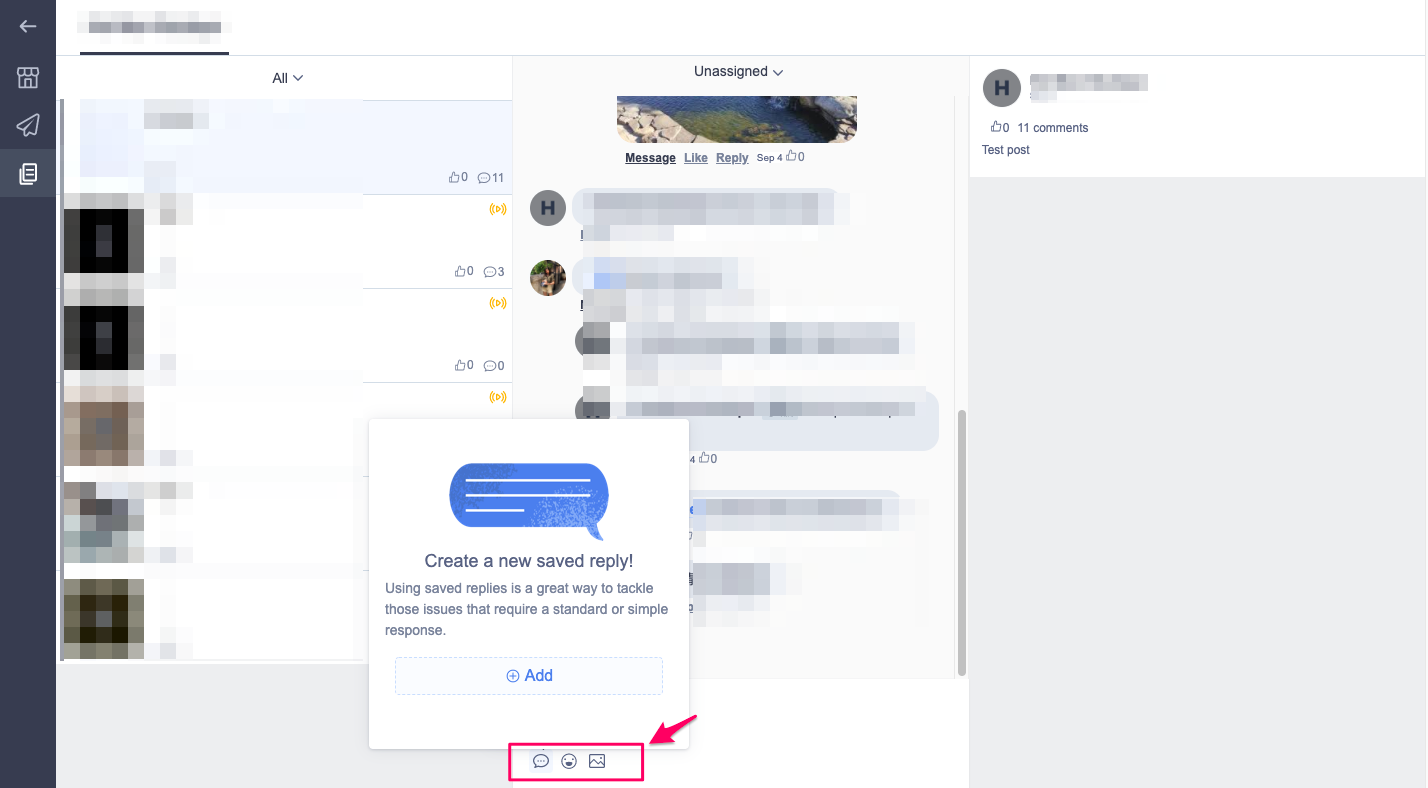 3. How to manage comments
You might want to know how to manage comments in an efficient way, here are some tips:
1. You may assign a staff to reply and follow up a certain post in the "middle section". Unassigned admin cannot post messages or press "Like" to the comment.
* Note: An "unassigned" post will be assigned automatically to a staff member who replies to comments in the post.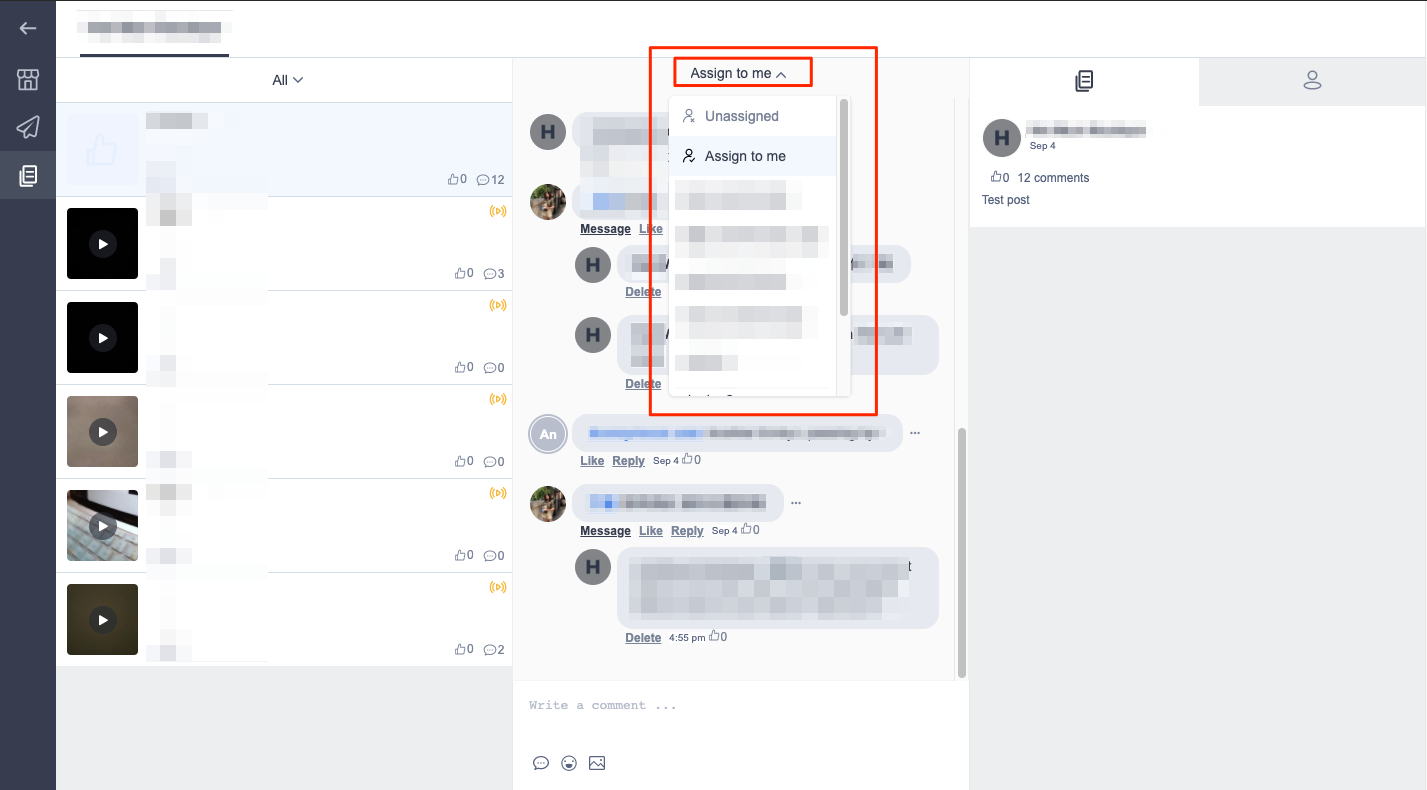 2. You may filter out the posts assigned to staff in the left section of the interface. This will help with keeping tabs on the posts and topics you are following.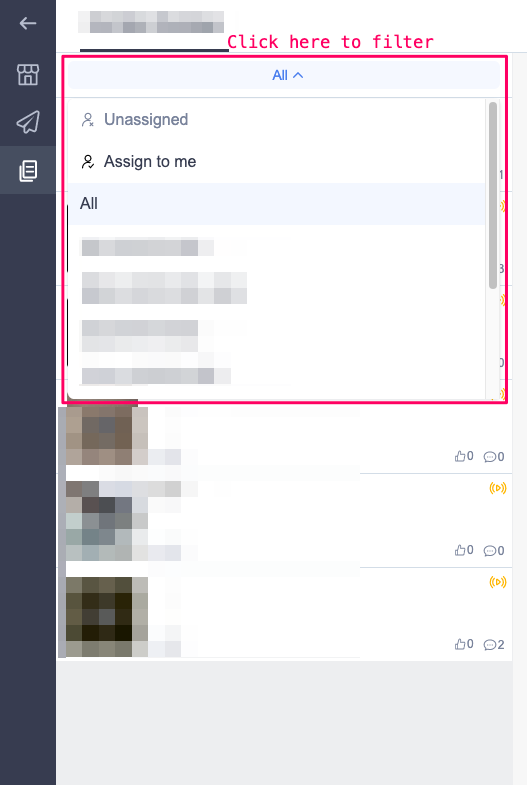 Here are some scenarios:


Scenario A. Reply to comment directly under the post
To reply to a comment under the post, you may click the Reply button under the comment and type your reply. You may send a comment by using saved replies, emojis, and also images.

Scenario B. Reply to a comment by sending a message via Facebook Messenger
You may respond to the customer who sent a comment under the post by using Facebook Messenger.
Click the "Message" button under the comment, a chatbox on Facebook Messenger will pop up on the right section.
* Tips: Using the "auto-reply comment" function to speed up your response rate to customers' common questions.
Note: If the customer does not interact with you through any Facebook channel within 24 hours, you cannot send push messages to them again.
4. Notice
Membership Tiers: The system will remark customers as Basic members who only signed up on your website (Did not assign to any tier of membership).
For members who are involved in membership, their tier will be remarked as Level 1 - 5. The s

ystem does not support showing the Membership Tier Name you set in the Admin Panel at the moment.

According to the new policy

released by Facebook,

starting from the 4th of March 2020, if users do not reach out or interact with you through any Facebook channel (such as Facebook messenger) within 24 hours, you will not be able to send messages to users until the user interacts with you again

.

Therefore, if you have noticed that you are unable to send or reply to any messages to customers via Messenger, you may go back to Facebook Messenger and send a private message to that customer, and wait for the customers to reply before you proceed to use this feature.

.