1. Manage Product Inventory, Total Spend and Membership Tier after Return
If it's partial return, please refer to the steps below:
A. Split the Order
Split the products that customers want to the child order, and keep the ones pending for return in the original order. (Click here for more information)
B. Edit
Edit both mother and child order details to make sure the order amount is correct.
C. Change the Order Status
Change the status of the original order into "Cancelled". The system would automatically return the inventory and promotion usage if promotions were applied. The number of total spend would also be deducted.
* If the customer requests to return the whole order, simply follow Step C. to change the order status.
* If you choose to split the products that would be returned into the child order, we strongly suggest to fill in the exact return order number in the note column for future reference, as the return order report would show the original (mother) order number.
* After changing the order status and completing credit deduction, if the original order amount has already caused this member to upgrade to the next membership tier, you'll have to manually downgrade he/she to the original membership status.
2. Manage Member Points after Return
If you've set up member points earning rules in your admin, when the rules have been fulfilled by the order, it would automatically assign points to the customer. Therefore, if the customer requests for a return, please remember to manually deduct the points from the customer's account. The system won't automatically deduct the member points.
The system would check if the order status is not "cancelled" and the delivery status is Shipped/ Collected at the moment. The member points would only be sent when both conditions are met.
To manually deduct the points, please go to Customer Management > Customer List > View. For more information, please refer to this article.

3. Manage Order Reward Credits after Return
If you've set up order reward credits, please remember to manually deduct the credits after the customer requests for a return.
The system would check if the order has been placed when logged in and if the order amount matches the condition to receive the credits. If the order meets both terms, it would automatically send out order reward credits when the payment status updated to "Paid". Please refer to this article for more details.
To manually deduct the credits, please go to "Customer Management" > "Customers" > "View" > "Assign Credits" and enter the negative amount for deduction.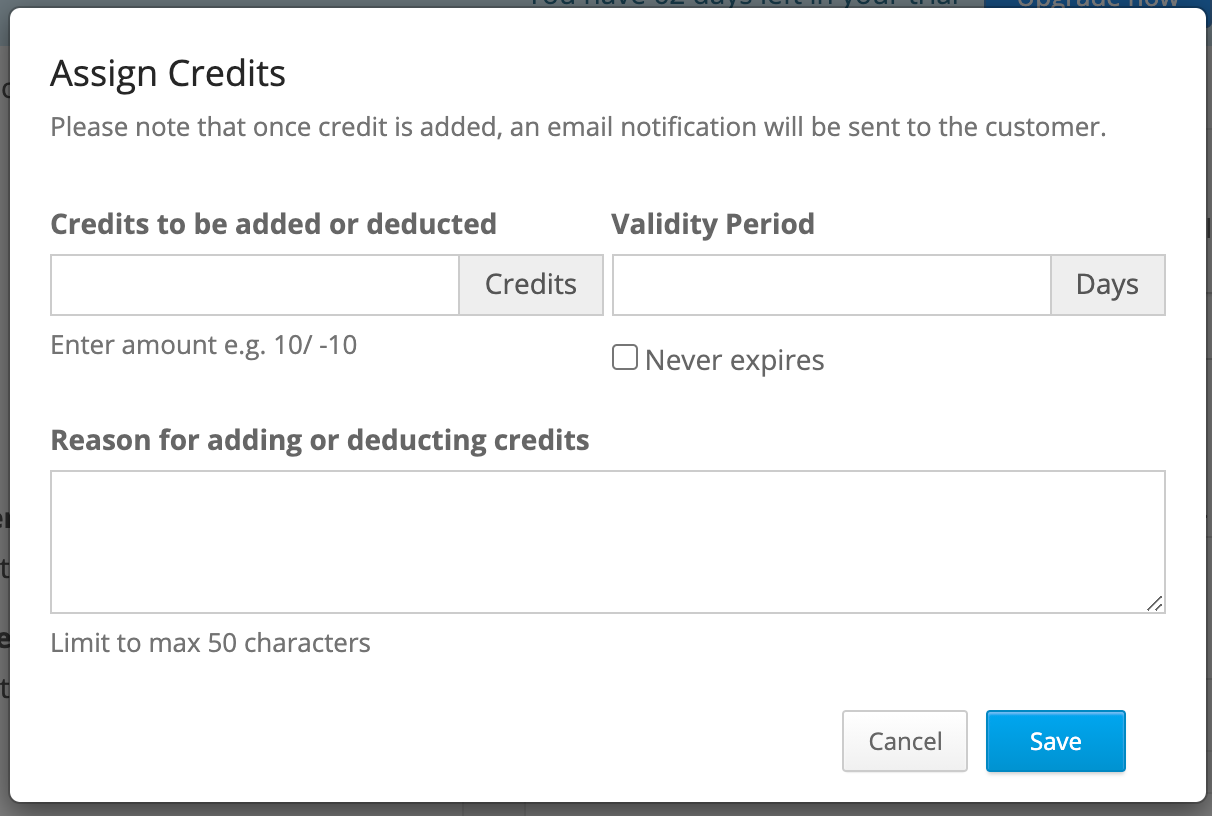 4. Identify Return Orders applied from Admin and Storefront
Export the "Return Order Report" > Filter the reason column that shows "Return by merchant", then you could see the return orders that were applied from admin. You could also see other reasons that customers request for returns.