Google Analytics (GA) allows you to perform detailed data analysis of customer behavior in your store and store traffic. With the launch of Google Analytics 4, it is possible to track cross-domain websites more accurately and identify website visitors, which helps you to perform subsequent trial lead conversion analysis, analyze unfamiliar customers and operate CRM management. SHOPLINE allows the GA4 and the Universal Analytics to be used together in the Admin to maximize the use of this analytics tool.
⚠️Note: The Basic plan does not support the "Google Analytics 4 Event Tracker" feature .
1. Steps to set up Google Analytics (GA)
Step 1. Create a GA account
If your Gmail account has not yet created a GA account, please enter Google Analytics to log in to your Gmail, and click Start Measuring to set up an account.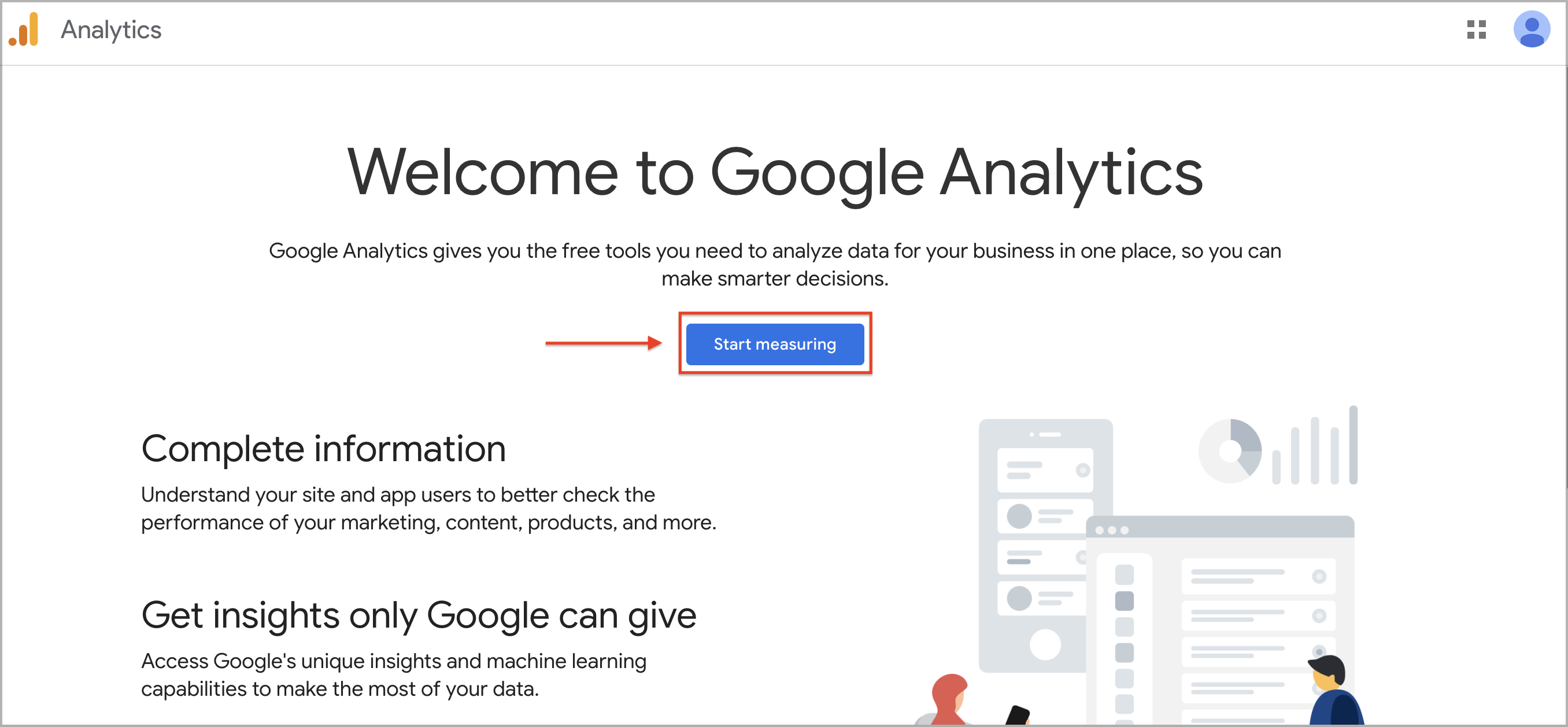 Step 2. Account setup
1. Account details
Account name: Enter a recognizable name for conversion, enter a company/personal name, and click Next.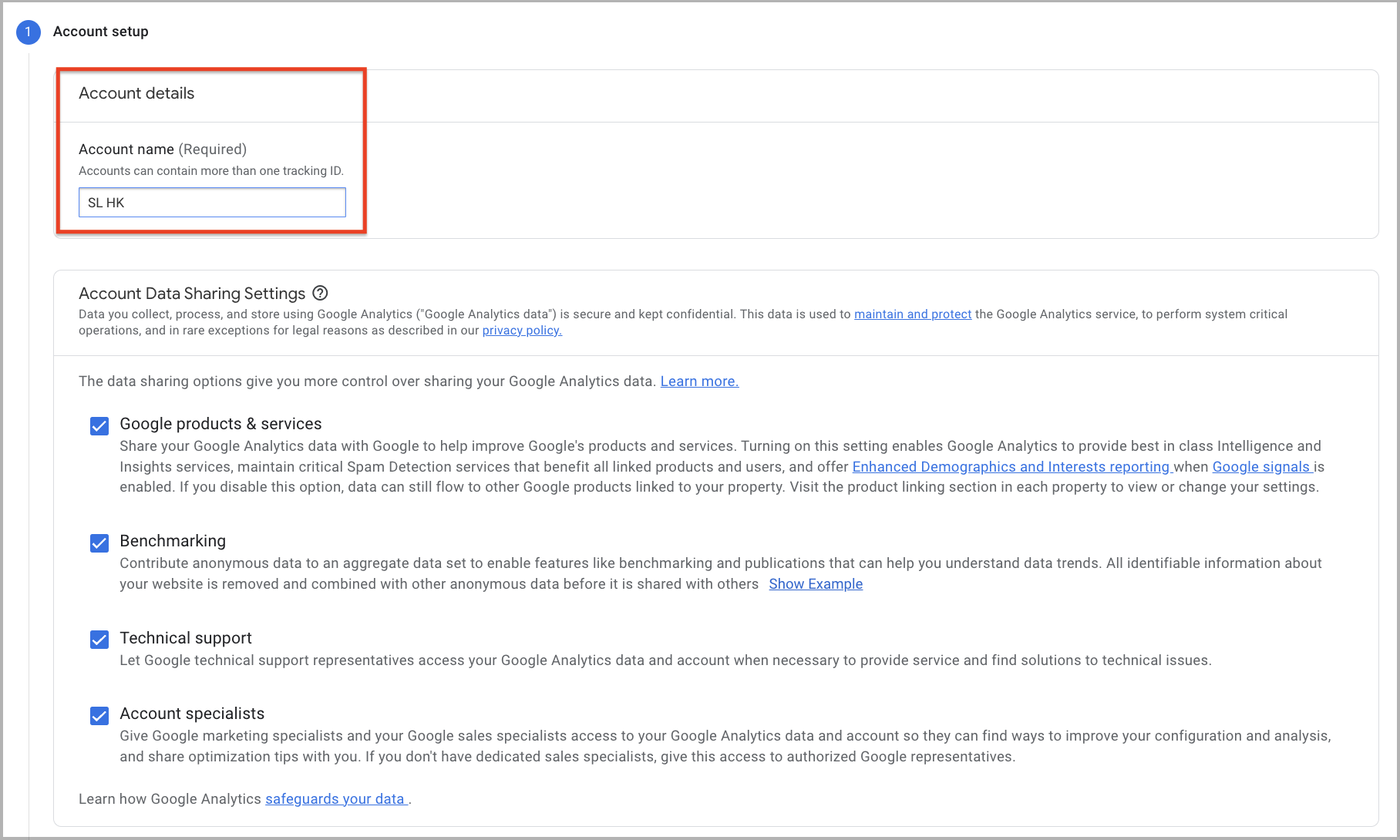 2. Property setup
Please enter your online store name in "Property Name" and confirm the reporting time zone. Then click Show advanced options.

3. Advanced options
Google will launch the GA4F report (Google Analytics for Firebase) for tracking apps and websites in October 2020. It will guide you through creating resources in this step.
First, turn on the "Create a Universal Analytics property" toggle switch
Then enter your website URL (https://)
Click on the first option, "Create both a Google Analytics 4 and a Universal Analytics property"
Also, check the box for "Enable enhanced measurement for Google Analytics 4 property."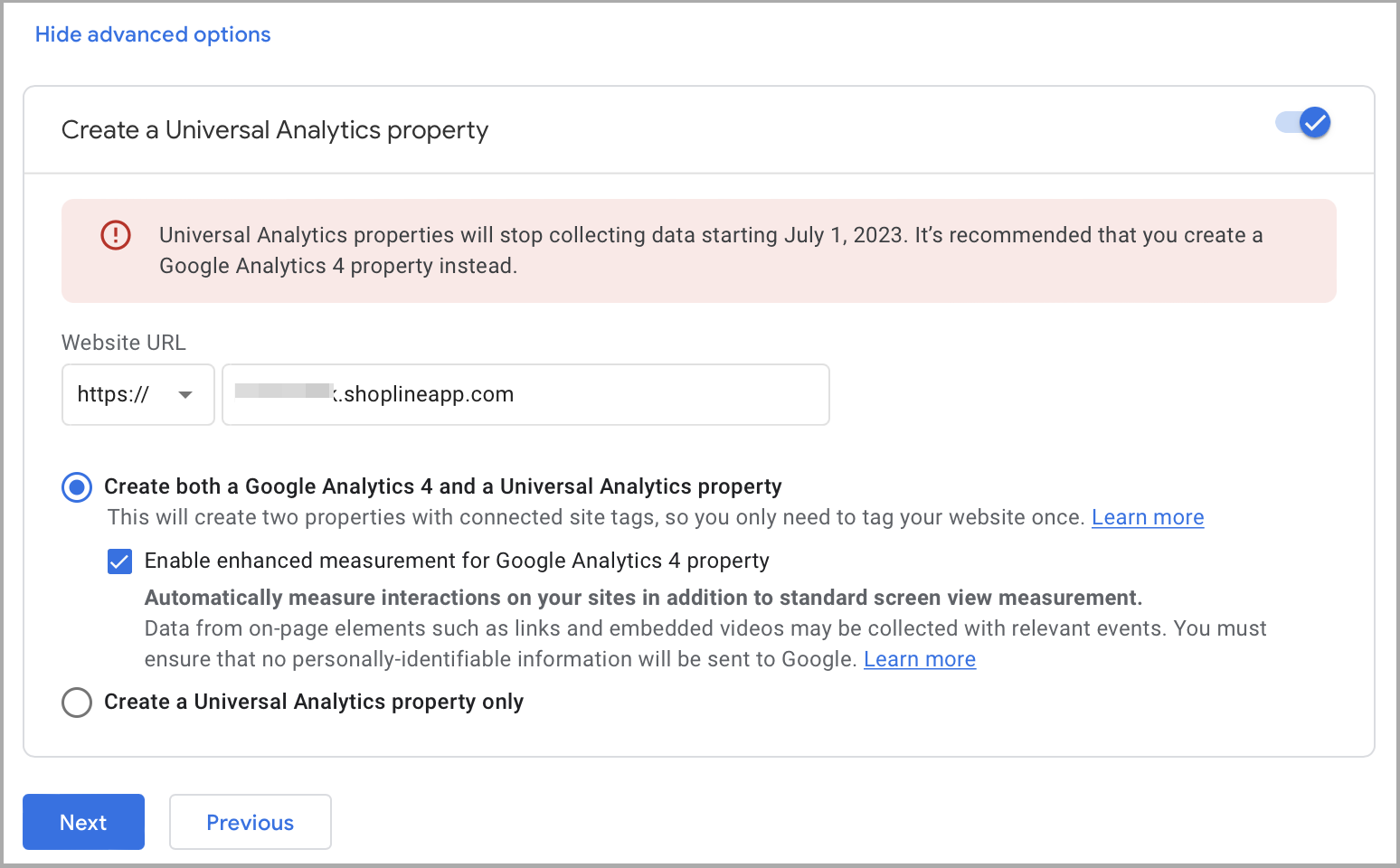 4. About your business
Please fill in the fields according to the operation of your company/ store, and click Create to complete the setup.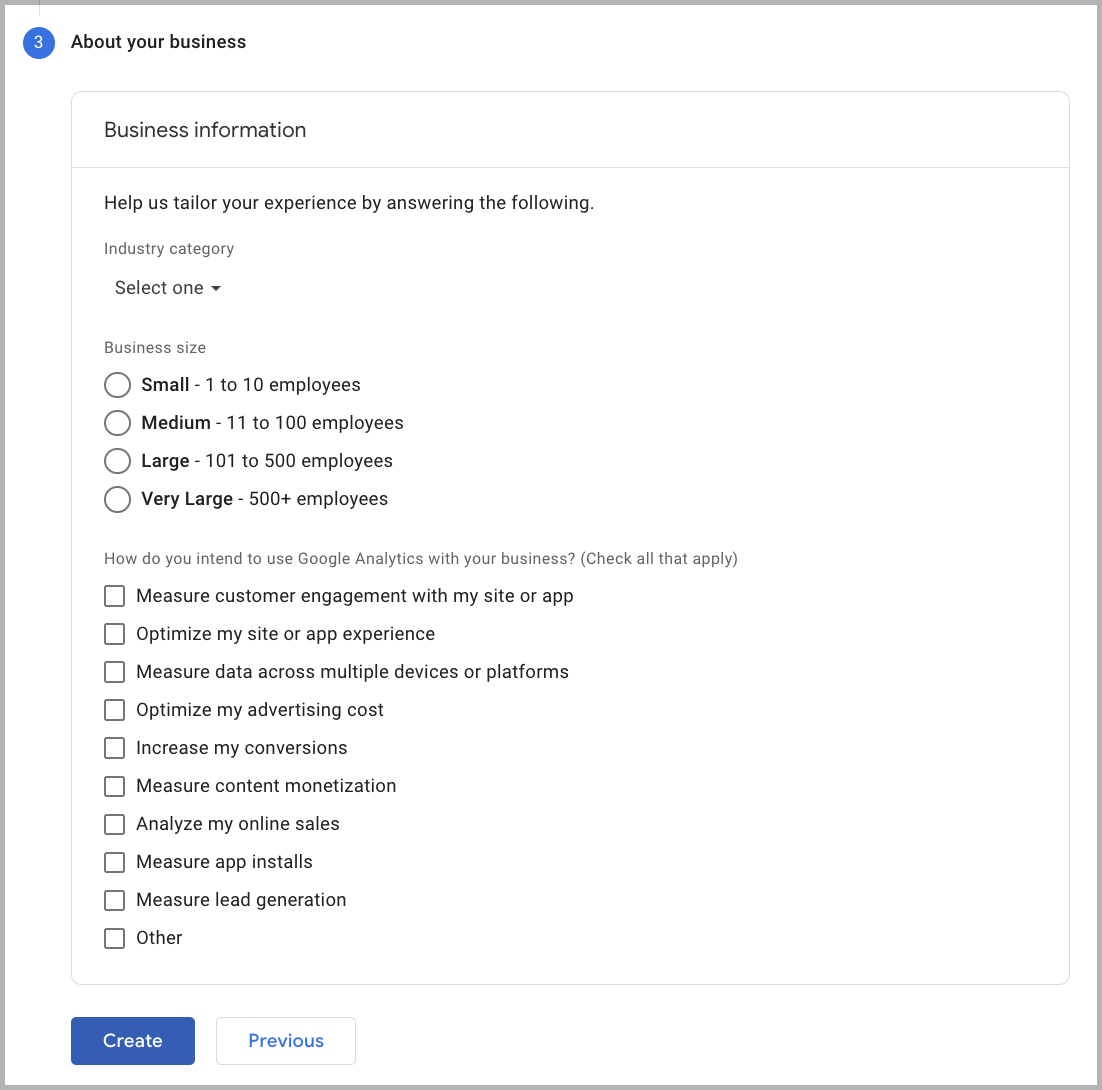 Step 3. Accept the Google Analytics Terms of Service Agreement
Set the country/ region to your location.

After confirming the terms of service and additional terms, please check the boxes "I also accept the Data Processing Terms as required by the GDPR." and "I accept the "Measurement Controller-Controller Data Protection Terms for the data I share with Google."

Click I Accept to create the account.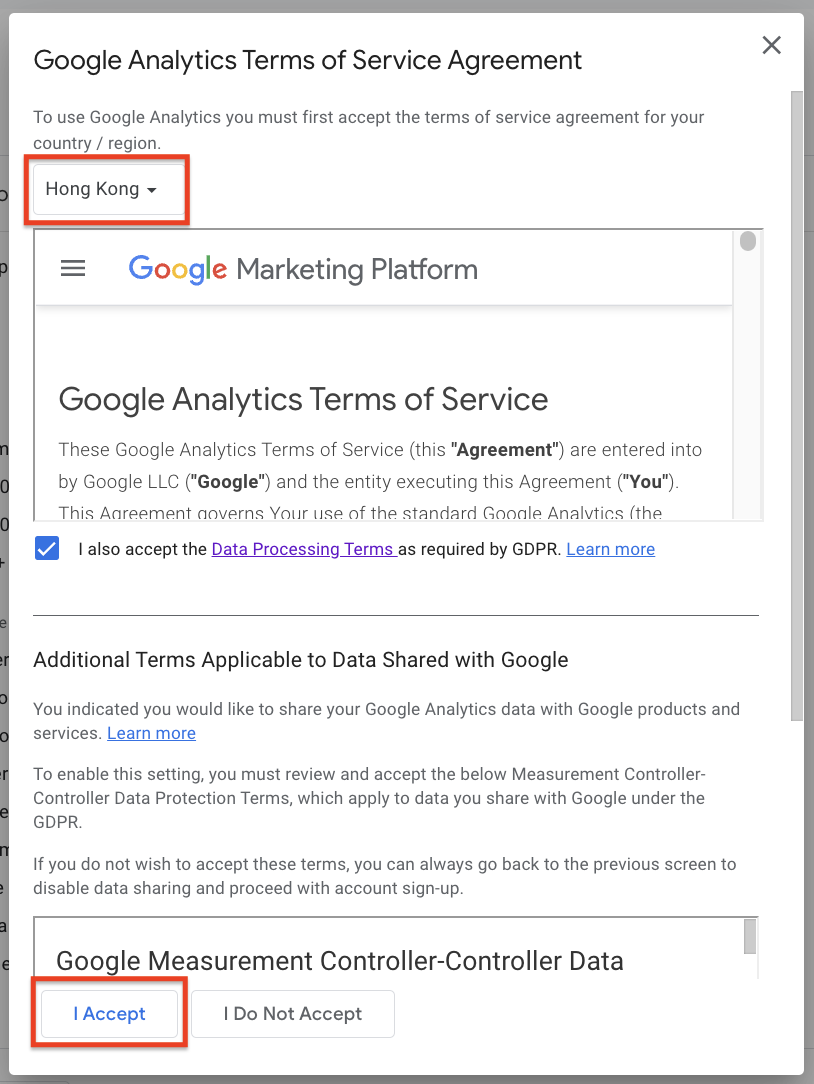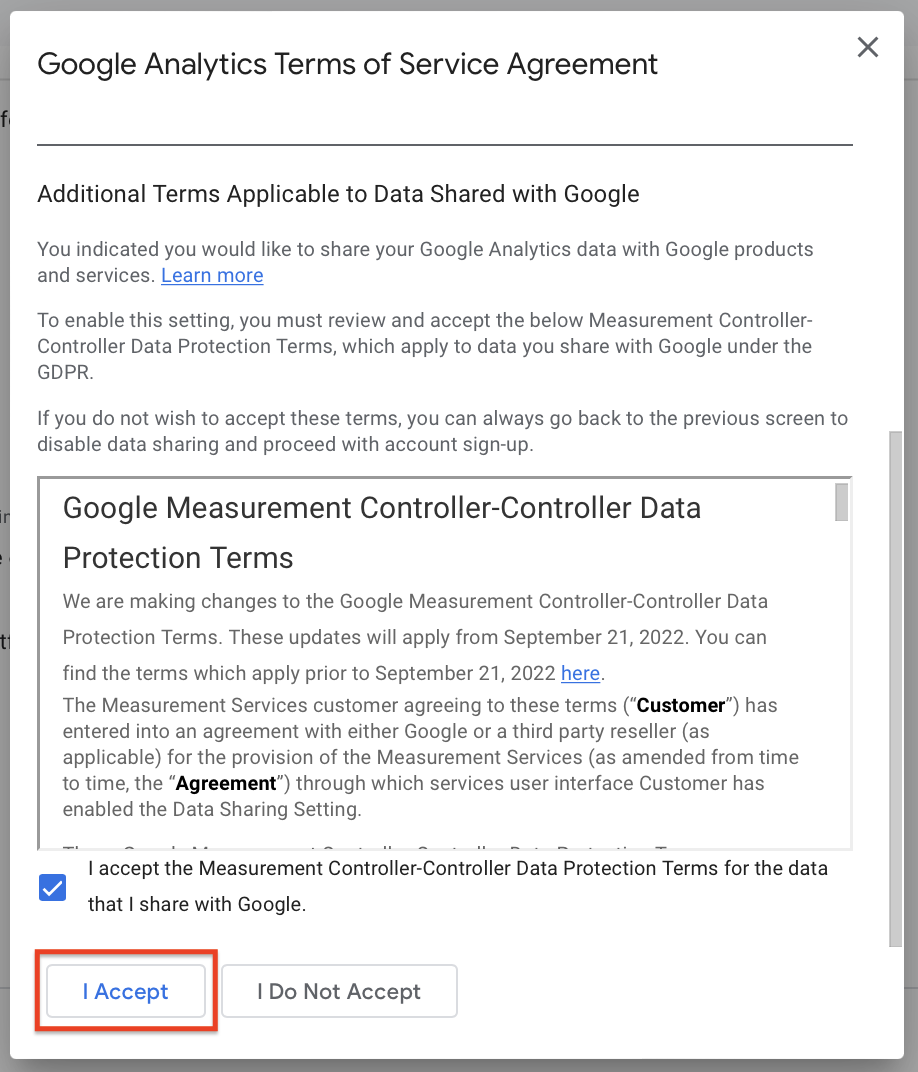 Step 4. Copy and paste the measurement ID
Go to Admin > Property in your GA account, and select the property starting with "GA4."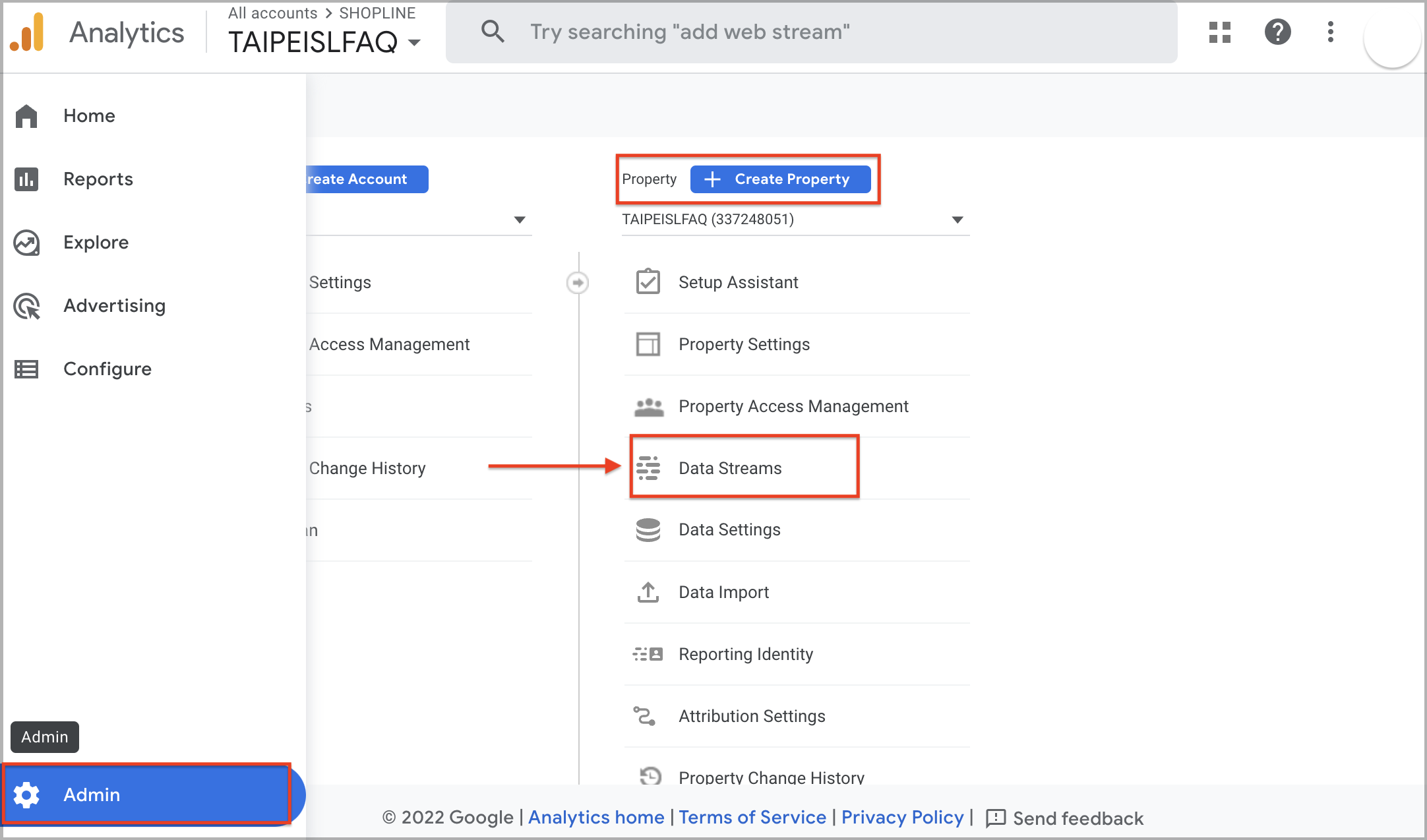 ⚠️ Note: The tracking code of the new GA4 starts with "G," not "UA." Please double-check the version you want to install. Please refer to this article to install the UA version.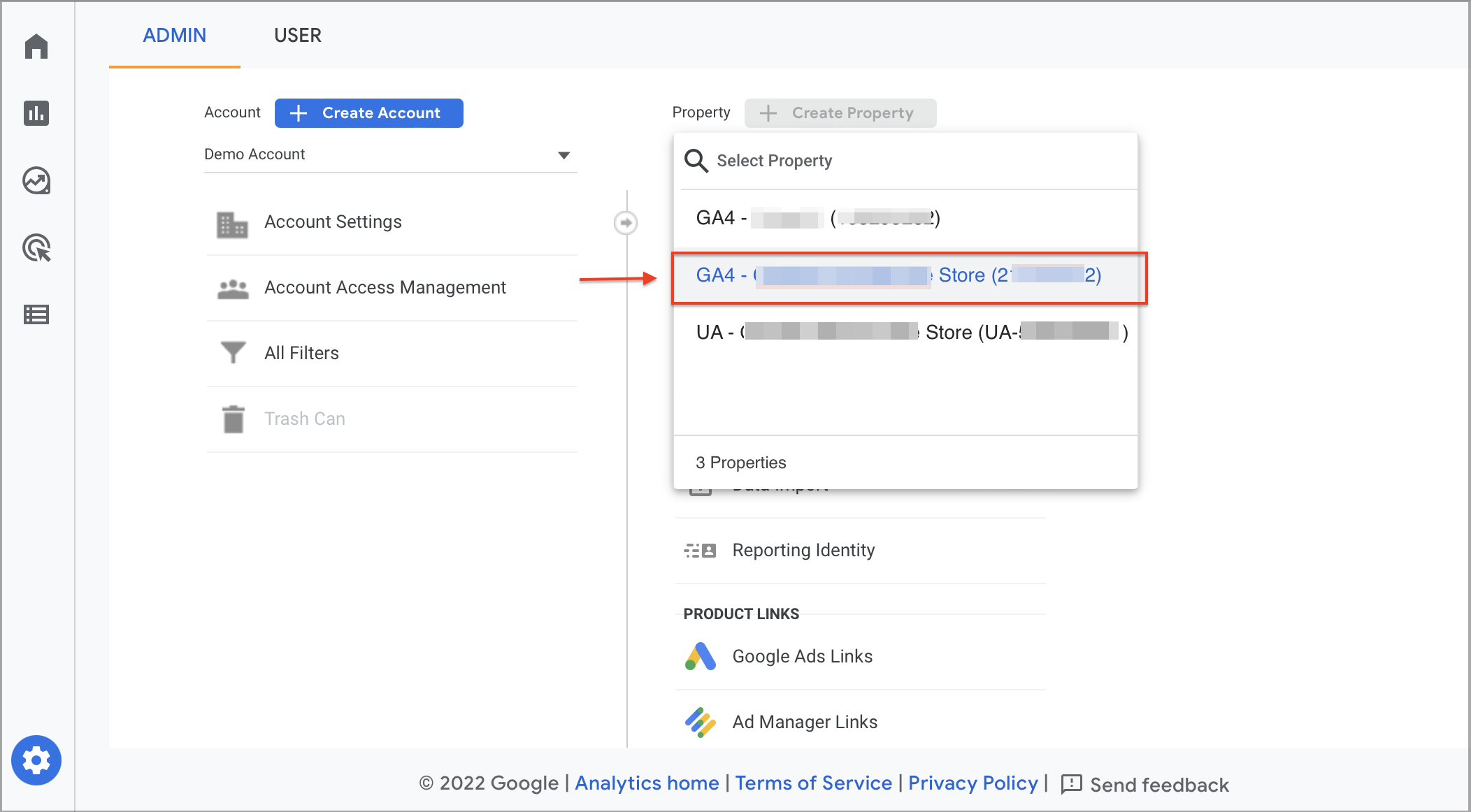 After clicking on the "Data Streams" page, copy the Measurement ID under "Streaming Details."
*Tip: What's the difference between stream ID and
 measurement ID?

- The stream ID is the unique identifier for the data stream 
from which user activity originates. 
You can add stream IDs to your events to send data
 to certain data streams. Please refer to this article for more reference.

- A Measurement ID is an identifier (e.g., G-12345) 
for a web data stream.
You can use the Measurement ID to send data
 to a specific web data stream.
Please refer to this article for more reference.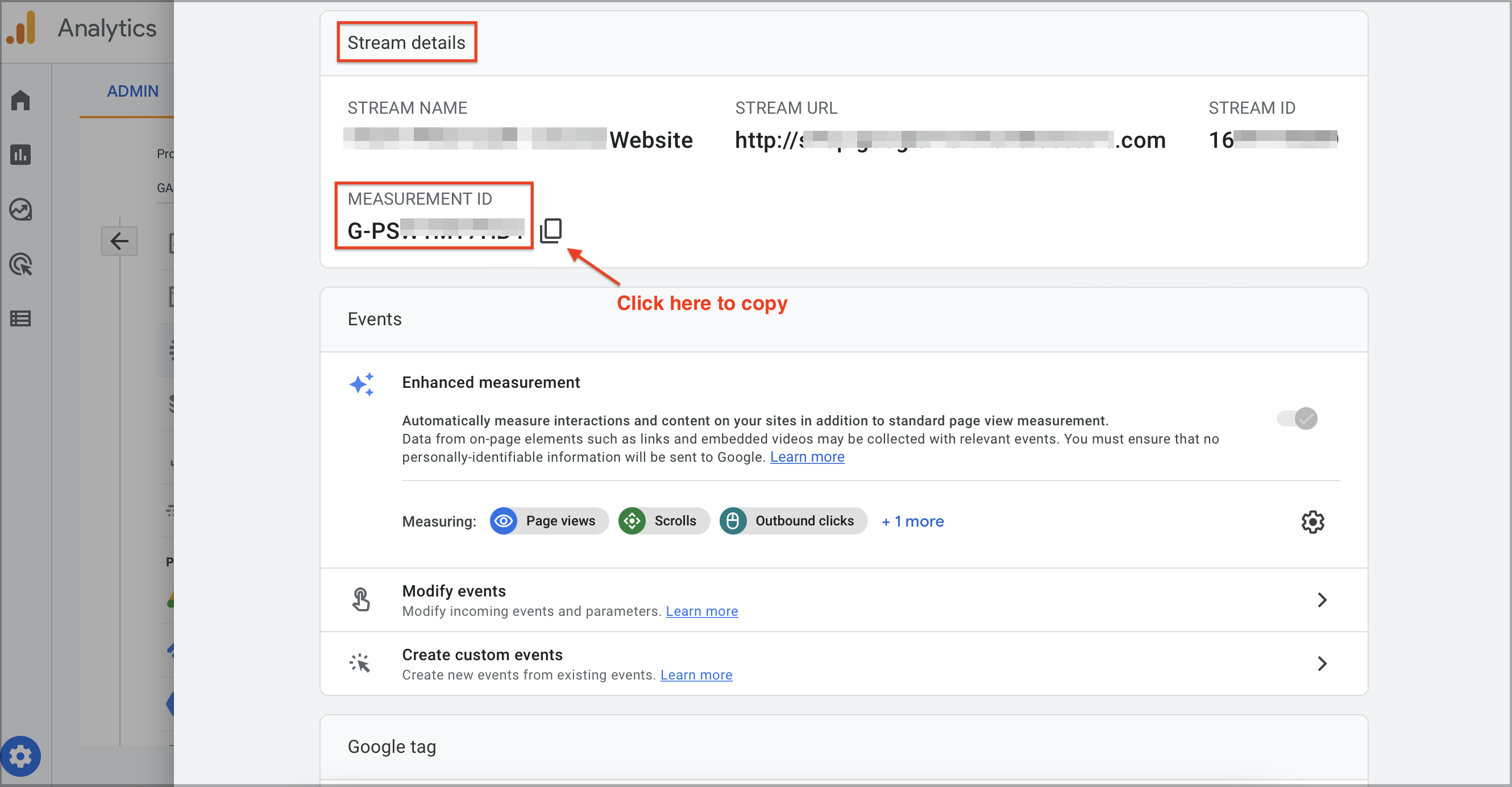 After copying the Measurement ID, return to the store Admin > [Marketing & Tracker] > [Tracker Settings] and click Google Analytics 4.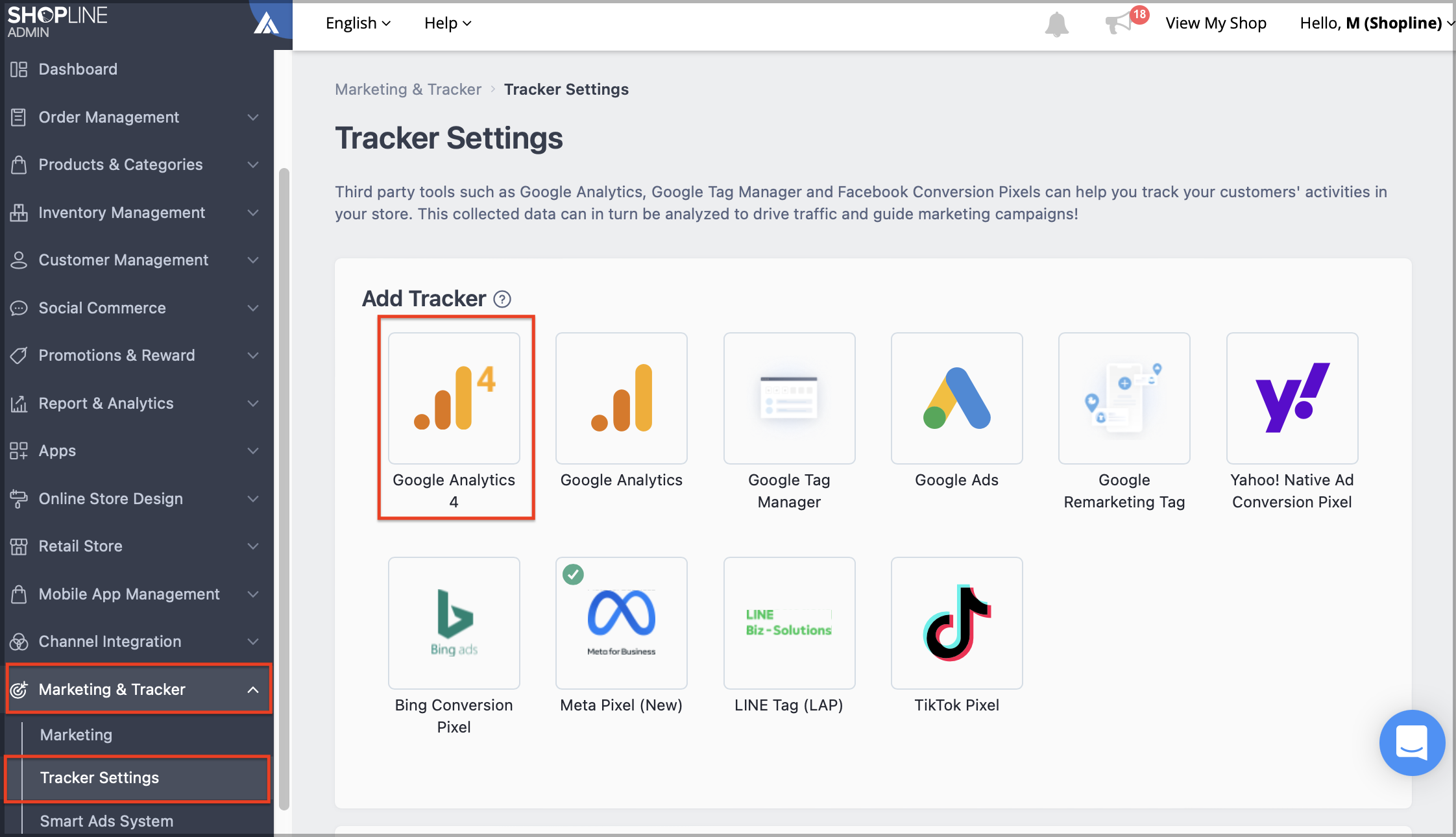 Fill in the copied Measurement ID in the field, and click Save to complete the setup.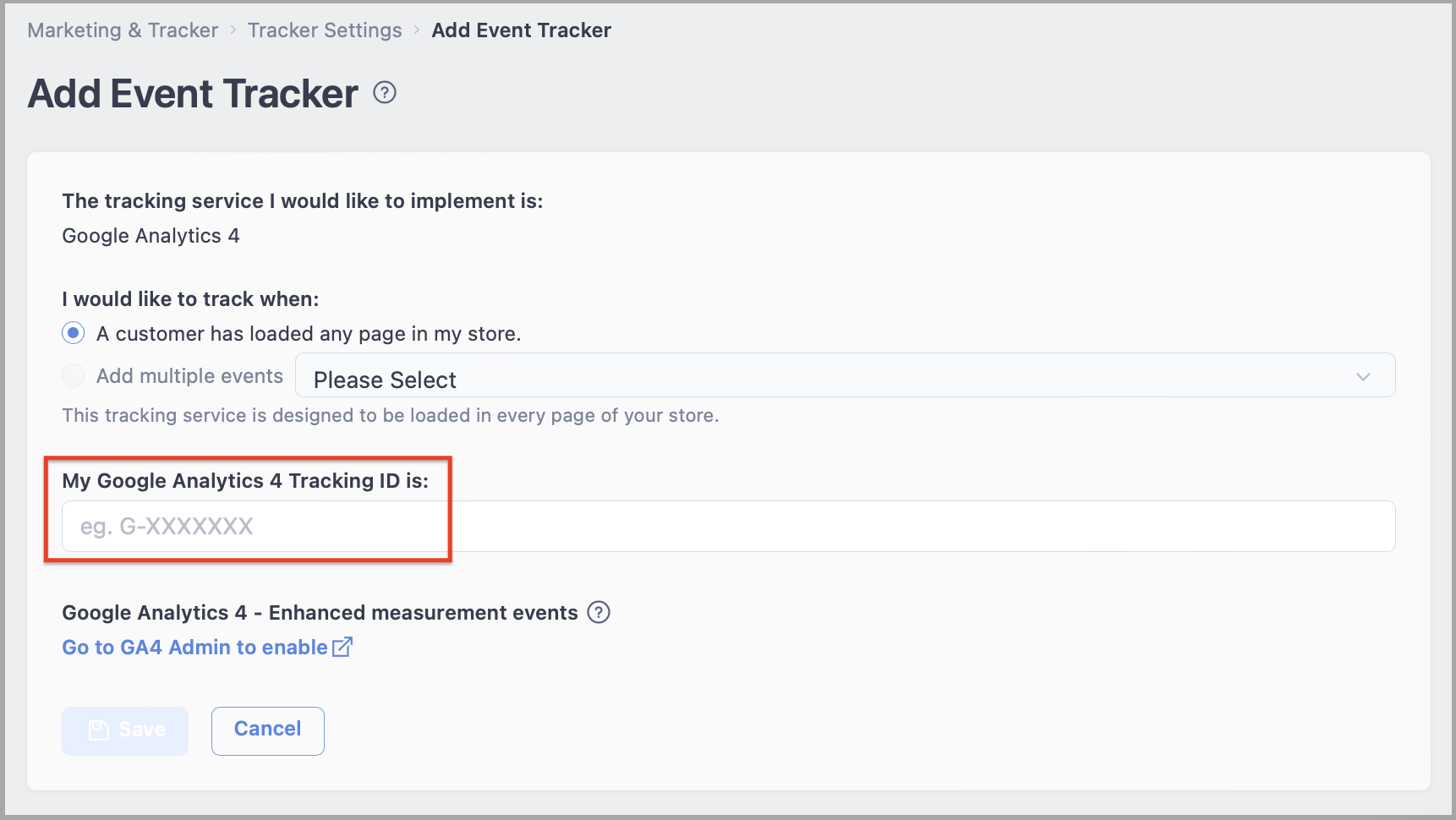 After the GA4 tracking code has been stored, a green tick will appear in the GA4 box on the Tracker Settings page.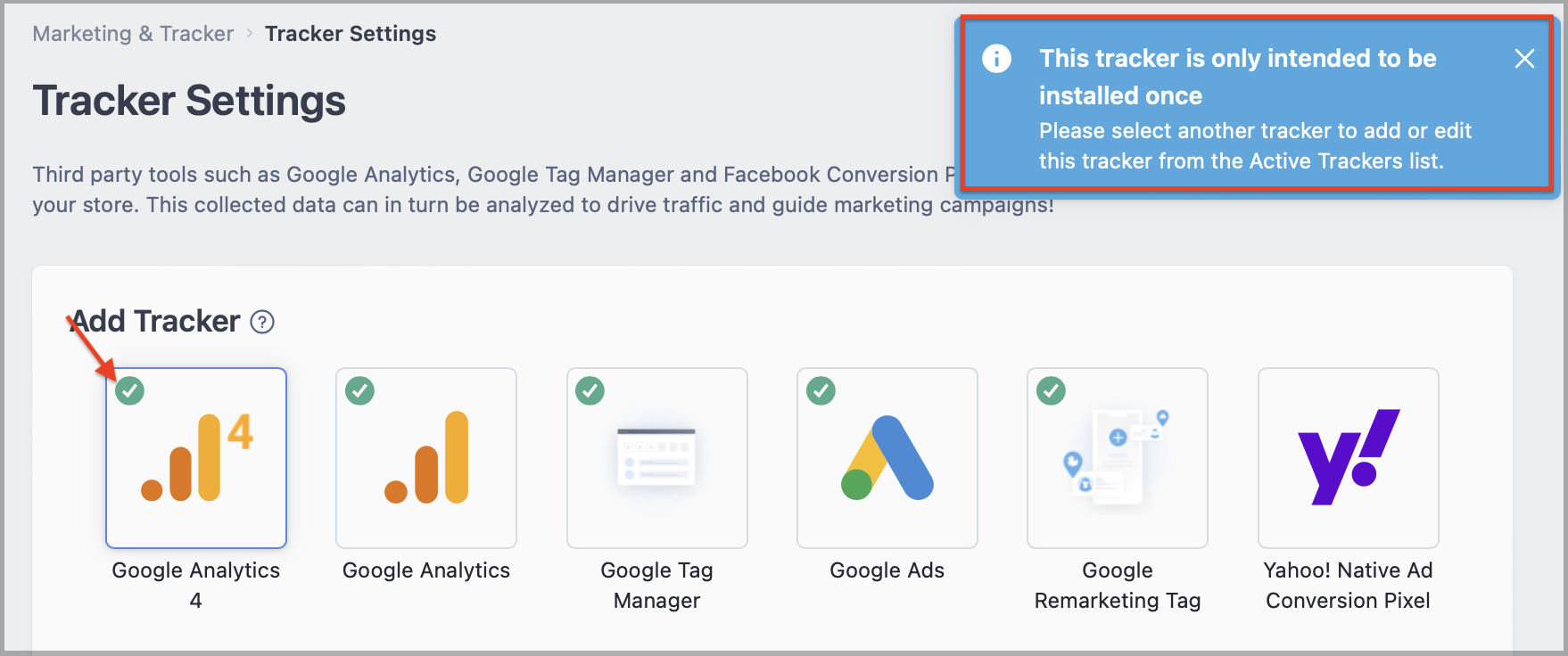 To edit or delete the GA4 tracking code, please scroll down to the bottom of the tracking settings page and click Edit or the bin icon.

*Note: Google Analytics starts collecting data after the setup is completed, and the data will not be updated immediately. It is conservatively estimated that it will take about 24-48 hours for the data to be shown in Google Analytics.
2. Recommended settings to be completed once connected and notes
1. Proceed to your GA4 account to confirm the following related settings are complete:
Property Settings: Click the Property Settings tab, and check whether the "Industry category," "Reporting time zone," and "Currency displayed as" options are correct.



Data Settings: Click the Data Settings > Data Collection tab, and enable "Google signals data collection."



Data Retention: Click [Data Settings] > [Data Retention] tab, and adjust the "Event data retention" to "14 months".



Enhanced measurement: Click the Data Streams tab, click into your data stream and enter "Web stream details." Please make sure to switch on the "Enhanced Measurement" toggle in the "Events" section.

2. Set up a list of unwanted referrals
Step 1: Click the Data Streams tab, and click into your data stream to open the "Web stream details" page.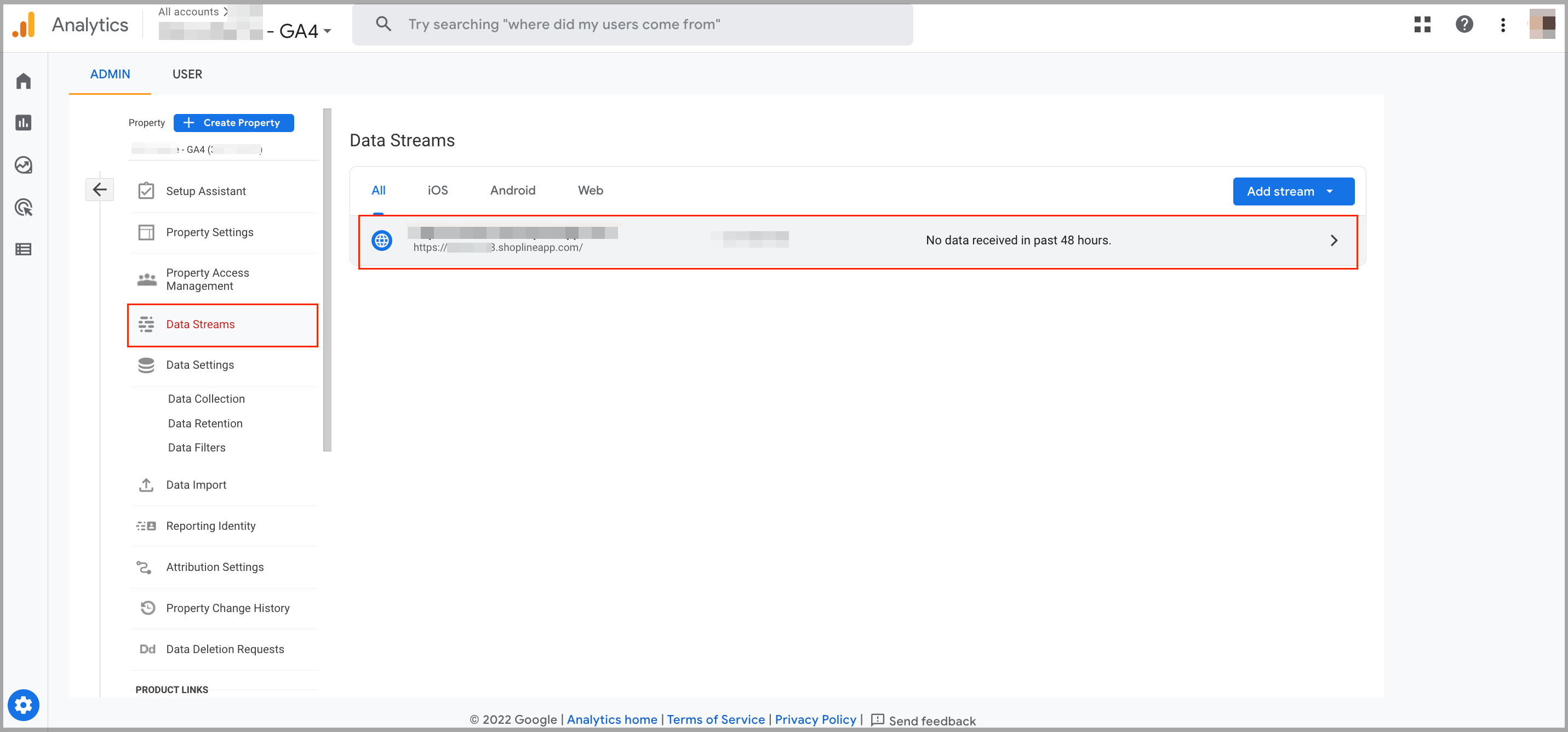 Step 2: In the "Google tag" section, click Configure tag settings.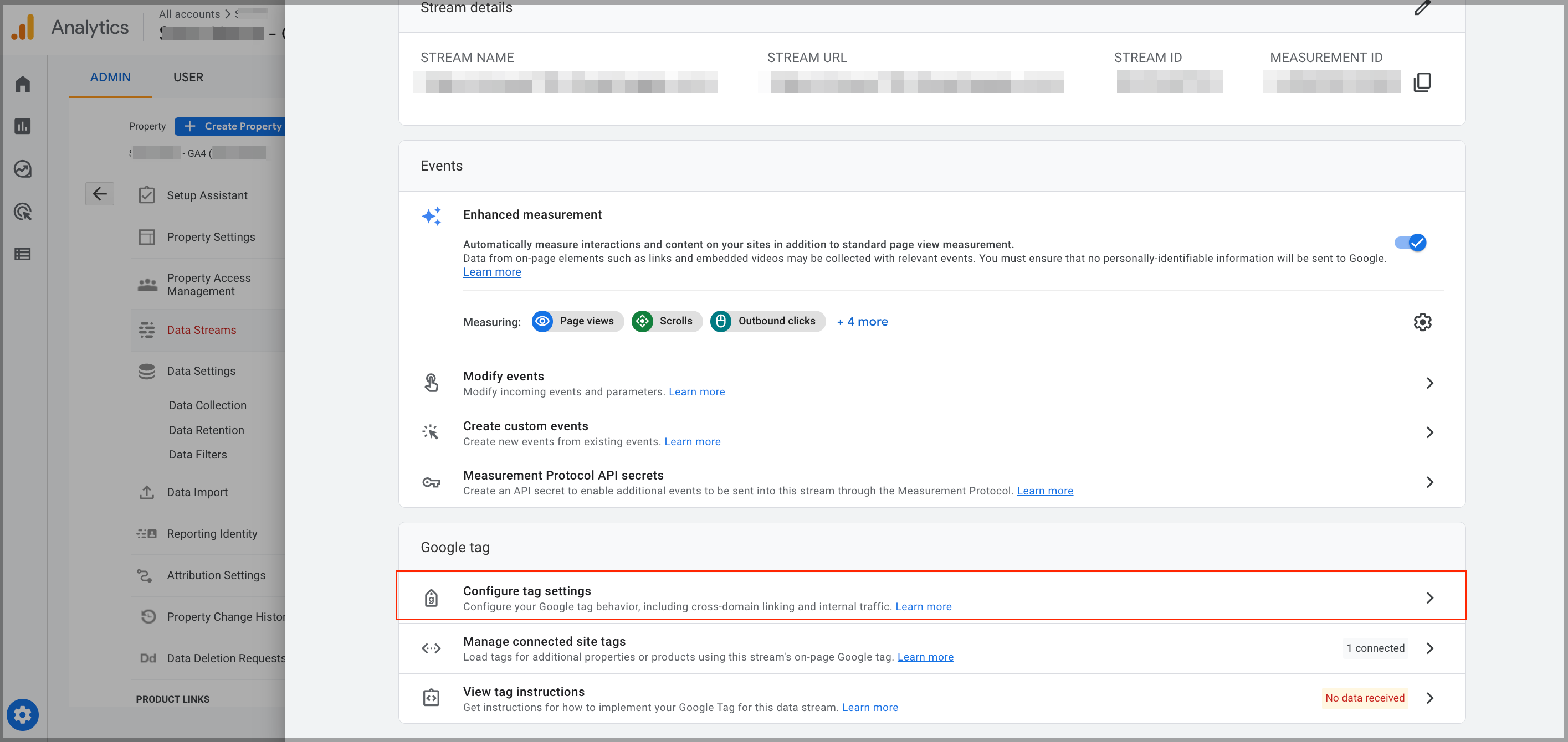 Step 3: First click the Show all button on the right of "Settings," then click List unwanted referrals.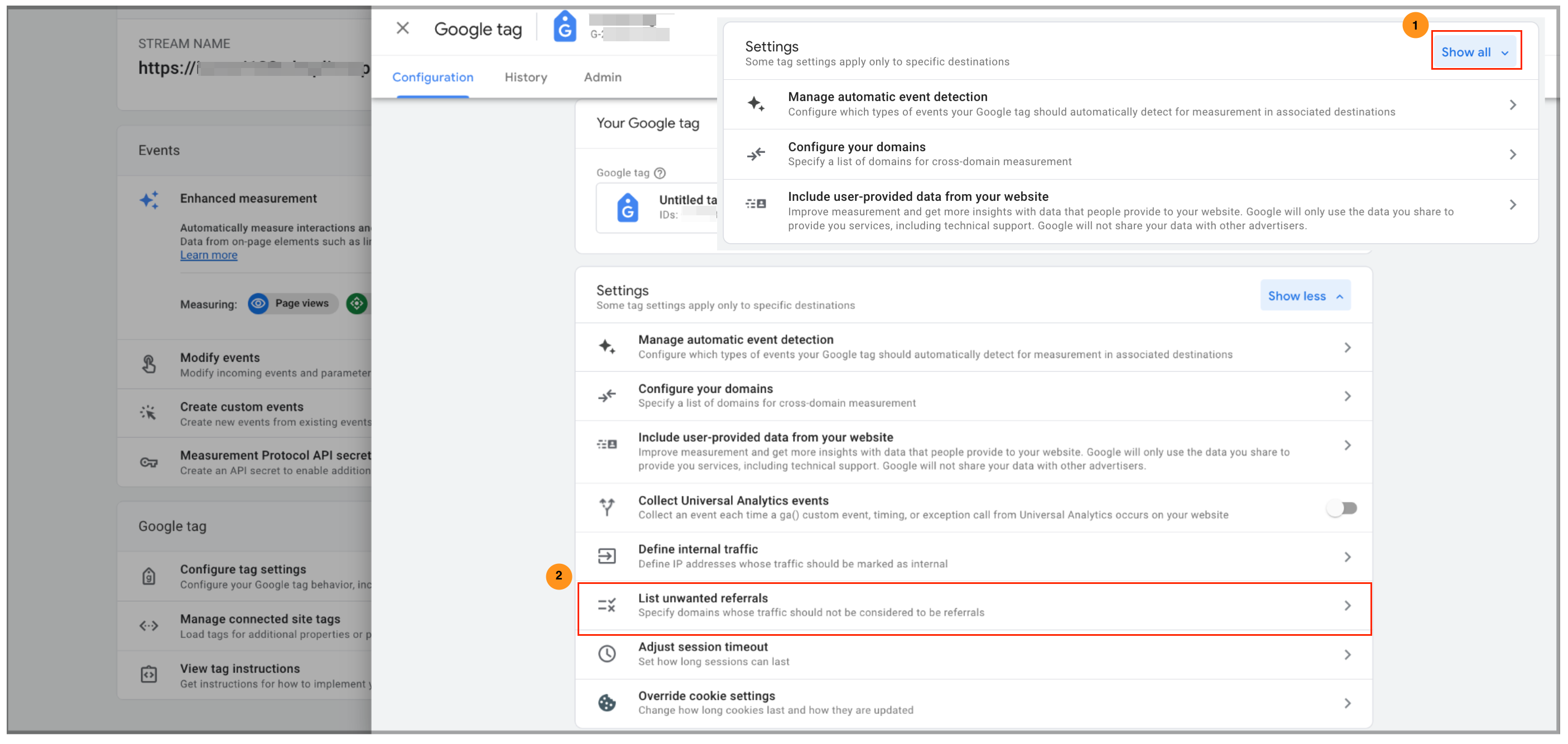 Step 4: Add the URLs you want to exclude in the "Domain" field.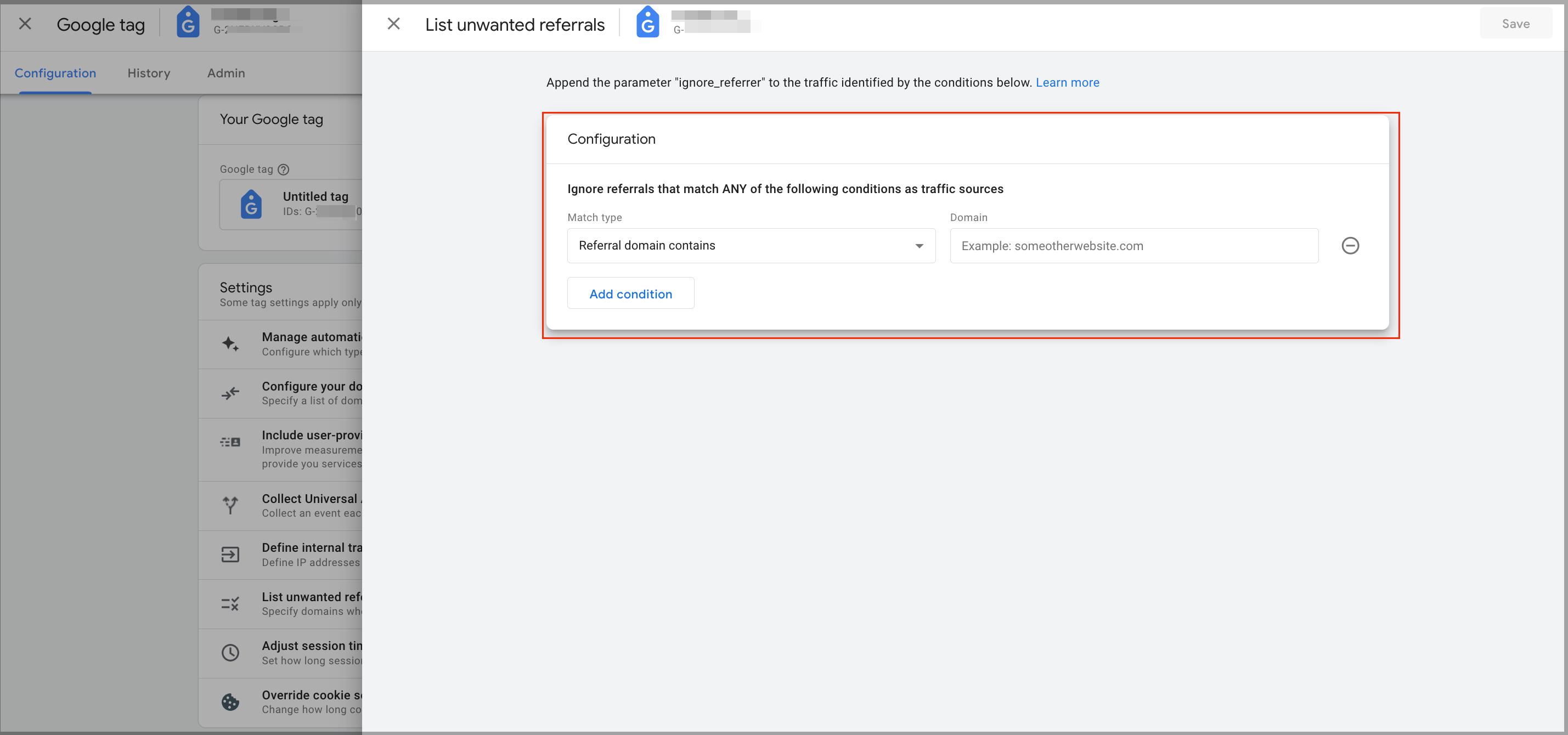 The list of URLs to exclude is attached below:
a. If there is an integrated store pickup service, please exclude the following URLs according to the service you use:
7-11: emap.pcsc.com.tw
FamilyMart: map.com.tw
b. If you use an integrated payment service provider, please exclude the following URLs according to the services you use:
Taishin Bank: taishinbank.com.tw、prod-redirect.tappaysdk.com
Bank SinoPac: acs.nccc.com.tw、epos.sinopac.com、prod-redirect.tappaysdk.com
LINE Pay: web-pay.line.me
ECPay: payment.ecpay.com.tw
Stripe: hooks.stripe.com
Razer Merchant Services: onlinepayment.com.my
c. If the store is integrated into SHOPLINE Payments, to ensure the security of customer information, each bank's payment service provider URL will be directly based on the credit card bank used by the customer. Please exclude the following URLs and the store's free default URL:
Cathay United Bank: 3ds.cathaybk.com.tw
Taipei Fubon Bank: emv3ds-acs.taipeifubon.com.tw
CTBC Bank: family.ctbcbank.com
Citibank: secureauthentication.citibank.com 、secureauthentication2.citibank.com
National Credit Card Center (Taishin, SinoPac, E.SUN): emv3ds-acs.nccc.com.tw
Financial Information System Corporation: acs3d.fisc.com.tw
Visa cards verification: secure5.arcot.tw
Proceed to SHOPLINE Admin > [Settings] > [Domain Settings] to get your free domain.
3. If you haven't created a Google Analytics account, you can only apply for a GA4 account from now on (the page will automatically redirect).
4. Universal Analytics will no longer process new data in standard properties beginning July 1, 2023. Universal Analytics reports will continue to be available for viewing for a period after July 1, 2023. However, new data will only flow to Google Analytics 4 resources. Please refer to this article for details.
5. If you have the UA event tracker and you have completed the connection in SHOPLINE Admin, to prevent duplicate data triggers, please do not add UA tags on GA4 Data Streaming > Google Tag > Manage connected site tags.


3. Overview of the differences between Universal Analytics and GA4P
Universal Analytics
-
New GA4P
Follow the web page information and user behavior.
Application scenario
Integrate tracking web pages and apps and user behavior
Focus on the session (measuring unit: users | session | Views)
Data model
Focus on users and behaviors (session).
*Note: Many commonly used reports and measuring units need to set additional sessions manually to complete the tracking
The measuring unit is mainly based on page view.
Measurement unit
Mainly page views/ screen views*Note: Enhanced configuration

File download
Web rolling depth
Outbound clicks
Embedded YouTube Interactive Information

Bounce Rate
Time on site
Pages/session

Interactive tracking unit

Interaction (Definition: Enter the website/ app for more than 10 seconds)
Interaction rate
Interactive time

Yes
*Note: Default reports are not subject to sampling. Ad-hoc queries of your data are subject to the following general thresholds for sampling:
Analytics Standard: 500k sessions at the property level for the date range you are using
Analytics 360: 100M sessions at the view level for the date range you are using
Sampling
None, but the queries are stricter
*Note: Because the measurement method is different, the data of the new version of GA will be relatively small.
14 months by default
(You can choose 14, 26, 38, or 50 months)and set it "Do not automatically expire."
Data retention period
2 months by default, you can be set to a maximum of 14 months. The two-month retention period is always applied to age, gender, and interest data regardless of your settings. You can use BigQuery to save indefinitely.
Gtag.js / UA ID(Ending with the serial number of the property)
UA-XXXXXXX-Y
ID
Gtag.js / G ID(No more serial number)
G-XXXXXXX
*Note: In the past, you could use Tag Assistant to find the website's tracking code and copy it directly on the GA background to find resources, but it's not applicable on GA4.
Segments
Breakdown
Change to new features: audience (automatic screening of recent active users and non-shoppers)
Event category/ Event action/ Campaign level/ Event value
Event level
Replaced to fixed event structures, there are only two levels: Event name/ Event parameters
None
Recommended sessions
A new feature, the system will add some events by itself:


File download
Web rolling depth
Outbound clicks
Embedded YouTube Interactive Information

Yes, 20 metrics for free. If the metric is set, you cannot delete it but only replace it.
Custom metrics
No. The metrics are replaced by events. There are quantities limits (50 text parameters and 50 numeric parameters, but numbers have been changing)
Yes, 20 dimensions for free. If the metric is set, you cannot delete it but only replace it.
Custom dimensions
Removed and replaced by user properties
Yes
View data

No.
*Note: GA4's data view has been removed. In the future, a new property will be required to separate different data views.

Yes
Data filters

Yes, but the feature is yet to be optimized

Not by default, but can be set up manually
IP masking
By default

Only available on GA360

Funnel analysis
Open for all

Only available on GA360

Segment overlap report
Open for all
Yes
Path analysis report
Advanced: offer backward pathing report
Connect manually
BigQuery
setup

Export BigQuery every day automatically
Event

New GA4P Trigger point

Browse product list

view_item_list: When entering the product list page for browsing

Click product list

select_item: When clicking on the button to view the product list on the homepage

Browse products

view_item: When entering a single product page for browsing

Add product to wishlist

add_to_wishlist: When adding a product to the wishlist (click the "heart" icon)

Add to cart

add_to_cart: When adding a product to the cart (click the "cart" icon)

Browse shopping cart page

view_cart: When loading the cart page

Start checkout

begin_checkout: When moving from the shopping cart page to the checkout page

Add delivery details when checkout

add_shipping_info: When adding a delivery address on the checkout page

Add payment details when checkout

add_payment_info: When adding a payment option on the checkout page

Complete purchase

purchase: When the checkout is successful, and the customer enters the order confirmation page

Search

search: When entering the product name in the "Search field" and click to search for the product

Registration

lead/complete_registration: When clicking "Register" and going to the registration completion page

Refund

refund: When the refund button is clicked (without waiting for the refund to complete)

Remove a product from the cart

remove_from_cart: When removing a product from the shopping cart

View promotion message

view_promotion: When browsing through the promotions page

Click promotion message

select_promotion: When clicking on the product on the promotion page

Enhanced event measurement
Please refer to this article on Google

*Note: The events below will be triggered by Google automatically

Page views page_view


Scrolls scroll


Outbound clicks click


Site search
view_search_results


Video engagement
video_start
video_progress
video_complete


File downloads
file_download


Form interactions
form_start
form_submit
Read more