For Malaysia merchants, kindly contact our online customer support consultant to activate Stripe payment option for your SHOPLINE store.
What is Stripe?
Stripe is an American technology company that allows both private individuals and businesses to receive payments over the Internet. 
To use Stripe to collect payment in your shop, you will need to apply for a Stripe account and complete the settings in Settings > Payment Options. After setting up Stripe as a payment option in SHOPLINE, your customers will be able to pay on the checkout page in your shop directly, without needing to redirect to another payment page.

Before you setup Stripe as a payment method, please note:

1.  When you apply for Stripe account, it requires your bank account information. The bank account must be located in the country where your settlement currency is based. For an example, if you apply for a Malaysia Stripe account, you will then need to link a Malaysia bank account . 
2. Transaction fees for Malaysia Stripe account:  3% + MYR 1.00 per successful transaction. *fees may differ from time to time*
For latest transaction fees, please visit: https://stripe.com/my/pricing


Types of credit cards Stripe support
VISA/MASTERCARD / AMEX


Stripe Settings
Step 1 : Add Payment Option

Before you setup Stripe as a payment method, please contact our online customer support consultant to activate the option for you.
"Settings" > "Payment Options" > Press "Add" button


Step 2 : Set up Credit card via Stripe payment method


Select your "Payment Type" as "Credit Card via Stripe" 

Click "Activate" to start setting up your account


Step 3 : Log in/ Set up Stripe account
You will be directed to Stripe setup page. If you already have a Stripe account, click "Sign in" on the top right corner and login to your Stripe account; For new user, please fill up the application form and click "Authorize access to this account"


Step 4 : 3D Secure
You will be redirected back to SHOPLINE admin panel after authorisation.
Here you will see the system has updated the payment method with Stripe's secret key & Publishable key. Also, 3D secure is enabled. If it is not, please turn it on.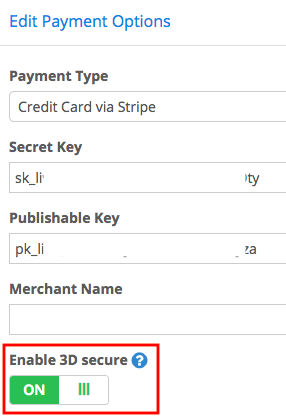 After enabling 3D secure successfully, your customers will be directed to the bank's 3D secure page when they proceed to checkout. Customers should pass 3D secure verification to complete the payment.


Example: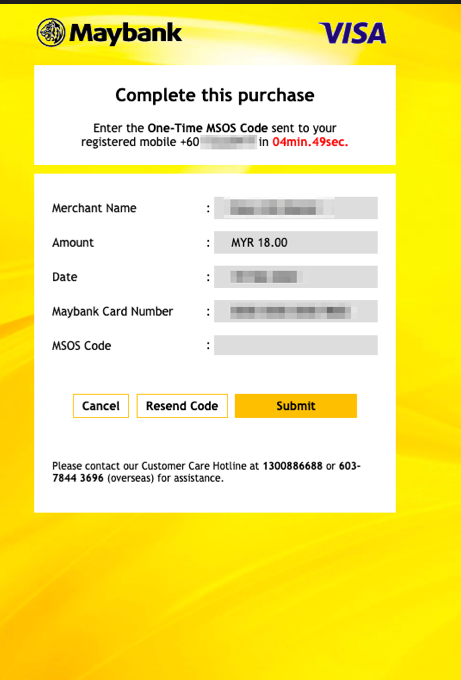 Please note:
If the credit card used for checkout does not support 3D secure, the payment will be completed without 3D secure authorization. In this case, customers will go through the normal credit card checkout process. 
 **Please note that the "Publishable Key" field is required to enable 3D secure. 
If your "Publishable Key" field is empty, please unpublish the existing Stripe payment option and create a new payment option for Stripe. The set of Stripe's secret key & Publishable key will be added automatically when your Stripe account is reconnected.
Step 5 : Publish Credit Card via Stripe Payment Option
When you have completed the settings, please click "Update". Although Stripe payment option has been added, it is currently not visible in your store.
Go back to SHOPLINE admin panel > "Settings" > "Payment Options" > Click "Publish" to make this payment method visible in your store

If you want to pass your payment transaction fees to your customers, please refer to our FAQ: Payment Fee Setting