*Please contact SHOPLINE customer success team for application*

Malaysian merchants are able to apply for Ninja Van integrated logistic service, SHOPLINE will help to create Ninja Van delivery option in your admin panel after contract been reviewed. Please check and continue to set for delivery details and fee in "Settings" -> "Delivery Options".
Please be noted, currently Ninja Van integrated service only supports domestic delivery, which means your pickup address and customer's delivery address must be in Malaysia.

Important Notice: Order created with other shipping method does not support to edit/ change the shipping method to integrated Ninja Van service.
A. Service Introduction
Parcel Dimension Restriction
Delivery Time
Delivery Coverage

L+W+H ≦ 300 cm

Max weight 30 kg

Parcel will be delivered to customers in 3 days, starts from the day after Ninja Van driver pickup parcels, delivery date will be adjusted if fall on non-working dates.

ex: parcel been picked up on 2/10, will be delivered to customer within 2/11~2/13

Subject to Ninja Van official announcement(note)
Note: For detailed and latest delivery coverage, please refer to: Ninja Van coverage area list
Packaging guidelines and regulations please refer to Ninja Van Official Document, parcels shall be packaged according to Ninja Van's packaging guidelines. Items that are not appropriately packaged or labelled as such will be subject to relabelling and/or repackaging by Ninja Van at the shipper's cost.
Ninja Van reserves the right to reject and/or decline to deliver any parcel that is not appropriately packaged or labelled.
B. Shipment Process
Step 1 : Execute Shipment
Click the order that is "Non-executed", you could see the "Execute Shipment" button in the order details page.

After pressing the "Execute Shipment" button, a basic sender info window will pop up. You could check your pickup address, reserve for Ninja Van pickup time, and choose the parcel size.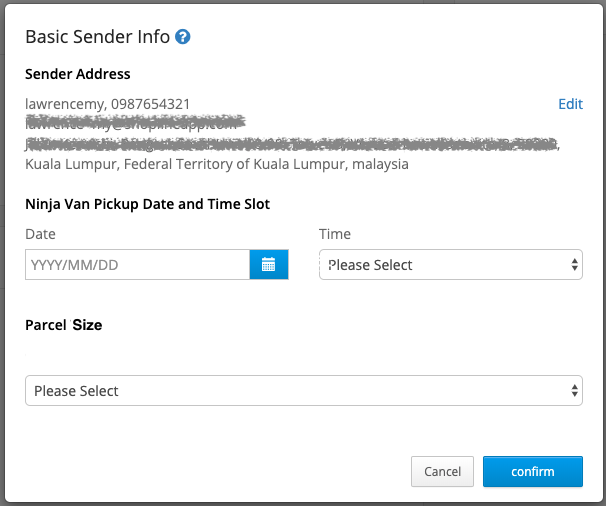 Please be noted:
"Execute Shipment" means sending order details from SHOPLINE to Ninja Van, after order created by Ninja Van system, delivery status will be updated to "Pending Pickup", then you could print out the label and wait for drivers to pick up the parcel.
Currently we do not support same day pickup, and the pickup date will be postponed for one day if you reserve for Ninja Van's non-working days (Weekend and national holidays).
Parcel size is a reference for Ninja Van to assign the vehicle, please choose the largest size if you have multiple parcels in one order. Delivery fee will be charged by parcel weight after Ninja Van measures the actual weight in their distribution center.
Step 2: Print out Waybill and Labelling Parcel
When order delivery status updated to "Pending Pickup", you could print label(waybill) and waited for Ninja Van driver to pick up.
For packaging and labelling details and regulations, please refer to Ninja Van Official Document
In order details page, "print labels"(waybill) button will be next to product details.

Step 3: Ninja Van Driver Pickup Parcels
Ninja Van driver will come at reserved date to pick up parcels and will contact you via phone call.
If you have any problems in the pickup process, such as driver's rude behavior or did not show up etc, please report via email to support_my@ninjavan.co. with following details:


Tracking Id :
Date Of Delivery :
Issue :
Special Case: Re-execute Shipment
After order executed, it is very common that customers will ask merchants to change their delivery details, merchants are able to update their info (refer to: Order Edit).
After confirm your updated delivery details, system will cancel the pickup reservation proceed previously, you will have to re-execute shipment to send the updated info to Ninja Van, and reserve for a new pickup date.
Please be noted, you can only edit delivery details before the parcel picked up, and the tracking ID and delivery info will change after re-execution, please print out the NEW label(waybill) instead of using the old label (waybill) before you edit.
C. Prohibited Items
Credit cards or ATM cards.
Human or animal remains, religious artifacts.
Firearms or swords.
Living things.
Poisonous or toxic substances.
Examination certificates, passports, and insurance documents which cannot be reproduced.
Written drafts, original films, tapes, and film material which cannot be reproduced.
Flammable, ignitable, or volatile items such as fireworks, kerosene, gas canisters or paint thinner.
Cash, cheques, bills, stocks and other marketable securities.
Perishable such as vegetables, fruits etc.
Latest prohibited items and regulations will be subject to Ninja Van Official Document

D. Other Shipment and Returning Notes
Ninja Van Customer Service Contact Info:
Customer service web page: https://www.ninjavan.co/en-my/contact-us
Customer service phone number: +60 111 722 5600
Customer service email: support_my@ninjavan.co
Shipment Note:
If you found your parcel is damaged, missing, or other extreme cases while Ninja Van delivering, Ninja Van will send a notification mail to sender for further action. If you have other question please contact SHOPLINE for assistance.
Returning Note:
If parcel been delivered to customer 3 times but cannot reach them, parcel will be sent back to shipper with no extra charge.