Do you want to improve the credibility and attractiveness of your online store products? Turn on the SHOPLINE product customer reviews function immediately, and your store will allow customers to comment on their orders. Your potential customers will be able to learn more comprehensive product information by browsing the comments and ratings of others. Reasonable use of customer reviews function will help you attract more consumers to shop.
1. Installation:
Go to Apps Store and install the app 'Product Customer Reviews' 
2. how to see the customer reviews of products in your store?
The product reviews published by the customer will be displayed on the product detail page.
A. Below product price section, you can see the average rating score and total review quantity of the product.
B. In the Customer Reviews section, you can see more detail, including the distribution of rating scores and each customer review record. In the customer review record, the customer name will be displayed anonymously at storefront to protect customer privacy: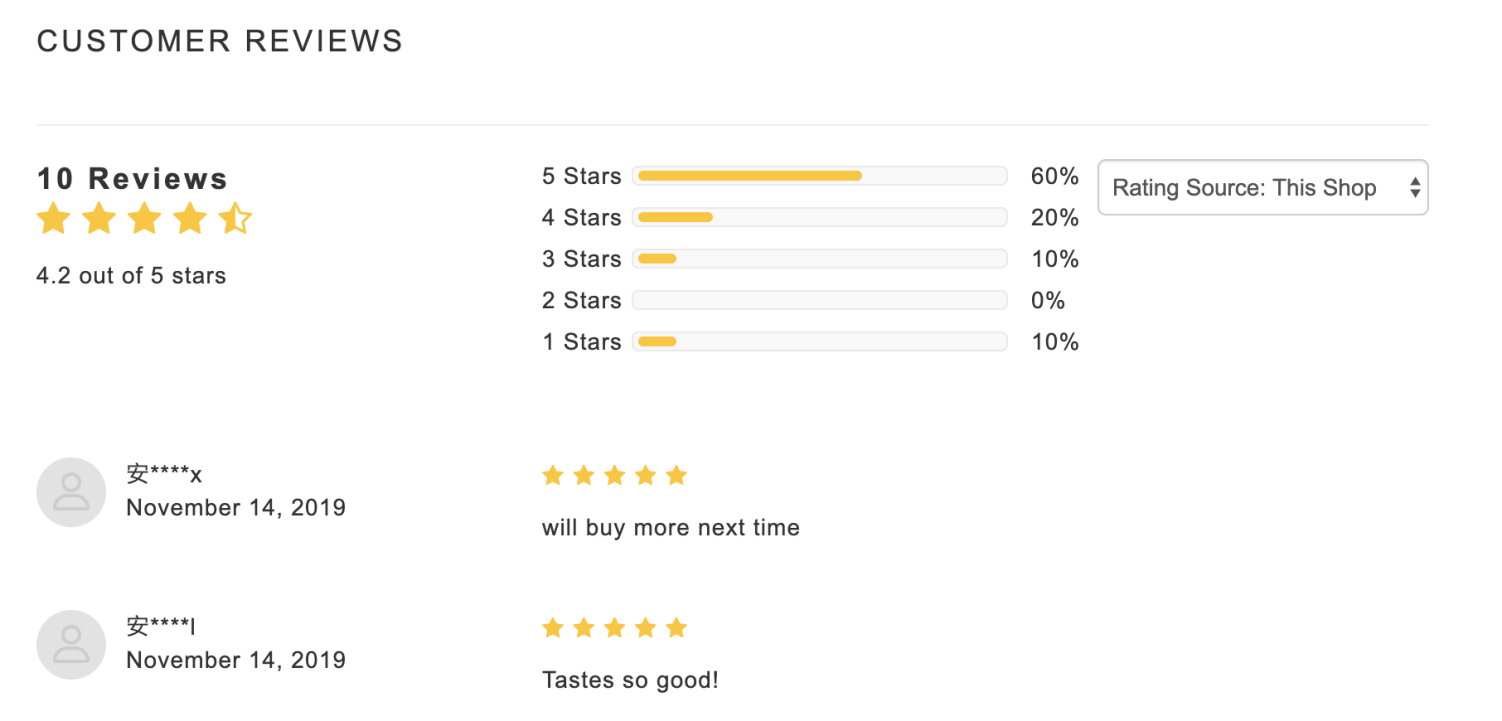 3. How to manage customer reviews?
You can browse and manage the customer reviews by customer review management in merchant admin panel.
Step 1: Log in merchant admin panel, Click menu bar to enter: Products & Categories > > Customer Reviews. You can browse customer review records in the page. Click the order number link of any record and you will go to order management page to get more detail of order.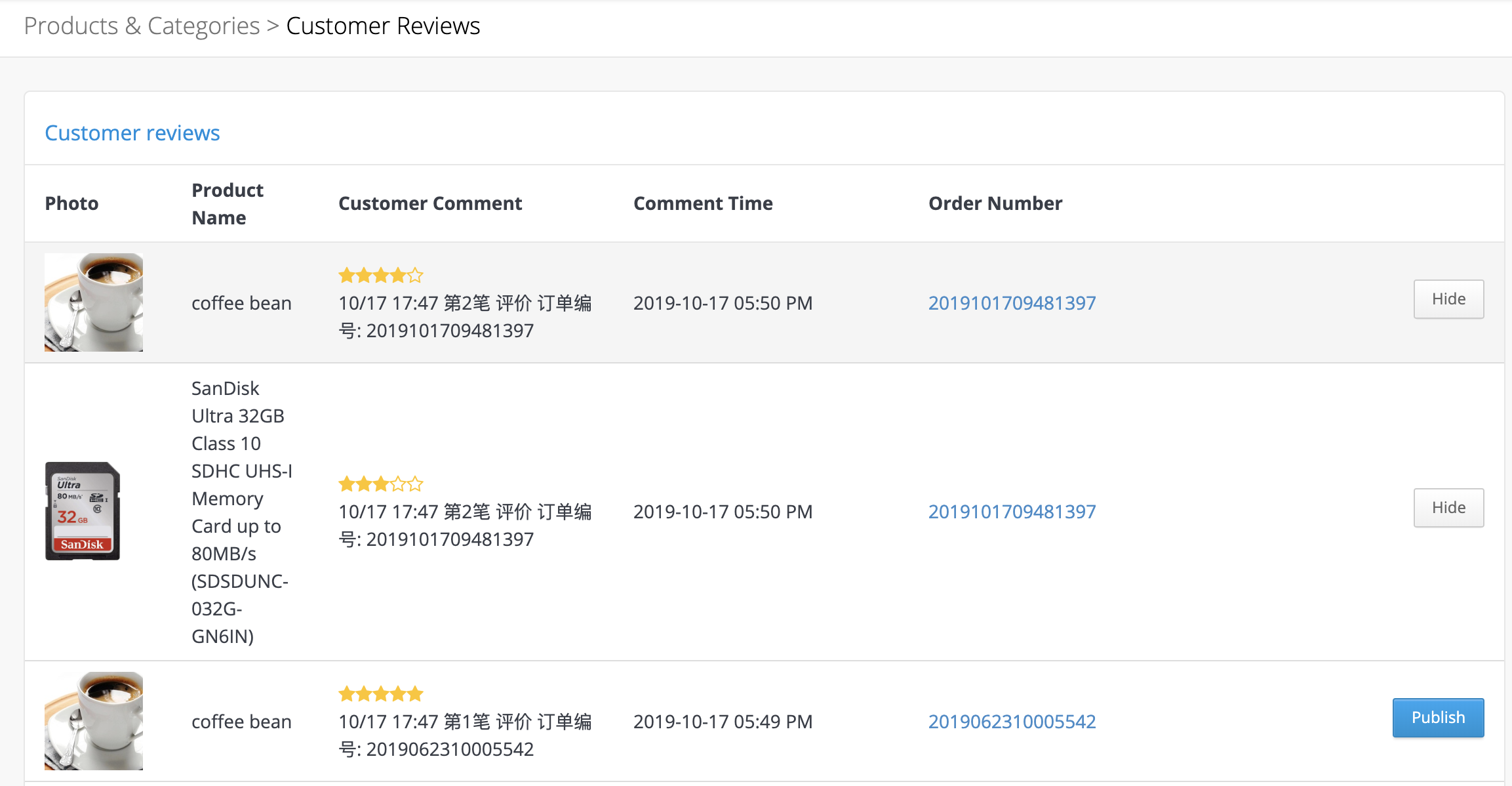 Step 2: Click  [publish / hidden] button on the right to hide or publish the customer comment in your store. Hidden comments will not be calculated in total rating and total number of reviews of your products.
4. How do your customers share their reviews?
Customers who meet the following conditions can publish a personal review of the products they purchased:
A. The customer is visiting your store with status of logged in
B. The customer's account currently has at least one order pending to be reviewed (that is, the current order status is "completed" and the customer has not yet submitted his/her review for the order)
Step 1: Customers will see a reminder of product review at [member center] or [personal order details] page:

Step 2: Click the [write a review] button to enter the review page.
click on the order no. you wanna review, lighten the stars to score each product in the order (required, minimum score is 1 star, full score is 5 stars), fill in the comments (optional), and finally click the [submit] button to publish review: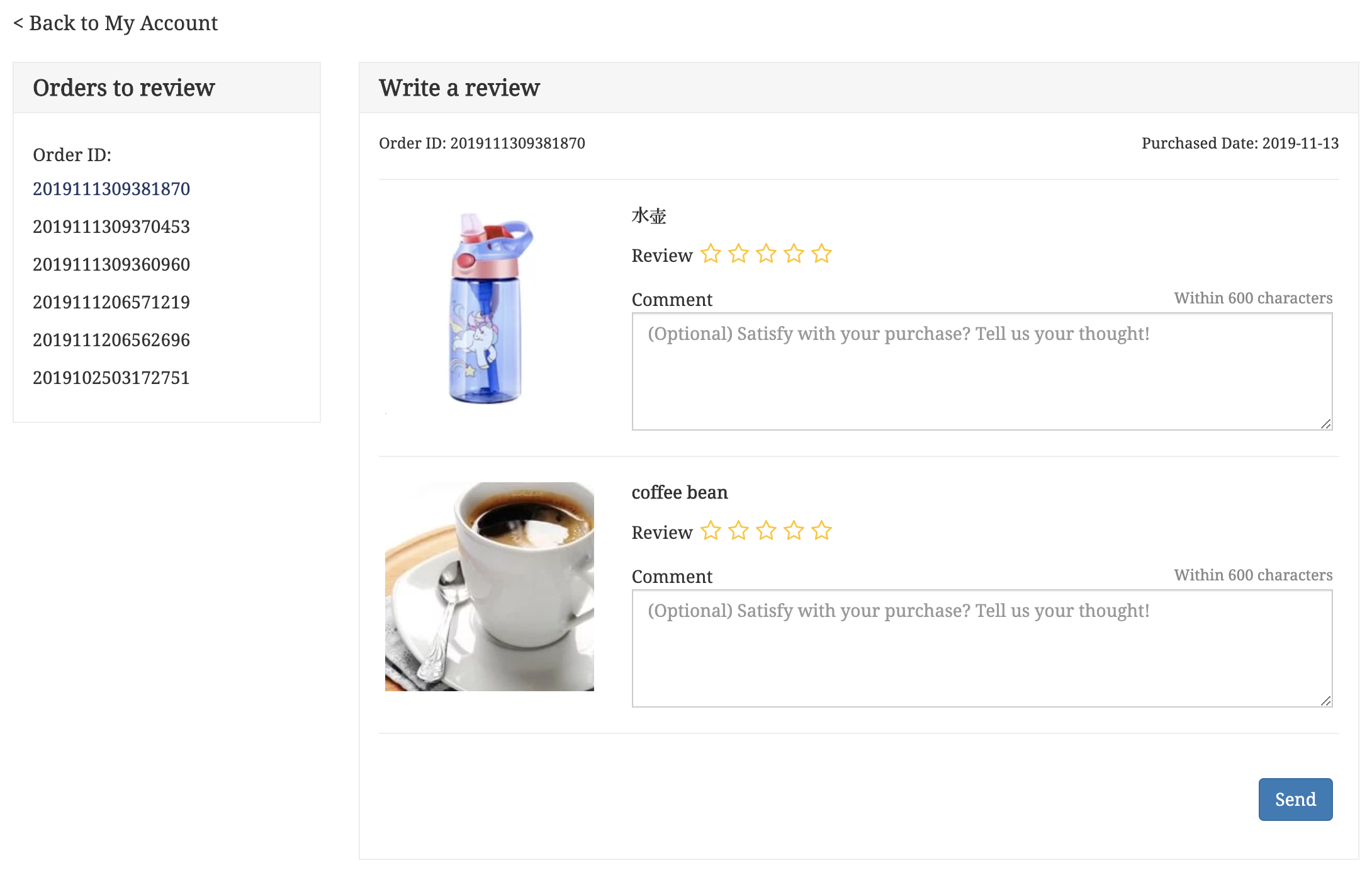 Note: Add-on products and gifts in the order will not appear on this review page for users to comment on.
5. Attention:
A. Hidden reviews will not be calculated in total rating and total number of products
B.Add-on products and gifts do not support customer review
C. Customer name will be displayed anonymously in the storefront, but in merchant admin panel, you will still have access to the order and customer information.