The "bulk upload products" feature allows you to manage products in large quantities effectively. You can do the following actions to upload products:
Notes: "Bulk Upload Products" is currently available for uploading Traditional Chinese, Simplified Chinese, English, Vietnamese, Thai products' information. (Multi-language support including Malay, Japanese, Indonesian, German, French will be available soon)
If your system supports multiple languages, it will generate the file according to your language setting.
2. Attention before uploading files ⚠
There are three fields you must fill in the bulk upload file. Please fill in the information completely: Product Handle, Product Name (either Chinese or English), Valid image for main product image. You can not leave these fields blank or the file won't be uploaded. Please download our template file and fill in the product information.
Besides those three fields above, we suggest that

a complete product should

contain Price, Quantity,

Categories (either Chinese or English). For

E.g. if you do not fill in the price, the system will hide the price

automatically after uploading. Customers can only send messages to shop owners for purchasing.

Before importing the file, please confirm all the content you are going to upload.


If those products which you filled into the file already exist in your shop, the system will still import those products and make duplicates of the products in your shop.

This feature supports merchants to upload 20,000 rows of data each time at most currently. e.g. There are two main products in a bulk upload file. One with only 1 variant, would be counted as 1 data row; the other one with 3 variants, would be counted as 3 data rows. When importing this bulk upload file, there will be 4 data rows imported in total.
The following article will guide you through the procedure of uploading products in bulk via Excel sheet.
Step 1: Click "Bulk Import"
"Products and Categories" > "My Products" > Select "Import" drop down box > Click "Bulk Import"
Enter this page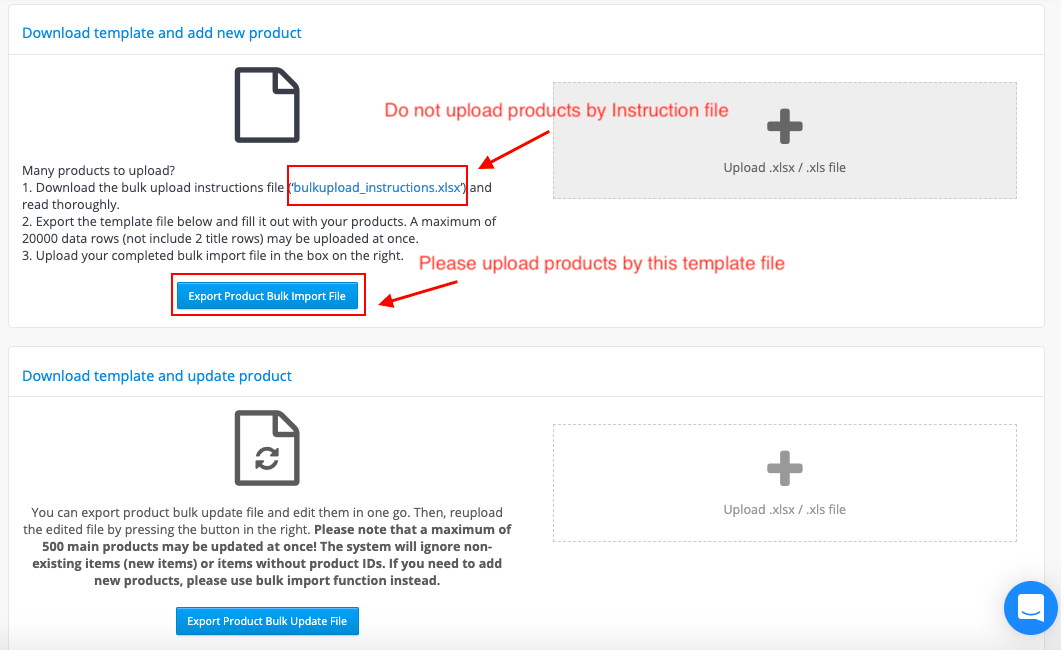 Tip: If this is the first time you use this feature, we strongly recommend you download and read the instruction file (bulkupload_instruction.xlsx)
Step 2: Download the form
First, download the form of "my_upload.xlsx" and open it.
Please be reminded that:
This form includes product information, descriptions, categories, price and options fields
Starting from

Row 3

, you can add a new product on every line
Please do NOT delete or change the columns of this form
Every new product should at least has

Product Handle, Product Name

and

Images.

If your shop supports multi-languages, bulk import template file will be generated according to your shop supported languages. You can fill in information for all the languages that are supported by your shop at the same time. If you wish to use only one language, please leave fields in other language in blank; but

each language-related fields are required to provide at least 1 language

If you only need to upload information in one specific language

,

please leave the fields of other languages blank.

Please make sure all categories you use are already configured in admin panel. Currently, we cannot create new categories in bulk import
Please do NOT include space in your image links

A maximum of 20000 data rows (not include 2 title rows) may be uploaded at once
Let's see how to add a new product entry step-by-step
(Please note: The position of the following fields apply only to this example. Since each shop supports different languages, the position of each column field in each generated template varies.)
Step 3: Product Basic Information
Column A: Product Handle is mandatory


Fill in the cell with a designated number and also for the following rows of the product's variation

Step 4: Column B~N
Product Name, Product Description, SEO, etc.
Column B~C: Product Name is mandatory.
If you only have the English version, please leave these Chinese fields blank.
Column D~E: Product Description
The format or performance of the description on storefront could be changed by the corresponding HTML code.

For instance, to see wrapped text, you could insert a code <br>.


Storefront would display texts like this after uploading:

Column F~J: Product SEO description
It can be a simple sentence about your product. It will usually be shown on search engines like Google and social media sharing.
Column K: Preorder Item
Filling "Y" in Preorder Item, this product will be published as a preorder item.
Column N: Status
Filling "Y" in Status will make this product published automatically after import; "N" means making it as a draft without publishing the product yet.
You may also refer to the instruction excel file, as shown below, for the bulk upload format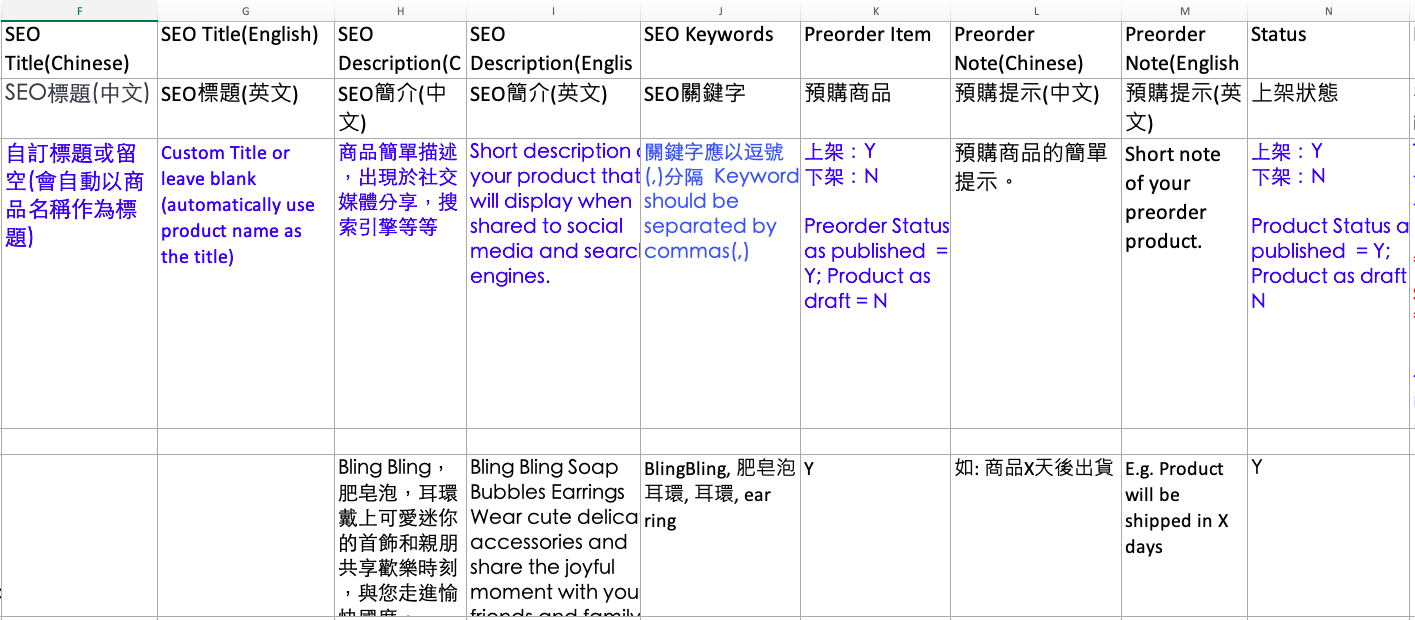 Tips: Inputting description more than one line
If your product description is longer than one line, you can edit it first using Word Processor like Microsoft Word and then copy and paste it to Excel. Make sure that all description is in the correct cell.
Step 5:
Column O,P
Images
You can add Images (used as thumbnails and primary pictures) and Additional Images (shown on more Information section after product description on the product page) in bulk upload.
*SHOPLINE has fully updated the SSL (Secure Sockets Layer), please remark your domain URL was changed into "https" at the beginning to avoid some browsers block a not secure domain using "http" to load the page.
Please enter the URL of the image directly. If you have more than one image, please use a space to separate two URL.
Tips: How to Get the URL of Images
There are different ways to upload your image.
1. You can upload your image to the Image gallery and copy the URL of it. Refer to this link for details.
2. You can upload your images to online photo album supporting public links like Imgur, Flickr, Facebook or search for photos directly on search engine. After uploading, you can open the photos in a new tab, right-click on the photo and select "Copy Image URL" to copy the URL.
Step 6:
Column Q, R
Categories
Before adding new categories, please make sure that you have added corresponding categories in your admin panel ("Products and Categories"> "Categories")
There're a few scenarios of assigning products to categories you may want to know:
Only assign to the main category, input the name of the category directly e.g. Digitals
Assign to a subcategory, use ">" to connect e.g. Digitals>Phone
Assign multi-categories to a product at the same time, use "#" to connect e.g. Digitals>Phone#Digitals>Trend
If you don't have Chinese Categories, no need to add on column J
Step 7:
Column S~W
Price, SKU and Quantity
Fill in the Price, Sales Price, SKU and Quantity of your product.
If you leave Quantity blank it means unlimited quantity.
Reminder: If a product has different variations, please refer to "Step 9 Specification and Options" and set up Variation Quantity, Variation Price, Variation SKU for each variation product.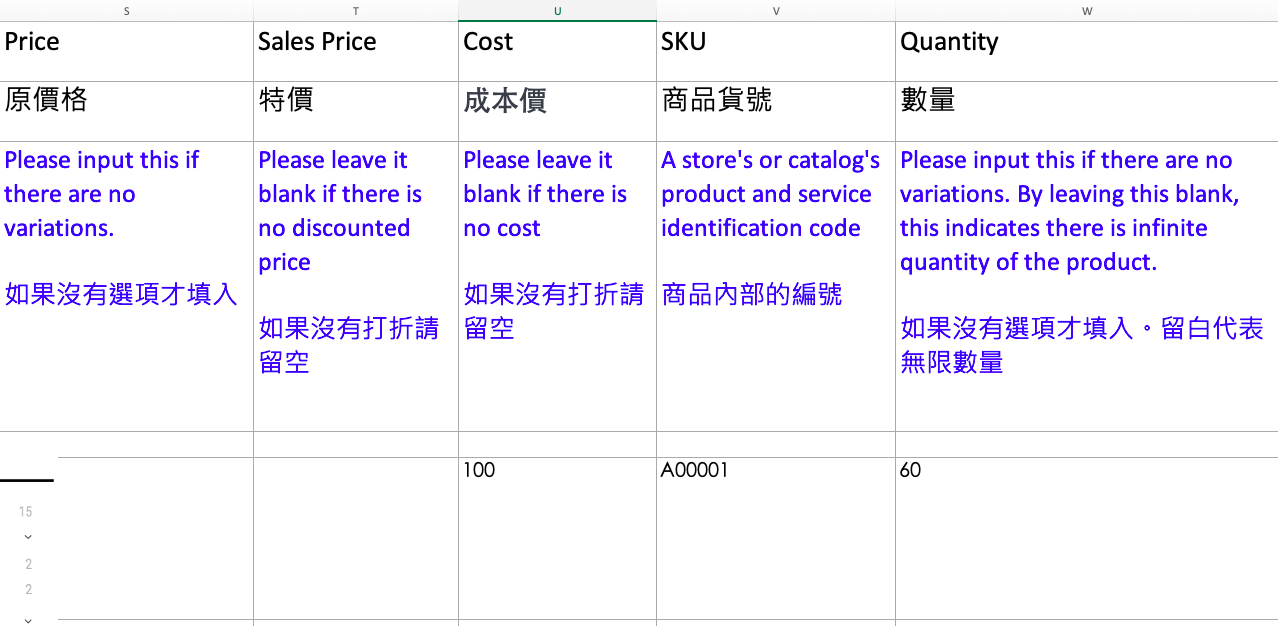 Step 8:
Column X
Weight (kg)
If you are now using the newly launched set delivery fee by weight function, you may also add product weight (in kg) in the bulk upload sheet to help counting the delivery fee as order weight on the checkout page
If the field is blank, the product would be set as 0 kg.
Reminder: If a product has different variations, please use Bulk Update Product and fill in "Variant Weight" after the product is uploaded to set weight for each variation product.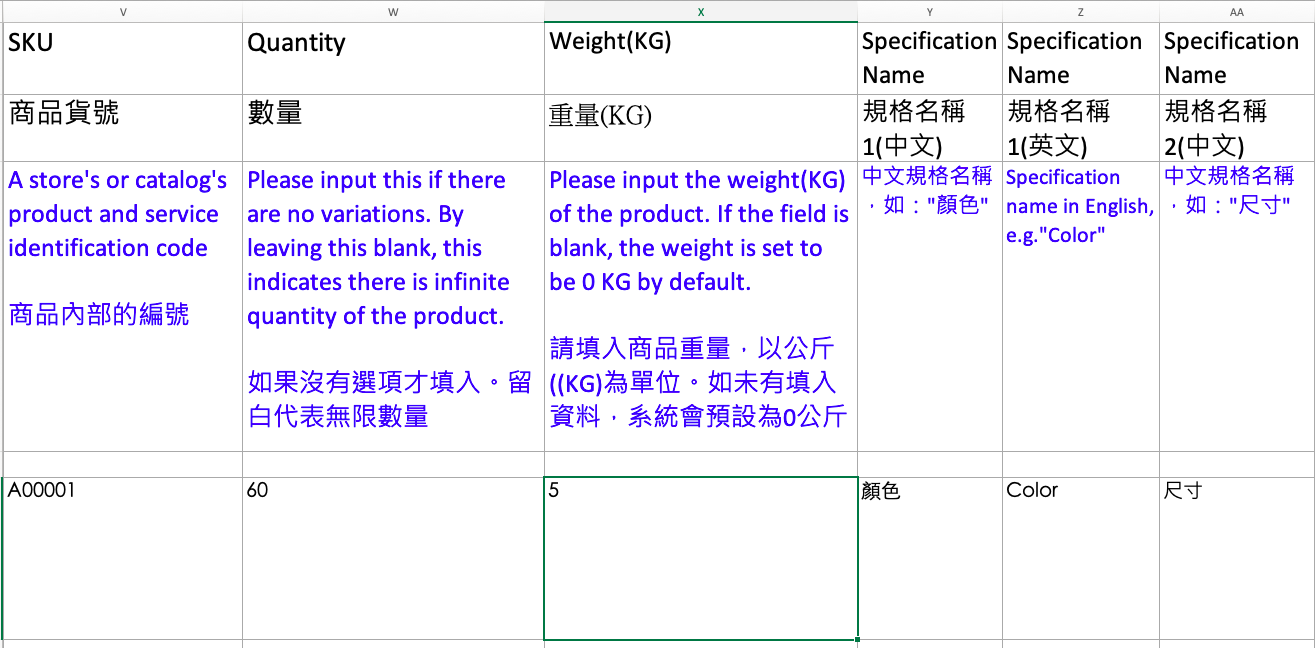 Step 9:
Column Y~AB
Specification and Options
First, you have to set the name of each specification e.g "Color" and "ROM"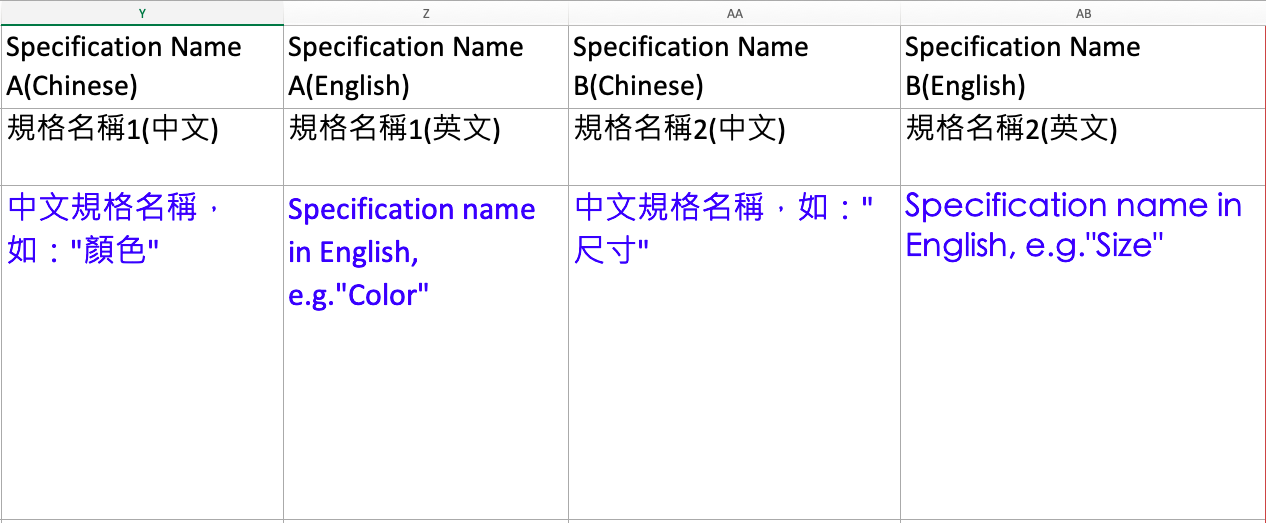 Then fill in the corresponding variation name, quantity and price for each specification.
Shop owners can edit SKU (Stock Keeping Unit) of each specification right now to show the inventory of each product clearly.
You can add more product variations to each product, according to add Variation A, Variation B, Variation quantity, Variation price and Variation SKU (SKU of each variation) from top to below.
After filling in the former product, the next product is on the following line. Add one product for a line.
Step 10:
Column AJ
Barcode
You can fill in different barcodes for each item of product.


If you have POS system, barcodes will synchronize with POS App after uploading. If you left blanks on the row of "Barcode", the system will automatically generate 8-codes barcodes.

After uploading, you can go to "Products & Categories" > "Products" > "Edit" >"Product Feed Data" to check the barcodes. If you need the row of "Barcode" but without setting up the page of "Product Feed Data", kindly contact merchant success team via online chat box to apply.
*POS is currently provided in Taiwan and Hong Kong only.
Step 11: Upload Bulk Upload File
After finish inputting all information > go back to SHOPLINE admin panel > upload that file you've saved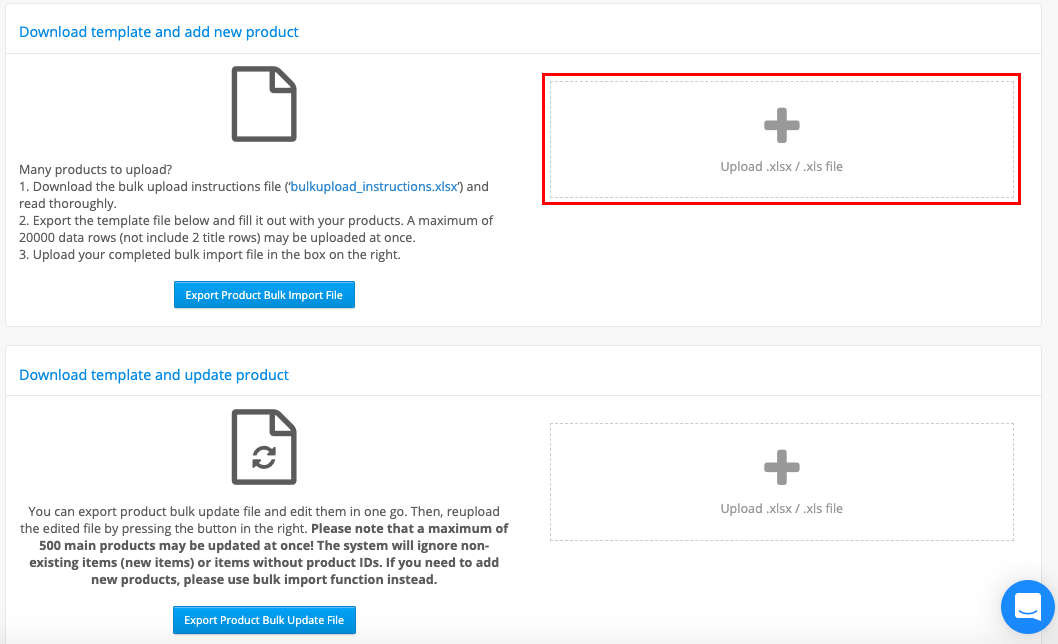 Page as below will be shown after products are successfully imported.
You can check the bulk upload progress on "Bulk Import"/"Export Progress" page. If you have failed items when uploading, there will be a button for downloading the failure report. Please revise the file according to the failure reason and instructions then re-upload the file again.