We offer customer tags and memos to make customer management easier. With this feature, you can create tags and notes for specific customers and find your TA faster.
The following article will introduce:
1. Create tags and notes for customer
Step 1: Confirm your subscription
On the Admin Panel, click the upper right corner "Hello, XXX" and enter My Subscription & Billing to view your store's plan subscription.
A. Please confirm if your plan and module include Social Commerce / e-Commerce / Retail POS plan. If yes, go to Step 2 to create tags.

B. If you see this (below) instead, please confirm your store is using Premium / O2O / Enterprise plan.

If so, go to the Admin Panel > Apps > Apps Store to install this Customer tag & note.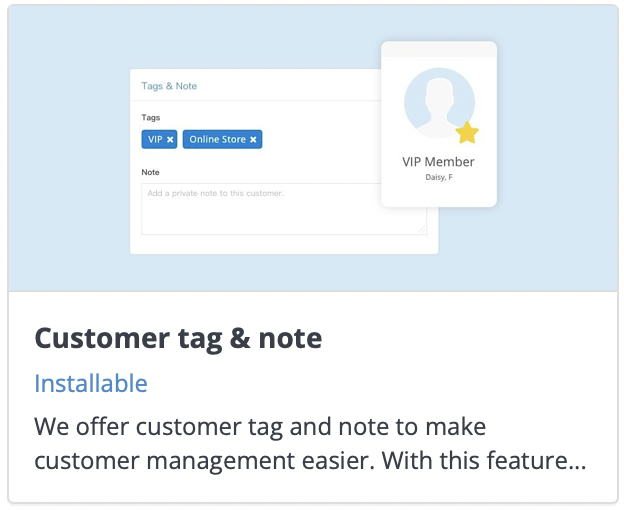 Step 2: Create tags
Go to SHOPLINE Admin Panel > Customer Management > Customers > View.

On the customer detail page, you can find Tags & Note section under the Membership section.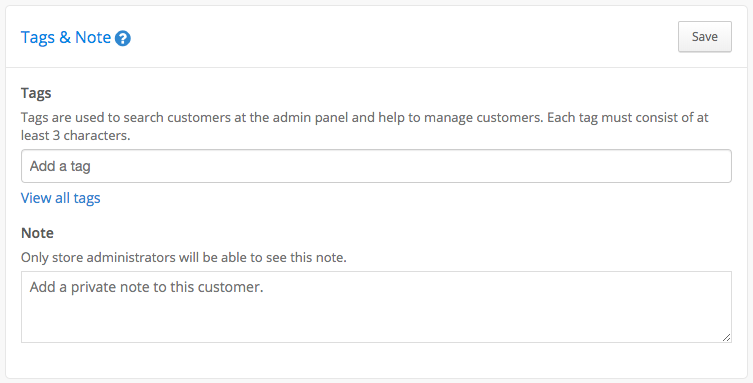 Tags
Input tags. Each tag must consist of at least 3 characters with a maximum of 40 characters. Press "Enter" and the tag will turn blue, indicating the tag is successfully created.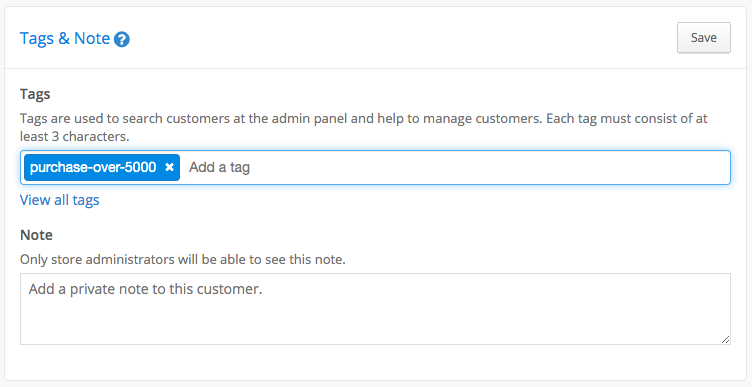 If you want to add existed tags, click "View all tags" and the pop-up will be shown.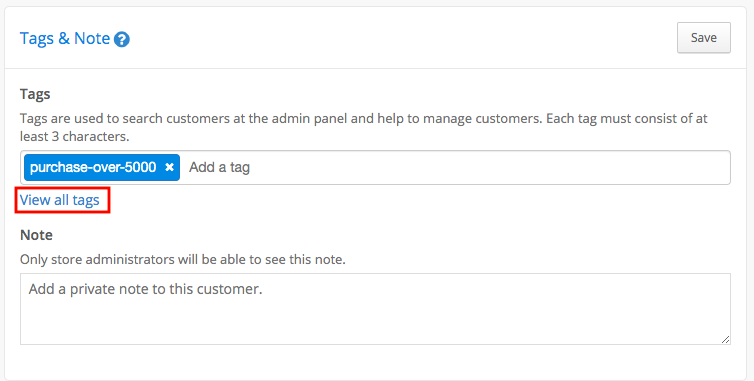 Click on the tag in "All tags", the tag will change from white to green and will be added to the "Applied tags".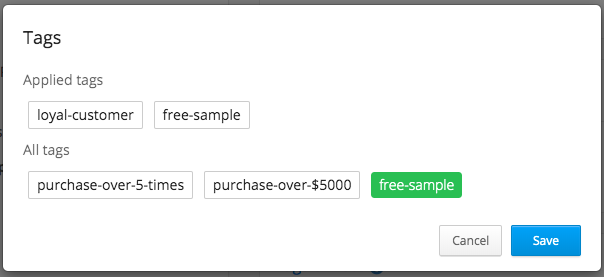 Click on the tag again, the tag will turn back to white and will be removed from the "Applied tags."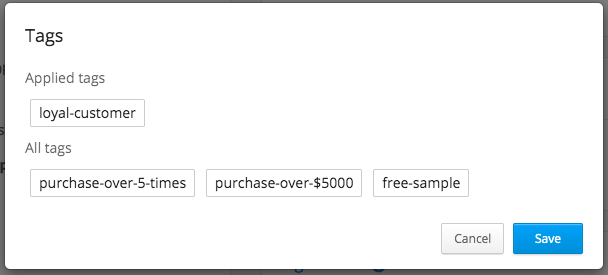 Step 3: Note
Input more description of your customer in "Note" field. (Note is limited to 1000 words). After all, remember to click "Save" to update the tags and notes you created.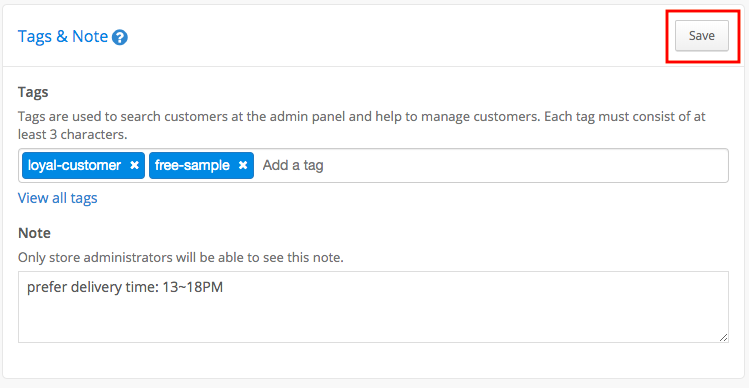 2. Filter customers by tag
Go to SHOPLINE Admin > Customer Management > Customer List
Filters
Add Filters > Select a Filter > Tag.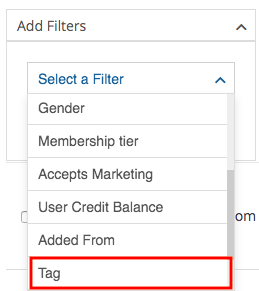 Select the tag from the dropdown list and click "Add". The customer list will immediately show your filter results.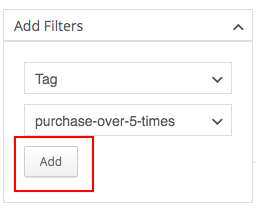 Tags can be filtered with other criteria. For example, you can filter customers who applied the tag "purchase-over-5-times " and another tag "Accepts Marketing".
3. Add/ remove customer tags in bulk
Merchants can use this feature to add/remove tags for specific customers and manage customer tags in bulk. For example, for all customers who have accumulated 5 purchases, add a tag of "sent $100 credit"; or for all December birthday members, add a tag of "December birthday", etc.
Step 1: Get customer ID/ email address/ mobile phone number
This feature requires a customer ID (if the customer is created through SHOPLINE), email address, or mobile phone number for the system to match the member information. If the merchant already has a customer list (including email or mobile phone number), you can skip to Step 2 to update the customer tags in bulk.
If you want to select specific customers from the customer list to add/delete customer tags in bulk, you can follow the instructions below:
Go to Customer Management > Customers and select the customers you want to add/remove tags.
*Tips: You can use "Add Filters" to find customers who need to update their tags in batches more quickly.

Click on "Export Report" and select "Selected Customers" to export data. Exported data field must contain the Customer ID/ Email address/ mobile phone number. Click "Export" to retrieve the report.
The customer information in this report will be used in the next step "Bulk update customer tags".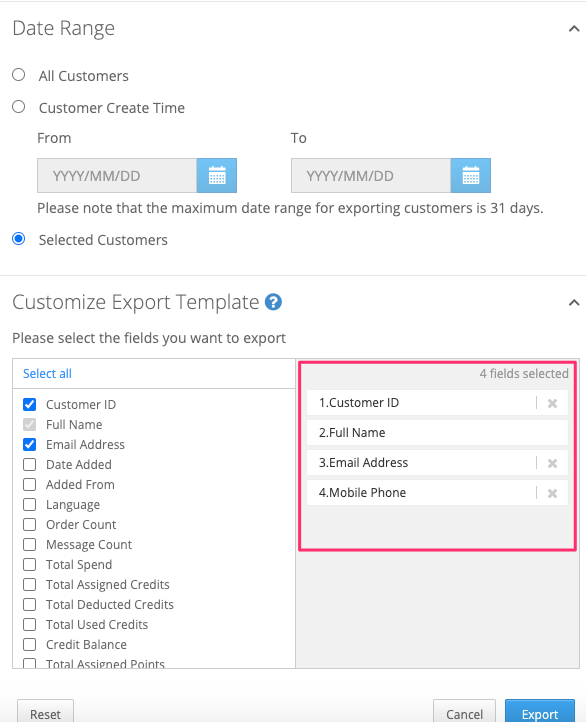 Step 2: Update customer tags in bulk. Download the template for instruction
Click on "Import Report" > "Bulk Update Customer Tags". Download the template and edit it.


Step 3: Follow the instructions in the form. Fill in the customer ID, email address, mobile phone number, and customer tags
Copy and paste the customer ID/ email address/ mobile phone number into this form, and edit the Add Customer tags column, or Delete Customer tags. Please note that the new customer tag cannot be duplicated with the deleted customer tag on the right.

Notes:
At least one of the three fields (Customer ID/ Email Address/ Mobile Phone Number) must be filled in, cannot be left blank.

After uploading the edited file, the system will identify the member according to the order Customer ID > Email Address > Mobile Phone Number. If the email and mobile phone number in the same row belong to different customers, only the highest-ranked customer will be tagged.

For example, the information in one row is, 
1. Customer Email: lizz@shoplineapp.com 
2. Mobile Number: 09123456789 
3. Add tag: AA Member



Customer A: lizz@shoplineapp.com





Customer B: 09123456789





Because of the higher rank order of Email address, the "AA Member" tag will be created under Customer A instead of Customer B.

3~40 characters per tag, 60 tags in total at maximum.
Tags in the same cell must be separated by commas, e.g. tag1,tag2,tag3, with no spaces in between.

Tags can be added up to 1000 customers at a time.

If there are identical emails or phone numbers in the file, then all tags of this customer will be created under the same user.

Example:





First row: lizz@shoplineapp.com+tag1,tag2





Second row: lizz@shoplineapp.com+tag2,tag3





After uploading, the customer will have tag1, tag2, tag3.

To input a date in the customer tag, please use the format 2021/01/01 or 2021-01-01 for better identification. If the date contains the symbol ".", please add a single quotation mark in the cell. For example: '2021.01.01 so that the cell will be identified as a text format.
Step 4: After completing the form, go to "Bulk Update Customer Tags" and upload the edited Excel file.

Step 5: Check the status of the process. If failed, download the failure report
Go to Report and Analysis > Bulk Action Process to check the process and status. If the process fails, you can download the Failure Report.

Read more