To improve the security of online transactions, you can enable 3D secure for Stripeto make your orders more assured.
Go to SHOPLINE admin panel to set up 3D secure
Edit the Stripe payment you've set up in payment options.
For further information, please refer to Stripe Payment Settings

When 3D secure is enabled, the "Publishable Key" field is required. 
If your "Publishable Key" field is empty, please unpublish the existing Stripe payment option and create a new payment option for Stripe. The Publishable Key will be added automatically when your Stripe account is reconnected.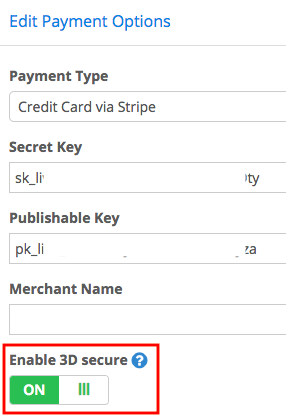 After enabling 3D secure successfully, your customers will be directed to 3D secure page when they proceed to checkout. Customers should pass 3D secure authorization to complete payment.
Please note:
1. If the credit card used for checkout does not support 3D secure,
the payment will be completed without 3D secure authorization.
In this case, customers will go through the normal credit card checkout
process. 

2. Sign in your Google Analytics account, and please follow below steps to exclude the Stripe referral traffic sources:
- Go to Google Analytics "Admin" page
- Find Property column, click "Tracking Info >> Referral Exclusion List", and click +ADD REFERRAL EXCLUSION
- Enter domain name: hooks.stripe.com and create it