You can create different variations for the products with accordance to their product attributes on SHOPLINE.
There can be two variations maximum. Color and size are preset options but you are free to customize your own variation type. Having said variation type cannot exceed 2 items, the number within each variation type is not the case. To be concrete, for example, there can be 5 colors for a product with 5 different sizings.
This article is going to describe the steps of setting up product variations.

A.Setting up product variations
Step 1
Login SHOPLINE admin panel >> Go to "My Products" >> Click "Add" button >> Click "Variations" tab

Step 2: Enable product variation
The default setting disables variations > Click "YES" to enable the variation feature if variations present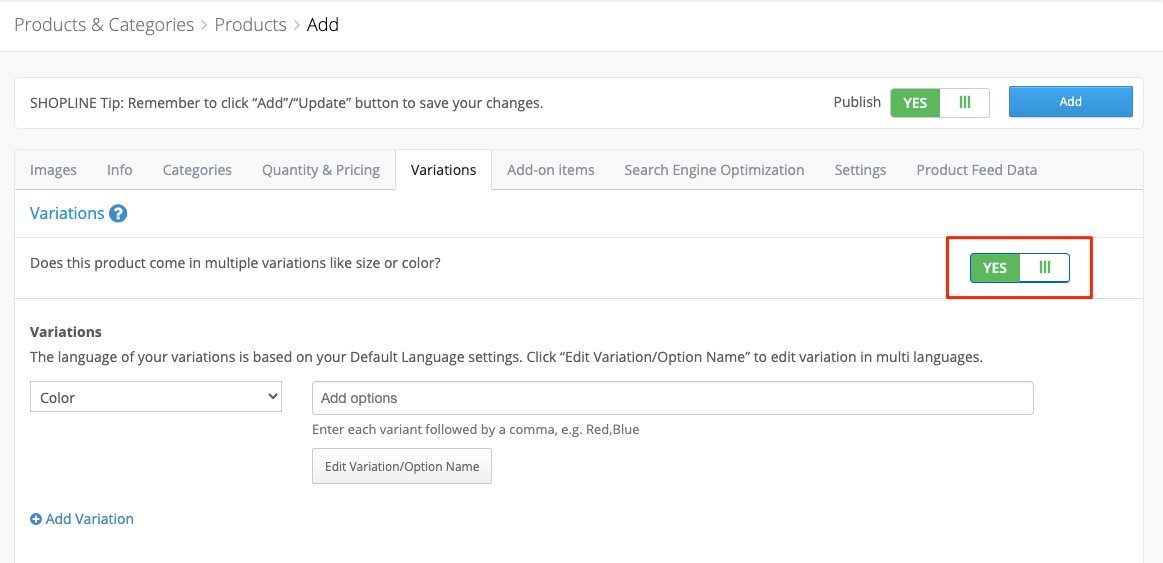 Step 3: Set variation name
Choose the variation, either "Color", "Size" or create a "Custom" one > Input the "Options" at the box next to the variation name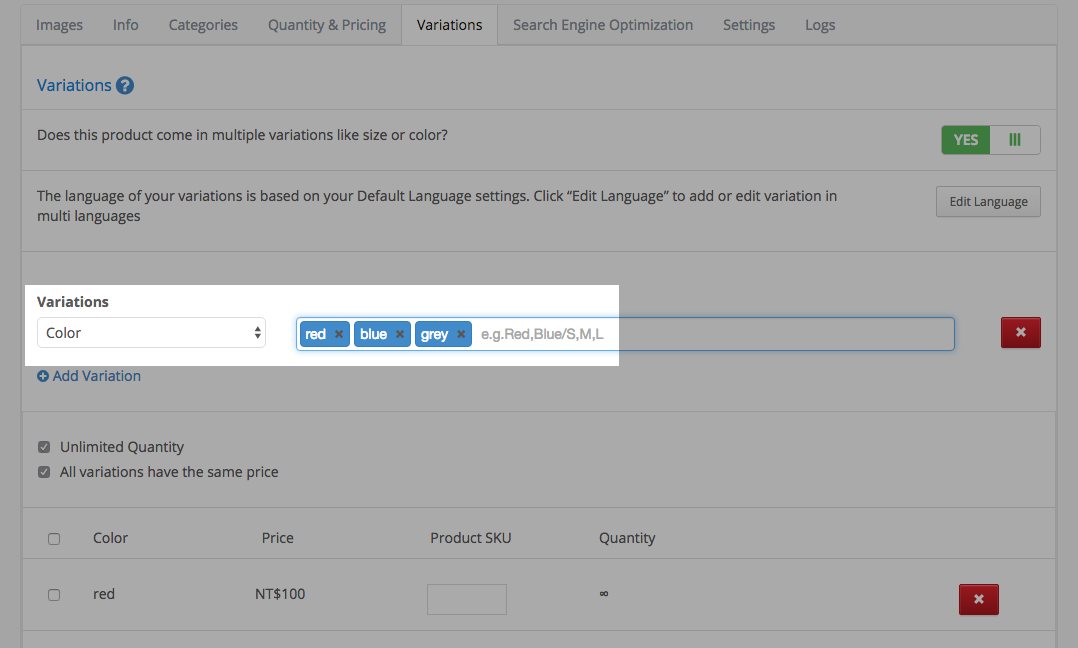 To add another variation, click "Add Variation" and fill in the options in the field on the right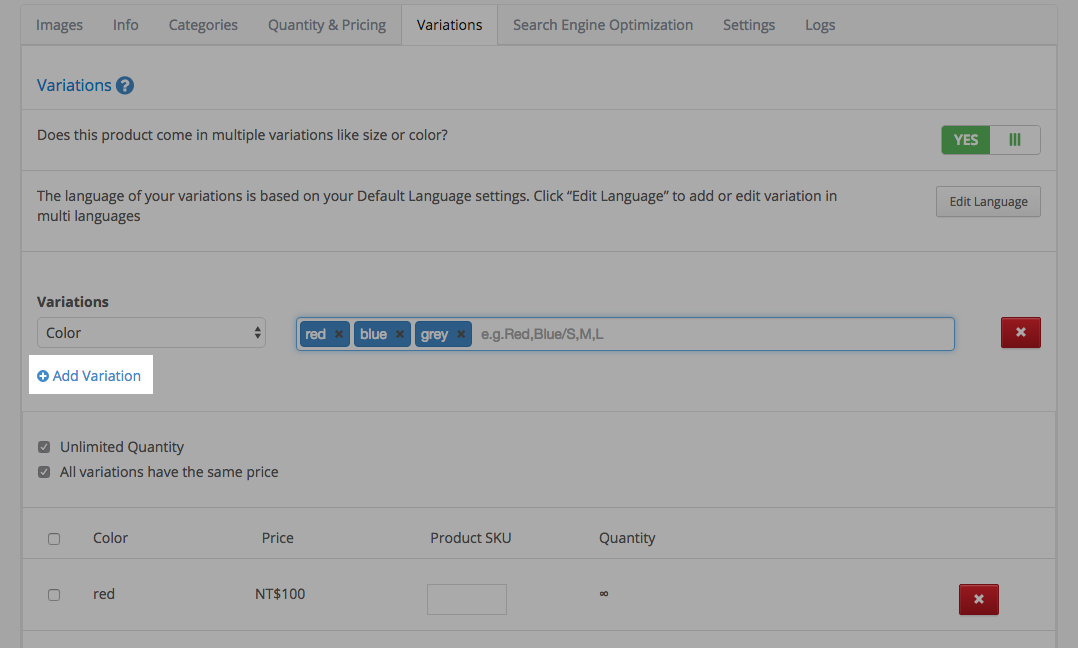 Remarks: The options can not be duplicated for each variation
If there are 2 variations, combinations are automatically formed below. Take the image below as an example, 9 combinations are formed with 3 colors (red, blue, grey) and 3 sizes (S, M, L):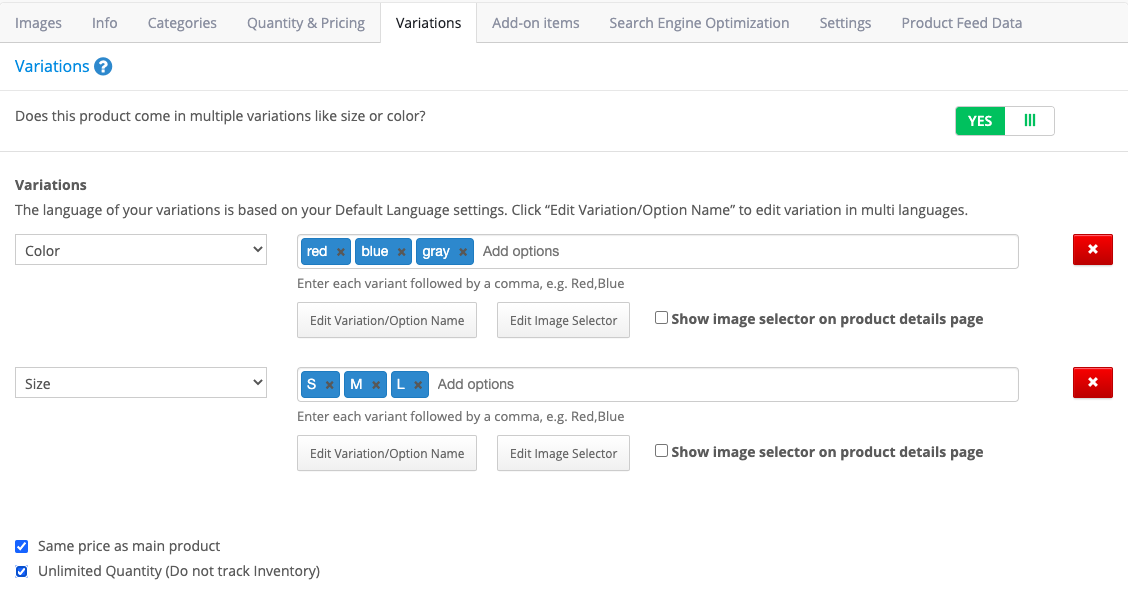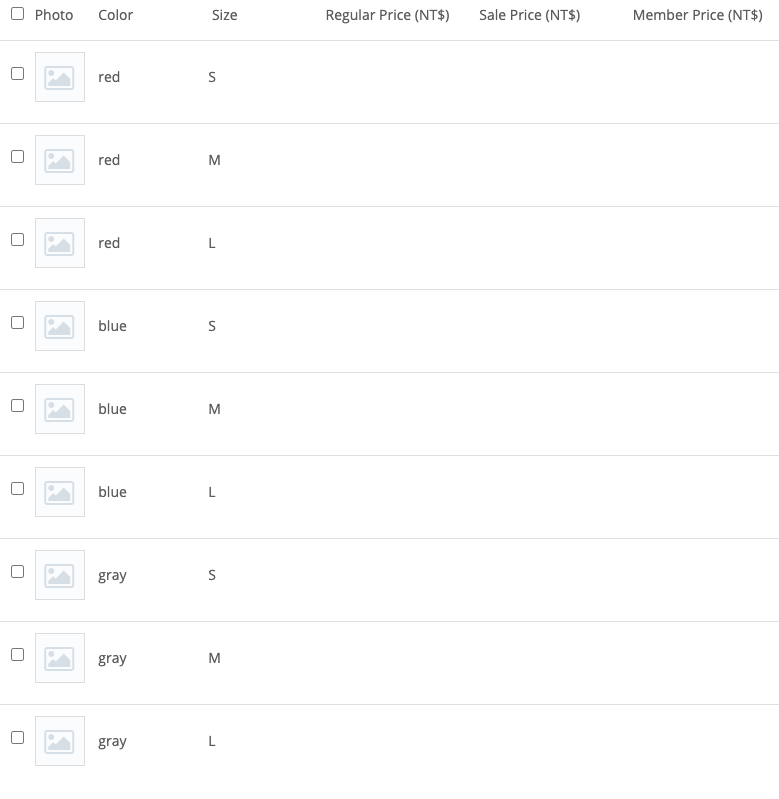 Remarks:
Plans under Basic Plan, Advanced Plan, and Premium Plan maximum can add 100 variant combinations
Plans under O2O plan, Enterprise plan: maximum can add 400 variant combinations 【Can be installed in app store】
Step 4: Edit Language
An easy way to edit different languages of variation name and variation option is to click "Edit Language" button >> Edit the names in the pop up window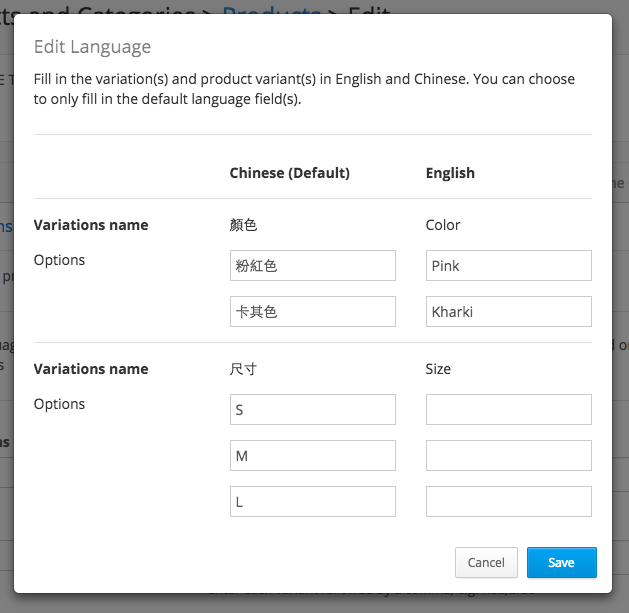 Remarks: The default language for your variation is based on your default store language. Please make sure you have filled in the value in this column. You may change your store language in "Shop Settings" >> "Basic Settings"
Step 5: Unlimited Quantity and Unified Price Settings
"All variations have the same price": Variations are set as the same price by default. Untick the checkbox to change
"Unlimited Quantity": If the variations have unlimited supply, check the box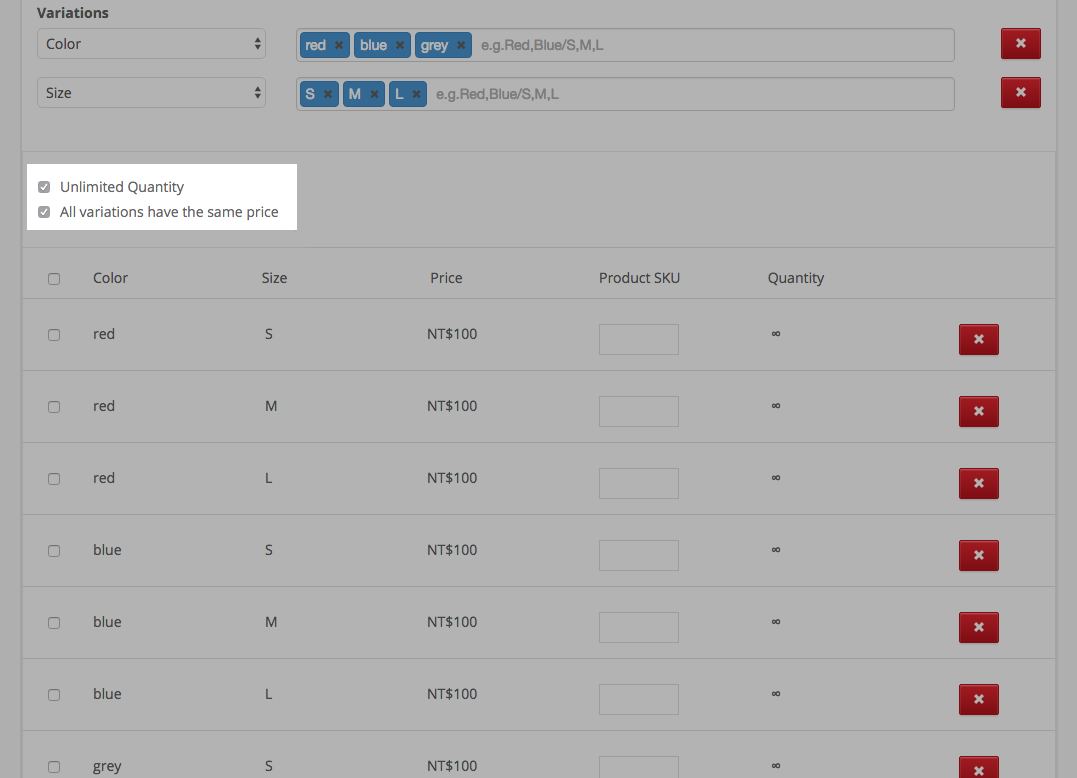 Step 6: Add Single Variant
Click "Add Variant" to create single single variant (e.g. you only have size S in Grey colour)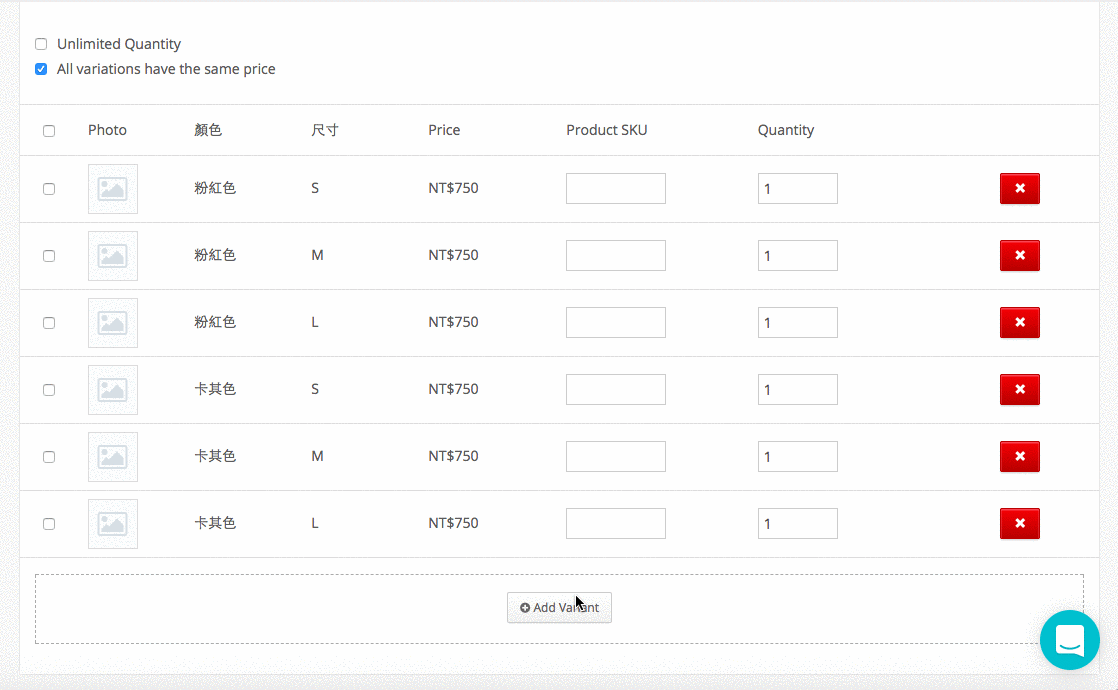 Step 7: Variants Sorting
You can drag and drop the variants in the input field to sort the variants' orders.
It will show a + mark to let you drag and drop the options on the variant input field, and when you move the options, the variation table will be updated at the same time.
After you update the product, the new sorting will be applied to storefront immediately.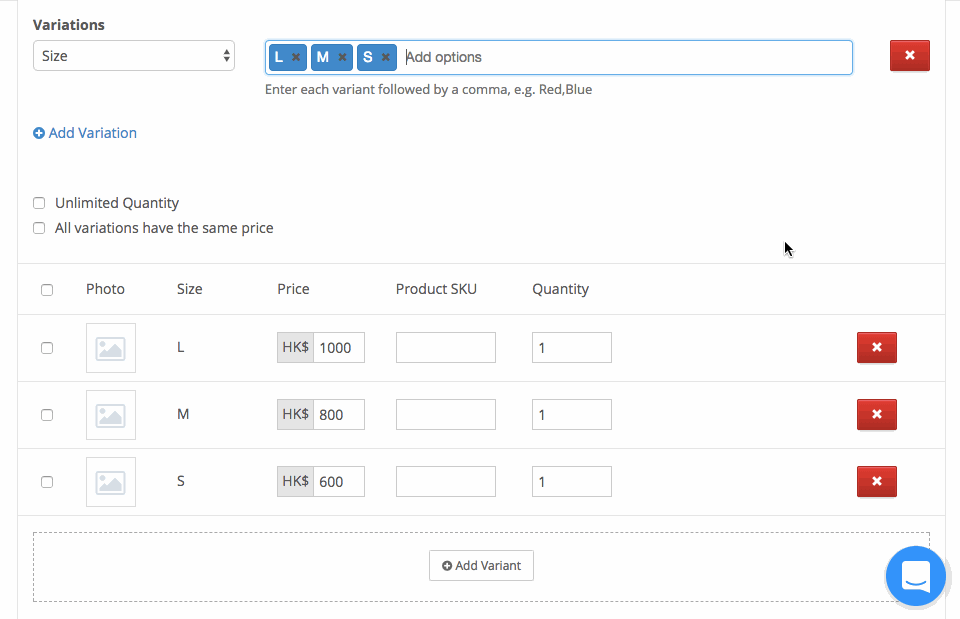 Remarks: Make sure the default language field is not left blank otherwise error message would appear
Extend Reading: Upload Photos For Product Variations