To deal with more sophisticated order handling, we have recently launched the new order system. Besides original order status filter, more filter criteria have been added, merchants can now sort out the orders more clearly, and they can look for the orders more easily with multiple filters and keywords.
A. View and update statuses
Available options for each type of filters are as follow:
Order status: Open/ Confirmed/ Completed/ Canceled

Payment status: Unpaid/ Paid/ Refunding/ Refunded

Payment method : (Customized)

Delivery status: Unfulfilled/ Shipping/ Fulfilled/ Arrived/ Collected/ Returned

Delivery method : (Customized)

Label / Report status : Labels Unprinted / Labels Printed / Stock Picking List Not Exported /Stock Picking List Exported / Order Invoice Not Exported / Order Invoice Exported ("Label status" are for Taiwan only, and this filter will only appear in Family Mart B2C & 711 B2C Order management page)




Step 1:Update payment status
When a customer places an order, both the customer and the merchant receive a notification email, where the default order status is open, payment status is unpaid, and delivery status is unfulfilled.
Merchant can view the orders and update the statuses. For example, update payment status from "unpaid" to "paid".
For integrated delivery order, merchants can change delivery status to "Shipping" when already "execute shipment" and logistic service order status is under "shippable".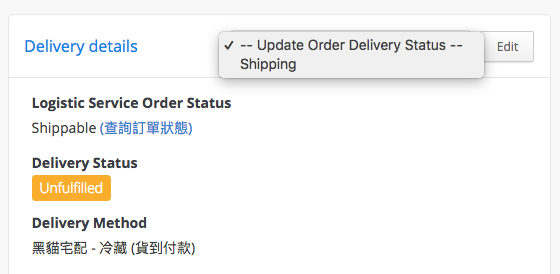 Non-integrated delivery order can change delivery status at anytime and any situation.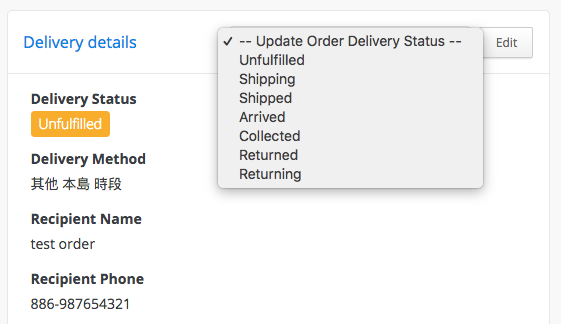 *Note:
Order used integrated delivery method can only manually change status to
"pending" and "shipping". If merchants mistakenly change to other status, delivery
status will not actually update.
Step 2:Notification
Before confirming the update, merchant can also check the box in the message to send a notification email about the update to the customer.

Click "Yes" to confirm update and send a notification email to the customer.

B. Search and filter orders
Merchant can now add multiple filters to sort orders.
Step 1:
Add Filter
Click "Add Filter" to choose from "Order Status", "Payment Status", "Payment Method", "Delivery Status", "Delivery Method", "Label/Report status" and the filter value, and the orders will be filtered.
Step 2:
M
ore filters
After a filter is added, merchant can click "Add Filter" again to add more filters.

Step 3: Search with customer name, phone number, email, order number, or product name
Merchant can also search with customer name, phone number, email, order number, or product name, with or without filters, and the orders matching all the conditions will be shown.
Step 4: D

efault tabs
We created 3 default tabs, "Order is Open", "Unpaid", "Unfulfilled", so that merchants can look up the orders falling into the categories more easily.

C. Change in notification emails
With the new order management system, there will be changes in notification emails about orders. Merchants will only get notification emails when there is a new order placed. When merchant changes status of the order, they can choose to send a notification email to customers, but the notification emails about status update will not be sent to merchant themselves.