*This feature is supported in yearly plan only
If your hosting company do not provide DNS settings and URL Redirect service, we can assist you to setup FreeDNS service via third party provider namecheap.com. Please follow the following steps to change your NameServers, and contact us once you have completed the settings.
Step 1: Login to your Registrar, and find the page to edit NameServers.
Step 2: Replace existing fields with the following
FREEDNS1.REGISTRAR-SERVERS.COM
FREEDNS2.REGISTRAR-SERVERS.COM
FREEDNS3.REGISTRAR-SERVERS.COM
FREEDNS4.REGISTRAR-SERVERS.COM
FREEDNS5.REGISTRAR-SERVERS.COM
For example, WCHOST equivalent: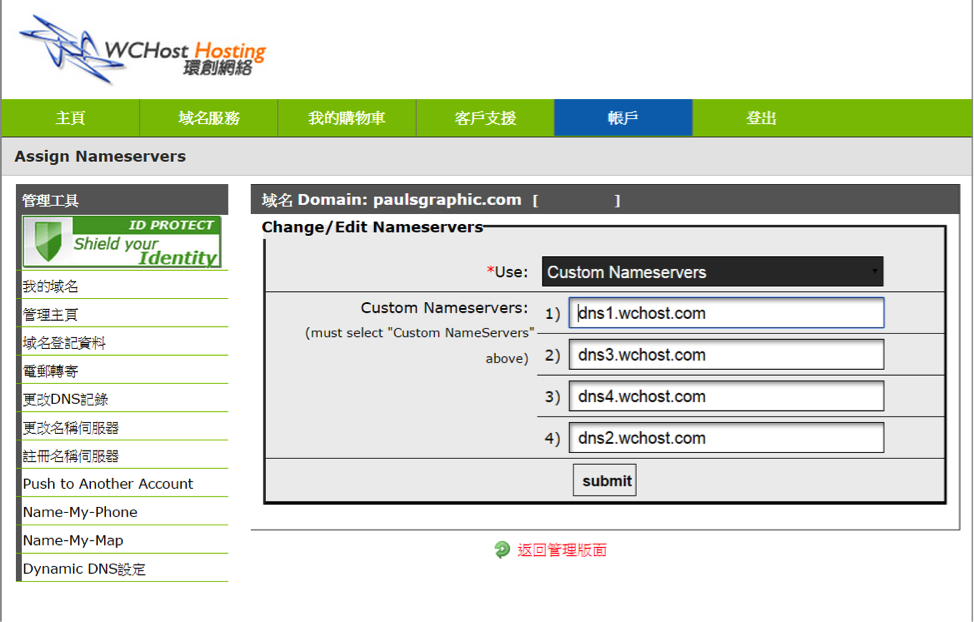 Step 3: Register an account with Namecheap.com and finish the DNS settings.
FAQ: Pointing DNS to SHOPLINE using Namecheap FreeDNS
Email support@shoplineapp.com or contact us via messenger in admin panel your .hk domain after completion.
** Please noted your DNS settings will be no longer valid in your hosting company, and it will affect your domain (e.g. xxx@abc.com) email if you have any.
*** The Free NameSevers settings service is provided by a third party namecheap.com, regarding third party services, we are only able to offer limited support for settings.
We recommend you contact us beforehand if you have domain email settings, we will handle your case accordingly.