SHOPLINE has connections with numerous third-party payment service providers to offer you a wide range of payment options.
Set up payment options
Step 1
Go to Admin Panel > Settings > Payment Options.
Step 2
Click "Add" to add your first payment option. There are two types of payment options: integrated and non-integrated.

1. Integrated payment options (e.g. Bank SinoPac credit card (Taiwan), ECPay ATM virtual account (Taiwan), Stripe (Hong Kong / Malaysia)
You need to obtain approval and a set of exclusive API / Keys from the third-party payment service providers. Please contact your SHOPLINE online consultant to apply for some payment options like Bank SinoPac and Taishin Bank credit card.
If you wish to use the payment gateway via ECPay, please refer to 申請介紹|綠界科技 ECPay (currently available in Chinese) and send the application to ECPay. Merchants who are using the e-Commerce / Social Commerce annual plan, please contact your SHOPLINE consultant for application and contact details.
2. Non-integrated payment options
You can set up a bank transfer payment or pay at the store option on the Admin Panel.
For details, please refer to Payment Options Introduction.
Step 3
The example below demonstrates the setup process of non-integrated "Bank Transfer" option: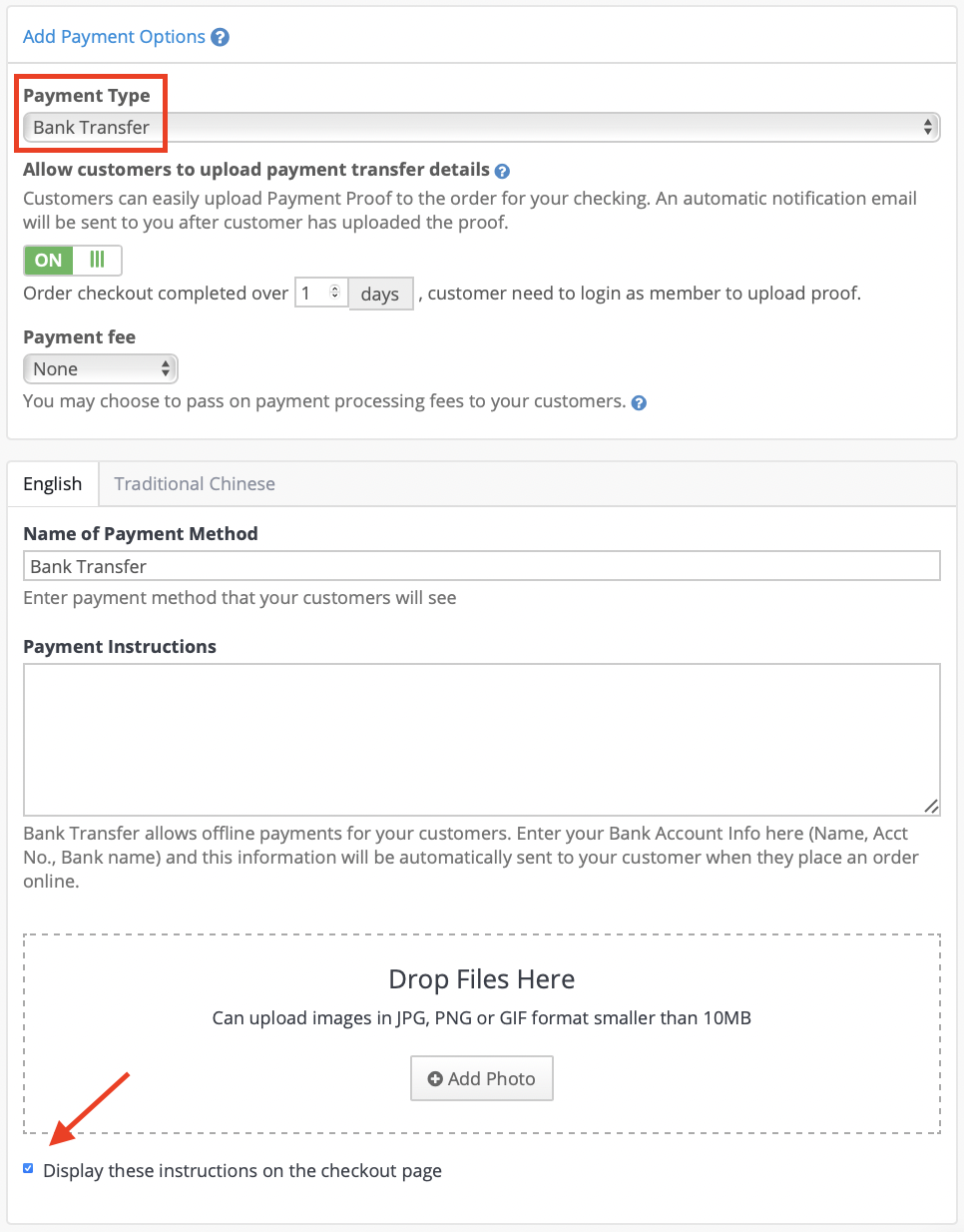 You can enter any notes to guide your customers to complete the transaction process. If you check the box "Display these instructions on the checkout page" (shown by the red arrow), when the customer selects the payment option on the shopping cart page, the system will display this instruction. If it is not checked, customers will not see these instructions until the order is created.
You can consider adding this "Bank Transfer" option and leave your bank details in the instruction field. Switch "ON" for the "Allow customers to upload payment transfer details" so that you can confirm the transfer after receiving the details from customers.
Set a particular percentage or a fixed amount of payment fee if you wish to pass on payment processing fees to your customers. According to the regulations of the authority, if an online store sets a one-time credit card payment option, surcharges are not supported.
Sorting
You can click and drag the cross button to change the sequence of the payment options.
Read more