Merchants can create different promotional campaigns with discount incentives to maximise their sales and profit.
And you can auto reward "Store Credits" to members who purchased a certain minimum amount at your shop and encourage your members to continue spending at your shop next time.
Steps to set up "Store Credits"
Step 1:Go to "Customer Management" Tab
Select "Store Credits" 
Step 2: Set Reward Credits upon Total Minimum Order Amount Purchase
Under "Store Credits", you can turn on the toggle button for reward credits.
Then you can set up the purchase condition (minimum amount for each order) , credit amount and validity period for reward credits. If there is no validity period and the credits will not expire, please tick the box "Never Expires".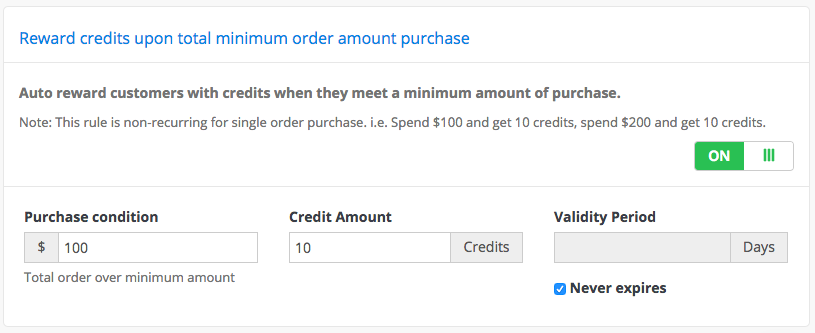 When you have finished setting reward credits, please press "update" to complete settings. 
When settings are setup, system will start checking and rewarding.
System will send credits to members whose orders are in "paid" status and meet minimum order amount requirement.
System will send email notification to notify member(s) of the credit rewarded and credit rewarded will also be recorded under Credit History section.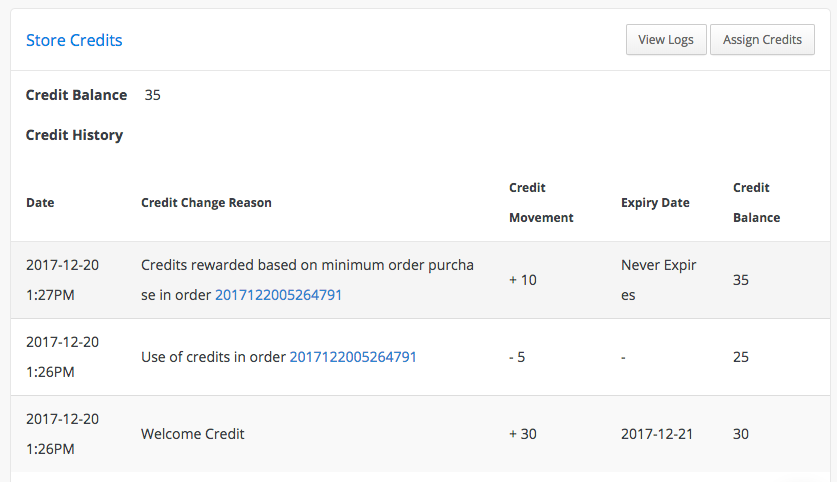 Please note:
1. Credit rewards are not accumulative (e.g. Spend $100 and get 10 credits - you will still get 10 credits only if you spend $200)
2. Rewarding credit only applies exclusively to members, members must be logged in during checkout to be entitled to get rewarded. If the customer ticks "I want to become a member" during checkout, he/she will not be considered as logged in and thus, even if the order amount meets minimum purchase condition, the customer will not receive reward credits.
Read more:
Sales & Promotions: Store Credits
Sales & Promotions: Birthday and Welcome Credits
Set Maximium Amount of Credits Usable Per Order