With appropriate order status, you can quickly sort out what to do next for each of your order. You can refer to this article in order to understand the order status and product fulfillment logic.
(Coming Soon)How to enable "Return Order by Customer", please read Return Order by Customer.
A. Order Status
The following figure shows all order statuses you may find in every order. Payment status "Failed" and "Expired" are automatically updated by the system, while other status can be manually changed by merchants.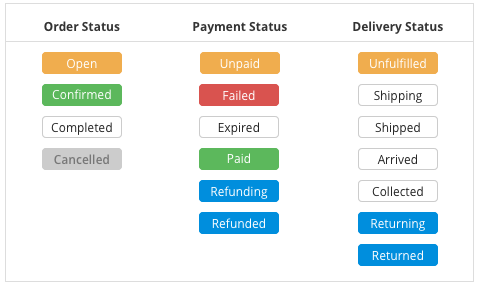 The above does not include 7-11 and Family Mart's delivery status.
Please go to the following articles if you need any further information:

7-11 B2C / 7-11 C2C / 7-11 C2B / Family Mart B2C
B. Product Fulfillment and Fulfillment Reverted
1. Use Stripe and Braintree as payment methods:
When customer's payment is successful, order details will be displayed in admin panel, and deduct the quantity of products accordingly.
2. Use other payment methods:
When a customer clicks "Place Order" button, the order can be checked in admin panel at once. Product quantity will be deducted no matter the payment is successful or not. If the payment is rejected, system will automatically update payment status to "Failed" and cancel the order. Inventory is returned as well.
3. How to return the inventory:
When the order status is "Cancelled", the system will automatically return the inventory. In some occasions where orders have applied promotions, system will also return the promotion usage times. Note that if you delete the order directly, inventory and promotion will not be returned.
C. Update Payment Status by System
1. Paid
If your store adopts third party payment service with SHOPLINE's integration, payment status is automatically updated to "Paid" after successful customer transaction. However, information from third party payment gateway platform shall prevail in case of any discrepancy.
2. Failed
If your store uses third party payment service with SHOPLINE's integration, payment status is automatically updated to "Failed" if customer transaction is rejected. The system will cancel the order, so that the inventory is up to date. You can go to "Order Details" page to view the feedback from payment service provider regarding to the failed payment.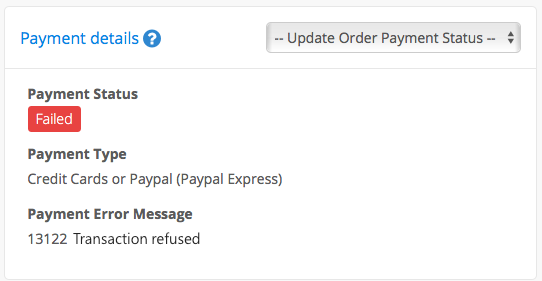 3. Expired
If the customer does not complete the payment process and leaves the website directly, the system will update the payment status to "Expired" after expiry time.
Please refer to the following table for
detailed payment
expiry time
:
| | | |
| --- | --- | --- |
| Payment Service Provider | Payment Method | Expiration Time |
ECpay
Credit Card
Credit Card via (months interest installment)
WebATM
1 Hours
CVS
7 Days
Barcode
12 Days
ATM
3 Days
O'Pay
Credit Card
Credit Card via (months interest installment)
WebATM
1 Hours
CVS
7 Days
ATM
3 Days
LINE PAY
LINE PAY
0.5 Hours
AsiaPay
Credit Card
UnionPay
Alipay
1 Hours
Dragonpay
Dragonpay
2 Days
Paypal Express
Credit Card
Paypal
3 Days
HSBC

FPS

PayMe for Business

1 Hours

15 minutes

Razer Merchant Services
MOLPay
1 Hours
Stripe
Stripe 3D secure
6 Hours
SHOPLINE Payments
Credit Card
6 Hours
D. Auto Cancel Orders with "Expired" Payment Status
If you think cancelling expired orders manually takes you too much effort, you can turn on "Automatically cancel orders with expired payment status" option in "Order Settings" page. Once the setting is switched on, system will automatically change the order status of expired orders to "Cancelled" and immediately return the inventory.

*Remark:
Payment system sometimes may update the information to " paid " after expiry time with

" expired "

status. While the system receive the " paid " transaction

,

it would update the payment status again and update the order status which be cancelled automatically to " open " . The inventory will be retained by this order. Otherwise

,

if there is no inventory in your admin panel

,

the order status won

'

t be updated.